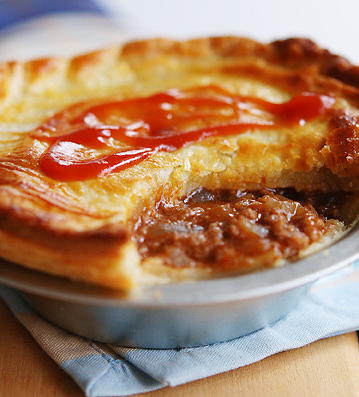 Meat Pie - Aussie Style
The juicy mince meat (hamburger) pie ( with tomato sauce, of course) has long been an Aussie staple, just like fish and chips in the paper. Both of them still outsell the US import, the hamburger, the pie in particular, because you can get a hot meat pie at almost any corner store, straight from the little reheating ovens. Here is my version, using Hot Water Pastry (recipe below):
Filling Ingredients:
(Serves 2 or 3)
1 pound ground beef
½ a medium onion, finely chopped
Salt to taste
Pepper to taste
½ cup water
½ teaspoon garllic salt
1 teaspoon Bisto or other browning/gravy mix (optional)
1 teaspoon Corn starch for thickening
1 teaspoon gelatine for thickening (optional)
Directions for Meat Filling:
(Preparation: 5 Minutes. Cooking: 60 minutes)
in a heavy pot, combine the beef, chopped onion, pepper and salt, garlic, and water.
Bring to a boil over medium heavy, stirring often to break up the meat into small particles.
Add Bisto, if using.
Reduce heat, and simmer meat, covered, for about an hour.
Toward the end of the cooking time, mix the cornstarch with a small amount of water, and stir the paste into the simmering stew.
If you desire, also add the gelatine at this time. The meat mixture should now be at a fairly thick consistency.
Remove from heat and allow to cool while you prepare the pastry.
Hot Water Pastry Ingredients
(This will make top and bottom crusts for a 10"-11" pie, or for two or three 6" pies)
(Preparation: 15 minutes)
500 gm (2 cups) flour
½ teaspoon salt
125 gm (about ½ a cup) of lard (I use butter)
150 ml of milk and water mixed in equal proportions (about 75 ml of each)
Directions for Hot Water Pastry:
Sift flour and salt into a mixing bowl. Make a well in the centre.
Heat the lard/butter in the milk and water until fully melted.
Pour the hot liquid into the well in the flour/salt mixture and stir quickly with a wooden spoon until thick.
Continue working by hand until it is a smooth, moist dough. If it becomes a little dry, add warm water, a teaspoon at a time, kneading well into the dough.
If you allow the dough to cool for half an hour or so in the fridge, it will not be so tough.
Split up the dough into parts enough for a bottom and a lid for each pie.
Roll out the pastry to fit your pie pans (A bottom and a lid to each pan)
Constucting the pies:
Pre-heat oven to 350 deg.
Dust the insides of the pie pan(s) with flour to prevent sticking.
Line the pie pan(s) with the bottom dough.
Spoon cooled meat mixure into the pie pan till just below the rim. (Do not heap it in the centre).
Wet the rim of the bottom crust with water or milk; top pies(s) with the lid pastry; crimp together around the pan rim with a fork; and trim off excess pastry.
Pierce the top(s) of the pie(s) in two or three places to allow steam to escape.
Cook the pie(s) in the pre-heated oven for 40 to 45 minutes.
Remove from oven an allow to cool for about five minutes before serving.
Serve with vegetables, and, of course, tomato sauce (ketchup, to you North Americans!)
Total Preparation time: 45 mins
Total Cooking times: 2 hours
I tend to make three six inch pies for myself - one for tonight's meal, and one to have cold for lunch tomorrow, and one to freeze to reheat for a treat on some cold night soon - all with tomato sauce, of course, of course!
Contributed by Ted