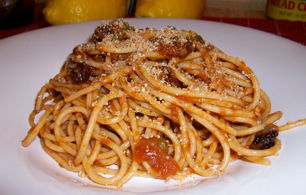 Milanese Crumbs
*Ted's note: I have put this in entrees, but it is not really, but more of an adjunct to any pasta dish or salad
Vin writes:
When my family went to my grandmother's home for a weekend dinner, she would often serve a pasta dish with a few tablespoons of Milanese Crumbs on top. This spicy bread crumb mixture has crushed anchovies, but you'll love this even if you hate anchovies. (So this is my Nana's recipe from about 40 years ago.)
Ingredients:
(Serves 8)
2 oz Anchovy filets in oil, either rolled or flat
4 oz Extra Virgin Olive Oil
2-4 cloves Garlic, minced fine or mashed
2 cups Bread crumbs
½ teaspoon Black pepper
½ teaspoon Onion powder
4 oz Grated Romano Cheese
Directions:
(Preparation: 15 Minutes. Cooking: 20 minutes)
Empty the can of anchovies and oil into a fry pan over low-medium heat, and add the 4oz of Olive Oil. Use a fork to mash the filets and stir to mix the anchovies into the oil mixture.
Add minced/mashed garlic to the fry pan and continue stirring until translucent and fully integrated with the anchovy-oil mixture. (Do NOT permit the garlic to brown.)
Add the 2 cups of bread crumbs to the oil mixture. Mix the bread crumb mixture with the oil mixture until fully incorporated with each other.
Add the black pepper and onion powder. (You can add other spices that catch your fancy ñ e.g., garlic powder, red pepper flakes, cayenne, cinnamon, cumin, Italian seasoning, oregano.)
Stir, stir, stir. Turn up the heat slightly to medium heat, but do keep stirring. Your aim is to toast the mixture to a cocoa-butter or waffle-brown color.
Finally, Add the grated Romano cheese to the bread crumb-oil mixture and stir well for another minute or two.
Remove from heat and let mixture approach room temperature. At this point you can either put it in a container and refrigerate it – or you can use it in your recipes.
This is a very versatile mixture. Sprinkle on top of pasta for a nice nutty taste. Mix with regular bread crumbs for an added zing to breaded cutlets, meatballs, meatloaf. Sprinkle on top of a green salad in the way you use croutons. Add a few teaspoons to the top of omelettes. When I have served it to friends, they would inevitably wind up getting the recipe from me. If you prefer a milder taste, you might want to substitute parmesan cheese for the romano called for in the recipe. Or if you want an even stronger taste, add some gorgonzola cheese..
Contributed by Vin