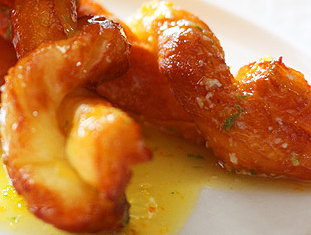 Orange Twist Donuts
This orange twist donut recipe is similar to the ones they used to make at Woolworths in Canada but you will have to find an orange glaze icing online for them.
Enjoy!
Brock

*Ted's note: I have added a glaze recipe at the bottom.
Ingredients:
(Yields 18 donuts. 127 calories each: Protein 3.0; fat 1.9; carbohydrate 24.5; cholesterol 11; iron 0.7; sodium 89; calcium 18.)
1 pkg. dry yeast
3/4 cup warm water (105-115 degrees)
3 tbsp. sugar
1 egg
2 tbsp. instant nonfat dry milk powder
2 tbsp. butter, melted
1/2 tsp. salt
3 1/4 cups. all-purpose flour, divided
1 tbsp. all-purpose flour
Vegetable cooking spray
3 tbsp. sugar
3 tbsp. grated orange rind
*1 1/2 cup. confectioners sugar
*Juice and zest 2 oranges
Directions:
(Preparation: 180 Minutes. Cooking: 12-15 minutes)
Dissolve yeast in warm water in a large bowl; let stand 5 minutes.
Add 3 tablespoons sugar, egg, milk powder, melted butter, salt and 2 cups flour; beat at medium speed of an electric mixer until well blended.
Gradually stir in enough of the remaining 1 1/4 cups flour to make a soft dough.
Sprinkle 1 tablespoon flour evenly over work surface. Turn dough out onto floured surface and knead until smooth and elastic (about 8-10 minutes).
Place dough in a large bowl and coat with cooking spray, turning to coat top.
Cover and let rise in a warm place (85 degrees), free from drafts, 1 1/2 hours or until doubled in bulk.
Punch dough down and roll into a 14 x 12 inch rectangle.
Combine 3 tablespoons sugar and orange rind, stir well, and sprinkle over dough.
Fold dough in half lengthwise; cut into 18 (3/4 inch) strips.
Twist each strip twice and place 2 inches apart on baking sheets coated with cooking spray.
Cover and let rise in a warm place, free from drafts, 1 hour or until doubled in bulk.
Bake at 375 degrees for 12 minutes or until golden.
* While still warm, combine confectioner's sugar and orange juice and zest and brush or drizzle over donuts.
everyman added:
A simple but good orange icing for cookies or donuts is:
Mix together 2 cups of Confectioners sugar, Juice of 1 orange, Butter the size of a walnut.
Contributed by Brock Bailey