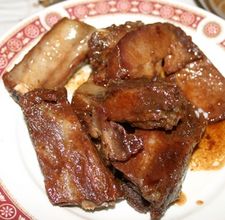 Slow Oven Pork Ribs
Since I found this recipe a while back, any time I want ribs I cook them with this method. It is slower, but so simple it is ridiculous.
Ingredients:
(Serves 2-3)
2 racks pork ribs, any style (About 1.25 kg or 3 lb)
Preferred seasonings (salt, peppers, garlic powder, etc)
Preferred barbequing sauce (BBQ, Sweet and Sour, Honey-Garlic, Chipotle, etc)
Directions:
(Preparation: 10 Minutes. Cooking: 3 hours 15 minutes)
Preheat oven to 225 degrees.
Cut ribs into 3- or 4-rib chunks.
Season with preferred seasonings.
Place ribs, meaty side down, in a single layer, into baking pan
Add ¼ cup water to pan.
Cover pan tightly with aluminum foil and place in oven. Cook for 2.5 hours.
Remove from oven. Remove foil. Pour of excess fat and juices. Baste ribs with chosen barbequing sauce. Flip ribs using tongs and baste meaty side.
Return to oven, uncovered, for 45 minutes. Baste upper side once more during this time.
Serve over savory rice to suit chosen sauce.
The original recipe called for 4 hours cooking, but I found they were just TOO tender. I like to be able to chew my meat a little. I would also enjoy chewing yours!
Contributed by Ted