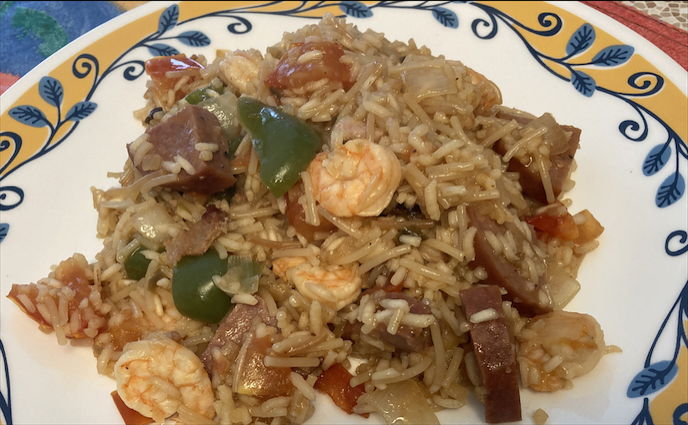 Poor Man's Paella
Years ago when I was travelling in Spain, I grew to love seafood paella. I still make my own today for special occasions, but it is labour and time intensive. This is a cheaper, faster alternative, which also tastes terrific.
Ingredients:
(Serves 4)
1 Packet of Spanish Rice-a-Roni
1 tablespoon butter
2 rashers bacon chopped
½ medium onion coarsely chopped
12 medium raw prawns, whole or halved
4 fairly thick rounds of garlic sausage, quartered
½ green pepper cut into 1" chunks
2 medium tomatoes chopped (replacing canned tomatoes on package directions)
Optional: 6 fresh clams and/or mussels in shells (add half way through the simmering stage)
Cayenne pepper (optional)
Directions:
(Preparation: 10 Minutes. Cooking: 20 minutes)
Melt the butter in a large skillet with a cover.
Add the chopped bacon and the chopped onion to the skillet and stir until onion softens.
Add the rice and pasta from the larger packet to the skillet and stir until pasta starts to brown.
Add water and the seasoning packet as called for in the Rice-a-Roni diections.
Add chopped tomatoes, chopped green pepper, prawns and sausage. Stir well.
Spice up with a dash of Cayenne pepper (optional)
Bring to a boil, lower heat, cover and simmer 20 minutes, stirring occasionally, until the rice is tender and most of the liquids have been absorbed.
(Note: In the pic, I didn't have prawns, so I used shrimp.)
I even make this just for myself using half the ingredients and get a hearty dinner and a light lunch out of it
Contributed by Ted