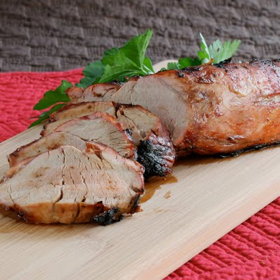 Sweet and Spicy Pork Tenderloin
Steve says:
This one was given to me by my daughter. I've used pork tenderloin, chicken and beef and it turns out great every time. An interesting mix of flavours.

All amounts are approximate depending on the size of the roast and your own personal tastes.
Ingredients:
(Serves 3-4)
1/2 teaspoon ground cumin
1/2 teaspoon ground cinnamon
1/2 teaspoon salt
1/4 teaspoon ground black pepper
1/4 teaspoon ground allspice (I've used ground cloves instead)
1/8 teaspoon garlic powder
1/8 teaspoon ground chipotle chile pepper
1 pork tenderloin about 1¼ lb.
1 teaspoon extra virgin oil oil
2 tablespoons honey
1 tablespoon minced garlic
1½ teaspoons hot pepper sauce
Directions:
(Preparation: 15 Minutes. Cooking: 20 minutes)
Preheat over to 350. Lightly mist a small roasting pan or oven proof skillet with olive oil spray. Set aside.
In a small bowl, combine the cumin, cinnamon, salt, black pepper, allspice (or cloves) garlic powder, and chipolte pepper. Rub the roast evenly with olive oil and then the spice mixture until coated.
In a small bowl, combine the honey, garlic and hot pepper sauce. Whisk to mix. Set aside.
Set a large nonstick skillet over medium high heat until hot enough for a spritz of water to sizzle. Lightly mist the pan with non-stick cooking spray (olive oil will do). Place roast in the pan and cook for 1 minute on each side or until browned all over.
Transfer to prepared oven pan basting with the honey mixture until evenly coated.
Cook until the required temperature is reached. For tenderloin about 16 to 18 minutes (the timing varies according to the size of the roast and the type of meat) or until a thermometer inserted in the centre reaches 160 degrees F. and the juices run clear. Cover loosely with foil and let stand for 10 minutes.
I've used a crock pot set on low and I cook it for anywhere from 4 to 8 hours depending on the cut and meat.

If using a crock pot, a small amount of orange juice, beer or other liquid in the bottom will keep it from drying out. Today cut an onion in rounds and placed it in the bottom of crock pot with the liquid.
Contributed by Steve (daytimer1947)