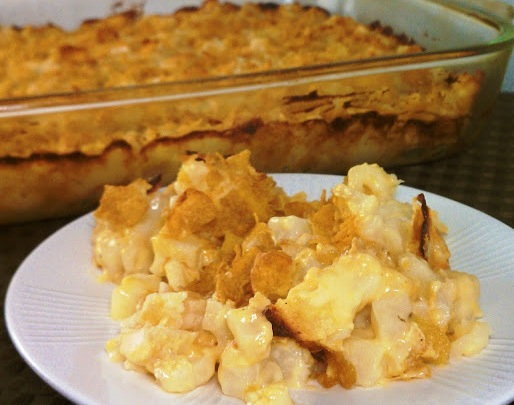 Potluck Potato Casserole
This recipe was in the Amish column of an Indiana newspaper, where Chayton came across it. He tried it out on the guests at a "pitch in" meal. He reports that "Everyone loved them and none to bring home. I did get a few bites and must say it tasted delicious."
Ingredients:
(Serves 8 - 10)
1 pound of peeeled potatoes (4 cups)
½ cup melted butter
½ teaspoon salt
¼ teaspoon pepper
½ cup chopped onions
1 can cream of mushroom soup
1 pint sour cream
2 cups diced Velveeta Cheese
2 cups crushed corn flakes
¼ cup melted butter
Directions:
(Preparation: 20 Minutes. Cooking: 45 minutes)
Cut up peeled potatoes, cook until almost tender, allow to cool enough to handle, then dice into cubes (½" to ¾") as for potato salad and place into a 13"x9" (2.8 litre) casserole dish.
While the potatoes are cooling, mix thoroughly in a large bowl butter, salt, pepper, onions, soup, sour cream, and cheese.
Pour liquid ingredients and cheese over diced potatoes in casserole. Mix well.
Top casserole with crushed cornflakes.
Bake at 350° for 45 minutes.
Let stand for 5 minutes after removing from oven.
Serve as a side dish.
Despite the cries of horror from some members, I'm sure this would be as tasty as Chayton says. I love cheesy potatoes!
Ted
Contributed by Chayton