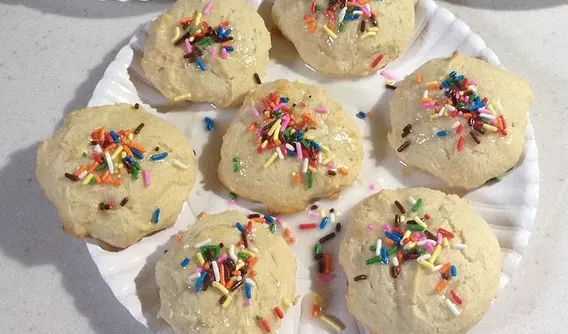 Ricotta Cheese Cookies
Daytimer wrote:
There is so little to do these days - no restaurants - no movies - no clubs - no company beyond the household. So I bake! I had some ricotta cheese left over from a lasagna that I made on the weekend. Asked Google what can be done with left over ricotta cheese and Google came up this recipe from allrecipes.com. They're delicious, very light, and pretty easy to make. Clean up is minimal which is a nice added bonus.
Ingredients:
(Makes 6 dozen cookies)
2 cups white sugar
1 cup butter, softened
15 ounces ricotta cheese
2 teaspoons vanilla extract
2 eggs
4 cups all-purpose flour
2 tbsp. baking powder
1 tsp. salt
Icing (Optional)
1½ cups confectioner's sugar
3 tbsp. milk
sprinkles or candied fruit for color
Directions:
(Preparation: 20 Minutes. Cooking: 15 minutes)
Preheat oven to 350 F. Line baking sheets with parchment paper.
In a large bowl, with mixer at low speed, beat the sugar and butter until combined. Increase speed to high and beat until light and fluffy (about 5 minutes). Reduce speed to medium and beat in the ricotta, vanilla and eggs.
Reduce speed to low. Add flour, baking powder and salt; beat until dough forms.
Drop dough by level tablespoon, about 2 inches apart onto prepared baking sheets. Bake at 350 for about 15 minutes or until cookies are very lightly golden (cookies will be soft). With a spatula, remove cookies to wire rack to cool.
When cookies are cool, prepare icing. In a small bowl, stir confectioners' sugar and milk until smooth. With a small spreader, spread icing on cookies; place a piece of candied fruit on top of each cookie or sprinkle with coloured sprinkles.
Daytimer added that he didn't have quite enough ricotta so he supplemented some cottage cheese, but they still turned out nicely.
These could be Christmas Gifts for neighbours or friends you haven't been getting to see much of, as long as you take all the proper health precautions.
Contributed by Daytimer