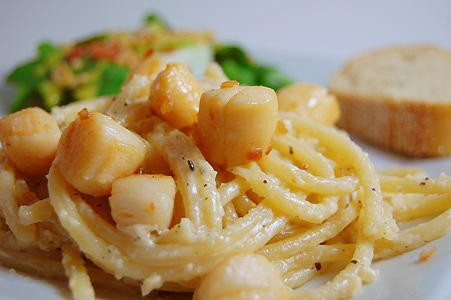 Scallops and Veges Alfredo
Cooking for one or two, as I usually am, I don't feel guilty about using packaged ingredients, especially when to make them yourself is often counter-productive and even more expensive. Cases in point: pizza, puff pastry, and Alfredo sauce. So for this recipe I use bottled Alfredo sauce. It came from a flier, but I have jazzed it up a little. I think you'll like it!
Ingredients:
(Serves 2-3)
1 (340 g) package Large frozen sea scallops - or fresh if you can get them - about 2 dozen
1 jar (465 ml) Roasted Garlic Alfredo sauce
2 cups fresh vegetables cut into small pieces or chunks. You can use vegetables of your choice, but I used snow peas, baby zucchinis, baby carrots, asparagus, diced celery and mushrooms.
2 stems fresh parsley, finely chopped
Linguini - uncooked - to feed 2 or 3 people
Directions:
(Preparation: 10 Minutes. Cooking: 20 minutes)
Chop the vegetables into pieces - about 1."
In a suitable pot, bring the Roasted Garlic Alfredo sauce to a simmer. Add the chopped vegetables. Stir occasionally.
While you are doing this, bring a suitable pot of salted water to a boil and add the uncooked linguine.
In a skillet with a little oil, sear the scallops on each side till they are a light golden color and set aside.
When the sauce and vegetables have simmered for about 7 minutes add the scallops and most of the parsley and bring to a simmer again.
Drain the linguine, and dole it out onto dinner plates. Top with the scallop and vegetable sauce, and garnish with the remaining parsley.
This was an easy bargain meal for me tonight. Save-on Foods had a coupon special on the scallops at about $2.00 less than normal, but the real seller was, if you bought one package of scallops, you got 1 jar of Alfredo sauce, 1 large package linguine, and 1 package of baby vegetables free - normally about $22 worth of items for less than $11!
Contributed by Ted