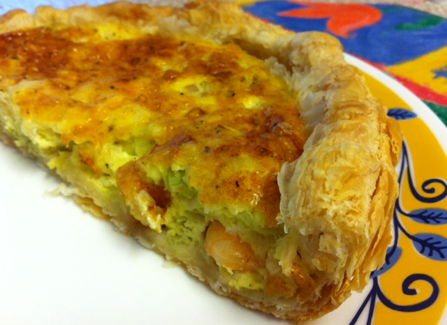 Shrimp and Leek Quiche
This recipe is a tasty variation on the Individual Christmas Quiche recipe published previously (you can find it in the CanadianGay Recipe Book).
Ingredients:
(Serves 2-3)
½ (1 block) package frozen Tenderflake Puff Pastry - abut 200 g.
1 tbsp cooking oil
1 leek
200 g large shrimp (Cooked or uncooked; fresh or frozen)
4 eggs
¾ cup light cream
¾ tsp salt
1 pinch nutmeg
1 pinch cayenne pepper
1/8 tsp pepper
1/8 tsp garlic salt
1 cup grated Swiss cheese (about 50 g in block).
Directions:
(Preparation: 20 Minutes. Cooking: 60 minutes)
Thaw the pastry according to package directions.
Slice the stem of the leek - the white part and the green part - into rings about ¼" thick. Cut the rings into quarters to make about a cup of leek.
If shrimp are frozen, thaw them in cold water, remove shells and tails, then drain thoroughly. In a non stick skillet, heat the oil over medium heat, then add the chopped leeks, stirring while they cook until just soft.
Add the shrimp to the leeks. If the shrimp are raw, stir fry until they are just turning pink and white. If they are pre-cooked, stir just long enough to heat and allow flavors to mingle. Sprinkle the mixture with garlic salt as you stir-fry.
Remove mixture from heat and allow to stand.
In a bowl, combine eggs, cream, salt, pepper, nutmeg, and cayenne, and beat with rotary beater until well mixed. Set aside.
Roll the pastry fairly thin (1/8th inch or less). Lightly flour the insides of three 6" foil pie pans or one 10" pan.
Line the pie pan(s) with the pastry, crimping the pastry to the edge and trimming off excess pastry.
Spread the shrimp/leek mixture over the bottom of the 10" pan or each small pie pan.
Cover with grated Swiss cheese.
Ladle the egg mixture on top carefully.
Bake pie(s) in a pre-heated 425 deg. oven for 15 minutes. Reduce heat to 300 deg. and bake for another 30-40 minutes.
The small cooked pies should slip out of the pie plates easily onto serving dishes. The 10" pie can be easliy cut into serving slices.
Serve hot.
This dish is good while it is hot. It is just as good served cold in lunches the next day. I prefer it cold rather than reheated.
I serve it with a fresh garden salad and chunks of a warm baguette.
Contributed by Ted