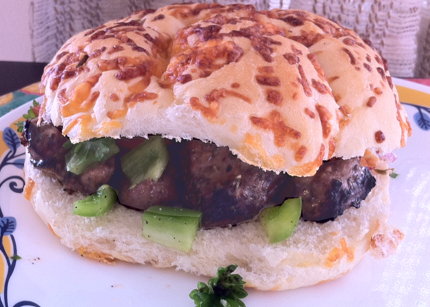 Cheesy Souvlaki Bunwich
Ted says:
When I first posted this recipe, I couldn't find a pic anything like the finished product, so I included pics of the main ingredients, but since then I made the bunwiches again, just so I could include this picture.
Like most of my recipes, this is an improvised bastardization, but it turned out so well, I always use it when I have some lamb to barbeque. I usually use the cheaper, butterflied, ready-marinated lamb that supermarkets sell to get rid of aging leg of lamb.
Unless you are in a larger city with specialized bakeries, packaged pita bread and flat bread has the consistency and taste of cardboard, so I tried using instead those large, fairly flat cheese buns that many supermarket bakeries sell - better yet, their cheese-onion buns.
Ingredients:
(Serves 4)
1 lb butterflied lamb
¼ cup Italian dressing
½ teaspoon basil
½ teaspoon rosemary, crumbled fine
1 small tomato diced fairly finely
2 slices red onion diced fairly finely
2 sprigs parsley chopped fine
2 tablespoons diced cucumber (optional)
1 clove garlic finely chopped
1/8 cup Italian dressing
2 tablespoons yoghurt or sour cream (optional)
4 large cheese and onion buns, split open
Directions:
(Preparation: 20 Minutes. Cooking: 20 minutes)
Cut the lamb into about 1" cubes - about 20 cubes - and put on small bowl.
Sprinkle lamb with basil and rosemary and pour ¼ cup of Italian dressing over all. Stir together and allow to marinate for a few minutes.
In another small bowl, combine the chopped onion, tomato, parsley, garlic, and 1/8 cup Italian dressing. You can include the optional cucumber and yoghurt at this time. Stir together.
Thread lamb onto skewers and barbeque on medium setting until just cooked and beginning to darken.
Place 5 or 6 pieces of the cooked meat on the bottom half of each bun.
Spoon plenty of the tomato-onion-parsley mix over the meat on each bun.
Replace the top half of the bun; serve.
Unlike pork, which you can use as a substitute, it does not matter if the lamb is still a little pink inside. For another flavor change, you can also try a sweeter dressing for the vegetable mix, such as sesame ginger.

Actually, these are so tasty, the recipe will probably only serve two people, because you will want seconds.
Contributed by Ted