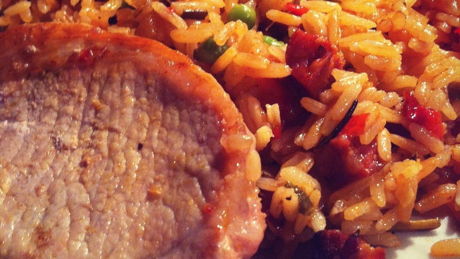 Spanish Rice with Pork
Here's a way to use up that left-over pork roast you don't know what to do with. It's easy, tasty, and doesn't taste left over.
Ingredients:
(Serves 1 as a one-dish meal or 2 as a side dish)
1 cup cubed left-over pork roast
½ cup uncooked long grain rice
½ cup coarsely chopped onion
½ cup coarsely chopped green pepper
½ cup chopped tomato
1 tablespoon cooking oil
1 teaspoon chili powder
1 cup chicken broth/boullion
Garlic powder or garlic salt
Cayenne pepper
½ teaspoon crushed chili peppers
Salt
Pepper
Directions:
(Preparation: 10 Minutes. Cooking: 20 minutes)
In a large skillet heat the cooking oil.
Add the cubed pork, and spinkle with garlic and half the chili powder, and brown slightly.
With a slotted spoon, removed the pork and set aside.
To the skillet, add the onion and green pepper and the rice and the rest of the chili powder and saute until the onion is softening.
Sprinkle with salt, pepper, cayenne pepper, crushed chili peppers, and a little more garlic.
Add chopped tomato.
Add chicken broth/boullion and stir well.
Bring to a boil, reduce heat, cover, and simmer for a few minutes.
Add diced pork, stir well, cover, and simmer till rice is tender and liquids are mostly absorbed (about 10-15 minutes).
You can substitute chicken for the pork in this recipe, but if you do, I would start with raw chicken cubed; left-over roast chicken would tend to become mushy (but it would be rather Mexican).
You could also spice this up a bit by sauteing ¼ cup of diced chorizo sausage along with the cubed pork.
Contributed by Ted