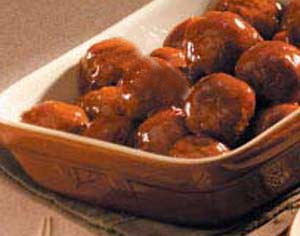 Speedy Meatballs
Here's a recipe I thought I had posted before, but I can't find it in the archives. The beauty of it is that there is no pre-cooking the meatballs before you add them to the sauce, but the secret to success is the tomato paste! Tomato sauce or ketchup will not do as a substitute.
Ingredients:
(Serves 4)
1/2 cup chopped onion
1/2 cup chopped green pepper
1/2 cup chopped celery
1 tablespoon butter
1 tablespoon flour
salt
pepper
oregano
1 10 oz can beef bouillon
1 can tomato paste
1.5 pounds lean hamburger
1 clove garlic finely chopped
Directions:
(Preparation: 15 Minutes. Cooking: 45 minutes)
In heavy pot, saute the chopped onion, green pepper, and celery in the butter.
Stir in flour, salt, pepper, oregano, beef stock, and 1/2 can of the tomato paste.
Bring mixture to a boil and reduce heat to slow simmer.
Combine ground beef, salt, pepper, chopped garlic, and remaining tomato paste.
Shape meat mixture into small meatballs and drop one by one into simmering sauce.
Item
Cover. Simmer 30 minutes.
Serve over rice or noodles.
I have to repeat, you must use tomato paste, or you will end up with spaghetti sauce instead of meatballs. The meatballs must also be small, about the size of a larger cherry tomato, or else they will disintegrate under their own weight.

I gave this recipe to a family of 5 and they use it about once a week. The kids love it.
Contributed by Ted