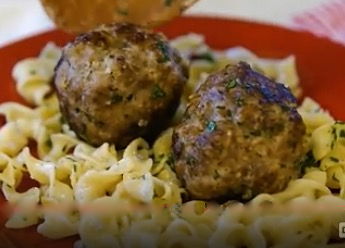 Swedish Meatballs and Noodles.
COVID-19 and the cost of steak have led me to buying more ground beef and trying new recipes. This one I tried tonight, adjusting it from a web recipe. As with most of my recipes, it is for two people.
Ingredients:
(Serves 2)
½ lb. lean ground beef
½ cup Panko breadcrumbs
&frac14 cup finely chopped onion
&frac12 cup finely chopped parsley
Salt to taste
Pepper to taste
Generous dash allspice
1 tblsp milk
4 drops Worcestershire sauce
½ beaten egg
1 tblsp butter or margarine
¾ cup Chicken broth
½ cup light cream
1 cup medium egg noodles
Directions:
(Preparation: 15 Minutes. Cooking: 20 minutes)
In a bowl, mix beef, bread crumbs, onion, ½ of the parsley, salt, pepper and allspice until well combined. Add milk, Worcestershire sauce and egg. Shape mixture into 8 to 10 (1½-inch) meatballs.
In a skillet, melt butter over medium-high heat. Add meatballs; cook 8 to 11 minutes, turning gently occasionally, just until browned on all sides. Remove from heat. Set aside.
To a medium pot, add broth, light cream and a little salt; heat to boiling. Stir in noodles; return to boiling. Reduce heat; simmer 5 minutes, until noodles are just softened.
Add meatballs and any pan scrapings to noodles and sauce, and allow to simmer, stirring occasionally, until meatballs are thoroughly cooked and no longer pink in center (165°F), pasta is cooked and sauce is thickened (about 15 minutes). Stir in remaining parsley.
Serve and enjoy.
I found the original recipe had too much liquid, so I have cut it way back. Keep an eye on the sauce, and if it starts to get too thick add a little more light cream.
Contributed by Ted