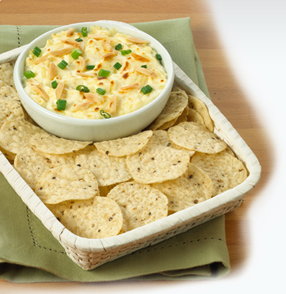 Swiss Cheese Dip
Here's another dip, which can be served warm or cold.
Ingredients:
(Serves 8 -10)
8 oz softened Philadelphia cream cheese
1/3 cup mayonnaise
1½ cups shredded Swiss Cheese
2 tablespoon chopped green onion
1/3 cup toasted almonds, slivered
1/8 teaspoon nutmeg
1/8 teaspoon black pepper
Directions:
(Preparation: 10 Minutes. Cooking: 15 minutes)
Mix cream cheese, mayonnaise, Swiss cheese, green onion, almonds, nutmeg, and pepper, reserving a few of the almonds and green onions.
Pour into oven-proof container.
Sprinkle top with reserved almonds.
Bake at 350 deg for 15 minutes.
Allow to cool a bit, then top with reserved green onions.
Serve with nacho chips or crackers, warm or cold.
If you are not drooling already, you should be!
Contributed by Charlie Sheridan (searlas52)