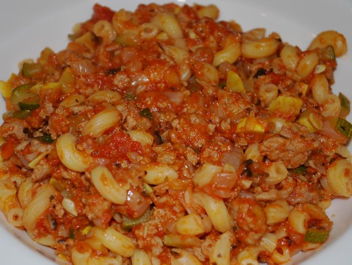 Ground Turkey Goulash
Ken says:
Here's a recipe I tried last night and it was quite good. I suppose you could use ground beef if you wanted to. It's quick, simple and tasty.
Ken
Ingredients:
(Serves 2-3)
12 oz. cooked ground turkey (1 lb. raw)
4 cups canned tomatoes, finely chopped
½ cup chopped green pepper
1 tbsp. instant minced onion
1 (4 oz.) can mushroom pieces with liquid (optional)
2 packets beef or chicken bouillon
3 oz. elbow macaroni, uncooked
Salt, pepper, onion powder and garlic powder to taste
Directions:
(Preparation: 10 Minutes. Cooking: 30 minutes)
Place cooked ground turkey (or 1 pound uncooked and browned) in a nonstick skillet with seasonings.
Add tomatoes, green pepper, onion, mushrooms with liquid and bouillon; bring to a boil.
Add macaroni (do not stir in) and continue to boil, uncovered, until macaroni absorbs all of the liquid and is tender, about 20 minutes.
Contributed by Ken in Boston (randymanbos)