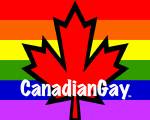 ABOUT CANADIANGAY:
This group, for Canadian gay and bi men, started life on July 1st, 2004, on Yahoo Groups. The Google mirror version was created as a back-up during one of Yahoo's gay group purges in June, 2005, but did not come into use as an archive until July, 2006. The group finally migrated completely to Google Groups in March, 2007.
After 7 years on Google, the group was banned for spurious reasons, and migrated back to Yahoo on Christmas Day 2013.
Although Google removed the ban in 2016, the members voted to stay with Yahoo, however, Yahoo has become increasingly difficult to work with, as facets of the system no longer work.
On October 25, 2016, CanadianGay purchased its own domain, and using Site 44, it is able to continue work as a website based on DropBox.
RULES:
We don't want to get banned - or deleted - again, so the following rules will be strictly followed:
All members must be male and aged 18 and over.
No pics of persons appearing to be under the age of 18 and involved in sexual activities may be posted in mails, files, or on members' pages.
No pics depicting bestiality may be posted in mails, files, or on members' pages.
No copyrighted pics may be posted, unless you own the copyright.
Members are responsible to make sure their emails are not being bounced.
Bouncing members will be unsubscribed after two weeks.
No Spam!
Spammers will be banned immediately.
Mass mailing and mass forwarding from other goups will be considered spam. By all means, borrow the content, but post it in a new email, giving credit where due.
Be considerate of other members. Flaming others will result in unsubscription.
Contributors please note:
As Moderator, I rerserve the right to edit out parts of your posting if I find it is unacceptible or delete the posting entirely. I will not guarantee to inform you of this.
HOW TO:
Find the group:
Bookmark this URL: https://groups.google.com/g/canadiangay-men
Send an email to the group:
Using your usual emailer, address an email to [email protected] and send the email from an address which is registered as a member of the group.
Find your way round: Use the Table of Contents Page