April 29
[{(o)}]|[{(o)}]|[{(o)}]|[{(o)}]| [{(o)}]|[{(o)}]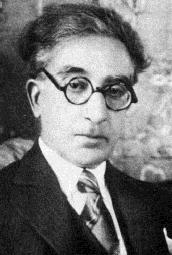 1863 – C.P. Cavafy born (d.1933). Constantine P Cavafy was a major Greek poet who worked as a journalist and civil servant. He has been called a sceptic and a neo-pagan. In his poetry he examines critically some aspects of Christianity, patriotism, and homosexuality, though he was not always comfortable with his role as a nonconformist. He published 154 poems; dozens more remained incomplete or in sketch form. His most important poetry was written after his fortieth birthday.
He was born into a family of rich Greek merchants in Alexandria. In 1872, two years after his father's death depleted the family fortune, he went to England with part of his family and remained there between the ages of nine and sixteen.
They returned to Alexandria, but events leading to the bombardment of the city by the British drove them to Constantinople in 1882, where Cavafy remained until 1885, when he went back to the city of his birth and gained employment in the civil service.
Cavafy may have had his first gay experiences in Constantinople, but the details of his sexual life remain vague. He had no long-term companions, and if his erotic poems reflect his actual experiences, most of his sexual encounters must have been fleeting ones.
From 1891 to 1904 he published his poetry in broadsheet form, only for his close friends, receiving whatever acclaim mainly within the Greek community in Alexandria.
He lived alone in a rather seedy location in Alexandria, where he entertained guests and took part in Alexandrian literary life. Indeed, in Lawrence Durrell's novel series The Alexandria Quartet, he is considered the presiding poet of the city.
In his twenties and thirties, Cavafy tried his hand, unsuccessfully, at heterosexual love poems, but when he was forty years old, he began to be more comfortable with same-sex themes and produced a body of about fifty poems that has made him a significant inspiration for gay and bisexual writers.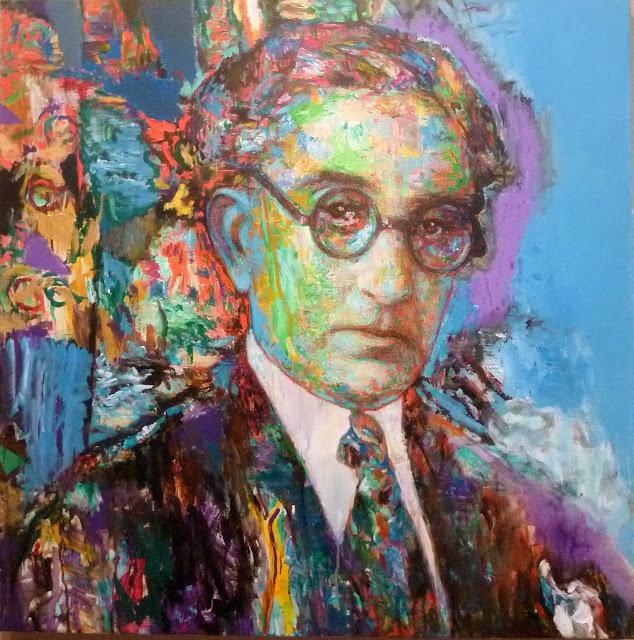 Cadafi by Yannis Psychopedis
Although some of the poems indicate guilty feelings about sex and others portray a world of one-night stands in seedy quarters, the overall tone is one of acceptance of gay male sexuality and a recognition that personal and artistic creativity can spring from what the bourgeois world may consider decadent or unrewarding encounters.
Cavafy drew his themes from personal experience, along with an enormous knowledge of history, especially of the Hellenistic era. Many of his poems are either pseudo-historical, or seemingly historical, or accurately, but quirkily, historical. Uncertainty about the future, sensual pleasures, the moral character and psychology of individuals, homosexuality, and a fatalistic existential nostalgia are some of the defining themes.
He died of cancer of the larynx on April 29, 1933, his 70th birthday.
Since his death, Cavafy's reputation has grown. One of his greatest supporters was the author E M Forster, who did much to promote awareness of Cavafy's work in the English-speaking world. He is now considered one of the finest modern Greek poets and his poetry is taught at schools in mainland Greece and throughout the world in Universities.

1870 – UK: Thomas Boulton and Frederick Park were Stella and Fanny to their friends. They were drag queens who were arrested the night after a performance and charged "with conspiring and inciting persons to commit an unnatural offence". They appear in court in women's clothing. After the prosecution failed to establish that they had anal sex, which was then a crime, or that wearing women's clothing was in any sense a crime, both men were acquitted.


Added 2023
1904 – Wendell Sayers was the first Black attorney to be hired to work in the Colorado state attorney general's office. Sayers's specialty was in real estate.
Wendell Phillip Sayers was born in Nicodemus, Kansas—a town created after the Civil War specifically for ex-slaves. Wendell's grandparents were all former slaves. Wendell was the adopted son of William L. Sayers and Sarah F. Bates. Following in his father's footsteps, Wendell attended Washburn College in Topeka, Kansas, where he later also obtained his JD.
Wendell's mother was an active member of the Women's Christian Temperance Union and other organizations. When his father died in 1956, he left an estate of $115,000, the equivalent of more than a million dollars in 2019. Part of the estate was to be used to acquire suitable places and accommodations where people could find food and lodging without being rejected because of their race.
When Wendell was still a teen, he already knew he was gay. When his father found out about it, he took his son to the Mayo Clinic. He was "diagnosed" at the Mayo Clinic as a homosexual, and threatened with incarceration. That was an idle threat: while homosexual acts were illegal, you could not be arrested simply for being gay.
Wendell was too young to serve in World War I, too old for World War II (although in 1942, at age 37, he registered for the draft).
In 1945 Wendell started his private law practice in Denver. He worked on many civil rights and discrimination cases. In the 1960s he became the first Black assistant attorney general for the state of Colorado.
In the late 1950s he attended several meetings of the Denver chapter of the Mattachine Society, an early gay rights organization, as well as the Mattachine Society's sixth annual national convention, which was held in Denver in September 1959.
He died on March 27, 1998.
Wendell was the first cousin, once removed, of noted Chicago Bears running back Gale Sayers. In 1967, Gale and his teammate Brian Piccolo became the first interracial roommates on a professional football team. They became close friends until Brian died of cancer in 1970 — a story told in Gale's autobiography I Am Third, which became the inspiration for the classic television film Brian's Song.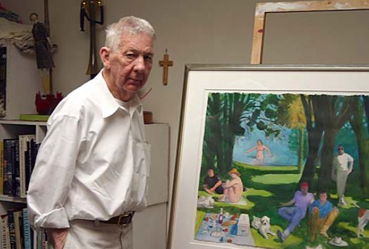 1920 – The abstract expressionist artist Paul John Wonner was born on this date (d. 2008). Born in Tucson, Arizona, Wonner received a B.A. in 1952, an M.A. in 1953, and an M.L.S. in 1955—all from the University of California, Berkeley.
He rose to prominence in the 1950s as an artist associated with the Bay Area Figurative Movement, along with his partner, Theophilus Brown (1919-2012), whom he met in 1952 while attending graduate school.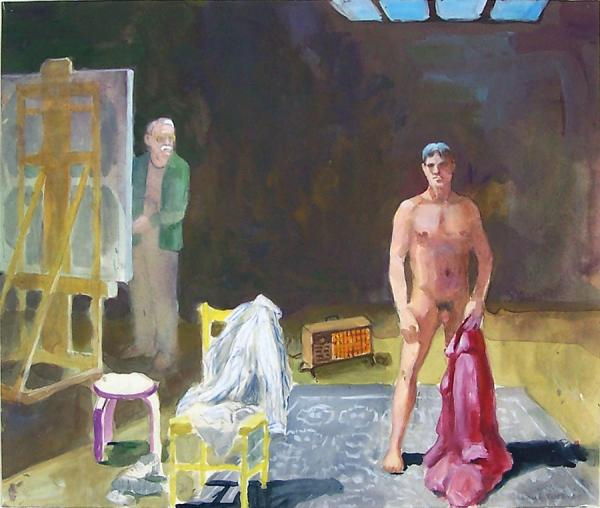 Artist and Model with Red Robe
(Click for larger)
In 1956, Wonner started painting a series of dreamlike male bathers and boys with bouquets. In 1962, he began teaching at the University of California, Los Angeles. By the end of the 1960s, he had abandoned his loose figurative style and focused exclusively on still lifes in a hyperrealist style. Wonner died April 23, 2008 in San Francisco, California.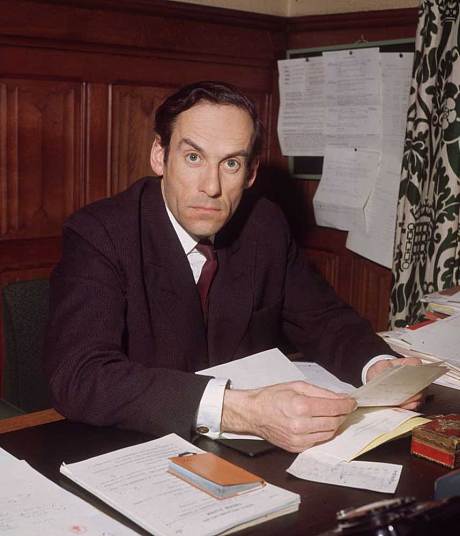 1929 – Jeremy Thorpe, (d.2014) was a British politician who served as leader of the Liberal Party from 1967 to 1976 and as Member of Parliament for North Devon from 1959 to 1979.
His political career collapsed when an acquaintance, Norman Scott, claimed to have had an affair with him in the early 1960s, when homosexual acts were illegal in Britain. In 1976, the scandal forced him to resign as Liberal leader. He denied any affair with Scott, whom he was charged with conspiring to murder. He was acquitted in 1979, shortly after losing his parliamentary seat in the general election.
Rumours about Thorpe's sexuality dogged his political career when homosexual acts were illegal in Britain. In 1961, Norman Scott, a former model, met Thorpe while working as a stable lad. He claimed that he and Thorpe had a sexual relationship between 1961 and 1963. Scott's airing of these claims led to an inquiry in the Liberal Party in 1971, which exonerated Thorpe.
Scott continued to make the allegations. Attempts were made to contain or silence him, but to no avail, until the fallout following the shooting of Scott's dog Rinka by a hired gunman brought the matter into the open. After further newspaper revelations, Thorpe was forced to resign the Liberal leadership, which did not end public or police interest in the affair.
Enquiries led to Thorpe and three others being charged with conspiracy to murder Scott. During the investigation, an antique firearms collector,
Dennis Meighan
, admitted to providing the gun used to shoot the dog and confessed he had been hired by a representative of a person called "a Mr Big in the Liberal Party" to kill Scott for £13,500. Meighan has claimed that his 1975 oral confession had been significantly abridged by the authorities when it was offered to him in written form:
"I read the statement, which did me no end of favours, but it did Jeremy Thorpe no end of favours as well, because it left him completely out of it. So I thought, 'Well, I've got to sign this'. It just virtually left everything out that was incriminating, but at the same time everything I said about the Liberal Party, Jeremy Thorpe, etcetera, was left out as well."
The trial was scheduled for a week before the general election of 1979, but Thorpe obtained a fortnight's delay to fight the election, in which he lost his seat. One of the chief prosecution witnesses was former Liberal MP and failed businessman Peter Bessell, who claimed to have been present while the murder plot was discussed in the Liberal Party. One alleged plan had been to shoot Scott in Cornwall and dispose of the body down a disused tin mine shaft.
That Thorpe, in his youth, had homosexual tendencies was admitted at his trial. Nor was it in dispute — though he always emphatically denied any physical relationship — that in 1961 he had befriended a young man named Norman Josiffe, who later changed his name to Norman Scott.
Thorpe did not give evidence. His counsel, led by George Carman QC, argued that, although Thorpe and Scott had been friends, there had been no sexual relationship. Carman claimed that Scott had sought to blackmail Thorpe and that, although Thorpe and his friends had discussed "frightening" Scott into silence, they had never conspired to kill him. Mr Justice Cantley's summing-up was widely criticised for an alleged pro-establishment bias, and it made headlines when he described Scott as "a crook, an accomplished liar ... a fraud". The four defendants were all acquitted on 22 June 1979. Dennis Meighan was never called to give evidence and remained silent until 2014, when he acknowledged his involvement and commented: "It was a cover-up, no question, but it suited me fine".
Not long after the trial, Thorpe was diagnosed with Parkinson's disease and retired from public life. In 1999, Thorpe published his memoirs, In My Own Time, describing key episodes in his political life. He did not shed any light on the Norman Scott affair and never made any public statements regarding his sexual orientation.
On 4 December 2014, Thorpe died at his home in London of Parkinson's disease, aged 85.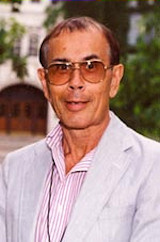 1930 – Jim Toy, born in New York City, is a long-time LGBT activist, considered a pioneer among LGBT activists in Michigan.
He holds a Master's degree in Clinical Social Work from the University of Michigan and serves as a pro bono counselor and therapist. Toy underwent bureaucratic retirement in 2008 from the University of Michigan as the diversity coordinator in the Office of Institutional Equity.
Jim Toy first publicly identified as being gay during his speech at an anti-Vietnam-War rally in Kennedy Square, Detroit, in April 1970. At the rally Toy was representing the Detroit Gay Liberation Movement, of which he was a founding member.
He was as well a founding member of the Ann Arbor Gay Liberation Front. In 1971 he helped establish the Human Sexuality Office (HSO) at the University of Michigan in Ann Arbor (later renamed The Spectrum Center.) The HSO was the first staff office in a United States institution of higher learning, and presumably the first of its kind in the world, to respond to sexual-orientation concerns. Jim served as its Co-Coordinator, and Gay Male advocate, from 1971 until 1994. The HSO, now named the Spectrum Center, has named its library in Jim's honor. The Jim Toy Library (JTL) currently hosts a collection of over 1500 titles and supports LGBTQA student development by exposing students to, and engaging them in, the rich cultural, social, historical, psychological, political, and relational aspects of LGBTQ people, identities, experiences, and communities.
In 1972, Toy co-authored the first official "Lesbian-Gay Pride Week Proclamation" by a U.S. governing body, the Ann Arbor City Council. The same year, he co-authored the city's non-discrimination policy on sexual orientation. He also successfully lobbied the University of Michigan to include sexual orientation in the nondiscrimination clause of its bylaws, a fight that would last until 1993.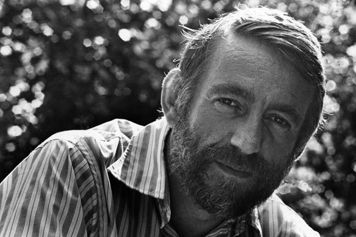 1933 – Rod McKuen (d.2015) was a bestselling American poet, composer and singer, instrumental in the revitalisation of popular poetry in the late 1960s and early 1970s.
Born in Oakland, California, sexually and physically abused by relatives, he ran away from home at an early age to avoid an alcoholic stepfather. To compensate for his lack of formal education, McKuen began keeping a journal, which resulted in his first poetry and song lyrics. In the 1950s, McKuen worked as a newspaper columnist and propaganda script writer during the Korean War. He settled in San Francisco, after a series of drifter jobs throught the West and a spell with the army in Korea, and began to find an audience with his poetry, eventually appearing with Beat poets such as Jack Kerouac and Allen Ginsberg.
After moving to New York in 1959, he found great success in the 1960s with his poetry and songs. In the early 1960s, McKuen moved to France, where he first met the Belgian singer-songwriter and chanson singer Jacques Brel. McKuen began to translate the work of this composer into English, which led to the song "If You Go Away" – an international pop-standard – based on Brel's "Ne me quitte pas". In the early 1970s, singer Terry Jacks turned McKuen's "Seasons in the Sun", based on Brel's "Le Moribond", into a best-selling pop hit. McKuen also translated songs by other French songwriters, including Gilbert Bécaud, Pierre Delanoé, Michel Sardou, and others.
In the late 1960s, McKuen managed to capture in verse the feelings of the student generation in opposition to the Vietnam war and his readings were attended like rock concerts.
He wrote many hundreds of songs, including two albums for Frank Sinatra, and collaborated with many including Henry Mancini and John Williams. He has sold millions of albums and written orchestral and film music - his scores for The Prime of Miss Jean Brodie (1969) and A Boy Named Charlie Brown (1970) were Oscar nominated.
A major spell of clinical depression in the 1980s made him withdraw from the limelight. He later returned to activity but in a more low-key way and making full use of the Internet.
Always a performer with a social conscience, he went from fighting the Vietnam war and apartheid and on to working for AIDS awareness.
Rod McKuen had a partner of 45 years standing. To the question "Are you married?" McKuen's standard response was the coy statement, "I have no legal certificate that says I am, but, let's just say I'm committed." McKuen lived in Southern California with his brother Edward McKuen, whom he called his "partner," and four cats.
"It doesn't matter who you love, or how you love, but that you love." - Rod McKuen
As he has said, "I have had sex with men; does that make me Gay?" Nevertheless, and to his credit, he risked alienating a million readers by taking a public stand against Anita Bryant in the 70s. McKuen wrote "Don't Drink the Orange Juice" in support of the pro-gay boycott. He released the song on a manifestly gay-targeted album called "Slide...Easy In." The album, which was a sophisticated send-up of disco, featured on its cover a bare and hairy muscular male arm pulling a fistful of white lubricant from a can of Crisco, renamed "Disco."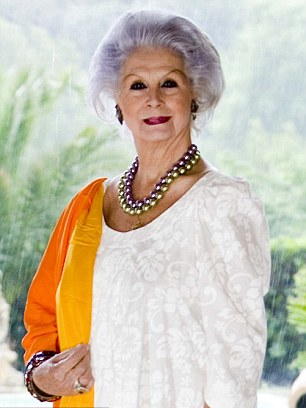 1935 – April Ashley MBE is an English model and restaurant hostess. She was first Briton to have a sex change and sparked countless lurid headlines once she became the first British person to be outed as a transsexual, by the Sunday People in 1961.
Born and raaised George Jamieson in Liverpool, dark, slightly built and effeminate, the young George became the victim of daily beatings at school. She had under-developed genitalia and by the age of 15 she had not developed secondary sexual characteristics. At 15, in a vain attempt to become masculine, she signed up for the merchant navy but after two years at sea — once more a magnet for bullies — she resolved to commit suicide. After a failed attempt she wasgiven a dishonourable discharge and sent to the mental institution in Ormskirk for electric shock treatment.
In her book The First Lady, Ashley tells the story of the rape she endured while still living as a man. A roommate raped her, and she was severely injured as a result of the sexual assault.
She moved to London in 1950, at one point sharing a boarding house with then ship's steward John Prescott. Having started cross-dressing, she moved to Paris in the 1950s and using the name April E became a professional Drag Queen.
At the age of 25 and having saved £3,000, Ashley had her seven hour long sex reassignment surgery on 12 May 1960, in Casablanca, Morocco under Dr Georges Burou. All her hair fell out and she was in a lot of pain, but the operation succeeded. She went on to become a model.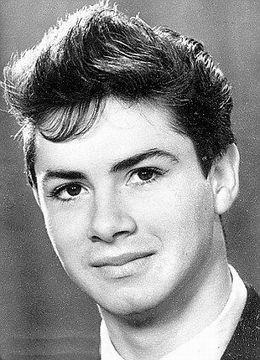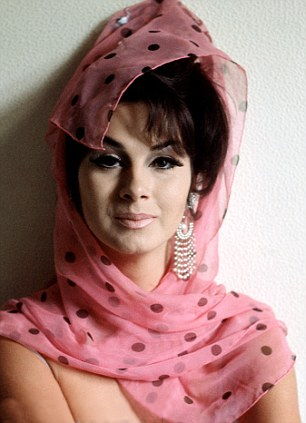 George

April
In her glamorous heyday she became a Vogue model, seduced actors Omar Sharif and Peter O'Toole and attracted the amorous attentions of Salvador Dali and Pablo Picasso. After a friend sold her story to the media, in 1961 under the headline "Her" Secret Is Out, the Sunday People outed Ashely as transgender. She became a centre of unwanted attention.
In 1963 she wed Hon. Arthur Corbett (later 3rd Baron Rowallan), the Eton-educated son and heir of Lord Rowallan, who also enjoyed cross-dressing. However, in 1970 Corbett had the marriage annulled on the grounds that Ashley had been born male, even though he knew about her history when they married.
In the eighties, Ashley married Jeffrey West, on the retired cruise ship RMS Queen Mary in Long Beach, California; and by all accounts is still married to same.
In 2005, after the passage of the Gender Recognition Act 2004, Ashley was finally legally recognised as a female and issued with a new birth certificate. The then Deputy Prime Minister of the United Kingdom John Prescott, who knew Ashley from the 1950s, helped her with the procedure.
In June 2012 Ashley was awarded the MBE in the Queen's Birthday Honours for services to transgender equality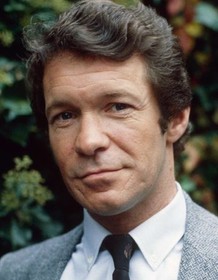 1945 – Richard Warwick was an English actor. He was born Richard Carey Winter, the third of four sons, at Meopham, Kent, and made his film debut in Franco Zeffirelli's 1968 production of Romeo and Juliet in the role of Gregory. Subsequent films included If...., Nicholas and Alexandra and the first film by Derek Jarman, Sebastiane.
When he was 22 years old, Warwick began a relationship with actor and director Keith Baxter that lasted for many years.As sex between men only recently been decriminalized in Britain, and his agent and directors worried that his homosexuality would jeopardize his appeal to female fans, he remained quiet about his private life.  
In 1976, Warwick was cast as Justin in Sebastiane, the controversial homoerotic film by Derek Jarman and Paul Humfress. The film, clearly aimed at gay audiences, features extensive male nudity and gay lust for the male protagonist Sebastian, which fuels the plot. Warwick plays one of the many soldiers who fall in love with, and become obsessed with, Sebastian. The film was shot in Cala Domestica in Sardinia, and England. Brian Eno contributed to the soundtrack.
On television, he was best known for his roles in the sitcom Please Sir!, as one of the main character's teaching colleagues, and in the London Weekend Television comedy A Fine Romance, as the brother-in-law of Judi Dench's character. He also played Uncas in the television series The Last of the Mohicans (1971). His last role was as John (the servant) in Zeffirelli's 1996 adaptation of Jane Eyre.
He died in 1997 aged 52 from an AIDS-related illness. In an obituary, The Daily Telegraph quoted If... director Lindsay Anderson: "I never met a young actor like Richard! Without a touch of vanity, completely natural yet always concentrated, he illumines every frame of the film in which he appears."


Revised 2023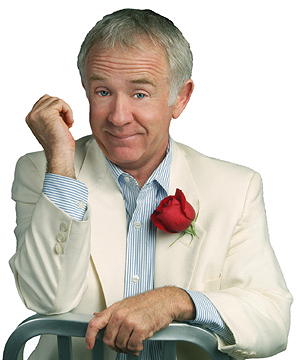 1955 – The American Emmy Award-winning actor, memoirist and playwright Leslie Jordan was born on this date (d.2022). Jordan was probably best known for his television work - including guest appearances on Lois & Clark: The New Adventures of Superman, Star Trek: Voyager, Reba, Boston Public, Boston Legal, Nash Bridges and his secondary role on Hearts Afire. He guest-starred on the popular comedy-drama Ugly Betty as celebrity-trasher Quincy Combs. In 2007, Jordan starred as Jesse Joe in the short-lived CW television program, Hidden Palms.
Jordan is best known for his role of Karen's pretentious, sexually ambiguous rival Beverley Leslie on the hit series Will & Grace. For that role he received an Emmy Award for Best Guest Actor in a Comedy Series at the 58th Annual Primetime Emmy Awards in 2006. For that role he received an Emmy Award for Best Guest Actor in a Comedy Series in 2006.
Jordan was an accomplished stage actor and playwright. He played "Brother Boy" in the onstage and onscreen versions of Del Shore's Sordid Lives. He also starred in his autobiographical play Lost in the Pershing Point Hotel, which was also made into a motion picture. He recently toured the country performing his one-man stage comedy, Like a Dog on Linoleum. In the show, he told stories of the high and low points of his life, from his father's death in a plane crash when he was just 11 years old, to his battles with substance abuse and his weakness for street hustlers.
Jordan distilled his experiences growing up as an effeminate tiny boy in the south and in show business into an autobiographical one man show, My Trip Down the Pink Carpet.
Of his recent life he says, he said,
"Anyway, I have been involved with an organization called The Trevor Project over the years doing fundraising and stuff. The Trevor Project is a national suicidal hotline for gay, lesbian, bisexual, and transgender kids if they're considering suicide they can call in. When they plugged in ten years ago they got almost 15,000 calls, which they were just overwhelmed from kids all over the country that were thinking about suicide. And you know where the majority of the calls came from? The Bible Belt, which is my story."
Jordan, who was openly gay, had recently starred in the pilot episode of Laugh Out, the world's first interactive, gay-themed comedy show.
Asked whether he would marry if same-sex marriage were legal in California,he said,
"I think if I met the right person. I am just afraid I'll end up with some hustler, fall in love with the rent boy, take me for all I am worth. No. I think I am gonna find somebody, someday I think."
On October 24, 2022, at approximately 9:30 am PDT, while driving to film scenes at the Call Me Kat set,[34] Jordan's car, a late model BMW 2 series Gran Coupe, hit the side of a building at Cahuenga Boulevard and Romaine Street in Hollywood. He was believed to have experienced a medical episode that led to the crash. Jordan was pronounced dead at the scene. He was 67 years old.
In January 2023, an autopsy report revealed Jordan died by "sudden cardiac dysfunction". According to the Los Angeles County Coroner's Office, Jordan died from sudden cardiac dysfunction due to arteriosclerotic cardiovascular disease. There was no evidence of drugs or alcohol in Jordan's system. At the time of his death, he had been sober for more than two decades.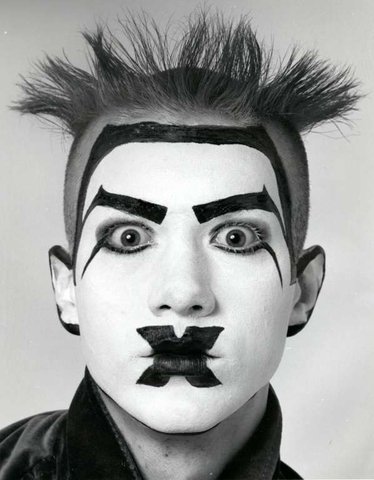 1966 – Michael Alig, born in South Bend, Indiana, is the co-founding member of the Club Kids, a group of young clubgoers led by Alig and his long-time best friend James St. James in the late 1980s and early 1990s. In 1996 Alig was convicted of the murder of Andre "Angel" Melendez in a confrontation over a drug debt.
Alig moved to New York to attend college from which he later dropped out. He began working at Danceteria in 1983 as a bus boy. A natural at throwing parties with little or no resources he soon began to rise in New York's party scene. Alig was mentored by socialite James St. James and club owner Peter Gatien while rising in popularity and prominence in the national underground club scene. Alig was also influential in the early promotion of his then boyfriend DJ Keoki who studied under DJ Brian Telfair, top DJ at the time in Alig's and Gatien's clubs, most notably the New York club The Limelight, owned by Gatien and designed by Ari Bahat. In Sept 1995 The Limelight was closed by the police on suspicion of drug trafficking, but subsequently reopened several times during the 1990s. In September 2003, it reopened under the name "Avalon".
Andre "Angel" Melendez worked at the Limelight, and after the bar's closure by federal agents, Melendez was fired. With no job he moved into Alig's apartment. Increasingly affected by substance abuse, Alig and his friend Robert "Freeze" Riggs murdered Melendez after an argument over many things including a long-standing drug debt.
According to Riggs he hit Melendez with a hammer three times on the head. Then Alig grabbed a pillow and tried to smother him. Alig's story was that he injected Melendez with Drano, while Riggs claims that Alig poured it down Melendez's throat and duct-taped his mouth closed. Since Alig and Riggs did not know what to do with the body they put it in the bath tub that they filled with ice. This kept the body from rotting, but after a few days the body began to smell. After discussing what they should do and who should do it, Alig injected himself with heroin. He then cut the legs off the corpse, put them in a garbage bag, then stuffed the rest in a box. Afterwards he threw the corpse into the Hudson River.
While Alig was in rehab, rumors of Alig's involvement in Melendez's death were reported in the Village Voice by Michael Musto. Although no names were used, Musto's reports included the details of the murder. Musto had previously reported on Alig's firing from the Limelight and noted the buzz about a missing club person. On April 27, 1996, the New York Post's "Page Six" column ran a lead item about the murder mystery, citing Musto's reporting as well as a New York magazine piece quoting an evasive Alig. Over the coming weeks, the Village Voice continued to report and make accusations about Melendez's murder; however the police department was not that concerned about the disappearance of a Colombian drug dealer.
Since several months had passed many people believed Alig would get away with it, until a dismembered torso was pulled from the Hudson River at Staten Island. James St. James recounts how Melendez's brother was baffled by the callousness and indifference of the police and of the scenesters Angel had considered friends.
In the fall of 1996, to escape the scrutiny of the media, Alig fled New York. He and some of his close friends took a road trip to Denver, Colorado, stopping in Chicago and his hometown, South Bend. While in South Bend, he saw his mother for the first time in three years. Once in Denver he missed New York too much and moved back into the city, trying to make a comeback at another midtown night club by hosting a new party night, called Honey Trap.
In November 1996, the coroner reported the body had been identified as Melendez. Every rumor was confirmed by the appearance of Melendez's body and the police could not ignore it. Alig fled New York, staying in a hotel in New Jersey with boyfriend Brian McCauly before the police surrounded the location. In December 1997, Alig and his accomplice Robert Riggs pleaded guilty to manslaughter and were sentenced to 10 to 20 years in prison for Melendez's death. While in prison, Alig told Musto, "I know why I blabbed. I must have wanted to stop me. I was spinning out of control. It's like the old saying 'What do you have to do to get attention around here - kill somebody?
Alig became eligible for parole in 2006. His first parole request, in November 2006, was denied, allegedly after parole officers watched the fictional movie based on Alig's life Party Monster, starring Macaulay Culkin. He was again denied parole in July 2008.
Alig was released on May 5, 2014. On Christmas Eve, 2020, shortly before midnight, Alig died at his Washington Heights home from an accidental heroin overdose at the age of 54.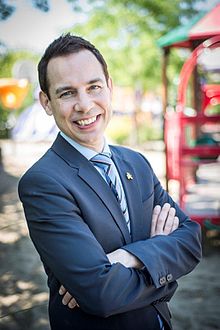 1968 – (Alexander Mathias) Alex Munter is the President and Chief Executive Officer (CEO) of the Children's Hospital of Eastern Ontario (CHEO), and a former elected official and business owner in Ottawa, Ontario, Canada. In 1993, he came out of the closet as the Ottawa area's first openly gay politician.
Munter's family emigrated from Germany to Montreal in 1966, two years before he was born. His family moved to the Ottawa region in 1977, and settled in the Katimavik-Hazeldean area west of the city. At age 14, Munter began publishing the Kanata Kourier from his basement as a monthly local paper for the suburban community of Kanata, Ontario. In four years, the paper had a staff of seven and a circulation of 10,000 in the town of 27,000. In recognition of his success in business, he received an award as "Young Entrepreneur of the Year" from then-Prime Minister Brian Mulroney in 1988.
In 1993, he came out of the closet as the Ottawa area's first openly gay politician.
Throughout his career, Munter has been at the forefront of numerous social change initiatives.
In 2001, as head of the city of Ottawa's Health and Social Services Committee, he led the adoption of Canada's first big-city workplace and public place smoking ban on city council. The Ottawa by-law became a model for many other jurisdictions, including New York City, which invited Munter to present to its city health commission in 2002. While second-hand smoke prohibitions are now commonplace, Ottawa's regulations broke new ground and came only a few years after Toronto had been forced to repeal a similar by-law due to public protest.
In 2003, Munter was approached by Canadians for Equal Marriage, a coalition of churches, professional groups and citizen organizations, and was asked to be the group's National Co-ordinator. In that role, he led a successful national campaign in support of Bill C-38: Civil Marriage Act, the federal legislation to entrench same-sex marriage rights in Canadian law.
Since moving into health and social services administration in 2007, Munter has continued to be a national voice on important public policy issues like gene patenting, obesity, mental health and the future of health care.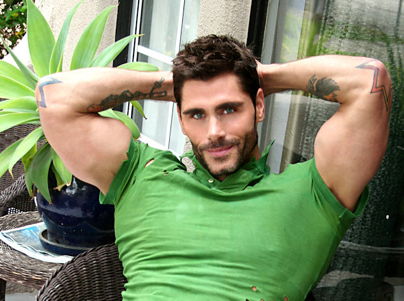 1969 – Jack Mackenroth is an American swimmer, model, and fashion designer who competed in the fourth season of American reality show Project Runway. Mackenroth was the first openly HIV-positive contestant in the show's history.
Although he was a late bloomer and had trouble fitting in, by the time he reached high school, he began to express himself through sewing. "I was a total club kid. I hung out with all the alternative kids at school, and we all made our own clothes and cut our own hair," he says. "I always had a knack for it and I wanted to look cool, but I didn't have the money, so I would just alter items I already had. At the time, it really irritated my mother, but look at me now!"
Mackenroth was pre-med at the University of California, Berkeley for the first two years, following in the footsteps of his mom who was a nurse at Seattle's Harborview Medical Center, but later graduated with a double degree in Fine Arts and Sociology after he figured he could actually make a living in the fashion industry.
In 1991, Mackenroth moved to New York to study Fashion Design at Parsons School of Design. After Parsons, Jack opened a menswear store on Bleecker Street in New York City's West Village called "Jack" where he showcased new designers alongside upscale brands such as Gaultier Junior, Diesel and John Richmond. In 1997, Mackenroth went to work for Tommy Hilfiger and then designed for Levis Slates brand. From 2003-2007, he was the Design Director at Weatherproof Active Wear
After a promising start on Project Runway, including a win in a menswear competition, Mackenroth abruptly decided to withdraw from the show during episode 5 due to a serious MRSA staph infection completely unrelated to his HIV.
"I am most proud of the fact that I was open about my positive HIV status on the show and exemplified that a person can manage HIV and live a successful life," Mackenroth says. "Every time a person with HIV is open about his or her status it helps everyone who is living with the disease.... I am a living testament to what you can accomplish by letting go of shame and being your own advocate." After his departure from the show, Mackenroth received many letters and e-mails thanking him for his openness and honesty and for being a great role model.
In 2008, Mackenroth partnered with Merck & Co., Inc. to launch a national HIV and AIDS education campaign called Living Positive By Design.] The Living Positive By Design campaign seeks "to address the stigma still associated with the disease and [highlight] the importance for people living with HIV to have a positive outlook on life while effectively managing their disease." Living Positive By Design events have been held in Miami/Fort Lauderdale, Florida at the 2008 United States Conference on AIDS (USCA), Atlanta, Georgia and in New York City at the Gay Men's Health Crisis (GMHC) Fashion Forward 2008 fundraiser.
On October 15, 2008, Mackenroth unveiled a custom-designed wedding gown crafted entirely of condoms as a visual reminder of the importance of safer sex and correct, consistent condom use for San Francisco's Project Inform. The project was especially challenging because Mackenroth is allergic to latex.
Mackenroth was a competitive swimmer in elementary and high school and continued competing after college at the Masters level. He has three All-American titles to his name and set a national record in the summer of 2006 in the breaststroke leg of the 4x50 meter medley relay. The same summer he finished 12th in the 50 meter breaststroke at the Masters World Championships in Stanford, California. Mackenroth first competed in the Gay Games in 1990 in Vancouver, British Columbia, without a team but won a bronze medal in the 50-meter breaststroke. He has won at least one gold medal in every one of the international competitions since.

1978 – Homophobic singer Anita Bryant's visit to Edmonton prompts demonstrations organized by the Coalition to Answer Anita Bryant. Her message of hate painted all gays as pedaphiles..

1993 – Russia: Homosexual acts between consenting adult males are legalized. Boris Yeltsin signs the law to obtain a place in the Council of Europe, a human rights organization.

1996 – Thomas Zaremba filed a palimony suit against pianist Van Cliburn, claiming the pair had been lovers for 17 years until their relationship ended in 1994.

1997 – The State of Hawaii creates a "domestic partners registry."

1998 – Afghanistan's Taliban militia brutally beat two soldiers who had been accused of homosexuality. Law required those convicted of sodomy to be executed by having a stone wall pushed on top of them.

2005 – An amendment to the Kansas Constitution banning same-sex marriage and civil unions went into effect.

2013 – Jason Collins of the NBA's Washington Wizards became the first gay athlete to come out while still an active player in one of the four North American major sports leagues.

APRIL 30 →
[{(o)}]|[{(o)}]|[{(o)}]|[{(o)}]| [{(o)}]|[{(o)}]