December 7
[{(o)}]|[{(o)}]|[{(o)}]|[{(o)}]| [{(o)}]|[{(o)}]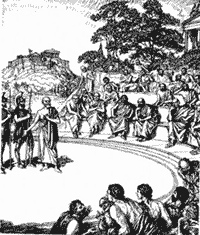 The Trial of Socrates
c.5th-4th Century BC – Anytus, son of Anthemion, was one of the prosecutors of Socrates. An unsubstantiated legend has it that he was banished from Athens after the public felt guilty about having Socrates executed. We do know that he was one of the leading supporters of the democratic forces in Athens (as opposed to the oligarchic forces behind the Thirty Tyrants). Plato also depicts Anytus as an interlocutor in his dialogue the Meno.
Anytus was a powerful, upper-class politician in ancient Athens, one of the nouveaux riches. Anytus served as a general in the Peloponnesian war: He lost Pylos to the Spartans during the war, and was charged with treason. According to Aristotle he was later acquitted by bribing the jury. Anytus won favor after this by playing a major role in overthrowing the Thirty Tyrants. Though Anytus lost much money and provisions during this eight month battle, he made no attempts to regain it back; this also helped his reputation with the Athenians. He came from a family of tanners, successful from the time of his grandfather. Socrates refers to his son's education in the Apology.
Both Anytus and Socrates were lovers of the young Alcibiades, but Alcibiades treated Anytus with great contempt. Once when Anytus had invited him to dinner, Alcibiades arrived late and already drunk. Seeing the table laid with gold and silver dishes, Alcibiades ordered his slaves to take half of the dishes back to his own house. Having played this prank, Alcibiades departed immediately, leaving Anytus and his other guests greatly surprised. When the guests began to rebuke Alcibiades, Anytus excused him, saying that he loved the boy so much that he would have suffered Alcibiades to take the other half of the dishes, too.
In 403 BC, Anytus supported the Amnesty of Eucleides, which stated that no one who committed a crime before or during the Thirty Tyrants could be prosecuted.
Anytus seems to have had at least two motivations for prosecuting Socrates: Socrates constantly criticised the democratic government of which Anytus was a leader. Anytus may have been concerned that Socrates' criticism was a threat to the newly reestablished democracy. Socrates taught Anytus' son and Anytus perhaps blamed Socrates' teachings for poisoning his son's mind or taking him away from the career path his father had set for him. Xenophon has Socrates forecast that the boy will grow up vicious if he studies a purely technical subject such as tanning. And Xenophon tells us that the son became a drunk.

1682 – The Province of Pennsylvania, under a strong Quaker influence, repealed the capital penalty sodomy law of 1676, and replaced it with a more lenient new law which made a first offence punishable by whipping, loss of 1/3 of one's property, and six months hard labor. A second offence was punishable by life imprisonment. The revision made the province one of only two where a man could not be put to death for sodomy at the time. In West New Jersey, also a Quaker colony, no sodomy law was in effect.

1775 – Franciscan Chaplain Father Pedro Font describes two-spirit people among the Yuma in his diary entry: "Among the women I saw some some men dressed like women with whom they go about regularly, never joining the men. The commander called them 'amaricados' because the Yuma call effeminate men 'Americas' … I learned that they were sodomites, dedicated to nefarious practices."

1873 – The Pulitzer prize winning American novelist Willa Cather was born on this date (d. 1947). An eminent American author known for her depictions of U.S. life in novels such as O Pioneers!, My Antonia, and Death Comes for the Archbishop. Cather was a classic tomboy, known as "Willie" for most of her childhood. Her novels are stories of strong people caught in
small lives and the struggle of the artist in society. She never admitted to being a Lesbian. But all of her meaningful relationships were with strong, independent women. Her first romantic affair was at the turn of the century with Louise Pound.
Few writers have taken such pains to destroy as much evidence of their private lives as did Cather. She believed, genuinely perhaps, that an author biography was unimportant, that only events or people in a life that relate to incidents or characters in an author's works were relevant and worth saving. In her will she ordered that her letters were not to be quoted. She burned all the correspondence between her and the woman who is believed to have been her lover between 1901 and 1915, Isabelle McClung. She saw to it that her official biography was to be written by the friend who succeeded Isabelle McClung, Edith Lewis, thus assuring that only what was relevant (i.e. "correct") was told. All of this would actually be admirable - after all, one does not need to know Shakespeare's biography to appreciate his works - if it were not for the fact that such fastidious people who burn their papers generally have something to hide that in their time is considered wrong.
In a sense, Willa Cather needn't have gone to so much trouble, for what little remains of the effects of her life clearly reveal her to have been a Lesbian anyway. Cather's relationship with Edith Lewis began in the early 1900s. The two women lived together in a series of apartments in New York City from 1912 until the writer's death in 1947. From 1913 to 1927, Cather and Lewis lived at No. 5 Bank Street in Greenwich Village. They moved when the apartment was scheduled for demolition during construction of the Seventh Avenue subway line. Cather selected Lewis as the literary trustee for her estate.
Cather and Lewis are buried together in Jaffrey, New Hampshire. Her will forbids any of her books being turned into screenplays and any anthologizing of her work.

1889 – The general ignorance of sex even by medical professionals is revealed as Dr. A.B. Holder publishes an article on male Absaroke American Indians and their oral sex practices. He assumes that the fellator achieves orgasm along with the fellatee because he can not understand why else fellatio would be practiced. He also calls oral sex "the most debased [sex practice] that could be conceived of."

1915 – A Missouri appellate court rules that being called a "cocksucker" is actionable as slander.

1916 – The manager of a New York City Turkish bathhouse for men committed suicide after vice police raided the establishment and arrested 37 men.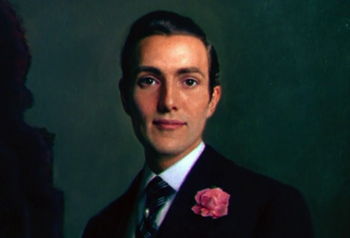 1917 – Hurd Hatfield (d.1998) was an American actor best known for his role in The Picture of Dorian Gray.
Born in New York City, he was educated at Columbia University before traveling to London, England where he studied drama and began acting in theater.
He had won a scholarship to study acting at Michael Chekhov's Dartington Hall company in Devon, England. Returning to the United States with Chekhov's company in 1939, he began a sexual affair with fellow troupe member Yul Brynner a year later. Unlike Brynner, however, Hatfield remained exclusively homosexual his entire life. During the time the company was playing on the West Coast, Hatfield was signed by MGM.
In his film debut in Dragon Seed (1944), he and his co-stars (Katharine Hepburn, Akim Tamiroff, Aline MacMahon, Turhan Bey) portrayed Chinese peasants. It was Hatfield's second film, The Picture of Dorian Gray (1945), that made him a star. As Oscar Wilde's ageless anti-hero, Hatfield received widespread acclaim for his good looks as much as for his acting ability. However, the actor was ambivalent about the role and his performance. "The film didn't make me popular in Hollywood," he commented later. "It was too odd, too avant-garde, too ahead of its time. The decadence, the hints of bisexuality and so on, made me a leper! Nobody knew I had a sense of humour, and people wouldn't even have lunch with me."
His subsequent films,
The Diary of a Chambermaid
(1946),
The Beginning or the End
(1947), and
The Unsuspected
(1947) were successful, but Hatfield's career began to lose momentum very quickly. Other films include
Tarzan and the Slave Girl
(1950),
King of Kings
(as Pontius Pilate) (1961),
El Cid
(1961),
Harlow
(1965),
The Boston Strangler
(1968),
King David
(1985),
Crimes of the Heart
(1986), and
Her Alibi
(1989).
He appeared frequently on television and received an Emmy Award nomination for the Hallmark Hall of Fame videotaped play The Invincible Mr. Disraeli (1963). In 1957, he appeared in Beyond This Place which was directed by Sidney Lumet. Among Hatfield's many other television credits are three guest appearances on Murder, She Wrote opposite his Picture of Dorian Gray costar, Angela Lansbury, who had become a lifelong friend.
Hatfield was totally gay and had many affairs with younger men over the course of his career.
He died at his home in Cork, Ireland, in 1998, soon after having Christmas dinner with friends..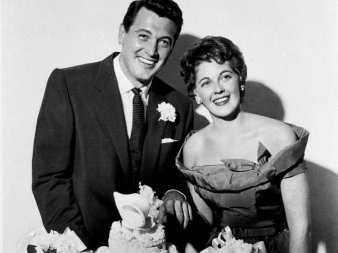 Rock Hudson and Phyllis Gates
1925 – Phyllis Gates, (d.2006) was an intensely attractive, dark-haired woman, a naive farm girl from Minnesota who landed a secretarial job with a New York entertainment corporation. This sparked an interest in show business, and she moved to Los Angeles, taking a job with the Hollywood agent Henry Willson who not only represented Rock Hudson, but had invented his name. Willson, who was also gay, knew that rumours about Hudson could ruin his best client, who had just won a leading role with the young James Dean and Elizabeth Taylor in Giant (1956).
Willson was particularly worried about the sensational magazine Confidential, which had spoken to some of Hudson's former lovers. Accordingly, he contrived for Gates and Hudson to date each other after they had met in his office. Then, in October 1955, a Life magazine article on "Hollywood's most handsome bachelor" reported: "Fans are urging 29-year-old Hudson to get married - or explain why not." Willson had to move, quickly.
Hudson proposed to Gates in Willson's office, and she accepted at once. The following month, the agent organised a private wedding. No Hudson disclosure appeared in Confidential.
At first the marriage went well, Gates wrote in her 1986 book, My Husband, Rock Hudson. He was generous with gifts, particularly jewellery; and they had a sex life, although it was usually "brief and hurried". But Hudson began to go out a lot, even late at night, offering only lame excuses.
There were calls from young men, but Gates thought they were fans. Then, in an argument, he told her that "all women are dirty" and, during sudden rages, he hit her. She went to see a psychiatrist who warned her that he might be homosexual. While in Italy making A Farewell to Arms (1957), he "virtually abandoned" her for five months. She sued for divorce the following April, received $250 a week for 10 years and never spoke to Hudson again.
She remained in LA and became an interior designer, but never remarried.
In the multitude of misused Hollywood women, Phyllis Gates, must rank among the saddest. She never made a film, or even auditioned for one. But she married Rock Hudson, one of the movie industry's biggest stars.

1946 – Said to be the oldest surviving organization for LGBT rights, Netherlands' Center for Culture and Leisure (COC) was established in Amsterdam in 1946. The goals of the C.O.C. were twofold: to contribute to social emancipation, and to offer culture and recreation for gay men and lesbians. The social emancipation focused on getting revoked article 248-bis in the Wetboek van Strafrecht, the main code for Dutch criminal law.
Originally named the "Shakespeare club," the founders were gay men who were active with "Levensrecht" (Right To Live), a magazine founded a few months before the German invasion in 1940, and which re-appeared after the war. The Shakespeare club was renamed in 1949 to "Cultuur-en Ontspanningscentrum" (C.O.C.). From its beginning in 1946 until 1962, the chair was Bob Angelo, a pseudonym of Niek Engelschman.

1954 – A Pennsylvania appellate court upholds the right of a single jury to try a large number of sodomy cases from arrests at "Homo-Haven," a resort.

1956 – The Tennessee Supreme Court upholds a 5-year sentence for sodomy for a 17-year-old defendant.

1987 – A Michigan appellate court upholds a conviction for merely kissing a penis, stating that penetration need not be proven.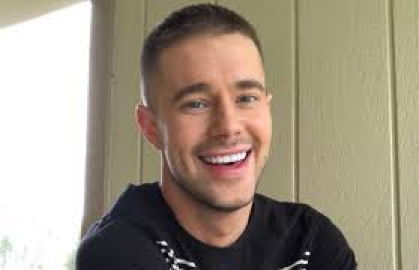 1987
–
Chris Crocker
is an American Internet celebrity, blogger, songwriter, recording artist and former
YouTuber and pornographic film actor. Crocker gained fame in September 2007 from his viral video "Leave Britney Alone!", in which he tearfully defended pop singer Britney Spears' comeback performance at the MTV Video Music Awards; his video received over four million views in two days. The video gained international media attention, hundreds of parodies, along with criticism for Crocker.
Producing and acting in his own videos, Crocker is a self-described edutainer. In almost all of his adolescent works, he presents himself as an openly gay and effeminate Southerner in a "small-minded town" in the Bible Belt. Using "Crocker" as a stage name, he kept his exact location private due to safety concerns and death threats in response to his YouTube and Myspace video blogs and profile until he was no longer a teenager. According to his Myspace profile, Crocker lived in Los Angeles as of January 2008. In May 2010, he returned home to Tennessee, and now travels to Los Angeles for business.
Crocker's work consists mainly of short-form, self-directed monologues shot in his grandparents' home. As of October 2010, his videos had received a combined 50 million plays on MySpace, and his vlog channel on YouTube was the 100th-most viewed of all time in all categories, with over 205 million video views, before Crocker closed his YouTube account in September 2015. Crocker's detractors and critics have accused him of narcissism, melodramatics, histrionics, and using Spears' personal shortcomings to bolster his own fame. Others have accused Crocker of acting in the "Leave Britney Alone!" video, although he insisted it was genuine on a September 2007 appearance on
Maury Povich
's
Maury
show. In 2014, Queerty stated that with Crocker's thousands of Facebook and Twitter followers, he is
"one of those self-invented social media icons"
.
In July 2011, it was announced that Crocker had been signed by Chi Chi LaRue to appear in a pornographic film. He made his adult debut in October 2012 for Maverick Men. In 2014, Lucas Entertainment digitally released Chris Crocker's Raw Love, which features Crocker in a scene with his then-boyfriend Justin Dean.


Updated 2022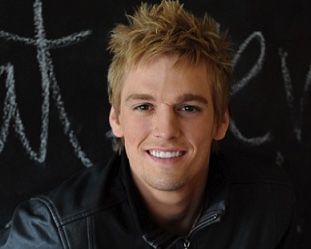 1987 – Aaron Carter was an American singer. He came to fame as a pop and hip hop singer in the late 1990s, establishing himself as a star among pre-teen and teenage audiences during the early 2000s with his four studio albums.
Born in Tampa, Florida, Carter began performing at age seven and released his self-titled debut album in 1997. His second album Aaron's Party (Come Get It) (2000) sold three million copies in the United States, and Carter began making guest appearances on Nickelodeon and touring with the Backstreet Boys shortly after the record's release. He is the brother of Backstreet Boys' Nick Carter
Carter's next album, Oh Aaron, also went platinum, and the musician released his most recent studio album, Another Earthquake!, in 2002, followed by his 2003 Most Requested Hits collection.
He later appeared on Dancing With the Stars, the Broadway musical Seussical, the off-Broadway musical The Fantasticks, and made several one-off performances. In 2014, he announced that he would begin releasing new music and began by releasing a single featuring rapper Pat SoLo, "Ooh Wee", which first became available as a free download with purchase on his web store. Carter released a single, Fool's Gold, on April 1, 2016 and an EP titled LøVë on February 10, 2017.
Carter came out as bisexual on August 5, 2017, through Twitter, and later that year on December 18, he made a guest appearance on the podcast LGBTQ&A to discuss both his career and sexuality. He reaffirmed his bisexuality publicly on at least one other occasion, but said all his past relationships were with women.
On November 5, 2022, Carter died at his home in Lancaster, California, at age 34. His body was found in his bathtub by a housekeeper. An autopsy was performed but the cause of death was deferred, pending a toxicology report.

1989 – Turkey: Journalist Ibrehim Eren is imprisoned for protesting police harassment of gays. He was held for four months.


1993 – In Texas, Williamson County commissioners reversed a decision to deny Apple Computer tax breaks for a new facility in the county because of its policy of extending benefits to employees' same-sex domestic partners. Several of the commissioners, however, continued to express condemnation of "the gay lifestyle."

1997 – Speaking before a Georgetown University audience of about 300, three Jesuits presented their different perspectives on how the church should regard and spiritually counsel gay men and lesbians. Cardinal James A Hickey objected to the debate because he felt that the conservative view on the wrongness of homosexuality would not get a fair hearing.

DECEMBER 8 →
[{(o)}]|[{(o)}]|[{(o)}]|[{(o)}]| [{(o)}]|[{(o)}]