June 28
[{(o)}]|[{(o)}]|[{(o)}]|[{(o)}]| [{(o)}]|[{(o)}]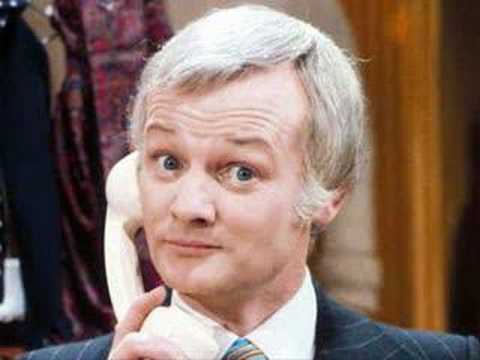 1935 – Born: John Inman (d.2007), English actor who was best known for his role as Mr Humphries in the British sitcom Are You Being Served? in the 1970s and 1980s. Inman was also well known in the United Kingdom as a pantomime dame.
Inman was born in 1935 in Preston, Lancashire, and was a cousin of actress Josephine Tewson. At the age of 12, Inman moved with his parents to Blackpool where his mother ran a boarding house, while his father owned a hairdressing business. As a child, he enjoyed dressmaking. Inman always wanted to be an actor, and his parents paid for him to have elocution lessons at the local church hall. At the age of 13 he made his stage debut in the Pavilion on Blackpool's South Pier, in a melodrama entitled Freda. Aged 15, he took a job at the pier, making tea, clearing up, and playing parts in plays.
After leaving school, Inman worked for two years as a window dresser. At 21 he became a scenic artist with Kenneth Kendall's touring company at a theatre in Crewe, so that he could earn his Equity Card. Inman made his West End debut in the 1960s when he appeared in Ann Veronica at the Cambridge Theatre. He also played in Salad Days at the Windmill Theatre in 1975, and as Lord Fancourt Babberley in Charley's Aunt at the Adelphi Theatre in 1979. He also played in many summer shows, and established himself as a dame in pantomime, appearing regularly as one of the two ugly sisters alongside comedian and former partner Barry Howard.
Inman made his television debut in the sitcom Two In Clover in 1970. In 1972, he was asked by David Croft to play a part in a Comedy Playhouse pilot called Are You Being Served?. The first series in 1973 showing opposite Coronation Street on ITV attracted little attention, but repeats later that year were very successful.
Although the show and the Inman's campy character were popular, Inman came under attack by some gay rights groups for what they perceived to be his stereotypical portrayal of a homosexual. However, both Inman and David Croft stated that the character was 'just a mother's boy' and his sexual orientation was never explicitly stated.
Are You Being Served? ran for ten series until it finished in 1985. At its height, in the late 1970s, it regularly attracted British audiences of up to 20 million viewers. From 1980 to 1981, Inman also played Mr Humphries in the Australian version of Are You Being Served?, set in a store named Bone Brothers to avoid problems with a real business named Grace Brothers. The series also became popular in the United States, where Inman became a gay cultural icon.
During the 69-episode, 13-year run of Are You Being Served?, Inman also appeared in the 1977 film of the series, in which the characters visited the fictional Spanish holiday resort of 'Costa Plonka'; in Odd Man Out, his own sitcom in 1977, playing the owner of a fish-and-chip shop who inherits half of a rock factory; and Take a Letter, Mr Jones, a 1981 sitcom where Inman played a male secretary. Inman also toured with his own shows, and he released several records.
After the end of Are You Being Served?, Inman became one of the nation's best known pantomime dames and appeared in over 40 pantomime productions across the country. In 2004, Inman made additional television appearances in Doctors and Revolver.
He lived in a mews house in Little Venice for 30 years. On 23 December 2005, Inman entered in a civil partnership at Westminster Register Office with his partner of 35 years, Ron Lynch.
In December 2004, Inman was forced to cancel an appearance in a pantomime as he was suffering from a hepatitis A infection, which he had contracted from contaminated food. Following this, he never worked again and he suffered complications from the infection for the rest of his life. Inman died early in the morning of 8 March 2007, aged 71.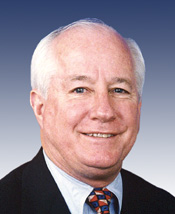 1942 – Jim Kolbe is a former Republican member of the United States House of Representatives for Arizona's 8th congressional district, serving 11 terms from 1985 to 2007.
Kolbe came out as gay in August 1996 after his vote in favor of the Defense of Marriage Act spurred efforts by some gay rights activists to out him. He won re-election that year. In 2000, he became the first openly gay person to address the Republican National Convention, although his speech did not address gay rights. He was the second openly gay Republican to serve in Congress, the first being Steve Gunderson of Wisconsin.
Even after coming out, Kolbe's record on gay rights was somewhat mixed. He was lukewarm in his support of same-sex marriage, but he strongly supported the availability of universal civil unions.
In 2000, when Kolbe found out about former Congressman Mark Foley's "internet communications with teenagers" who were subordinate to Foley in the page program, he informed the office that oversaw the program. He assumed the matter had been taken care of, although this was not brought to the public's attention until September 29, 2006 when it became public that Foley had sent sexually explicit and solicitative e-mails and instant messages to young adult male pages. Republican leaders had claimed that they had only recently been made aware of Foley's actions, despite Kolbe's actions.
In October 2006, federal prosecutors in Arizona opened a preliminary investigation into a camping trip that Kolbe took in July 1996 that included two teenage former congressional pages, as well as National Park officials, then-current staff, and Kolbe's sister. During that trip to the Grand Canyon, he was accused of "acting inappropriately"; NBC News interviewed several people who were on the trip, and their accounts vary. One participant, who requested anonymity, said he was uncomfortable with the attention Kolbe paid to one of the former pages. He was "creeped out by it," he said, adding that there was a lot of "fawning, petting and touching" on the teenager's arms, shoulders and back by Kolbe. On June 5, 2007, federal investigators absolved Kolbe of any wrongdoing in the case. In a statement released by the Justice Department, "investigators have completed their work on the preliminary inquiry opened by federal prosecutors last fall, and see no reason to pursue it further."
He divorced his wife in 1992. In 2013, he married his partner Hector Alfonso.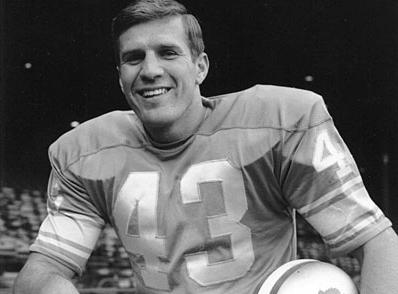 1942 – On this date Dave Kopay, the former professional football player, was born - a former American football running back in the National Football League, who in 1975 became one of the first professional athletes to come out as Gay.
Kopay attended Notre Dame High School in Sherman Oaks, California. He entered the University of Washington in 1961 and became an All-American running back in his senior year. He was signed by the San Francisco 49ers.
He played professional football from 1964 to 1972 with the Detroit Lions, the Washington Redskins, the New Orleans Saints, and the Green Bay Packers.
After he retired from the NFL, he was considered a top contender for coaching positions, but he believes he was snubbed by professional and college teams because of his sexual orientation. He went to work as a salesman/purchaser in his uncle's floorcovering business in Hollywood. He is also a board member of the Gay and Lesbian Athletics Foundation.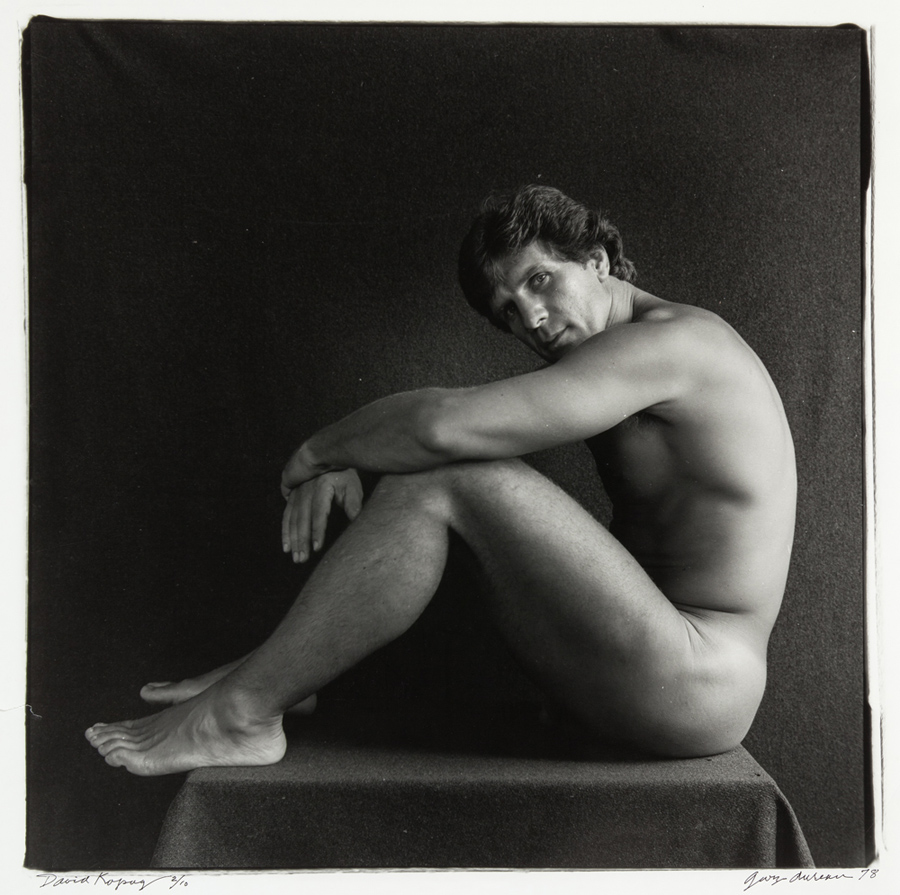 Dave Kopay by George Duran
(Click for Larger)
His 1977 biography, The David Kopay Story, written with Perry Deane Young, offers insights into the sexual proclivities of heterosexual football players and their homophobia. In 1986, Kopay also revealed his brief affair with Jerry Smith (1943-1986), who played for the Washington Redskins from 1965-1977 and who died of AIDS without ever having publicly come out of the closet.
Since Kopay, only three additional former NFL Players have come out as gay, Roy Simmons in 1992, Esera Tuaolo in 2002, and Wade Davis in 2012. Kopay has been credited with inspiring these athletes to be more open about their sexual orientation.
Kopay became a Gay Games Ambassador for the Federation of Gay Games. He came to Gay Games VII in Chicago in July 2006 and was a featured announcer in the opening ceremonies.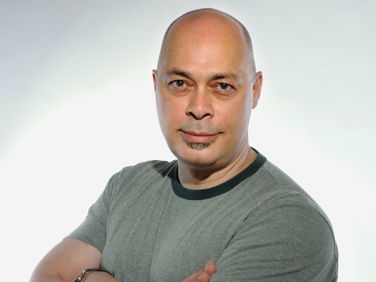 1959 – Brad Fraser, born in Edmonton, Alberta, is a Canadian playwright, screenwriter and cultural commentator. He is one of the most widely produced Canadian playwrights both in Canada and internationally. His plays typically feature a harsh yet comical view of contemporary life in Canada, including frank depictions of sexuality, drug use and violence.
The openly gay writer, who began writing stage plays as a teen, told Maclean's Magazine of his difficult childhood in rural Alberta. Fraser's parents were teens themselves when he was born, and he told Johnson that his mother had four children and two miscarriages before she was old enough to legally drink at a bar. Fraser recalled the beatings he received from his father and the sexual abuse he experienced from a male relative. Until he was sixteen years old, Fraser's family moved constantly. Pop culture became his touchstone, and he began writing stories and drawing. He trained as a graphic artist and then enrolled in a drama program for young people, but when he read the plays available for teens, he felt he could do better.
Fraser first came to his prominence as a playwright with Unidentified Human Remains and the True Nature of Love, an episodically structured play about a group of thirtysomethings trying to find their way through life in Edmonton, Alberta, while the city is haunted by a serial killer. It was a hit at the Alberta Theatre Projects' playRites '89. The play was named one of the 10 Best Plays of 1992 by Time Magazine.
While the New York production of Unidentified Human Remains and the True Nature of Love attracted significant attention, Fraser has not directed his career toward New York. Indeed, his next script, Poor Super Man, had its premiere in Cincinnati, Ohio. Coming three years after the 1991 Robert Mapplethorpe controversy in Cincinnati, Poor Super Man inspired international headlines when the board of directors of Ensemble Theatre of Cincinnati temporarily canceled the production because of its anticipated obscenity. After a public outcry, the production was reinstated. Poor Super Man opened without incident.
Fraser also has written two films, Love and Human Remains based on his play Unidentified Human Remains... and Leaving Metropolis, both adaptations of his plays. He has also written for the television series Queer as Folk, was host of his own Toronto-based television talk show, Jawbreaker, and for a period of time wrote a biweekly column for the Canadian gay magazine fab. Keanu Reeves had his first acting role in the Toronto production of Fraser's play Wolfboy in the year 1985 at Theatre Passe Muraille, Toronto, Ontario.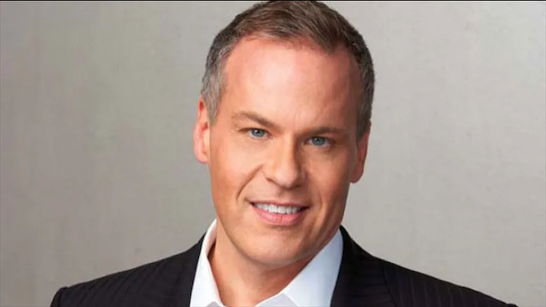 1960 – Leslie Roberts is a Canadian television and radio personality, who was the host of CTV Morning Live in Ottawa. He was previously the host of The Leslie Roberts Show on CJAD in Montreal, until announcing on December 4, 2018 that he would be leaving the station as of December 21.
Roberts was raised in a family full of journalists. Roberts' great-grandfather John H. Roberts founded and ran a controversial reformist Montreal tabloid newspaper called The Axe between 1922–24. His grandfather and namesake was a writer and journalist. His father, Bill Roberts, was a morning-man for Montreal's CJAD for 20 years, and later vice-president of programming. His mother was an assistant to a federal MP. Roberts' brother, Rob Roberts, is editor-in-chief at the National Post.
Roberts is the third generation of the Roberts media family to work at CJAD 800 Montreal. His father Bill was morning man through the 1950s and '60s, and again for a few years in the '70s. His namesake grandfather Leslie was an editorialist at both CJAD, and Toronto sister station CFRB 1010, in the 1970s.
Roberts has one child, a daughter named Lauren. She was a longtime producer at CTV's eTalk, and resigned in 2016 to pursue her dream of acting, writing and directing in film and TV. In January 2020, Lauren was named the Director of Fundraising Events at the PK Subban Foundation (a charity started by former Montreal Canadiens defenseman PK Subban), which raises money for the Montreal Children's Hospital. In fall Of 2021, Lauren joined the CTV Montreal family as part time weather presenter, making her the 4th generation of the Roberts media family on TV & radio in Montreal.
In October 2019, Roberts publicly came out as gay to mark National Coming Out Day.
Roberts joined CTV Ottawa as a co-host on the Ottawa edition of CTV Morning Live in June 2019, arriving from Montreal off a two-year hosting stint at CJAD.
In May 2022, he announced his departure from CTV and 580 CFRA Ottawa.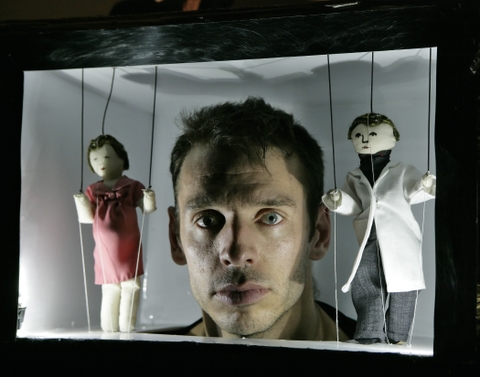 1969 – Basil Twist is a New York City-based puppeteer who is known for his underwater puppet show, "Symphonie Fantastique". He was named a MacArthur genius grant recipient on September 29, 2015.
Originally from San Francisco, Basil Twist is a third generation puppeteer. He graduated from the École Supérieure Nationale des Arts de la Marionnette in Charleville-Mézières, France. He is founder and director of the Dream Music Puppetry Program at Here Arts Center in NYC, which supports and produces new puppet artists. He was a Fall 2015 MacArthur Fellow at the NYU Center for Ballet and the Arts.
Twist has significantly contributed to the art of puppetry since 1998. He creates puppet works focused on their integration with music. His "Symphonie Fantastique", is performed to the symphony of the same name. Twist's version of "Master Peter's Puppet Show" was created with the Eos Orchestra and later performed with the Los Angeles Philharmonic Orchestra. Twist's "Dogugaeshi" features original shamisen compositions created and performed live by master musician Yumiko Tanaka. He also directed and designed Humperdinck's opera, Hansel and Gretel, for the Houston Grand Opera and the Atlanta Opera. In 2010, Twist created the puppetry for the Broadway productions of The Pee-wee Herman Show and The Addams Family. Twist is known for his original adult puppet mediums and use of abstraction in puppetry. "Symphonie Fantastique" takes place in a tank of water. In "Red Beads", his collaboration with Lee Breuer and Mabou Mines, he created wind puppetry. In "Dogugaeshi" he uses the Japanese art form of sliding screens.
Twist, who is gay, says of his awakening to his gayness at Oberlin College: "You know, I came from San Francisco. I was sexually active as a gay kid, but it was a secret. And suddenly I was in this situation where there's a gay league and a gay student alliance and a gay this and that. Every day, you had to declare yourself as something."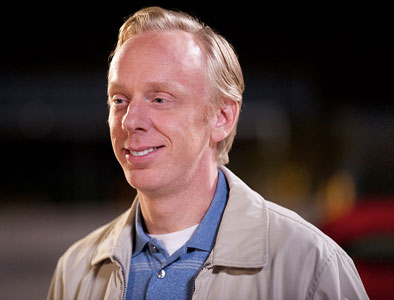 1970 – Mike White is an American writer, director, actor, and producer for television and film and the winner of the Independent Spirit John Cassavetes Award for Chuck & Buck. He was the co-creator, executive producer, writer, director and actor for the HBO series Enlightened.
White was born in Pasadena, California. He attended Polytechnic School and Wesleyan University. White is the son of Reverend Dr. Mel White (James Melville White), who is a former speechwriter and ghostwriter for Religious Right figures such as Jerry Falwell and Pat Robertson. White is openly bisexual. His father, Mel White, came out as gay in 1994.
White was a writer and producer on Dawson's Creek and Freaks and Geeks and wrote and acted in the films Chuck & Buck, The Good Girl, Orange County, School of Rock and Nacho Libre. He also had a role in the 2004 remake of The Stepford Wives, and the 2008 film Smother. Chuck & Buck was named the best film of 2000 by Entertainment Weekly. In an interview with The New York Times, Jeff Bridges called White's performance in Chuck and Buck "the performance of the decade".
He frequently collaborates with actor–writer Jack Black on films. Together they formed the production company Black and White, which closed in 2006. White is not a fan of classic rock, but he wrote School of Rock specifically so Black could perform his own favorite rock music.
White made his directorial debut with the self-penned Year of the Dog at the 2007 Sundance Film Festival. White is a vegan animal rights supporter and received an award from animal rights group PETA for Year of the Dog, which was also the third screenplay of White's to be nominated for Best Screenplay at the Independent Film Awards. (He won for The Good Girl.)
Laura Dern brought White into a project with HBO which became the series Enlightened that premiered on October 10, 2011.
He appeared on the fourteenth season of The Amazing Race along with his father Mel. They lasted for seven legs before being eliminated in sixth place in Phuket, Thailand. Mel and Mike returned to compete in The Amazing Race: Unfinished Business, where they finished in tenth place being the second team eliminated in Tokyo, Japan.
White is a vegan and lives in Santa Monica with his partner, Josh. He also owns a house in Kauai. He is openly bisexual.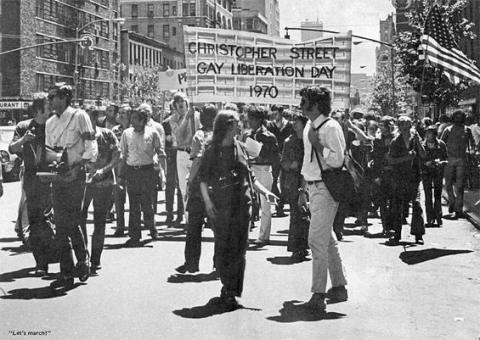 1970 – On the one-year anniversary of the Stonewall riots, more than 2,000 people march in New York City as part of the First Gay Pride parade in the United States.

1972 – Sunil Babu Pant is the first openly gay politician in Nepal. His 2008 election to the national legislature followed years of activism on behalf of the Nepalese GLBT community.
Trained as a computer engineer, Pant received a scholarship to study in Belarus. It was there that he first heard the word "homosexual" and identified as a gay man. It was also where he was first exposed to entrenched homophobia, inspiring him to fight for equality in his home country.
In 2002, Pant founded the Blue Diamond Society. The group consists of more than 20 organizations and 120,000 members representing the interests of the country's GLBT and HIV/AIDS communities. Leaders and members of the society have continued their advocacy in the face of threats of arrest and violence.
The Blue Diamond Society was party to a 2007 case that led Nepal's highest court to declare that GLBT individuals were "natural persons" who deserve protection and civil rights. The court also ordered the establishment of a commission to study same-sex marriage as well as the addition of a third gender option on official government documents.
Pant was elected to Nepal's Constituent Assembly as a member of Nepal's Communist Party United. His legislative goals include equal justice and economic rights. He serves on a committee charged with rewriting Nepal's constitution. In spite of his many accomplishments, Pant insists that his work is far from complete: "With our progress, however, is the awareness that so many more need to be served."
In 2005, Pant and the Blue Diamond Society were awarded the Utopia Award, Asia's leading GLBT honor. In 2007, the International Gay and Lesbian Human Rights Commission bestowed the group with its Felippa de Souza Award.
Pant lives in Nepal's capital city, Kathmandu.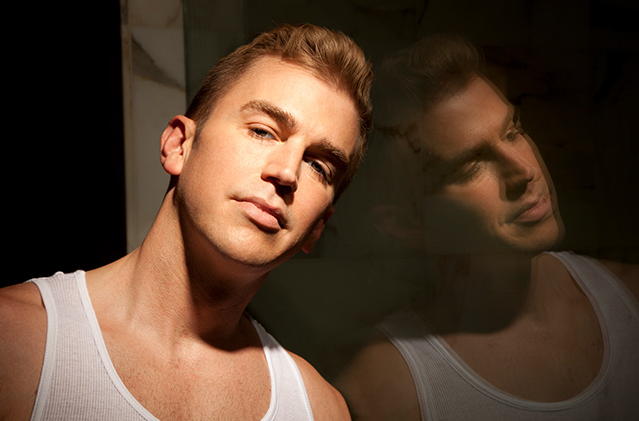 1978 – Spencer Day is a modern jazz singer and songwriter best known for his hit Jazz single "Till You Come to Me" as well as appearing on the CBS television network show Star Search in 2002–2003.
Spencer Day was born in a small town in Utah. Growing up, Day said, his mother wanted to get him involved in singing, but he was not interested. Following his parents' separation, he lived with his grandparents in Arizona. After working in a gas station, he moved to California. When he was 20, his roommate heard him singing in the shower and suggested he take lessons. Day took the advice, and he began studying piano seriously. Mostly self-taught, Day sang and played piano at bars and retirement homes, typically playing jazz standards.
In 2002, he auditioned and was selected to compete on the CBS television network show Star Search. Following the show, his cover of "What a Wonderful World" was released as a single. In 2004, he released his debut album Introducing Spencer Day, which featured his love of jazz standards.
His second album Movie of Your Life the following year featured his own songs and the title track won San Francisco Academy of Art University's 2005 competition for best original song.
In a March 2010 interview, Day discussed how he came out as gay to his family and how Rufus Wainwright and k.d. lang have helped to minimize the impact of his coming out on his career and avoid having his music labeled with his sexuality: "What I do, the causes I'm behind, that's what's important. Who I am, unless it is particularly relevant, has no place in my music." In May 2010, Day discussed his homosexuality and said: "I wanted to stand and be counted....I was born in Utah and I grew up Mormon and I want to be part of building a bridge between the LGBT community and the Mormon community."

1978 – Sixth National Gay Conference is hosted by the Gay Alliance for Equality in Halifax ( June 28- July 4). At this meeting the National Gay Rights Coalition changed its names to the Canadian Lesbian and Gay Rights Coalition.


Added 2023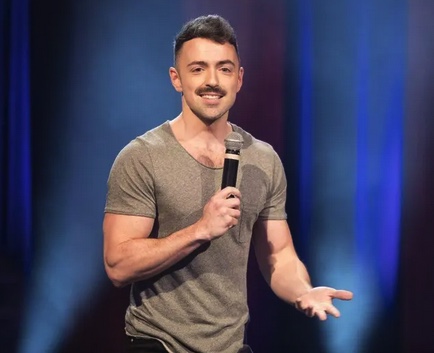 1986 – Matteo Lane is an American comedian, illustrator, and singer.
Matteo Lane was born in 1986, raised in Arlington Heights, Illinois, and lived on the North Side. Through his mother, Lane is of Mexican and Italian descent. His father is a Vietnam War veteran and is of Irish descent. Lane's Italian family originates from Agrigento and Messina in Sicily. He was nicknamed Matteo by his Italian family.
Lane, who is gay, has an older brother who is also gay. He speaks English, Italian, Spanish, and French, and studied German in high school.
Lane started to sing opera at the age of 15 under vocal coach Nick Falco. At the School of the Art Institute of Chicago, he studied oil painting and drawing. Lane studied art for five months in Umbria as an oil painter and opera singer before returning to Chicago. He graduated with a Bachelor of Fine Arts in 2009.
As a singer, Lane performed in bars in Boystown before starting his comedy career circa 2011 at open mics in Chicago. He moved to New York to work as a storyboard artist circa 2012. In an interview, Lane stated that it was "the most boring job in the world." He later quit the position to pursue comedy. After being featured in "New Faces" at the 2014 Just for Laughs festival, MTV invited Lane to appear on Guy Code.
Lane is an advocate for the gay community. He has been the victim of several homophobic incidents during his shows.
Lane and Emma Willmann are co-hosts of a queer-themed podcast, Inside the Closet. They are both also featured in Netflix's The Comedy Lineup.
On coming out, Lane stated in an interview that "I've spent my entire life feeling shame for being gay and once I came out of the closet, I realized that I'm proud to be gay."

James Dale "Advocate" cover story
2000 – In the case of Boy Scouts Of America V. Dale, the U.S. Supreme Court rules the Boy Scouts of America can discriminate against Gays and Bisexuals saying it is a private organization and not bound by local human rights laws. The ruling overturning the New Jersey Supreme Court's application of the New Jersey public accommodations law, which had forced the Boy Scouts of America (BSA) to readmit Eagle scout and assistant Scoutmaster James Dale.

When he was a student at Rutgers University, Dale became copresident of the Lesbian/Gay student alliance. Then, in July 1990, he attended a seminar on the health needs of lesbian and gay teenagers. During the seminar, he was interviewed, and the work was subsequently published. He was expelled from Scouting after BSA officials read the interview in a local newspaper and Dale was quoted as stating he was gay.
There has been opposition to BSA's membership policies from organizations and individuals. Some within the Scouting movement, as well as long-time Scouting supporters, parents, chartered organizations, and religious organizations have expressed opposition to the policies in ways ranging from protests to forming organizations that advocate inclusiveness. Some push for a voluntary change within the BSA, others seek involuntary change by filing lawsuits, still others choose to disassociate themselves from the BSA or encourage others to do so.
Some public entities and private institutions have ceased financial or other support the BSA, primarily as a result of conflicts between their nondiscrimination policies and the BSA's membership policies. About 50 of the 1300 local United Ways, including those in Miami, Orlando, Philadelphia, San Francisco, and Seattle, have withdrawn all funding. The BSA has also lost all funding from several large corporations that had been regular donors, such as Chase Manhattan Bank, Levi Strauss, Fleet Bank, CVS/pharmacy, and Pew Charitable Trusts. For example, Pew Charitable Trusts, which had consistently supported the BSA for over fifty years, decided to cancel a $100,000 donation and cease future donations. A number of public entities (including the cities of Chicago, San Diego, Tempe, Buffalo Grove, Berkeley, and Santa Barbara, as well as the states of California, Illinois, and Connecticut) have canceled charitable donations (of money or preferential land access) that had historically been granted to the Scouts.
The Boy Scouts were not always as hard core about this issue. But the organization in the last few decades has been taken over by both the United Methodist and Mormon churches, which sponsor the largest numbers of scout troops. Both denominations are homophobic in their practices and policies toward GLBT people, so it's not surprising that they would support the scouting organization in such blatant institutional bigotry.
Eagle Scout filmmaker Steven Spielberg had been a long-time supporter of Scouting, depicting a young Indiana Jones as a Boy Scout in the 1989 film Indiana Jones and the Last Crusade and helping to create the Cinematography merit badge. Spielberg resigned from the BSA Advisory Council in 2001, saying, "it has deeply saddened me to see the Boy Scouts of America actively and publicly participating in discrimination."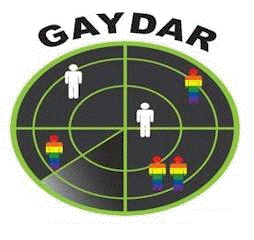 2007 – In a federal lawsuit a British company — Qsoft Consulting Limited, based in Twickenham, Middlesex — claimed it owned the name "gaydar" as part of its Gay and Lesbian dating Web sites and online digital radio service. Gay people everywhere had a hearty laugh.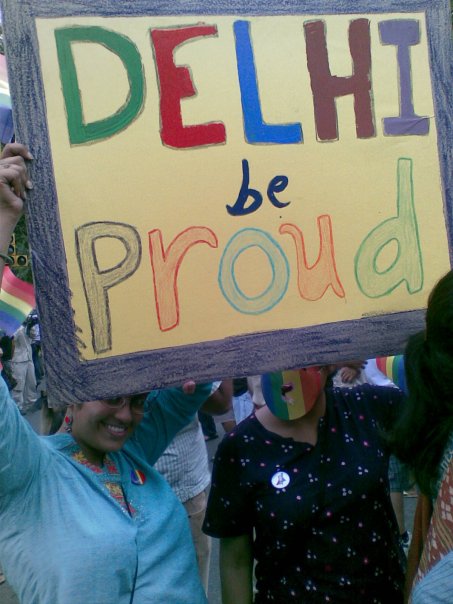 2008 – The second-ever Gay Pride event was held in New Delhi with over 1000 attendees demanding an end to colonial-era laws against homosexuality. According to the Times of India, the Delhi Gay Pride Parade, which went down the Barakhamba Road to Jantar Mantar, called for a doing away with Article 377 from the lawbooks, and stop making homosexuality a punishable offense. They chanted slogans like "377 Bharat Chhodo," "Lesbian, Bisexual, Transgender and Gay," and "Down down down down - 377 down down" in the march which was also attended by supportive straight Indian celebrities.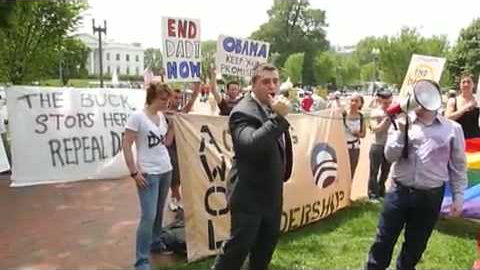 2009 – The Servicemembers Legal Defense Network protested outside of the Obama White House in opposition to the Don't Ask Don't Tell policy of expelling Gay soldiers. Obama had promised to repeal DADT but had not done anything as yet. Over 100 people gathered to protest the Obama administration's slow progress on the issue. As we now know, the policy was eventually repealed in 2011. The American Armed Forces did not suddenly fall apart.

JUNE 29 →
[{(o)}]|[{(o)}]|[{(o)}]|[{(o)}]| [{(o)}]|[{(o)}]