September 17
[{(o)}]|[{(o)}]|[{(o)}]|[{(o)}]| [{(o)}]|[{(o)}]
1480 – The Spanish Inquisition is established as a court for the detection of heretics, although its true purpose remains somewhat obscure. But 1000-1600 people were charged with the crime of sodomy. During the 350 years of the Spanish Inquisition, the total number of "heretics" burned at the stake totaled nearly 32,000.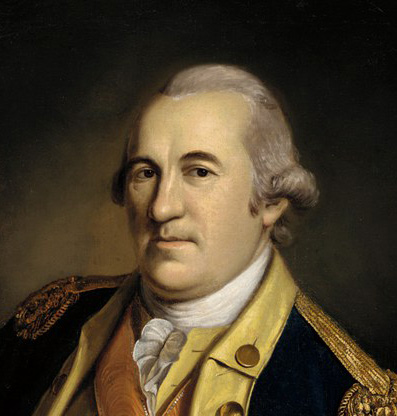 1730 – Friedrich Wilhelm von Steuben (d.1794), also referred to as the Baron von Steuben, was a Prussian-born military officer who served as inspector general and Major General of the Continental Army during the American Revolutionary War. He is credited with being one of the fathers of the Continental Army in teaching them the essentials of military drills, tactics, and disciplines. He wrote the Revolutionary War Drill Manual, the book that served as the standard United States drill manual until the War of 1812.
In Germay, in 1776, he was alleged to be homosexual and was accused of improper sexual behavior with young boys. Whether or not Steuben was actually intimate with other men is not entirely known, but the rumors compelled him to seek employment elsewhere.
On September 26, 1777, the Baron, his Italian greyhound, Azor (which he took with him everywhere), his young aide de camp Louis de Pontière, his military secretary Pierre Etienne Duponceau, and two other companions, reached Portsmouth, New Hampshire and by December 1, was extravagantly entertained in Boston. Congress was in York, Pennsylvania, after being ousted from Philadelphia by the British advance. By February 5, 1778, Steuben had offered to volunteer without pay (for the time), and by the 23rd, Steuben reported for duty to General George Washington at Valley Forge. He served as George Washington's chief of staff in the final years of the war.
Two of the General's soldiers, William North and Ben Walker, were to von Steuben's liking. He legally adopted both men, and they lived together until the Baron's death, at which time they shared in his estate.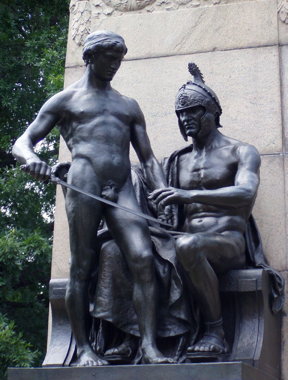 The Lafayette Park Memorial.
Many places are named in his honor, including Steubenville, Ohio. His monument by Albert Jaegers in Washington, DC, across the street from the White House in Lafayette Park, is perhaps one of the most homoerotic sculptures in America. Make sure and pay a visit the next time you're in town. You will not regret it.

1807 – The Indiana Territory enacts a criminal code, eliminating the 1795 common-law reception. The penalty for sodomy is a maximum 5 years in prison (the 3rd longest in the code), a $500 fine, and 500 lashes (the most in the code). It also contains a curious provision allowing the hiring out of persons convicted of certain crimes, including sodomy, as servants. This creates the possibility of "kept boys." The new code is signed by Governor William Henry Harrison, future President.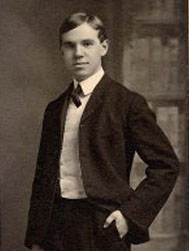 1884 – Charles Griffes (d.1920) was an American composer for piano, chamber ensembles and for voice.
After early studies on piano and organ in his home town, he went to Berlin for four years to study composition with Engelbert Humperdinck and piano with Ernst Jedliczka at the Stern conservatory. On returning to the U.S. in 1907 he began teaching at the Hackley School for boys in Tarrytown, New York, a post which he held until his early death 13 years later.
Griffes is the most famous American representative of musical Impressionism. He was fascinated by the exotic, mysterious sound of the French Impressionists, and was much influenced by them while he was in Europe.
His most famous works are the White Peacock, for piano (1915, orchestrated in 1919); his Piano Sonata (1917-18, revised 1919); a tone poem, The Pleasure Dome of Kubla Khan, after the fragment by Coleridge (1912, revised in 1916), and Poem for Flute and Orchestra (1918). His unpublished Sho-jo (1917), a one-act pantomimic drama based on Japanese themes, is one of the earliest works by an American composer to show direct inspiration from the music of Japan.
Griffes kept meticulous diaries, some in German, which chronicled his musical accomplishments from 1907 to 1919, and also dealt honestly with his homosexual lifestyle including his regular patronage of the Lafayette Place Baths and the Produce Exchange Baths.
Griffes was drawn into the gay world by the baths not just because he had sex there, but because he met men there who helped him find apartments and otherwise make his way through the city, who appreciated his music, who gave him new insights into his character, and who became his good friends. The gay world became a central part of his everyday world, even though he kept it hidden from his nongay associates.
During his time as a student in Berlin he was devoted to his "special friend" Emil Joèl (aka "Konrad Wölcke"). In later life he had a long term relationship with John Meyer (biographer Edward Maisel gave him the pseudonym Dan C. Martin), a married New York policeman.
He died of influenza at the age of 35. His papers passed to his younger sister Marguerite who chose to destroy many that explicitly related to his gay life.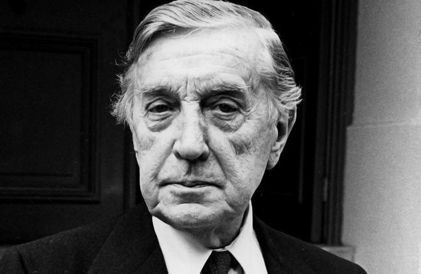 1904 – Sir Frederick Ashton (d.1988) began his career as a dancer but is largely remembered as a choreographer.
Ashton was born at Guayaquil in Ecuador, in the artistic neighbourhood called Las Peñas, the original founding site of the city. When he was 13 he witnessed a life-changing event when he attended a performance by the legendary Anna Pavlova in the Municipal Theatre in Lima, Peru. He was so impressed that from that day on he knew he would become a dancer.
In 1919 he went to England to attend Dover College and then to study under the famous Leonide Massine and established a working relationship with the ballet troupe belonging to Marie Rambert and Ninette de Valois. Rambert discovered Frederick's aptitude for choreography and allowed him to choreograph his first ballet, The Tragedy of Fashion in 1926, starting a tremendously successful career as a choreographer.
He began his career with the Ballet Rambert which was originally called The Ballet Club, but he rose to fame with The Royal Ballet, becoming its resident choreographer in the 1930s. His version of La Fille mal gardée was particularly successful. He worked with Margot Fonteyn among others. His broad travesti performances as one of the comic Ugly Stepsisters in Sergei Prokofiev's Cinderella were annual events for many years.
The choreographer's emotional life focused on the unattainable and the unsuitable, and it often wreaked havoc in his ballet company, as when, in the case of the heterosexual Michael Somes (Fonteyn's principal partner), the beloved enjoyed and exploited favoritism to the point that other dancers signed a petition of protest.
Ashton, like so many other famous gay men of his epoch, including Cecil Beaton and Noël Coward, was necessarily discreet, but he was not closeted. The British high society in which he moved enjoyed the scintillating company.
Ashton was a member of the circle of gay men who surrounded Queen Elizabeth, the late Queen Mother, whom he taught to tango. When she heard that Ashton, a formidable mimic, did imitations of her, she allegedly retaliated by imitating his own queenly manners.
In 1962, he was knighted for his services to ballet. He died in 1988 at his home, Chandos Lodge, in Eye, Suffolk, England.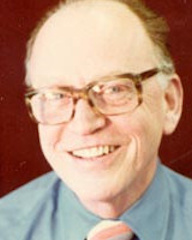 1919 – Rev. Robert P. Wheatly (d.2002) was the second Director of the Office of Gay and Lesbian Concerns of the Unitarian Universalist Association (UUA) from 1977 to 1986. He established the first week-long summer conference for sexual minorities at Ferry Beach (a UU camp and conference center) in Saco, Maine, in 1978 called GALA (Gays and Lesbians Affirmed). This conference continues as an annual event. He also organized the Boston Unitarian Universalist Gays and Lesbians Group at Arlington Street Church in 1977. He lobbied for gay rights and distributed from his office various information packets.
Wheatly was born in Oklahoma City, Oklahoma, and raised in Jacksonville, Florida.  Ordained by the Disciples of Christ in 1941, he became a Unitarian in 1945.  He received a B.A. degree from Stetson University in 1948.  He left the ministry in 1955, and from 1955-1956 he taught at the Fenn School for Boys in Concord, New Hampshire. He held a number of positions in the business world from 1956-1967. He attended Harvard Divinity School, and received a B.D. degree from the Crane School of Religion at Tufts University in 1968.
From 1973-1977 he was Executive Director for the Cambridge Council on Aging. On May 15, 1979, he received Preliminary Fellowship in the Unitarian Universalist Association. He served the Unitarian Universalist Church of Medford, Mass. for a time. He spent much of his professional career working for agencies serving the elderly. While he worked as Director of the Office of Gay and Lesbian Concerns, he also was Executive Secretary for the Committee on Aging and later Associate Director for the Office on Social Responsibility for the UUA.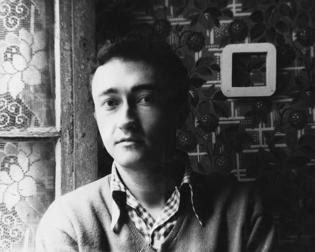 1926 – Curtis Harrington (d.2007) was an American film and television director whose work included experimental films, horror films, and episodic television. He is considered one of the forerunners of New Queer Cinema.
His memoir, Nice Guys Don't Work in Hollywood, was recently published by Drag City. The original manuscript was disinterred from a special collection in the Academy of Motion Picture Arts and Sciences and carefully edited by Lisa Janssen, a Chicago-based poet, archivist, and film buff.
For Harrington, the romance with movies began early. He was stirred as a child by the sight of Mr. Death wilting a bouquet of flowers with his breath in Death Takes a Holiday (1934).
Growing up in Beaumont, California, with parents who gave him leeway to pursue his creative interests, Harrington discovered a soul mate in Edgar Allan Poe, and began his film career at 14 with an abbreviated version of "The Fall of the House of Usher." The director plays both the death-haunted Roderick and his twin sister, Madeline.
Greatly influenced by Maya Deren, co-creator (with Alexander Hammid) of the trance classic Meshes of the Afternoon (1943), he completed a cycle of 16 mm shorts, several of which – Fragment of Seeking (1946), Picnic (1948), On the Edge (1949) – are now regarded as prime examples of West Coast experimental filmmaking. His friendship with Kenneth Anger, director of Scorpio Rising (1963) and author of the notorious bestseller Hollywood Babylon, fueled an appreciation for the mystical and provided occasion to participate, if only peripherally, in the Southern California occult explosion.
Although he enjoyed unfettered creative license during this period, the pressure to conform weighed heavily on the young filmmaker. The conservative postwar climate was an unlikely breeding ground for the deeply personal, highly stylized "film poems" created by Harrington and his contemporaries. His status as an outsider was no doubt intensified by his orientation as a gay man – a subject on which Harrington remains subdued throughout the memoir. "This seemed perfectly natural to me," Harrington writes of his teenage attractions. "It did not occur to me to attach any sense of guilt or shame to my activities." A screening of Fragment of Seeking and Anger's Fireworks (1947) stunned an audience of Los Angeles intellectuals with its potently surreal evocations of homoerotic desire. "Everyone in the room was too shocked to say a word," Harrington recalls.
The true turning point in his career was the extraordinary Night Tide (1961), a gently haunting fable about a sailor (an uncharacteristically shy Dennis Hopper) who falls in love with a mermaid impersonator (Linda Lawson). Night Tide was distributed by Roger Corman, who in due course offered Harrington two directing assignments: Voyage to the Prehistoric Planet (1965) and Queen of Blood (1966). Harrington was given the task of repurposing a couple of Russian science fiction films to which Corman had acquired the rights.
In the following years he went on to direct a series of B-movies in the horror genre TV series and Made-for-TV movies including The Killer Bees (1974).
At 75, he managed to summon the remainder of his creative vigor to make Usher (2002), a self-financed short film that brought his career full circle. "I went all the way back to the story that had haunted me so early in my life,"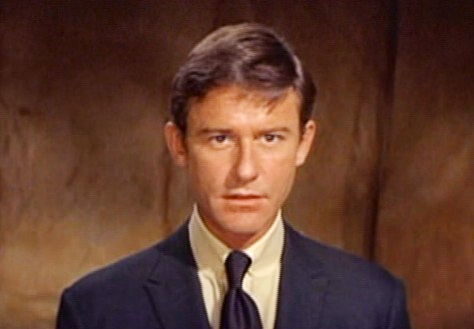 1928 – Roddy McDowall (d.1998) was born in London on to a Scottish father and an Irish mother. His mother, who had herself aspired to be an actress, enrolled him in elocution lessons at the age of five; and at the age of ten he had his first major film role as the youngest son in Murder in the Family (1938). Over the next two years he appeared in a dozen British films, in parts large and small. McDowall's movie career was interrupted, however, by the German bombardment of London in World War II. Accompanied by his sister and his mother, he was one of many London children evacuated to places abroad.
As a result, he arrived in Hollywood in 1940, and the charming young English lad soon landed a major role as the youngest son in How Green Was My Valley (1941). The film made him a star at thirteen, and he appeared as an endearing boy in numerous Hollywood movies throughout the war years, most notably Lassie, Come Home (1943), with fellow English child star and lifelong friend Elizabeth Taylor, and My Friend Flicka (1943).
By his late teens, McDowall had outgrown the parts in which he had been most successful. Accordingly, he went to New York to study acting and to hone his skills in a wide variety of roles on the Broadway stage.
McDowall was praised for his performance as a gay character in Meyer Levin's Compulsion (1957), a fictionalised account of the Leopold-Loeb murder case; and he won a Tony award for best supporting actor as Tarquin in Jean Anouilh's The Fighting Cock (1960).
After a decade's absence, McDowall returned to Hollywood, and over the last four decades of his life he appeared in more than one hundred films, encompassing a wide range of genres from sophisticated adult comedy to children's fare, from horror to science fiction, usually as a character actor. He also made regular character appearances on TV in such series as the original Twilight Zone, The Carol Burnett Show, Fantasy Island and Quantum Leap.
His best known appearances include those in The Subterraneans (1960), Midnight Lace (1960), Cleopatra (1963), The Loved One (1965), Inside Daisy Clover (1965), Planet of the Apes (1968) and its various sequels, Bedknobs and Broomsticks (1971), The Poseidon Adventure (1973), Funny Lady (1975), and Only the Lonely (1991). His last film role was the voice of Mr Soil, an ant, in A Bug's Life (1997).
Although McDowall never officially came out, the fact that he was gay was one of Hollywood's best known secrets. It is a tribute to his characteristic discretion and the respect with which "Hollywood's Best Friend" was regarded by his peers that his homosexuality was never really an issue or used against him in his six decades in the entertainment business.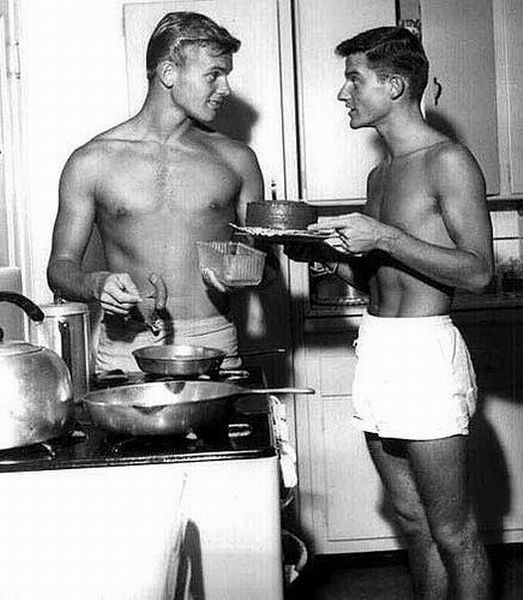 Roddy is offered a hot sausage by Tab Hunter
(Click for larger)
McDowall died of cancer at his home in Studio City, California, on October 3, 1998. At the time of his death, he held several elected posts in the Academy of Motion Picture Arts and Sciences and was a generous benefactor of many film-related charities.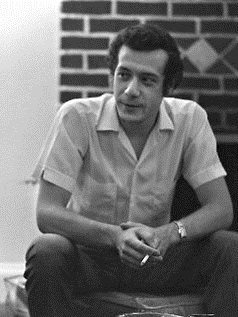 1950 – New York City activist Morty Manford (d.1992) was present at the Stonewall uprising in 1969. Already involved in the nascent gay liberation movement, he devoted himself to the effort for glbtq rights with renewed zeal after witnessing such evidence of oppression.
Morty Manford was a lifelong New Yorker, born in Flushing, Queens, where his mother was an elementary school teacher and his father a dentist.
At the age of fifteen, he asked to see a psychiatrist. The therapist scarcely addressed his homosexuality even though Manford was struggling to come to terms with his sexual orientation in a society where homophobia was routine.
Manford turned to a different psychiatrist, whom he found somewhat more helpful, although he was displeased that the doctor informed his parents about his homosexuality without his consent.
His mother, Jeanne Manford, who had already guessed the truth, was immediately accepting, but Jules Manford was initially concerned that "he hadn't raised [his son] properly." Once the family was able to speak openly and honestly together, however, and especially after Manford felt free to bring home gay friends to visit with him and his parents, Dr. Manford became supportive as well.
As Morty recalled in an interview published in Eric Marcus's Making History (1992), "My gay life pretty much revolved around going to the bars, even though there was always the threat of bar raids . . . . The Stonewall was my favorite place."
Manford was there on the night of the infamous police raid in June 1969. He was among the men whom the police ordered to leave the building. Manford was still present when the melee began and the Tactical Police Force arrived, but he left soon afterward. He had observed the rioting rather than taking part; nevertheless, he called the experience "a very emotional turning point for me."
On the Fourth of July, Manford traveled to Philadelphia to walk in a picket line in front of Independence Hall in what was then an annual demonstration for gay and lesbian rights–the "Annual Reminder" organized in 1965 by Frank Kameny, Barbara Gittings, and other pioneering gay and lesbian activists.
Back at home that night, he began feeling despondent over a romantic relationship that had gone badly, and he attempted suicide by taking a large number of tranquilizers that his psychiatrist had prescribed. His parents found him and quickly got him to a hospital. He later met other young gay people who had also attempted suicide because of the societal stigma placed upon them.
In the spring of 1970, Manford attended a meeting of the Gay Activists Alliance (GAA) and was inspired by the group's commitment to working to end discrimination against gay men and lesbians. He became a member of the Columbia branch.
Shortly thereafter, Manford was arrested. He and a friend were sitting on some steps on Christopher Street when a police offer ordered them to move along. The young men refused, and they were taken to jail. Allowed a couple of phone calls, they contacted Bella Abzug who had appeared at a GAA meeting to express her support for the cause of gay rights. Abzug sent a lawyer to represent them in court the next morning. The attorney successfully argued that the men had been arrested merely because they were gay, and the case was dismissed.
In 1971 Manford took a leave of absence from Columbia to work for gay and lesbian rights. His home base remained New York, but he, along with another GAA member, also went on an organizing tour through fifteen cities in the South.
In April 1972, to protest homophobic comments in newspapers, the GAA staged a demonstration at the Inner Circle dinner and comedy show, an annual event hosted by the New York press for civic and business leaders. At intermission, a GAA member seized the microphone and spoke briefly while others distributed leaflets. A scuffle ensued, and seven GAA members, including Manford, were injured.
Michael Maye, the president of the Uniformed Fire Fighters Association, was identified as Manford's assailant and brought to trial. Witnesses who had attended the Inner Circle event testified that Maye had punched, kicked, and "ground his shoe into [Manford's] groin area a number of times" while Manford was already prostrate on an escalator that was carrying him downward.
On the stand, Maye denied assaulting Manford. He described himself both as "temperamentally incapable of committing such violence."
In spite of the testimony of the eye-witnesses to the beating, Maye was acquitted in July 1972. Nevertheless, the publicity generated by the affair brought attention to the problems of gay bashing, police harassment, and government indifference to the mistreatment of homosexuals.
The Manfords were outraged by the attack on their son, and Jeanne Manford wrote a letter to the editor of the New York Post decrying the fact that police officers had stood by and allowed it to happen.
In June 1972 Jeanne Manford marched alongside her son in the Christopher Street Liberation Day parade, carrying a sign that read In June 1972 Jeanne Manford marched alongside her son in the Christopher Street Liberation Day parade, carrying a sign that read "Parents of Gays: Unite in Support of Our Children."
When young people along the parade route began rushing up to her, kissing her, and imploring her to talk to their parents, she realized the need for a support group for families. The realization led her to eventually form PFLAG.
Marty Manford resumed his collegiate studies at Columbia in 1976. He found the mood on campus changed–less questioning, less challenging–and sensed a similar direction in the glbtq rights movement, with an emphasis on "the idea of gay respectability … an antiactivist type of gay theology."
After completing his degree at Columbia, Manford attended the Cardozo Law School at Yeshiva University. Upon graduation, he spent four years with the Legal Aid Society of New York representing indigent defendants before receiving an appointment as an assistant state attorney general in 1986.
When Morty was diagnosed with AIDS, he returned to the home of his mother, a widow since 1982, and died there on May 14, 1992.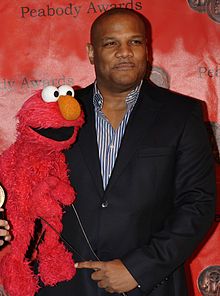 1960 – Kevin Clash is an American puppeteer and voice actor whose characters included Elmo, Clifford, and Hoots the Owl. Clash developed an interest in puppetry at an early age, and began performing for local TV children's shows in his hometown of Baltimore, Maryland by the time he was a teenager. In the early 1980s, he began working in Captain Kangaroo, and began performing in Sesame Street in 1984. He was the third puppeteer to perform Elmo, the character he became the most famous for, and became an executive producer and director for the show. Clash worked in various productions for the Muppets and Jim Henson Productions and in other projects. He resigned from Sesame Street in late 2012, after allegations of improper sexual conduct with minors, which Clash denied, stating that any relationships that occurred were between consenting adults.
In November 2012, 23-year-old Sheldon Stephens alleged that he had been in a sexual relationship with Clash which began when Stephens was 16. Sesame Workshop had initially been presented with the allegation in June, and its investigation found the allegation to be unsubstantiated. Clash acknowledged that he had been in a relationship with the accuser; however, he characterized the relationship as being between consenting adults. Stephens later recanted his accusation, but two weeks later, another accuser, Cecil Singleton, made similar accusations and lawsuits were filed by attorney Jeffrey Herman against Clash.
Clash resigned from Sesame Workshop on November 20, 2012, and released a statement saying, "Personal matters have diverted attention away from the important work 'Sesame Street' is doing and I cannot allow it to go on any longer. I am deeply sorry to be leaving and am looking forward to resolving these personal matters privately." Sesame Workshop also released a statement: "Unfortunately, the controversy surrounding Kevin's personal life has become a distraction that none of us want, and he has concluded that he can no longer be effective in his job and has resigned from 'Sesame Street.'" They stated that other puppeteers had been trained to serve as Clash's understudy and would take over his roles on the show.
In November 2012, Clash came out publicly as gay in response to the allegations that led to his resignation from the Sesame Workshop, stating, "I am a gay man. I have never been ashamed of this or tried to hide it, but felt it was a personal and private matter."
In July 2013, the three cases against Clash were thrown out in New York because the claims were made more than six years after each man reasonably should have become aware of Clash's alleged violations and over three years after each turned 21. Clash's lawyers expressed his hope that the ruling would allow him to restore his personal and professional life. Lawyers for the plaintiffs appealed the ruling, alleging that the psychological effects of the abuse weren't fully realized until 2012. In April 2014, however, the decision to dismiss the three lawsuits was upheld by the U.S. Court of Appeals.
In 2006, Clash wrote an autobiography called My Life as a Furry Red Monster. He was featured in the documentary Being Elmo: A Puppeteer's Journey in 2011.


Added 2024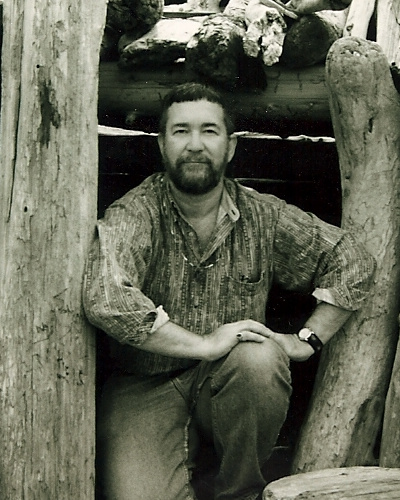 1952 – Randy Conner (d.2022) was a gay spiritual seeker, activist, author, artist, and teacher.
Conner received his B.A. and M.A. degrees in English literature/composition from the University of Texas at Austin. In the 1970s he taught the first gay and lesbian workshop at the Student Union there. His studies concentrated on the intersections of ethnicity, gender, sexuality, and pursuit of the sacred.
Conner received his doctorate in humanities and religion in 2007 from the California Institute of Integral Studies in San Francisco. He taught at several colleges including Florida State University, the University of Texas at Austin, and the California Institute of Integral Studies. He was most recently Associate Professor of World Humanities at Moraine Valley Community College near Chicago where he created a successful state- and college-approved LGBTQ+ humanities course.
Conner's spiritual path was focused on LGBTQ+ spirit in history and culture, especially as related to European Neo-Pagan, Indigenous Native American and African Diasporic traditions.  He was an initiate and practitioner of both Haitian Vodou and Reglade Ocho (Santeria), studying primarily with Mama Lola, a well-known practitioner of these African Diasporic traditions. He received his "Elekes" (spiritual beads for the orishas/deities) as a Santero in Cuba, later earning the title of Oungan.
As an activist for LGBTQ+ rights, Conner testified in the mid-1970s at the Texas State Legislature for inclusion of gay and lesbian student organizations on campuses for which he was fired from his graduate teaching position. After moving to the Bay Area in 1978, he became a member of Bay Area Gay Liberation, campaigned against the Proposition 6 Briggs initiative, and for social/political justice for the queer and people of color communities.
His many interests and projects he shared with his long-time companion/husband of forty-three years, David Hatfield Sparks. Conner died in 2022.  He is also survived by their daughter Mariah.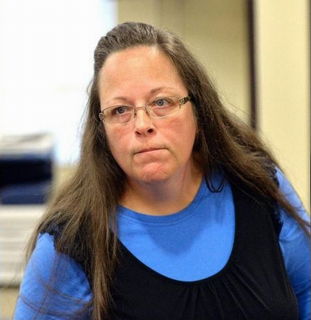 1965 – (Kimberly Jean Bailey) Kim Davis is the county clerk jailed for refusing to issue marriage licenses in Rowan County, Kentucky. Amid the controversy, the Kentucky Governor decided to remove clerks' names from the state marriage licenses.
Kim Davis gained international attention after defying a U.S. federal court order requiring that she issue same-sex marriage licenses, and she was jailed 5 days. On June 26, 2015, the U.S. Supreme Court had held that the right to marriage is guaranteed to same-sex couples by the Fourteenth Amendment. Davis began refusing to issue any licenses, either to same-sex, or to opposite-sex couples. Four couples represented by the ACLU filed a lawsuit against Davis, Miller v. Davis. The U.S. District Court for the Eastern District of Kentucky ordered Davis to issue licenses as required by law. Her lawyers filed an emergency application with the Supreme Court seeking to put the lower court's order on hold while she pursued an appeal, but the application was denied.
Davis continued to defy the court order and refused to issue marriage licenses, saying she was acting "under God's authority". She was subsequently jailed for contempt of court, then released five days later. When she returned to work, she stated that she would not interfere with her deputies, who had begun issuing licenses as directed by the court order. Kentucky Attorney General Jack Conway said that because the matter was already being handled by the federal court, the appointment of a special prosecutor to pursue charges of official misconduct against her "is not necessary at this time."
The controversy surrounding Davis's actions prompted criticism of Davis by many legal experts, though some figures in law and politics defended her. Her brief audience with Pope Francis during the Pontiff's September 2015 visit to North America also created a stir when revealed a few days after the fact.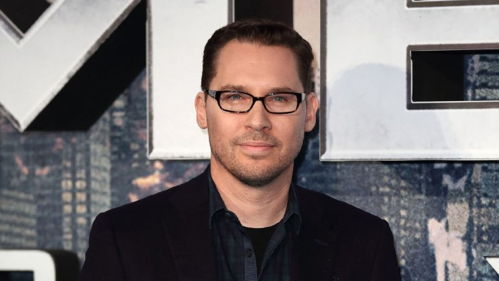 1965
–
Bryan Singer
is an American film director. Singer won critical acclaim for his work on
The Usual Suspects
, and is especially popular among fans of the sci-fi and comic book genres, for his work on the first two
X-Men
films and
Superman Returns
.
Singer was born in New York City. He was adopted by Norbert and Grace Singer and grew up in a Jewish household in New Jersey. He attended West Windsor-Plainsboro High School South, then studied film making at New York's School of Visual Arts and later the USC School of Cinematic Arts in Los Angeles. Actors Lori and Marc Singer are his cousins.
Singer is openly bisexual, and has said that his life experiences of growing up as a minority influenced his movies. In October 2014, it was confirmed he was expecting a child with actress Michelle Clunie. The couple's first son was born on January 5, 2015.
Singer is also executive producer and directed the pilot and first episode of highly regarded TV medical drama House.
Singer is said (or rumoured) to be involved in a number of possible or 'in development' projects at present including: a Superman Returns sequel; a remake of Logan's Run; a Warner Bros. film called U Want Me 2 Kill Him? about a 14-year old British boy who was charged with inciting his own murder, a reimagining of Battlestar Galactica, and a film of Augusten Burroughs' Sellevsion.
In April 2014, Singer was accused in a civil lawsuit of sexual assault of a minor. According to the suit filed by attorney Jeff Herman, Singer is alleged to have drugged and raped actor and model Michael Egan in Hawaii and Los Angeles in the late 1990s. On May 22, 2014, Singer's attorney presented evidence to Federal District Judge Susan Oki Mollway stating that neither Singer nor Egan were in Hawaii at the time. In early August 2014, Egan sought to withdraw his lawsuit.
In May 2014, another lawsuit was filed by attorney Jeff Herman on behalf of an anonymous British man. Both Singer and producer Gary Goddard were accused of sexually assaulting "John Doe No. 117." According to the lawsuit, Goddard and Singer met the man for sex when he was a minor and engaged in acts of "gender violence" against him while in London for the premiere of Superman Returns. The charge against Singer in this case was dismissed, at the accuser's request, in July 2014.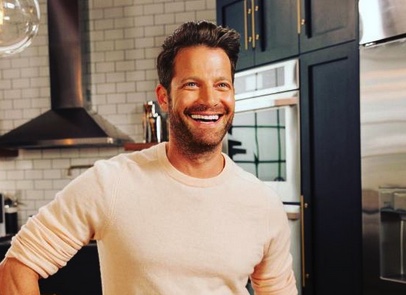 1971 – Nate Berkus is an American interior designer and daytime television host. He runs the Chicago interior design firm Nate Berkus Associates and has been a regular guest on The Oprah Winfrey Show, offering design advice to viewers. His own show, The Nate Berkus Show, debuted in broadcast syndication September 13, 2010. It was co-produced by Harpo Productions and Sony Pictures Television and was canceled after its second season ended on May 24, 2012.
He is Jewish and openly gay. In December 2004 Berkus and his partner, photographer Fernando Bengoechea, were vacationing at a beach resort in Sri Lanka when the 2004 Indian Ocean tsunami hit. While Berkus survived, Bengoechea is missing and presumed dead. Berkus appeared on The Oprah Winfrey Show on January 17, 2005, to talk about his ordeal and the loss of his love.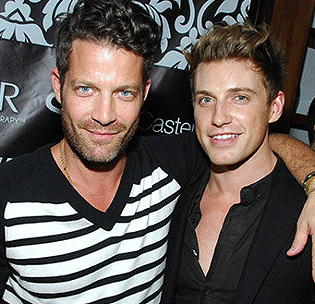 Nate and Jeremiah
After nearly a year of dating, Berkus became engaged to Jeremiah Brent in April 2013. They were married on May 3, 2014 in New York City. In early 2014, the couple was featured in clothier Banana Republic's "True Outfitters" ads in InStyle and Rolling Stone, among other magazines. The New York Times noted they were the first same-sex couple to be featured in ads for the magazines. Berkus announced on March 25, 2015, that the couple's daughter via surrogate was born March 23.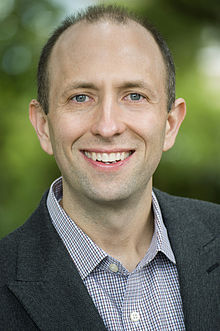 1972 – Joel Engardio is a columnist for the San Francisco Examiner. He is an award-winning journalist, documentary filmmaker and civil liberties advocate.
Engardio was the only candidate endorsed by the San Francisco Chronicle in his 2012 race for the San Francisco Board of Supervisors. He finished close to third in a nine-candidate field. Engardio was the first openly gay supervisor candidate to run in San Francisco's conservative District 7, where half the voters in some precincts supported a 2008 ban on gay marriage.
Engardio's PBS documentary Knocking, a study of the Jehovah's Witnesses, won the jury award for Best Documentary at the USA Film Festival. At the American Civil Liberties Union, Engardio combined reporting and multimedia storytelling skills to pioneer more effective ways to mount lawsuits and communicate public education efforts.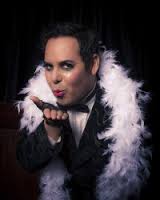 1975 – Jade Esteban Estrada, born at Lackland Air Force Base in San Antonio, Texas, is a successful Latin pop singer, comedian, choreographer, actor, political commentator, and human rights activist. Out Magazine called him "the first gay Latin star."
As a young boy, he participated in extracurricular school activities and sang in the school choir, where he first noticed that his talent captivated audiences. Through the encouragement of his choir instructor he began to take voice lessons and eventually moved to New York where he worked as an assistant to Tony award-winning actress Zoe Caldwell.
Estrada appeared in the German production of Starlight Express and also worked as a dancer for Seventeen Magazine. After two popular appearances as a transgender singer/dancer on NBC's The Jerry Springer Show, he won the attention of Latin TV personality Charo and worked as her choreographer and lead dancer. He gained international recognition in 1998 when he released his first Latin pop single, "Reggae Twist" on the Brooklyn-based Total Envision Records label. He later turned his attention to solo theater and stand-up comedy.
His recordings include Fabulous Gay Tunes Vol.2, and Being Out Rocks.

1976 – Toronto gay activist Brian Mossop is expelled from the Communist Party of Canada for being openly gay and advocating homosexuality.


Added 2023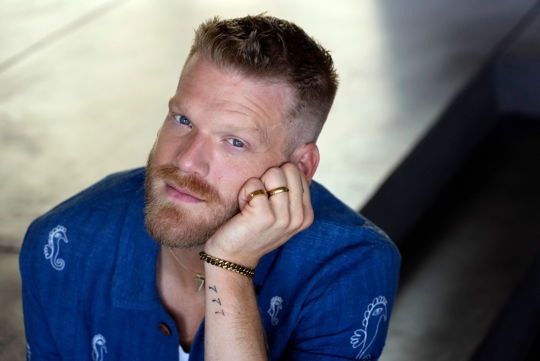 1991 – Scott Hoying is an American singer, musician and songwriter who came to international attention as the baritone of the a cappella group Pentatonix and one-half of the music duo Superfruit. As of June 2021, Pentatonix has released eleven albums (two of which have been number ones) and two EPs, have had four songs in the Billboard Hot 100, and won three Grammy Awards as "the first a cappella group to achieve mainstream success in the modern market". As of November 2021, Superfruit's YouTube channel has over 2.4 million subscribers, and over 444 million views.
Hoying is openly gay and resides in Hollywood. He began dating model Mark Manio in 2017. They got engaged in the Bahamas on April 13, 2022, and were married in Santa Barbara, California on July 7, 2023. Their wedding was officiated by singer-songwriter Christina Perri.

2001 – Paul Holm, the partner of Flight 93 hero Mark Bingham is presented with the folded American flag.

SEPTEMBER 18 →
[{(o)}]|[{(o)}]|[{(o)}]|[{(o)}]| [{(o)}]|[{(o)}]