September 23
[{(o)}]|[{(o)}]|[{(o)}]|[{(o)}]| [{(o)}]|[{(o)}]
Celebrate Bisexuality Day is observed on September 23 by members of the bisexual community and their supporters.
This day is a call for the bisexual community, their friends and supporters to recognize and celebrate bisexuality, bisexual history, bisexual community and culture, and all the bisexual and otherwise non-monosexual people in their lives.
First observed in 1999, Celebrate Bisexuality Day is the brainchild of three United States bisexual rights activists: Wendy Curry of Maine, Michael Page of Florida, and Gigi Raven Wilbur of Texas. Wilbur said,
Ever since the Stonewall rebellion, the gay and lesbian community has grown in strength and visibility. The bisexual community also has grown in strength but in many ways we are still invisible. I too have been conditioned by society to automatically label a couple walking hand in hand as either straight or gay, depending upon the perceived gender of each person.
This celebration of bisexuality in particular, as opposed to general LGBT events, was conceived as a response to the prejudice and marginalization of the bisexual persons by some in both the straight and greater LGBT communities.
In its first year, an observance was held during the International Lesbian and Gay Association week, which occurred during the week of the 23rd. While at first it only took hold in areas with an extremely strong bisexual presence, it is now celebrated worldwide.
It features events such as discussions, dinner parties and dances in Toronto and a large masquerade ball in Queensland, Australia. At Texas A&M University, the week featured discussion panels and question-and-answer sessions. It has also been celebrated in Germany, Japan, New Zealand, Sweden and the United Kingdom.
On September 18, 2012, Berkeley, California became what is thought to be the first city in the U.S. to officially proclaim a day recognizing bisexuals. The Berkeley City Council unanimously and without discussion declared Sept. 23 as Bisexual Pride and Bi Visibility Day.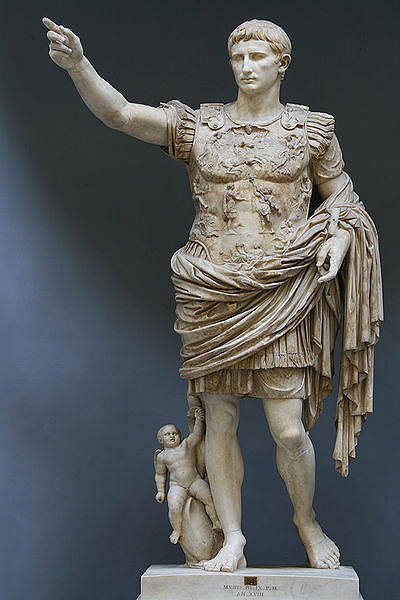 63 BC – Augustus Caesar (d.14 AD), Roman emperor, born Octavius of the Julii, is the single most important figure in Roman history and one of the two most famous of the Caesars (the other being his uncle Julius Caesar).
In the course of his long and spectacular career, he put an end to the advancing decay of the Republic and established a new basis for Roman government that was to stand for three centuries. This system, termed the "Principate," was far from flawless, but it provided the Roman Empire with a series of rulers who presided over the longest period of unity, peace, and prosperity that Western Europe, the Middle East and the North African seaboard have known in their entire recorded history.
It's a wise child who knows his uncle, and young Octavius regularly performed sexually for his Uncle Julius Caesar, an investment that paid handsomely in the end. He also lured the powerful Roman statesman Hirtius to his bed and received 3000 pieces of gold for his trouble, a favor he returned when he became emperor, by having Hirtius murdered to prevent him from ever telling the tale. His efforts were, of course, futile.
In Noel Garde's book, Jonathan to Gide, he tells how secret the Emperor's secret really was. Reportedly, when Augustus was attending a play, an actor spoke a line about an effeminate eunuch priest with a tambourine, `Videsne ut Cinaedus orbem digito temperet?' translatable as `Do you see that queer's finger beating the orb?' or `Do you see how this queer's finger governs the world?" The audience, reportedly, immediately took this as a reference to Augustus and broke into wild applause while staring at the imperial box.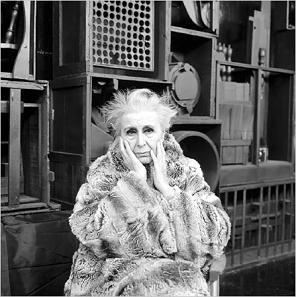 1899 – Flamboyant bisexual sculptor Louise Nevelson (d.1998), an American of Russian Jewish heritage, specialized in painted wooden walls and boxes that reflected cubist and pre-Columbian influences.
Nevelson was born Louise Berliawsky on September 23, 1899 in Kiev, Russia. She immigrated with her family to Rockland, Maine in 1905. In 1918, shortly after graduation from high school, Nevelson became engaged to Charles Nevelson, a wealthy New York City shipowner. They married in 1920 and had one child, Myron (Mike), who also became a sculptor.
In 1931, Nevelson separated from her husband and moved to Munich, Germany to study with abstract painter Hans Hofmann. Never especially maternal, she left her son with relatives. The Nevelsons divorced in 1941.
Having returned to New York in 1933, Nevelson exhibited her works for the first time that year. The small-scale, abstract works of this first stage of her career were often based on human and animal themes. In 1937, Nevelson joined Diego Rivera to complete a series of murals for the Works Progress Administration. She also embarked on an affair with Rivera, much to the annoyance of Rivera's wife, renowned bisexual painter Frida Kahlo.
As a child, Nevelson had created artworks from wooden scraps that she picked up in her father's lumberyard. As an adult, Nevelson struggled financially and made do with whatever she could. In 1942, she introduced "found objects" into her artworks. Nevelson's wooden constructions were made of packing crates as well as broken and discarded pieces of architectural ornamentation that she foraged from the streets near her Greenwich Village home. Working within the tradition of assemblage, she divested familiar objects of their original identity and turned them into objects within complex structures.
In the early 1960s, she began using such materials as Plexiglas and steel. Nevelson's signature works are the large "walls," such as Sky Cathedral (1958), which feature stacked boxes and crates. Beginning in 1958, she made a series of "Zags." These pieces are irregularly contoured black reliefs with cells that are filled small cubes, spheres, and other precise shapes.
In 1962, Nevelson began living with artist Diana MacKown. While most of Nevelson's biographers completely skip over her twenty-six-year-long relationship with MacKown, those who do mention it tend to accept the women's denial that their relationship was romantic. Nevelson reportedly stated, "I couldn't live with myself if I was a lesbian." However, the reality may have been more complicated. Never especially well-off and dependent on public art commissions, Nevelson may have feared the financial consequences of being exposed as a lesbian. Moreover, MacKown threatened Nevelson's estate with a palimony claim after the sculptor died in New York City on April 17, 1988.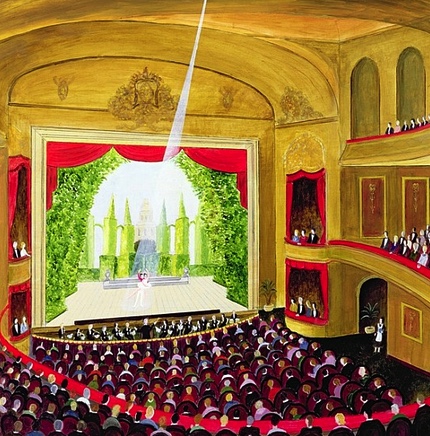 Baring's "First Night"
1914 – Markie Baring (d.1999), British artist, in his later years, often said vaguely that he had been "in the theatre" and now "dabbled a bit with painting". Then through his autobiography, Por Lil' Bleeder, his career in ballet and modern dance came to light.
Born in Surrey, Markie won a scholarship to study ballet under Madame Rambert in the early 1930s, and danced for her company at the Royal Opera House, Covent Garden. He also worked with Lydia Sokolova, and was a principal dancer with the International Ballet. He danced in some of London's biggest stage musicals - including Brigadoon (1949) - and, on screen, featured in The Red Shoes (1947) and Gene Kelly's An Invitation To The Dance (1952). But it was his tales of theatrical poverty and squalor that brought his past into focus.
His first flat was a Drury Lane garret – indeed his 1930s life seems to have been a blur of freezing early morning auditions, daytime bed to keep warm and midnight flits. There were £4-a-week provincial tours with Balalaika (1938) - taking in Aberdeen, Edinburgh, Glasgow, Liverpool and Dublin - with digs at £1 a week, and Markie often sharing with one of the chorus girls. "Oh," he would reflect, "that my inclinations had been that way"; he would lend her a Woolworth's wedding ring to appease landladies
As a Christian Scientist and supporter of the Peace Pledge Union, Markie found war-time call-up an unwelcome distraction. In 1941 he was arrested at the stage door of the Grand, Croydon. By day incarcerated in Brixton jail, by night he was allowed to complete the International Ballet's Everyman tour. His homosexuality was no bar to army service, until knitting in bed led to his discharge. He then toured Europe and the Far East as a forces entertainer.
Post-war, despite the west end and film appearances, tours with his own shows had disaster writ large upon them. At the end of the 1950s Markie quit the boards and started to produce exquisite oil paintings, which were exhibited at the Mall Gallery and the Rona in Mayfair.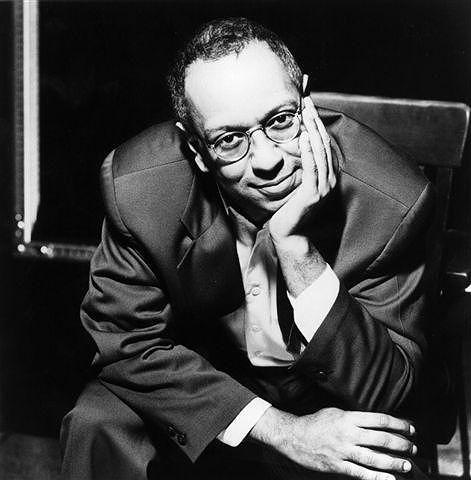 1954 – Director, writer, and producer George C. Wolfe has had a distinguished career in the theater. Among the numerous awards and prizes that he has garnered are two Tony Awards. In addition to directing such important works as Tony Kushner's Angels in America, Wolfe has also written a number of plays and musicals, several of which have had successful runs on Broadway.
Since 1993, he has been the producer and artistic director of the New York Shakespeare Festival and the Joseph Papp Public Theater, positions that give him one of the most influential voices in American theater.
Wolfe was born on September 23, 1954 in Frankfort, Kentucky, a segregated city at the time. He recalls the "very tight black community" in which he grew up as nurturing. As a child, he says, he "was told that [he] was magical ... special and extraordinary," and he "grew up with no concept of racial inferiority." He did, however, encounter racism. He experienced what he called a "defining event" when, at age seven, he could not get into Frankfort's Capitol Theater to see the animated Disney film 101 Dalmations because he was black. He used his altogether justified outrage in a positive manner. He determined to strive for excellence in everything he did so that he could get "into any place [he] wanted to get into." He adds that "it was also a given that once I got into the room, I was supposed to open the windows and doors and let in other people."
Beginning at an early age, he wrote his own plays. At twelve he saw his first Broadway shows, including a particularly memorable production of Jerry Herman's Hello, Dolly! starring Pearl Bailey.
In 1975 Wolfe's play Up for Grabs was performed at Pomona College, and was chosen as the Pacific Southern Regional winner at the American College Theater Festival (ACTF). The following year, the college staged his Block Party, which earned Wolfe a second ACTF award. After his graduation in 1976, Wolfe remained in California, teaching at the Inner City Cultural Center in Los Angeles, where his plays Tribal Rites and Back Alley Tales were staged in the 1978-1979 season.
Wolfe's experience in Los Angeles taught him the uses of theater as a political and social force. It also brought him into contact with communities that he had not encountered back in Frankfort--Hispanics, Asians, and gays. In this setting, he began coming out publicly.
Wolfe achieved something of a cult following in Los Angeles, but in 1979 he moved to New York, where he taught at City College and the Richard Allen Center for Cultural Art. Wolfe's musical Paradise, produced off-Broadway in 1985, turned out to be a critical failure, but his next play, The Colored Museum, won the admiration of Joseph Papp, the director of the New York Shakespeare Festival, who included it in the program at the festival's Public Theater in 1986.
Three years later, Wolfe received critical acclaim for his play Spunk, an adaptation of three stories by Zora Neale Hurston. He also won an Obie as best director of an off-Broadway production. Papp selected Wolfe, clearly a rising star in the theater world, to be a resident director at the Public Theater in early 1990. Wolfe's play Blackout was included among the theater's offerings in the next season.
Wolfe wrote a musical about the life of jazz musician Jelly Roll Morton. Jelly's Last Jam opened in Los Angeles in 1991, and the next year moved to Broadway, where it garnered eleven Tony nominations, including best book of a musical and best director.
Up to this point Wolfe had directed plays with mostly African-American characters and themes. This changed in 1993, when Tony Kushner asked him to direct the Broadway production of his much-acclaimed AIDS drama, Angels in America: The Millennium Approaches. When Wolfe's direction--which New York Times critic Frank Rich described as being of "crystalline lucidity"—earned him a Tony, he became the first person of color to win the award for directing a "white" play.
Meanwhile, Wolfe had taken on a new and daunting task as artistic director and producer of the New York Shakespeare Festival and the Joseph Papp Public Theater. As artistic director, Wolfe wanted to "create a theater that looks, feels and smells like America." Accordingly, he has sought to reach beyond the Public Theater's traditional clientele group—"uptown white"—and attract black, Asian, and Hispanic spectators as well.
In the effort to promote such diversity, Wolfe chose plays such as Oliver Mayer's Blade to the Heat, about black and Latino fighters and a homophobic murder, and Chay Yew's A Language of Their Own, about four gay men, two of them Chinese.
In the late 1990s Wolfe faced a serious health problem caused by kidney failure. After a year on dialysis, he had an organ transplant. His older brother, William Wolfe, was the donor. With characteristic energy, Wolfe kept working throughout the health crisis, citing the ethic instilled in him by his family: "keep delivering."
After more than a decade of success at the helm of the Public Theater, Wolfe announced in late 2004 that he would be leaving the post to pursue opportunities in film direction. His first project was Lackawanna Blues, a screen adaptation of Ruben Santiago-Hudson's semi-autobiographical play. The movie was enthusiastically received at the Sundance Film Festival in January 2005 prior to being broadcast on HBO in February. Robert Bianco of USA Today called Lackawanna Blues "an auspicious film directing debut" for Wolfe, adding that "in his hands what was on stage a man telling stories is now a storybook come to life." Wolfe seems poised for further success in this new phase of his career.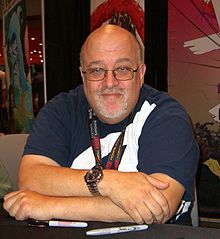 1956 – Peter David (often abbreviated PAD) is an American writer of comic books, novels, television, movies and video games. His notable comic book work includes an award-winning, 12-year run on The Incredible Hulk, as well as runs on Aquaman, Young Justice, Supergirl, and Fallen Angel.
His Star Trek work includes both comic books and novels, such as Imzadi, and co-creating the New Frontier series. His other novels include film adaptations, media tie-ins, and original works, such as the Apropos of Nothing and Knight Life series. His television work includes series such as Babylon 5, Young Justice, Ben 10: Alien Force and Space Cases, the latter of which David co-created.
David first became interested in comics when he was about five years old, reading copies of Harvey Comics' Casper and Wendy in a barbershop. He became interested in superheroes through the Adventures of Superman TV series. Although David's parents approved of his reading Harvey Comics and comics featuring Disney characters, they did not approve of superhero books, especially those published by Marvel Comics, feeling that characters that looked like monsters, such as the Thing or the Hulk, or who wore bug-eyed costumes, like Spider-Man, did not appear heroic. As a result, David read those comics in secret, beginning with his first Marvel book, Fantastic Four Annual #3 (November 1965), which saw the wedding of Mister Fantastic and Invisible Woman. His parents eventually allowed him to start reading superhero titles. His favorite title was Superman, and he cites John Buscema as his favorite pre-1970s artist.
Keith, David's best friend in junior high and freshman year in high school in Verona, New Jersey, was gay, and David has described how both of them were targets of ostracism and harassment from homophobes. His experiences in Verona soured him on that town, and would shape his liberal sociopolitical positions regarding LGBT issues. He would later make Verona the home location of villain Morgan le Fay in his novel Knight Life, and has often discussed his progressive views on LGBT issues in his column and on his blog. He holds liberal views on LGBT issues, including favoring gay marriage and allowing openly homosexual individuals to serve in the military.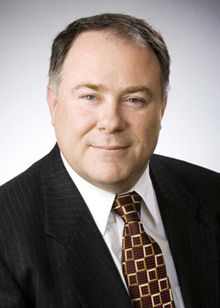 1960 – Ian Hunter is an Australian politician, representing the Australian Labor Party in the South Australian Legislative Council since the 2006 state election. In October 2011 Hunter was elevated to Cabinet as Minister for Communities and Social Inclusion in the Weatherill Labor government.
Prior to entering parliament he worked as a Research Assistant in the Department of Clinical Immunology at Flinders Medical Centre, later serving as an advisor to the Federal government and as South Australian State Secretary of the ALP.
Hunter is the only openly gay member of the South Australian Parliament, as well as Cabinet, and is noted for his public advocacy for LGBT issues, which at times has conflicted with aspects of ALP policy. Since entering parliament he has been a prominent advocate for LGBT rights, and is a regular speaker at rallies in support of same-sex marriage.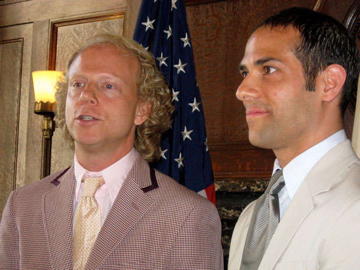 Bruce Cohen (L) with husband Gabe Catone
1961 – Bruce Cohen is a film, television, and theater producer.
Cohen was born to a Jewish family and raised in Falls Church, Virginia. After school, he moved to Los Angeles where he accepted a clerical job as a Directors Guild of America trainee on Steven Spielberg's The Color Purple, and went on to serve as associate producer and first assistant director on Spielberg's Hook.
Cohen won the Best Picture Oscar for producing American Beauty. He earned additional Best Picture nominations for Milk and Silver Linings Playbook.
Among the other films Cohen has produced is Big Fish, directed by Tim Burton, which was both a Golden Globe and BAFTA nominee for Best Picture. He is currently a lead producer of the stage musical version of Big Fish, now on Broadway at the Neil Simon Theatre, with direction and choreography by five-time Tony winner Susan Stroman.
In television, Cohen was executive producer of the ABC series Pushing Daisies, which won a total of seven Emmys and was nominated for a Golden Globe as Best Comedy. He was also executive producer of the CBS special Movies Rock, and was nominated for an Emmy in 2011 for producing the 83rd Annual Academy Awards.
He is president of the board of directors of the American Foundation for Equal Rights, the group behind the successful Supreme Court case to have California's Proposition 8 declared unconstitutional. He is married to Gabe Catone and they have a two-year-old daughter.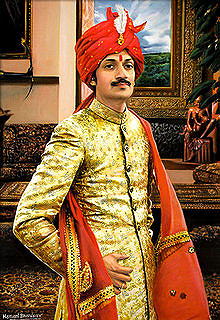 1965 – Manvendra Singh Gohil belongs to the royal family of the former princely state of Rajpipla in India.
His parents attempted but failed to disinherit him after he revealed his homosexuality, and since then his relations with the family have been in question. He is the only known person of royal lineage in modern India to have publicly revealed he is gay.
In January 2008, while performing an annual ceremony in Rajpipla in honour of his great-grandfather Maharaja Vijaysinhji, Manvendra Gohil announced plans to adopt a child, saying: "I have carried out all my responsibilities as the prince so far and will continue as long as I can. I will also adopt a child soon so that all traditions continue". If the adoption proceeds, it will be the first known case of a single gay man adopting a child in India.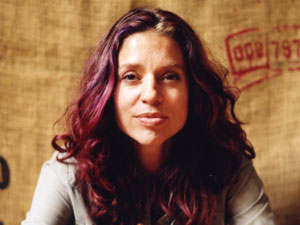 1970 – Independence and individuality epitomize singer Ani DiFranco. Once called "the thinking person's acoustic punk feminist," she has drawn on an eclectic mixture of musical traditions to create a style distinctly her own. Her music is characterized by an extensive vocal range, percussive guitar technique, and intensely personal lyrics.
In order to preserve her artistic freedom she founded a recording company, Righteous Babe, that has become extremely successful. DiFranco has never hesitated to defy convention or to speak her mind. She has been forthright in expressing her views on political and social issues and has been candid about her bisexuality.
DiFranco is a native and lifelong resident of Buffalo, New York. She got her first guitar at the age of nine and befriended the salesman, a local musician who brought her to his shows. Within about a year he began including her in them, launching her musical career. When DiFranco was fifteen her parents divorced. Not wanting to leave Buffalo, she had herself declared an emancipated minor and supported herself by working at local clubs (although she was under-age) until she graduated from an arts high school. She next moved to New York City to play in clubs but soon embarked on a nation-wide tour, living out of her car as she moved from one gig to the next.
Fans clamored for albums of her work. There being none, she borrowed $1,500 to make cassettes and sold them as she toured. DiFranco put out her first album, Not So Soft, on her own label, Righteous Babe, in 1991, although the company was not officially incorporated until 1993.
By 2004 Righteous Babe had sold more than three million recordings. For a number of years DiFranco was the label's only artist, but she is a prolific one, having produced over twenty albums by 2004. She has also created a notably diverse body of work.
DiFranco has always been open about her bisexuality, stating in a 1994 interview that "in any marginalized community, whether people identify themselves or not affects us all." From the beginning she has written and sung intensely personal songs about her love for women as well as men. As a result gay men and, especially, lesbians have been an important segment of her fan base from the start of her career. Some felt betrayed, however, when she made an opposite-sex relationship the centerpiece of her album Dilate (1996) and subsequently married her male lover, her sound engineer Andrew Gilchrist, in 1998. The couple divorced five years later.
DiFranco spends considerable time touring, but Buffalo is still her home base. She also maintains apartments in New York and New Orleans, a city that she calls "a musical epicenter," adding "I just go there to be fed." That she has achieved recognition as an artist comes as no surprise to her loyal fans or to critics. A Billboard reviewer called her "one of the smartest lyricists in music today" and "the sexiest voice on the scene," and cited her "typical disregard for expectations or the flavor of the month." DiFranco has chosen to use her talent to speak for social justice and joyously proclaim her own identity.

SEPTEMBER 24 →
[{(o)}]|[{(o)}]|[{(o)}]|[{(o)}]| [{(o)}]|[{(o)}]