August 2
[{(o)}]|[{(o)}]|[{(o)}]|[{(o)}]| [{(o)}]|[{(o)}]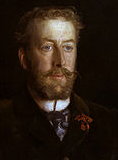 1845 – Ronald Charles Sutherland-Leveson-Gower - Lord Ronald Gower (d.1916) - was a British aristocrat, Liberal politician, sculptor and writer. The youngest son of the 2nd Duke of Sutherland and the former Lady Harriet Howard, daughter of the 6th Earl of Carlisle, he was educated at Eton and at Trinity College, Cambridge. He was a Liberal Member of Parliament for Sutherland from 1867-1874. He was a Trustee of the National Portrait Gallery, and of the Birthplace and Shakespeare Memorial Building at Stratford-on-Avon.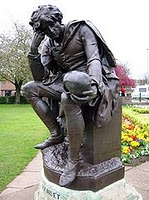 Gower's "Hamlet"
A sculptor, he also published a number of works on the fine arts. His most important sculpture was the statue of Shakespeare and four of his principal characters, erected in Stratford-upon-Avon. He also created a sculpture depicting Marie Antoinette on her way to the scaffold and another of a member of the Old Guard at Waterloo. He also wrote biographies of Marie Antoinette and Joan of Arc, and a history of the Tower of London.
He never married, and was well known among the homosexual community of the time. Oscar Wilde's story The Portrait of Mr W.H. has been interpreted as a comment on Gower's social circle, and Gower is generally identified as the model for Lord Henry Wotton in The Picture of Dorian Gray. In 1879 hints of his homosexual liaisons published in the journal Man of the World led Gower to sue the paper, but later in the year the Prince of Wales sent him a letter accusing him of being 'a member of an association for unnatural practices', to which Gower wrote an angry reply. John Addington Symonds, who stayed with him once, stated that Gower 'saturates ones spirit in Urningthum [homosexuality] of the rankest most diabolical kind'.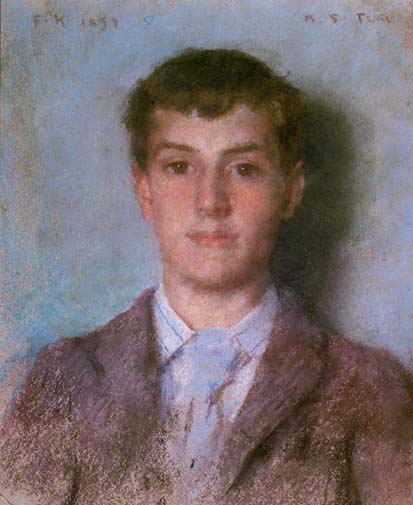 Frank Hird
Gower's most notable lover was the journalist Frank Hird, a relationship that lasted to the end of his life. Gower adopted Hird as his son, leading Wilde to remark on one occasion, 'Frank may be seen, but not Hird.'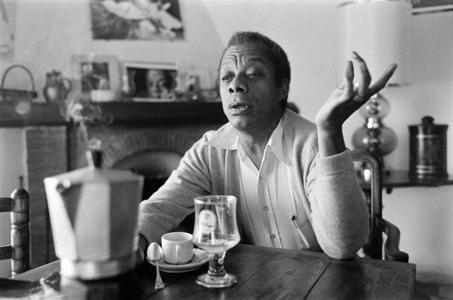 1924 – James Baldwin (d.1987) was born at Harlem Hospital in New York City to a poor, unmarried, twenty-year-old woman named Emma Berdis Jones. Baldwin's early years were deeply troubled. At home - terrorised by an abusive stepfather; outside - taunted by his peers because he was short and 'effeminate'. As an adolescent, he sought refuge in the church, and after an emotionally charged spiritual conversion, he became at 14 a minister who regularly preached at evangelical churches in and near Harlem. As a young man , he held a variety of odd jobs - a rail road construction worker, waiter, bus boy, and elevator operator. It was during this time that he began to write seriously, beginning with book reviews and essays.
He also became fully aware of the implications of being black in America. Everyday exposure to racism left him deeply wounded. His increasing consciousness of his homosexuality added to his pain and confusion. To escape, he left for Paris in 1948 with $40 in his pocket and no knowledge of French. In France, where he would spend the better part of his remaining years, he became a professional writer.
Baldwin published 22 books during a career that lasted nearly 40 years; he wrote formal essays, fiction, drama, and poetry. In his early collections of essays such as Notes of a Native Son (1955) and Nobody Knows My Name (1961) he combined autobiography with astute observation to create brilliant critiques of American race relations.
One source of support came from an admired older writer Richard Wright, whom he called "the greatest black writer in the world". Wright and Baldwin became friends for a short time and Wright helped him to secure the Eugene F. Saxon Memorial Award. Baldwin titled a collection of essays Notes of a Native Son, in clear reference to Wright's novel Native Son. However, Baldwin's 1949 essay "Everybody's Protest Novel" ended the two authors' friendship because Baldwin asserted that Wright's novel Native Son, like Harriet Beecher Stowe's Uncle Tom's Cabin, lacked credible characters and psychological complexity. However, during an interview with Julius Lester, Baldwin explained that his adoration for Wright remained: "I knew Richard and I loved him. I was not attacking him; I was trying to clarify something for myself".
In nineteen forty-nine he also met and fell in love with Lucien Happersberger. The man was seventeen years old, eight years younger than Baldwin, and the two became very close, until Happersberger's marriage three years later, an event that left Baldwin devastated. Lucien Happersberger died on August 21, 2010 in Switzerland.
A short story published in 1951 Outing - a story of sexual awakening centering on two adolescent boys - was his first 'gay' fiction. He revisited and developed the theme in his first novel Go Tell It On The Mountain (1953). The theme of sexual identity dominates Baldwin's second novel Giovanni's Room (1956) . Its all-white cast of characters and its candid treatment of homosexual romance 'disappointed' many of Baldwin's readers, but helped secure Baldwin's central place in gay American literature.
Another Country, Baldwin's controversial bestseller, was published in 1962. A complex narrative, it explicitly combines racial and sexual protests. Its setting is mostly New York; its plot is structured around the lives of eight racially, regionally, socio-economically, and sexually diverse characters. This multicultural cast constitutes a microcosmic America; the conflicts among them, therefore, become emblematic of larger crises in American society.
Subsequent novels further developed the themes of race and sexuality. Baldwin received a viciously hostile reaction to his gay-themed novels from angry black militants who were uncomfortable with the increasingly visible role of Baldwin - an openly gay black man - in the civil rights movement. His next novel If Beale Street Could Talk (1974) lacked a gay theme possibly in response to this, but his final novel Just Above My Head (1979) integrated a secondary gay theme.
Baldwin is a pioneering figure in 20th century literature. As a black gay writer in a mainly straight white culture, he offered in his work a sustained and articulate challenge to the dominant discourses of American racism and heterosexuality. As an African-American writer, he ranks among the finest. As a gay writer, he occupies a pre-eminent place.
Long before the Stonewall Riots of 1969 helped liberate the gay literary imagination in the United States, he boldly made his sexuality a vital part of his artistic vision. Even more important, by insisting on honest and open explorations of gay and bisexual themes in his fiction, he made a sharp break from the established African-American literary conventions. Through such a radical departure from tradition, he helped create the space for a generation of young African-American gay writers who succeeded him.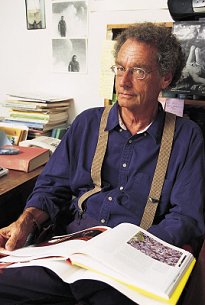 1933 – Lorenzo Milam, born in Jacksonville, Florida, is an American writer and activist who was instrumental in starting many of the first listener-supported community radio stations in the United States, beginning with KRAB-FM in Seattle in 1962.
Milam, who is credited with helping in the startup of at least 14 stations from the early 1960s through late 1970s, is often referred to as the "Johnny Appleseed" of community radio. He got his start in radio volunteering in 1958-1959 at Lew Hill's KPFA in Berkeley, California. He used a $15,000 inheritance to buy a small FM transmitter in 1959 and spent the next 3 years seeking a broadcasting license "anywhere in the US" from the Federal Communications Commission (FCC), which assigned him a frequency in Seattle.
With the help of volunteer engineer Jeremy Lansman he was able to get his antique Collins Radio transmitter on the air in 1962. Lansman later assisted him in launching other stations around the country, starting with KBOO in Portland, in a mini-network that was sometimes referred to as the "KRAB nebula". Mr. Milam authored the book Sex and Broadcasting, A Handbook on Starting a Radio Station for the Community.
His latest book Cripple Liberation Front Marching Band Blues examines his battle with polio and learning to walk again as well as his homosexual self-discovery.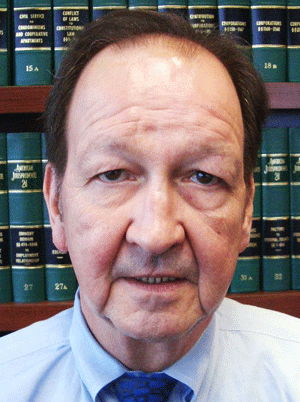 1943 – John Geddes Lawrence (d.2011) was the named defendant in the U.S. Supreme Court's 2003 landmark Lawrence v. Texas decision that overturned all remaining sodomy laws in the country.
Lawrence was born in Beaumont, Texas. He served four years in the Navy and worked as a medical technologist in Texas hospitals until his retirement in 2009.
Mr. Lawrence was often referred to as the lead plaintiff in the Lawrence case but he was actually the defendant. The case started on September 17, 1998, when Harris County sheriff's deputies entered Lawrence's second-floor apartment and reported that they walked in on Lawrence and Tyron Garner having sex.
Lawrence and Garner were convicted of violating Texas' Homosexual Conduct Law, which made it a crime for two people of the same sex to have consensual sexual contact. Lambda Legal Defense and Education Fund litigated the case through the Texas court system and eventually to the U.S. Supreme Court.
In a stunning 6-3 victory, Texas' anti-gay law – and all remaining sodomy laws in the country – was found unconstitutional in 2003. The Lawrence decision overturned Bowers v. Hardwick, a 1986 Supreme Court decision that allowed states to criminalize gay sexual activity. The Lawrence decision established, for the first time, that lesbians and gay men are entitled to fundamental liberty and privacy rights under the Constitution.
He died of complications of a heart ailment in 2011, leaving behind his partner, Jose Garcia.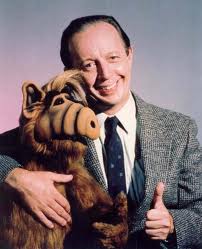 1943 – Max Wright is an actor who has appeared in several sitcoms and movies during his career. Wright has made appearances in TV shows such as WKRP in Cincinnati, was a regular cast member in ALF, Misfits of Science, Buffalo Bill, The Norm Show, and appeared in the first two seasons of the popular sitcom Friends, as Terry, the manager of Central Perk. He has also appeared in movies such as Soul Man and the made-for-TV adaptation of Stephen King's The Stand.
Wright is best known for his role as role as Willie Tanner on the late-1980s hit sitcom ALF where he played the father in a family that took in and adopted an alien who happened to crash land into his garage. Wright's character on the show was very wholesome, and the entire show was oriented toward families and kids. It was intended to be a sitcom that the whole family could watch.
Wright, however, was hiding a dark secret - a penchant for smoking crack and having unprotected sex with homeless men.
The National Enquirer posted an expose on Wright after acquiring homemade sex tapes showing Wright having smoking crack and having gay sex with a random homeless man he had literally just met. In one of the videos Max is shown having a discussion with his gay lover and a homeless man regarding the best way to smoke crack and then later telling him lover that the homeless man with whom he just had sex was "hot."
Wright's former gay lover said:
"His life was so out of control that he didn't care about exposure to AIDS.
We would meet twice a week and pick up homeless men, take them home and pay them $100 for sex.
Max had unprotected sex with me and with the homeless guys. And he did drugs with me and the homeless men.
Max even agreed to let me film two gay sex videos with him. They're both with homeless men we picked up on the street!"
In January 2000, Wright was arrested for drunken driving in Los Angeles, California. At the time he was appearing on the show Norm. He was sentenced to probation. Wright had another DUI arrest in 2003.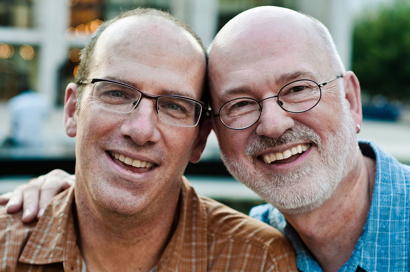 James Howe (R) with husband Mark Davis
1946 – James Howe is an American children's writer with more than 80 juvenile and young adult fiction books to his credit. He is known best for the Bunnicula series about a vampire rabbit that sucks the juice out of vegetables.
Howe was born in Oneida, New York. At the age of nine or ten, Howe wrote a play based on the "Blondie" comic strip as well as a variety of short stories and self-published newspapers. Of the latter his favorite is The Gory Gazette which he made for a self-founded club, Vampire Legion.
Howe would continue to write plays during his theater studies at Boston University, and eventually move to New York City to pursue a career as an actor and model while directing plays and working as a literary agent.
In the mid-1970s, Howe's mother-in-law encouraged him and his wife, Deborah Howe, to create a children's story based on a character the two had created while watching older Dracula movies, which at the time were played late at night on TV in the 1970s. With his wife, he created Bunnicula: A Rabbit Tale of Mystery, about a pet rabbit suspected of being a vampire. The book would go on to win more than ten Children's Choice awards, including the Dorothy Canfield Fisher Award and the Nene Award, and eventually evolve into a series. Shortly after Bunnicula was published Deborah fell victim to cancer and died, inspiring the creation of The Hospital Book.
In 1981, Howe began writing full-time. In addition to the Bunnicula series, Howe has written picture books, children's novels, nonfiction, adaptations of classic stories, and screenplays for movies and television. Over ten years ago, he published his first two young adult novels, The Watcher and The Misfits. The Misfits, itself inspired by his daughter Zoey's difficult experiences in middle school, was the inspiration behind GLSEN's annual No Name-Calling Week.
After the death of his first wife, Howe remarried and fathered a daughter, Zoey. Howe and his second wife divorced after Howe came out as gay. In 2007, James Howe was the recipient of The E.B. White Read Aloud Award for Picture Books for his book Houndsley and Catina, illustrated by Marie-Louise Gay, and published by Candlewick Press.
On September 17, 2011, Howe married Mark Davis, a partner in the New York law firm Engel and Davis, at a home in Dorset, Vermont. He was a consulting producer for the animated adaptation of the books.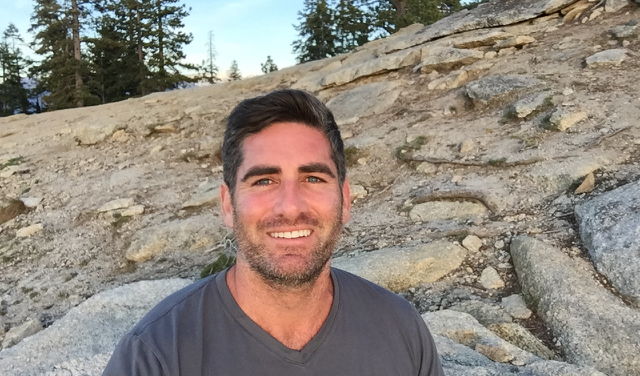 1970 – James Dale is a civil rights activist who has spent more than 25 years advancing the gay, lesbian, bisexual, and transgender (LGBT) cause for equality. He is best known for his role in Boy Scouts of America v. Dale, the landmark US Supreme Court case that challenged the Boy Scouts of America (BSA) policy of excluding homosexuals from Scouting. To this day, James continues to fight for gay rights and equality.
James Dale joined the Scouting program at the age of 8 years old, beginning with Pack 242 in Monmouth County, New Jersey. Over the years Dale engaged with a number of different troops and rose through the various levels of Scouting. In Troop 128, he became a protégé of M. Norman Powell, a descendent of Lord Baden-Powell (founder of the international Scouting movement). It was Powell who presented James with his Eagle Scout Award in the fall of 1988
While a student at Rutgers University, James became co-president of the Lesbian, Gay and Bisexual Alliance. In July 1990, he was a featured speaker at a Rutgers School of Social Work conference on the health needs of lesbian and gay teenagers and was interviewed by the Newark Star Ledger. In the interview, James was quoted as stating that he was gay. After the interview appeared, BSA officials expelled James, then 19 years old, from his position as assistant Scoutmaster for Troop 73. "The grounds for this membership revocation are the standards for leadership established by the Boy Scouts of America, which specifically forbid membership to homosexuals."
James filed suit in the New Jersey Superior Court, alleging that the Boy Scouts had violated the state statute prohibiting discrimination on the basis of sexual orientation in places of public accommodation. In 1995 Superior Court Judge Patrick J. McGann ruled with the BSA labeling Dale an "active sodomite." In 1998 the Superior Court decision was overturned on appeal.
In a unanimous decision, the Supreme Court of New Jersey sided with Dale, asserting that Dale's expulsion from the BSA violated the law. The Boy Scouts appealed to the Supreme Court of the United States, which granted certiorari.
Boy Scouts of America et al v. Dale 530 U.S. 640 (2000) was heard by the Supreme Court on April 26, 2000, and the decision was announced on June 28. In a narrow 5-4 decision, the Court sided with the BSA and overturned the New Jersey Supreme Court's decision.
The majority opinion held that the First Amendment right to freedom of "expressive association" allows a private organization like the BSA to exclude members who they feel would express a viewpoint that is contrary to the organization's mission. The Scout Oath and Scout Law set forth central tenets, including that a Scout must be "clean" and "morally straight". The BSA maintained that homosexuality was unclean and immoral, and therefore the presence of an openly gay scout would be contrary to the group's cause.
In their dissenting opinion, the minority held that the ban on gay Scouts did not follow from its founding principles, and Scout Law says nothing on matters of sexuality. They noted that Scout policy discourages Scoutmasters to engage in any discussion of sexual issues, so it should make no difference what that Scoutmaster's sexual orientation might be, and society's longstanding history of prejudice against gays and lesbians would be aggravated by the "creation of a constitutional shield."
James now works in an advertising agency but has continued to advocate for equal rights. He frequently engages in youth outreach via speaking at universities and engagements including Harvard, Yale, and Princeton University, Microsoft, Verizon, and the MTV Network.
In 2012, the BSA reaffirmed their policy of excluding gays from membership in the organization. Over the years, the Scouts have lost a great amount of funding from companies and organizations for whom the Scouts' exclusionary policy conflicts with their own more progressive ones.
Dale has stood vehemently against discrimination and continues to maintain that the BSA policy on gays is a question of civil rights on which there can be no compromise: "In order for scouting to regain its relevancy and be on the right side of history, there can be no halfway."
On May 23, 2013, the BSA's National Council approved a resolution to remove the restriction denying membership to youth on the basis of sexual orientation alone effective January 1, 2014. The ban on gay adult scout leaders remains in effect.
Below, James dale discusses his role:


1972 – A national Canadian Gay Election Coalition is formed by sixteen groups to intervene in the October 30 Federal election. Questionnaires are sent to candidates asking their position on gay rights.

1983 – Conservative Republican ex-Congressman Robert Bauman comes out, and urged the American Bar Association to support gay rights legislation. Three years earlier he had been arrested for soliciting a 16-year-old male prostitute and lost his bid for re-election as a result. He wrote an autobiography, The Gentleman from Maryland: The Conscience of a Gay Conservative which was published in 1986.

1987 – Arizona governor Evan Meecham announces during a radio call in show that students at Arizona State University do not have the right to organize a gay and lesbian student organization. He said the existence of such organizations is a cause of homosexuality.

1988 – The Madison, Wisconsin Common Council approves a bill to provide sick time and bereavement benefits to city employees who designate a family partner, and rejects a proposal forbidding discrimination against non-traditional families in public accommodations.

1988 – The Ft. Collins, Colorado City Council votes to allow voters to decide if sexual orientation should be added to the city's anti-discrimination code. It fails. It was opposed by hate-monger Rev. Pete Peters who advocated capital punishment for homosexuals.

1988 – Ronald Balin dies of complications from AIDS at age 53. He had been the founder of the Washington DC chapter of The Mattachine Society and was among the first group to picket in front of the White House in 1965.

1995
– U.S. President
Bill Clinton
signs
Executive Order 12968
which bans discrimination based on "sexual orientation" establishing uniform policies for allowing government employees access to classified information. It was the first time a U.S. president signed an executive order that contained the words "sexual orientation."

2001 – The Minuteman Council, comprised of 330 Scout troops and 18,000 Boy Scouts in Greater Boston, one of largest Boy Scout councils in Massachusetts, agrees to allow gay scoutmasters under a new "don't ask-don't tell" policy despite the national organization's ban on homosexuals.

AUGUST 3 →
[{(o)}]|[{(o)}]|[{(o)}]|[{(o)}]| [{(o)}]|[{(o)}]