October 5
[{(o)}]|[{(o)}]|[{(o)}]|[{(o)}]| [{(o)}]|[{(o)}]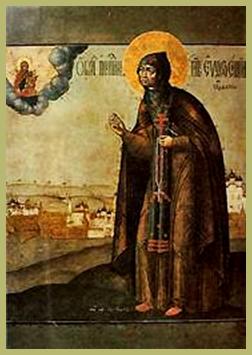 c.500 – Today the Christian church honours the feast day of St Galla (d.550), a Roman nun of the turn of the 6th century. What makes her of particular interest to gay people today, is her intimate friendship and devoted attention to her colleague, the nun Benedicta. This devotion was so intense, that according to legend, in answer to prayer, they were permitted to die together, so as to avoid being separated even for a moment of eternity.
In his Dialogues, Pope Saint Gregory the Great speaks of a holy woman of Rome named Galla, who had been married for less than a year when her husband died. Refusing to remarry, the young widow resolved to devote the rest of her life to God. To protect her beauty againt men's attention, it is said she disguised herself as a man and God gave her a beard.
Joining with a community of women living near St. Peter's Basilica, caring for the poor and sick, this wealthy and pious woman founded a convent and a hospital. She is reputed to have once healed a young deaf and mute girl by blessing some water, and having the girl drink from it.
As she lay stricken with breast cancer, Galla kept two candles burning each night at the foot of her bed, for Gregory explains, "She hated darkness, being a friend of light, physical as well as spiritual light."
It was between these two candles that one night the Apostle Saint Peter appeared in a vision to Galla. The dying woman asked him: "Have my sins been forgiven?"
Smiling, Peter nodded yes and answered, "They are forgiven. Come."
But Saint Galla now requested, "I beg you to let Sister Benedicta come with me."
Peter told her, "Sister Benedicta will follow you in thirty days." Three days later, Galla died, and a month later, Benedicta.
Their story (or myth) is an important reminder that for all the modern Church's opposition to homosexuality, the record shows that same-sex couples and queer saints, nuns, priests, bishops, and popes have always been present, throughout Church history.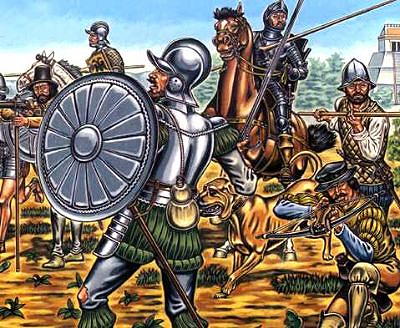 1513 – Spanish conquistador Vasco Nunez de Balboa discovered what he claimed was a colony of cross-dressing males in present day Panama. It was reported that he massacred them.

1659 – Richard Berry is banished from Plymouth Colony, after his third arrest on various homosexual sex charges.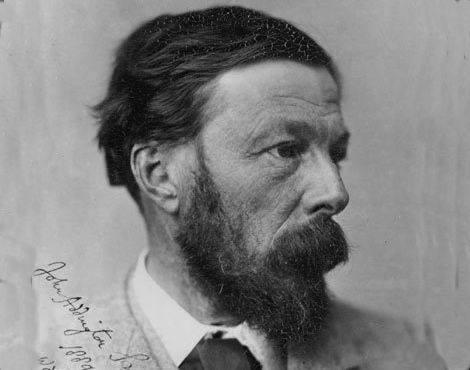 1840 – John Addington Symonds (d.1893) was an English poet and literary critic. Although he married and had a family, he was an early advocate of male love (homosexuality), which he believed could include pederastic as well as egalitarian relationships. He referred to it as l'amour de l'impossible (love of the impossible). A cultural historian, he was known for his work on the Renaissance, as well as numerous biographies about writers and artists. He also wrote much poetry inspired by his homosexual affairs.
John Symonds was born at Bristol, England in 1840. Considered delicate, the younger Symonds did not take part in games after age 14 at Harrow School, and he showed no particular promise as a scholar.
In January 1858 Symonds received a letter from his friend Alfred Pretor, telling of Pretor's affair with their headmaster, Charles John Vaughan. Symonds was shocked and disgusted, feelings complicated by his growing awareness of his own homosexuality. He did not mention the incident for more than a year until, in 1859 and a student at Oxford University, he told the story to John Conington, the Latin professor. Conington encouraged Symonds to tell his father about his friend's affair, and the senior Symonds forced Vaughan to resign from Harrow. Pretor was angered by the younger man's part and never spoke to Symonds again.
In the fall of 1858, Symonds went to Balliol College, Oxford. In spring of that same year, he fell in love with Willie Dyer, a Bristol choirboy three years younger. They engaged in a chaste love affair that lasted a year, until broken up by the senior Symonds. The friendship continued for several years afterward, until at least 1864. Dyer became organist and choirmaster of St Nicholas' Church, Bristol.
In 1862, an accusation of misconduct caused a nervous breakdown and a rest trip to Switzerland where he met his wife to be, whom he married in 1864.
In 1868, Symonds met and fell in love with Norman Moor, a youth about to go up to Oxford, who became his pupil. Their affair, erotic and sensual but kept short of coitus, lasted four years. According to Symonds' diary of 28 January 1870, "I stripped him naked and fed sight, touch and mouth on these things." The relationship occupied a good part of his time. (On one occasion he left his family and travelled to Italy and Switzerland with Moor.) It also inspired his most productive period of writing poetry, published in 1880 as New and Old: A Volume of Verse.
While the taboos of Victorian England prevented Symonds from speaking openly about homosexuality, his works published for a general audience contained strong implications and some of the first direct references to male-male sexual love in English literature. For example, in "The Meeting of David and Jonathan", from 1878, Jonathan takes David "In his arms of strength / [and] in that kiss / Soul into soul was knit and bliss to bliss".
The same year, his translations of Michelangelo's sonnets to the painter's beloved Tommaso Cavalieri restore the male pronouns which had been made female by previous editors. By the end of his life, Symonds' homosexuality had become an open secret in Victorian literary and cultural circles.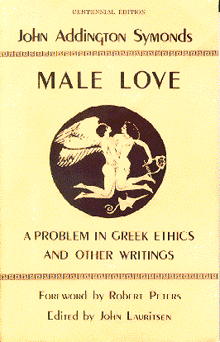 Simultaneously to these widely available works, Symonds was writing, privately publishing and distributing more candid writings about homosexuality. As well as a large number of poems written throughout the 1860s and 1870s, Symonds wrote one of the first essays in defense of homosexuality in the English language, A Problem in Greek Ethics, in 1883. A follow-up essay from 1891, A Problem in Modern Ethics, includes proposals for reforming anti-homosexual legislation.

1915 – The Montana Supreme Court rules that fellatio is a violation of the "crime against nature" law.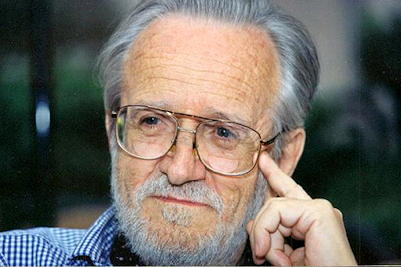 1924 – On this date the Chilean writer Jose Donoso was born (d.1996). He lived most of his life in Chile, although he spent some years in self-imposed exile in Mexico, the United States (Iowa) and Spain. After 1973, he claimed his exile was a form of protest against the dictatorship of Augusto Pinochet.
Donoso was the author of a number of remarkable stories and novels, which contributed greatly to the Latin American literary boom and the foundation of the literary movement known as Magical Realism. His best known works include the novels Coronación, El lugar sin límites (The Place Without Limits) and El obsceno pájaro de la noche (The Obscene Bird of Night). His works deal with a number of themes, including sexuality and psychology, and are often darkly humorous. He is also considered an innovative stylist.
After his death his personal papers at the Iowa Writers' Workshop revealed an active sex life and the fact of Donoso's homosexuality. It came as a shock to some in Latin America's intelligentsia that one of the great writers of the 20th century was in fact Gay.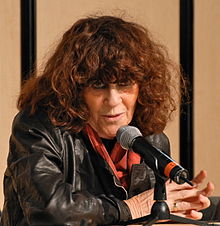 1939 – Marie-Claire Blais is a Canadian author and playwright.
Born in Quebec City, she was educated at a convent school and at Université Laval. It was at Laval that she met Jeanne Lapointe and Father Georges Lévesque, who encouraged her to write and, in 1959, to publish her first novel, La Belle Bête (trans. Mad Shadows) in 1959 when she turned 20. She has since written over 20 novels, several plays, collections of poetry and fiction, as well newspaper articles. Her works have been translated into numerous languages, including English and Chinese. With the support of the eminent American critic Edmund Wilson, Blais won two Guggenheim Fellowships.
In 1963, Blais moved to the United States, initially living in Cambridge, Massachusetts. In 1963, Wilson introduced Blais to American artist Mary Meigs, and became romantically involved with Meigs and her partner, author Barbara Deming. The three women lived together for six years. Meigs and Deming drifted apart, and in 1972 Meigs and Blais moved to Brittany. In 1975, after two years living in Brittany, she moved back to Quebec with her partner. For about twenty years she divided her time between Montreal, the Eastern Townships of Quebec and Key West, Florida
Much of Blais' writing has been in the form of social commentary, with intermixed elements of good and evil in settings part real, and part fantasy. Her works lean toward the tragic, within a hostile society of vice and violence. The strength of Blais' writing ability is rewarding to the reader in spite of the darker aspects of her themes.
In 1972 she became a Companion of the Order of Canada. Her works La Belle Bête (1959), Une Saison dans la vie d'Emmanuel (1965) and Le Sourd dans la ville (1979), have been adapted for the cinema. Canadian film director Karim Hussain adapted La Belle Bête in 2006. He won the Director's Award at the Boston Underground Film Festival's for the film.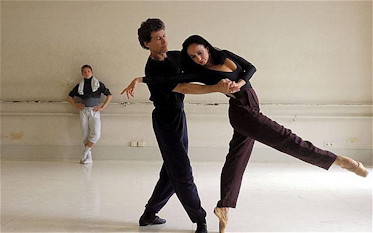 1944 – Richard Cragun (d.2012) was an American ballet dancer - one of the most influential dancers of the twentieth century.
Cragun was born in Sacramento, California, United States. He studied at the Banff School of Fine Arts (Canada), the Royal Ballet School (London, England), and with Vera Volkova (Copenhagen, Denmark).
Cragun's artistic development is closely associated with John Cranko, who engaged him in 1962 for the Stuttgart Ballet. With Cranko's choreography (e.g. Romeo and Juliet, Onegin, The Taming of the Shrew), Cragun became world-famous. He also forged a successful partnership with the ballerina Marcia Haydée.
Even after Cranko's death, Cragun remained at the Stuttgart Ballet through the end of his dancing career in 1996. There, and in his many guest appearances around the world, he worked with several choreographers who have significantly influenced the development of dance. He danced in works choreographed by Kenneth MacMillan, John Neumeier, Jiri Kylian, William Forsythe, and Maurice Bejart.
From 1996 to 1999, he was ballet director at the Deutsche Oper Berlin. He left Berlin in 1999 to start a new ballet company in the Brazilian city of Curitiba and at the Teatro Municipal of Rio de Janeiro with his life partner, the Brazilian choreographer Roberto de Oliveira. They launched a contemporary ballet project with the city's black slum youngsters. DeAnima Ballet Contemporâneo aimed to counter street violence and gangsterism by persuading 200 children to come to dance classes.
Cragun was also a noted cartoonist, who mounted several exhibitions of his work. Cragun lived for many years with AIDS, but a stroke in 2005 ended his working career. Cragun died in Rio de Janeiro on 6 August 2012, at the age of 67.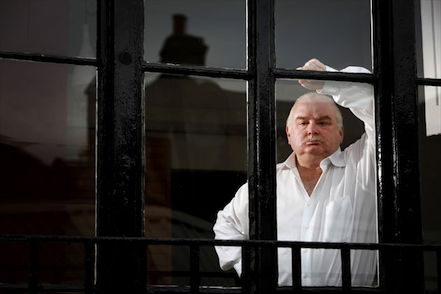 1949 – Peter Ackroyd, CBE, FRSL is an English biographer, novelist and critic with a particular interest in the history and culture of London. For his novels about English history and culture and his biographies of, among others, William Blake, Charles Dickens, T. S. Eliot, Charles Chaplin and Sir Thomas More, he won the Somerset Maugham Award and two Whitbread Awards. He is noted for the volume of work he has produced, the range of styles therein, his skill at assuming different voices, and the depth of his research.
He was elected a fellow of the Royal Society of Literature in 1984 and appointed a Commander of the Order of the British Empire in 2003.
Ackroyd was born in London and raised on a council estate in East Acton, in what he has described as a "strict" Roman Catholic household by his mother and grandmother, after his father disappeared from the family home. He first knew that he was gay when he was seven. He was educated at St. Benedict's, Ealing, and at Clare College, Cambridge, from which he graduated with a double first in English literature. In 1972, he was a Mellon fellow at Yale University.
The result of his Yale fellowship was Notes for a New Culture, written when Ackroyd was only 22 and eventually published in 1976. The title, an echo of T. S. Eliot's Notes Towards the Definition of Culture (1948), was an early indication of Ackroyd's penchant for exploring and re-examining the works of other London-based writers. He worked at The Spectator magazine between 1973 and 1977 as literary editor and became joint managing editor in 1978, a position he held until 1982. He worked as chief book reviewer for The Times and was a frequent broadcaster on radio. Since 1984 he has been a fellow of the Royal Society of Literature.
In 1982 he published The Great Fire of London, his first novel, which is a reworking of Charles Dickens' novel Little Dorrit. Many of Ackroyd's novels are set in London and deal with the ever-changing, but at the same time stubbornly consistent nature of the city. Often this theme is explored through the city's artists, especially its writers: Oscar Wilde in The Last Testament of Oscar Wilde (1983), a fake autobiography of Wilde; Nicholas Hawksmoor, Sir Christopher Wren and Sir John Vanbrugh in Hawksmoor (1985); Thomas Chatterton and George Meredith in Chatterton (1987); John Dee in The House of Dr Dee (1993); Dan Leno, Karl Marx, George Gissing and Thomas De Quincey in Dan Leno and the Limehouse Golem (1994); John Milton in Milton in America (1996); Charles Lamb in The Lambs of London.
Ackroyd had a long-term relationship with Brian Kuhn, an American dancer he met while at Yale. After a nervous breakdown in the late 1980s, Ackroyd moved to Devon with Kuhn. However, Kuhn was then diagnosed with AIDS, and died in 1994, after which Ackroyd moved back to London. In 1999, he suffered a heart attack and was placed in a medically induced coma for a week.
In a 2004 interview, Ackroyd said that he had not been in a relationship since Kuhn's death and was "very happy being celibate."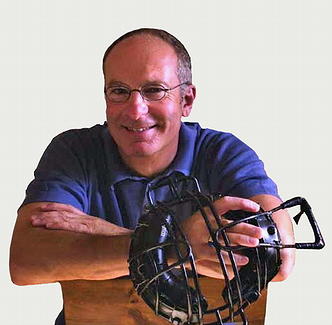 1951 – Dave Pallone, born in Waltham, Massachusetts, is a former Major League Baseball umpire who worked in the National League from 1979 to 1988. During Pallone's career, he wore uniform number 26.
Pallone umped in the NL for ten years, and umpired in the 1983 Major League Baseball All-Star Game and the 1987 National League Championship Series. He was the home plate umpire for Nolan Ryan's 4,000th strikeout on July 11, 1985, and on September 25, 1986 he was the second base umpire when Mike Scott of the Houston Astros pitched a 2-0 no-hitter against the San Francisco Giants to clinch the NL West Division championship.
On April 30, 1988, Pallone was involved in a highly controversial confrontation with Cincinnati Reds manager Pete Rose. Pallone was umpiring at first base in the ninth inning when he called New York Mets outfielder Mookie Wilson safe on a delayed call, with the delay giving Howard Johnson the time to score the eventual game-winning run. Rose immediately rushed to Pallone to argue both the call and how slowly it was made. With both tempers boiling over, Pallone was mocking Rose's gestures by pointing his finger at Rose, which lead Rose to (later) accuse Pallone of poking him in the face. Rose then shoved Pallone, causing Rose's immediate ejection, and proceeded to shove him again. Pallone denied touching Rose and Major League Baseball never determined that he did in fact touch Rose. However, the incident led to fans throwing garbage on the field, temporarily stopping the game and causing Pallone to be taken out of the game to ease tensions. The incident also resulted in Rose being suspended for 30 days with a $10,000 fine as well.
In September of that year, Pallone resigned amid rumors of his alleged involvement in a Saratoga Springs, New York teenage male sex ring; he was questioned by local authorities, but was cleared of any involvement. He was "outed" in a New York Post article later in the year. Pallone later wrote a book, Behind the Mask: My Double Life in Baseball, about his experiences as a gay man working in baseball.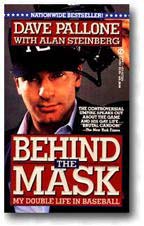 In Behind the Mask, Pallone describes the beginnings of his secret gay life. In one moving story, he describes how he sat alone, unacknowledged, in the back pew at the funeral for his lover, Scott. No one in Scott's family knew about their three-year relationship when Scott was killed by a drunk driver in 1982. But in the mid-80s, Dave Pallone came out to a few trusted colleagues, and eventually he even told his secret to then-president of the National League Bart Giamatti.
In 1988, however, Pallone was forced to come out from behind his mask in a much bigger way. The National League dismissed him for allegedly having sex with a minor, even though the charges against him had already been found groundless and the District Attorney in charge of the case had dropped the investigation. Pallone believes that the real issue was his sexual orientation. Referring to others in professional baseball who had been disciplined lightly, he asks in Behind the Mask, "How could they allow people who were guilty of breaking laws to continue their careers, but then turn around and force me out for being innocent?"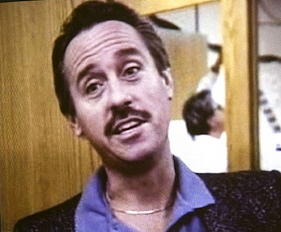 1951 – Tom Lukiwski is a Canadian politician. He is the current Conservative Member of Parliament for the Saskatchewan riding of Regina—Lumsden—Lake Centre. Born in Esterhazy, Saskatchewan, he was a businessman and political administrator.
Lukiwski was first elected in 2004, winning by 122 votes over Liberal Gary J. Anderson. His predecessor, Larry Spencer, was denied the opportunity to run as a Conservative, despite having served as a member of the Canadian Alliance, due to inflammatory comments he made regarding homosexuality. At the time, Lukiwski criticized Spencer for making the remarks and approved of revoking Spencer's party membership.
On April 3, 2008, the New Democratic Party of Saskatchewan released a videotape showing Lukiwski, then 40 years old, making homophobic remarks in 1991. At the time the videotape was made, Lukiwski was the general manager of the Progressive Conservative Party of Saskatchewan led by Grant Devine. In the video, he says:
"There's A's and there's B's. The A's are guys like me, the B's are homosexual faggots with dirt under their fingernails that transmit diseases."
The release of the tape provoked immediate controversy, including calls for Lukiwski's resignation or removal as a Parliamentary Secretary.
Lukiwski apologized for the comments, saying "If I could take those comments back I would... They do not reflect the type of person that I am."
Lukiwski subsequently promised that "I can assure you, Mr. Speaker, and all of my colleagues in this House that I will spend the rest of my career and my life trying to make up for those shameful comments."
However, he failed to attend a May 31, 2008 Regina gay pride parade to which he was invited. Gay groups said they were disappointed that Lukiwski failed to respond at all to the invitation. "Mr. Lukiwski stated in his public apology... that he would spend the rest of his life making amends," said gay pride spokesman Nathan Markwart. "Well, when exactly does that kick in? "It is clear that his apology is less than sincere and is, in fact, hollow as it has not been followed up with any concerted effort to join our celebrations as an elected official who represents gays and lesbians in Regina and surrounding area." Markwart noted that the disappointment was heightened by their understanding that Lukiwski was in the Regina area on the date of the parade.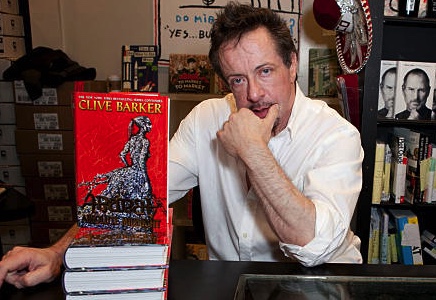 1952
– Born: English author, artist and director
Clive Barker
best known for his work in both fantasy and horror fiction. Barker came to prominence in the mid-1980s with a series of short stories which established him as a leading young horror writer. He has since written many novels and other works, and his fiction has been adapted into motion pictures, notably the
Hellraiser
and
Candyman
series.
In 2003, Clive Barker received The Davidson/Valentini Award at the 15th GLAAD Media Awards. This award is presented "to an openly Lesbian, Gay, Bisexual or Transgender individual who has made a significant difference in promoting equal rights for any of those communities."
Clive Barker had said,
"I want to be remembered as an imaginer, someone who used his imagination as a way to journey beyond the limits of self, beyond the limits of flesh and blood, beyond the limits of even perhaps life itself, in order to discover some sense of order in what appears to be a disordered universe. I'm using my imagination to find meaning, both for myself and, I hope, for my readers."
During his early years as a writer, he would occasionally work as a male prostitute when his writing did not provide sufficient income.
Barker has been openly Gay since the early 1990s, first mentioning his dating life to US audiences in the pages of The Advocate magazine. While appearing on the radio call-in show Loveline on 20 August 1996, Barker stated that during his teens he had several relationships with older women, but came to identify himself as homosexual by 18 or 19 years old. His relationship with John Gregson lasted from 1975 until 1986.
He later spent 13 years with photographer David Armstrong, described as his husband in the introduction to Coldheart Canyon; they separated in 2009.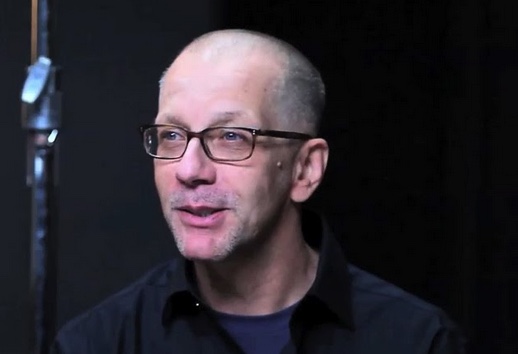 1956
–
Ron Nyswaner
is an American screenwriter and film director. Nyswaner was born in Clarksville, Pennsylvania. Nyswaner wrote his first screenplay for the
Susan Seidelman
film
Smithereens
. After two other notable screenplays for
Swing Shift
and
Mrs. Soffel
, he gave his directorial debut with
The Prince of Pennsylvania
in 1988, a film with
Keanu Reeves
and
Fred Ward
.
Nyswaner, who is openly gay and an activist for gay rights, has often worked on movies with the subjects homosexuality, homophobia, and AIDS. Examples are the documentary Celluloid Closet and the television drama Soldier's Girl, about the homicide of Private Barry Winchell. In 1993 he came to worldwide prominence for his screenplay to the Academy Award winning movie Philadelphia, directed by Jonathan Demme. It earned him nominations for the Academy Award, the Golden Globe and the BAFTA.
After several years of working for television he wrote the screenplay for the 2006 film The Painted Veil which is based on the novel by W. Somerset Maugham.
In 2004, he published Blue Days, Black Nights: A Memoir, which chronicles his relationship with alcohol, drugs, and hustlers.

1969 – The Washington Blade publishes its first issue. At that time it was called The Gay Blade and contained hard hitting journalism and gay activism.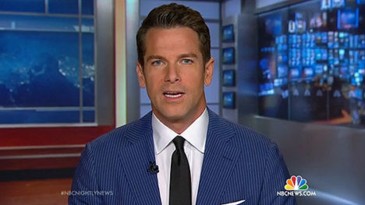 1972 – Born: American anchor and reporter Thomas Roberts. He currently works as an anchor and correspondent for MSNBC News and filled in for Keith Olbermann when the host of "Countdown" was suspended over political contributions. Previously he worked as a correspondent for CBS, Entertainment Tonight and The Insider and as a news anchor for CNN Headline News.
He grew up in Towson, Maryland and attended a Catholic high school in nearby Baltimore. In 1994, he graduated from Western Maryland College with a major in Communication and a minor in Journalism.
Roberts publicly acknowledged that he is Gay while speaking at the annual convention of the National Lesbian and Gay Journalists Association in Miami, in 2006. His comments were picked up by major Gay media outlets Gay.com and the The Advocate.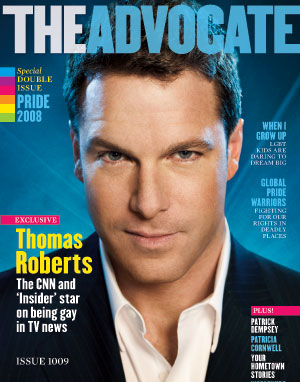 Along with other local Gay anchors, Roberts was a member of a panel called "Off Camera: The Challenge of LGBT TV Anchors." He told the audience that the conference was the "biggest step" he had taken to really be out in public and that he had slowly been coming out at CNN over the past several years. Roberts was proud of his partner, who was apparently unnamed, and that staying in the closet was a difficult thing for a national news anchor. "When you hold something back, that's all everyone wants to know."
In a later interview Roberts stated that he actually came out to coworkers in 1999, when he was living in Norfolk, Virginia. "I was happy, I was in a relationship, and I was very proud. I had the support of family, and of my friends. It was ... about not wasting any more time. I'd wasted enough time." He further commented, on the subject of coming out, "Hopefully, everyone, Gay or straight, journalists or doctors or otherwise, can overcome that obstacle, because it stands in the way of you being the best you can be, with your job, with your family, with everything, and not have to be afraid anymore."
Roberts has stated that he had been approached in 2005 by People magazine to be one of the publication's 50 Sexiest Bachelors, but he declined. "I'm not a bachelor. I thought it would be false advertising... [And] I didn't think it was the right venue to talk about it."
In 2005, after years of silence, Roberts came forward to testify against Jerome F. Toohey Jr., a former priest who had abused him when he was a student at Calvert Hall College High School. Fr. Toohey pled guilty to the sexual abuse charges and received a five year jail sentence with all but 18 months suspended in February 2006. Toohey served only ten months before his sentence was converted in December with the remaining eight months to be served in home detention. Roberts discussed his abuse in a special segment on CNN's Anderson Cooper 360 called "Sins of the Father" on March 12, 2007.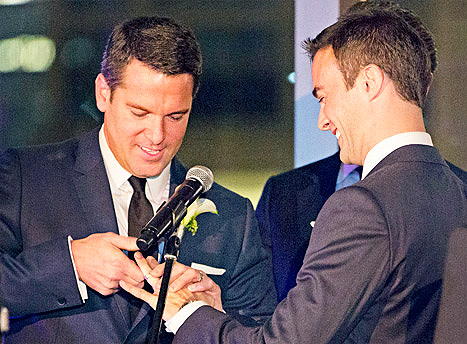 Roberts and Abner tie the knot.
Roberts has been in a relationship with his partner, Patrick Abner, since at least 1999. On September 29, 2012, they were officially married.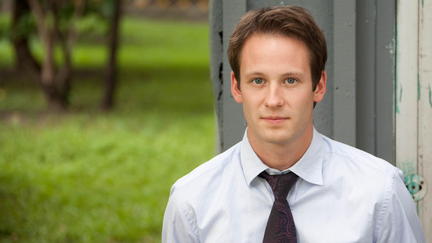 1984 – Odin Biron is an American actor living in Moscow and Minneapolis. While not well-known in the United States, he is best-known in Russia for playing the character Dr Phil Richards in the popular medical sitcom, Interns.
Born in Duluth, Minnesota, Biron grew up nearby in rural Minnesota, moving to Ann Arbor, Michigan, with his mother after his parents' divorce. While studying at the University of Michigan, he studied at the Moscow Art Theatre on student exchange and was, unusually, invited to stay and join the incoming Russian class. In one of his final student roles, he won an award for his portrayal of Hamlet in a production that toured to New York's Baryshnikov Arts Center.
Landing a role in Interns, a top-rated Russian medical sitcom, in 2006 raised Biron's profile substantially and he has spoken about being recognised in nightclubs and avoiding "celebrity events" as a result. In a country where a large majority of the population view the United States "badly" or "very badly", Biron is one of a few Americans in the public eye, yet the success of Interns has led to Biron being considered a heartthrob and very popular.
Biron came out to his parents as a teenager and made no big secret of his homosexuality, but Russia is very socially conservative on LGBT rights, with hostility towards legal recognition of same-sex marriage and support for laws discriminating against LGBT people. His character on Interns was raised by two gay fathers, though the treatment of the issue of sexuality on the show has been described as reinforcing the Soviet idea that homosexuality is a product of Western moral decay, rather than being used to promote more liberal values.
It is very common for LGBT performers in Russia to avoid coming out, with an unspoken don't ask, don't tell arrangement between the entertainment industry and the mainstream press. After the passage of 2013's Russian LGBT propaganda law, Biron's Interns co-star and former Orthodox priest Ivan Okhlobystin made international news with genocidally homophobic remarks made in a December 2013 talk in Novosibirsk, leading Biron to consider leaving the show and Russian TV altogether. As a result, he came out in an interview with New York magazine in early 2015, to mixed reactions, reported in the Russian press accompanied by mentions of Okhlobystin's remarks. After an initial reaction leaving Biron with "a sense of physical danger, political danger", he initially left Russia. He returned later without any apparent negative effect on his career, though his friendship with Okhlobystin had become untenable after the former priest's reaction describing him as a "pervert" and a "sodomite".
Biron lived in Moscow with his boyfriend, a Kazakh film director. In an interview with Minnesota's Star Tribune in May 2015, however, he mentioned that he was back in the United States permanently and, as well as acting, was pursuing a Le Cordon Bleu culinary degree.


Added 2022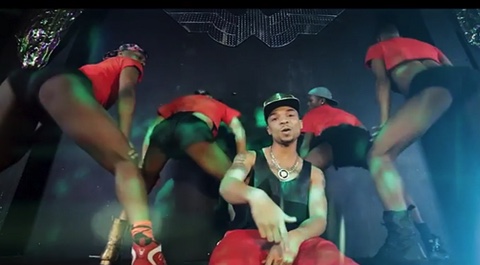 1991 – Franklin Freeman Randall, known by his stage name Fly Young Red is an American rapper who gained notoriety due to his controversial song "Throw That Boy Pussy".
Red was born in New Orleans, Louisiana, and raised in Southern California to a religious baptist family where he was an active Christian at that time.
After releasing some independent tracks online, as well as being a household name whilst performing in the gay clubs in the Houston and Atlanta areas, Red negotiated a deal with Las Vegas based music video production team Level Eight Studios to produce a music video from one of his notorious and provocative tracks that were released on his Twitter page titled "Throw That Boy Pussy". The video which was shot in the summer of 2013, and later released in the Spring of 2014 became viral and which ultimately led to Red being offered a record deal.
In April 2014 according to Black Entertainment Television with an interview with he Red he stated "That he wasn"t ready for a record deal", and that he wasn"t contracted by a music label.
Red self-identifies as gay. He decided to be more open about his sexuality due to the lack of homosexual male rappers in the hip hop industry.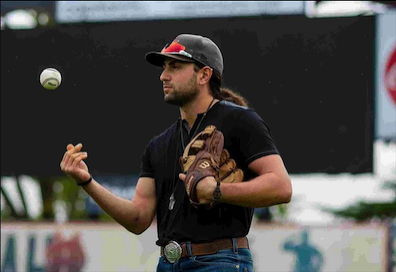 1995 – Bryan Ruby is an American professional baseball player born on this date. He plays for a minor league team, the Salem-Kaiser Volcanoes. On September 2, 2021 he became the first active, professional baseball player to come out as a gay man.
Born in Pennsylvania, he is also a professional  country music songwriter, having written two songs that reached the charts, writing hits for Hayden Joseph and Xavier Joseph, and countless ballads in his notebook.
He first realized he was different at age 14. But the baseballer, who also writes country music, says he saw no place for his sexual orientation in the worlds he inhabited. Ruby came out to his family about four years ago. Then he gradually told close friends. And just this summer he came out to his teammates. 

OCTOBER 6 →
[{(o)}]|[{(o)}]|[{(o)}]|[{(o)}]| [{(o)}]|[{(o)}]