May 10
[{(o)}]|[{(o)}]|[{(o)}]|[{(o)}]| [{(o)}]|[{(o)}]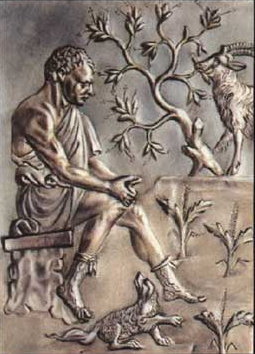 c.308. BC – Little is known of Theocritus, the first great voice in the homoerotic pastoral tradition. He appears to have been born in Sicily in the late fourth century B.C, and to have lived both at the court of Ptolemy Philadelphius (patron of the great poetic school of Alexandria) and in Syracuse, where he is reputed to have died around 240 B.C
His significance for gay literary history resides in the fact that five of his thirty Idylls map the emotional and poetic terrains of intense—especially frustrated—homosexual desire that later poets would explore in greater detail.
For example, "Hylas" (Idyll 13)—one of the most famous homosexual lyrics of the ancient world—subverts the traditionally heroic values of Greek poetry by noting how even Hercules could not resist loving a beautiful boy, "golden-haired Hylas," who drowned when, trying to fetch water for his lover, he was pulled down by the nymphs of the stream who fell in love with him and wanted to keep him as their own. Hercules, unable to save his lover, lapses into madness in his grief. For Theocritus, love's power is stronger than the physical might of even the greatest hero.
"For a Boy" (Idyll 29) warns a beautiful young man who scorns the speaker's love that he too will age and his beauty lose its freshness. Thus, if he does not "show more kindness" and "return the love of a man who is true" now when he is young and lovable, no one will show him any affection later when he himself is old and desperate for a beautiful young man's attention.
The speaker of "For Another Boy" (Idyll 30), who finds himself falling in love again after a particularly painful experience, knows full well that "as a man grows old, / he should steer himself clear of the love of young boys." Love, however, answers him that the only alternative to loving a boy is to cease to exist.
His Idylls are the source of a homoerotic pastoral tradition that includes Virgil's second eclogue, Spenser's Shepherd's Calendar, and Barnfield's Affectionate Shepherd, as well as anticipates the homoerotic confusion in the Forest of Arden in Shakespeare's As You Like It, Milton's "Lycidas," and possibly even Whitman's Calamus poems.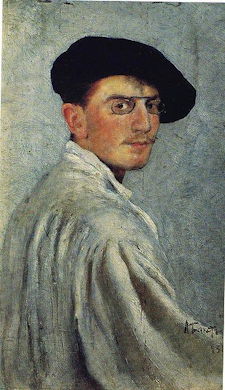 1866 – Léon Bakst (d.1924), Born as Lev Samoilovich Rosenberg, was a Russian painter and scene- and costume designer. He was a member of the Sergei Diaghilev circle and the Ballets Russes, for which he designed exotic, richly coloured sets and costumes.
At the young age of twelve, Léon won a drawing contest and decided to become a painter, but his parents did not really take a shine to it. After graduating from gymnasium, he studied at the St. Petersburg Academy of Arts as a noncredit student, because he had failed the entry, working part-time as a book illustrator, though, he would eventually be admitted into this institution in 1883.
At the time of his first exhibition (1889) he took the surname of "Bakst," based on his mother's maiden name. The surname "Rosenberg" was thought to be too Jewish and not good for business.
At the beginning of the 1890s he exhibited his works with the Society of Watercolourists. From 1893 to 1897 he lived in Paris, where he studied at the Académie Julian while still visiting Saint Petersburg often. After the mid-1890s he became a member of the circle of writers and artists formed by Sergei Diaghilev and
Alexandre Benois
, which later became the
Mir Iskusstva
art movement.
In 1899, he co-founded with Sergei Diaghilev the influential periodical Mir Iskusstva, meaning "World of Art." His graphics for this publication brought him fame.
Beginning in 1909, Bakst worked mostly as a stage-designer, designing sets for Greek tragedies, and, in 1908, he made a name for himself as a scene-painter for Diaghilev with the Ballets Russes. He produced scenery for Cleopatra (1909), Scheherazade (1910), Carnaval (1910), Narcisse (1911), Le Spectre de la Rose (1911), L'après-midi d'un faune (1912) and Daphnis et Chloé (1912). During this time, he lived in western Europe because, as a Jew, he did not have the right to live permanently outside the Pale of Settlement. During his visits to Saint Petersburg he taught in Zvantseva's school, where one of his students was Marc Chagall (1908–1910).
Bakst died on the 27th of December 1924, in a clinique in Rueil Malmaison, near Paris, from lung problems, (oedema). His many admirers amongst the most famous artists of the time, poets, musicians, dancers and critiques, lead him to his final resting place, in the Cimetiere des Batignoles, in Paris, during a very moving ceremony.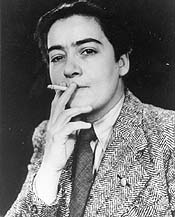 1904 – Frieda Belinfante (d.1995, Santa Fe, New Mexico) was a Dutch cellist, conductor, a prominent lesbian and a member of the Dutch Resistance during World War II. After the war, Belinfante immigrated to the United States and continued her career in music. She was the founding artistic director and conductor of the Orange County Philharmonic.
Belinfante was born into a musical family. She began the study of the cello at age 10. She graduated from the Amsterdam Conservatory and made her professional debut in the Kleine Zaal recital hall of the Concertgebouw at age 17, assisted at the piano by her father.
After directing high school, college and professional chamber ensembles for several years, Belinfante was invited by the management of the Concertgebouw to form Het Klein Orkester in 1937, a chamber orchestra for which she was to be artistic director and conductor. Belinfante held this position until 1941, and it made her the first woman in Europe to be artistic director and conductor of an ongoing professional orchestral ensemble.
The Nazi occupation interrupted Belinfante's musical career, which she did not resume until after the war.
Belinfante became a good friend of the artist Willem Arondeus, one of the leaders of Raad van Verzet and an openly gay man. She actively contributed to the Dutch resistance, mainly by forging personal documents for Jews. Together with Arondeus, she was part of the CKC resistance group that organised and executed the bombing of the population registry in Amsterdam on March 27, 1943, which destroyed thousands of files and hindered Nazi attempts to compare forged documents with documents in the registry.
The CKC group came under scrutiny by the Gestapo after the bombing, forcing Belifante and other members into hiding. While in hiding, Belinfante learned of the arrests and executions of the other CKC members, including Arondeus. Belinfante disguised herself as a man and lived with friends for 6 months before being traced by the Nazis.
The resistance helped her avoid capture and cross the border to Belgium and France, where the French Underground helped her make her way to Switzerland. When she and her travel partner arrived at the border in the winter of 1944, they were forced to cross the Alps on foot to reach safety. Her former teacher Hermann Scherchen saved her from being sent back over the border by verifying that she was a Dutch citizen and his former pupil. On arriving in Montreux, she was given refugee status and worked for a short time as a farm laborer. Belinfante was repatriated to the Netherlands as soon as the war ended.
Belinfante emigrated to the United States 1947, eventually settling in Laguna Beach, California.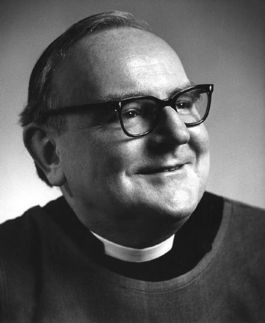 1919 – Harry Williams, CR (d.2006), was a British Church of England priest, monk, theologian and academic. After serving two curacies, he was chaplain of Westcott House, Cambridge. He then moved to Trinity College, Cambridge, where he was a fellow and lecturer and was later Dean of Trinity College Chapel. In 1972, he left academia and entered religious life as a monk with the Community of the Resurrection.
Williams was born in Rochester, Kent, England. His father was a captain in the Royal Navy who had to retire early because he could not secure the required promotion in order to remain in the navy until retirement age. His mother fell in love with a neighbour's son who was much younger than herself. Though it may not have been consummated, the affair led to tensions within the family. Eventually, the guilt experienced by Williams' mother led her to become an evangelical fundamentalist. She was described by her son as a "keen Christian out and out for Jesus".
He won a scholarship to study theology at Trinity College, Cambridge. He graduated in 1941 with a first class honours Bachelor of Arts (BA) degree; as per tradition, his BA degree was promoted to a Master of Arts (MA (Cantab)) degree.
His bad eyesight meant that he was not found fit to be called up for military service during World War II. He had been found fit for home duties but the British Government had granted permission for ordinands to continue their training. Therefore, he was able to continue his studies without serving in the military.In 1941, he entered Cuddesdon College, an Anglican theological college, to train for the priesthood. He undertook two years of formation before being ordained in 1943.
In 1969, at the age of 50, he made a life-changing decision and entered the Community of the Resurrection. It had been thought that one day he would be made a bishop, but his earlier breakdown and now his entering religious life, ended any possibility of entering the episcopate. After more than two years as a postulant, he took his religious vows and officially became a monk on 1 January 1972. Having been the Dean of Trinity College when Prince Charles studied there, he was invited to the wedding of Charles and Diana in 1981. Williams composed and read one of the prayers used in the service.
Williams was homosexual and was one of the first Anglican priests to come out. He had a number of casual sexual relationships with men, as well as at least two long-term same-sex relationships.
While a fellow of Trinity College, Cambridge, Williams fell in love with a male colleague and could not mentally process that his religion considered this to be a grave sin. It was also at this time that he concluded from his studies of the New Testament that very little could be known about the historical Jesus. This personal and religious crisis caused a breakdown and he avoided church for 18 months. He could only return to his career and faith with the help of a non-religious therapist. They continued to meet together for the next 14 years so that Williams could continue to undergo psychotherapy and receive the support of his therapist.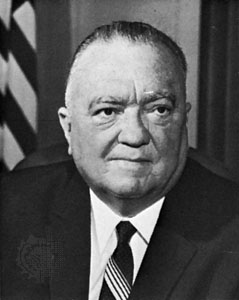 1924 – J. Edgar Hoover is appointed the Director of the United States' Federal Bureau of Investigation and remains there (and a closeted drag queen) until his death in 1972.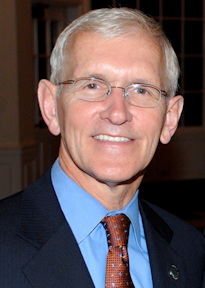 1951 – Steve Gunderson, born in Eau Claire, Wisconsin, is the former President and CEO of the Council on Foundations, the current president and CEO of the Association of Private Sector Colleges and Universities, and a former Republican congressman from Wisconsin.
Gunderson served in the Wisconsin State Assembly from 1975 to 1979 before being elected to the U.S. House of Representatives in 1980. Representing Wisconsin's 3rd congressional district. First being elected to the 97th Congress, he served eight terms in the House and did not seek re-election to the 105th Congress in 1996. He was appointed by President Barack Obama to the President's Commission on White House Fellows in January 2010.
In 1994, Gunderson was outed as gay on the House floor by conservative then-representative Bob Dornan during a debate over federal funding for gay-friendly curricula, making him one of the first openly gay members of Congress and the first openly gay Republican representative. In 1996, Gunderson was the only Republican in Congress to vote against the Defense of Marriage Act, and he has been a vocal supporter of gay rights causes since leaving Congress.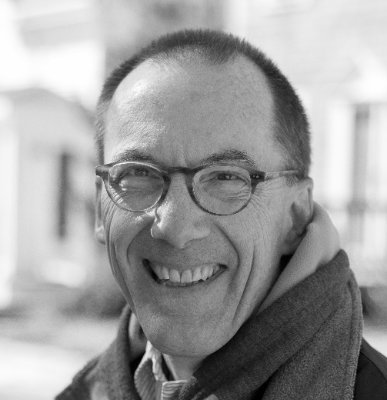 1952 – David W. Dunlap, born in San Francisco, California, is an American journalist who worked as a reporter for The New York Times. He wrote a regular column, Building Blocks, that looked at the New York metropolitan area through its architecture, infrastructure, spaces, and places.
Dunlap extensively documented the rebuilding of the World Trade Center after the September 11 attacks in 2001. He began writing about landmarks in 1981, when he was evicted from the New York Biltmore Hotel so that he would not be able to see its interior being demolished.
He began his career as a clerk to James Reston in 1975, became a graphics editor in 1976, and then reporter in 1981. Between 1994 and 1999, Dunlap covered gay, lesbian, and AIDS issues for The New York Times. He was the first reporter to officially cover the "gay and lesbian beat". The New York Times decided to officially document news about gay and lesbian communities after the AIDS-related death of Times reporter Jeffrey Schmalz in November 1993. Dunlap was sometimes criticized for covering the news from a politically left-leaning position.
He retired from The Times in December 2017.
Dunlap is currently documenting the history of Provincetown, Massachusetts through its architecture, on the website Building Provincetown 2020, which is under construction.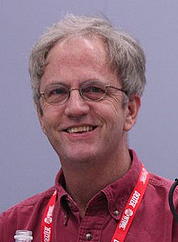 1952 – Robert Triptow, born in Salt Lake City, Utah, is a writer and "the last of the underground cartoonists." His 1989 anthology Gay Comics is one of the earliest histories of the subject, and won the first Lambda Literary Award for Humor.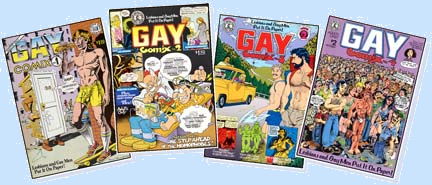 As a cartoonist, Triptow's contributions to
Howard Cruse'
s
Gay Comix
began with issue #2. He succeeded Cruse as editor of
Gay Comix
, from issue #5 (1984) through issue #13 (1991).
As a journalist, Triptow has contributed to The Advocate, Bay Area Reporter, Frontiers, The Sentinel, and other West Coast gay publications.

1954 – The Missouri Supreme Court upholds a life sentence for sodomy.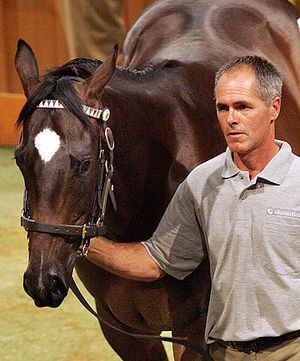 1961 – Born in Whangarei, New Zealand, Blyth Tait, son of a horse breeder, won his first two of four world equestrian games gold medals at twenty-nine and his first two of four Olympic medals two years later at Barcelona in 1992. That year he topped the world standings at #1, a position he held for almost all of the 90s.
At the 1996 Atlanta Olympics, Tait won a gold in individual eventing and a bronze with his team. Returning to the Olympics in Sydney in 2000, he was given the honor of bearing New Zealand's flag in the opening ceremony's parade of global athletic hotness, which for the first time included his partner Paul O'Brien, also on the equestrian team. Horribly, days before his competition Tait's horse died suddenly in quarantine, his back-up horse was rendered lame, and he failed to medal.
At the Athens Olympics in 2004, he ranked fifth. After several years in retirement, he tried to win a spot on the New Zealand for the 2012 London Olympics. In the history of New Zealand Olympians, he ranks fourth in total medals earned.
He resides at the property he owns with his long-term partner Paul O'Brien in Karaka, south of Auckland.

1962 – The California Supreme Court overturns the sodomy conviction of a man caught by police in a public restroom by use of a peephole drilled into the roof.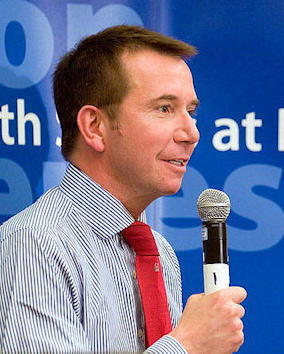 1967 – Scott Brison is a Canadian politician from Nova Scotia. Brison has been the Member of Parliament (MP) for the riding of Kings-Hants since the 1997 federal election. Brison was originally elected as a Progressive Conservative but crossed the floor to join the Liberal Party in 2003. He served as the Minister of Public Works and Government Services from 2004 until 2006 in the Paul Martin government.
Brison was born in Windsor, Nova Scotia. He obtained a Bachelor of Commerce from Dalhousie University. While there, he started and operated a successful business renting small fridges - he has jokingly referred to himself as a "fridge magnate". Brison then worked in corporate sales for ten years.
He entered politics as a Progressive Conservative candidate in the Nova Scotia riding of Kings-Hants in the 1997 election. Brison was one of a handful of new PC "Young Turk" MPs (along with John Herron, André Bachand and Peter MacKay) who were considered the future youthful leadership material that would restore the ailing Tories to their glory days.
In July 2000, Brison resigned his seat so that PC leader Joe Clark could enter the House of Commons. When the 2000 election was called in October, Clark stood for election in a Calgary, Alberta riding. Brison returned as the PC candidate in Kings-Hants, and was returned to Parliament.
Brison came out as gay in 2002, saying that he is "not a gay politician, but a politician who happens to be gay." He became the fourth sitting Member of Parliament to do so after Svend Robinson, Réal Ménard and Libby Davies. As well, he was the first openly gay MP to sit as a member of the Progressive Conservative Party.
In 2003, following Clark's retirement, Brison ran for the leadership of the Progressive Conservatives on a platform of "new ideas", that consisted of Employment Insurance reform, more private involvement in health care, integrated defense strategy with the US, and socially liberal policies. He was not successful. He fought publicly with other members of his party, particularly Elsie Wayne, over their opposition to same-sex marriage.
On December 10, 2003, four days after Brison voted in favour of the PCs merging with the Canadian Alliance to form the new Conservative Party of Canada, Brison announced that he would cross the floor and sit as a Liberal MP.
On April 22, 2006, Brison entered the race for the leadership of the Liberal Party of Canada. His Liberal leadership platform emphasised both environmentalism and economic reform. Brison won 4.0% of the vote on the first ballot with 192 delegates, leaving him in 6th place out of eight candidates.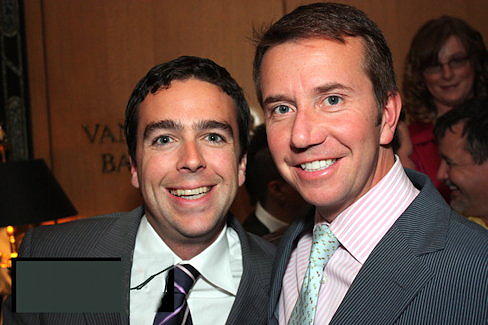 Scott (R) with husband Maxime
It was announced in October 2005 that he and his partner, Maxime Saint-Pierre, intended to marry. They were married on August 18, 2007 in Brison's riding. Their twin daughters were born via a surrogate mother on February 21, 2014.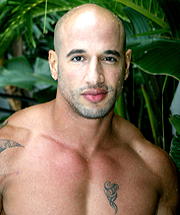 1974 – Quentin Elias (d.2014) was a French singer, actor and model. Of Algerian heritage, he was the original lead singer of the French boy band Alliage with Steven Gunnell, Roman Lata Ares and Brian Torres from 1996 to 1999. After his departure from the group, he relocated to the United States where he developed a solo singing career singing in English and French, releasing a number of albums, EPs and singles through his company Quentin Elias Music and distribution by Electro Boy Inc Records.
In New York hereleased the single "Always the Last to Say Goodbye", produced by Christian Moeyaert. He also performed at local gay venues and events such as Splash Bar, and Tom of Finland events.
He also worked as a model, acted in a number of feature films, television series and on stage and was featured in a number of advertisements. He took part in documentaries notably The Adonis Factor appearing on the documentary's promotional cover. He was active in body training, tattooing, in photography and in active blogging of his progress, all the while releasing more materials online.
He was briefly involved in solo adult maturbation appearances on the Randy Blue gay male site under the pseudonym Q. He made a comeback in France starting in 2011, appearing in a number of tours, made new releases for the French and European markets, including remakes of earlier Alliage hits and had a number of appearances on popular French reality television shows and on talk and entertainment shows talking candidly about his past. On 25 February 2014, Elias died at his home in New York City.


1979 – In the British Columbia provincial election, Robert Douglas Cook becomes Canada's first openly gay political candidate. He garners 126 votes in West Vancouver-Howe Sound as a candidate of the Gay Alliance Toward Equality.

1984 – A Louisiana appellate court upholds a sentence of 4 years at hard labor for a man who solicited an undercover police officer and for having previous convictions for the same thing.

1990 – On this date OutRage!, a United Kingdom direct action group is formed. OutRage! is a direct action campaigning group in the United Kingdom which was formed to fight for what they saw as the rights of Lesbian, Gay and Bisexual people. It is a radical group which has frequently been criticised for being extremist; members have been arrested on some OutRage! actions. For a time in the mid-1990s, some OutRage! actions were perceived as being a version of outing, where Gay activists assert the alleged private homosexuality of public figures as part of a political campaign.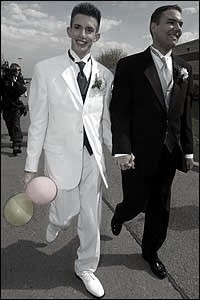 Marc Hall and his prom date JP Dumond

2002 – On this date Canadian Gay teenager Marc Hall won an injunction permitting him to bring his boyfriend to his prom.
Marc Hall v. Durham Catholic School Board was a 2002 court case in which Marc Hall, a Canadian teenager, fought a successful legal battle against the Durham Catholic District School Board to bring a same-sex date to his high school prom. The case made Canadian and international headlines.
Marc Hall v. Durham Catholic School Board began when Oshawa, Ontario's Monsignor John Pereyma Catholic Secondary School asked students attending the prom to submit the names of the guests they intended to bring. Hall, who is gay, submitted the name of his 21-year-old boyfriend, Jean-Paul Dumond, and was denied on the grounds that homosexuality is incompatible with Roman Catholic teaching.
Supported by his family and a wide variety of community organizations, Hall thus took the school board to court in a two-day hearing that began on May 6, 2002. Hall's lawyer, David Corbett, argued that the denial of his request violated the Ontario Education Act, which requires school boards in the province not to discriminate. The school board, on the other hand, argued that court interference in its decision would amount to denying its religious freedom.
Corbett argued that an organization that accepts public funding (Catholic school boards in Ontario are fully funded in the same manner as public schools) has to be accountable to the same laws (including anti-discrimination laws) as other public institutions. The school board's lawyer countered that Section 93 of the Canadian constitution protects the Catholic board's rights to conduct its affairs in accordance with Catholic teaching.
In addition, Corbett noted that while extramarital sex is also contrary to Catholic teaching, the school board had previously allowed pregnant, unmarried students to attend the prom.
On May 10, Justice Robert McKinnon granted an interlocutory injunction ordering that Hall be allowed to attend the prom with Dumond. The justice also ordered that the school would not cancel the prom. Hall attended the Prom with Dumond that evening.

2007 – Police in Esfahan, Iran raid a birthday party and arrest 87 people including 80 suspected gay men. All but 17 released. These 17 were believed to have been wearing women's clothing.

MAY 11 →
[{(o)}]|[{(o)}]|[{(o)}]|[{(o)}]| [{(o)}]|[{(o)}]