May 11
[{(o)}]|[{(o)}]|[{(o)}]|[{(o)}]| [{(o)}]|[{(o)}]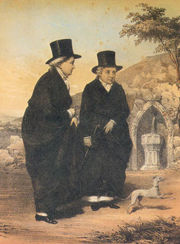 1739 – Eleanor Butler (d.1829), together with Sarah Ponsonby (1755-1831), one of "The Ladies of Llangollen." In the 18th century, a polite euphemism for Lesbianism was coined - a "romantic friendship," a term occasionally invoked in our own times whenever the press wants to touch on such delicate matters as Eleanor Roosevelt's friendship with Lorena Hickock, for example. The 18th century press was particularly fond of attacking "romantic friendships," which they called "the latest unnatural vice," and singled out for censure Marie Antoinette and her court of "Sapphists," the comedienne Miss Farren, and especially the infamous Ladies of Llangollen.
Butler and Ponsonby, Irish ladies of quality, ran off together to Llangollen, Wales, where, together with their servant Mary Caryll, known as "Molly the Bruiser," they set up house and lived together in domestic bliss and tranquility for half a century. That theirs was a physical relationship is clear from Lady Eleanor's journal, written in an easily decipherable code. That the modern vulgarism "bush" is hardly modern at all may be seen in the journal's constant references to shrubbery - even in the dead of winter: "My beloved and I spent a delightful evening in the shrubbery." Fifty years of gardening is a long time, and the two women are well worth reading about in any of several full-length books about their life together.
Their house became a haven for all manner of visitors, mostly writers such as Robert Southy, Wordsworth, Shelley, Byron and Scott, but also the military leader Duke of Wellington and industrialist Josiah Wedgwood; aristocratic novelist Caroline Lamb, who was born a Ponsonby, came to visit too.
The Ladies were known throughout Britain, but in fact led a rather unexciting life. Queen Charlotte wanted to see their cottage and persuaded the King to grant them a pension. Eventually their families came to tolerate them. Butler and Ponsonby lived together for the rest of their lives, over 50 years. Their books and glassware had both sets of initials and their letters were jointly signed.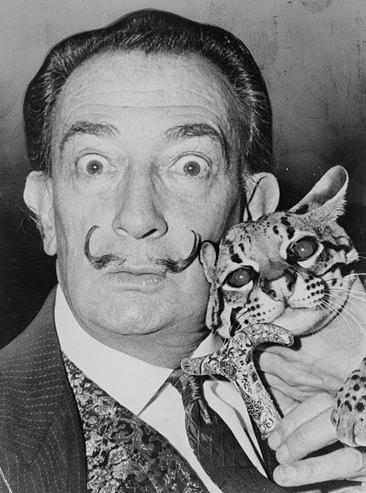 1904 – On this date the surrealist painter Salvador Dalí was born (d.1989). Although famous for his masterworks, "The Persistance of Memory" and "The Last Supper", the Catalan artist's repertoire also included film, sculpture, and photography. He collaborated with Walt Disney on the Academy Award-nominated short cartoon Destino, which was released posthumously in 2003. He also collaborated with Alfred Hitchcock on Hitchcock's film "Spellbound."
As a young artist Dalí became close friends with, among others the filmmaker Luis Buñuel, and the poet and dramatist Federico García Lorca. Lorca fell deeply in love with Dalí; photographs of the two show them being suggestively physical with each other. Although some biographers believe Lorca and Dalí sexually consummated their relationship, it is not known for certain. Others say that although the friendship with Lorca had a strong element of mutual passion, Dalí rejected the poet's sexual advances.
The relationship between the two has been one of the most guarded, censored and argued-about relationship in Spanish scholarship. In his "Lorca & Censorship" the Hispanist scholar Daniel Eisenberg, who has written and lectured extensively on Lorca and the attempt to censor the historical record of his sexuality and relationships, argues that the truth may eventually come out when the price is paid or the more sexually repressive parties die off.
"When someone comes up with enough cash (I don't know how much cash), Lorca's letters to Salvador Dalí will be published. (For someone interested in Lorca and art, they might well be important.) They are in the hands of Dalí's executor, and presumably, since they are for sale, they are where no harm will befall them. I assume that the materials...will reach safe harbor after his death. Only then will we learn what he has withheld and why.

Martínez Nadall is the one who has given us the most data about Lorca's homosexuality: it is he who ... has written at the greatest length about the place of homosexuality in the circles they moved in in Madrid in the late 1920's and early 1930's. So what is he suppressing, and why?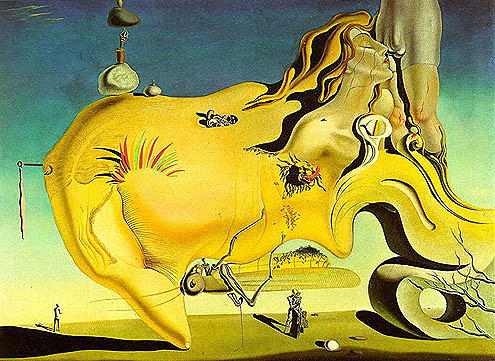 The Great Masturbator - 1929
The 2008 British/Spanish film "Little Ashes", which explores the sexual relationship between Dalí and Garcia Lorca. Their close friendship has long been a subject of speculation, thanks in part to Dali's repeated claims that Lorca had tried to seduce him. The film stars the British actor Robert Pattinson (best known as the moody romantic vampire in the Twilight movies and Cedric Diggory in the fourth Harry Potter film) as the legendary surrealist painter, and the Spanish actor Javier Beltran as poet Lorca. The screenwriter Philippa Goslett noted that based on her research:
"it's clear something happened, no question ... It began as a friendship, became more intimate and moved to a physical level but Dali found it difficult and couldn't carry on. He said they tried to have sex but it hurt, so they couldn't consummate the relationship. Considering Dali's massive hang-ups, it's not surprising."
It's a pretty amazing little film and argues for Dali's life of torment and weirdness as his inability to claim the great love of his life.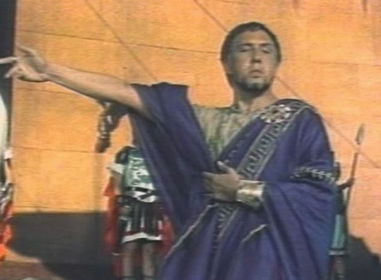 Frank Thring as Pilate in "Ben Hur"
1926 – Frank Thring (d.1994) was an Australian character actor. His career spanned more than 35 years, much of it spent alternating between stage, film and television. Perhaps his most famous role was that of Pontius Pilate in Ben-Hur (1959).
Thring was born in Melbourne, the son of F. W. Thring, the head of Efftee Studios, in Melbourne, Australia in the 1920s and 30s, and who s said to be the inventor of the clapperboard. Thring, Sr., was also a noted film producer (The Sentimental Bloke), and partner in the nationwide Australian theatre circuit Hoyts. Thring, Sr., died in July 1936, at the age of 52, when Frank Jnr was 10 years old.
Thring trained as an actor at Melbourne radio station 3XY and began acting in professional stage roles after his discharge from the Royal Australian Air Force in 1945. He made his British theatrical debut performing as Herod in Oscar Wilde's play Salome in 1954. Two years later, he played Sir Lancelot Spratt in Doctor in the House, which ran for 240 performances at the Victoria Palace in London.
He was Saturninus in the Royal Shakespeare Theatre production of Titus Andronicus with Laurence Olivier, Vivien Leigh and Anthony Quayle. He also played Captain Hook opposite Peggy Cummins' Peter Pan.
Thring's most well-known screen role was as Pontius Pilate in Ben Hur (1959). He also appeared as Al-Kadir, Emir of Valencia in El Cid (1961). Thring was also awarded the 'Erik Kuttner Award for Acting' (1965). In addition to these roles, Thring played Herod Antipas in King of Kings (1961) and the usurping king Aella in The Vikings (1958). He played numerous glowering bad guys in Hollywood epics of the 1950s and 1960s. Back in Australia, he appeared in two biographical films about famous bushrangers: Ned Kelly (1970) and Mad Dog Morgan (1976). In his later years, screen roles included the devilish Collector in Mad Max Beyond Thunderdome (1985), and a comedic role as an Alfred Hitchcock-like film director in the horror movie spoof, Howling III (1987).
Off-screen, Thring was known for his flamboyant, often waspish, persona. He was featured in numerous TV commercials and guest-starring roles on popular weekly series, variety programs and quiz shows, often dressed in black funereal attire and other sinister costumes. However, his acting career was interrupted by bouts of alcoholism and periods of ill health.
Although homosexual, Thring was briefly married to actress Joan Cunliffe during the 1950s; this ended in divorce. Joan lived in London, and was manager of both Rudolf Nureyev and Dame Margot Fonteyn. In 1994, Thring died from cancer, aged 68. He was cremated and his ashes scattered off the coast of Queenscliff, Victoria.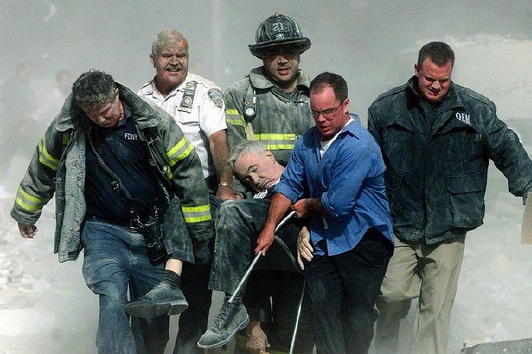 1933 – The "Saint of 9/11," Father Mychal Judge, was born (d. September 11, 2001). Mychal F. Judge was a Roman Catholic priest of the Franciscan Order of Friars Minor, Chaplain of the Fire Department of New York and the first certified fatality of the September 11, 2001 attacks.
In 1948, at the age of 15, Judge began the formation process to enter the Franciscan community. He completed his training and was ordained a priest at Holy Name College in Washington, DC in 1961. Upon entering the Order of Friars Minor, he took the religious name of Michael, later changing the spelling to Mychal.
In 1992, Father Judge was appointed chaplain of the Fire Department of New York. As chaplain, he offered encouragement and prayers at fires, rescues, and hospitals, and counseled firemen and their families, often working 16 hour days. "His whole ministry was about love. Mychal loved the fire department and they loved him."
In New York, Judge was also well known for ministering to the homeless, the hungry, recovering alcoholics, people with AIDS, the sick, injured, and grieving, immigrants, gays and lesbians and those alienated by the Church and society.
For example, he once gave the winter coat off his back to a homeless woman in the street, later saying, "She needed it more than me." When he anointed a man who was dying of AIDS, the man asked him, "Do you think God hates me?" Father Judge just picked him up, kissed him, and silently rocked him in his arms.
Upon hearing the news that the World Trade Center had been hit, Father Judge rushed to the site. He was met by the Mayor of New York, Rudolph Giuliani, who asked him to pray for the city and its victims. Judge administered the Last Rites to some lying on the streets, then entered the lobby of the World Trade Center North Tower, where an emergency command post was organized. There he continued offering aid and prayers for the rescuers, the injured and dead.
When the South Tower collapsed at 9:59 am, debris went flying through the North Tower lobby, killing many inside, including Judge. At the moment he was struck in the head and killed, Judge was repeatedly praying aloud, "Jesus, please end this right now! God, please end this!", according to Judge's biographer and New York Daily News columnist Michael Daly.
Shortly after his death, a NYPD lieutenant, who had also been buried in the collapse, found Judge's body and assisted by two firemen and two civilian bystanders carried it out of the North Tower lobby to nearby St Peter's Church. This event was captured in the documentary film 9/11, shot by Jules and Gedeon Naudet. Shannon Stapleton, photographer from Reuters, photographed Judge's body being carried out of the rubble by five men. It became one of the most famous images related to 9/11.
Mychal Judge was designated as "Victim 0001," recognized as the first official victim of the September 11, 2001 attacks. Other victims died before him including air crew, passengers, and occupants of the towers, but Judge was the first certified fatality because his was the first body to be recovered and taken to the coroner.
Following his death a few of his friends and associates revealed that Father Mychal Judge was gay - as a matter of orientation rather than practice, as he was a celibate priest. According to fire commissioner Thomas Von Essen:
"I actually knew about his homosexuality when I was in the Uniformed Firefighters Association. I kept the secret, but then he told me when I became commissioner five years ago. He and I often laughed about it, because we knew how difficult it would have been for the other firemen to accept it as easily as I had. I just thought he was a phenomenal, warm, sincere man, and the fact that he was gay just had nothing to do with anything."
Judge disagreed with official Roman Catholic teaching regarding homosexuality, though by all accounts he remained celibate. Judge often asked, "Is there so much love in the world that we can afford to discriminate against any kind of love?"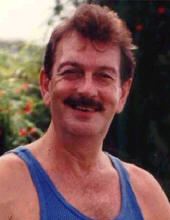 1935 – Dick Leitsch was one of the first Mattachine leaders and pre-Stonewall activists who dared to use his own name - to seek publicity to expose oppression, and to use the courts to sue for homosexual rights. He was also charming and charismatic, a well-polished Kentuckian who presented a much-needed "regular guy" image. In addition, he had what many of the later, more radical gay leaders lacked: a sense of humor.
His parents had been among the first white members of the NAACP in Louisville. Leitsch greatly admired Martin Luther King's nonviolent methods in forcing integration, and he attempted to emulate King in his own political sphere. In 1966, Leitsch organized a "sip-in" demonstration to create a test case against the liquor authority, the purpose of which was to legitimize gay bars.
Leitsch contacted all of New York's daily newspapers and The Village Voice. He told them that he and two other Mattachine members were planning to meet at a particular Greenwich Village bar and announce to the lucky bartender, "We are homosexuals and wish to be served." If a bartender knowingly served homosexuals, he jeopardized his bar's liquor license. If he refused, MSNY was ready to instigate a lawsuit.
The big day arrived. The three gay men and members of the press met at the bar. The introductory request was delivered. The smiling bartender said he didn't give a damn if they were orangutans, so long as they had money to pay for the drinks. Then everyone sat down and had a drink. The test case was not progressing well.
The rather sizable group moved on to another bar. "We are homosexuals..." They were served again. The press was getting fidgety. Everyone downed their drinks and they tried a third bar. Served again. Frustrated and slightly high, the group headed for Julius's, what today is the oldest existing gay bar in Manhattan. In 1966 Julius's had been having trouble with the liquor authority. At long last a bartender said, "then I'm sorry, I can't serve you." Dick nearly hugged him.
The press scribbled away as Leitsch explained that the Mattachine Society, along with the ACLU, was planning to sue Julius's. But not to worry, he said, the society would pay all of Julius's legal expenses. The object was simply to have the liquor authority's anti-homosexual policies overturned.
The threatened lawsuit never materialized. The New York Liquor Authority turned over the policy voluntarily – after learning from their lawyers that they didn't stand a chance in hell of winning. Also, the press was behind Leitsch, and a liberal public in New York City had been made aware of the authority's discriminatory policies. The battle was won – not with a bang, but a whimper. Gay bars became legal.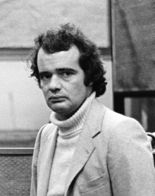 1935 – Kit Lambert (d.1981) was a flamboyant, openly-gay record producer and the manager of The Who.
Kit Lambert was the son of noted composer Constant Lambert and grandson of George Washington Lambert, a sculptor and painter who was an official war artist for the Australian government at Gallipoli during World War I
Lambert served in the British Army after studying at Oxford. After his service, he returned to Britain and became assistant director for the films The Guns of Navarone and From Russia with Love. He also set out on an expedition with a comrade to attempt to discover the source of a remote tributary of the Amazon River. Lambert hoped to film the trip as a documentary. While Lambert was off hunting for food his companion was speared and killed by Amazon tribesmen. Lambert was initially arrested on suspicion of murdering his friend by Brazilian officials but after a concerted campaign in Britain by the Daily Express newspaper, which had financed the expedition, he was released.
Back in the UK he and fellow film director Chris Stamp, the brother of the actor Terence Stamp, decided to make a film that would feature an unknown pop group; the group that they chose was the High Numbers (known previously, and again afterwards, as The Who). Lambert eventually abandoned the film and became the Who's manager. While mainly associated with the Who, he also worked with other bands. Lambert and Stamp established Track Records in 1966 in order to work with other artists including Jimi Hendrix and John Lennon and Yoko Ono.
Lambert convinced Pete Townshend to move away from simple songs on their earlier albums and to produce more mature fare. This encouraged the Who to progress from the more quirky sound of The Who Sell Out to the deeper themes of Tommy. Pete Townshend has acknowledged that it was Lambert who influenced the Who to combine rock music and opera with the rock opera Tommy as the result.
Lambert shopped a film version of Tommy without the band's authorization. This led to significant differences between him and the group, and after litigation was initiated for unpaid royalties, he was fired in 1971. The band reached out to Lambert in 1973 during the recording of Quadrophenia, but his drug abuse and the allegations of missing funds stalled the efforts at reconciliation. In the late 1970s he went on to produce some early punk bands, but with little success.
In 1980 Lambert, assisted by Irish journalist John Lindsay, began writing a book on his life, of how he found the Who, and with many never-before-told stories about his contemporaries The Beatles, Rolling Stones, Brian Epstein, Jimi Hendrix and friends like Princess Margaret and Liberace. Days before Lambert was to sign a publishing deal, the publisher was contacted by the Official Solicitor who was in charge of Lambert's life, and who said all monies must be paid into the court to be doled out to Lambert. This was the beginning of a downward spiral for Lambert. On the night of his death he was seen drinking heavily at a popular Kensington, London gay nightclub, El Sombrero.
Lambert died of a cerebral hemorrhage after falling down the stairs of his mother's house in 1981.


Rand Schrader (R) with David Bohnett
1945 – Rand Schrader  was an AIDS and gay rights activist who also served as a judge of the Los Angeles Municipal Court.
After graduating from law school, Schrader was hired by Los Angeles City Attorney Burt Pines. He was the first openly gay staffer to work in the Los Angeles City Attorney's office.
In 1980, Schrader was appointed to the Los Angeles Municipal Court by Governor Jerry Brown. Schrader was recommended to Brown by gay rights activist Sheldon Andelson. Schrader served on the bench until April 1993.
In 1991, Schrader announced that he had been recently diagnosed with AIDS. Schrader went public with his diagnosis in an attempt to increase AIDS awareness and to combat discrimination and misinformation associated with AIDS.Schrader died from AIDS-related complications on June 13, 1993 in Century City, California.
Schrader's long-time partner was entrepreneur David Bohnett, who, after Schrader's death, used his own entire life savings and the $386,000 benefits from Schrader's life insurance to create the pioneering website GeoCities. At the time of Schrader's death, they had been partnered for 10 years. Schrader had previously advocated for the establishment of an AIDS clinic. Shortly before Schrader's death, in May 1993, the HIV/AIDS clinic at Los Angeles County – USC Medical Center was named in honor of him.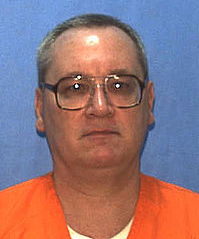 1954 – Daniel Conahan, Jr. is a convicted American murderer and suspected serial killer. Conahan was convicted of one murder but has been linked to over a dozen murders, mostly of homosexual men in the Charlotte County, Florida area in what came to be known as the Hog Trail Murders.
Conahan was born in Charlotte, North Carolina and moved with his family to Punta Gorda, Florida shortly after birth. His parents expressed displeasure at his homosexuality during his high school years and sent him to a psychiatrist. He joined the United States Navy in 1977, stationed at Naval Station Great Lakes in Illinois. In 1978, he was nearly court-martialed for homosexual solicitation and was discharged a few months later after more homosexual behavior triggered a large fight
On February 1, 1994, the mutilated corpse of a man was discovered in Punta Gorda. The body had been outside for about a month and had rope burns on the skin and the genitalia had been removed and discarded. The man was never identified. On January 1, 1996, a North Port family's dog brought home a male human skull. Police eventually pieced together much of a skeleton and determined that the genitalia had been cut out, similar to the 1994 victim. The North Port skeleton was also never identified. A third man's mutilated body was discovered in North Port on March 7, 1996. He had been killed only 10 days earlier.
Another man's skull was found in Charlotte County on April 17, 1996. Police searched the surrounding woods and found the rest of the man as well as a second body. The second was a man who had been raped, murdered and mutilated only the day before and was identified as
Richard Allen Montgomery
. Speculation became rampant about a serial killer and the media dubbed the murders "The Hog Trail Killings".
In May 1996, witnesses directed police to Daniel Conahan, including one who had escaped him when Conahan's car became stuck while driving him down a dirt road. Later, police linked Conahan to a 1994 Fort Myers police report where Stanley Burden had been propositioned, tied to a tree, and nearly strangled. Burden survived and even had rope scars on his body two years later. Conahan's house was searched turning up evidence linking him to Burden and Richard Montgomery. On July 3, 1996, Conahan was arrested and brought to Lee County for the attempted murder of Burden. The following February, he was charged with the murder of Montgomery while the Burden attempted murder charges were dropped.
In Punta Gorda, Conahan waived his right to a jury trial on August 9, 1999. The star witness was Stanley Burden who had been nearly killed in 1994. On August 17, 1999, Judge William Blackwell deliberated for 25 minutes and found Conahan guilty of first-degree premeditated murder and kidnapping. Conahan succeeded in moving the penalty phase of his trial to Collier County but, in November, a jury recommended a sentence of death and Judge Blackwell agreed on December 10.
Conahan is currently housed at Union Correctional Institution in Raiford, Florida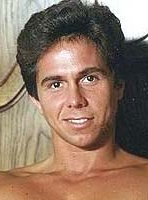 (Click for Full Monty)

1957 – Peter North (né Alden Brown), aka Matt Ramsey, is a Canadian pornographic actor, director, and producer. North is originally from Halifax, Nova Scotia. He relocated to California in 1982, where he resides in Newport Coast.
North states that he "entered the adult business in the spring of 1984 by accident. I was approached to do it but never really contemplated it or even thought I would be in the adult business". Initially, North performed in gay pornography under the name Matt Ramsey. He later transitioned to straight porn and became an in-demand performer.
Now, as a straight performer, he denies he ever bottomed for any of his gay vids - he did everything else in man-to-man sex and doesn't deny it - but evidence to the contrary is easily found.
Proof that he did 'bottom' is on the Falcon Studios movie "The Bigger The Better" (1984), where in the first scene, Ramsey/North is a teacher who gives up his round bottom for the enormous endowment of Rick Donovan. Donovan nails Ramsey over a one-armed desk chair, then on top of his desk.
In a 1996 interview published in North's hometown newspaper, the Halifax Chronicle-Herald, he stated that he was "discovered" at the age of 24 while modeling athletic wear at a private party in Los Angeles in the early '80s. A man within the adult industry, whom North did not name, attended the party, was impressed by North's "physique" and gave him his business card.
In 2001, he successfully launched his own production company, Northstar Associates. North has appeared in over 2,000 adult films and also directed more than 70 movies (notably, his North Pole and Anal Addicts series), most of them between 1998 and 2007. He also produced over 20 movies, including 15 in the North Pole series.
It is unclear where his pseudonym "North" originated. It may refer to his Canadian or northern roots. Writer Steven Strager speculated that North's stage name, like that of many other male pornographic actors, "expresses the controlling man-as-penis metaphor while precisely articulating the masturbator's big-dick fantasies.". According to North's official website, he chose his stage name because "Your penis is also referred to as your Peter and when you are erect, it faces North. Plus, I am from the North." "Peter North Stars" is also the name of a competition level, New York based hockey team which is sponsored by North.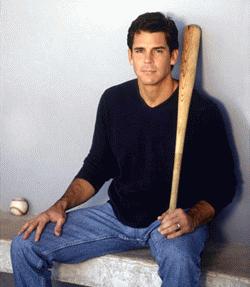 1964 – Baseball player Billy Bean was born on this date. Born William Daro Bean, the former Major League Baseball player made news in 1999 when he made his homosexuality public.
Bean was an outfielder, and left-handed hitter, with 487 at bats with a .226 batting average in a career that lasted from 1987 through 1995: Detroit Tigers 1987-1989, Los Angeles Dodgers 1989, San Diego Padres 1993-1995. He also played for the Kintetsu Buffaloes in Japan in 1992. Bean tied a major league record with four hits in his first major league game.
After acknowledging that he is Gay, Bean went on to write a book, Going the Other Way: Lessons from a life in and out of Major League Baseball. Bean is only the second former major league player to reveal his homosexuality; the late Los Angeles Dodger and Oakland Athletic Glenn Burke is the only other ex-player to have acknowledged his homosexuality. Bean lives in Miami, Florida and sells real estate. He appeared in a 2009 episode of Kathy Griffin: My Life on the D- List, showing Griffin several homes.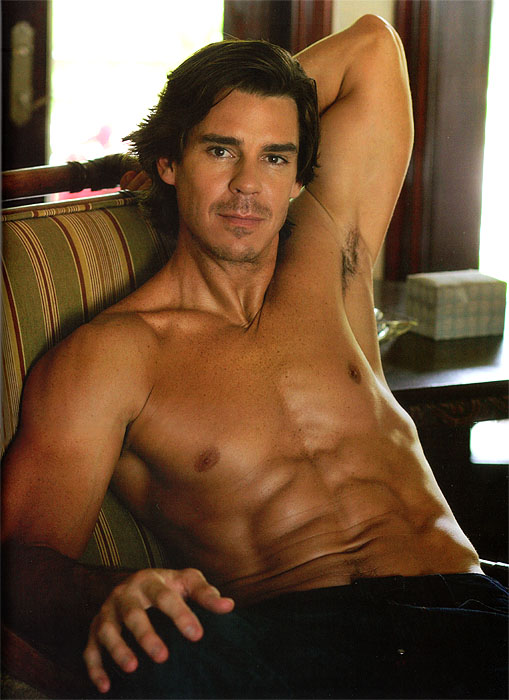 Click for Larger
He appears occasionally on US television in various guises - acting and as a celebrity - and is a board member of the Gay and Lesbian Athletics Foundation. For 13 years, Bean was the partner of Efrain Viega, the founder of Yuca restaurant in Miami. They broke up in July 2008.
Bean was appointed MLB's first "Ambassador for Inclusion" on July 15, 2014. In this role, Bean counseled David Denson, who became the first minor league player signed to a MLB organization to come out as gay.

1982 – Voters in Lincoln, Nebraska rejected a Gay rights ordinance 78%-22%. Quack psychologist Paul Cameron led the fight. He would soon be kicked out of the American Psychological Association and placed under investigation by the American Sociological Association for unethical conduct in his research.

1984 – On this date The United Methodist Church voted to bar homosexuals from ordination. Popularly seen by many by their mid-(last) century reputation as a moderate mainline denomination, the United Methodist Church has moved ever more to the Right in the last few decades. The judicial power in the church resides in the more conservative South and has resulted in a more Baptist-like keening of the church. For many the decision in 1984 was the sign of things that would and did come. In the 1990s, the denomination rebranded itself with the catchy slogan "Open hearts. Open minds. Open doors." Sadly these sentiments do not apply to Gay people in the United Methodist Church.

1987 – The Washington Post published "The Cautious Closet of the Gay Conservative." The article focused mainly on Terry Dolan, co-founder and chairman of the National Conservative Political Action Committee, who, until his death from complications from AIDS in December 1986, was vehemently anti-Gay. Seems that's a mighty big closet as he's been followed by many others of his ilk in the last decade.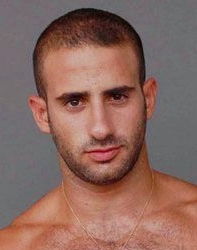 (Click for Full Monty)
1988 – Eliad Cohen, born in Acre, Israel, is an Israeli producer, actor, model, entrepreneur. He is the co-founder of Gay-ville, a gay-friendly vacation rental service headquartered in Tel Aviv. He became a prominent Israeli gay personality after being chosen as the cover model of the Spartacus International Gay Guide for the 2011-2012 issue, which led to various magazine covers around the world.
After completing high school, he served in the Israel Defense Forces in an elite combat unit for three years.After completing his army service, Eliad moved to Tel Aviv where he worked as a barman in various bars and clubs before launched his career. He also ventured into modelling and posed for a number of advertisements. He always wears the chai, as a sign of pride in Israel. Cohen is openly gay after coming out to his parents when he was twenty years old.
He is the co-founder of Gay-ville (aka G-ville), a gay-friendly, global vacation and apartment rental network based out of Tel Aviv. Cohen is also founder of the PAPA Party that was launched in Tel Aviv in association with Tel Aviv Gay Pride. Since 2012, he has launched it internationally with events in various American, Canadian, European and Latin American venues.
Spartacus International Gay Guides featured Cohen on the cover of the guide's 2011-2012 issue. In February 2013, Out magazine readers voted him as second in its "Top 10: Eligible Bachelors". His appearance on the cover of Spanish gay publication OhMyGod created controversy when Spanish photographer Juan Pablo Santamaria depicted Eliad Cohen under the provocative title "Eliad Cohen: El nuevo mesías gay de Israel" ("The new gay messiah of Israel").
During an interview in May 2012, Eliad Cohen announced he was looking for a Brazilian husband. Cohen confirmed he had found someone two months later on his Facebook page. His boyfriend Gustavo Oliva died on December 17, 2014 from a heart attack.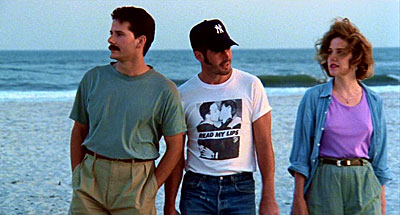 A scene from "Longtime Companion"
1990 – On this date the film "Longtime Companion" opened in New York City. It was the first major studio release to deal with AIDS. The film takes its title from the words The New York Times used to describe the surviving same-sex partner of someone who had died of AIDS during the 1980s.

1998 – On this date the Rudolph Giuliani, the Republican mayor of New York City, proposed legislation that would grant same -sex domestic partners the same rights to which married couples are entitled.

2000 – William Dale Jennings, co-founder of The ONE Gay and Lesbian History Archives, died of respiratory failure at age 82.

2010 – Hundreds of veterans from around the country descend on Washington D.C. to lobby Congress on "Don't Ask, Don't Tell." Over a hundred U.S. military veterans gather  on Capitol Hill to press Congress for quick repeal of the law banning gays from serving in the military. Gay, lesbian and straight veterans and supporters converged on steps of the U.S. Capitol for a group photograph with Sen. Joseph Lieberman, who was the main sponsor of a bill that would officially repeal the law, known as "don't ask, don't tell." Eric Alva, a retired Marine, is one of the event's organizers.

MAY 12 →
[{(o)}]|[{(o)}]|[{(o)}]|[{(o)}]| [{(o)}]|[{(o)}]