May 12
[{(o)}]|[{(o)}]|[{(o)}]|[{(o)}]| [{(o)}]|[{(o)}]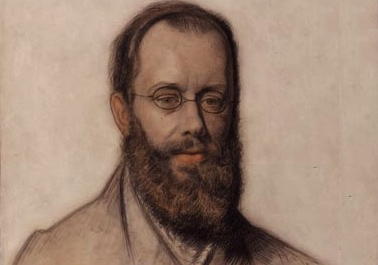 1812 – Edward Lear born (d.1888). Although a talented illustrator and painter, Edward Lear is best known for his nonsense verse, especially his limericks, a form that he popularised. His poetry demonstrates a defining love of eccentricity, verbal invention and poetic delight in the sound of words. His best known poem is The Owl & The Pussycat.
Lear had a number of notable male relationship, all almost certainly unfulfilled. The year before the publication of his Book of Nonsense, Lear formed with Chichester Fortescue, later to become Lord Carlingford, one of the firmest of his many lifelong friendships. In Italy, in 1848, Lear was befriended by another future peer, Thomas Baring, later Lord Northbrook. Returning to England in 1849, Lear met Alfred and Emily Tennyson. Tennyson addressed an admiring poem "To E. L., on His Travels in Greece." Their personal relations were nevertheless rarely more than cordial. Lear also formed a close friendship in 1852 with Holman Hunt, the Pre-Raphaelite painter.
Lear's most fervent and most painful friendship involved Franklin Lushington. He met the young barrister in Malta in 1849 and then toured southern Greece with him. Lear developed an undoubtedly homosexual passion for him that Lushington did not reciprocate. Although they remained friends for almost forty years, until Lear's death, the disparity of their feelings for one another constantly tormented Lear.
Lear travelled widely throughout his life and eventually settled in Sanremo, on his beloved Mediterranean coast, in the 1870s, at a villa he named "Villa Tennyson." The closest he came to marriage was two proposals, both to the same woman 46 years his junior, which were not accepted. For companions he relied instead on a circle of friends and correspondents, and especially, in later life, on his Albanian Suliot chef and manservant, Giorgio Kokali, a faithful friend and, as Lear complained, a thoroughly unsatisfactory chef. What was he good at, we wonder?
Lear enjoyed poor health most of his life, suffering from epilepsy, asthma, bronchitis, and in later life, partial blindness. Although there a few clues in some of his work, the clearest indications of his attraction to other men are in his letters and diaries of the 1850s-70s. However, his lack of any relationships beyond mere longing and the nature of his verse and ironically sad life have encouraged some critics to see him as a shy heterosexual or completely unsexual.
The father of the limerick form, Edward Lear -the repressed homosexual - wrote only one peripherally gay limerick, about a transvestite:
There was an Old Man on a hill,
Who seldom, if ever, stood still;
He ran up and down,
In his Grandmother's gown,
Which adorned that Old Man on a hill.
A few more examples of the limerick appears below.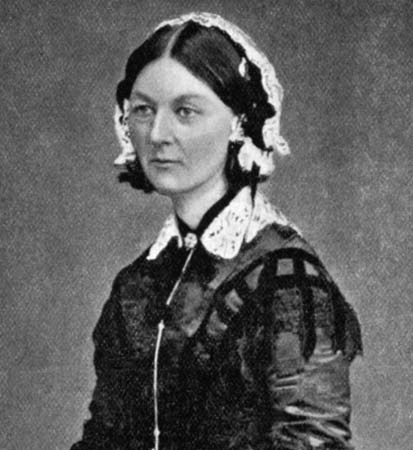 1820 – English nurse, writer, and statistician Florence Nightingale was born on this date (d.1910). She came to prominence during the Crimean War for her pioneering work in nursing, and was dubbed "The Lady with the Lamp" after her habit of making rounds at night to tend injured soldiers. Nightingale laid the foundation stone of professional nursing with the principles summarized in the book Notes on Nursing. The Nightingale Pledge taken by new nurses was named in her honor, and the annual International Nurses Day is celebrated around the world on her birthday.
Historians like writing her up as a saintly prude but she was alleged to have once said,
"I have lived and slept in the same bed with English countesses and Prussian farm women...No woman has excited passions among woman more than I have."
She did have several important and passionate friendships with women. Later in life she kept up a prolonged correspondence with an Irish nun, Sister Mary Clare Moore, with whom she had worked in Crimea. Her most beloved confidante was Mary Clarke, an Englishwoman she met in 1837 and kept in touch with throughout her life.
In spite of these deep emotional attachments to women, some scholars of Nightingale's life believe that she remained chaste for her entire life; perhaps because she felt an almost religious calling to her career, or because she lived in the time of Victorian sexual morality.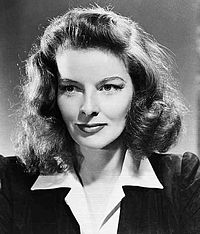 1907 – Katharine Hepburn (d.2003) was an American actress of film, stage, and television. Known for her headstrong independence and spirited personality, Hepburn's career as a Hollywood leading lady spanned more than 60 years. Her work came in a range of genres, from screwball comedy to literary drama, and she received four Academy Awards for Best Actress—a record for any performer. Hepburn's characters were often strong, sophisticated women with a hidden vulnerability.
The young Hepburn was a tomboy who liked to call herself Jimmy, and cut her hair short like a boy. Her father, Thomas Hepburn ,was eager for his children to use their minds and bodies to the limit, and taught them to swim, run, dive, ride, wrestle, and play golf and tennis. Golf became a passion for his oldest daughter: she took daily lessons and became very good, reaching the semi-final of the Connecticut Young Women's Golf Championship. She loved swimming in Long Island Sound, and took ice-cold baths every morning in the belief that "the bitterer the medicine, the better it was for you."
Hepburn was a fan of movies from a young age, and went to see one every Saturday night. With her friends and siblings, she would put on plays and perform to her neighbors for 50 cents a ticket to raise money for the Navajo people. Hepburn left Bryn Mawr determined to become an actress.
Rumors have existed since the 1930s that Hepburn may have been a lesbian or bisexual. In 2007, William J. Mann released a biography of the actress in which he argued this was the case.
Not only was she a lesbian, he claims, but many people round her were similarly inclined. First out of the closet is Katharine's brother, Tom, just 15 when he killed himself, probably as a result of his sexual confusion. Save from Kate's short-lived industrialist husband, Ludlow Ogden Smith, all her boyfriends were bisexual, including Howard Hughes, John Ford and even Spencer Tracy. Hepburn's longest-standing male chum, George Cukor, was actively gay.
While it's not so surprising that Hepburn actually liked women, it is a shock just how many of them there were. Her first affair was at college with a devoted girl called Alice Palache. She quickly moved on - via a few men - to Laura Harding, with whom she had a long-term romance topped up through the years with Brokeback Mountain-style country jaunts. Then there was Nancy Hamilton and Frances Rich, Constance Collier and Elissa Landi, plus countless others.
How on earth did she keep all this from the press? Hepburn was helped by the fact she did sometimes fell for men, and by her general dislike of sex - the chasteness of almost all her relationships meant she didn't have to lie too much about them.
Even her relationship with Tracy was not passionate. She was fond enough of him to play nurse through his final five years, returning to his side after an almost equal stretch of total separation. They never shared the same house - Hepburn lived with a succession of girls, Tracy with his wife, Louise, or alone and visited by others, in particular a chap called Scotty Bowers - but they enjoyed each other's company. Amicable, then, devoted in its own way, but a million miles from the epic 25-year romance of Hollywood legend.
Scotty Bowers claims in his book Full Service to have arranged over 150 lesbian liaisons for Hepburn; and also claims that the Hollywood studios wanted to conceal Hepburn's lesbianism, so they concocted the very public 'romance' between her and fellow star Tracy. According to Bowers, Tracy himself was bisexual, and had many gay liaisons arranged for him over the years.
She spent her last three decades with her good friend and "personal secretary" Phyllis Wilbourn. Her last years, despite Phyllis's ministrations, were lonely and boozy, emotionally volatile and faintly desperate.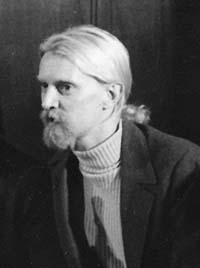 1934 – Bruce Voeller (d.1994) was a biologist, activist, and researcher, primarily in the study of AIDS.
Voeller was born in Minneapolis. When he was at school, he was assured by a school counselor that he was not homosexual, even though he had felt such feelings very early on.
Voeller graduated with a bachelor's degree from Reed College in 1956, and after winning a five year fellowship to the Rockefeller Institute, he gained a Ph.D. in biology in 1961. He eventually worked his way up to the position of associate professor in 1966 at the institute. He wrote four books while at the institute, as well as editing others' work, and writing numerous papers and articles. He married Kytja Scott Voeller, whom he met at graduate school, and they had three children.
He came out at the age of 29, and divorced from his wife in 1971. After becoming president of the New York Gay Activists Alliance, he decided it was not wide enough in its coverage. Therefore, with some friends, he founded National Gay Task Force in October 1973, of which he was the director until 1978. The Task Force established affiliation with more than 2000 gay groups, and by 1978 had over 10,000 members. He also founded the Mariposa Foundation, which specializes in sex research, and sexually transmitted diseases.
Before the 1980s, AIDS was known by various names, including GRIDD (Gay Related Immune Defense Disorder). Since this term was inaccurate, Voeller coined the term acquired immune deficiency syndrome. His life-partner was Richard Lucik, who was also his associate at Mariposa. Voeller died in 1994 of an AIDS related illness in California, at the age of 59.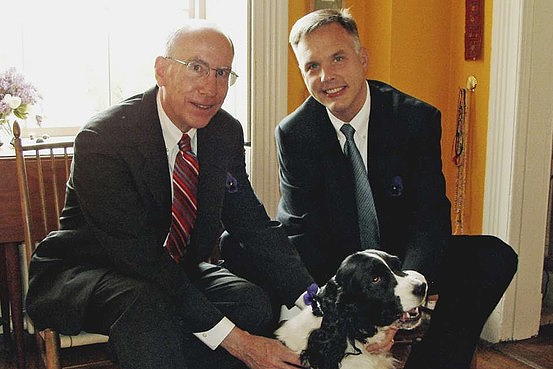 Gerry Studds & Dean Hara
1937 – On this date Gerry Studds the first United States congressman to come out while in office, was born. (d.2006), He was censured by the House of Representatives after he admitted to having had an affair with a 17-year-old page in 1973. Studds was re-elected to the House six more times after the 1983 censure.
He fought for many issues, including environmental and maritme issues, marriage equality, AIDS funding, and civil rights, particularly for Gay men and Lesbians. Studds was an outspoken opponent of the Strategic Defense Initiative missile defense system, which he considered wasteful and ineffective, and he criticized the United States government's secretive support for the Contra fighters in Nicaragua.
After retiring from Congress in 1997, Studds worked as executive director of the New Bedford Oceanarium. Studds and husband Dean T. Hara (his partner since 1991) were married in Boston on May 24, 2004, one week after same-sex marriages became legal in Massachusetts.
Studds died on October 14, 2006 in Boston, at age 69, several days after suffering a pulmonary embolism. Due to the federal ban on same-sex marriage, Hara was not eligible to receive the pension provided to surviving spouses of former members of Congress upon Studds' death.
If you ever travel to Provincetown, Massachusetts and take a whale watch tour out into the open sea, you will experience the beautiful wonder of the denizens of the Stellwagen Bank. It is now known as the Gerry E. Studds Stellwagen Bank National Marine Sanctuary, which sits at the mouth of Massachusetts Bay. An appropriate memorial for a man who's openness brought out the beauty from the depths.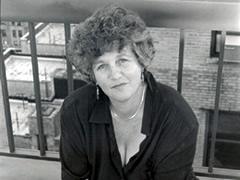 1940 – Today is the birthday of Lambda Award winning writer and editor and the co-founder of the Lesbian Herstory Archives, Joan Nestle.
Nestle had been part of the working-class, butch and femme bar culture of New York City since the late 1950s. In an interview with Ripe Magazine, she recalled that the center of her social life as a young lesbian was a bar called the Sea Colony, which, typically for the time, was run by organized crime and that, in an attempt to avoid raids by the vice squad, allowed only one woman into the bathroom at a time:
The bathroom line went from the back room through a narrow hallway to the front room to the toilet which was behind the bar. This butch woman would stand at the front of the line and we each got two wraps of toilet paper.... It took me a long time to realize that while I was fighting for all these other causes, that it wasn't okay for me to get my allotted amount of toilet paper.
After the Stonewall riots in 1969, gay liberation became a focus of her activism. She joined the Lesbian Liberation Committee in 1971 and in 1972 Nestle co-founded the Gay Academic Union (GAU) which soon began gathering and preserving documents and artifacts related to Gay and Lesbian history. Her project became the Lesbian Herstory Archives. Nestle retired from Queens College in 1995 due to an illness that was eventual cancer diagnosis.
She now lives in Australia with her partner, law professor Diane Otto, and teaches at the University of Melbourne. Her life was the subject of a 2002 documentary by Joyce Warshow entitled Hand on the Pulse.


Added 2022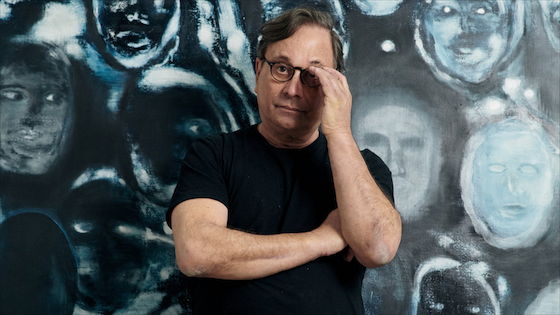 1949 – Ross Bleckner is an American artist. He currently lives and works in New York City. His artistic focus is on painting, and he held his first solo exhibition in 1975. Some of his art work reflected on the AIDS epidemic.
Bleckner was born in Brooklyn, New York and he grew up Jewish. In 1961, Bleckner and his family moved to a more affluent town in Hewlett, New York, where he attended George W. Hewlett High School. In 1965, Bleckner saw his first art exhibition, The Responsive Eye, at the Museum of Modern Art, which went on to have a huge impact on his artwork. Eventually, this was a time when he realized that he wanted to become an artist.
In 1974, when Bleckner moved back to New York, he moved into a Tribeca loft building. Three of the floors were rented to the painter Julian Schnabel and from 1977 to 1983 the Mudd Club, a nightclub frequented by musicians and artists, was in the same building. He held his first solo exhibition in 1975 at Cunningham Ward Gallery in New York. Then In 1979 he began what was to become a long association with Mary Boone Gallery in New York. In 1981 Bleckner met Thomas Ammann, who was an influential Swiss art dealer who went on to collect Bleckner's work.
Through his philanthropic efforts, Bleckner has enabled many community organizations to perform their vital work. He is on the board of AIDS Community Research Initiative of America (ACRIA), a non-profit community-based AIDS research and treatment education center. Bleckner is currently a Clinical Professor of Studio Art at New York University's Steinhardt School of Culture, Education, and Human Development.
Bleckner has been living in New York's West Village since 2004. In 1993, he bought Truman Capote's modern beach house on a five-acre property in Sagaponack, New York for $800,000, then owned by The Nature Conservancy. Over 20 years and two major renovations, he doubled the house's size, and had a matching 1,900 square-foot studio built on an adjoining field.
In 2018, Bleckner sued his former assistant Cody Gilman in the United States District Court for the Southern District of New York, accusing him of attempting to extort $2 million by threatening to portray their consensual relationship as a case of sexual harassment. Shortly after, Gilman's lawsuit was first filed in the United States District Court for the Eastern District of New York, in which he sought a trial by jury, remuneration for lost wages and damages as a consequence of unwanted sexual advances, harassment and assault. Bleckner's lawsuit was terminated in 2019 and consolidated with Gilman's action. In 2020, the lawsuit was settled out of court for an undisclosed amount and dismissed with prejudice.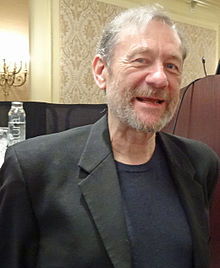 1949 – Michael Bronski is an American academic and writer, best known for his 2011 book A Queer History of the United States.
A senior lecturer at Dartmouth College, he currently teaches in the women's and gender studies department, and also teaches courses in LGBT history and Jewish studies at both Dartmouth and Harvard University.
A Queer History of the United States won both a Lambda Literary Award and a Stonewall Book Award in 2012. He also previously won two Lambda Literary Awards as an editor of anthologies, in 1997 for Taking Liberties: Gay Men's Essays on Politics, Culture, & Sex and in 2004 for Pulp Friction: Uncovering the Golden Age of Gay Male Pulps.
Bronski was the partner of American poet Walta Borawski, who died in 1994.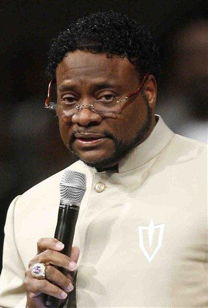 1953 – "Bishop" Eddie Long is the senior pastor of New Birth Missionary Baptist Church, a megachurch in Georgia, United States.
Long was vindicated of Senate investigations concerning whether he has personally profited from his church's tax exempt status. Civil lawsuits were filed against him alleging sexual relations with underage male members of his parish. Long has denied wrongdoing through his attorneys and has settled the lawsuits out of court.
After earning his undergraduate degree, Long worked as a factory sales representative for the Ford Motor Corporation, but was fired after he submitted expense reports that included personal telephone calls.
After being fired by Ford for financial irregularities, Long moved to Atlanta to study theology and became the pastor of a small Jonesboro, Georgia church.In 1987 he became the pastor of New Birth Missionary Baptist Church, which at the time had around 300 members. Under Long, membership grew to 25,000.
In 1994, Long was consecrated as a bishop in the Full Gospel Baptist Church Fellowship, a group of African-American Baptist churches that embraced Pentecostal practices. He broke away from this organization in 1998, but retained the title of bishop.
CNN has said "Long frequently denounces homosexual behavior."Long has ministered "homosexual cure" programs to recruit gays and lesbians for what he called "Sexual Reorientation" conferences and his church offers an ongoing "Out of the Wilderness" ministry to help convert homosexuals into heterosexuals.
In 2004, Long led a march with Bernice King to the grave of her father, Martin Luther King, Jr. The march was a protest against same-sex marriage and in support of a national constitutional amendment to limit marriage rights to couples comprising "one man and one woman."
A 2007 article in the Southern Poverty Law Center's magazine called him "one of the most virulently homophobic black leaders in the religiously based anti-gay movement."
On September 21 and 22, 2010, Maurice Robinson, Anthony Flagg, and Jamal Parris filed separate lawsuits in DeKalb County Superior Court alleging that Long used his pastoral influence to coerce them into a sexual relationship with him. On September 24, Spencer LeGrande, a member of a New Birth satellite church in Charlotte, North Carolina, filed a similar suit, making him the fourth man to file a lawsuit claiming sexual misconduct by Long.
The plaintiffs state that Long placed the men on the church's payroll, bought them cars and other gifts, and took them separately on trips to destinations such as Kenya, South Africa, Turks and Caicos Islands, Trinidad, Honduras, New Zealand, and New York City. The lawsuits stated that Long would "discuss the Holy Scripture to justify and support the sexual activity." Flagg's suit claims that Long presided over a "covenant" ceremony between the two of them; Flagg's attorney said that the ceremony was "essentially a marriage ceremony, with candles, exchange of jewelry, and biblical quotes."
The Atlanta Journal-Constitution reported on May 27, 2011, that the lawsuits were settled out-of-court; terms were undisclosed.

1958 – In the United Kingdom the Homosexual Law Reform Society was formed on this date. On this same day in 1960 the society would hold its first public meeting. The Homosexual Law Reform Society was an organisation that campaigned in the United Kingdom for changes in the laws that criminalised homosexual relations between men.

1961 – A Georgia appellate court rules that the age of a sodomy partner is irrelevant and that the defendant's homosexuality is irrelevant.

1970 – Edward Price, Assistant Dean of Students at the University of Texas rejected a request by the Gay Liberation Front to be recognized as a University of Texas Austin campus student organization on the grounds that they did not have a faculty advisor. This was, and continues to be the tactic of homophobic institutions in denying the creation of support and activist groups for Gay students and allies on high school and college campuses.

1975 – California decriminalized same sex acts between consenting adults.


1982 – Canadian police once again raid The Body Politic, the country's leading Gay and Lesbian newspaper, on charges of publishing an allegedly obscene article. Police charged all nine members of the TBP editorial collective with publishing obscene material, related to "Lust with a very proper stranger" article in its April 1982 issue.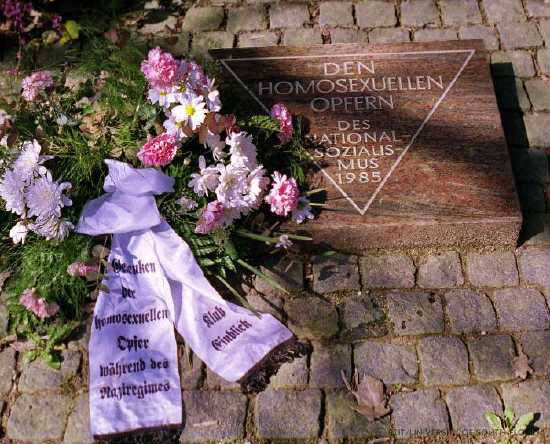 1985 – One of the first memorials to the Nazi's gay victims, a pink granite stone monument at Neuengamme concentration camp, inscribed "Dedicated to the Homosexual victims of National Socialism, 1985", is unveiled. One hundred homosexuals were imprisoned at Neuengamme. At least 33 of these men lost their lives. The exact count is probably much higher. For over ten years survivors groups had rebuffed attempts to place memorials to Gay victims at the sites of former concentration camps. In the mid 1980s the memorials finally found a place in public space.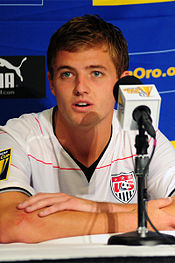 1987 – Robbie Rogers is an American former professional soccer player. He played as either a winger or as a second striker. Rogers also represented the United States men's national soccer team.
After one season playing college soccer at the University of Maryland, Rogers attracted the interest of Dutch Eredivisie side Heerenveen. He signed for Heerenveen in August 2006, although failed to make any first-team appearances. He left the club by mutual consent in February 2007, and returned to the United States to sign for Columbus Crew.
Rogers' four-year tenure at Columbus Crew was a successful one, with the player breaking through into the first-team, as well as securing an MLS Cup title in 2008 and two Supporters' Shield wins in 2008 and 2009 respectively.
In December 2011, Rogers opted to leave Crew when his contract expired. A month later, he signed for Championship side Leeds United on a free transfer. The first six months of his Leeds career were blighted by injury, and he was transfer-listed ahead of the 2012-13 season. In August 2012, Rogers joined League One team Stevenage on a loan deal until January 2013. At the end of Rogers' loan agreement at Stevenage, he briefly returned to Leeds before it was announced he had left the club by mutual consent.
Just weeks after being released by Leeds United, on 15 February 2013 Rogers retired from professional soccer at the age of 25, after coming out as gay, making him one of a small number of pro-footballers since Justin Fashanu in 1990 to announce publicly.
Rogers, who competed at the 2008 Beijing Olympics for the US, also co-owns menswear brand Halsey, and said he wanted to concentrate on life outside of professional football.
"Things are never what they seem... My whole life I have felt different, different from my peers, even different from my family. In today's society being different makes you brave. To overcome your fears you must be strong and have faith in your purpose.
"For the past 25 year I have been afraid, afraid to show whom I really was because of fear. Fear that judgment and rejection would hold me back from my dreams and aspirations. Fear that my loved ones would be farthest from me if they knew my secret. Fear that my secret would get in the way of my dreams.
"Dreams of going to a World Cup, dreams of The Olympics, dreams of making my family proud. What would life be without these dreams? Could I live a life without them?
"Life is only complete when your loved ones know you. When they know your true feelings, when they know who and how you love. Life is simple when your secret is gone. Gone is the pain that lurks in the stomach at work, the pain from avoiding questions, and at last the pain from hiding such a deep secret.
"Secrets can cause so much internal damage. People love to preach about honesty, how honesty is so plain and simple. Try explaining to your loved ones after 25 years you are gay. Try convincing yourself that your creator has the most wonderful purpose for you even though you were taught differently.
"I always thought I could hide this secret. Football was my escape, my purpose, my identity. Football hid my secret, gave me more joy than I could have ever imagined... I will always be thankful for my career. I will remember Beijing, The MLS Cup, and most of all my teammates. I will never forget the friends I have made a long the way and the friends that supported me once they knew my secret.
"Now is my time to step away. It's time to discover myself away from football. It's 1 A.M. in London as I write this and I could not be happier with my decision. Life is so full of amazing things. I realized I could only truly enjoy my life once I was honest. Honesty is a bitch but makes life so simple and clear. My secret is gone, I am a free man, I can move on and live my life as my creator intended.
After briefly retiring and coming out as gay upon leaving Leeds, Rogers signed with the Los Angeles Galaxy in May 2013, becoming the first openly gay male athlete to join MLS or any of the five major North American sports leagues.
In October 2014, the American Broadcasting Company closed a deal to air Men in Shorts, a single-camera comedy based on Rogers' career and coming out. Storyline Entertainment and Universal Television optioned the rights to his story in July 2014, and he is credited as a producer.
Rogers began dating director Greg Berlanti in 2013, and on February 18, 2016, they welcomed their first son via surrogacy.

1987 – A tie vote in the Connecticut House of Representatives killed a state-wide Gay rights bill.

2009 – The New York marriage bill passed the Assembly, but was later defeated in the Senate before final passage in 2011.

[{(o)}]|[{(o)}]|[{(o)}]|[{(o)}]| [{(o)}]|[{(o)}]
Today's Gay "Wisdom":
Some More Lewd Limericks:
A pansy who lived in Khartoum
Took a lesbian up to his room,
And they argued a lot
About who would do what
And how and with which and to whom.

*****

A neurotic young playboy named Gleason
Liked boys for no tangible reason.
A frontal lobotomy
Cured him of sodomy
But ruined his plans for the season.

*****

There was a young fellow named Tucker
Who, instructing a novice cocksucker,
Said, "Don't blow out your lips
Like an elephant's hips;
The boys like it best when you pucker."

*****

A cabin boy on an old clipper
Grew steadily flipper and flipper.
He plugged up his ass
With fragments of glass
And thus circumcised his old skipper.

*****

There was a young fellow named Taylor
Who seduced a respectable sailor.
When they put him in gaol,
He worked off the bail,
By licking the balls of the jailer.

*****

MAY 13 →
[{(o)}]|[{(o)}]|[{(o)}]|[{(o)}]| [{(o)}]|[{(o)}]