February 19
[{(o)}]|[{(o)}]|[{(o)}]|[{(o)}]| [{(o)}]|[{(o)}]
1821
–
Maine
enacts a new sodomy law. It retains the male-only provision of the Massachusetts statute, but sets a one-year minimum penalty.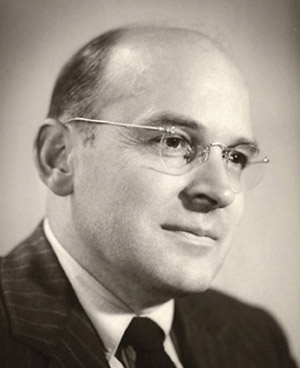 1902 – F.O. (Francis Otto) Matthiessen was an educator, scholar and literary critic influential in the fields of American literature and American studies. (d.1950) The exchange of letters between him and his lover Russell Cheney are among the most revealing gay male documents of the 1920s.
Born in Pasadena, California, after his parents' divorce in 1915, Matthiessen lived on his grandfather's farm in Illinois, later attended boarding school in Tarrytown, New York. Toward the end of World War I, joined the Canadian Air Force. He entered Yale in 1919, where he was a member of Skull and Bones society, and graduated in 1923 with many honors, and then became a Rhodes Scholar at Oxford, receiving a B. Litt. in 1925.
Matthiessen's best-known book, American Renaissance: Art and Expression in the Age of Emerson and Whitman (1941), discusses the flowering of literary culture in the middle of the American 19th century, with Emerson, Thoreau, Melville, Whitman and Nathaniel Hawthorne.
While sailing for Oxford, he met the painter Russell Cheney; they would be lovers until Cheney's death in 1945. Cheney, though closeted in many ways, was a profoundly positive influence on Matthiessen, encouraging his interest in gay and lesbian literary figures like Walt Whitman and Sarah Orne Jewett.
The couple shared a cottage in Kittery, Maine for decades. In planning to spend his life with Cheney, Matthiessen went as far as asking his cohort in the Yale secret society Skull and Bones to approve of their partnership. With Cheney having encouraged Matthiessen's interest in Whitman, it has been argued that American Renaissance was "the ultimate expression of Matthiessen's love for Cheney and a secret celebration of the gay artist."
Matthiessen, as a gay man in the 1930s and 1940s, chose to remain in the closet throughout his professional career, if not in his personal life - although traces of homoerotic concern are apparent in his writings. In 2009, a statement from Harvard University said that Matthiessen "stands out as an unusual example of a gay man who lived his sexuality as an 'open secret' in the mid-20th century."
After Cheney's death in 1945, Matthiessen was increasingly distraught; he committed suicide by jumping from a window in 1950. Because Matthiessen's politics were left-wing, socialist, though not dogmatically Marxist, inquiries by House Un-American Activities Committee into his politics may also have been a factor in his suicide: writing in 1958, Eric Jacobsen referred to Matthiessen's death as "hastened by forces whose activities earned for themselves the sobriquet un-American which they sought so assiduously to fasten on others".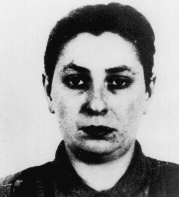 1912 – Henny Schermann was born in Frankfurt am Main, Germany. Henny's parents met soon after her father emigrated from Russia. Henny was the first of the Jewish couple's three children. Frankfurt was an important center of commerce, banking, industry and the arts.
After the Nazis came to power, they began to persecute a large number of "undesirable" groups, including Jews, Roma (Gypsies), homosexuals, the handicapped, and left-wing politicians. After 1938, as one way of identifying Jews, a Nazi ordinance decreed that "Sara" was to be added in official papers to the first name of all Jewish women. Twenty-four-year-old Henny was working as a shop assistant, and was living with her family in Frankfurt.
In early 1940 Henny was arrested in Frankfurt and deported to the Ravensbrueck concentration camp for women. On the back of her prisoner photo was written: "Jenny (sic) Sara Schermann, born February 19, 1912, Frankfurt am Main. Unmarried shopgirl in Frankfurt am Main. Licentious lesbian, only visited such [lesbian] bars. Avoided the name 'Sara.' Stateless Jew."
Henny was among a number of Ravensbrueck prisoners selected for extermination. In 1942 Henny was gassed at the Bernburg killing facility.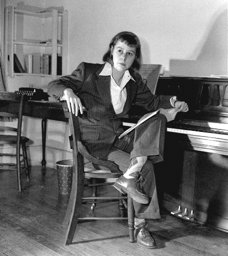 1917 – Carson McCullers, the American author, was born on this date (d.1967). When her first novel, The Heart is a Lonely Hunter, was published to acclaim in 1940, McCullers, at only twenty-three, seemed set for a lifetime of literary glory. The gifted novelist and playwright began "the hungry search of people for an escape from individual loneliness, for self- expression and for identification with what each most idealizes in human living."
Her own hungry search led to marriage (twice) to the homosexual Reeves McCullers, who eventually killed himself; a love affair with composer David Diamond, who was simultaneously sleeping with her husband; to infatuations with Gypsy Rose Lee, Greta Garbo, Erika Mann, and other women; and to such works as The Heart Is A Lonely Hunter, The Member of the Wedding, and Reflections in a Golden Eye.
Carson's great love alongside Reeves was for fellow writer Annemarie Clarac-Schwarzenbach. This relation was unfortunately cut short by the latter's unexpected death in 1942.
Because of her sad life, or in spite of it, she remains compulsively readable.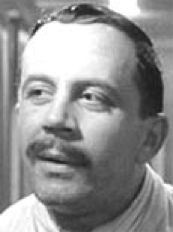 1921 – George Rose (d.1988) was an English actor and singer in theatre and film.
Born in Bicester, Oxfordshire the son of a butcher, Rose studied at the Central School of Speech and Drama. After graduation he was briefly a farmer and secretary. After wartime service and studies at Oxford, he made his Old Vic stage debut in 1946.
Rose spent four years with the Old Vic company and made his Broadway debut in a 1946 production of Henry IV, Part I and continued to play in New York City and London's West End for the remainder of the decade. He spent most of the 1950s appearing in broad comedy roles in the UK, later joining the Royal Shakespeare Company. He returned to Broadway to portray Dogberry in Much Ado About Nothing in 1959. Two years later, he co-starred to much acclaim in Robert Bolt's A Man For All Seasons, first in London and then in New York. This included Variety naming him best supporting actor for his portrayal of the Common Man. From then on he appeared primarily in American plays and films.
Notable film credits include The Pickwick Papers (1952), Track the Man Down (1955), A Night to Remember (1958), Hawaii (1966), and A New Leaf (1971). Rose starred in the 1975 television series Beacon Hill, an Americanised version of Upstairs, Downstairs. Other television credits include Naked City, Trials of O'Brien, the mini-series Holocaust (1978), and several appearances on the Hallmark Hall of Fame.
Rose won a Tony (his second) in 1986, for Rupert Holmes' musical adaptation of The Mystery of Edwin Drood. Rose was appearing in a national tour of Drood at the time of his death in 1988.
In 1984, he purchased a holiday home in Sosúa, Dominican Republic, where he spent much of his time between his performances. Rose was gay and had no immediate family or permanent partner. He reportedly longed to have an heir. Shortly after moving, he took in a 14-year-old boy whom he supported financially and to whom he planned to leave his estate. He adopted the boy in January 1988.
On 5 May 1988, during a two-week hiatus from the national tour of Drood, Rose was beaten to death by his adopted son, the boy's biological father and uncle and a friend of the father. The assailants tried to make the death look like an accident, but soon confessed to killing Rose. Though all four men were charged and spent time in prison, no trial was ever held, and eventually all were released.
Rose is buried in an unmarked grave in a cemetery near his holiday home in Sosúa.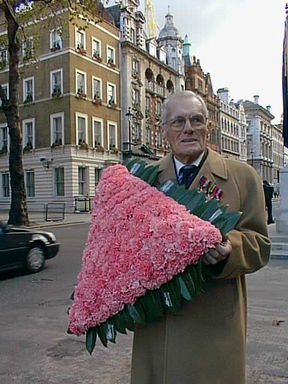 1921 – Dudley Cave was a British former soldier and pioneering gay rights activist (d.1999). He joined the Royal Army Ordnance Corps in 1941, aged 20, and was posted to the Far East. He was captured by the Japanese when Singapore fell in 1942 and was marched north to work on the Thai-Burma railway, 10 miles beyond the bridge on the River Kwai. He caught malaria and was imprisoned in Changi Prison in Singapore because he was unproductive. This may have saved his life. Three quarters of his company perished.
When back in Britain he had a job as manager of the Majestic Cinema, Wembley, but in 1954 he was sacked when it was discovered that he was gay. Also in 1954 he met Bernard Williams, an RAF veteran and school teacher, and they became lovers and co-campaigners for 40 years until Bernard Williams died in 1994.
In 1971 Dudley Cave joined the Unitarian Church and helped in securing the ordination of lesbians and gay men. He also conducted same-sex weddings.
In 1974 he was on the launch committee of the London Gay Switchboard, and he was still answering the telephone right up to his death 25 years later.
He and his partner, Bernard Williams, founded the Lesbian and Gay Bereavement Project in 1980, and they ran its telephone helpline for many years. After a battle with the Charity Commissioners this became the first organisation with 'gay' in its title to be given charitable status.
In the 1980s he worked on reconciliation with the Japanese and travelled a number of times to Japan to speak on the subject.
In November, 1998 he was OutRage!'s keynote speaker at its Queer Remembrance Day vigil at the Cenotaph where he layed a pink triangle wreath honouring gay people who died fighting Nazism and in the concentration camps.
Dudley Cave dedicated most of his life to challenging and fighting prejudice and seeking justice and equality for gay people especially in the areas of military recognition and issues of bereavement for gay people of all ages; he did so with great eloquence, dignity and integrity.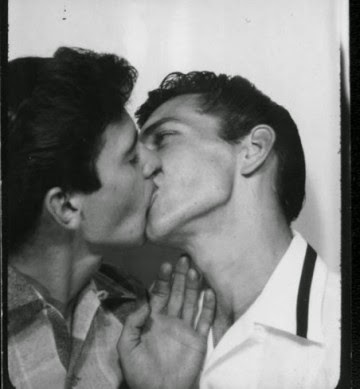 1925 – J. J. Belanger (d.1993) was member and officer in the Mattachine Society in the 1950s and 1960s, a volunteer in numerous causes in the 1970s and 1980s, and a collector of LGBT history, especially of AIDS-related materials of the mid-to-late 1980s.
The famous photo booth photo of J.J. Belanger above was rediscovered in 2014 and spread quickly through popular media such as The Advocate, TIME, Queerty, and blogs. It shows Robert Block and J. J. Belanger (right) in a photo booth photo in Hastings Park, Vancouver, British Columbia, 1953. It was taken at a time in Canadian history when the two men could have been arrested for kissing.
Joseph John Bertrund Belanger was born February 19, 1925, in Edmonton, Canada. He served in the Royal Canadian Air Force from 1942 to 1944 where he was awarded a Defense Medal, Canadian Voluntary Service Medal, and War Medal for his World War II service. He worked odd jobs in Vancouver and Calgary until 1954 when he joined the United States Air Force. He served for five years, earning the Aviation Badge, Good Conduct Medal, Outstanding Airman of the 26th Air Refueling Squadron, numerous other commendations, and a promotion.
Belanger became a member of the Mattachine Society in the early 1950s, but resigned in 1953 after an incident with police threatened to bring negative publicity to the organization. However, Belanger maintained contact with Hal Call and in 1958 became the Mattachine Society's Director of Public Relations. In 1959 he was voted out of the post, but still remained a member of the society.
From the 1950s Belanger lived in either San Francisco and Los Angeles, although the particulars of his life are documented only sporadically. He was the Los Angeles coordinator of the Eulenspiegel Society in the 1970s. In the 1980s he was politically involved with the San Francisco chapter of the Stonewall Gay Democratic Club, where he ran and lost a bid for treasurer in 1988. Also in the 1980s he volunteered for Project Inform and was a member of the Quarantine Fighter's Group. Belanger was also a devoted collector of LGBT history, especially of AIDS-related materials of the mid-to-late 1980s.

1926
– A
California
appellate court upholds a sodomy conviction based on photographs without any relationship to the case found in the defendant's vest.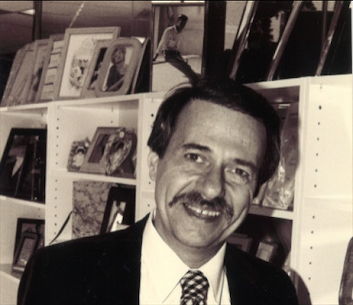 1944 — Attorney and activist (Gerald) Jerry Gerash could be appropriately be called one of the founding fathers of Denver's gay community. Whenever he saw a gap, he tried to fill it. When there was no community center, he made sure they got one. When gay groups were splintered and unorganized in the early 1970s, he brought them together under one roof. When laws were used to discriminate against gays, he helped put an end to it.
Jerry Gerash was born in the Bronx, New York, in 1934. His parents were Ben and Leah were Russian Jews who had escaped the violent pogroms going on in their former homeland. When Jerry was 10 years old, the family moved to Los Angeles. By the time he was 14, he knew he was gay.
Jerry was in his first relationship when he was 17. Around this time he also got a fake ID so he could go to gay bars. He didn't do this because he wanted to drink alcohol. He and many gay youth like him wanted to go to gay bars because it was the only place they could be open about who they were and still be respected.
In the early 1950s, he attended college at the University of California. First he went to UCLA and later to Berkeley. At first he studied optometry, but eventually went on to graduate from University of Denver Law School in 1969.
In 1972, there were only two gay organizations in Denver. One was a motorcycle club and the other was the Metropolitan Community Church of the Rockies. Denver needed a stronger, political organization that could fight for civil rights. In the fall of that year, Jerry and his partner, Lynn Tamlin, organized a group with their friends Jane Dundee, Terry Mangan and Mary Sassatelli. Their group was called the Gay Coalition of Denver (GCD).
1972 was also the year that it was no longer against the law simply to be gay. That change in the law, however, didn't end the constant arrests, discrimination and harassment by authorities, employers and landlords.
In the first few months of 1973, over 250 gay men were arrested. A staggering 100% of all of the people arrested for "lewdness" in that period were gay. While being gay was no longer illegal, gays and lesbians were still being arrested for "lewdness". This, basically, meant that the police could arrest people for doing anything they thought was "gross." This included things like holding hands, dancing together, men dressing like women or women dressing like men.
Jerry and the GCD knew they had to fight this abuse of gay citizens. They made a plan to file a lawsuit against the city. The GCD lawyers (Jerry Gerash and Paul Hunter) would fight to prove that these arrests were illegal and wrong. On October 23, 1973, 350 gays and lesbians showed up at Denver City council to make sure the council heard their voices.
By the end, most of the council was convinced and, within a month, they repealed the four main anti-gay laws that the activists had sought to remove.
In 1975 he helped form UNITY, the first-ever umbrella organization for Gay groups to share information and work towards common goals. Out of that group sprang the Gay Community Center of Colorado—an organization of which Gerash is credited as being the founder. In 2010, Gerash was honored as a Grand Marshal of Denver's 35th annual PrideFest.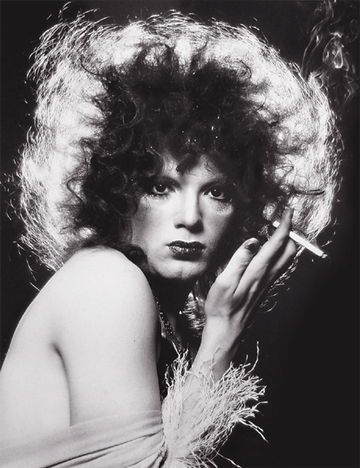 Curtis in drag
1947 – John Holder Jr, better known as Jackie Curtis, was a famous transgendered film star, poet and playwright. (d.1985)
Curtis was born in New York City, and later died there of a drug overdose. He spent part of his life living and performing as a man (sometimes adopting a James Dean persona) and sometimes as a woman.
While living and performing in drag, she would typically wear lipstick, glitter around the eyes and in her frizzed-out red hair, and a dress, frequently ripped and torn, as were her stockings. This unique style, a combination of trash and glamour which Curtis pioneered in the late 1960s when frequenting such high profile nightclubs as Max's Kansas City, has prompted assertions that Jackie inspired the Glam Rock persona of the 1970s.
'Jackie Curtis is not a drag queen. Jackie is an artist. A pioneer without a frontier,' Andy Warhol said of his associate. Primarily a stage actor, Curtis debuted at the age of 17 in Tom Eyen's play Miss Neferititi Regrets. Curtis began to write his own plays immediately after this experience, often featuring famous transsexuals, such as his friend Candy Darling and, later, Holly Woodlawn, both of whom appeared in his productions which enjoyed successful runs Off-Off-Broadway and were well-reviewed in New York. Curtis's work is representative of the Theatre of the Ridiculous.
As writer and lead actress some of her plays include: Glamour, Glory and Gold; Amerika Cleopatra which featured Harvey Fierstein; Femme Fatale; and Heaven Grand In Amber Orbit with Holly Woodlawn, produced by John Vaccaro's Playhouse of the Ridiculous in 1970.
These plays caught the attention of Andy Warhol and his director Paul Morrissey, who cast Jackie and Candy in Flesh (1968) and, with the addition of Holly Woodlawn, in Women in Revolt (1971); a hilarious spoof of the women's liberation movement in which all the female leads are played by transsexuals and transvestites.
Apart from acting, Curtis also showed talent in poetry and singing. Jackie Curtis made two more movies during the 1980s. Drug addiction, however, had taken control of Curtis's life, eventually leading to his death.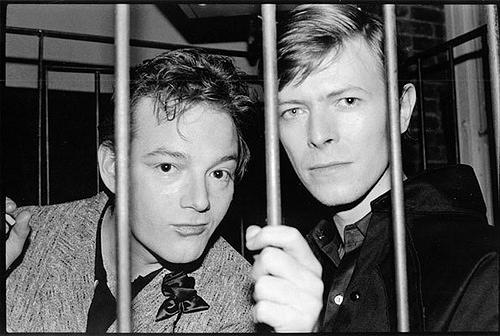 Curtis with David Bowie
In 2004, a film based on Curtis's life, Superstar in a Housedress, brought Jackie Curtis back to the limelight, exposing some little known facts about the performer to the public. Curtis's influence on a number of people, friends and associates such as Holly Woodlawn, Joe Dallesandro and Penny Arcade, and observers such as David Bowie, is noted in the film.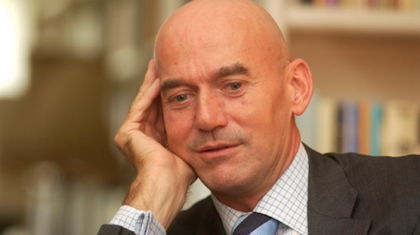 1948 – Wilhelmus Simon Petrus Fortuijn, known as Pim Fortuyn (d.2002) was a Dutch politician, civil servant, sociologist, author and professor who formed his own party, Pim Fortuyn List (Lijst Pim Fortuyn or LPF) in 2002.
Openly homosexual, Fortuyn provoked controversy with his stated views about multiculturalism, immigration and Islam in the Netherlands. He called Islam "a backward culture", and said that if it were legally possible he would close the borders for Muslim immigrants. He was labelled a far-right populist by his opponents and in the media, but he fiercely rejected this label and explicitly distanced himself from "far-right" politicians such as the Belgian Filip Dewinter, the Austrian Jörg Haider, or Frenchman Jean-Marie Le Pen whenever compared to them. While Fortuyn compared his own politics to centre-right politicians such as Silvio Berlusconi of Italy, he also admired former Dutch Prime Minister Joop den Uyl, a socialist. Fortuyn however repeatedly described himself and LPF's ideology as pragmatism and not populism.
In August 2001, Fortuyn was quoted in the Rotterdams Dagblad newspaper saying, "I am also in favour of a cold war with Islam. I see Islam as an extraordinary threat, as a hostile religion." In a televised debate in 2002, "Fortuyn baited a Muslim cleric by flaunting his homosexuality. Finally the imam exploded, denouncing Fortuyn in strongly anti-homosexual terms. Fortuyn calmly turned to the camera and, addressing viewers directly, told them that this is the kind of Trojan horse of intolerance the Dutch are inviting into their society in the name of multiculturalism."
When asked by the Dutch newspaper Volkskrant whether he hated Islam, he replied:
I don't hate Islam. I consider it a backward culture. I have travelled much in the world. And wherever Islam rules, it's just terrible. All the hypocrisy... And why is that? Because they have standards and values that are so high that you can't humanly maintain them. You see that in that Muslim culture. Then look at the Netherlands. In what [other] country could an electoral leader of such a large movement as mine be openly homosexual? How wonderful that that's possible. That's something that one can be proud of. And I'd like to keep it that way, thank you very much
Fortuyn was assassinated during the 2002 Dutch national election campaign by Volkert van der Graaf. In court at his trial, van der Graaf said he murdered Fortuyn to stop him from exploiting Muslims as "scapegoats" and targeting "the weak members of society" in seeking political power.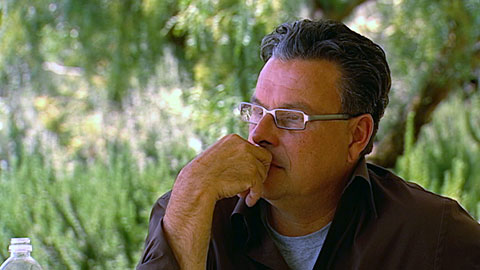 1952 – California artist Lari Pittman creates visually beautiful and exciting paintings that depict the anxiety attendant on being a gay male in America. They confront the perils and dangers that threaten homosexuality even as they resolutely affirm homosexual love.
Lari Pittman was born in Glendale, California. Pittman spent much of his childhood in the Colombian cities of Cali and Tumace, where his father worked in the lumber industry. An effeminate child, he loved playing with his mother's jewelry. His desire to decorate with baubles received parental support and has deeply influenced his subsequent art.
After studying painting at University of California, Los Angeles from 1970 to 1973, Pittman transferred to the California Institute of Arts. Pittman held his first solo exhibition in 1982 to mixed reactions. His early works, full of obscure references, are purposely made to be difficult for the viewer to decipher.
In 1985, Pittman changed his style as the result of suffering a near fatal attack. One night, he discovered a burglar in his home. When he attempted to scare off the man, he was shot in the stomach. The injury resulted in a colostomy and a long period of recovery. After this harrowing, near death experience, Pittman decided to stop being evasive about his homosexuality and about the thematics of his work. He has since sought to erase the distinction between the private and the public as a means of gay activism.
Pittman's post-1985 imagery is much more open and readable than his earlier imagery. In This Wholesomeness, Beloved and Despised, Continues Regardless (1990), for example, he creates a complex narrative through the use of accessible images. At the center of this canvas is a gay couple making love. However, the decorative elements in the painting are both celebratory and ominous, ranging from an inscribed "69" (a motif he uses in several works) to a noose and a menacing figure wielding a knife. Thus, the work's narrative structure celebrates gay relationships, but also acknowledges the homophobic conditions in which they are experienced. The painting makes an affecting statement about the persistence and perseverance of gay love even in the face of hatred and persecution.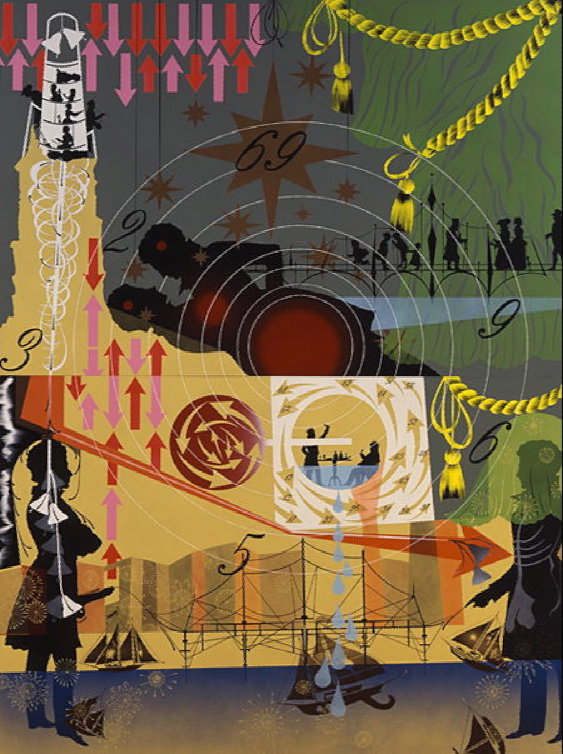 "In This Wholesomeness …
(Click for larger)
Pittman's paintings consider American identity and history, often incorporating motifs from folk art and popular culture, as in An American Place (1986). Such motifs give his work a cartoon-like quality, with every space packed with imagery and action.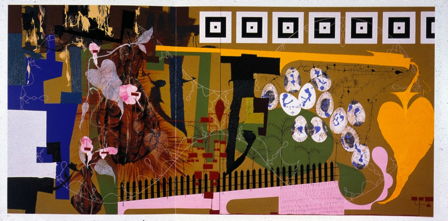 An American Place
The emphasis that Pittman places on queerness has led some critics to describe him as the prince of queer agit-prop art. He has been attacked for being too political because he has dared to address the difficulties of life as a gay man in paintings that grab attention. Indeed, Pittman may be justly regarded as our foremost painter of gay pride.
He lives in Los Angles with his longtime companion, fellow artist Roy Dowell, with whom he sometimes collaborates.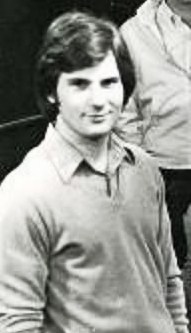 1953 – The American TV and film director Stephen Kolzak was born on this date (d.1990). He was a Harvard graduate who was a casting director in Hollywood, working most notably for the television series "Married with Children" and the classic and beloved "Cheers."
On July 4, 1988 Stephen Kolzak met Paul Monette, the poet, who had recently already lost one partner to AIDS. They entered into a "loving relationship" for the last two years of Kolzak's life.
As a young man, Kolzak worked or volunteered for the Democratic party. When he suffered from AIDS, he joined prominently in a protest in Washington, D.C. at the Federal Drug Administration. The Reagan and first Bush administrations in general were silent on AIDS. This protest was to force the FDA to release new and experimental drugs that those with AIDS felt might prolong their lives. The group's storming the federal agency later inspired Monette to write one of his most famous protest poems, "Stephen at the FDA."
Kolzak died of AIDS related causes on September 19, 1990, when he was 37.
The GLAAD Media Awards feature a Stephen F. Kolzak Award, which is given to openly Lesbian or Gay individuals in the media for outstanding contribution in combating homophobia.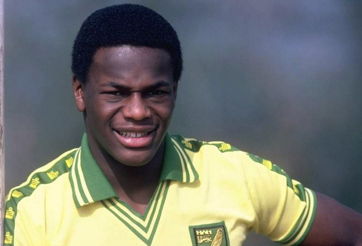 1961 – The British footballer Justin Fashanu was born on this date (d.1998). Born in Shoreditch, London, as Justinus Soni Fashanu, he played for a variety of clubs between 1978 and 1997. He was known by his early clubs to be gay, and 'came out' to the press later in his career, to become the first and only English professional footballer to be openly homosexual.
In 1980, he won the BBC Goal of the Season award, for a very spectacular goal against Liverpool. He subsequently became Britain's first £1m black footballer when he transferred to Brian Clough's Nottingham Forest in August 1981 as a replacement for the outgoing Trevor Francis.
His career stalled as his professional relationship with Brian Clough deteriorated; Clough, it would appear, was disturbed by the rumours of Justin Fashanu's visits to gay nightclubs and bars. His goals and then confidence dried up as he failed to fit in with the playing and lifestyle demands of Clough, especially after Clough had discovered his homosexuality and barred him from even training with the side.
In his autobiography, Clough recounts a dressing down he gave Fashanu after hearing rumours that he was going to gay bars. "'Where do you go if you want a loaf of bread?' I asked him. 'A baker's, I suppose.' 'Where do you go if you want a leg of lamb?' 'A butcher's.' 'So why do you keep going to that bloody poofs' club?"
In 1990, he publicly came out as gay in an interview with the tabloid press, becoming the only prominent player in English football so far to do so. Many former colleagues spoke out in anger against him, stating that gays had no place in a team sport, and his brother John publicly disowned him. Although he claimed that he was generally well accepted by his fellow players, he freely admitted that they would often joke maliciously about his sexual orientation, and he also became the target of constant crowd abuse because of it.
In 1997, he moved to Ellicott City, Maryland, to coach the Maryland Mania, a new professional team in the second division USL A-League, following his officially announced retirement from the professional game.
In March 1998, a seventeen-year-old claimed to police that he had been sexually assaulted by Fashanu after a night of drinking (the age of consent in Maryland is 16). The assault was alleged to have taken place in Fashanu's apartment in Ellicott City. Fashanu was questioned about this by the police on 3 April, but he was not held in custody. It was widely reported in the press that the police later arrived at his flat with a warrant to arrest him on charges of second-degree sexual assault, first-degree assault, and second-degree assault. However, Fashanu had already returned to England.
On the morning of 3 May 1998, he was found hanged in a deserted lock-up garage he had broken into, in Shoreditch, London, after visiting Chariots Roman Spa, a local gay sauna. In his suicide note, he stated: "I realised that I had already been presumed guilty. I do not want to give any more embarrassment to my friends and family." An inquest in London, held on 9 September 1998, heard that there was in fact no warrant out for Fashanu's arrest and that the American police had already dropped the investigation due to a lack of evidence. The inquest recorded a verdict of suicide.
In March 2009 a football team, The Justin Fashanu All-stars, was christened at a special event in Brighton, supported by the FA. The team, named in his honour, was created by the Justin Campaign, which is a campaign against homophobia in football and promotes the inclusion of openly gay players in football.

1964 – Andrew Martin is an American politician, who has served as the Clark County Democratic Party Chair, Member of the Nevada State Economic Forum and Member of the Clark County School District Bond Oversight Committee. Martin was elected to the Nevada Assembly in the 2012 election. A member of the Democratic Party, he was elected to represent the 9th Assembly District, although his eligibility to serve in the legislature was disputed during the election.
Martin and his partner own two properties in Las Vegas, a condominium in the 9th District and a house outside of it; during the campaign, Martin's Republican challenger Kelly Hurst hired a private investigator to follow Martin to determine which of the two properties Martin was using as his primary residence Martin's position was that the condominium was his primary residence, while the out-of-district home was being used, pending its sale, as an office for his accounting firm. On the basis of the private investigator's testimony that Martin was seen charging his hybrid vehicle at the out-of-district home, on November 5, 2012, just one day before the election, a judge ruled Martin ineligible to stand for election on the grounds of failing to meet the legislature's residency requirements.
As the ruling came too late for Clark County election officials to change the ballots, Martin's name remained on the ballot, and the Republican campaign instead stationed volunteers at each polling station to verbally inform voters that Martin was ineligible for election. Despite the controversy, however, Martin won the election. On February 4, 2013, the legislature seated Martin, and no formal challenge was filed against him.
During Martin's time first session in the legislature he sponsored or co sponsored several bills, including SJR-13, Authorizing Same Sex Marriage.
Martin is openly gay. His partner is Dana Barooshian. Martin married Dana Barooshian, his partner since 1986, in Washington, DC on November 10, 2013.

1987 – Jeffery Self is an American actor, writer, and comedian.
Self is a native of Georgia, who grew up in the South. After attending middle school, Self persuaded his parents to let him be homeschooled to avoid dealing in high school with the fact that he was gay.
Self has appeared in many television shows as a recurring, featured or guest actor. He and Cole Escola starred in the sketch comedy series Jeffery & Cole Casserole, which aired on Logo TV for two seasons. He has also appeared in Desperate Housewives, 90210, Hot In Cleveland, Torchwood, Shameless, Difficult People, and as Liz Lemon's cousin Randy Lemon on NBC's 30 Rock. He is the author of two humor books: Fifty Shades Of Gay and Straight People: A Spotters Guide, as well as the young adult novels A Very Very Bad Thing and Drag Teen. He co-wrote, produced, and starred in the indie horror/comedy cult hit You're Killing Me. He was the host of the MTV series, Scream: After Dark, a talk show devoted to deleted scenes and interviews with the cast of the popular MTV horror series Scream. He currently plays Marc Doober on Search Party on TBS.
Self is openly gay. He dated Patrick McDonald of Fire Island for three years and publicly blogged about their breakup. On January 8, 2017, Self and his boyfriend, Augustus Prew, announced their engagement via Instagram. They were married on January 13, 2018 in Culver City, California.

1993 – The Crying Game, a film written and directed by Neil Jordan, portrays the relationship between a transsexual woman and an IRA fighter in London. In 1999, the British Film Institute named it the 26th greatest British film of all time.

2007 – In New Jersey the first same-sex couple, Daniel Gross and Steven Goldstein, held a civil union ceremony when hundreds of Gay couples were granted the same legal rights, if not the title, as married couples as New Jersey became the third state to offer civil unions.

2009 – North Dakota Senate votes to include LGBT in the Human Rights Act.

2010 – Football V Homophobia launches in the UK.

FEBRUARY 20 →
[{(o)}]|[{(o)}]|[{(o)}]|[{(o)}]| [{(o)}]|[{(o)}]