January 7
[{(o)}]|[{(o)}]|[{(o)}]|[{(o)}]| [{(o)}]|[{(o)}]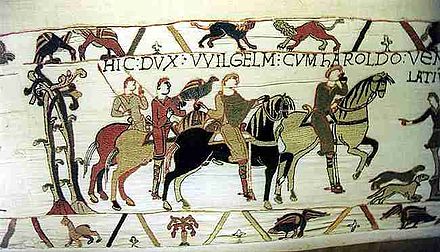 Bayeux Tapestry - hawking
1130 – On this date the medieval poet Baldric Of Dol died (b.circa 1050). He was abbot of Bourgueil from 1079 to 1106, then bishop of Dol-en-Bretagne from 1107 until his death.
Balderic's poetic works were written almost entirely while abbot at Bourgueil. The 256 extant poems are found almost exclusively in a single contemporary manuscript which is most likely an authorized copy. They consist of a wide range of poetic forms ranging from epitaphs, riddles and epistolary poems to longer pieces such as an interpretative defense of Greek mythology. A praise poem for Adela of Normandy describes something very like the Bayeux Tapestry within its 1,368 lines. Two themes dominate his works: desire/friendship (amor)—including paedophiliac—and game/poetry (iocus).
In his collection My Dear Boy: Gay Love Letters through the Centuries, the scholar Rictor Norton publishes Baldric's many letters to male lovers.

1829 – William Maxwell is the last English sailor hanged for sodomy.

1876 – New Mexico passes a sodomy law with a penalty of up to life imprisonment. Prior to this, it had relied on the English common law.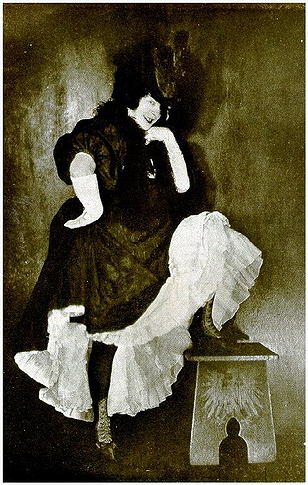 1880 – Bert Savoy was an influential early American drag performer. (d.1923) Born Everett McKenzie, he began his drag act 'doing a hootchie-kootchie dance at freak shows in Boston and polished it in the wilds of Alaska'. He nearly hit the big time in 1914 while understudying for James Russell of the Russell Brothers (known for their 'bitch' act: a pair of Irish servant girls) in Maids to Order when Russell dropped dead.
Savoy found greater success in 1915 when he begun a partnership as comedic partner to 'straight man', Jay Brennan (allegedly after Savoy had picked up Brennan on a streetcar). The team was a huge success; they headlined in the Ziegfeld Follies of 1918.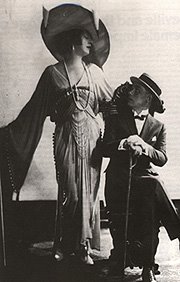 Savoy & Brennan
Savoy was one of the first of such acts to clearly be associated in the minds of the viewing audience as being overtly homosexual in theme and content. Most other female impersonators of the day, such as the international sensation, Julian Eltinge, went to great lengths to let you know that they were engaged in painstaking artifice. Eltinge's career was accompanied by a pull out the stops public relations effort to show him in any number of traditional 'virile male' activities, when off stage.
Although drag had always been a main staple of vaudeville, it was not really performed as or perceived as 'gay' until the appearance of Savoy, who was pure camp on and off the stage. The two routines which gave rise to Savoy's catchphrases 'You Don't Know The Half Of It, Dearie' and 'You Mussst Come Over' were preserved for posterity on a rare 1923 Vocalion recording made shortly before Savoy's untimely demise.
The story of Bert Savoy's death is legendary and, by all accounts, absolutely true: on June 26, 1923 Savoy, his half-brother and two friends were walking along the shore at Long Beach watching an upcoming storm when a thunderclap prompted Savoy to squeal, 'Ain't Miss God cuttin' up somethin' awful?' or something similar. He was immediately struck dead by a bolt of lightning. How camp is that? In fact, the lighting focused on a bath house locker key around Savoy's neck. One friend, whose hand was resting on Savoy's shouder, was also killed and the other left paralysed. His half-brother survived.
Brennan continued the act quite successfully for a while with Stanley Rogers, owing much to the fact that Rogers copied Savoy's mannerisms and catchphrases to a tee. Brennan later became a scriptwriter in the movies and died in 1961 at the age of 78.
Mae West is alleged to have based much of her act on Bert Savoy.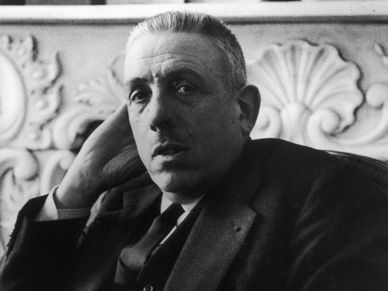 1899 – Francis Poulenc, French composer (d.1963); Poulenc was one of the first out Gay composers. His first serious relationship was with painter Richard Chanlaire to whom he dedicated his Concert champêtre: "You have changed my life, you are the sunshine of my thirty years, a reason for living and working." He also once said, "You know that I am as sincere in my faith, without any messianic screamings, as I am in my Parisian sexuality."
Poulenc also had a number of relationships with women. He fathered a daughter, Marie-Ange, although he never formally admitted that he was indeed her father. He was also a very close friend of the singer Pierre Bernac for whom he wrote many songs; some sources have hinted that this long friendship had sexual undertones; however, the now-published correspondence between the two men strongly suggests that this was not the case.
Poulenc's life was one of inner struggle. Having been born and raised a Roman Catholic, he struggled throughout his life between coming to terms with his "unorthodox" sexual "appetites" and maintaining his religious convictions.
Poulenc was profoundly affected by the death of friends. First came the death of the young woman he had hoped to marry, Raymonde Linossier. While Poulenc admitted to having no sexual interest in Linossier, they had been lifelong friends. Then, in 1923 he was "unable to do anything" for two days after the death from typhoid fever of his 20-year old friend, novelist Raymond Radiguet, Jean Cocteau's lover. However, two weeks later he had moved on, joking to Sergei Diaghilev at the rehearsals he was unable to leave, about helping a dancer "warm up."
In 1936, Poulenc was profoundly affected by the death of another composer, Pierre-Octave Ferroud, who was decapitated in an automobile accident in Hungary. This led him to his first visit to the shrine of the Black Virgin of Rocamadour. Here, before the statue of the Madonna with a young child on her lap, Poulenc experienced a life-changing transformation. Thereafter his work took on more religious themes, beginning with the Litanies à la vierge noire (1936). In 1949, Poulenc experienced the death of another friend, the artist Christian Bérard, for whom he composed his Stabat Mater (1950).
Poulenc died of heart failure in Paris on 30 January 1963 and is buried at the Père Lachaise Cemetery.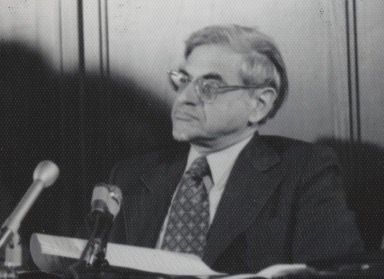 1917 – Alfred Freedman (d.2011), who was responsible for removing homosexuality from the list of mental illnesses, was born in Albany, New York. After earning his undergraduate degree at Cornell University in 1937, Freedman graduated from the University of Minnesota Medical School in 1941. He began an internship at Harlem Hospital but left before completion to enlist in the United States Army Air Corps. He left the service having attained the rank of Major.
After initially studying neuropsychology, Freedman trained in both general and child psychiatry, undertaking a residency at Bellevue Hospital. He became the chief of child psychiatry at the SUNY Downstate Medical Center, a post in which he served for five years, before becoming the first person to serve full-time as the department of psychiatry Chairman at New York Medical College, a post which he held for 30 years.
In 1972, Freedman was approached by the Committee of Concerned Psychiatrists, a group of young reform-minded doctors, who encouraged him to run for the presidency of the American Psychiatric Association. He won the election by 3 votes out of some 9,000 that were cast.
In his position as president, Freedman immediately supported a resolution offered by Robert L. Spitzer to delete homosexuality from the list of mental illness diagnoses. On December 15, 1973, the APA's board of trustees voted 13—0 in favor of the resolution, which stated that "by itself, homosexuality does not meet the criteria for being a psychiatric disorder" and that "We will no longer insist on a label of sickness for individuals who insist that they are well and demonstrate no generalized impairment in social effectiveness."
LGBT rights organizations have hailed this decision as one of the greatest advances for gay equality in the United States. Freedman himself believed that passing this resolution was the most important accomplishment of his one-year tenure as president. A second resolution called for an end to discrimination based on sexual orientation and the repeal of laws against consensual gay sex.
Alfred Freedman died in Manhattan on April 17, 2011, following complications after surgery to treat a hip fracture.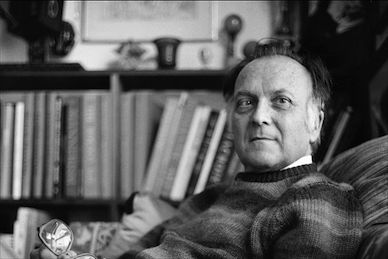 1919 – Robert Duncan, American poet, born (d.1988); An American poet and a student of H.D. (Hilda Doolittle), who spent most of his career in and around San Francisco. Though associated with any number of literary traditions and schools, Duncan is often identified with the New American Poetry and Black Mountain Poets.
Duncan's mature work emerged in the 1950s from of Beat culture and today he is also identified as a key figure in the San Francisco Renaissance. Duncan's name figures prominently in the history of pre-Stonewall Gay culture, particularly with the publication of his The Homosexual in Society.
Duncan had his first homosexual relationship with a male instructor he had met in Berkeley. In 1941 he was drafted and declared his homosexuality to get discharged. In 1943, he had his first heterosexual relationship. This ended in a short, disastrous marriage.
In 1944, he published The Homosexual in Society, an essay in which he compared the plight of homosexuals with that of African Americans and Jews. The immediate consequence of this brave essay was that John Crowe Ransom refused to publish a previously accepted poem of Duncan's in Kenyon Review, thus initiating Duncan's exclusion from the mainstream of American poetry.
Also in 1944, Duncan had a relationship with the abstract expressionist painter Robert De Niro, Sr., the father of famed actor Robert De Niro, Jr.
Duncan was the first poet to use the word "cocksucker" in print, and the first to strip to the buff during a reading. Nevertheless, he is in spirit, if not in fact, a modern romantic whose best work is instantly engaging by the standards of the purest lyrical traditions.
In 1951 Duncan met the artist Jess Collins and began a collaboration and partnership that lasted 37 years till Duncan's death in 1988.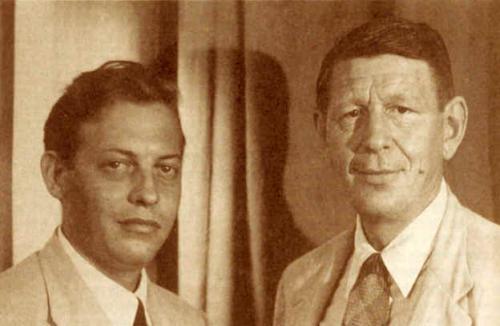 Chester Kallman (L) with W.H. Auden
1921 – Chester Kallman, American poet, born (d.1975); Born in Brooklyn. He received his B.A. at Brooklyn College and his M.A. at the University of Michigan. He published three collections of poems, Storm at Castelfranco (1956), Absent and Present (1963), and The Sense of Occasion (1971). He lived most of his adult life in New York, spending his summers in Italy from 1948 through 1957 and in Austria from 1958 through 1974. He moved his winter home from New York to Athens, Greece, in 1963.
When Christopher Isherwood and W.H. Auden came to America in the late `30s, Kallman and fellow Brooklyn College student Harold Norse – both young, blond and handsome - attended an Isherwood/Auden reading to flirt with the celebrated writers. Only Isherwood flirted back; Auden was near-sighted. An invitation was offered. When, two days later, 18-year-old Kallman showed up at Auden's apartment, Auden, who had been apprised of the invitation to the young hunk by Isherwood, answered the door, he exclaimed "But it's the wrong blond!" Isherwood, it seems, had particularly hankered after Norse. However, Chester Kallman entered Auden's apartment and, in a manner of speaking, didn't leave until the great poet's death 34 years later.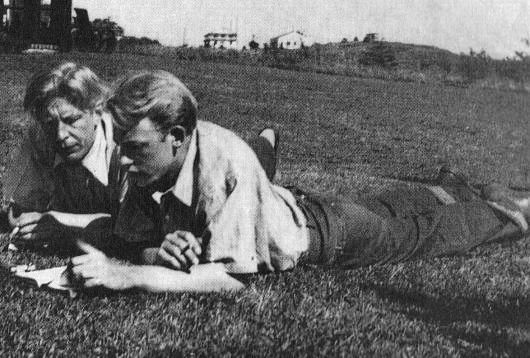 Auden and Kallman in younger days
Together with his lifelong friend (and lover) W.H. Auden, Kallman wrote the libretto for Stravinsky's The Rake's Progress (1951). They also collaborated on two librettos for Henze, Elegy for Young Lovers (1961) and The Bassarids (1966), and on the libretto of Love's Labour's Lost (based on Shakespeare's play) for Nicolas Nabokov (1973). They also wrote a libretto "Delia, or, A Masque of Night" (1953), intended for Stravinsky, but never set to music. They were commissioned to write the lyrics for Man of La Mancha, but Kallman did no work on the project, and the producers decided against using Auden's contributions (who, incidentally, insisted that at the end of the story, Quixote renounce his vision and then we would have never had The Impossible Dream.)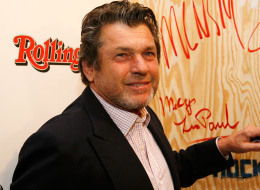 1946
–
Jann Wenner
is the co-founder and publisher of the music and politics biweekly
Rolling Stone
, as well as the current owner of
Men's Journal
and
Us Weekly
magazines.
In 1967, Wenner and Ralph J. Gleason founded Rolling Stone in San Francisco. To get the magazine off the ground, Wenner borrowed $7,500 from family members and from the family of his soon-to-be wife, Jane Schindelheim. In the summer following the start of the magazine, Wenner and Schindelheim were married in a small Jewish ceremony.
In 1995, Wenner found himself in the middle of a media storm when it was revealed that he was leaving his wife Jane after more than 25 years of marriage and had become involved in a relationship with Matt Nye, a former male model turned fashion designer. Wenner's outing, which may or may not have been at his own instigation, seems to have had little effect on his business empire, but it inspired a number of accusations regarding an alleged "Velvet Mafia" of powerful closeted gay men.
Although it had long been rumored that Wenner's marriage was an "open" one and gossip of his bisexuality was widespread and had been mentioned in gay magazines, in 1995 he was publicly outed—on the front page of the Wall Street Journal, no less—when the newspaper revealed that Wenner had left his wife of 28 years for Nye, a considerably younger man who was a former Calvin Klein underwear model.
Rumors of an alleged conspiracy to suppress the news began to circulate. Several journalists reported that the so-called "Velvet Mafia"—a coterie of powerful media, entertainment, and fashion executives who are reputedly gay—had threatened to pull advertising from any publication that wrote about the breakup.

1957 – The American Civil Liberties Union publishes a position paper on sodomy laws and states that it supports the existence of such laws.


Added 2022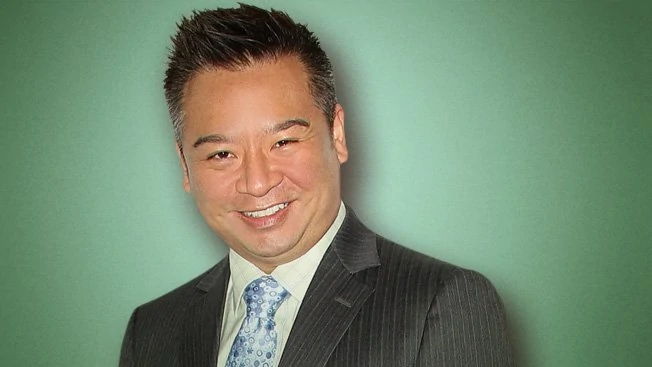 1969 – Rex Lee is an American actor. He is best known for his role as Lloyd Lee in the HBO series Entourage and his role as Elliot Park in the television sitcom Young & Hungry.
Lee was born in Warren, Ohio. His parents emigrated from Korea to the United States. He grew up in the states of Massachusetts and California. He graduated from the Oberlin Conservatory of Music in 1990. Although Lee was studying to be a professional pianist, he decided he wanted to act after taking a theater class in college.
Prior to landing the role on Entourage, Lee had various jobs including performing in the children's theater company, Imagination Company, as well as working as a casting assistant. He was the casting director for the TV movie The Cure for a Diseased Life. Lee has also played roles on a variety of TV shows, including Twins, What About Brian and Maurice on two episodes of Zoey 101.
On Entourage, Lee played Lloyd Lee, the gay assistant to Ari Gold, the character played by Jeremy Piven — eventually becoming an agent and interim head of TMA's television department. Lee began his role in the first episode of the show's second season, "The Boys Are Back in Town", which introduced Lloyd as the replacement to Ari's previous assistant. Lee won the award for Outstanding Supporting Actor, Television at the AZN Asian Excellence Awards in 2007 and 2008.
Lee had a series regular role in the first two seasons of the ABC sitcom Suburgatory, playing Mr. Wolfe, a clueless high school guidance counselor. He appeared as one of the judges at Nationals in the Fox Television Comedy-Drama Glee in season 3. In 2014, he had a starring role in the ABC Family (later rebranded as Freeform) television sitcom Young & Hungry where he plays Elliot Park, the publicist and "right-hand man" to a young tech entrepreneur named Josh. Young & Hungry ran for five seasons, concluding in 2018.
Lee is gay; he came out to his parents when he was 22. In an interview from 2011, Lee said that he was single and looking for something permanent, but that it was difficult to find the right relationship.

1969 – David Yost is an American actor and producer known for his role of Billy Cranston on the television series Mighty Morphin Power Rangers, Mighty Morphin Power Rangers: The Movie and Power Rangers Zeo.
Yost was born in Council Bluffs, Iowa and moved around throughout the United States, winning many gymnastics competitions nationally, most notably the state championships Iowa and Montana. In 1991, graduated from Graceland University in Lamoni, Iowa with a B.A. in Communication and Dramatic Arts. He moved to California with hopes of becoming an actor and auditioned for a role in the Power Rangers series only three months after arriving. He won the part of Billy Cranston, the Blue Power Ranger.
Yost starred in more than two hundred episodes of the show's first four seasons. He was the only Ranger to appear in every single episode of the original series, Mighty Morphin Power Rangers, playing the part of Billy, the Blue Ranger. With powers and motifs based on creatures such as the Triceratops and Wolf, the Mighty Morphin Blue Ranger is still one of the most popular in the franchise thanks to Yost's commitment to the role; Billy never switched colors or passed on his power coins to successors like the rest of the original cast. Yost's most high-profile work was his appearance in Mighty Morphin Power Rangers: The Movie, which took in over thirty million dollars at the box office in 1995. The movie was in theaters between the second and third seasons of M.M.P.R. and served as a non-canonical alternate opening for the third season.
After Mighty Morphin Power Rangers ended and Power Rangers Zeo began in the fourth season, Yost stayed as Billy, but Billy's role within the show changed. Instead of his previous role as a Power Ranger, he became a technical advisor to the others. Yost eventually left the show toward the end of the Power Rangers Zeo season. His character's final episode, "Rangers of Two Worlds", employed footage from previous episodes as well as vocal work from a separate, uncredited actor, to conceal the fact that Yost was not present during the taping. A tribute to the Blue Ranger and Billy was seen in the closing credits of this last Billy episode.
While it was originally believed that he had left the series due to insufficient pay, Yost later revealed in his 2010 interview with No Pink Spandex that he left the series because he could no longer handle harassment by the production crew that targeted his sexual orientation. According to Yost, he was often called a "faggot", and the producers frequently questioned other cast members in private about Yost's sexuality. Yost left late in the fourth season after a week of contemplation instead of continuing work another six months into the second film. He claims that his co-workers involved with writing, filming and producing the show considered him "not worthy" to be where he was and that he "could not be a superhero" because of his homosexuality.
After Yost left Power Rangers, he tried to get rid of his homosexuality with conversion therapy for two years, but this failed. Eventually Yost had a nervous breakdown which resulted in his psychiatric hospitalization for five weeks. After Yost checked out, he moved to Mexico for a year and eventually accepted his sexuality.
In 2002, Yost performed in a play called Fallen Guardian Angels at "the complex" located in Los Angeles for A.P.L.A. (A.I.D.S. Project Los Angeles). The play was about six actors dealing with HIV in various situations. The proceeds went to benefit The Children's Hospitals AIDS Center. The entire production raised over $25,000 and Yost himself raised $5,000 for the hospital and received good reviews from LA Weekly Theatre.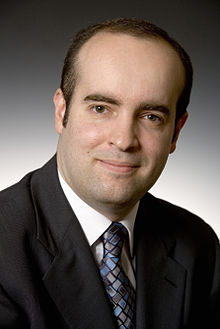 1973 – Paul Ferreira is a Canadian social democratic politician and one of the first openly gay politicians elected to provincial office in Canada. He also has the distinction of being the very first Azorean-Canadian MPP.
Paulo (Paul) Ricardo Branco Ferreira was born in the Azores on January 7, 1973. Along with his family, he immigrated to Canada in 1979. They settled in Brampton, Ontario. He attended primary and secondary schools in the Brampton area and went on to study and graduate from Ottawa's Carleton University. Ferreira is an honours graduate of Carleton University's School of Journalism, where he received awards for academic excellence and community involvement. He speaks English, French and Portuguese.
He was elected to the Legislative Assembly of Ontario as a member of the Ontario New Democratic Party (NDP) in the February 8, 2007 York South-Weston by-election, but was narrowly defeated in the 2007 general election. He subsequently served as chief of staff to party leader Howard Hampton until Hampton's retirement from that position in 2009 and now works as a special advisor to current party leader Andrea Horwath. On Feb. 8, 2011, Ferreira was acclaimed as the Ontario NDP's candidate in York South-Weston in the 2011 provincial election.

1973 – Jack Baker (born 1942) adopts his partner, Mike McConnell (born 1942), in Minnesota for tax benefits. Baker was the president of the University of Minnesota student body. They had applied for a marriage license in 1970 but were denied. They are still together today.


1977 – The government-financed Canadian Broadcasting Corporation releases a new public policy on public service announcements from its headquarters in Ottawa. Nothing controversial would be allowed, and anything 'gay' is deemed controversial.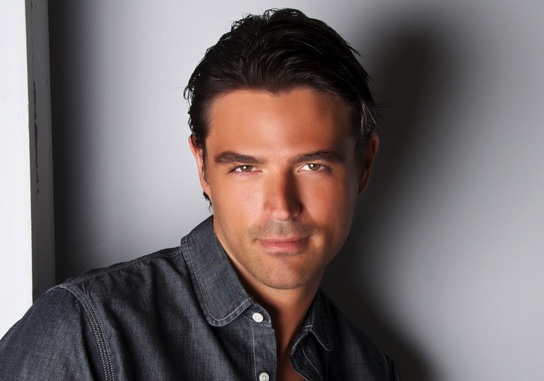 1977 – John Gidding is a Turkish-American architect, television personality, and former fashion model.
Gidding was born in Istanbul, Turkey to an American father and a Turkish mother. He lived in Turkey until moving to the United States for college after attending Leysin American School in Leysin, Switzerland. He graduated from Yale University in 1999 with a BA in architecture, then the Harvard Graduate School of Design with a Master's in architecture.
At Yale he sang a cappella with The Society of Orpheus and Bacchus, and choral music with the Yale Glee Club, and at Harvard he sang with the Harvard-Radcliffe Collegium Musicum. He was voted one of "Yale's 50 Most Beautiful People" in 1999 by Rumpus Magazine, one of "Boston's 50 Most Eligible Bachelors" by The Improper Bostonian in 2002, one of "Atlanta's 50 Most Beautiful People" by Jezebel Magazine and as one of Atlanta Homes and Lifestyles's "Emerging Talent: Twenty Under 40" in 2008.
He is openly gay and, as of August 2013, married to dancer Damian Smith.
Gidding started modeling in 2000 as a graduate student, performing runway shows for Armani, Gucci, and Hugo Boss before being represented by Wilhelmina Models in New York City. He's also been on the covers of numerous romance novels.
Gidding moved to New York City where he started John Gidding Design, Inc. after working for two years as a landscape architect for Michael Van Valkenburgh Associates.
Gidding's start in television was with the ABC Family TV show Knock First, where he and three other designers took turns making over teenagers' bedrooms. Designed to Sell (Giddings' previous show from 2006 to 2011) was canceled in early 2011 but still airs repeats on HGTV, and Knock First is still running in syndication internationally.
He is currently best known for being the architect-designer on Curb Appeal:The Block where his team spends $20,000 on improvements to the exterior landscaping of chosen homeowners. Less expensive touch-ups are done for 2 or 3 nearby neighbors' homes to improve overall neighborhood property values.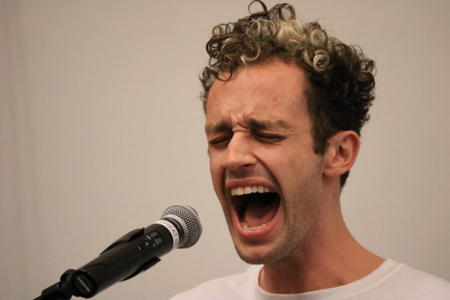 1989 – Stephen Wrabel, better known by his stage name Wrabel, is an American musician, singer and songwriter based in Los Angeles.
Wrabel attended high school at The Kinkaid School in Houston, Texas. After high school, he studied at the Berklee College of Music for a semester until he left Boston to move to LA and focus on songwriting. He got his first big break when he was signed to Pulse Recording as a songwriter.
In 2010, Wrabel recorded the theme song for the NBC game show Minute to Win It, "Get Up", produced by Eve Nelson.
Wrabel was signed to Island Def Jam in 2012.
In 2014, Dutch DJ Afrojack released a version of Wrabel's song "Ten Feet Tall", resulting in an international hit. The song premiered in the United States during Super Bowl XLVIII in a Bud Light commercial and was viewed by around 100 million viewers. Wrabel later released the original piano-based version of the song on May 19, 2014. BuzzFeed named the Afrojack version of "Ten Feet Tall" one of the "35 Best Pop Songs You May Have Missed This Summer".
Wrabel is gay. His song "11 Blocks" is autobiographical describing his feelings about his first love who had moved 11 blocks away from him in California. In his song "Bloodstain", directed by Isaac Rentz, the video displays suffering and heartache in a relationship, while the star Wrabel is fighting for his life.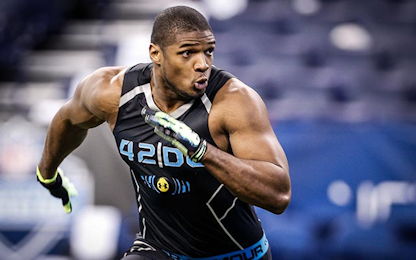 1990 – Michael Sam is an American football defensive end. He attended the University of Missouri, where he played college football for the Missouri Tigers football team for four years. Recruited by a number of colleges, he accepted a scholarship with Missouri. He was a consensus All-American and the Southeastern Conference Defensive Player of the Year as a senior.
Sam is the seventh of eight children born to JoAnn and Michael Sam, Sr. His parents separated when he was young. As a child, Sam watched one of his older brothers die from a gunshot wound. Another older brother has been missing since 1998, and his other two brothers are both imprisoned. A sister who was born before him died in infancy. At one point in his childhood, Sam lived in his mother's car. He was once accidentally maced by police who were arresting one of his brothers.
Sam argued with his mother over playing football, as she did not agree with those pursuits. Sam often stayed with friends while in high school; the parents of a classmate gave him a bedroom in their house and had him complete household chores. Sam is the first member of his family to attend college.
After completing his college football career, Sam publicly came out as gay. If he were to be signed by a National Football League (NFL) team, which analysts think is likely, he would become the first active NFL player to have declared his homosexuality publicly.
In August 2013, Sam took the opportunity of a team introduce-yourself session to inform his Missouri teammates that he was gay, and found them supportive. He avoided talking to the media to avoid addressing rumors of his sexuality. He came out to his father a week before coming out publicly. The New York Times wrote that his father, a self-described "old-school ... man-and-a-woman type of guy", said "I don't want my grandkids raised in that kind of environment." His father told the Galveston Daily News that he was "terribly misquoted", though The Times maintained that he was quoted "accurately and fairly."
On February 9, 2014, he announced that he was gay in an interview with Chris Connelly on ESPN's Outside the Lines, becoming one of the first publicly out college football players. If he is drafted in the 2014 NFL Draft or signed by an NFL team as an undrafted free agent, he could become the first active player who was publicly out in NFL history. Though he was projected as a third- or fourth-round pick in the NFL Draft, anonymous NFL executives told Sports Illustrated that they expect Sam to fall in the draft as a result of his announcement. Those statements caused National Football League Players Association executive director DeMaurice Smith to respond that any team official who anonymously downgrades Sam is "gutless". From jail, his brother Josh said "I'm proud of him for not becoming like me. I still love him, whatever his lifestyle is. He's still my brother and I love him."
On February 15, Sam returned to Missouri with the Tigers football team to accept the 2014 Cotton Bowl championship trophy at a ceremony held at the halftime of a Missouri Tigers basketball game at Mizzou Arena. It was the first visit to his alma mater since he came out as gay. Anti-gay activist Shirley Phelps-Roper and about 15 other members of the Westboro Baptist Church, an organization widely considered a hate group, protested his appearance. Students organized a counter-protest numbering in the hundreds if not thousands, assembling a "human wall" in front of the protesters.
In May, 2014, Sam was drafted by St Louis Rams. He celebrated with a kiss for his boyfriend Vito Cammisano at an NFL draft party. The kiss went viral.

JANUARY 8 →
[{(o)}]|[{(o)}]|[{(o)}]|[{(o)}]| [{(o)}]|[{(o)}]