January 27
[{(o)}]|[{(o)}]|[{(o)}]|[{(o)}]| [{(o)}]|[{(o)}]
Today is International Holocaust Remembrance Day
Why today? Well on this date in 1945 the Soviet Red Army arrived at the Auschwitz-Birkenau concentration camp in Poland and liberated the survivors.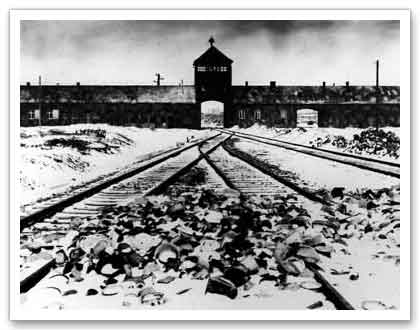 Auschwitz
This is the day we remember the genocide of approximately 11 to 17 million people by the National Socialist German Workers' Party (Nazi) regime in Germany led by Adolf Hitler during World War II. This figure includes the deliberate extermination of six million European Jews, and the Nazi's systematic murder of Roma; Soviet civilians, Soviet prisoners of war; ethnic Poles; the disabled; Homosexual men; and political and religious opponents. Millions of lives taken by hatred and intolerance.
The term holocaust comes from the Greek holókaustos: hólos, "whole" and kaustós, "burnt". It is also known as The Shoah in Hebrew.
The treatment and killings of the over 15,000 homosexual men is less known but we observe and remember them today. Between 1933-45, more than 100,000 men were arrested and registered by police as homosexuals ("Rosa Listen" or "Pink Lists"), and of these, some 50,000 were officially sentenced. Most of these men spent time in regular prisons, and an estimated 5,000 to 15,000 of the total sentenced were incarcerated in concentration camps. It is unclear how many of these 5,000 to 15,000 eventually perished in the concentration camps. The leading scholar Ruediger Lautman however believes that the death rate in concentration camps of imprisoned homosexuals may have been as high as 60%. Homosexuals in camps were treated in an unusually cruel manner by their captors and were also persecuted by their fellow inmates. This was a factor in the relatively high death rate for homosexuals, compared to other "anti-social groups".
James D. Steakley writes that what mattered in Germany was criminal intent or character, rather than criminal acts, and the "gesundes Volksempfinden" ("healthy sensibility of the people") became the leading normative legal principle. In 1936, Himmler created the "Reich Central Office for the Combating of Homosexuality and Abortion". Homosexuality was declared contrary to "wholesome popular sentiment," and homosexuals were consequently regarded as "defilers of German blood." The Gestapo raided gay bars, tracked individuals using the address books of those they arrested, used the subscription lists of gay magazines to find others. They encouraged people to report suspected homosexual behavior and to scrutinize the behavior of their neighbors.
Tens of thousands were convicted between 1933 and 1944 and sent to camps for "rehabilitation" where they were identified by yellow armbands and later pink triangles worn on the left side of the jacket and the right trouser leg, which singled them out for sexual abuse. Hundreds were castrated by court order. They were humiliated, tortured, used in hormone experiments conducted by SS doctors, and killed. Steakley writes that the full extent of Gay suffering was slow to emerge after the war. Many victims kept their stories to themselves because homosexuality remained criminalized in postwar Germany. Around two percent of German homosexuals were persecuted by Nazis.
More recently however German state television channel Deutsche Welle updated this figure to "almost 55,000" deaths following the study of documents from archives in East Germany that had been inaccessible to researchers for decades after the war.
After the war, the treatment of homosexuals in concentration camps went unacknowledged by most countries. Some that did escape were even re-arrested and imprisoned based on evidence found during the Nazi years. It was not until the 1980s that governments acknowledged this episode, and not until 2002 that the German government apologized to the Gay community.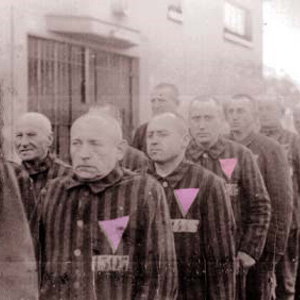 The Pink Triangle
One of the oldest symbols of the modern Gay rights movement is the Pink Triangle, which originated from the Nazi concentration camp badges that Homosexuals were required to wear on their clothing. It is estimated that as many as 220,000 gays and Lesbians perished alongside the 6,000,000 Jews whom the Nazis exterminated in their death camps during World War II as part of Hitler's so-called final solution. For this reason, the Pink Triangle is used both as an identification symbol and as a memento to remind both its wearers and the general public of the atrocities that Gays suffered under Nazi persecutors. ACT-UP (AIDS Coalition to Unleash Power) also adopted the inverted pink triangle to symbolize the "active fight back" against the disease "rather than a passive resignation to fate."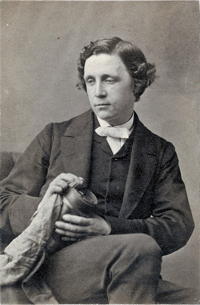 1832 – Lewis Carroll (d.1898) is born in Baresbury, England, named Charles Lutwidge Dodgson. He was an English writer, mathematician, logician, Anglican deacon, and photographer. His most famous writings are Alice's Adventures in Wonderland, its sequel Through the Looking-Glass, which includes the poem "Jabberwocky", and the poem The Hunting of the Snark – all examples of the genre of literary nonsense. He is noted for his facility at word play, logic and fantasy.
Carroll came from a family of high-church Anglicans, and developed a long relationship with Christ Church, Oxford, where he lived for most of his life as a scholar and teacher. Alice Liddell, daughter of the Dean of Christ Church, Henry Liddell, is widely identified as the original for Alice in Wonderland, though Carroll always denied this.
Carroll never married and his sexual identity is the subject of exploration by many historians an biographgers.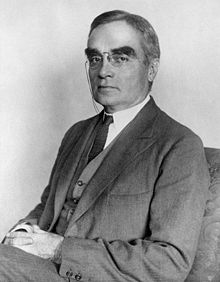 1872 – Billings Learned Hand (d.1961) was a United States judge and judicial philosopher. He served on the United States District Court for the Southern District of New York and later the United States Court of Appeals for the Second Circuit. Hand has been quoted more often than any other lower-court judge by legal scholars and by the Supreme Court of the United States.
Hand was a founding member of the American Law Institute, where he helped develop the influential Restatements of the Law serving as models for refining and improving state codes in various fields. One American Law Institute recommendation was to decriminalize sexual conduct such as adultery and homosexuality, for which reason the July-August 1955 issue of the Mattachine Society Review, the magazine of the country's first nation-wide homosexual organization, published a salute to Judge Hand featuring his photograph on the cover.

1888 - The National Geographic Society was founded In Washington, D.C. They are justly famous for many things but mainly for their magazine and for many gay men, the photographs of naked tribesmen featured in the pages of that yellow-spined National Geographic was their first look at the male form in its glory. ("What? Oh, I'm just interested in ethnography, mother.")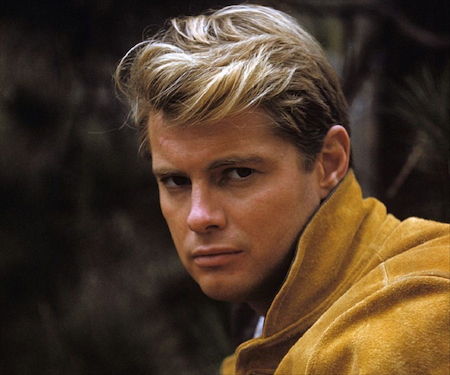 1936 – Troy Donahue, born in New York City (d.2001) was an American actor, known for being a teen idol.
Born Merle Johnson Jr, he was initially a journalism student at Columbia University before he decided to become an actor in Hollywood, where he was represented by Rock Hudson's agent, Henry Willson. According to Robert Hofler's 2005 biography, "The Man Who Invented Rock Hudson: The Pretty Boys and Dirty Deals of Henry Willson," Willson tried out the name Troy on Rory Calhoun and James Darren, with no success, before it finally stuck to Donahue.
The blond heartthrob made a name for himself with uncredited roles in The Monolith Monsters (1957) and Man Afraid (1957); leading to larger parts in several other films, including Monster on the Campus (1958), Live Fast, Die Young (1958), and opposite fellow teen idol Sandra Dee in A Summer Place (1959). A Summer Place was a hit and made Donahue a name, especially among teenaged audiences. He signed a contract with Warner Bros., and met actress Suzanne Pleshette on the set of Rome Adventure. They married in 1964 but divorced later that year.
Warner Bros. put him in a TV series, Surfside 6 (1960–62), one of several spin-offs of 77 Sunset Strip, announced in April 1960. On Surfside 6, Donahue starred with Van Williams, Lee Patterson, Diane McBain, and Margarita Sierra in the ABC series, set in Miami Beach, Florida. After Surfside 6 was cancelled, Donahue joined the cast of Hawaiian Eye, another spinoff of Sunset Strip, for its last season from 1962 to 1963 in the role of hotel director Philip Barton.
After the release of My Blood Runs Cold (1965), Donahue's contract with Warner Bros. ended. He later struggled to find new roles and had problems with drug addiction, alcoholism, and his closeted homosexuality.
He was married again in 1966, to actress Valerie Allen, but they divorced in 1968. In 1970 he appeared in the daytime drama The Secret Storm.
By this time, Donahue's drug addiction and alcoholism had ruined him financially. One summer, he was homeless and lived in Central Park. "There was always somebody who could be amused by Troy Donahue", he says. "I'd meet them anywhere, in a park, street, party, in bed. I lived in a bush in Central Park for one summer. I kept everything I had in a backpack."
After his fourth marriage ended in 1981, Donahue decided to seek help for his drinking and drug use. In May 1982, he joined Alcoholics Anonymous, which he credited for helping him achieve and maintain sobriety. "I look upon my sobriety as a miracle", he says. "I simply do it one day at a time. The obsession to not drink has become as big as the obsession to drink. I was very fortunate."
Donahue continued to act in films throughout the 1980s and into the late 1990s. However, he never obtained the recognition that he had in the earlier years of his career.
On August 30, 2001, Donahue suffered a heart attack and was admitted to Saint John's Health Center in Santa Monica. He died three days later on September 2 at the age of 65.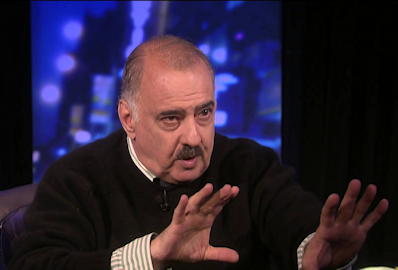 1949 – American author, essayist and cultural critic Ethan Mordden was born today. His stories, novels, essays, and non-fiction books cover a wide range of topics including the American musical theater, opera, film, and, especially in his fiction, the emergence and development of contemporary American Gay culture as manifested in New York City. He has also written for The New Yorker, including fiction, "Critic At Large "pieces on Cole Porter, Judy Garland, and the musical Show Boat, and reviews of a biography of the Barrymores and Art Spiegelman's graphic novel Maus.
His best known fictional works are the inter-related series of stories known collectively as the "Buddies" cycle. In book form, these began with 1985's I've a Feeling We're not in Kansas Anymore. The fifth in the series, 2005's How's Your Romance?, is subtitled Concluding the "Buddies" Cycle. Together, the stories chronicle the times, loves, and losses of a close-knit group of friends, men who cope with the challenges of growing up and growing older. In this circle of best friends, teasing putdowns become performance art, but none of the friends ever attacks any other friend's sensitive spots.
Mordden thus breaks away from the gay model proposed by Mart Crowley's play The Boys in the Band, in which supposed best friends assault one another relentlessly in a style that has bedeviled gay art ever since, for instance in the television series Queer As Folk. Mordden's ideal of Gay friendship presents men who genuinely like themselves and one another. They are unique in Gay lit in that they respect the limits of privacy. This explains their devotion to one another: this "family" is a safe place.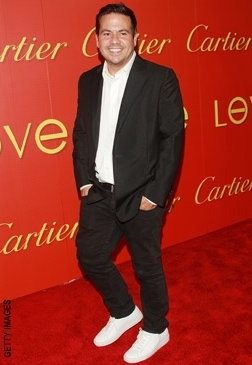 1961 – Today is the birthday of the Cuban-American designer Narciso Rodriguez. Rodriguez was born to Cuban immigrants Narciso Rodríguez II, a longshoreman, and Rawedia María Rodríguez and grew up in Newark, New Jersey. Rodriguez realized at a young age that he was gay and wanted to become a professional designer. His parents were against Narciso entering fashion:
"They wanted me to be a doctor or a lawyer or a dentist. So when I dared to tell them, the shit hit the fan. It was crazy. But no matter how many times I heard 'No,' I just kept going. I never thought about 'no'. 'No' wasn't an option."
He received his formal education at the prestigious Parson's School of Design in New York. Following freelance work in New York's garment industry, he joined Anne Klein as Women's Design Director under Donna Karan. Later, he moved to Calvin Klein where he worked on the Women's Collection.
In 2005, he became the first American to win the Council of Fashion Designers of America Womenswear Designer of the Year Award two years in a row. However, by 2006, Rodriguez, who had ended his partnership with his label's manufacturer, Aeffe, was over $1 million in debt to his suppliers, and needed fabric donations for his spring collection. The subsequent collection met with enthusiastic reviews and revived his fortune. His clients include Salma Hayek, Claire Danes, Sarah Jessica Parker, Rachel Weisz, and Sonia Braga.
On November 4, 2008, Michelle Obama wore a dress from Narciso Rodriguez's spring 2009 collection when she joined her husband, Barack Obama, appearing for the first time as president-elect of the United States, on the stage at Grant Park in Chicago.
The gay designer is single. He lives with two terriers and a Chihuahua in a Chelsea penthouse on West 23rd Street, New York.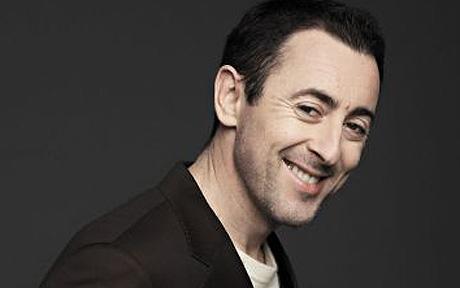 1965 – Scottish actor, director and screenwriter Alan Cumming was born on this date. Born in Aberfeldy, Perthshire, Cumming studied at the Royal Scottish Academy of Music and Drama in Glasgow, where he met Forbes Mason, with whom he formed the comedy duo Victor & Barry; and Hilary Lyons, who he later married (in 1985) and divorced (in 1993).
Cumming lives in New York City with his husband, graphic artist Grant Shaffer, whom he marrrried in 2007, and their dogs, Honey and Leon. The couple dated for two years before entering into a civil partnership at the Old Royal Naval College in Greenwich on January 7, 2007. Cumming and Shaffer remarried in New York on January 7, 2012, the fifth anniversary of their London wedding.
Once described as "a frolicky pansexual sex symbol for the new millennium", Cumming has stated that he considers himself bisexual, "although the pendulum has obviously swung". Previous relationships include his eight-year marriage to actress Hilary Lyon, a two-year relationship with actress Saffron Burrows, and a six-year relationship with theater director Nick Philippou. After his civil partnership with Shaffer, when asked if he was monogamous, he stated "I don't believe that monogamy is feasible". In 2006, Cumming stated that he "would dearly like to adopt a child", but that his life was "too hectic" for children.
Cumming used to be a member of the Church of Scotland until his mother received a letter from them saying they had "read something about me being an atheist and would I like to leave". He said he had attended out of tradition, but realized being a part of it was "only condoning and validating lots of things I disapprove of: oppression, guilt, shame, etc".
Since coming out as bisexual in 1998, Cumming has promoted LGBT rights, emceeing and attending fundraisers for organizations such as the Gay & Lesbian Alliance Against Defamation (GLAAD) and the Human Rights Campaign (HRC), as well as several AIDS charities, including the American Foundation for AIDS Research (AMFAR) and Broadway Cares/Equity Fights AIDS. Cumming is also a patron of NORM-UK, an English-registered charity concerned with foreskin health and matters related to circumcision; he has revealed that he is not circumcised.
Cumming has had a very active acting career and has been in various shows from TV's "Third Rock from the Sun" to LOGO's "Rick & Steve the Happiest Gay Couple in All the World" and films from Goldeneye, Eyes Wide Shut and the X-Men movies.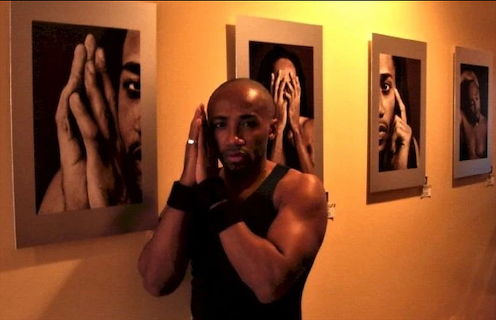 1966
–
Taylor Siluwé
, popular writer, blogger and activist was born in Jersey City, where he lived most of his adult life. He studied creative writing at New York University, fulfilling what he considered
"a burning passion to write."
Known for his darkly erotic and humorous story telling style, Taylor's writing has been featured in numerous publications including Details, Venus, Literary New York, Out IN Jersey, FlavaLIFE, and the E-zine Velvet Mafia. His short stories appeared in the anthologies Law of Desire and Best Gay Erotica 2008. In addition, Taylor published two sexually charged short story collections, Dancing With the Devil and Cheesy Porn…and other Fairy Tales.
Taylor's writing reached new heights of popularity on his blog, SGL Café.Com, which combined a canny combination of the personal and political. Taylor's blog served has a fiery, and often hilarious, platform for the rights of same-gender-loving men, while also providing insightful and candid asides on his personal life, popular culture and his struggle with cancer.
On Sunday, June 19, 2011, Taylor Siluwé died from lung cancer in his home in New Jersey. He was 43 years old.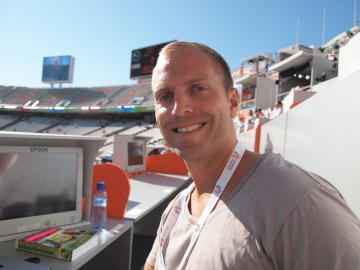 1976 – Erik Peter Häggström, born in Malmö, is a Swedish athlete who competed in the long jump. He represented Sweden at the 2000 Summer Olympics, where he placed 11th in his heat and 24th overall in the qualifying round. Following his retirement from competition, he began working for Swedish Television.
He came out as gay in November, 2009.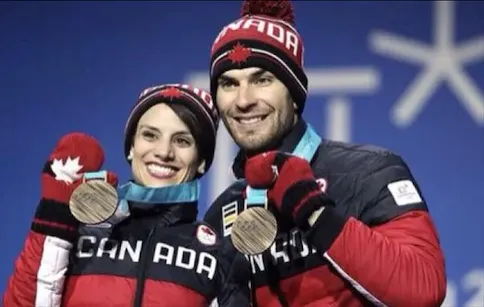 Radford with Duhamel

1985 – Eric Radford is a Canadian pair skater. With skating partner Meagan Duhamel, he is a two-time World bronze medalist (2013 and 2014), the 2013 Four Continents champion, the 2014-15 Grand Prix Final champion, and a three-time Canadian national champion (2012-14).
Radford began skating when he was eight years old. He competed with Sarah Burke on the ISU Junior Grand Prix series in 2003 in the Czech Republic and 2004 in Hungary, placing 6th and 5th respectively. He also competed in single skating. At the 2005 Canadian Championships, he became trapped in an elevator just before he was scheduled to skate in the men's qualifying round but eventually escaped and was able to compete.
Radford teamed up with Rachel Kirkland in 2005. They were coached by Brian Orser in Toronto and part-time by Ingo Steuer in Chemnitz, Germany. They competed at the 2007 Canadian Championships where they finished 5th. After finishing 7th at the 2009 Canadian Championships, they ended their partnership.
Radford moved back to Montreal in 2009. He teamed up with Anne-Marie Giroux and finished 8th at the 2010 Canadian Championships.
At a coach's suggestion, Radford had a tryout with Meagan Duhamel and they decided to compete together. They won a silver medal at the 2011 Canadian Championships and were assigned to the Four Continents and World Championships. At Four Continents, the pair won a silver medal. During the short program at the 2011 World Championships, Radford's nose was broken when Duhamel's elbow hit him on the descent from a twist, their first element – she opened up too early. Seeing the blood, Duhamel suggested they stop, but he decided to continue. They finished the program without a pause. Duhamel had not done a triple twist since 2005, and the new pair only began performing it before the Canadian Championships.
In the 2011–12 season, Duhamel/Radford won bronze medals at their Grand Prix events, the 2011 Skate Canada and 2011 Trophée Eric Bompard. They won their first national title and finished 5th at the 2012 World Championships. The next season, Duhamel/Radford won silver at their Grand Prix events, the 2012 Skate Canada International and 2012 Trophée Eric Bompard. They then won their second national title and their first Four Continents title. Duhamel/Radford stepped onto the World podium for the first time at the 2013 World Championships in London, Ontario where they won the bronze medal.
In 2014, Duhamel/Radford skated their short program to music composed by Radford as a tribute to his late coach Paul Wirtz. After finishing seventh at the 2014 Winter Olympics in Sochi, they returned to the podium at the 2014 World Championships, where they scored personal bests in both the short program and the free skate on their way to a second bronze medal.
In December 2014, Radford publicly came out as gay in an interview with the LGBT publication Outsports. In doing so, he became the first competitive figure skater ever to come out at the height of his career while still a contender for championship titles, rather than waiting until he was near or past retirement; at the 2015 World Figure Skating Championships, Radford and Duhamel's gold medal win in pairs skating made him the first openly gay figure skater ever to win a medal at that competition. He is an ambassador for the Canadian Olympic Committee's #OneTeam program to combat homophobia in sports.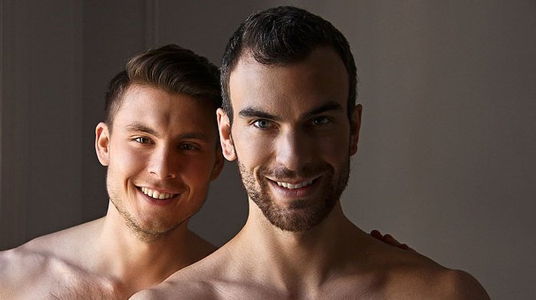 Radford with husband Fenero
Radford became engaged to his boyfriend, Spanish ice dancer Luis Fenero, on June 10, 2017. They wed on July 12, 2019.
Radford coaches skating in addition to competing. He studied music at York University, and plays piano and writes and composes music, and is registered as a member of the Society of Composers, Authors and Music Publishers of Canada.

1995 – At a press conference in Washington, DC, the House majority whip, Dick Armey, refers to Representative Barney Frank as 'Barney Fag.' He later apologizes, insisting it was a slip of the tongue.

JANUARY 28 →
[{(o)}]|[{(o)}]|[{(o)}]|[{(o)}]| [{(o)}]|[{(o)}]