January 28
[{(o)}]|[{(o)}]|[{(o)}]|[{(o)}]| [{(o)}]|[{(o)}]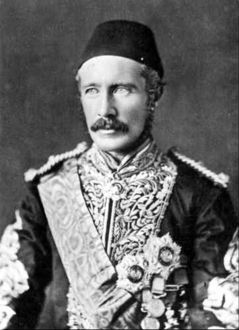 1833 – Charles George "Chinese" Gordon aka Gordon of Khartoum, British soldier and administrator born (d.1885); A military hero of imperial Britain and a martyr at Khartoum, Gordon worried constantly about his inability to score with women, several times wishing himself either a eunuch or a corpse. His wish to die in battle, which was eventually granted him, no doubt accounted for his almost legendary bravery.
Although the record shows that he surrounded himself with beautiful young men, his sense of honor and his religious convictions make it doubtful that his soul was ever sullied, no less his pud. Still, he found a novel way to gratify his senses. He was fond of picking up street urchins, bathing them, feeding them, and mending their clothes with his own needle and thread.
What evidence is there of his homosexuality? Firstly he began his days by having a cold bath (a fact cited by many authors). This is often explained as being necessary to "cool his passions." Secondly, there is his liking for small children, in particular boys. There is no doubt that Gordon enjoyed the company of young boys. From all accounts he seemed to have sought them out, spent time with them in his home and nursed them when they were sick. It has to be said that this suggests not only latent homosexuality but latent paedophillia. Thirdly, there is Gordon's aversion to women: he is on record as having refused invitations from women if he felt that he was being lined up to marry a young woman. Gordon remained a bachelor all of his life.
On their own, none of these facts provide conclusive proof of homosexuality, but taken as a whole, to the modern mind, it would seem to be fairly conclusive proof that Gordon was, as biographer John Pollock puts it, "sexually orientated towards men." His homosexuality was apparently discreet, as many accounts make no mention of it.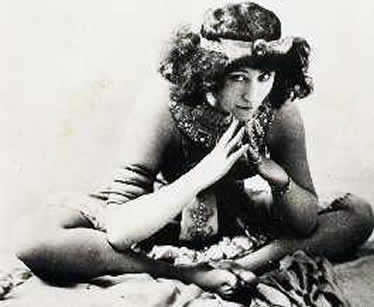 1873 – Gabrielle Sidonie Colette, French writer (d.1954); The great French writer's affairs with women are well known, but equally so are her affairs with men. Colette's was a concept of androgyny in which everyone was predisposed to discover within herself, himself, and in other people, a subtle mixture of male and female components. "Once the precious tresses are cut," she wrote, "the breasts, hands, bellies, hidden, what is left of our female facades? In sleep, an incalculable number of women approach the form they would probably have chosen had their life awake not made them ignorant of themselves. And the same for me. I can still see the gracefulness of a sleeping man! From forehead to mouth, behind his closed eyelids, he smiled, nonchalant and sly as a sultana behind her grilled window ... And I, who would have in my stupidity `really liked' to be completely a woman, I looked at him with a male regret." Ambivalence was Colette's middle name.
in 1905, Colette was introduced to Natalie Clifford Barney's circle, and met Missy, the Marquise de Belboeuf, with whom she had a six-year relationship. Following her separation from her first husband—she was married three times- in 1906, Colette made her living as a professional dancer and mime (the subject of her 1911 novel The Vagabond).
One of the most famous incidents of this period involved a performance at the Moulin Rouge of a pantomime in which the amateur Missy (who had taken a few lessons for this purpose) played the male role as the mysterious "Yssim" (no one was fooled) opposite Colette. As Colette arose from a sarcophagus, she and Missy acted out a love scene together: Their passionate kiss resulted in a near-riot among the protesting spectators.
She published around 50 novels in total, many with autobiographical elements. Her themes can be roughly divided into idyllic natural tales or dark struggles in relationships and love. All her novels were marked by clever observation and dialogue with an intimate, explicit style. Her most popular novel, Gigi, was made into a Broadway play and a highly successful Hollywood motion picture, Gigi, starring Maurice Chevalier, Louis Jourdan and Leslie Caron.
A controversial figure throughout her life, Colette was open about her Lesbian affairs. She aided her Jewish friends, including hiding her husband in her attic all through the war. She was a member of the Belgian Royal Academy (1935), president of the Académie Goncourt (1949) (and the first woman to be admitted into it, in 1945), and a Chevalier (1920) and a Grand Officier (1953) of the Légion d'honneur.
When she died in Paris on August 3, 1954, she was given a state funeral, although she was refused Roman Catholic rites because of her divorce. Colette is interred in Le Père Lachaise Cemetery in Paris.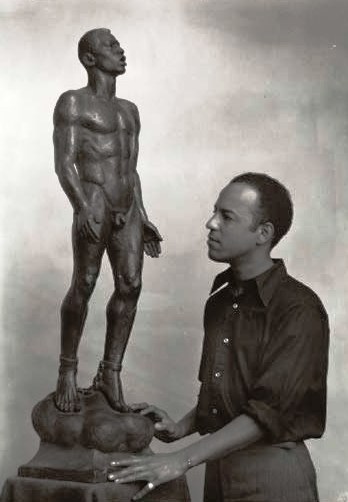 1901 – James Richmond Barthé was a popular African-American sculptor associated with the Harlem Renaissance. (d.1989) He used his art as a means of working out internal conflicts related to race and sexuality.
Born on January 28, 1901, in Bay St. Louis, Mississippi, into a family of devout Roman Catholic Creoles, Barthé left home at sixteen to work as a houseboy for a wealthy and socially prominent New Orleans family.
In 1924, he moved to Chicago, where he took evening art classes and discovered his talent for sculpture. Only months before the stock market crash in 1929, Barthé moved to New York City. There he quickly made the acquaintance of many important artists, writers, patrons, and other intellectuals of the Harlem Renaissance.
Although he became renowned as a portraitist of celebrities in the worlds of art, theater, and dance, Barthé produced a variety of sculptures throughout his career. His three major themes are racial politics, religion, and eroticism.
Barthé's life and art were devoted to resolving the pressures he felt as a black artist in New York, as a deeply spiritual person, and as a homosexual. His sculptures became the means through which he attempted to work out and work through these conflicts.
In 1931, Barthé's solo exhibition in a New York gallery brought him to the attention of critics. His work expresses a range of emotions and experiences, from lynching as a social reality for blacks to the eroticism of dance. For Barthé, dance was an inexhaustible theme; he even took dance lessons with Mary Radin of the Martha Graham group soon after arriving in New York as a way to authenticate movement in his figures. Many of his dancing figures suggest the sculptor's erotic involvement with the single male (or female) subject in motion.
Barthé was unique among African-American artists during the Harlem Renaissance in that he was the only one to exploit fully the black male nude for its political, racial, aesthetic, and erotic significance, as in Feral Benga and Stevedore. His homoeroticism is expressed in both Western mythological themes and in notions of the Africanized primitive.
Although Barthé remained closeted all his life, he entered an established network of gay men and women soon after his arrival in Harlem in 1929. His penchant for homoerotic themes was encouraged by his friends in New York's gay and artistic communities, which stretched across barriers of race, gender, and class. His most important African-American supporters included his friend and one-time lover, writer/painter Richard Bruce Nugent, as well as philosopher Alain Locke.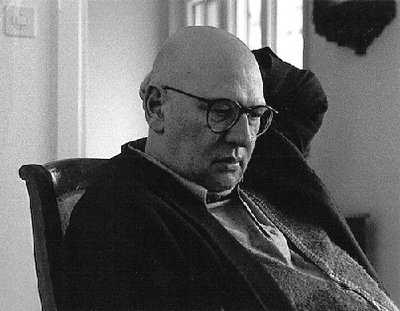 1940 – Today is the birthdate, of the Swiss novelist, pianist and actor Guido Bachmann (d.2003). Born in Luzern, Bachmann's works includes Gilgamesch (1966), Madeira (1976), Die Parabel (1978), Echnaton (1982), and Dionysos (1990).
Gilgamesh was the first book published by Bachmann in 1966. The book is devoted to Bach's friend Alfred Arm. Roland Steinmann, the protagonist of the novel, is a gifted, complicated, vulnerable youth who has problems because of his love for another young adolescent boy named Christian. The educational and social-problem novel is considered critical, modern, and timeless.
The novel led, among other things because of its provocative depiction of human sexuality, to the "Burgdorfer literary scandal," when the novel appeared in 1966, due to the homoerotic passages of conversation in it. After a reading at the student literary club, the Burgdorf Group of 67, on 17 January 1967, it came to a head: The student Martin Schwander, the organizer of the reading, was expelled from school, and the Group of 67 was put under pressure so that it dissolved. Under pressure from the public, the high school student was later re-admitted to school.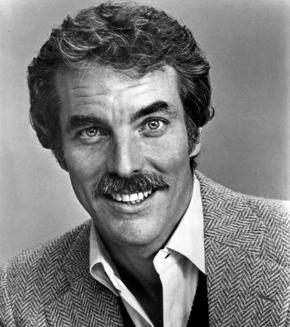 1941 – Joel Crothers (d.1985) was an American actor who, in 1981, was noted by columnist Liz Smith to so strongly resemble Tom Selleck that they could be twin brothers. His credits primarily included stage and television work, including a number of soap opera roles, the best known being that of Miles Cavanaugh on The Edge of Night, who he played for eight years. He was also known for his roles as Joe Haskell and Lt. Nathan Forbes on Dark Shadows.
Crothers' soap opera fame helped draw attention to the ground-breaking off-Broadway play Torch Song Trilogy. The play made major stars of its writer (and lead performer) Harvey Fierstein and castmates Estelle Getty and Matthew Broderick – but when it premiered, Crothers was better known than any of them and received star billing on posters, playbills, and even the tickets. Fierstein played Arnold, a world-weary, drag queen; Crothers played Arnold's bisexual lover, Ed. He left the cast when Torch Song transferred to Broadway. Brian Kerwin played Ed in the film version.
Though Crothers was gay, he remained in the closet publicly and was engaged to actress Veleka Gray at the time of his death. They became close friends on the set when they played the lovers Julian Cannell and Vicki Paisley in Somerset. He chose to share his sexual orientation only with his friends and co-workers. Crothers died from AIDS-related lymphoma on November 6, 1985. His remains were cremated and scattered in Lake George, New York.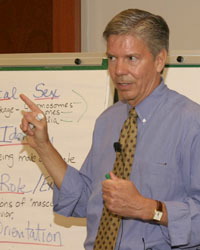 1948 – Brian McNaught, activist and author, was born in Detroit, Michigan. He was educated in the Catholic schools, and at Marquette University, from which he graduated in 1970 with a degree in journalism.
McNaught's varied political and social activism includes his being a conscientious objector during the Vietnam War, protesting discrimination in the Catholic Church by going on a three week hunger strike, and serving as a spokesperson for gay and lesbian rights, especially as they pertain to the Catholic Church.
He has had careers as a newspaper columnist, writer, political appointee, gay activist, sexuality and AIDS educator, and corporate sensitivity trainer. McNaught has given numerous lectures and workshops at universities and corporations to help people gain a better understanding of gay and lesbian issues in the academic environment and the workplace.
McNaught served for two years, 1982-1984, as Boston Mayor Kevin White's liaison to the gay and lesbian community, the first full-time position of its kind. During this time, he worked with the mayor to write and implement the Boston Project, whose goal was to improve life for the city's gay and lesbian citizens. The project invited gay people to testify before city panels about how they were being treated. McNaught also established the first city government task force on AIDS in Boston in 1983.
As a newspaper columnist, McNaught wrote for several gay and Catholic publications, including the Michigan Catholic, the Blade, the Metro Gay Times, and Alive! magazine, as well as writing guest columns for several other publications. McNaught has also written books and produced videos. He has published On Being Gay, both as a book and video, and A Disturbed Peace, Gay Issues in the Workplace, Growing up Gay and Lesbian, Homophobia in the Workplace, and Now that I'm Out, What do I do?
His papers are in a collection at Cornell University.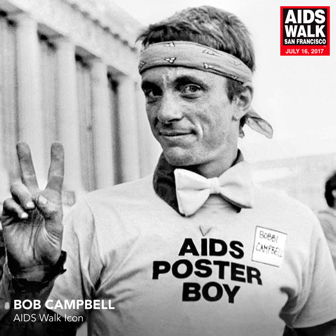 1952 – (Robert Boyle) Bobbi Campbell Jr. (d.1984) was a public health nurse and an early United States AIDS activist. In September 1981, Campbell became the 16th person in San Francisco to be diagnosed with Kaposi's sarcoma, when that was a proxy name for an AIDS diagnosis. He was the first to come out publicly as a person with what came to be known as AIDS, writing a regular column in the San Francisco Sentinel, syndicated nationwide, describing his experiences and posting photos of his KS lesions to help other San Franciscans know what to look for, as well as helping write the first San Francisco safer sex manual.
He rapidly became one of the leading activists co-founding People With AIDS San Francisco in 1982 and then, the following year, with HIV+ men from across the U.S., he co-wrote the Denver Principles, the defining manifesto of the People With AIDS Self-Empowerment Movement. Appearing on the cover of Newsweek and being interviewed on national news reports, Campbell raised the national profile of the AIDS crisis among heterosexuals and provided a recognizable face of the epidemic for affected communities. He also lobbied Margaret Heckler, Secretary of Health and Human Services in the Reagan administration over both practical issues and stigmatising medical practices affecting people with AIDS. He also continued to campaign for LGBT+ rights, speaking outside the 1984 Democratic National Convention a month before his death from cryptosporidiosis.
Born in Georgia in 1952 and raised in Tacoma, Washington, Bobbi Campbell earned a degree in nursing from the University of Washington and volunteered at The Seattle Counseling Services for Sexual Minorities, the first gay-run counseling service for gay people in the country, while being politically active in Seattle during the city's initial wave of gay liberation in the 1970s. He lived communally in Capitol Hill with other gay male activists at what was known informally as the "East John Street Gay Men's Collective", described by his former lover Tom Richards as "a notorious and famous house with colorful and smart people."
Campbell moved from Seattle to San Francisco in 1975, getting a job in a hospital near The Castro and immersing himself in the political and social life of the community, which had become a center for the LGBT community over the previous few years. By 1981, he had enrolled in a training program at University of California, San Francisco, to become an adult health nurse practitioner, with a view to focusing on healthcare in the gay and lesbian community.
Starting with a case of shingles in February 1981, Bobbi Campbell suffered a succession of unusual illnesses, including leukopenia later that summer. After hiking the Pinnacles National Monument with his boyfriend in September that year, he noticed on his feet lesions of Kaposi's sarcoma (KS), then thought of as a rare cancer of elderly Jewish men but with alarming numbers of cases appearing in California and New York and now known to be closely associated with AIDS. He was formally diagnosed as having KS by dermatologist Marcus Conant on October 8, 1981. This would become Conant's first diagnosis of a patient with what would become known as AIDS; Campbell brought Conant a rose every year to commemorate the anniversary of his diagnosis.
Campbell died at San Francisco General Hospital when his blood pressure dropped rapidly. His parents and his partner Bobby Hilliard were by his side. Campbell was 32 years old and had lived for over 3½ years with AIDS.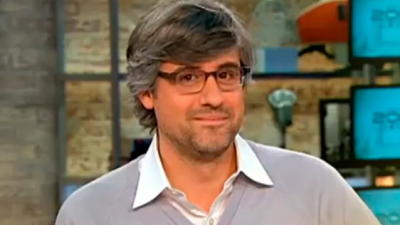 1969 – (Maurice Alberto) Mo Rocca is an American humorist, journalist, and actor. He is a correspondent for CBS Sunday Morning, the host and creator of My Grandmother's Ravioli on the Cooking Channel, and also the host of The Henry Ford's Innovation Nation on CBS. He is the moderator of the National Geographic Society's National Geographic Bee. He is the host of the podcast Mobituaries with Mo Rocca from CBS News.
Rocca was born in Washington, D.C.; his mother immigrated there from Bogotá, Colombia in 1956 at age 28, and his father was a third generation Italian-American from Leominster, Massachusetts. He attended Georgetown Preparatory School, a Jesuit boys' school in North Bethesda, Maryland. He graduated from Harvard University in 1991 with a bachelor of arts degree in literature. He served as president of Harvard's Hasty Pudding Theatricals, performing in four of the company's notorious burlesques and co-authoring one (Suede Expectations).
Rocca began his career acting on stage in the Southeast Asia tour of the musical Grease (1993) and Paper Mill Playhouse's South Pacific (1994). His first television work was as a writer and producer for the Emmy and Peabody Award-winning children's television series Wishbone. He also wrote for The Wubbulous World of Dr. Seuss on the Nickelodeon TV channel and Pepper Ann on the ABC TV network. In 2011, he won an Emmy as a writer for the 64th Annual Tony Awards.
In July 2011, Rocca revealed on The Six Pack podcast (episode 73) that he is gay. His participation in Pope Francis' September 2015 Mass in Madison Square Garden was hailed by gay rights advocates.

1976 – The formation of Gay American Indians (GAI) is reported in the Advocate. Founding members are Barbara May Cameron and Randy Burns. GAI is the first Native gay and lesbian organization in the US and contributed to the rise of the Two Spirit movement. By the end of the twentieth century, GAI had grown to over 600 members and spawned other gay American Indian groups in San Diego, Toronto and New York City under the name "Two-Spirit People." GAI has documented berdache roles in over 130 Native American tribes. Burns' own Northern Paiute tradition has traditional berdache roles: tuva'sa(male) moroni noho (female).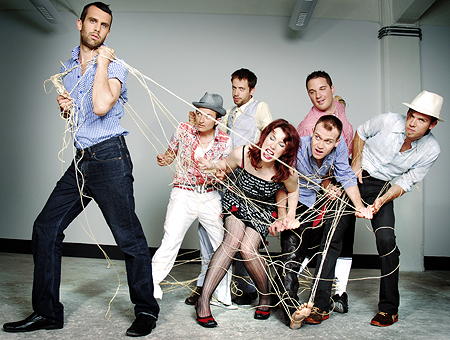 Joel Gibb & The Hidden Cameras

1977 – Joel Gibb is a Berlin-based Canadian artist and singer-songwriter who leads the "gay church folk" group The Hidden Cameras. He was born in Kincardine, Ontario.
His first involvement with the music scene was as editor of a fanzine devoted to independent bands, Glamour Guide for Trash. He also hosted a college radio show at CFRE-FM in Mississauga, Ontario. At the same time, he was writing his own songs and, in 2001, he released some of his recordings under the name The Hidden Cameras on his own independent record label EvilEvil, a CD entitled Ecce Homo.
He then gathered together a group of musicians to perform his work, playing everywhere from art galleries to churches to porn theatres to parks. Along the way, the band grew to include up to thirteen members, including a string section, choir and go-go dancers, its audience growing at the same time.
In 2003 the Hidden Cameras were signed to Rough Trade, a well known British record label who released the band's next album, The Smell of Our Own the same year. They began to tour North America and Europe extensively. In 2004, the album Mississauga Goddam was released, followed by The arms of his 'ill' on the California label Absolutely Kosher Records. The album Awoo came out in 2006 on Rough Trade Records, EvilEvil, and Arts & Crafts. All The Hidden Cameras releases to date have been produced by Joel Gibb. In 2007, solo recordings by Gibb were released on the tribute to Arthur Russell compilation EP, Four Songs by Arthur Russell. (Arthur Russell was a gay American composer, singer and musician who died of AIDS in 1992.)
In 2009, he joined forces with PETA in the campaign against the annual seal hunt, appearing on a massive poster in downtown Ottawa reading "Canada's Club Scene Sucks," referring to the clubbing to death of the seals on the icepack.
Gibb exhibits his artwork in various galleries and has been included in group shows in the past at the Tate Modern, among others. His work comprises drawings and banners, both of which are featured on The Hidden Cameras CDs and records. He also shows the videos he has directed for The Hidden Cameras.


1977 – Charges are dismissed against 16 of 22 men arrested as found-ins in Club Ottawa.

1982 – U.S. Defense Department declares gays and lesbians may not serve in the military, and all recruits will be asked about their sexual orientation.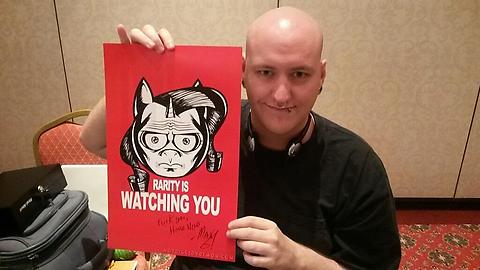 1988 – Max Gilardi, also known by his online handle HotDiggedyDemon, is an American animator, voice actor, and YouTuber. He is best known for his "PONY.MOV" web series, a parody of the popular children's animated television series My Little Pony: Friendship Is Magic. He is also the creator of Spookyville, USA, the Jerry series and Wacky Game Jokez, 4 Kidz! and co-creator of podcast 'Wisenheimers' aka 'unofficial Scott Pilgrimcast'
Gilardi was born in Massachusetts in 1988. He attended the Art Institute of Boston briefly before dropping out.
Gilardi, under the name "HotDiggedyDemon", first started creating flash animations in the early 2000s on Newgrounds.com. In 2007, he began uploading his work to his YouTube channel as well. That year, he created the "Jerry" series, a series of animations detailing the life of a man named Jerry. In 2010, he created the "Wacky Game Jokez, 4 Kidz!" series, also known as "WGJ4K", featuring video game-based humor.
From 2011 to 2013, he gained notability for releasing his six-part video parody of My Little Pony: Friendship Is Magic, "PONY.MOV", an adult dark comedy animated web series in the art style of The Ren & Stimpy Show. The series grew as a spin-off of Gilardi's Tumblr webcomic, "Ask Jappleack", and each video highlights a different character from the main cast of the television series. In addition to creating animations, he co-hosted the Wisenheimers podcast with fellow animator Yotam Perel from 2010 to 2012.
Little else is known about the author who is self-described as 'a bit shy, an introverted Ratalian, and open homosexual and gay rights activist.' He is 6 foot 4 inches in height but has said that he would trade it all to be shorter with a larger penis.

JANUARY 29 →
[{(o)}]|[{(o)}]|[{(o)}]|[{(o)}]| [{(o)}]|[{(o)}]