November 19
[{(o)}]|[{(o)}]|[{(o)}]|[{(o)}]| [{(o)}]|[{(o)}]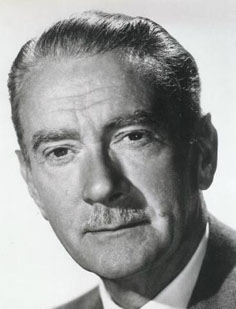 1889 – Clifton Webb (d.1966) was an American actor, dancer and singer born Webb Parmelee Hollenbeck in a rural part of Marion County, Indiana, which would, in 1906, become Beech Grove, a self- governing city entirely surrounded by Indianapolis. Webb's parents were Jacob Grant Hollenbeck, the son of a grocer from a multi-generational Indiana farming family, and Mabelle A. Parmelee, the daughter of a railroad conductor. In 1892, Webb's formidable mother, Mabelle, moved to New York City with her beloved "little Webb," as she called him for the remainder of her life. She dismissed questions about her husband Jacob, a ticket clerk who, like her father, worked for the Indianapolis-St. Louis Railroad, by saying, "We never speak of him. He didn't care for the theater."
Webb was in his mid-fifties when actor/director Otto Preminger chose him over the objections of 20th Century Fox chief Darryl F. Zanuck to play the classy, but evil, radio columnist Waldo Lydecker, who is obsessed with Gene Tierney's character in the 1944 film noir, Laura. His performance was showered with acclaim and made him an unlikely movie star. Despite Zanuck's original objection, Webb was immediately signed to a long-term contract with Fox. Two years later he was reunited with Tierney (with whom he shares this birthdate) in another highly praised role as the elitist Elliott Templeton in Somerset Maugham's The Razor's Edge (1946). He received Academy Award nominations for Best Actor in a Supporting Role for both. Webb received an Oscar nomination for Best Actor in a Leading Role in 1949 for Sitting Pretty, the first in a three-film series of comedic Mr. Belvedere features with Webb portraying the snide and omniscient central character.
Webb's elegant taste kept him on Hollywood's best-dressed lists for decades. Even though he exhibited comically foppish mannerisms in portraying Mr. Belvedere and other movie characters, his scrupulous (read "deeply closeted, highly repressed") private life kept him free of scandal. The character of Lynn Belvedere is said to have been very close to his real life — he had an Oedipal devotion to his mother Mabelle, who was his companion and who lived with him until her death at age ninety-one. Webb's mourning for his mother continued for a year with no signs of letting up, prompting Noël Coward to remark of Webb, "It must be terrible to be orphaned at 71."
Among the many stories, once, he and Tallulah Bankhead were smitten with the same handsome Austrian army officer and vied for the uniformed stud's favors. While Tallulah did her stuff vamping him, Webb retreated for a moment, and returned with an armload of roses. To Tallulah's amusement and the officer's shock, Webb danced around the man and began pelting him with flowers. Tallulah won.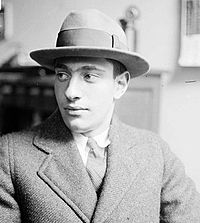 1904 – US. Murderer Nathan Leopold (d.1971) and his partner Richard Loeb were highly educated young men from wealthy Chicago familes who saw themselves as Nietzchean supermen who were entitled to ignore the moral codes that bind lesser men. Beginning with minor delinquency, they embarked on a deliberate life of crime, leading up to the murder of a 14 year old boy, with the sole motive of committing the perfect crime. They kidnapped and murdered 14-year-old Robert "Bobby" Franks in 1924 in Chicago.
Once apprehended, Leopold and Loeb retained Clarence Darrow as counsel for the defense. Darrow's summation in their trial is noted for its influential criticism of capital punishment as retributive, rather than a rehabilitative penal system. Leopold and Loeb were sentenced to life imprisonment. Loeb was killed by a fellow prisoner in 1936; Leopold was released on parole in 1958.
Allegations that there was a sexual element in the boy's abduction and murder have not been proven, but their own relationship was sexual.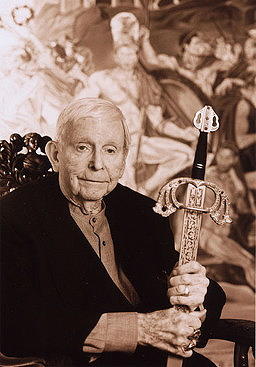 1919 – Morris Kight (d. 2003) was a gay rights pioneer and peace activist, based in Los Angeles. He is considered one of the original founders of the gay and lesbian civil rights movement in the United States.
Kight was born and grew up in Comanche County, Texas. From 1941 until 1958, Kight lived in northern New Mexico, where he and many other gay people were active in Adlai Stevenson's campaign in the 1952 presidential election. The presence of many gay people in Stevenson's campaign led to the spreading of a rumor that Stevenson was gay.
While in New Mexico, Kight married and had two daughters, Carol Kight-Fyfe and Angela Chandler. He only shared that information with his closest friends, apparently believing that would diminish his credibility as a spokesman for gay rights.
Kight also acted while he was in Albuquerque. From 1950 to 1955, he was involved in the "Summerhouse Theater" and the "Old Town Players" in Albuquerque. The two companies brought in many actors from California, and Kight was able to read some of the new "Homophile" organizations' pamphlets and circulations that these actors brought with them. This was his first exposure to groups like the Mattachine Society, which he considered elitist.
Kight was active in many political, civil rights, and labor rights groups. As early as the 1940s, he was involved in organizing the Oil, Chemical and Atomic Workers International Union. After moving to Los Angeles, he kept up his involvement in varied rights groups. This work led to the first protest groups he himself founded: the "Dow Action Committee" in 1967. The Committee protested the chemical company, including its production of Agent Orange and its use, during the Vietnam War.
Kight's strong beliefs sometimes put him at odds with members of the gay community. In 1977, Kight began what became a national Coors boycott to expose how the Coors Brewing Company used its millions to finance union busting legislation and anti-gay politicians. Morris infuriated organizers of Outfest the year the festival accepted Coors funding. He organized a demonstration in front of the event, using the opportunity to educate the community about the ways anti-gay corporations try to clean up their public image by funding cash-starved gay organizations and events.
Morris persevered and Outfest no longer accepts Coors funding.
In 1958, Kight moved to Los Angeles, where he was the founder or co-founder of many gay and lesbian organizations. The first such organization was the Gay Liberation Front (GLF) in October 1969, the third GLF in the country (after New York and Berkeley). The name was used to show solidarity with the Vietnamese National Liberation Front. By the next year, there were over 350 GLF organizations around the country.
He also co-founded Christopher Street West gay pride parade in Los Angeles in 1970, Aid For AIDS in 1983, and the Gay Community Center in 1971, (now the Los Angeles Gay and Lesbian Center), the Stonewall Democratic Club in 1975, and many others. Kight remarked that creating the Community Center was the achievement of which he was most proud.
Kight brought his experiences in political action into the realm of gay rights. One of the first actions by the LA GLF was against a local eatery called Barney's Beanery. The restaurant, located in West Hollywood, not only had a sign above bar that said "Fagots [sic] Stay Out", but also printed up matchbook covers with the same saying. Kight, along with Troy Perry and 100 activists protested outside, sending in protesters occasionally to order coffee and take up space at the tables. The protest was initially successful - the owner eventually handed Kight the sign in front of news cameras. But after the media left the owner replaced the sign, where it remained until West Hollywood's first lesbian mayor, Valerie Terrigno, took it down when the city council passed an anti-discrimination ordinance. Perry vowed at the initial protest to never set foot in the place again until the owner apologized, which finally happened in 2005. The new owner, David Houston, has apologized and, among other methods to reach out to the gay community, holds monthly lunches for disadvantaged gay youth.
In 2003 the City of Los Angeles dedicated the corner of Hollywood Boulevard and McCadden Place, in Hollywood, California as "Morris Kight Square." This location was selected as it was the stepping off point for Christopher Street West, the very first street-closing gay pride parade in the world.
His longtime companion was Roy Zucheran.
After a series of strokes, which slowed him down, he died peacefully at the Carl Bean Hospice in Los Angeles, on January 19, 2003.


1922 – Canadian immigration authorities allowed the Irish lover of a Canadian citizen to immigrate legally. This was the first time in North America that a same-sex relationship was used as the basis for immigration.

1925 – The Nebraska Supreme Court reverses the sodomy conviction of a man that was based solely on the deathbed declaration of a syphilis victim that he got syphilis from the defendant.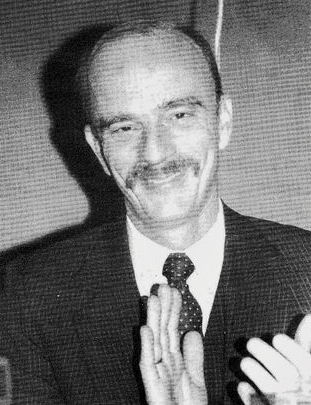 1934 – Jim Foster (d.1990) was an American LGBT rights and Democratic activist. Foster became active in the early gay rights movement when he moved to San Francisco following his undesirable discharge from the United States Army in 1959 for being homosexual. Foster co-founded the Society for Individual Rights (SIR), an early homophile organization, in 1964. Dianne Feinstein credits SIR and the gay vote with generating her margin of victory in her election to the San Francisco Board of Supervisors in 1969.
In 1971, Foster, along with Del Martin and Phyllis Lyon, transformed the SIR Political Action Committee into the Alice B. Toklas Memorial Democratic Club. The Toklas club was the first gay Democratic club in country. Also in 1971, Foster was instrumental in convincing Richard Hongisto to run for sheriff and in delivering gay votes to his winning campaign. It became a truism of San Francisco politics that, as long-time activist José Sarria had put it, "nobody ran for anything in San Francisco without knocking on the door of the gay community."
In 1972, after the Toklas club delivered one-third of the signatures needed to secure George McGovern the first position on the California Democratic primary ballot, Foster was added to the list of speakers at the 1972 Democratic National Convention. Originally, Foster had been given a prime time speaking slot, but George McGovern's campaign manager, future U.S. Senator and presidential candidate Gary Hart, changed it to a 3:00 a.m. speaking slot. The campaign had decided they needed to tone down their radical image. He and fellow delegate Madeline Davis were the first openly LGBT people ever to address a national party convention. He called upon the Democratic Party to add a gay rights plank to the party platform, saying:
We do not come to you begging your understanding or pleading your tolerance. We come to you affirming our pride in our lifestyle, affirming the validity of our right to seek and to maintain meaningful emotional relationships and affirming our right to participate in the life of this country on an equal basis with every citizen.
Foster was approached by fledgling gay politician Harvey Milk in 1973. Milk sought Foster's endorsement for his first campaign for Supervisor. Foster, who through the Toklas club had staked out a position that it was best for the gay community to work with liberal establishment politicians than try to elect gay candidates, refused to support Milk's campaign. This led to an enmity between the men which lasted until Milk's assassination in 1978. It has been suggested that this enmity, which extended to the Toklas club and the Milk-founded San Francisco Gay Democratic Club, may have hampered the LGBT community's early efforts to address the spread of HIV in San Francisco.
Foster was a founding member of the San Francisco Health Commission in 1985. In 1989 he was hired by pharmaceutical company Lymphomed as a consultant.
Foster died of an AIDS-related illness at his San Francisco home on October 31, 1990.The ashes of both he and his longtime partner, Lawrence John "Larry" Ludwig, were placed in the columbarium at Grace Cathedral in San Francisco.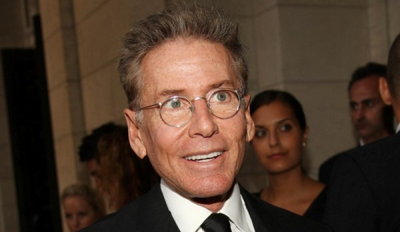 1942 – Calvin Klein, American clothing designer, born; Calvin Richard Klein was born in The Bronx to Jewish-Hungarian immigrant parents. He attended the High School of Industrial Arts and matriculated, but never graduated, from New York's Fashion Institute of Technology, receiving an honorary Doctorate at the graduation ceremony in 2003. He did his apprenticeship in 1962 at an old-line cloak-and-suit manufacturer, and spent five years designing at other New York shops. He later launched his first company with a childhood friend, Barry K. Schwartz.
Klein was one of several design leaders raised in the Jewish immigrant community in the Bronx, New York along with Robert Denning and Ralph Lauren. Cal became a protégé of the ever-so-flaming editor of Town & Country Baron de Gunzburg, through whose introductions he became the toast of the New York elite fashion scene, even before he had his first mainstream success with the launch of his first jeans line. Later, speaking in an interview with Bianca Jagger and Andy Warhol for Interview magazine, published shortly after the Baron's death, Klein said:
"He was truly the greatest inspiration of my life... he was my mentor, I was his protégé. If you talk about a person with style and true elegance — maybe I'm being a snob, but I'll tell you, there was no one like him. I used to think, boy, did he put me through hell sometimes, but boy, was I lucky. I was so lucky to have known him so well for so long."
Calvin Klein was immediately recognized for his talent after his first major showing at New York Fashion Week. Klein was hailed as the new Yves Saint-Laurent, and was noted for his clean lines.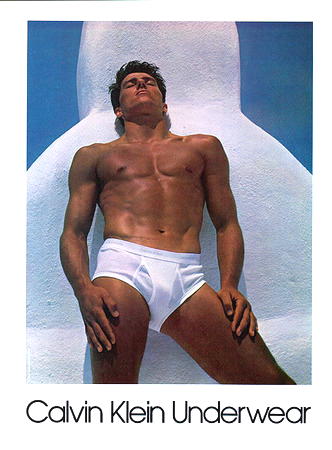 Thirty years on, it all seemed like a surreal curiosity — when the billboard of a well-muscled young man in white briefs went up in Times Square in 1982, it stopped traffic there. The perspective which focused on the obvious bulge in the briefs caused a big controversy. It nonetheless led to the acceptability of the male form in mainstream American advertising and ushered in the era of "male as sex object" which saw a renaissance in the early 1980s. American Photographer magazine named the photo as one of "10 Pictures That Changed America." His wildly homoerotic advertisements transformed the men's fashion advertising and fashion industry.
Married twice, he has never actually come out, but he divorced his second wife in 2006, and it has been reported that he has dated gay, ex-porn star Nicholas Gruber.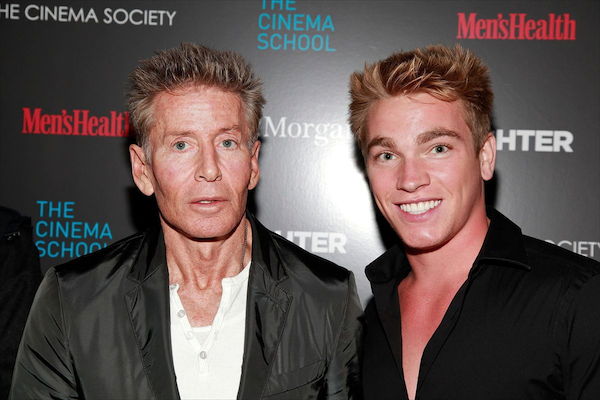 Klein and Nicholas Gruber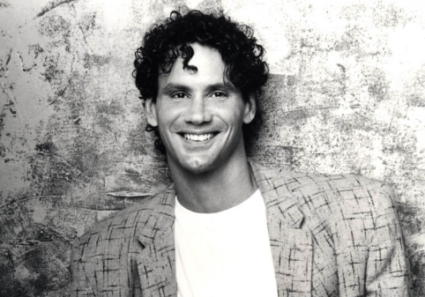 1953 – (Thomas Louis) Tom Villard (d.1994) was an American actor best known for his television role in the 1980s series We Got It Made as Jay Bostwick. His best known film role was in the 1986 film One Crazy Summer, as Clay Stork. He also starred in the 1991 horror film, Popcorn, and the 1992 movie Shakes the Clown with his One Crazy Summer co-stars Joel Murray and Bob Goldthwait. Villard also appeared in the 1994 comedy movie In The Army Now.
Villard made numerous guest appearances on TV shows as well and was a panelist on two weeks' worth of To Tell The Truth in the early '90s. He was a celebrity guest on Super Password and The Match Game as well as appearances in episodic television on CHiPS, Taxi, The Golden Girls, The A-Team and Star Trek: Deep Space Nine. Villard was out gay and died of complications of HIV-AIDS November 14, 1994 in L.A..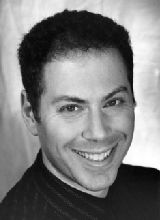 1955 – Steven Jay Powsner (d.1995) a founder and former president of the Lesbian and Gay Community Services Center in Greenwich Village.
Born in Brooklyn and raised in Oceanside, L.I., he graduated from New York University in 1976 and the New York University School of Law in 1979. After working as an associate at a New York City law firm, he established his own practice in 1982, specializing in real estate.
Steven's early passion was theater, especailly muscial theater. In high school he took acting lessons at the Neighborhood Playhouse and auditioned for every play. He had chorus roles in My Fair Lady.
1974 marked the beginning of Steven's most formative years. A major part of these years was his first lover, Bruce Philip Cooper, who died of AIDS in 1987. They met when Steven was a freshman at NYU and Bruce was a freshman at Columbia. They were determined to prove society wrong by committing themselves to a permanent, long-lasting relationship, or "marriage" as Steven called it. They moved into their own apartment.
Working as a volunteer for the fledgling gay center in 1983, Steven guided the organization through a yearlong negotiation with the city to buy the former Food and Maritime Trades High School at 208 West 13th Street, which now houses the center.
Everything fell apart in 1983 when Bruce was diagnosed with AIDS. Doctors were judgmental and uncaring. Hospital workers left food outside Bruce's room, refusing to go inside. Their cleaning lady was told by another client that she would be fired if she continued to work for a person with AIDS. Steven would come home from work to find "AIDS" scrawled in large letters across his mailbox.
He took care of Bruce for four years until he died in 1987. During these four caregiving years, Steven became a very dedicated gay activist. His family offered no support around Bruce's ordeal and even scorned Steven when Bruce died because Steven included his name in Bruce's New York Times obituary.
After Bruce died Steven donated to Columbia University a large endowment, with which they established the Bruce Cooper Memorial Fellowship for graduate studies in Philosophy.
Steven met Ben Munisteri 1987 at the the Lesbian and Gay Community Services Center. Ben was 22 years old, just out of college, and a modern dancer. They were commited partners until Steven's death in 1995
A few months before Steven died he won the Center's Heart of the Center award, something he had always wanted. After he died, the Center created the Annual Steven J. Powsner Volunteer Recognition Award.
Besides his work for the center, a hub of lesbian and gay life in New York, Steven left a two-and-a-half-mile mark on the city in the form of the lavender line that is painted along the Fifth Avenue route of the annual Lesbian and Gay Pride March. He paid for much of the painting of the first line in 1985.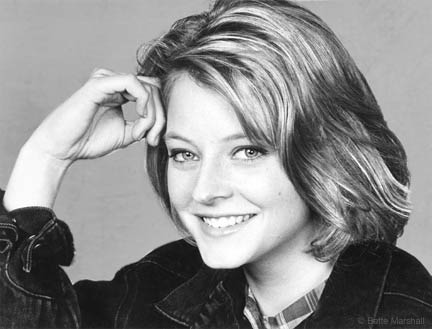 1962 – Jodie Foster, American actress, born; Foster began acting in commercials at 3 years old, and her first significant role came in the 1976 film Taxi Driver as the preteen prostitute, Iris, for which she received a nomination for the Academy Award for Best Supporting Actress. She won for Best Actress in 1989 for playing a rape survivor in The Accused. In 1991, she starred in The Silence of the Lambs as Clarice Starling, an FBI trainee assisting in a hunt for a serial killer. This performance received international acclaim and her second Academy Award for Best Actress. She received her fourth Academy Award nomination for playing a backwoods hermit in Nell (1994). She has also won three Bafta Awards, two Golden Globes, a Screen Actors Award and a People's Choice award as well as two Emmy nominations.
John Hinckley, Jr., became obsessed with Foster after watching Taxi Driver a number of times, and stalked her while she attended Yale, sending her love letters to her campus mail box and even talking to her on the phone. On March 30, 1981, he attempted to assassinate U.S. President Ronald Reagan (shooting and wounding Reagan and three others) and claimed his motive was to impress Foster, then a Yale freshman.
Foster is, as the phrase goes, "intensely private" about certain aspects of her personal life, notably her sexual orientation, which has been the subject of speculation. She has two sons but has never revealed the identity of the children's father(s).
In December 2007, Foster made headlines when, during an acceptance speech at Hollywood Reporter's "Women in Entertainment" event, she paid tribute to film producer Cydney Bernard, referring to Bernard as "my beautiful Cydney, who sticks with me through the rotten and the bliss." Some media interpreted this as Foster coming out, as Bernard was believed to be her girlfriend since both met in 1992 during the filming of Sommersby. Foster and Bernard never attended premieres or award ceremonies together, nor did they ever appear affectionate with one another. Bernard, however, was seen in public with Foster's children on many occasions. In May, 2008, several news outlets reported that Foster and Bernard had "called it quits."
In her acceptance remarks upon receiving the Cecil B. DeMille Award at the 2013 Golden Globe Awards, she commented about her sexual orientation: "I already did my coming out about 1,000 years ago back in the stone age, those very quaint days when a fragile young girl would open up to trusted friends and family and co-workers, and then gradually and proudly to everyone who knew her, to everyone she actually met." She thanked her former partner of 20 years, production manager Cydney Bernard, calling her "my heroic co-parent, my ex-partner in love but righteous soul sister in life".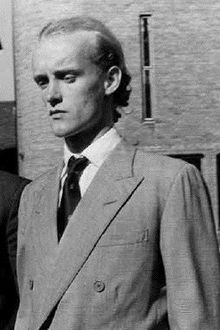 1962 – Gottfried von Bismarck-Schönhausen (d.2007) was a member of the German House of Bismarck best known for his flamboyance and parties.
Born in Uccle, Belgium, Gottfried von Bismarck-Schönhausen was the second son of
Ferdinand, Prince von Bismarck
and grandson of
Otto, Prince von Bismarck
, a diplomat at Germany's embassy in London until a feud with Third Reich foreign minister
Joachim von Ribbentrop
. He was the great-great-grandson of German Chancellor
Otto von Bismarck
.
Bismarck's great uncle and namesake, Count Gottfried, was a Nazi official who allegedly became part of the famous plot to assassinate Adolf Hitler. His younger sister, Vanessa Gräfin von Bismarck-Schönhausen is a public relations agent in the United States. His elder brother Carl-Eduard Graf von Bismarck-Schönhausen was a member of the German Bundestag.
Gottfried had multi-faceted history as a pleasure-seeking heroin addict, hell-raising alcoholic, flamboyant waster and a reckless and extravagant host of homosexual orgies. When not clad in the lederhosen of his homeland, he cultivated an air of sophisticated complexity by appearing in women's clothes, set off by lipstick and fishnet stockings. Never concealing his homosexuality, von Bismarck continued to appear in public in various eccentric items of attire, including tall hats atop his bald Mekon-like head. At parties he would appear in exotic designer frock coats with matching trousers and emblazoned with enormous logos. Flitting from table to table at fashionable London nightclubs, he was said to be as comfortable among wealthy Eurotrash as he was on formal occasions calling for black tie.
The death of heiress Olivia Channon in Graf von Bismarck's room would disrupt his life. She was found dead from a heroin overdose in Bismarck's rooms at Christ Church College in 1986. Bismarck was charged with drug possession. He was fined £80. His father, Prince Ferdinand, recalled him to Germany for treatment at a private clinic, it was said he left Oxford so quickly that a family servant had to settle his bills with public houses, tailors and restaurants.
In August 2006, Anthony Casey, 41, fell 20 metres from Graf von Bismarck's Chelsea flat and died. Bismarck was not arrested and the police said there were no drugs found in his flat. This incident triggered speculation from the tabloid press. London's Daily Mail claimed the incident was triggered by a cocaine-fueled orgy. The coroner's report had found no alcohol in Casey's body, but did discover a significant amount of cocaine. The accusation of a 'gay orgy' was officially denied by Gottfried, though the coroner, Dr. Paul Knapman, told The Guardian that a great deal of sexual paraphernalia was discovered in the flat, including sex toys, lubricant, and a rubber tarpaulin. "In common parlance, in the early hours of the morning, there was a gay orgy going on", Dr. Knapman told the newspaper. "Nevertheless, this was conducted by consenting males in private."
On 2 July 2007 Bismarck was found dead in his almost empty £5 million flat, which was in the process of being sold. He was 44 years old at the time of his death. Sebastien Lucas, the pathologist who carried out the autopsy, said that Bismarck had been injecting cocaine on an hourly basis on the day before his death, and that Bismarck's body contained the highest level of cocaine that he had ever seen, as well as morphine; he also had liver damage, Hepatitis B, Hepatitis C, and HIV.

1982
–
Marilyn Barnett'
s palimony suit against
Billie Jean King
was thrown out of court.

1993 – Romania: Marius Aitai, Ovidiu Chetea, and Cosmin Hutanu are sentenced to up to two and a half years in prison for same-sex acts in private. Amnesty International calls for their immediate release and protests the imprisonment of 54 other people on similar charges, as well as the reportedly widespread torture and sexual abuse of persons arrested on suspicion of homosexuality.

1997 – In Spanish Fork, Utah, during a meeting of the Nebo County Board of Education, supporters of lesbian teacher Wendy Weaver and those demanding her resignation presented their cases. A month earlier Weaver was dismissed from her position as volleyball coach and ordered not to discuss her sexual orientation with anyone, in or out of school.

2009 – The New York Court of Appeals rules that state officials have the authority to recognize out-of-state same-sex marriages although the court declines to rule on whether same-sex couples may legally marry in the state of New York.

NOVEMBER 20 →
[{(o)}]|[{(o)}]|[{(o)}]|[{(o)}]| [{(o)}]|[{(o)}]