July 24
[{(o)}]|[{(o)}]|[{(o)}]|[{(o)}]| [{(o)}]|[{(o)}]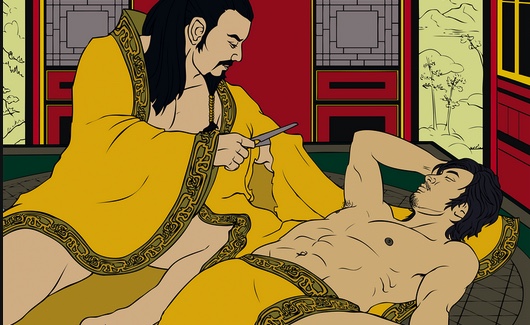 1 BC – China: Emperor Ai of Han dies. He ascended the throne when he was 20, having been made heir by his uncle Emperor Cheng who was childless. He reigned from 7 to 1 BC. He's one of ten emperors of the Western Han dynasty who are considered to be homosexual or bisexual by today's terms, and was famous for being the most effusive  of the Han Dynasty.
Traditional historians characterized the relationship between Emperor Ai and Dong Xian as one between homosexual lovers. An idiomatic term for homosexuality in Chinese is duanxiu zhi pi (literally, "passion of the cut sleeve"), derived from an episode involving Dong and Emperor Ai. They often slept together on the same straw mat. One afternoon, after Emperor Ai woke up from a nap, Dong was still sleeping, and Emperor Ai's sleeve was stuck under Dong's head. Rather than waking Dong up, Emperor Ai cut off his sleeve to allow Dong to continue to sleep without disturbance. Historians referred to their relationship as "the passion of the cut sleeve."
Dong was noted for his relative simplicity contrasted with the highly ornamented court, and was given progressively higher and higher posts as part of the relationship, eventually becoming the supreme commander of the armed forces by the time of Emperor Ai's death. Dong was afterward forced to commit suicide.


Added 2023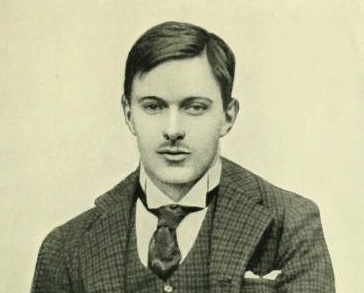 1867 – (Edward Frederic) E.F. Benson was an English novelist, biographer, memoirist, archaeologist and short story writer born on this date (d.1940).
Benson's first book published was Sketches from Marlborough. He started his novel-writing career with the (then) fashionably controversial Dodo (1893), which was an instant success, and followed it with a variety of satire and romantic and supernatural melodrama.
He repeated the success of Dodo, which featured a scathing description of composer and militant suffragette Ethel Smyth, with the same cast of characters a generation later: Dodo the Second (1914), "a unique chronicle of the pre-1914 Bright Young Things" and Dodo Wonders (1921), "a first-hand social history of the Great War in Mayfair and the Shires".
The Mapp and Lucia series, written relatively late in his career, consists of six novels and two short stories. The novels are: Queen Lucia, Miss Mapp, Lucia in London, Mapp and Lucia, Lucia's Progress (published as The Worshipful Lucia in the United States) and Trouble for Lucia. In February 1983 BBC Radio 4 broadcast Trouble for Lucia – a 12-part adaptation by Aubrey Woods of the first four novels. In April and May 2007 BBC Radio 4 broadcast Mapp and Lucia – a 10-part adaptation by Ned Sherrin. In 2008 BBC Radio 4 broadcast Lucia's Progress – a five-part dramatisation by John Peacock of the fifth novel.
Further "Mapp and Lucia" books have been written by Tom Holt, Guy Fraser-Sampson, and Ian Shepherd.
Benson was homosexual, but was intensely discreet. At Cambridge, he fell in love with several fellow students, including Vincent Yorke (father of the novelist Henry Yorke), about whom he confided to his diary, "I feel perfectly mad about him just now... Ah, if only he knew, and yet I think he does." 
In later life, Benson maintained friendships with a wide circle of gay men and shared a villa on the Italian island of Capri with John Ellingham Brooks; before the First World War, the island had been popular with wealthy homosexuals.
Homoeroticism and a general homosexual sensibility suffuses his literary works, such as David Blaize (1916), and his most popular works are famed for their wry and dry camp humour and social observations.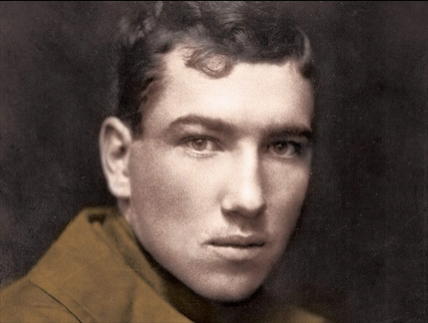 1895 – Robert Graves (who was born Robert von Ranke Graves), was an English poet, translator and novelist (d.1985). During his long life he produced more than 140 works. Graves' poems—together with his translations and innovative interpretations of the Greek myths, his memoir of his early life, including his role in the First World War, Goodbye to All That, and his historical study of poetic inspiration, The White Goddess—have never been out of print.
He earned his living from writing, particularly popular historical novels such as I, Claudius, King Jesus, The Golden Fleece, and Count Belisarius. He also was a prominent translator of Classical Latin and Ancient Greek texts; his versions of The Twelve Caesars and The Golden Ass remain popular today for their clarity and entertaining style. Graves was awarded the 1934 James Tait Black Memorial Prize for both I, Claudius and Claudius the God.
Graves was born into a middle-class family in Wimbledon in south London. He was the third of five children born to Alfred Perceval Graves (1846-1931), a school inspector, Gaelic scholar, and the author of the popular song 'Father O'Flynn'; and his second wife, Amalie von Ranke (1857-1951). At school, Graves was enrolled as Robert von Ranke Graves and in Germany his books are published under that name, but before and during the war the name caused him difficulties. In August 1916 an officer who disliked him spread the rumour that he was a spy, brother to a captured German spy who had coincidentally taken the name Carl Graves. The problem resurfaced in a minor way in the Second World War, when a suspicious rural policeman blocked his appointment to the Special Constabulary.
Graves received his early education at a series of six preparatory schools, from the last of which he won a scholarship to Charterhouse in 1909. There, in response to persecution—due to the German element in his name, his outspokenness, his scholarly and moral seriousness, and poverty relative to the other boys—he feigned madness, began to write poetry, and took up boxing, in due course becoming school champion at both welter- and middleweight. He also sang in the choir, meeting there an aristocratic boy three years younger, G. H. 'Peter' Johnstone, with whom he began an intense romantic friendship, the scandal of which led ultimately to an interview with the headmaster. In his final year at Charterhouse he won a classical exhibition to St John's College, Oxford, but would not take his place there until after the war.
At the outbreak of World War I in August 1914, Graves enlisted almost immediately, taking a commission in the Royal Welsh Fusiliers (RWF). He published his first volume of poems, Over the Brazier, in 1916. He developed an early reputation as a war poet and was one of the first to write realistic poems about experience of front-line conflict. In later years, he omitted his war poems from his collections, on the grounds that they were too obviously "part of the war poetry boom". At the Battle of the Somme, he was so badly wounded by a shell-fragment through the lung that he was expected to die and, indeed, was officially reported as having died of wounds. He gradually recovered, however; and, apart from a brief spell back in France, he spent the remainder of the war in England
One of Graves's close friends at this time was the poet Siegfried Sassoon, also an officer in the RWF. In 1917, Sassoon rebelled against the war by making a public anti-war statement. Graves feared Sassoon could face court martial and intervened with the military authorities, persuading them that Sassoon was suffering from shell shock and that they should treat him accordingly. As a result Sassoon was sent to Craiglockhart, a military hospital near Edinburgh, where he was treated by Dr. W. H. R. Rivers and met fellow patient Wilfred Owen. Graves also suffered from shell shock, or neurasthenia as it was officially called, although he was never hospitalised for it.
The friendship between Graves and Sassoon is documented in Graves's letters and biographies, and the story is fictionalised in Pat Barker's novel Regeneration. The intensity of their early relationship is demonstrated in Graves's collection Fairies and Fusiliers (1917), which contains many poems celebrating their friendship. Sassoon himself remarked upon a "heavy sexual element" within it, an observation supported by the sentimental nature of much of the surviving correspondence between the two men. Through Sassoon, Graves became a friend of Wilfred Owen, "who often used to send me poems from France." Owen attended Graves's wedding to Nancy Nicholson in January 1918.
Immediately post-war, Graves had a wife and growing family, but was financially insecure, and weakened physically and mentally. In October 1919 he took up his place at Oxford, soon changing course to English Language and Literature, though managing to retain his Classics exhibition. In consideration of his health he was permitted to live a little outside Oxford.
For the next fifty years he continued to write and publish successfully, but during the early 1970s Graves began to suffer from increasingly severe memory loss, and by his eightieth birthday in 1975 he had come to the end of his working life. By this time he had published more than 140 works. He survived for ten more years in an increasingly dependent condition until he died from heart failure on 7 December 1985 aged 90. He was buried the next morning in the small churchyard on a hill at Deia Majorca, on the site of a shrine which had once been sacred to The White Goddess of Pelion. His second wife Beryl Graves was buried with him on her own death in 2003.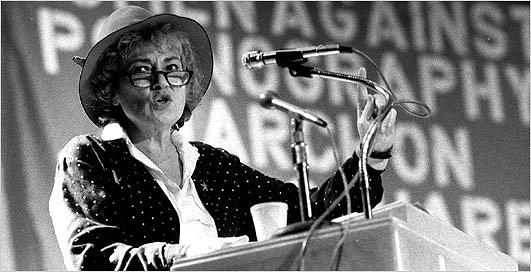 1920 – Bella Abzug, nicknamed Battling Bella, was a U.S. Congresswoman from New York(d.1998). In addition to her numerous accomplishments in the U.S. House of Representatives (She famously said, "This woman's place is in the House — the House of Representatives," in her successful 1970 campaign to join that body) she was an outspoken supporter of LGBT civil rights.
She was one of the first members of Congress to support Gay rights, introducing in 1974, the first federal Gay rights bill, the Equality Act of 1974, with fellow Democratic New York City Representative, Edward Koch, the future mayor of New York City.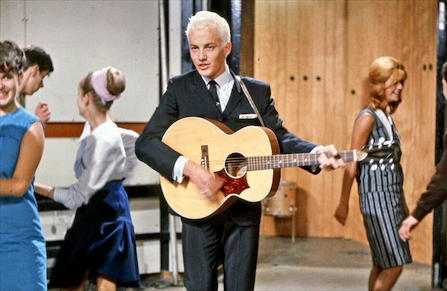 1942 – Heinz Burt, (d.2000) was a German-born bassist and singer, who performed under the stage name Heinz.
Heinz was born Heinz Henry George Schwarz in Detmold, but from the age of seven was brought up in Eastleigh, Hampshire, England. His father was killed during World War II and his mother decided to relocate to England. Heinz was influenced by the US singer Eddie Cochran and played in a local Eastleigh group, the Falcons in the late 50's.
Working in a Southampton grocery shop Heinz came to the attention of homosexual record producer, Joe Meek, becoming his protégé – and possibly his lover. Meek styled Heinz's image, which included persuading him to peroxide his hair. Heinz was a member of the Tornados famous for their multi-million selling hit "Telstar".
Meek was in love with Heinz, and he struggled to launch him on a solo career. Due to the inadequacies of Heinz' voice, his vocals were over-dubbed on his first single Dreams Do Come True by another singer, the single was still a commercial failure.
With Meek vigorously promoting Heinz, he was sent on a tour with Gene Vincent and Jerry Lee Lewis. Audiences did not take to him and he was attacked on stage and had beans thrown over him (Presumably a pun on his name. To a contemporary audience 'Heinz' would naturally be associated with Heinz beans).
His next and biggest selling solo hit was "Just Like Eddie", a tribute to Eddie Cochran. Its success coincided with the emergence of the Beatles and was the high point of commercial success for Heinz. Two successful EPs, Heinz and Live It Up, followed and 1963 he appeared in the British music-film Live It Up!, with music produced by Meek, in which he acted the role of Ron and also contributed a song. Following a well-received tour with Billy J. Kramer and the Dakotas and Bobby Rydell, Heinz was seen as belonging to an era of rock and roll as the more modern Merseybeat became more popular. He covered the Bob Dylan song "Don't Think Twice, It's Alright" which was another commercial failure and even a move from the Decca label to EMI saw him gain a minor hit with "Diggin' My Potatoes".
Differences of a professional and personal level with Meek appeared and with Heinz introducing his girlfriend to Meek their relationship faltered. Although he had lived briefly in Meek's flat, further disagreements over royalties saw him move out leaving some possessions behind including a shotgun, which Meek had hidden. It was this shotgun with which Meek killed his landlady and then himself in 1967, and although Heinz was questioned by police they concluded he had nothing to do with their deaths. Meek's death ended Heinz's recording career as a solo artist.
He was portrayed by JJ Feild in Telstar, a film about the life of Joe Meek, which was released in 2009. The film depicts him as Meek's gay lover at a time when homosexual acts were illegal in the United Kingdom. His family have denied that he was homosexual and have stated that the film is a slur on his life. His former wife, Della Burke, who was married to Heinz at the height of his success said "It is completely and utterly untrue. Heinz was definitely heterosexual."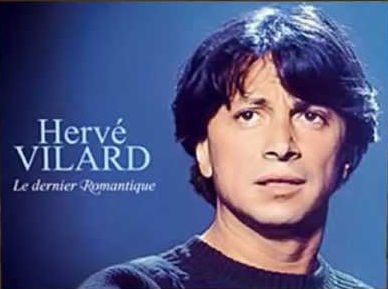 1946 – Hervé Vilard (born René Villard in Paris, France) is a French pop–singer, who first became famous in the 1960s. His first single "Capri c'est fini" became an international hit in 1965 and rendered him instantaneously famous. The song sold 3.3 million copies.
His long national and international musical career as composer, singer, and stage performer spans four decades. In 1992, in recognition of his contributions to French culture, he was awarded the Ordre national du Mérite in a ceremony at the Parisian Théâtre des Variétés hosted by Jean-Paul Belmondo.
René Vilard was born in a taxi which was transferring his mother Blanche to the Saint-Antoine hospital in Paris to deliver. He never met his father who left home soon after the birth of his son. His mother eventually lost custody of her children and young René was sent to an orphanage in Paris. Later he was transferred to the Berry region of France into the custody of various foster homes. Young René became a runaway during that period of his life. Eventually he was moved to the Cher region of France where he met a priest, Father Angrand, who became his mentor and taught him literature and music. In 1991 Vilard bought the monastery at La Celette, where he had met Father Angrand and made it his home.
Eventually young René left La Celette for Paris where he met Daniel Cordier, a former member of the French Resistance and Art dealer who later adopted him in 1962. This enabled teenager Vilard to finally remove himself from the state child care system. He started working at various places in Paris including a record store at Champs-Élysées.
René wanted to further cultivate his musical talents and started taking singing lessons. During this time he was discovered by an executive working for Mercury Records. The meeting with the executive from Mercury Records led to a meteoric rise in his musical career. His first single Capri c'est fini was released in June 1965 under the Mercury label and instantly became a hit both in France and abroad selling 3.3 million copies and making Hervé Vilard a household name overnight.
Following the success of Capri c'est fini, French newsmagazine France Dimanche offered the singer a deal under which the magazine would help him find his mother. In return, Hervé Vilard gave the magazine exclusive rights to the interviews and the press coverage that would follow a successful reunion. After Vilard accepted the offer, France Dimanche launched a publicity campaign which eventually resulted in Vilard reuniting with his mother. At the same time, the sales of France Dimanche increased substantially. His mother died in 1981.
Building on the success of Capri c'est fini Vilard released two more hits Mourir ou vivre and Fais-la rire which establish him as a successful artist. In 1966, he became the opening act for Claude François, with whom he later went on a European and world tour.
In 1967, Vilard was also the first well-known French singer, to come out as gay and did so on the radio.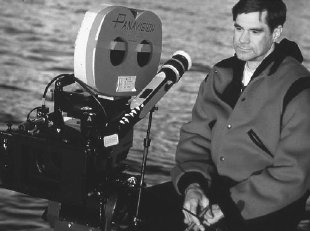 1952 – Born: Gus Van Sant Jr., American Academy Award-nominated film director, photographer, musician, and author. He currently lives in Portland, Oregon. His early career was devoted to directing television commercials in the Pacific Northwest. Openly gay, he has dealt unflinchingly with homosexual and other marginalised subcultures without being particularly concerned about providing positive role models.
His filmography as writer and director includes an adaptation of Tom Robbins' novel Even Cowgirls Get the Blues (1993), which features a diverse cast (Keanu Reeves, Roseanne Barr, Uma Thurman, and k.d. lang, with cameos by William S. Burroughs and Heather Graham, among others); and My Own Private Idaho (1991), also starring Reeves as well as the late River Phoenix.
He is perhaps best known for directing Good Will Hunting (1997). The unprecedented success of Good Will Hunting allowed Van Sant to pursue whatever project his heart desired, which ended up being an unusually faithful remake of the Alfred Hitchcock classic Psycho. As opposed to reinterpreting the 1960 film, however, Van Sant opted to recreate the film shot-for-shot, in colour, with a cast of young Hollywood A-listers. His decision was met with equal parts curiosity, skepticism, and derision from industry insiders and outsiders alike, and the finished result met with a similar reception. If not exactly a failure, it wasn't much of a triumph, either.
Van Sant fared somewhat better with 2000's Finding Forrester, a drama about a high-school student from the Bronx who becomes unlikely friends with a crusty, reclusive author (Sean Connery).
In any event, Van Sant—longing to return to more-intimate production methods—decided to leave behind big-budget studio filmmaking for his next two features Gerry (2002) and the Columbine-themed Elephant (2003), which unexpectedly won the Palme d'Or and a Best Director award for Van Sant at Cannes.
In 2005, Van Sant released Last Days, the final component of what he refers to as his 'Death Trilogy', (the other parts being Gerry and Elephant). It is a fictionalised account of what happened to Nirvana frontman Kurt Cobain in the days leading up to his death.
Van Sant's most recent film is something of a return to the mainstream. Released in 2008, the feature film Milk is a biopic of openly gay San Francisco supervisor Harvey Milk, who was assassinated in 1978, played by Sean Penn. The film was released to much acclaim and earned numerous accolades from film critics and guilds. Ultimately, it received eight Oscar nominations at the 81st Academy Awards, including Best Picture, winning two for Best Actor in a Leading Role for Penn and Best Original Screenplay for writer Dustin Lance Black. Van Sant was nominated for Best Director.
As an actor, Van Sant has appeared in a cameo on screen in Kevin Smith's Jay and Silent Bob Strike Back playing himself. In the movie, he is counting wads of money which was made during Good Will Hunting. As an added joke, they were filming a fake sequel to the movie, called 'Good Will Hunting 2: Hunting Season'.
He has written the screenplays for most of his early movies, and has written one novel, Pink. A book of his photography has also been published called 108 Portraits. He also makes the occasional music video and has released two albums in his own right.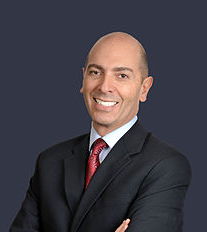 1956 – Harvey Brownstone is a judge of the Ontario Court of Justice and the first openly gay judge in Canada. He is also a bestselling author and host of a television talk show on matters involving family law.
Brownstone was born in Paris, France, and was raised in Hamilton, Ontario. He attended Adelaide Hoodless Elementary School and Scott Park Secondary School and received his LL.B. degree from Queen's University in Kingston, Ontario in 1980 and was called to the Bar of Ontario in 1983 after articling with criminal lawyer Leo Adler.
Brownstone worked as a Legal Aid duty counsel lawyer in the Toronto criminal courts from 1983 to 1985, and then practised criminal law with prominent criminal lawyers William A. Gorewich (now a judge of the Ontario Court of Justice) and Stephen Price.
In 1987 he joined the Research Facility of the Ontario Legal Aid Plan, where he became Head of the Family Law section. In 1989 he joined the Ministry of the Attorney General, Support and Custody Enforcement Branch, as counsel. The Support and Custody Enforcement Program was responsible for the enforcement of child and spousal support orders and custody orders. In 1991 he was appointed Legal Director of the Family Support Plan (which was the new name of the Support and Custody Enforcement Program) and in 1992 he was appointed Director of the entire Program while continuing to serve as Legal Director. He was instrumental in the creation and implementation of two important support enforcement tools: support deduction orders (commonly referred to as "automatic wage deduction") and the suspension of defaulting support payors' drivers licences, making Ontario the first jurisdiction in Canada to introduce these highly effective support enforcement mechanisms. The Program is now called the Family Responsibility Office, and is operated by the Ministry of Community and Social Services.
Brownstone served on the Toronto Mayor's Committee on Community and Race Relations from 1990 to 1993, and chaired the first Subcommittee on Gay Issues. This appointment was featured as the cover story in the October 11, 1991 issue of Xtra Magazine.
Brownstone was appointed a judge of the Ontario Court of Justice in 1995, making him the first openly gay judge in Canada.
On June 14, 2008, at New York City Hall, Justice Brownstone was presented with a Proclamation signed by New York State Senator Thomas Duane, in recognition of Brownstone's role in having officiated at hundreds of same-sex weddings for New York citizens who travelled to Toronto to get married. This event was held to commemorate the fifth anniversary of the legalization of same-sex marriage in Canada.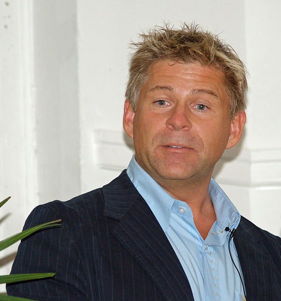 1962 – Anthony Bidulka is a Canadian writer of mystery novels. His books feature gay detective Russell Quant. His 2004 novel Flight of Aquavit won the 2005 Lambda Literary Award for Best Gay Mystery Novel. Bidulka received Lambda Literary Award nominations again in 2009 for Sundowner Ubuntu, and in 2013 for Dos Equis.
Born July 24, 1962 (the same birth date that he has given his protagonist Quant) , Anthony Bidulka was raised as the youngest of three children on a farm outside of Prud'homme, Saskatchewan.
In a committed relationship since 1991, Bidulka and his partner continue to live in Saskatoon. Their love of entertaining makes its way into Bidulka's novels, where parts of the action are played out over meals or while sipping wines that are identified with a gourmand's finesse. Their love of travel has its place as well, Anthony and his partner's vacations informing the background of Russell Quant's cases.
In 1999, he summoned the courage to leave a successful career as a corporate auditor and to fulfill what he terms his "boyhood dream" of writing. After his first novel was rejected by a variety of publishers, he hit upon the formula which has established the popularity of the Russell Quant series.
Quant is a private investigator who lives in Saskatoon, Saskatchewan, but whose cases lead him to such comparatively exotic locales as the south of France, a luxury hotel in Manhattan, a fortress-like chateau in the Arctic, a cruise ship stopping in ports around the western Mediterranean, an African game preserve, Waikiki Beach, the sand dunes of Saudi Arabia, and Mexico's Costa Grande.
Much of the comic pleasure of the series comes from challenges presented by the larger world that disrupt Russell's otherwise parochial life as a no-longer-young gay man on the Canadian prairie.


Added 2022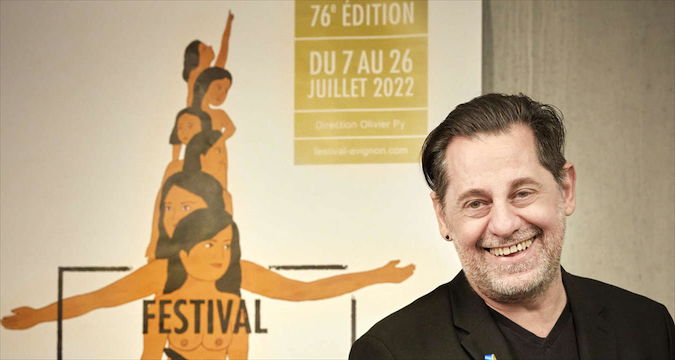 1965 – Olivier Py, born 24 July 1965 in Grasse, Alpes-Maritimes, is a French stage director, actor and writer.
In 1997, Py became director of the Centre dramatique national d'Orléans. In 2007, he became director of the Théâtre de l'Odéon in Paris.
Py describes himself as Catholic and homosexual. He is known for his emphasis on Catholic and homoerotic themes.
Since the early 2000s, Py has increasingly devoted himself to the opera. His productions of La damnation de Faust, Tannhäuser and Tristan und Isolde, all in Geneva, have generally been well received. In March 2008, he debuted at the Paris Opéra. On this occasion he stated to a French magazine (Diapason, March 2008) that he "would not be done staging operas until [he] did Wagner's Ring and Parsifal".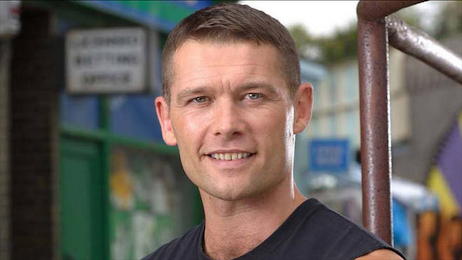 1971 – John Partridge is a Manchester-born English actor, who has worked predominantly as a singer and dancer in musical theatre, and was best known for his portrayal of the character Rum Tum Tugger in the official film production of Andrew Lloyd Webber's musical Cats. He has appeared twice in productions of Cats, as well as several other musicals including, Tommy, Grease, RENT [as Roger], Taboo [as Marilyn], Miss Saigon and Starlight Express.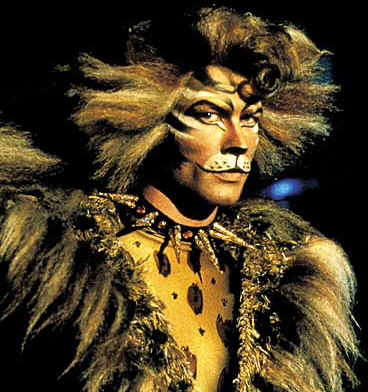 Partridge as Rum Tum Tigger
Since January 2008, Partridge has been a cast member of the long running BBC television soap opera EastEnders playing Jane Beale's gay brother Christian Clarke. Partridge himself is openly gay.
In 2010 Partridge brought his musical theatre experience to the fore as a judge on the popular BBC TV reality talent show Over the Rainbow, a search to find a new West End leading lady to play Dorothy in a new production of The Wizard of Oz.
On 7 September 2012, it was announced that Partridge would be leaving EastEnders and he filmed his final scenes two weeks later. In November 2012, it was announced that Partridge would be taking on the role of Zach in the West End revival of A Chorus Line, starting in February 2013,
In April 2010 Partridge revealed he planning to marry his long-term boyfriend Canadian actor, Jon Tsouras after seven years together. Their civil ceremony took place in Greenwich on 30 September 2011.
He says of the civil ceremony, as opposed to marriage:
We consider ourselves to be married: we had a beautiful day, we had a ceremony in front of our friends and our family. We're not particularly religious people so we wouldn't want to get married in a church or in the eyes of the Lord, but, as far as we're concerned, we are married."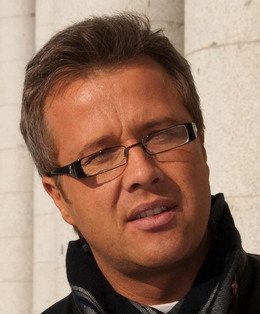 1972 – Darrin Reed Cowan, also known as Reed Abplanalp-Cowan is an American LGBT journalist, documentary filmmaker, screenwriter and philanthropist. Cowan co-directed the 2010 documentary 8: The Mormon Proposition with Steven Greenstreet. The film won a GLAAD Media Award for outstanding documentary film.
Cowan started his journalism career working as a radio disc-jockey for KNEU Radio in Roosevelt, Utah. In 1995, Cowan worked as a part-time on-air reporter for Fox's KSTU in Salt Lake City, Utah while a student at Utah State University. From there he assumed full-time positions as an anchor for KBAK-TV in Bakersfield, California and as an anchor for WWTV in Cadillac, Michigan. Cowan next worked as a reporter and weekend morning anchor for KSL-TV in Salt Lake City. After KSL-TV, Cowan moved to KTVX, also in Salt Lake City.
Cowan was born in Roosevelt, Utah and was raised in the Mormon religion. During his teenage years Cowan had a relationship with Gregory Abplanalp, who attended the same high school as Cowan. Cowan ended the relationship at the request of a church leader, and went through years of various forms of conversion therapy, then married a woman at the urging of another church leader. During this marriage Cowan had his first child, Wesley, who died in 2006 after falling from a horizontal set of monkey bars. The marriage ended after three years and Cowan re-united with Abplanalp, who he married in 2013. Cowan is also a triathlete.
Wesley's death prompted Cowan to found the Wesley Smiles Coalition, which works with Free the Children to raise funds to build schools in Africa. Cowan also made the 2007 documentary The Other Side of the Lens, which covers his emotions over his son's death and his experiences with the media attention Wesley's death attracted.
Cowan is also on the advisory board for Free The Children, a child advocacy organization, and serves as a producer for the youth organization Power In You. He is also an active supporter of anti-bullying legislation and has worked as a public speaker on the subject of bullying in school.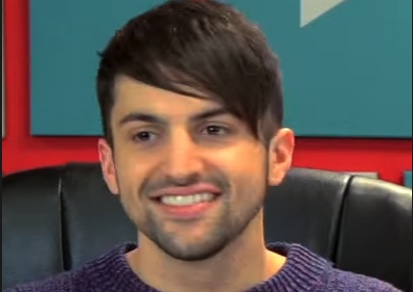 1992 – Mitch Grassi is an American countertenor singer, songwriter, arranger, and musician from Arlington, Texas, who came to international attention as the founder and performer of two groups; the quintet a cappella collective Pentatonix, and the duo Superfruit with Scott Hoying. As of May 2019, Pentatonix has released ten albums, including two number ones, have had four songs in the Billboard Hot 100, and won three Grammy awards as "the first a cappella group to achieve mainstream success in the modern market". As of February 2019, Superfruit's YouTube channel has over 2.5 million subscribers and has accumulated over 392 million views.
In April 2020 Grassi debuted a solo moniker, Messer, doing a DJ set of "a range of dark, techno tunes" at Paper's Club Quarantine Zoom event during the Covid-19 (coronavirus) pandemic.
When Grassi was seventeen he was inspired by
Lady Gaga
when she came out as part of the LGBTQ community, and admires her sense of self expression,
"That was something I'd always yearned to do because I had always been the weird kid—I always had something, I always wanted to make a point and I always wanted to be an individual."
Grassi briefly dated Scott Hoying at their "arts-oriented" Martin High School; both openly gay, they remain best friends.
Grassi is openly gay; Out readers voted him the second-most eligible gay bachelor behind Adam Lambert in 2017.[48] During the Covid-19 (coronavirus) pandemic Grassi noted his veganism was vital to his self care, and that marijuana was the one item he would ensure to have with him.

2001 – Ronald E. Gay, a drifter, who told Roanoke, Va. police that jokes about his last name had angered him, was sentenced to four life terms for a shooting rampage in a gay bar that killed one man and wounded five other men and a woman. Gay, 55, pleaded guilty to first-degree murder and six charges of malicious wounding in the shooting at the Backstreet Cafe in Roanoke. In court and in interviews with police, he said he was on a mission to kill homosexuals.

2004 German Free Democratic Party leader Guido Westerwellen (December 27, 1961 – March 18, 2016)  comes out in an interview with the country's leading news magazine. He served as Foreign Minister in the second cabinet of Chancellor Angela Merkel and as Vice Chancellor of Germany from 2009 to 2011, being the first openly gay person to hold any of these positions. He was also the chairman of the Free Democratic Party of Germany(FDP) from May 2001 until he stepped down in 2011. He died of leukemia at the age of 54.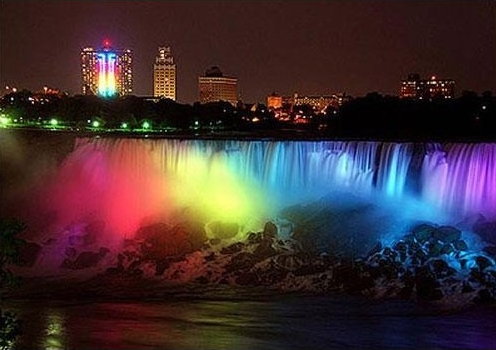 2011 – Same-sex marriage becomes legal in New York State. After New York's law legalizing same-sex marriage went into effect today hundreds of couples recited their vows before emerging out of the city courthouse to raucous cheers.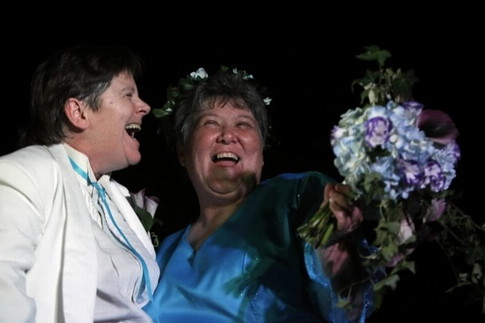 But the first legal wedding in New York happened somewhere a bit quieter: at Niagara Falls, where Kitty Lambert wed Cheryle Rudd. The two grandmothers from Buffalo "have been trying to wed for over a decade," and have five children and 12 grandchildren between them.
The natural wonder was lit up with a rainbow for the occasion, at the request of Mayor Paul Dyster.

JULY 25 →
[{(o)}]|[{(o)}]|[{(o)}]|[{(o)}]| [{(o)}]|[{(o)}]