March 28
[{(o)}]|[{(o)}]|[{(o)}]|[{(o)}]| [{(o)}]|[{(o)}]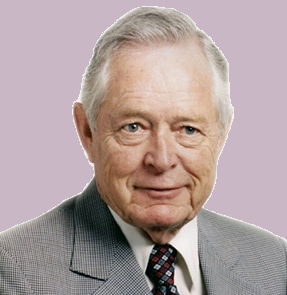 1920 – (Woodrow Wilson) Woody Baldwin, (d.2016), founder of Prime Timers, was born in Dumas, Texas, the last of five siblings, all considerably older than himself. When he was three, the family moved to Amarillo, where he lived until he was 20.
He lived through the Dust Bowl years and the Great Depression in Amarillo, where he saw his first motion picture at age 16, even though his baptist mother thought they were somehow sinful. Woody's first male crush was on Clark Gable.
Woodrow worked full time at the downtown Amarillo drugstore from the age of 13 till after high school, when he worked at a clothing store during the school year and the drug store during the summers.
During Prohibition the drugstore sold liquor illegally out of the Prescription room. Woody, the delivery boy, was delivering illegal booze to three or four clients. There was also a group of men who drank at the apartment of one of the men, as his wife was away every Saturday. These men drew delivery boy Woody into allowing one of them to have sexual relations with him, and eventually with each of them. If they had been caught or reported for sex with a minor, especially same-sex, the consequences would have been dire. Lynching for such offenses or an unexplained "accident" was not uncommon in those days.
In mentioning that he occasionally received oral sex from these older men, when he was around 14, Woody doesn't recall it having any effect other than he found it very exciting. He says he never felt guilty or remorseful about it — never felt he was "abused" by anyone — he simply enjoyed it immensely.
Following graduation from Amarillo Junior College in the spring of 1940, Woodrow attended the University of Oklahoma for two years starting in the fall semester. It was there at Oklahoma University that his name changed from Woodrow to Woody. Not really sure how it came about, he says, "The other students just immediately tagged me with the name Woody, even the teachers, and soon I began to refer to myself by that name." He received his two year Bachelor of Science degree in 1942.
In 1942, Baldwin "stepped out of my cap and gown and right into an Army uniform for the next three years." Private Baldwin served as an enlisted man in the Army from 1942 until he was honorably discharged in 1945. He ended being posted not overseas but to New York.
During the war Woody recalls no sense of oppression towards alternate lifestyle sexual activities. The bars and police and many peers turned a blind eye to homosexual activity, as long as it was not overt or too public. The Astor Hotel had a bar which was very friendly towards having men gather there and a few of the Greenwich Village bars were also. Although there were exclusively gay bars, those were rather seedy and Private Baldwin avoided them.
While in Neew York, Woody met Russ Jenter, and the two became lovers, but were separated by the war.
When WWII ended, Woody went to UCLA to earn his Masters Degree on the GI Bill. He went on to become a young Professor of Education at UCLA.
In Los Angles, he reconnected with Jenter for a few years, but eventually they parted ways.
Baldwin eventually moved to Boston to take up a position as a Department Chairperson there at Simmons College but only got to teach one class a semester. Professor Baldwin gave up the Department Chairmanship in 1977 and went back to full teaching for the last five years of his employment at Simmons, until he took early retirement in 1982.
In retirement Woody still felt a need to be productive, and a need for male companionship. He felt a wide gap existed in today's society which caters almost exclusively to youth. This worship of eternal youth is never more flagrant than in the gay culture.
In 1987, Woody began the Boston Chapter of Prime Timers by placing ads in local newspapers and soliciting his many friends. He expected only a small handful of men to attend the first meeting and was surprised when over 40 showed up. The attendance at the first meeting indicated to Woody that a need existed for social and cultural organizations to aid and support the aging gay and bisexual man. Now this organization has grown to over 75 chapters worldwide, located throughout North America, Europe and Australia.
Prime Timers are older gay or bisexual men (and younger men who admire mature men) who enrich their social lives, engage in diverse activities, and enjoy opportunities and friendships with other Prime Timers throughout the world.
If you are interested, you can find a contact information for a chapter near you here:
Prime Timers World Wide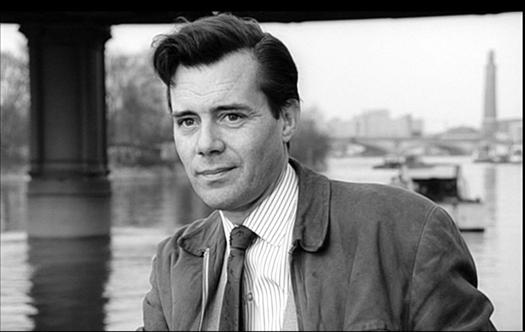 1921 – Dirk Bogarde, English actor was born (d.1999); Sir Derek Jules Gaspard Ulric Niven van den Bogaerde, better known by his stage name Dirk Bogarde, was an actior and author.
Bogarde served in World War II, being commissioned into the Queen's Royal Regiment in 1943. He reached the rank of captain and served in both the European and Pacific theatres, principally as an intelligence officer. Taylor Downing's book "Spies in the Sky" tells of his work with a specialist unit interpreting aerial photo-reconnaissance information, before moving to Normandy with Canadian forces.
Bogarde claimed to have been one of the first Allied officers in April 1945 to reach the Bergen-Belsen concentration camp in Germany, an experience that had the most profound effect on him and about which he found it difficult to speak for many years afterward. Some sources dispute his claim.
After the war his agent renamed him 'Dirk Bogarde' and his good looks helped him begin a career as a film actor, contracted to The Rank Organisation under the wing of the prolific independent film producer Betty Box, who produced most of his early films and was instrumental in creating his matinee-idol image.
Bogarde's most serious friendship with a woman was with the bisexual French actress Capucine.
For many years he shared his homes, first in Amersham, England, then in France with his manager Anthony Forwood (a former husband of the actress Glynis Johns and the father of her only child, actor Gareth Forwood), but repeatedly denied that their relationship was anything other than friendship. These denials were understandable, mainly given that homosexual acts were illegal during most of his career, and also given his following among female admirers which he was loath to jeopardize. His brother Gareth Van den Bogaerde confirmed in a 2004 interview that Bogarde was Gay at a time when such acts were illegal, and also that his long-term relationship with Tony Forwood was more than simply that of a manager and friend.
Bogarde starred in the landmark 1961 Victim, a remake of the 1919 German silent classic Different From The Others, playing a prominent homosexual barrister in London who fights the blackmailers of a young man with whom he had an emotional relationship. The young man commits suicide after being arrested for embezzlement, rather than ruining the attorney's reputation. In the process of exposing the ring of extortionists, Bogarde's character puts at risk his successful legal career and marriage to see that justice is served.
Victim was the first mainstream British film to treat the subject of homosexuality seriously and the film helped lead to the changing of the law. Before agreeing to play this role, which argued for the decriminalization of homosexual acts, Bogarde had specialized in playing leading men in light comedies.
"It was a tremendous departure, playing `my first queer,'" he wrote. "The fanatics who had been sending me 4,000 letters a week stopped overnight...not because I was playing a homosexual, but because I was playing a middle-age man."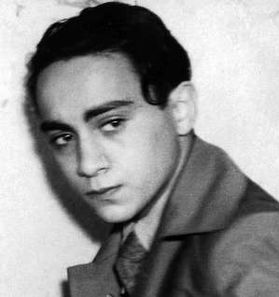 1921 – Herschel Grynszpan (date of death unknown), political assassin and victim of the Holocaust, was born in Hanover, Germany, of Polish-Jewish parents. By 1935 his position as a Jew in Germany was becoming impossible. He applied to emigrate to Palestine but was rejected. His parents then decided to sent him to live with his uncle and aunt in Paris. He entered France illegally via Brussels in September 1936.
Grynszpan spent the next two years trying to get legal residence in France, but was rejected by French officials. In August 1938 he was ordered to leave the country. He continued to live in Paris illegally. In October he heard that his parents, brother and sister were being deported to Poland by the Nazi authorities. When Poland refused to accept them, they (and thousands of other Polish-Jewish deportees), were stranded at the border.
On 7 November, 1938, 17 year-old Grynszpan went to the German Embassy in Paris, where he shot Ernst vom Rath, a junior diplomat, three times in the abdomen. Vom Rath died two days later. The assassination was run on the front pages of all German newspapers, on the instructions of Propaganda Minister Joseph Goebbels. It was the excuse used by the Nazi regime to launch a massive pogrom against the German Jewish communities, known to history as the Kristallnacht.
There are two theories about Grynszpan's motives. The first is that he simply went to the Embassy in a rage and shot the first German he saw. A variant on this first theory is that he mistook vom Rath for the German Ambassador, Graf Johannes Welczek. This view, that Grynszpan acted solely out of rage at the persecution of his family, is still the most widely accepted view.
The second, more controversial, theory, is that Grynszpan knew vom Rath and intended to shoot him. In 2001 Professor Hans-Jürgen Döscher, a leading German authority on the period and author of Reichskristallnacht, published documents which he said showed that Grynszpan and vom Rath had had a sexual relationship.
According to this account, vom Rath was well-known in Paris to be homosexual, and was known as "Madame Ambassadeur" and "Notre Dame de Paris" among Paris gay men. He met Grynszpan in a Paris gay bar, Le Boeuf sur le Toit. It is not clear whether Grynszpan was himself homosexual, or whether he was using his undoubted good looks to gain an influential friend. According to Döscher, vom Rath had promised to use his influence to get Grynszpan's position in France regularised. When vom Rath reneged on this promise, Grynszpan went to the Embassy and shot him.
In support of this theory, Döscher quoted extracts from the diary of the French writer Andre Gide, himself homosexual and well-informed on Paris gay gossip. Vom Rath, Gide wrote, "had an exceptionally intimate relationship with the little Jew, his murderer." Later Gide said: "The idea that such a highly thought-of representative of the Third Reich sinned twice according to the laws of his country is rather amusing."
The American writer Dr Ron Roizen, however, maintains that either Grynszpan or his lawyers made up the story about a homosexual relationship with vom Rath after the murder, in order to assist in his defence. Goebbels refers to it as a defense tactic in his diary entry dated April 5 1942 , and in his entry of April 14, states his intention to stifle this and the deportation of Jews to Poland at the impending trial.
Grynszpan was imprisoned in the Fresnes juvenile prison while the French authorities decided what to do with him. He was not a legal resident of France, and he was a minor. There was some doubt that he could be tried for murder. France at this time had a left-wing Popular Front government in which the Socialist leader Leon Blum, who was Jewish, was a leading figure. Such a government would not deport Grynszpan to certain death in Germany—he was not in any case a German citizen.
As a result of the events of Kristallnacht, Grynszpan's case received a great deal of publicity in Europe and the United States. Jewish opinion was generally horrified at his actions, but also keen to assist him. More than US$30,000 was donated to his defence and a leading lawyer hired to defend him. But Grynszpan was still in prison awaiting a determination of his status when the German Army approached Paris in June 1940.
The French authorities evacuated the inhabitants of the Paris prisons to the south, and Grynszpan was in the prison at Bourges when France surrendered to the Germans. On 18 July, Grynszpan was seized, presumably by the Gestapo, and taken to Germany. It was apparently Goebbels's intention that he be made the subject of a show-trial, to prove the complicity of "international Jewry" in the vom Rath murder. As the Goebbels Diaries entries appear to show, this plan was thwarted by Grynszpan's claim that vom Rath had been his lover.
Grynszpan's fate after 1942 is not known. It is believed he was sent to the Sachsenhausen concentration camp, where he was either executed or died some time before 1945. There were persistent rumours after the war that he had survived the war and was living under another name in Paris, but there is no real evidence for this. He was declared legally dead by the West German government in 1960.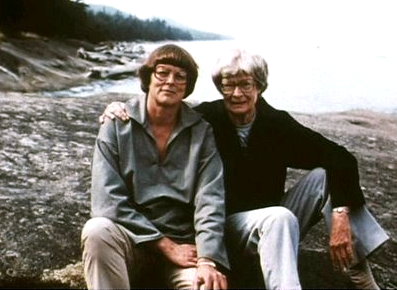 Jane Rule and Helen Sontoff.

1931 – Jane Rule, Canadian novelist, born, (d.2007); A writer of Lesbian-themed novels and non-fiction this Canadian teacher wrote several acclaimed works of fiction, including This is Not for You and Against the Season. But the essential Jane Rule can be seen most directly in her remarkable book, Lesbian Images (1975) in which she attempts to set down nothing less than what it means to be a Lesbian. She realized this aim beautifully by measuring her own attitudes toward the Lesbian experience against the images made by other women writers, including Gertrude Stein, Willa Cather, Radclyffe Hall, Vita Sackville-West, Elizabeth Owen and Maureen Duffy among others.
When Rule's first novel, The Desert of the Heart was published in 1964, a critic complaining of the Lesbian subject matter wrote, "But all the time you keep turning to the photograph of the author on the jacket and wondering how could such a nice looking woman have chosen so distasteful a subject." Read Lesbian Images not only to discover why she writes on "so distasteful a subject," but for a compassionate explanation of how any critic could have written anything so terribly terribly sad.
Rule served on the executive of the Writer's Union of Canada. She was an outspoken advocate of both free speech and gay rights, included in the various controversies surrounding the Gay magazine The Body Politic. In 1989, Rule donated a collection of her writings to the University of British Columbia. Rule was inducted into the Order of British Columbia in 1998 and into the Order of Canada in 2007. She remarked, "I chose Canada over 50 years ago. So it is very nice to have Canada choose me," about receiving the honor. Memory Board (1987) and After the Fire (1989) were both nominated for the Ethel Wilson Fiction Prize.
Rule and Helen Sontoff lived together until Sontoff's death in 2000. Rule surprised some in the Gay community by declaring herself against same-sex marriage equality, writing,
"To be forced back into the heterosexual cage of coupledom is not a step forward but a step back into state-imposed definitions of relationship. With all that we have learned, we should be helping our heterosexual brothers and sisters out of their state-defined prisons, not volunteering to join them there."
Rule died at the age of 76 on November 27, 2007 at her home on Galiano Island due to complications from liver cancer, refusing any treatment that would take her from the island.


Revised 2022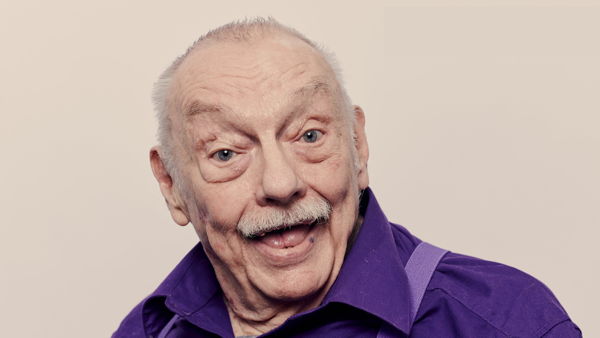 1933 – American artist, filmmaker and legend, James Bidgood was born on this date in Madison, Wisconsin (d.2022). His artistic output has embraced a number of media and disciplines, including music, set and window design, and drag performance. In time his interests led him to photography and film and it is for this work that he is most widely known. Highly recognizable, his photographs are distinguished by an aesthetic of high fantasy and camp. His work which was inspired by an early interest in Florenz Ziegfeld, Folies Bergere and George Quaintance has, in turn, served as important inspiration for a slew of artists including Pierre et Gilles and David LaChapelle.
He directed the 1971 film Pink Narcissus, a dialogue-free fantasy centered around a young and often naked man. The film took seven years to make, and Bidgood built all the sets and filmed the entire piece in his tiny apartment. He later removed his name from the film because he felt editors had changed his original vision. Consequently, the film bore the word "Anonymous" for the director's credit, and it was misattributed to other directors such as Andy Warhol for many years.
Pink Narcissus was restored and re-released by Strand Releasing in 1999, and Bidgood began to receive recognition. "Bidgood created breathtaking camera movements, elaborate forest scenes, wild Persian fantasy sequences, and a neon netherworld," Ed Sikov wrote in The Advocate that year. Bidgood said he appreciated the attention, but he would rather have received it years earlier.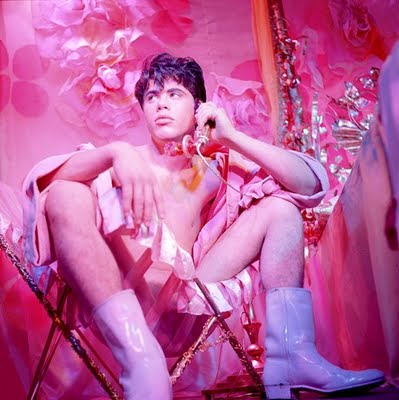 'Pink Narcissus' still
His work is characterized by a heavy reliance on invention. His photographs feature elaborate sets built ground up from the materials of the theater, fashion, design and fine art. In a profile of the artist published in Aperture, Philip Gefter writes,
"Necessity was the mother of invention for Bidgood, who created elaborate photographic tableaux in his small midtown Manhattan studio apartment. His first erotic series was an underwater epic called Water Colors, made in the early 1960s, in which he used a dancer from Club 82 named Jay Garvin as his subject. The underwater atmosphere is completely fabricated; the bottom of the ocean was created with silver lame spread across the floor of Bidgood's apartment; he made the arch of a cave out of waxed paper, and fashioned red lame into the shape of lobster. He coated Garvin with mineral oil and pasted glitter and sequins to his skin so the silver fabric under photographic lights would reflect on his body like water. For weeks at a time, Bigood would eat and sleep within the sets he constructed in his apartment."
Many contemporary themes are found even in the earliest of Bidgood's work. Camp, identity, erotics and desire, marginality, and performance all figure heavily in his portraits of nude men.
In 2005, James Bidgood was honored with a Creative Capital grant which facilitated a return to art photography after a hiatus of nearly forty years. His current projects include work for Christian Louboutin and OUT magazine. In 1999 The art book publisher Taschen published a monograph of his work including biographical images, stills from his film, and an interview with Bidgood in its 2008 publication The Big Penis Book, and will re-publish his monograph in 2009. His most recent work was featured in Out in February 2009.

1954 – The Sydney Morning Herald editorializes in favor of decriminalization of sodomy in Australia.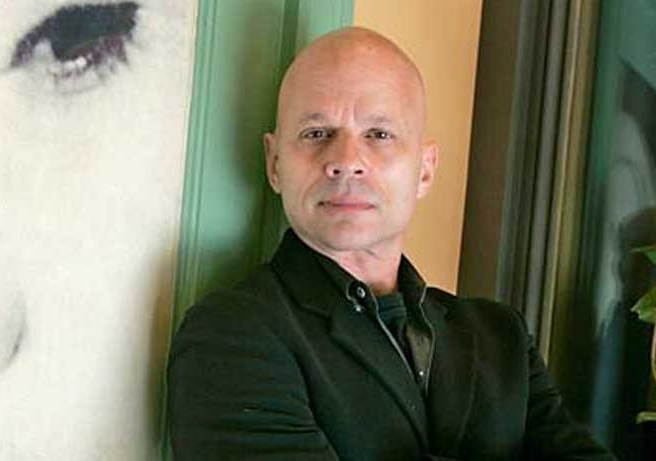 1956 – Kevin Sessums has served as executive editor of Interview and as a contributing editor of Vanity Fair, Allure, and Parade. His work has also appeared in Travel+Leisure, Elle, Out, Marie Claire, Playboy, Thedailybeast.com and Towleroad.com. He was the founding Editor-in-Chief of FourTwoNine magazine (G-A-Y on the telephone keypad) and is currently the Editor at Large of the Curran in San Francisco.
  In 2007, he published a memoir titled
Mississippi Sissy
, which is about his conflicted life of a self-aware gay boy growing up in Forest, Mississippi. It made the New York Times Bestseller list and won the 2008 Lambda Literary Award for Best Male Memoir. His audio recording of 
Mississippi Sissy
 was nominated for a 2007 Quill Award. In 2015, he published his second memoir,
I Left It on the Mountain
, which made the New York Times Celebrity Bestseller List. He portrayed the character Peter Cipriani in the miniseries adaptation of
Armistead Maupin
's
Tales of the City
. 
Sessums was banned from posting on Facebook for 24 hours on December 29, 2016 after he accurately compared the supporters of President-elect Donald Trump to a "nasty fascistic lot" in a post.
Sessums is HIV positive.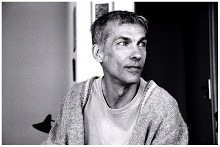 1958 – Håkan Lindquist, born in Oskarshamn, Småland, is a Swedish author. He lives in Stockholm and Berlin.
Lindquist debuted in 1993 with the novel My Brother and His Brother , a story about the teenager Jonas who tries to create an image of his dead brother Paul. The novel is translated into several languages, most recently into Spanish and Polish. In 2002, Lindquist received the French Prix Littéraire de la Bordelaise de Lunetterie for the French edition of the book.
His short, domestic novels tackle eternal themes of family secrets, the nature of love, and the passage of time, with a fresh perspective and a modern, gay naturalism. My Brother and His Brother follows Jonas as he tracks down and uncovers surprising details about Paul, his older brother who died at sixteen the year before Jonas was born. On Collecting Stamps is a beautiful look back, from middle age, as Mattias reconsiders his unconventional friendship, starting at twelve, with a middle-aged man who was in love with a lonely young sailor.
Lindquist has also written articles and reviews in various Scandinavian cultural magazines, as well as short stories published in Sweden, Finland, Norway, Iceland, France, Germany, Hungary and the United States. He has also written the libretto to the opera William with music by composer B. Tommy Andersson. William - a fantasy about the so-called "lost years" in William Shakespeare's life - premiered in Vadstena in the summer of 2006.
Lindquist has also done some translations, including poetry by British poet Robin Robertson and Polish poet Tadeusz Dabrowski. Together with Davy Prieur, he has also translated texts by Moroccan-French author Abdellah Taïa into Swedish, including the novels Une mélancolie arabe ( An Arabian melancholy), L'armée du salut ( Salvation Army) and Le jour du Roi (King's Day). Lindquist has also translated his novels My brother and his brother and On collecting stamps into English.

1960
– A
New Jersey
appellate court upholds the conviction of an attorney (and Senator Joe McCarthy backer) for engaging in fellatio with numerous teenage males.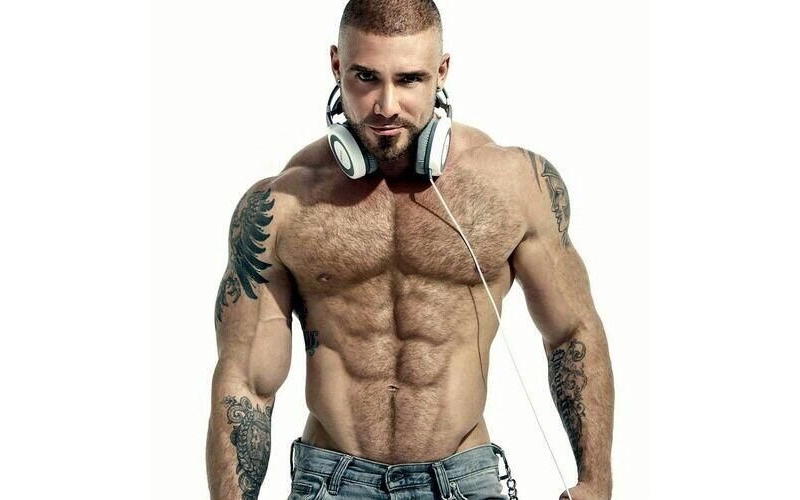 1976 – Angelo Garcia, born in Brooklyn, New York City, is an American singer of Puerto Rican descent and songwriter who was a member of Puerto Rican boy band Menudo from 1988 to 1990.
A native New Yorker born in Brooklyn, New York, he barely spoke Spanish when he auditioned for a spot in the band after seeing a television commercial in Puerto Rico during a family vacation.
After two years with Menudo, García parted with the band and signed on with World Wide Entertainment as a solo artist he recorded several songs including "Magic", "Yours So Completely", and a remake of singer Tiffany's hit song "Could've Been" but it was his single "Don't Keep Me Holding On" that became a success.
After parting with his former label, he released one semi-successful Spanish album for Warner simply titled Angelo. After completing his secondary education and some music projects, he put his recording career on hold after he moved to Orlando, Florida, where he earned a communications degree from the University of Central Florida. After completing his studies, he helped in the launch of a women's gym franchise in Miami called Elements, before returning to New York City to restart his musical career.
During 2005, he participated in a reunion tour of former Menudo members Sergio Blass, Rawy Torres, and Robert Avellanet, performing under the name "Los Ultimos Heroes."
In 2006, García released a Spanish-language pop album titled Cool for which he wrote or co-wrote every song.
In May 2010, García posed for a series of semi-nude photographs for Paragon Men, a gay erotica website. In the interview which accompanied his photo shoot, Garcia openly discussed his homosexuality and his years of sexual self-exploration after leaving Menudo, even working briefly as a stripper and erotic dancer and performing at the now defunct Gaiety Theatre in New York City. He also refused to "out" his former bandmate Ricky Martin, who publicly disclosed his homosexuality a few weeks after García's interview.
In 2012, Garcia joined forces with William Luque (who wrote his first Spanish hit "En Mis Sueños" which sold over 6 million copies worldwide) and began writing and recording a new English language dance-pop album in Madrid called Scandalous. The title track "Scandalous" speaks about a child growing up in the spotlight and how having to grow up prematurely wreaked havoc on his adult life.
On May 7, 2015 Angelo Garcia disclosed in an exclusive interview on the Dr. Zoe Today show that he was sexually abused by a neighbor at 8 years old; by someone close to administration while in Menudo (band) from 11 years old to 14 years old; and again by a schoolteacher after he left the band. Inspired by the overwhelming response to his interview, the show opened their toll free number for listeners to call in sharing their own stories of sexual abuse and aired them on the following show titled, "Breaking the Silence" on May 14, 2015.
In an appearance on Tosh.0 he has stated that he now considers himself Bi-Sexual.


1979 – Toronto's police chief and the president of the Police Association which represents uniformed officers both issue statements of apology after anti-gay article "The Homosexual Fad" appears in the Police Association newsletter.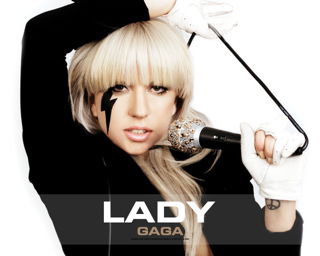 1986 – Stefani Joanne Angelina Germanotta, best known by her stage name Lady Gaga, is an American singer-songwriter and musician. She got her stage name from the song "Radio Ga Ga" by the band Queen. In 2008, she made an album called, The Fame, and she tells us "about how everyone can feel famous." Lady Gaga has a contralto vocal range. Her other albums are The Fame Monster and Born This Way. She has won various Grammys and BRIT Awards.
Gaga says much of her early success is thanks to her gay fans and is often called a "rising gay icon." Early in her career she had trouble being played on the radio, and stated, "The turning point for me was the gay community. I've got so many gay fans and they're so loyal to me and they really lifted me up. They'll always stand by me and I'll always stand by them. It's not an easy thing to create a fanbase."
In the inside of her album The Fame, she said, "I love you so much. You were the first heartbeat in this project, and your support and brilliance means the world to me. I will always fight for the gay community hand in hand with this incredible team."
One of her first performances on television was in May 2008 at the NewNowNext Awards, an awards show on the LGBT television network Logo, where she sang her song "Just Dance". In June, she sang the song again at the San Francisco Pride event. After The Fame came out, she said the hit song "Poker Face" was about being bisexual.
When she was a guest on The Ellen DeGeneres Show in May 2009, she complimented DeGeneres for being "an inspiration for women and for the gay community". She later said that the October 11, 2009, National Equality March rally on the national mall was "the single most important event of her career." As she left, she said "Bless God and bless the gays," similar to her 2009 MTV Video Music Awards speech a month earlier.
At the rally, she sang a cover of John Lennon's "Imagine" saying "I'm not going to [play] one of my songs tonight because tonight is not about me, it's about you." She changed the lyrics of the song to talk about the death of Matthew Shepard, a college student murdered because of his homosexuality.
In September 2010, she spoke at a rally in favor of removing the Don't ask, don't tell policy, which stopped LGBT people from working openly in the military of the United States. The gay magazine The Advocate said that she had become an important helper for gays and lesbians where President Barack Obama wasn't.
Gaga released "Born This Way" on February 11, 2011. The song, the lead single from the eponymous album, debuted atop the Billboard Hot 100, becoming the 1,000th number-one single in the history of the charts.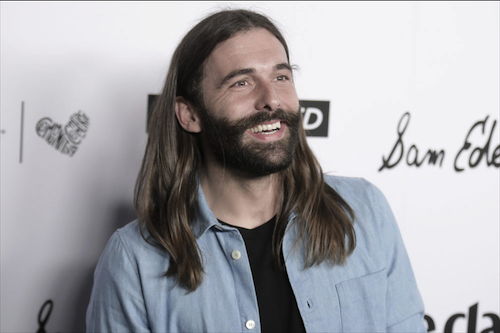 1987 – Jonathan Van Ness, also commonly referred to by his initials, JVN, is an American hairdresser, podcast host, activist, actor, author, and television personality. He is best known as the grooming expert on the Netflix series Queer Eye, for his work on the web series parody Gay of Thrones, and for hosting the Getting Curious with Jonathan Van Ness podcast.
Jonathan Van Ness was born and raised in Quincy, Illinois. Van Ness said he comes "from a family of journalists," being the sixth generation of their family-owned newspaper. This refers to broadcast and newspaper conglomerate Quincy Media and the company's local flagship newspaper, the Herald-Whig; Van Ness' mother is the vice president of Quincy Media, and he is a descendant of the Oakley family which has controlled the company since the 1890s.
Openly gay throughout his life, Van Ness experienced bullying for his "femininity and natural flamboyance," and received death threats. He "endured years of judgment, ridicule, and trauma." Of the time, Van Ness said, "Growing up I definitely put on every nail polish, every heel, every scarf – I definitely had my mom's knockoff Hermès scarves in my hair and around my waist – those were my skirts, and I loved it.… But when I was really young, I had really femme-shamey, gender-shamey [reactions] when I would dress like that. When I would play with those things, I knew it needed to be…... behind closed doors."
Although always comfortable in his own skin, he says it did take some time to navigate other people's reactions. In response to the bullying he used humor as a coping mechanism, and relied on a small group of close friends for support. Years later, in the late 2010s, he realized he was gender non-conforming, and non-binary.
When he was younger, he was sexually abused by an older boy at church, and Van Ness said this laid the foundation for self-destructive behaviors. In his early teens, he used online-chat to socialize with, and sometimes meet older men for sex. He was the first male cheerleader at Quincy Senior High School and continued cheerleading in college at the University of Arizona, where he majored in political science. One month in his initial semester at college, he used up his monthly allowance on cocaine and, too embarrassed to ask his parents for funds, turned to sex work. His addictions to sex and drugs increased to also include methamphetamine. His grades fell and he lost his cheerleading scholarship. He dropped out after one semester to pursue hairstyling.
In Los Angeles, Van Ness found a job as a personal assistant at Sally Hershberger Salon. One day in 2012, at age 25, he fainted in the salon while doing highlights for a client's hair. Later at a clinic, he found out he was HIV-positive. He used the revelation to "get clean" from drug use and publicly shared his story, saying, "I want people to realize you're never too broken to be fixed." He currently works at MoJoHair and Stile Salon, both in Los Angeles, which he co-founded with Monique Northrop of Arte Salon in New York City.
On June 23, 2020, Van Ness and Queer Eye costar Bobby Berk praised recent U.S. Supreme Court decisions that ruled that LGBT employment discrimination was a violation of the Civil Rights Act of 1964. Van Ness described the ruling as "a great step in the right direction." However, both of them still urged the United States Congress to pass the proposed Equality Act.

1988 – Austin Armacost is an American reality television personality who rose to fame in 2010 by becoming a cast member in the Logo reality television series The A-List: New York which followed the lives of six gay and bisexual men in New York City.
In 2015, he competed in the sixteenth series of Celebrity Big Brother, where he became runner-up. He re-entered the house in 2017 during the nineteenth series as an "All Star" in which he was the second to leave the house. He was evicted in a twist, which saw him voted as the "dullest housemate". He finished in fifteenth place.
Armacost was married to a British man named Jake Lees for eight years. They separated in 2016. Austin celebrated his one-year anniversary with new boyfriend, IT Business Architect Darren Banks in September 2017.

1989 – 2500 ACT-UP activists demonstrate at the New York City hall protesting Mayor Koch's handling of the AIDS crisis. Over 100 protestors went to jail.

MARCH 29 →
[{(o)}]|[{(o)}]|[{(o)}]|[{(o)}]| [{(o)}]|[{(o)}]