June 21
[{(o)}]|[{(o)}]|[{(o)}]|[{(o)}]| [{(o)}]|[{(o)}]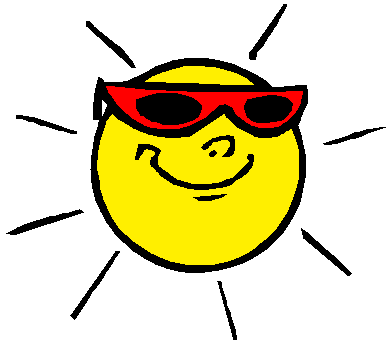 Summer begins today!
(or Winter, if you are in the Southern Hemisphere)
[{(o)}]|[{(o)}]|[{(o)}]|[{(o)}]| [{(o)}]|[{(o)}]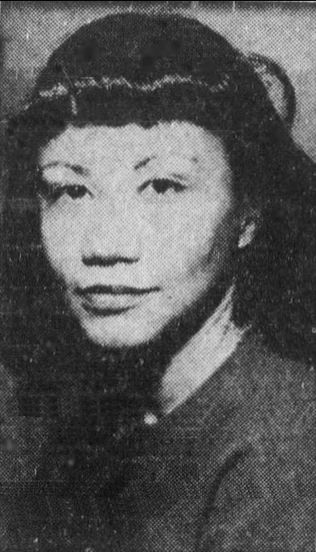 1927 – Born: Short story writer, novelist, librarian, critic, and editor, Ann Allen Shockley, who treats both interracial and lesbian experiences. Shockley was born June 21, 1927, in Louisville, Kentucky, the daughter of social workers Bessie Lucas and Henry Allen. She received her B.A. in 1948 from Fisk University, where she worked for many years as archivist, librarian, and professor. In 1949, she married teacher William Shockley, whom she later divorced.
She is best known for her ground-breaking lesbian fiction: Loving Her (1974) is arguably the first novel to offer a black lesbian as its primary character. Loving Her centers on an interracial relationship between Renay, who is black, and Terry, who is white, and equates that relationship with a journey into self-discovery.
Shockley, who has named herself a "social[ly] conscious writer," extends her fictional treatment of interracial and lesbian experiences with her collection of short stories, The Black and White of It (1980), which celebrates the gains women have made in the wake of racial and sexual oppression.
Shockley consistently explores possibilities for social transformation across sexual and racial divides. Challenging the homophobia that, according to her 1979 essay The Black Lesbian in American Literature: An Overview, pervades the black community, her second novel, Say Jesus and Come to Me (1982), situates its lesbian love story amid feminist meetings and religious revivals. The juxtaposition of evangelicalism and lesbianism is surprising and subversive.
Shockley's works offer complex, wide-ranging portrayals of lesbian experience. Her fiction constitutes a brave contribution to lesbian literature.


Added 2022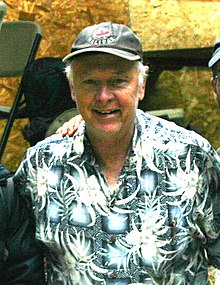 1941 – Bruce William Nickerson (d.2022) was an American civil rights and gay rights attorney in California. He was also an authority on lewd conduct law in the United States. He had operated a solo legal practice in San Carlos, California and was affiliated with Carlos Scott López, a public health advocate and human rights attorney.
Nickerson was recognized as having "made a sort of mini-career out of defending these cases" on lewd conduct and police sting operations targeting gay men. Openly gay himself, he had argued in front of the California Supreme Court and U.S. Federal Circuit courts regarding civil rights issues affecting gay people. In the late 2000s, he was interviewed by Bill O'Reilly on Fox News regarding a series of cases which he had been arguing on behalf of several hundred defendants related to a sting operation targeting gay men in Fresno, California.
His focus on lewd conduct emerged after pursuing several cases addressing such conduct and freedom of speech issues at adult bookstores in the early 1980s in and around the Bay Area of California. Nickerson successfully argued Baluyut v. Superior Court, (1996) which established discriminatory prosecution as a defense in police sting operations which target gay public conduct and ignore identical straight public conduct.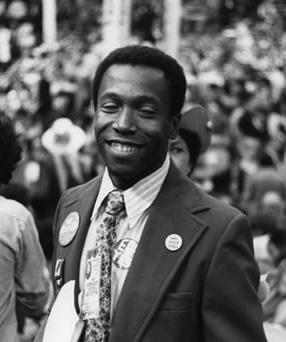 1945 – Mel Boozer (d.1987) was a university professor and activist for African-American, LGBT and AIDS issues. He was active in both the Democratic Party and Socialist Party USA.
Boozer grew up in Washington, D.C. where he graduated as salutatorian of his class at Dunbar High School. Boozer attended Dartmouth College on a scholarship. He entered the university in 1963, one of only three African Americans admitted that year. Following his graduation he became a professor of sociology at the University of Maryland. In 1979, Boozer was elected president of the Gay Activists Alliance, in which office he served for two one-year terms. He was the first African American to serve as GAA president and became "a leading moderate voice among black gays nationally".
Boozer was nominated in 1980 for the office of Vice President of the United States by the Socialist Party USA and, by petition at the convention, by the Democratic Party. He was the first openly gay person ever nominated for the office. Boozer spoke to the Democratic convention in a speech televised in prime time, calling on the party to support equality for LGBT people.
"Would you ask me how I dare to compare the civil rights struggle with the struggle for lesbian and gay rights? I can compare them and I do compare them, because I know what it means to be called a 'nigger' and I know what it means to be called a 'faggot,' and I understand the differences in the marrow of my bones. And I can sum up that difference in one word: none."
Boozer received 49 votes before the balloting was suspended and then-Vice President Walter Mondale was renominated by acclamation.
In 1981, Boozer was hired by the National Gay Task Force as district director and a lobbyist. NGTF executive director Virginia Apuzzo fired him in 1983, replacing him with then-GAA president Jeff Levi. This had the effect of "leav[ing] the nation's oldest gay organization even whiter" and drew protests from other gay African Americans.
Boozer died of an AIDS-related illness in March 1987 at the age of 41 in Washington, D.C.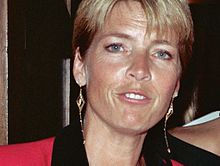 1947 – Meredith Baxter, also known for some years as Meredith Baxter-Birney, is an American actress and producer. She is known for her acting roles including three television series: Family (1976-1980), an ABC television-network drama, Family Ties (1982-1989), an NBC television-network situation comedy, and Dan Vs. (2011-present), a situation comedy on The Hub television-network.
Baxter has been married three times and has five children. In 1966, she married Robert Lewis Bush and they had two children; the couple was divorced in 1971. In 1974, she married David Birney and had three children. She and David Birney divorced in 1989. In 1995, she married actor and screenwriter Michael Blodgett; they were divorced in 2000.
On December 2, 2009, she came out as a lesbian during an interview with Matt Lauer on Today, and on the Frank DeCaro Show on Sirius-XM OutQ 102. She lives with her partner, Nancy Locke, a general contractor, with whom she has been since 2005. Baxter said she first realized she was a lesbian when she began her first same-sex relationship in 2002. Her memoir, titled Untied, was published in 2011.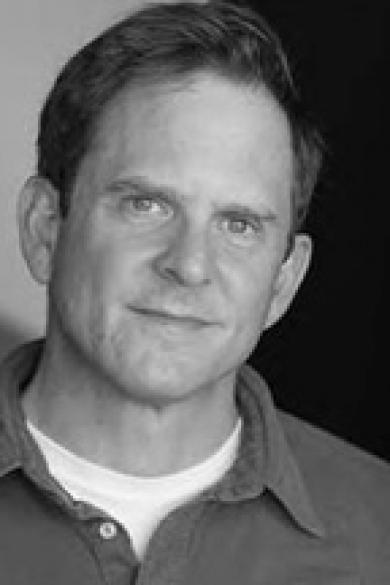 1955 – Born: David Marshall Grant, American actor and playwright. Grant was born in Westport, Connecticut. Immediately after graduating from the Yale University School of Drama, his first paying job was as Richard Gere's lover in the Broadway play Bent.
As an actor, he is most notable for his portrayal of Joe Pitt in the first Broadway production of Tony Kushner's Angels in America. That role earned him a 1994 Tony Award nomination as Best Actor (Featured Role - Play). He also played the gay character Russell on the television show Thirtysomething. Although he only appeared in four episodes between 1989-90, the role brought him considerable recognition, particularly in one groundbreaking episode that featured his character in bed with another male character - a scene that caused outcry among conservative sponsors at the time.
He has played minor roles in various television shows and movies, including CSI: Miami, and Law & Order. His appeared in the 2006 film The Devil Wears Prada as the father of Anne Hathaway's character. His last appearance on TV was in Alias.
He costarred with Kevin Costner in a 1985 movie American Flyers directed by John Badham and written by Steve Tesich. Not only was his performance great, but he had a frontal nude scene. Costner bared his butt in this one too.
In 1998 he began a career as a writer. His first play, Snakebit, was nominated for the 1999 Drama Desk Award for Outstanding Play and was also nominated for an Outer Critics Circle Award. His second play, Current Events, was produced in 2000. His most recent play, Pen, opened in 2006. He is currently serving on the staff of the ABC drama Brothers & Sisters as a screenwriter, story editior and (as of season 2 in September of 2007), a series producer.
Of 'coming out" he has said:
My friends felt my pain.  it was a tough choice, it can limit your choices as an actor.  My agents never brought it up because I hadn't told them I was gay...

They [closeted gay actors] don't come out because it's still a problem for actors.  You are type cast in this business and coming out can limit what you play.  I don't think actors have a responsibility to be role models.  If that were the case then why stop at coming out?   Being a model citizen isn't a prerequisite for the job.  And anyway, if you force someone to do the right thing, it's not the right thing anymore.  That said, I ultimately think you can't excel in anything if you're not honest about who you are.  So, a gay actor is kind of between a rock and a hard place (pardon the expression)  I finally decided to be who I was and let the chips fall where they may.   The irony is my career continued to grow.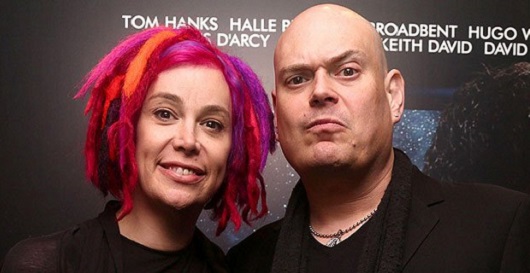 Lana and Andy Wachowski
1965 – Lana Wachowski (born Laurence "Larry" Wachowski) and her sister Lilly (born Andrew Paul "Andy" Wachowski), known together professionally as the Wachowskis and formerly as the Wachowski Brothers, are American film directors, screenwriters and producers.
They made their directing debut in 1996 with Bound, and reached fame with their second film The Matrix (1999), for which they won the Saturn Award for Best Director. They wrote and directed its two sequels The Matrix Reloaded and The Matrix Revolutions (both in 2003), and were heavily involved in the writing and production of other works in the franchise.
Following the commercial success of the Matrix series, they wrote and produced the 2006 film V for Vendetta (an adaptation of the comic of the same name by Alan Moore), and in 2008 released the film Speed Racer, which was a live action adaptation of the Japanese anime series. Their most recent film, Cloud Atlas, based on the novel of the same name by David Mitchell and co-written and co-directed by Tom Tykwer, was released on October 26, 2012. Their next film Jupiter Ascending, and the television series Sense8, which they created, were both released in 2014.
Lana, while still identifying as Larry, married Thea Bloom in 1993; they divorced in 2002. Lana subsequently began dating Karin Winslow, a dominatrix known as Ilsa Strix; they married in 2009.
Rumors that Lana Wachowski, then still identifying as Larry, was transitioning from male to female spread in the early 2000s, though neither sibling spoke directly on the subject at the time. In 2003 Gothamist.com mentioned the possible gender reassignment and suggested that "the Matrix films could be read with a sadomasochistic subtext with the news of Larry's companionship with a dominatrix" (her future wife Karin Winslow). Though the Wachowskis remained silent, sources close to them denied the rumors.
According to Rovi, Lana completed her transition after Speed Racer's release in 2008. The Hollywood Reporter and the New York Times have referred to the Wachowskis as "Andy and Lana (formerly Larry) Wachowski", and Deadline.com has referred to the duo as "Andy and Lana Wachowski." On some documents she appears as Laurenca Wachowski. In July 2012, Lana made her first public appearance after transitioning, in a video discussing the creative process behind Cloud Atlas. Lana is the first major Hollywood director to come out as transgender.
In March 2016, Lilly Wachowski also came out as a transgender woman, issuing a statement to the Windy City Times after a visit from a reporter from the Daily Mail newspaper. While on the red carpet of the 27th GLAAD Media Awards, Lilly commented she had been hiding she was transgender throughout her "whole life."


1980 – More than ten thousand gay men and lesbians participate in second annual Gai-rilla Week. The Gay celebration was awarded a grant by the organizing committee of Quebec's national holiday, la fête nationale des Québécois.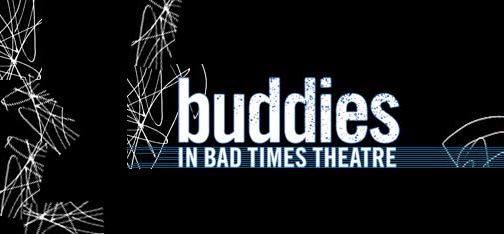 1978 – Buddies in Bad Times Theatre, a Canadian professional theatre company, is formed.
Based in Toronto, Ontario and founded in 1978 by Matt Walsh, Jerry Ciccoritti, and Sky Gilbert, Buddies in Bad Times is dedicated to "the promotion of queer theatrical expression".
Buddies' inaugural production was a Gilbert written play, Angels in Underwear. An anthology of Beat poetry, Angels starred Walsh as Jack Kerouac and Ciccoritti as Allen Ginsberg, and was performed at The Dream Factory on Queen Street in Toronto in September 1978.
Gilbert, Walsh and Ciccoritti also subsequently founded the Rhubarb Festival of Canadian Plays, first produced by the theatre company at The Dream Factory in January 1979 and featuring short plays written by local, unknown playwrights directed by all three of Rhubarb's founders.
The name Buddies in Bad Times was taken from the poem of the same title by the French poet Jacques Prévert. It was originally the expression of the close friendship that prevailed between Walsh and Gilbert during their years at York University and The Three Schools of Art.
Although the company, under Gilbert's leadership, eventually achieved notoriety and success in the 1980s as a so-called "gay" theatre company, it was not founded with that intent. Instead Buddies was among a number of alternative companies founded by a new generation of mid-1970s theatre school graduates (many out of York University) shut out of the "professional" theatre scene due to their youth. Other companies founded at this time in Toronto included Nightwood theatre and Necessary Angel.
Shortly after Walsh and Ciccoritti stopped working with the company in its infancy, Gilbert moved its artistic direction toward the then emerging gay subculture of Toronto. Buddies has become one of North America's premiere examplars of the synthesis between so-called gay culture and modern theatre and has spawned the successful careers of dozens of Canadian actors, playwrights and directors.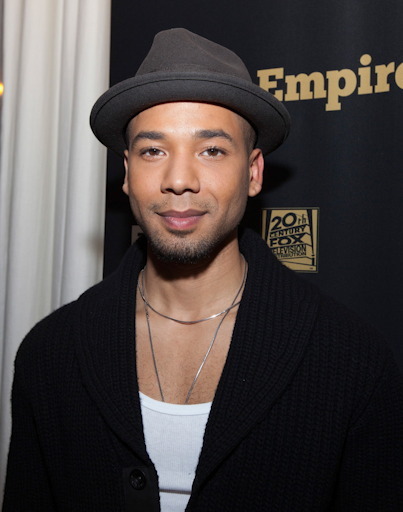 1983 – Jussie Smollett is an American actor, singer and photographer. As a child, he co-starred in a number of films, including The Mighty Ducks (1992) and North (1994). In 2015, Smollett began starring as Jamal Lyon in the Fox music-industry primetime soap opera Empire.
Smollett was born in Santa Rosa, California. His father was Jewish (his family emigrated from Russia and Poland), and his mother is of African, Native American, Creole, and Irish descent.
Smollett began his acting career as a child, co-starring in the films The Mighty Ducks (1992) and North (1994). On television, he starred alongside his five real-life siblings in the short-lived ABC sitcom On Our Own from 1994-95.
In 2012, Smollett returned to acting with the leading role in the LGBT-themed comedy-drama The Skinny. He later guest-starred on The Mindy Project and Revenge. In 2014, Smollett was cast as Jamal Lyon - a gay musician who struggles to gain his father's approval - opposite Taraji P. Henson and Terrence Howard in the Fox primetime soap opera Empire.
Smollett is also a singer-songwriter; in 2012, he released an EP album, The Poisoned Hearts Club. In February 2015, he confirmed that he had signed a recording contract with Columbia Records and would be releasing an album in the future. Smollett co-wrote the songs "I Wanna Love You" and "You're So Beautiful" on the Original Soundtrack from Season 1 of Empire album, which was released in March 2015.
Smollett confirmed he is gay during a backstage interview with Ellen DeGeneres in March 2015.
On January 29, 2019, Smollett told police that he was attacked outside his apartment building by two men in ski masks who called him racial and homophobic slurs, and said "This is MAGA country", referencing President Donald Trump's slogan "Make America Great Again" and used their hands, feet, and teeth as weapons in the assault. According to a statement released by the Chicago Police Department, the two suspects then "poured an unknown liquid" on Smollett and put a noose around his neck. Smollett said that he fought them off. Smollett was treated at Northwestern Memorial Hospital; not seriously injured, he was released "in good condition" later that morning. The police were called after 2:30 am; when they arrived around 2:40 am, Smollett had a white rope around his neck. Smollett said that the attack may have been motivated by his criticism of the Trump administration and that he believed that the alleged assault was linked to the threatening letter that was sent to him earlier that month.
Smollett was indicted on February 20, 2019, for disorderly conduct consisting of allegedly paying two Nigerian-American brothers to stage a fake hate crime assault on him and filing a false police report. Smollett's defense team reached a deal with prosecutors on March 26, 2019, in which all charges were dropped in return for Smollett performing community service and forfeiting his $10,000 bond. On March 27, 2019, it was announced that the FBI would be investigating as to why the charges were dismissed.

2001 – Two gay male couples made history by publicly holding the first gay wedding in Cuba. Four local men, Michel and Ángel, and Juanito and Alejandro, ranging in ages from 17 to 22, exchanged symbolic vows before their families and friends at a neighborhood recreation center in one of the poorest sections of San Miguel del Padrón, a working-class suburb southeast of Havana. The wedding created such a stir in the neighborhood that some people climbed on their roofs to get a better view. It was a first in Cuba where there was no organized gay community and no public Pride celebrations.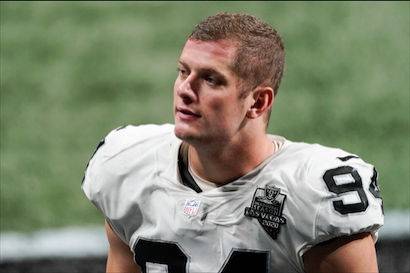 2021 – Raiders defensive lineman Carl Nassib became the first active N.F.L. player to publicly declare that he is gay.
"I just want to take a quick moment to say that I'm gay," Nassib said in a video posted to his Instagram account. "Sadly, I have agonized over this moment for the last 15 years," he wrote in the same post.
Nassib, a five-year N.F.L. veteran who previously played with the Cleveland Browns and the Tampa Bay Buccaneers, said he was finally "comfortable getting it off my chest."
Nassib's announcement was made during Pride Month, celebrated each June. He said he would donate $100,000 to The Trevor Project, a nonprofit group that focuses on suicide prevention efforts among lesbian, gay, bisexual, transgender, queer and questioning youth.
Michael Sam, a defensive lineman who played college football at Missouri, announced he was gay before he was chosen in the seventh round of the 2014 draft. The Rams, then based in St. Louis, cut Sam at the end of training camp. The Dallas Cowboys signed him to their practice squad, but he never played in a regular season game.

JUNE 22 →
[{(o)}]|[{(o)}]|[{(o)}]|[{(o)}]| [{(o)}]|[{(o)}]