August 5
[{(o)}]|[{(o)}]|[{(o)}]|[{(o)}]| [{(o)}]|[{(o)}]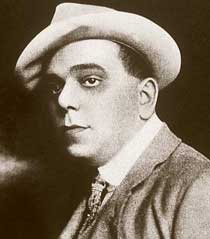 1881 – João Do Rio (d.1921) was an Afro-Brazilian journalist, short-story writer and playwright. Do Rio was the pseudonym for the writer born João Paulo Emilio Cristóvão dos Santos Coelho Barreto.
Early in his career, Barreto's sexuality brought forth suspicion (and, later, gibes) among his contemporaries. He was a life-long bachelor, without girlfriend or known mistresses, and many of his texts reveal an explicit homoerotic inclination. The suspicion was practically confirmed when he presented himself as the Brazilian promoter of the works of the "cursed" Oscar Wilde, whose works he translated into Portuguese. He has been referred to by historians as a "notable black homosexual writer" and an dandy who dressed like a "fashion plate." Barreto never dared to defy the stereotypes with which the society labeled homosexuals. However, in aspiring to defend new ideas in social and political fields, his "voluminous, thick-lipped and dark figure with a very smooth coat" (as registered by the writer Gilberto Amado) became a perfect target for all sorts of reactionaries, homophobics and racists like the politician Humberto De Campos. His presumed "flirt" with Isadora Duncan in 1916 (when she was performing in the Municipal Theater of Rio de Janeiro), expressed this sexual ambiguity. Duncan and Barreto had met previously in Portugal, but it was only during her engagement in Rio that they become close. The exact level of this intimacy remains a mystery.
Whatever consternation his sexuality posed for historians, his reputation as a writer was always secure. In 1919 he was elected to the Brazilian Academy of Letters. When João do Rio died in 1921 an estimated 100,000 persons came out for his funeral.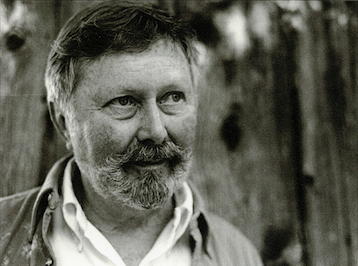 1920 – George Tooker, Jr. (d.2011) was one of Magic Realism's most prominent visual artists. He was raised in Brooklyn Heights and Bellport, New York by his Anglo/French-American father George Clair Tooker and English/Spanish-Cuban mother Angela Montejo Roura. Tooker longed to go to art school rather than college, but ultimately abided by his parents wishes and majored in English literature at Harvard University, while still devoting much of his time to painting. In 1942, he graduated from college and then entered the Marine Corps but was discharged due to ill-health.
In 1943 he began studying at the Art Students League of New York. Reginald Marsh – who was his mentor - and Kenneth Hayes Miller were two of his teachers at the ASL. Early in his career Tooker was often compared with other painters such as Andrew Wyeth, Edward Hopper, and especially his friends, the other Magic Realists, Jared French and Paul Cadmus. All three were championed by Lincoln Kirstein, the influential collector and impresario.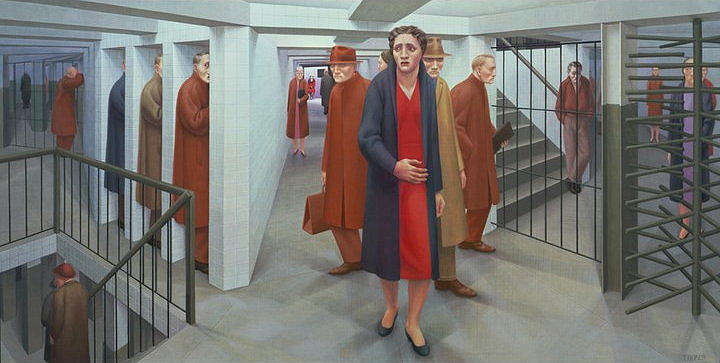 Working within the then-revitalised tradition of egg tempera, Tooker addressed affecting issues of modern-day alienation with subtly eerie and often visually literal depictions of social withdrawal and isolation. Subway (1950) [pictured above], and Government Bureau (1956) [pictured below] are two of his best-known paintings.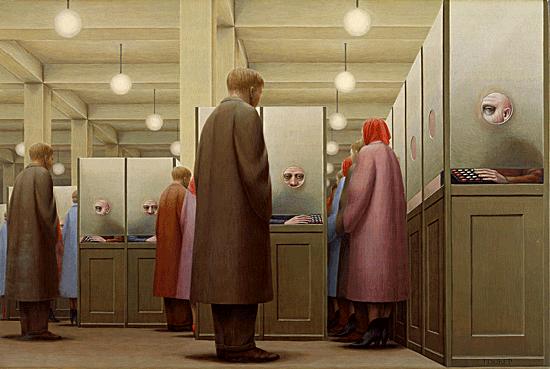 Although he was raised in a religious (Episcopalian) family he later converted to Catholicism, after the death of his life partner, the artist William Christopher. He is a member of The American Academy of Arts and Letters and has lived in rural Vermont since the late-1950s, originally moving there with Christopher, and where he continued to paint until his death on March 27, 2011 due to kidney failure.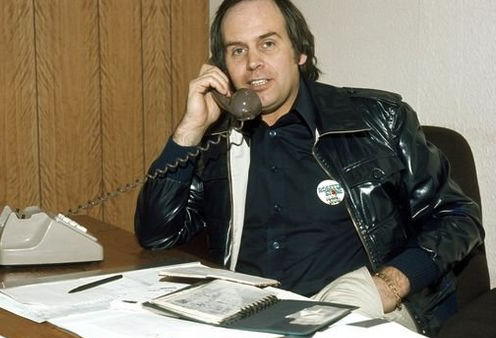 1938 – (Thomas Dougal) Tam Paton (d.2009), was the manager and primary spokesman during the 1970s of the Scottish band, the Bay City Rollers.
Born in Prestonpans, Scotland, he was the son of a potato merchant. Paton drove a truck to initially aid the group financially. He went on to guide the band through their peak during the 1970s, nurturing the band's image to be that of the "boys next door". He was responsible for starting a myth that the band members preferred drinking milk to alcohol, in order to cultivate this clean, innocent image.
In 1979, Paton was fired as manager, and went on to develop a multi-million pound real estate business based in Edinburgh, Scotland.
Paton was openly gay. In 1982, he was convicted of gross indecency with teenage boys, serving one year of a three-year prison sentence.
In later years he suffered poor health including two heart attacks and a stroke. He was arrested on child sexual abuse charges in January 2003, but was later cleared of all allegations. In April 2004, Paton was convicted of supplying cannabis and fined £200,000. In 2007, he was accused but cleared of raping the band's guitarist, Pat McGlynn, in a hotel room in 1977.
Paton died of a suspected heart attack aged 70 at his Edinburgh home on 8 April 2009.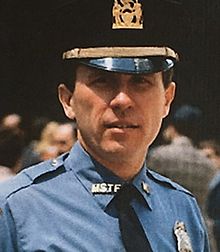 1943 – (Charles Henry) Charlie Cochrane was an American law enforcement officer and sergeant with the New York City Police Department. Following his delivery of public testimony on anti-discrimination legislation pending before the New York City Council, Cochrane became the first openly gay officer of the NYPD. He later helped to form the Gay Officers Action League (GOAL).
In 1963, Cochrane enlisted in the United States Army.
Cochrane joined the New York City Police Department in 1967. For the first 10 years of his time on the force, Cochrane kept his homosexuality a secret, known only to a limited circle of friends. He first came out to his patrol partner in 1977, gradually becoming less fearful over time, until by the early 1980s he believed that "hundreds of guys and women in the department" were aware of his sexual orientation.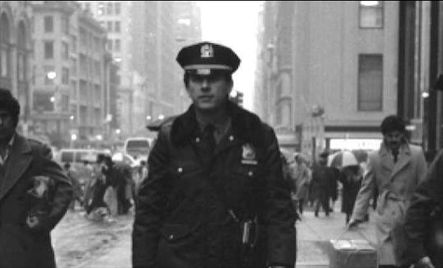 Cochrane on patrol
Cochrane became a member of the NYPD's Manhattan South Task Force, rising to the rank of sergeant.
In 1981, the New York City Council announced plans to conduct hearings leading towards a ban on discrimination against gay citizens in the city. Cochrane believed it important for gay residents from a wide range of occupations to participate in the process and in the first week of November met with a group of nine friends and acquaintances who knew of his sexuality to discuss possible repercussions that he might suffer in the event that he himself gave public testimony on the matter. Deciding to move forward with the process, Cochrane met with his parents and came out as gay for the first time.
Cochrane wrote a letter to NYPD Police Commissioner Robert J. McGuire on November 15, 1981, informing him of his intent to testify before the City Council on the matter, which he did at the witness table in front of the council five days later. In reading his prepared statement before the council, Cochrane thereby became the first New York City Police Department member to publicly announce his homosexuality.
Cochrane followed Pat Burns, first vice president of the Patrolmen's Benevolent Association to the witness stand, having heard Burns declare that he knew of no gay New York City police officers, and that he was opposed to the NYPD hiring homosexuals to the force.
Cochrane dramatically contradicted Burns' assertion, stating that he was "very proud of being a New York City policeman" and "equally proud of being gay." Cochrane further testified that gays were not "cruel, wicked, cursed, sick, or possessed by demons." "I've always been gay", Cochrane declared to a slightly stunned council chamber, which erupted after a short pause into a raucous standing cheer from Cochrane's assembled supporters.
Despite Cochrane's testimony, the New York City Council defeated this 1981 anti-discrimination proposal, leaving Cochrane largely unprotected by law to deal with any discriminatory consequences of his action. He found the reaction surprisingly positive, noting in an interview by The New York Times that he had received about 15 letters from other NYPD officers in the two weeks after his testimony, almost all of which were positive, and had a positive discussion with a fellow officer who was black about stereotypes and prejudice.
Cochrane remarked at the time:
"Everyone I talked to within the department felt I probably would meet a lot of negative response, but I could not believe the support. Even the biggest clowns had nothing to say. Now maybe some of those cops who are already suspect and are teased a bit may finally say, 'Hey, knock it off, I am gay.'"
The most hurtful reaction to Cochrane following the public revelation of his sexuality was a severing of personal relations by the officer who had originally persuaded Cochrane to join the police force. The dire warnings of other officers who had offered Cochrane advice before his testimony that by doing so he would be committing career suicide did not come to fruition.[
After giving testimony before the City Council, Cochrane was instrumental in establishing the Gay Officers Action League (GOAL), a support organization advocating on behalf of gay and lesbian officers in the New York Police Department.
Cochrane died of cancer on May 5, 2008 in Pompano Beach, Florida. He was 64 years old at the time of his death.
On June 17, 2016, Cochrane's courageous 1981 testimony was honored with New York City street signs marking
"Charles H. Cochrane Way"
, with the new signs unveiled at Washington Place and Sixth Avenue. At the unveiling ceremony NYPD Chief of Department
James O'Neill
paid tribute to Cochrane's fortitude, noting
"Charlie had come out as a gay cop during a time when gay cops were afraid of losing their jobs and of being physically harmed."
He added that
"through the efforts of Charlie, this is now a very different New York City than it was 35 years ago and it's a very different NYPD."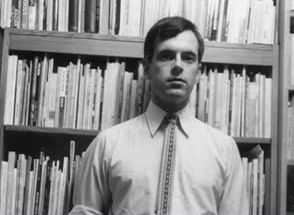 1950 –The American poet Tim Dlugos was born on this date (d.1990).
Born Francis Timothy Dlugos in Springfield, Massachusetts, he grew up in Arlington, Virginia. At 18, Dlugos joined the Christian Brothers, a Catholic religious order and entered their college, La Salle College, in Philadelphia.
He left the Brothers in 1971 to openly embrace a politically active, gay lifestyle. He eventually left La Salle before graduating and moved to Washington, D.C..
Dlugos worked on Ralph Nader's Public Citizen and become heavily involved with the Mass Transit poetry scene. His first book of poetry, High There, was published by the groundbreaking Some of Us Press.
Dlugos moved to New York City in the late 1970s where he edited and contributed to such magazines as
Christopher Street, New York Native
and
The Poetry Project Newsletter.
He read everywhere and with almost everyone involved in the downtown scene. Whether writing about pop culture, New York, being gay, alcoholism or AIDS, content always came secondary to style in Dlugos' poetry. His poetry was published widely in various journals including
BOMB
magazine,
The Paris Review
and the
Washington Review
.
Sometime after being diagnosed HIV positive, Dlugos decided to abandon his career as a fundraiser to become a priest in the Episcopalian church where he could utilize and express his experiences as a gay man.
While studying at the Yale School of Divinity, Dlugos died of AIDS-related complications on December 3, 1990.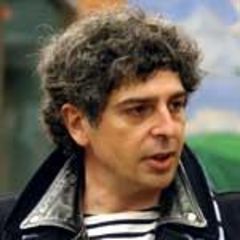 1956 – Jerry Ciccoritti, born in Toronto, is a Canadian film, television and theatre director. His ability to work in a number of genres and for many mediums has made him one of the most successful directors in the country.
Ciccoritti became active in amateur drama in high school and was one of the founders of Buddies in Bad Times theatre in 1978, which specializes in gay-themed plays, and of the Rhubarb Theatre Festival in 1979.
He attended the film program at York University but dropped out to work in the burgeoning Toronto film industry.
With Robert Bergman, he produced and directed the low-budget horror film Psycho Girls (1985). Several other genre films followed, eventually leading to work in episodic television and television movies. Ciccoritti was instrumental in developing the TV series Catwalk (1992) and Straight Up (1996) and began a secondary career as a director of big-budget television movies and miniseries with Net Worth (1995), a drama about hockey player Ted Lindsay's battles with the NHL on behalf of his fellow players.
Another popular film of Ciccoritti's that deals with Canadian history is Trudeau. The director has also made a name for himself as a chronicler of the Italian-Canadian experience, with films like Boy Meets Girl (1998) and the television adaptation of Nino Ricci's Lives of the Saints. His theatrical release Blood (2004) was a well-received thriller shot on digital video.
Most recently, Ciccoritti completed shooting the movie of the week, The Terrorist Next Door, about Ahmed Ressam, the so-called "Millennium Bomber" arrested in 1999 on charges of attempting to bomb Los Angeles Memorial Coliseum. Based on a script by Suzette Couture, the film was produced by CTV.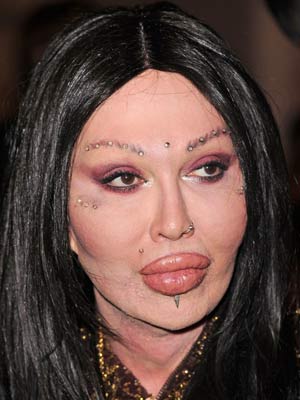 1959 – Pete Burns (d.2016) was an English singer-songwriter, author and television personality, who founded the band Dead or Alive in 1980, in which he was vocalist and songwriter, and which rose to mainstream success with their 1985 single "You Spin Me Round (Like a Record)". He later rose to further celebrity status in the British media following his appearance on Celebrity Big Brother 2006 and his own television show, Pete's PA in 2007.
Burns first became famous with the success of Dead or Alive's number one dance hit "You Spin Me Round (Like a Record)", along with his strikingly individual, androgynous image. Originally labeled as gay, due to his gender atypical appearance and sexual relations with men, Burns is reportedly bisexual and was married to Lynne Corlett.
While building his career, Burns worked at a Liverpool record shop, Probe Records, which became a meeting-place for local musicians. Burns first performed as a member of the short-lived Mystery Girls, and then Nightmares in Wax, a proto-Goth group that formed in Liverpool in 1979. Nightmares in Wax released a 12" single, "Black Leather", and a 7" single, "Birth of a Nation", each containing the same three songs, but never produced an album. In 1980, after replacing several members, Burns changed their name to Dead or Alive. Burns has accused fellow pop star Boy George of appropriating his unique image.
Expressing an overtly sexual and flamboyant style, Burns shocked audiences in the late 1970s with his androgynous clothing and hair styles, make-up, high heels, long fingernails and trademark black eyepatch. Almost as much as his career with Dead or Alive, Burns is known for his ever-changing appearance, which he freely admits has been greatly modified by cosmetic surgery.
In 1978 Burns married hairdresser Lynne Corlett, with whom he remained married for 28 years, until 2006. That year, on 9 February, he announced his engagement to his partner, Michael Simpson, on Channel 4's daytime television show Richard & Judy, where he displayed their matching engagement rings designed by Vivienne Westwood. The following day, Simpson called off the engagement citing that he was finding it difficult to deal with the newfound fame, although their engagement was soon back on and their civil partnership took place on 6 July. Burns appeared on Celebrity Wife Swap, which aired on 30 September 2007, where he lived with Neil Ruddock for five days. Simpson also took part in the programme. Burns made a statement saying that gay marriage does not work and that it is better to be married to a woman.
He died in October 2016 of an apparent heart-attack.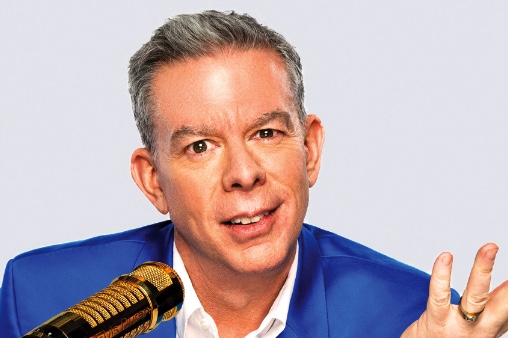 1964 – Elvis Duran is the host of Elvis Duran and the Morning Show in New York on Z100 and in syndication on Premiere Radio Networks. Duran's show is now heard live in almost 70 markets including New York, Philadelphia, Miami, Cleveland, Fort Myers, Syracuse, Des Moines, Quad Cities, New Haven, and Richmond.
Duran's radio career has spanned 30 years and has included both host and program director duties at Philadelphia's WIOQ and Austin's KBTS, as well as stints at Z-93 in Atlanta and KRBE Houston.
He began hosting his daily radio show on New York's Z100 in April 1996. The show expanded to Sussex County NJ in 2004 and Y100/WHYI-FM in Miami/Ft. Lauderdale on May 22, 2006. Since then, the show has enjoyed much success resulting in a national deal in March 2009 with the country's leading radio syndication company, Premiere Networks, a subsidiary of Clear Channel. In only a year, Elvis Duran and the Morning Show added more than 30 stations. The show also airs on XM Satellite Radio, iHeartRadio.com, the iHeartRadio mobile app, and The Elvis Duran Channel on www.ElvisDuran.com. It also airs in some stations in Canada and the Philippines.
Having publicly come out as gay in 2010, Duran is also heavily engaged in philanthropic efforts affecting the Lesbian, Gay, Bisexual and Transgender (LGBT) community.

1970 – In New York City, the Rockefeller Five, part of the Gay Activists Alliance, appear in court, but their trial is postponed (charges are later dismissed). The GAA was most active from 1970 to 1974 and performed what they called zaps,(protests conceived by Marty Robinson) which were peaceful public confrontations with officials to draw media attention. Some of their more visible actions included protests against an anti-gay episode on the popular TV series Marcus Welby, M.D., a zap of Mayor John Lindsay at the Metropolitan Museum of Art, and later at Radio City Music Hall. But the best known was a sit in at in at the offices of then Governor Rockefeller as part of a push for a Gay Civil Rights Bill to become state law.


1973 – The Canadian Gay Archives are founded by The Body Politic, with newspaper's back files as foundation.


Added 2021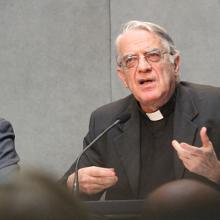 1972 – Krzysztof Charamsa is a Polish priest and theologian and was assistant secretary of the International Theological Commission of the Congregation for the Doctrine of the Faith.
He studied theology and philosophy from 1991 to 1993 in Pelplin in Poland and from 1993 to 1997 at the theological faculty of the University of Lugano in Switzerland.
Born in Gdynia, Charamsa was ordained to the priesthood in 1997. In 2002 he obtained a doctorate at the Pontifical Gregorian University. From 2004 he was teaching theology at the Pontifical Athenaeum Regina Apostolorum and from 2009 at the Pontifical Gregorian University.
From 2003 until 2015 he worked as a senior add at the Congregation for the Doctrine of the Faith within the Vatican.
In October 2015, on the day before the second round of the Synod on the Family, he stated publicly in Italy's Corriere della Sera newspaper that he is gay and has a partner. In his resignation letter to Pope Francis he thanked him for some of his words and gestures towards gay people.
This is despite the fact that he claimed there are significant numbers of gay men at all levels within the Church – including the cardinalate. He called for all statements from the Holy See that are offensive and violent against gay people to be withdrawn.
Citing Benedict XVI"s signature of the 2005 document that forbids men with deep-rooted homosexual tendencies from becoming priests as particularly "diabolical".
The Vatican immediately dismissed him from his post in the Holy See for having broken his vow of celibacy. Nevertheless, he remains a priest.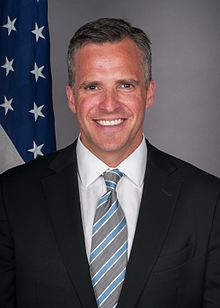 1974 – (John) Rufus Gifford is an American diplomat. He served as the United States Ambassador to Denmark from 2013 to 2017, and was the Finance Director for Barack Obama's presidential re-election campaign in 2012. On August 1, 2013, Gifford's nomination from President Obama to be the next United States Ambassador to the Kingdom of Denmark was confirmed by the United States Senate. He was sworn into the role on August 15, 2013, and presented his credentials to the Queen of Denmark on September 13, 2013.
Gifford is a native of Massachusetts. He graduated from St. Paul's School in Concord, New Hampshire in 1992 and he received his B.A. from Brown University in Rhode Island.
Gifford spent a few years in Hollywood working on family movies such as Dr. Dolittle 2 and Garfield, before moving on to politics. Prior to his work as an ambassador, Gifford served in various financial management capacities for Democratic candidates, including Barack Obama and John Kerry in their respective presidential campaigns. From 1998 to 2004, Gifford was a creative executive in Los Angeles for Davis Entertainment.
Gifford is openly gay, and commentators from GQ, Huffington Post and L.A. Weekly referred to him as Barack Obama's informal "ambassador to the gay community." He is a Federal Club Member of the Human Rights Campaign and a Partner in Conservation for the World Wildlife Fund.
Gifford has been an integral part of bringing the American art form of Long Form Improvisation to Denmark. In September 2016 he was in the opening show at the first improv theatre in Denmark, Improv Comedy Copenhagen and said, "No matter what you are doing, you always have to allow time to laugh, smile and have fun. And creating that balance is incredibly important."
On January 16, 2017, Gifford was awarded the Grand Cross of the Order of the Dannebrog by Her Majesty Queen Margrethe II of Denmark for his meritorious service to the Kingdom of Denmark.
Gifford married his husband, Dr. Stephen DeVincent, on October 10, 2015 in a ceremony at Copenhagen City Hall in Copenhagen, Denmark. Gifford participated in a DR-produced I Am the Ambassador, a documentary TV series about his life as an ambassador that ran for two seasons, winning the Big Character award at the 2015 TV-Prisen award-show. In 2016, Gifford co-wrote a cookbook with his husband, called The Ambassador's Kitchen.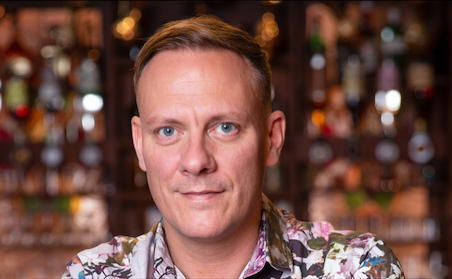 1975 – Antony Cotton (born Antony Dunn in Bury, Greater Manchester) is an English actor best known for his roles in Coronation Street and the original UK version of Queer as Folk, the immense popularity of which spawned the US series. Cotton played Alexander in the original version of Queer as Folk. He also had a small speaking part in the fourth series of Absolutely Fabulous working for Edina's PR company.

Cotton currently plays barman and factory worker Sean Tully in Coronation Street. Cotton asked for a part on the show, and created the character with some of the show's writers. His character is in the tradition of the finest Street comic charcters with the modern twist of an openly gay actor playing a gay role.
On January 13, 2007, Cotton won the second series of ITV's Soapstar Superstar.
Cotton made his film debut opposite Daniel Craig and Derek Jacobi in the 1998 film Love Is the Devil: Study for a Portrait of Francis Bacon. He also appeared in the 1998 film The Wisdom of Crocodiles.
Cotton has appeared in several shows at Oldham Coliseum - he attended the Oldham Theatre Workshop throughout his teens. He appeared in 15 Streets and the Hobbit at Manchester's Palace Theatre and Opera House.
In 2005 and 2006, Cotton won the Most Popular Newcomer category at the National Television Awards for his role in Coronation Street. He also won the 2005 and 2007 Inside Soap Awards for Best Newcomer and Funniest Performance.
In 2007 he had his own ITV chat show although a second series was not commissioned.
In August 2009, it was reported in Digital Spy that Cotton is "openly gay", and in March 2010 the Daily Mirror reported that Cotton had exchanged rings with his partner, Peter Eccleston. In January 2012, footballer Michael Ball was fined by the Football Association for a homophobic rant on Twitter about Cotton.
Antony is a passionate supporter of the Terrence Higgins Trust, of which he is a patron. He is also a patron of the LGF charity in Manchester, The Albert Kennedy Trust and the Queer Up North festival.

2010
– On this date the
Mexican Supreme Court of Justice of the Nation
, the highest federal court in Mexico, votes 8-2 to uphold the constitutionality of Mexico City's same-sex marriage law. North of the border, we're still waiting for anything like this.

AUGUST 6 →
[{(o)}]|[{(o)}]|[{(o)}]|[{(o)}]| [{(o)}]|[{(o)}]