March 24
[{(o)}]|[{(o)}]|[{(o)}]|[{(o)}]| [{(o)}]|[{(o)}]
1882 – West Virginia passes a law to raise the penalties for various consensual sexual activities, claiming that the penalties are not severe enough to deter immorality. Sodomy is one of the few crimes for which the penalty is not changed.

1911 – California forbids the conviction of any person based on the uncorroborated testimony of an accomplice, a law that benefits Gay men and Lesbians prosecuted for private, consensual sodomy.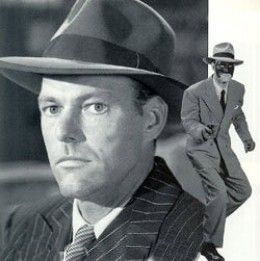 1914 – David Bacon (d.1943) was an American film actor.
He was born Gaspar Griswold Bacon, Jr. in Barnstable, Massachusetts, and his family was one of the prominent, politically active Boston Brahmin families. His father, Gaspar G. Bacon, was on the board of Harvard University, and later, in the 1930s, served as lieutenant governor of Massachusetts.
Born to a life of privilege and wealth, David Bacon graduated from Harvard. He summered with his family at Woods Hole on Cape Cod, where he became involved during the early 1930s with the "University Players," at West Falmouth. There he met then unknown performers James Stewart and Henry Fonda, with whom he later shared accommodations while he struggled to establish himself.
His acting career failed to progress, and he drifted for several years. He moved to New York City, where he was sponsored by a wealthy British patron, and although he once again failed to secure employment, he began to wear expensive clothes and jewelry, leading to speculation that he was acting as a gigolo.
He moved to Los Angeles, California where he met and married an Austrian singer, Greta Keller. In her later years, Keller disclosed that Bacon was homosexual, and that she was lesbian, and that their lavender marriage partly served as what she referred to as a "beard", allowing both of them to maintain a respectable facade in Hollywood, where they were both attempting to establish film careers.
In 1942, Howard Hughes met Bacon, and signed him to an exclusive contract, with the intention of casting him in The Outlaw (1943) as Billy the Kid. Bacon was screen-tested for the role and found unsuitable. Though Hughes later decided not to use Bacon in The Outlaw, replacing him with actor Jack Beutel, he kept Bacon to the terms of his contract, casting him in several smaller roles, usually as college boys.
Keller alleged that there was a homosexual relationship between Hughes and Bacon, and she blamed the alleged relationship for Bacon's being replaced. Hughes, however, was widely known as a womanizer and was often the target of unscrupulous claims to cash in on his money. Later, Hughes did lend out Bacon for a role in the Republic serial The Masked Marvel (1943). The serial was produced with a low budget, and marked a low point in Bacon's career, with Keller recalling that he was completely humiliated. Today it remains his best-remembered work.
On September 13, 1943, Bacon was seen driving a car erratically in Santa Monica, California, before running off the road and into the curb. Several witnesses saw him climb out of the car and stagger briefly before collapsing. As they approached he asked them to help him, but he died before he could say anything more. A small knife wound was found in his back – the blade had punctured his lung and caused his death. Keller, in an advanced stage of pregnancy, collapsed when she heard of her husband's death, and later her baby was stillborn.
When he died, Bacon was wearing only a swimsuit, and a wallet and camera were found in his car. The film from the camera was developed and found to contain only one image, that of Bacon, nude and smiling on a beach. Police theorized that the photograph had been taken shortly before his death by his killer. The case attracted publicity for a time and remains unsolved.

1930 – On this date the American actor Kenneth Nelson was born (d.1993). Born in Rocky Mount, North Carolina, Nelson appeared in several television series in the late 1940s, Captain Video and His Video Rangers and The Aldrich Family among them. He was cast in his first Broadway show, Seventeen, a musical adaptation of the Booth Tarkington novel that opened at the Broadhurst Theatre on June 21, 1951 and ran 182 performances.
Nelson found little work for the remainder of the decade, but in 1960, he was cast in an off-Broadway show The Fantasticks, which eventually became the world's longest-running musical with 17,162 performances. In 1962, he was hired to understudy Anthony Newley in Stop the World - I Want to Get Off when it transferred from the West End, eventually assuming the lead role when the star departed the show. From there, he went to another London import, Half a Sixpence, in 1965.
In 1968, Nelson accepted the lead in the controversial and groundbreaking off- Broadway production of The Boys in the Band, the first play to explore the milieu of Gay life in New York City in a graphically frank manner. He and the rest of the cast went on to appear in the 1970 film version directed by William Friedkin. Nelson and five others in the cast were Gay, and five of the six Gay actors died of AIDS.
1970 also saw Nelson return to Broadway in the lead role in Lovely Ladies, Kind Gentlemen, a musical adaptation of The Teahouse of the August Moon. It was a critical and commercial disaster, closing after only 19 performances. In 1974, he played a leading role in the highly successful revue Cole at London's Mermaid Theater.
He spent the rest of his career in small roles on television and in movies of little distinction. Nelson died in 1993 of AIDS-related complications in London.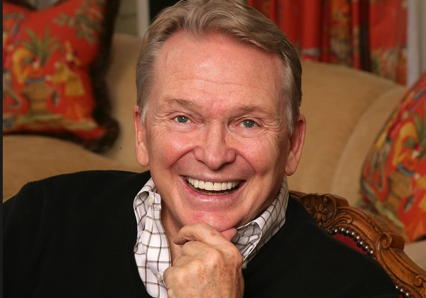 1940 – Bob Mackie, American fashion designer, born; Best known for his costumes for Cher and for The Carol Burnett Show. Mackie is also known for his exclusive designs of dresses for high- priced Barbie dolls.
Two of Mackie's best-remembered creations had a humorous element. While working on the The Carol Burnett Show, he designed a "curtain dress" (complete with a curtain rod across the shoulders) that Carol Burnett wore in the "Went with the Wind" parody.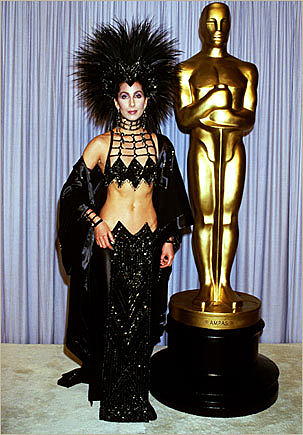 Mackie also designed the garish ensemble worn by Cher at the March 1986 Academy Awards: black stretch pants, a bejeweled loincloth, knee-high boots, a black chain-link top, and a huge feathered Mohawk headdress that was one and a half times taller than her head. Introduced by Jane Fonda with the words, "Wait'll you see what's gonna come out here," Cher was appearing as a presenter after what many considered an Oscar snub (Cher was not nominated for her performance in Mask). "As you can see," said Cher, "I did receive my Academy booklet on how to dress like a serious actress."
He lived with business partner Raymond Aghayan and had a gay son, Robin, who lived with him in the guest house behind the main house. Robin started doing drugs at 15 and in early 1989, was diagnosed with AIDS. With helpless grief, Mackie stood by as Robin died at the age of 33, March 1993. Aghayan died in 2011.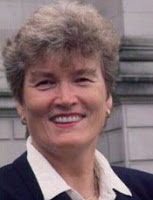 1942 – (Margarethe) Grethe Cammermeyer served as a colonel in the Washington National Guard and became a gay rights activist. Born in Oslo, Norway, she became a United States citizen in 1960. In 1961 she joined the Army Nurse Corps as a student. She received a B.S. in Nursing in 1963 from the University of Maryland. At the University of Washington School of Nursing, she earned a master's degree in 1976 and a Ph.D. in 1991.
She had a 15-year marriage to a man and they had four sons. In 1988, when she was 46, she met her partner, Diane Divelbess.
In 1989, responding to a question during a routine security clearance interview, she disclosed that she is a lesbian. The National Guard began military discharge proceedings against her. On June 11, 1992, she was honorably discharged. Cammermeyer filed a lawsuit against the decision in civil court. In June 1994, Judge Thomas Zilly of the United States District Court for the Western District of Washington ruled that her discharge and the ban on gays and lesbians serving in the military were unconstitutional. She returned to the National Guard and served as one of the few openly gay or lesbian people in the U.S. military while the "don't ask don't tell" policy was in effect, until her retirement in 1997.
A television movie about Cammermeyer's story, Serving in Silence, was made in 1995, with Glenn Close starring as Cammermeyer. Its content was largely taken from Cammermeyer's autobiography of the same name.
After retirement, Cammermeyer ran for the United States Congress in Washington's 2nd congressional district in 1998. She won the Democratic primary, but lost in the general election to Republican incumbent B.
In June 2010, she was appointed to the Defense Advisory Committee on Women in the Services, a committee which is appointed by the United States Secretary of Defense and which reports to the United States Department of Defense.
In 2012, after same-sex marriage was legalized in Washington state, Cammermeyer and her partner Diane Divelbess became the first same-sex couple to get a license in Island County.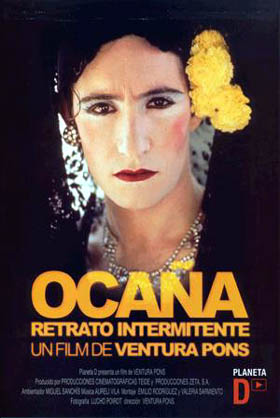 1947 – Spanish drag artist and painter José Ángel Pérez Ocaña (d.1983) was a fixture of the counter-cultural scene in Barcelona in the 1970s. He was the subject of a milestone film in Spanish cinema, Ocaña, retrat intermitent, by gay director Ventura Pons.
He was a native of Andalusia, born on March 24, 1947, in Cantillana, near Seville, but lived most of his adult life in Barcelona. Ocaña developed a sense of individuality early on. As a boy he failed to conform to masculine stereotypes. He was a gentle child who was attracted to art and enjoyed dressing up, which sometimes made him the object of abuse.
In adulthood Ocaña would stubbornly reject marginalizing labels; he did not wish to be known as a transvestite, insisting that he should merely be considered a person who enjoyed cross-dressing.
In 1970s Barcelona he gained a following in the gay community, and gay cartoonist Nazario featured him as a character in his comic books. Especially during the "transition" period following Franco's death in 1975, he was a highly visible figure in the city, strolling along Las Ramblas, the main street, in extravagant costumes and staging "happenings" or procesiones. Using papier-mâché figures of virgins and little angels that he had exhibited in a leading underground art gallery, he led a procession throughout the city, causing a sensation for these parodies of Holy Week processions.
Vigorous demonstrations occurred in the summer of 1978, when, in defiance of the law, gay men, lesbians, transvestites, and transsexuals demonstrated in protest in Barcelona, supported by Socialists, Communists, feminists, Catalan nationalists, and members of other marginalized groups.
On one occasion, at a rock festival at nearby Canet de Mar, Ocaña and several friends took to the stage dressed as female flamenco dancers. At the end of the performance, Ocaña stripped off his costume and tossed it into the audience. Nude except for a carnation in his hair and a pair of high heels, he finished with a flourish of foot-tapping dancing, described as "intense" and "orgasmic," as the crowd cheered wildly.
Gay Catalan director Ventura Pons used this performance as the final scene in his first film, the documentary Ocaña, retrat intermitent (Ocaña: Intermittent Portrait, 1978). The majority of the film, however, simply has Ocaña sitting on his bed in a Barcelona apartment and speaking (in Spanish despite the Catalan title) about his life, his friends and lovers, his sexuality, his painting, and his sense of identity.
The film, which quickly became a cult favorite, was shown at the 1978 Cannes Film Festival, where it was well-received. It has been hailed as a ground-breaking work of Spanish cinema that helped open discussion of sexuality and sexual politics.
Ocaña died in Cantillana on September 18, 1983, of an AIDS-related disease. After his death, his family established a small private museum of his paintings.

1953 – A California appellate court upholds a conviction for intent to commit oral copulation. A hitchhiker was picked up and solicited, but he refused and was let out of the car.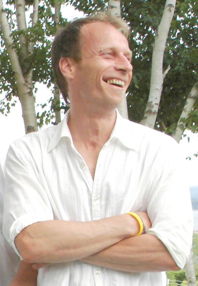 1963 – Ken Roy (d.2012), modern and classical dancer, was born in New Glasgow, Nova Scotia. After graduating from New Glasgow High School Ken went on to study at Dalhousie University's Theatre Department.
Ken became one of Canada's premier contemporary dancers performing in over 30 productions and six films. He worked with many of our country's finest choreographers.
Ken started his career with Le Groupe de la Place Royale in Ottawa under the direction of artistic director Peter Boneham. He later joined his mentor Jean-Pierre Perreault in Montreal, for whom he danced for over ten years. Ken performed throughout Canada, Scotland, Europe and Australia. In addition to performing, Ken was involved in the direction of a number of productions. Ken taught contemporary dance for almost 20 years, the last 7 years at Concordia University.
He died of cancer in 2012. He is survived by his long-time partner, fellow-dancer and choreographer, Louis-Elyan Martin.

1971 – In a case granting citizenship to a Cuban man, a U.S. federal judge dismisses laws barring homosexuals from immigrating to the United States.

1986 – William Hurt wins the Oscar for Best Actor for his role as a homosexual window dresser in Kiss of the Spider Woman.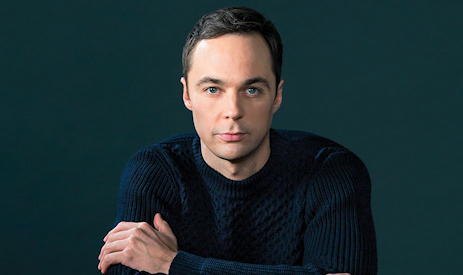 1973 – Jim Parsons is an American television and film actor. He is best known for playing Sheldon Cooper on the CBS sitcom The Big Bang Theory, with his performance often cited as a significant reason for the program's success.He has received several awards for his performance, including the Television Critics Association award for the highest individual achievements in comedy, the National Association of Broadcasters Television Chairman's Award for a significant breakthrough in a specific art discipline, two consecutive Emmy Awards for Outstanding Lead Actor in a Comedy Series and the Golden Globe Award for Best Actor in a Television Series Musical or Comedy.
Parsons was born and raised in Houston, Texas. After playing the role of the Kola-Kola bird in a school production of
The Elephant's Child
at age six, Parsons was determined to become an actor. The young Parsons was heavily influenced by sitcoms, particularly
Three's Company, Family Ties
, and
The Cosby Show
. Parsons points to a role in
Noises Off
during his junior year as the first time
"I fully connected with the role I was playing and started to truly understand what it meant to be honest on stage."
After graduating from high school, Parsons received an undergraduate degree from the University of Houston. He was prolific during this time, appearing in 17 plays in 3 years. He was a founding member of Infernal Bridegroom Productions, and regularly appeared at the Stages Repertory Theatre.
Parsons enrolled in graduate school at the University of San Diego in 1999. He was one of seven students accepted into a special two-year course in classical theater, taught in partnership with the Old Globe Theater. Program director Rick Seer recalled having reservations about admitting Parsons, saying, "Jim is a very specific personality. He's thoroughly original, which is one reason he's been so successful. But we worried, 'Does that adapt itself to classical theater, does that adapt itself to the kind of training that we're doing?' But we decided that he was so talented that we would give him a try and see how it worked out."
Parsons graduated in 2001 and moved to New York. Parsons has estimated that he auditioned for between 15 and 30 television pilots, but on many of the occasions when he was cast, the show failed to find a television network willing to purchase it. The exception came with The Big Bang Theory. After reading the pilot script, Parsons felt that the role of Sheldon Cooper would be a very good fit for him. Although he did not feel any sort of relationship with the character, he was enchanted by the dialogue structure, the way the writers "brilliantly use those words that most of us don't recognize to create that rhythm. And the rhythm got me. It was the chance to dance through that dialogue, and in a lot of ways still is."
in 2011, Parsons made his Broadway debut portraying Tommy Boatwright in the play The Normal Heart, for which he received a Drama Desk Award nomination. He reprised the role in the film adaptation of the play, and received his seventh Emmy nomination, this time in the category of Outstanding Supporting Actor in a Miniseries or a Movie. On January 29, 2015, it was announced that Parsons would be returning to Broadway as God in the new play An Act of God, which opened in May 2015.
Parsons lives in Los Angeles. In May 2012, The New York Times reported that Parsons is gay and at the time had been in a relationship Todd Spiewak for the last ten years. In October 2013, Parsons called their relationship "an act of love, coffee in the morning, going to work, washing the clothes, taking the dogs out—a regular life, boring love".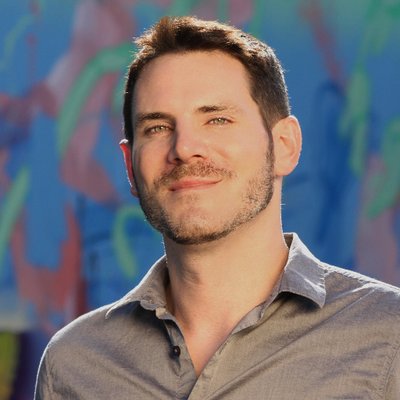 1981 – John K. Byrne is an American publisher, writer, and non-profit director. He is co-owner of Raw Story Media and AlterNet Media, which publish the online progressive political news sites RawStory.com and AlterNet.org respectively. He is also the founder and Executive Director of Prevention 305, a nonprofit focused on increasing access to HIV prevention drugs in the Miami, Florida area. Prior to Raw Story, he wrote briefly for the Boston Globe and McClatchy Newspapers and has been published in The Atlantic. He is also a published fiction writer.
Byrne was raised in a suburb of Boston, Massachusetts. His mother is a circuit judge of the Massachusetts District Courts and his father is a family physician.
Byrne attended Concord Academy and graduated from Oberlin College in 2003. At Oberlin College, he founded The Grape, which remains the college's alternative student newspaper. He was also editor of the Oberlin Review, where he wrote an exposé about steroid abuse on the football team.
During college, Byrne worked as a stringer for The Boston Globe Northwest, a discontinued suburban section of the newspaper, and for McClatchy Newspapers as an intern in Washington, DC.
Byrne founded RawStory.com, which was first published on February 1, 2004. The site was originally conceived as a liberal version of the Drudge Report. In the early years, Raw Story focused on national security issues, American politics, and reporting on anti-gay political figures who were themselves closeted gays. Byrne founded Raw Story when he was 23. Byrne interviewed political figures and authors of the day, including former House Judiciary Chairman John Conyers and historian Howard Zinn. His reporting also focused on civil liberties, including articles critical of Presidents George W. Bush and Barack Obama's warrantless wiretapping program. In 2010, Byrne stepped down as editor of Raw Story. He remains the company's CEO.
Byrne and his business partner, Michael Rogers, outed as gay numerous politicians and political staff who voted or advocated against gay rights in the mid-2000s. Among the first was former Republican Congressman Ed Schrock. Rogers and Byrne reported that Schrock, who once disparaged gays in the military, had left two advertisements on a gay phone sex line. Schrock resigned August 31, 2004, after the recordings were revealed and posted online.
Byrne also reported on the campaign manager for President George W. Bush, Ken Mehlman. The site, along with Rogers, outed Mehlman in 2004. Mehlman was targeted because the Bush-Cheney re-election campaign issued anti-gay flyers in Ohio and because of the anti-gay marriage amendment Bush supported. A proxy denied that Mehlman was gay in 2005. Mehlman, however, admitted that he was gay in 2010, and eventually went on to campaign for gay marriage in New York.
In 2015, Byrne began advocating for the promotion of pre-exposure prophylaxis (PrEP) after a false positive HIV test. His first campaign on South Beach was covered by The Miami Herald, "I AM PrEP," in November 2015, which involved posters created for bars and clubs and brochures for health centers. Byrne wrote an article about his in a long-form piece for The Atlantic in December, 2015. CBS News 4 Miami covered his PrEP advocacy in March 2017. Byrne is also an at-large board member of Arianna's Center, a Ft. Lauderdale-based nonprofit focused on serving and empowering the transgender community in South Florida.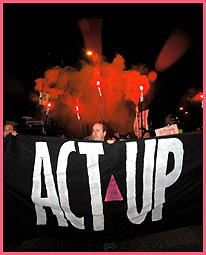 1987 – On this date 250 ACT UP members in New York City demonstrated at Wall Street and Broadway to demand greater access to experimental AIDS drugs and for a coordinated national policy to fight the disease. An Op/Ed article by Larry Kramer published in the New York Times the previous day described some of the issues ACT UP was concerned with. Seventeen ACT UP members were arrested during this civil disobedience. A year later, on March 24, 1988, ACT UP returned to Wall Street for a larger demonstration in which over 100 people were arrested.

1989 – Montana enacts a sex offender registration law that covers consensual sodomy and gives a judge the power to limit the employment opportunities of those so designated.

MARCH 25 →
[{(o)}]|[{(o)}]|[{(o)}]|[{(o)}]| [{(o)}]|[{(o)}]