January 25
[{(o)}]|[{(o)}]|[{(o)}]|[{(o)}]| [{(o)}]|[{(o)}]
1800 – The Commonwealth of Virginia reduces the penalty for free peoples who commit buggery down from the death penalty to one to ten years in prison, but did not remove the death penalty for slaves who commit buggery.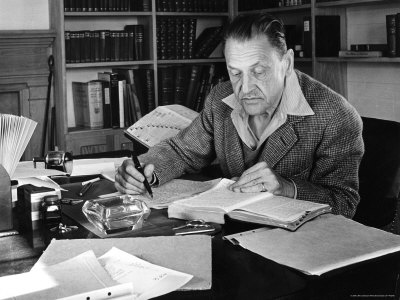 1874 – British novelist and playwright W. Somerset Maugham (d.1965) was born in Paris, where his father Robert Ormond Maugham was an English lawyer who handled the legal affairs of the British embassy.
Maugham was sent back to England to be cared for by his uncle, a Vicar, in Kent. The move was damaging, as Henry Maugham proved cold and emotionally cruel. The boy attended The King's School, Canterbury, which was also difficult for him. He was teased for his bad English (French had been his first language) and his short stature, which he inherited from his father. Maugham developed a stammer that would stay with him all his life.
Miserable both at his uncle's vicarage and at school, the young Maugham developed a talent for making wounding remarks to those who displeased him. This ability is sometimes reflected in Maugham's literary characters. At sixteen, Maugham refused to continue at The King's School. His uncle allowed him to travel to Germany, where he studied literature, philosophy and German at Heidelberg University. During his year in Heidelberg, Maugham met and had a sexual affair with John Ellingham Brooks, an Englishman ten years his senior.
On his return to England, the local doctor suggested he enter the medical profession and Maugham's uncle agreed. Maugham had been writing steadily since the age of 15 and fervently wished to become an author, but as he was not of age, he refrained from telling his guardian. For the next five years, he studied medicine at St Thomas' Hospital in Lambeth, London.
Maugham kept his own lodgings, took pleasure in furnishing them, filled many notebooks with literary ideas, and continued writing nightly while at the same time studying for his medical degree. In 1897, he wrote his first novel, Liza of Lambeth, a tale of working-class adultery and its consequences. Liza of Lambeth's first print run sold out in a matter of weeks. Maugham, who had qualified as a doctor, dropped medicine and embarked on his 65-year career as a man of letters. He later said, "I took to it as a duck takes to water."
The famous playwright was twenty-one when Oscar Wilde was put on trial. It was enough to make him "publicly straight." Frightened by the Oscar Wilde trial, Maugham avoided treating homosexual themes and characters in his novels and plays. He later said that his biggest mistake was "I tried to persuade myself that I was three-quarters normal and that only quarter of me was queer — whereas it was the other way around."
By 1914 Maugham was famous, with 10 plays produced and 10 novels published. Too old to enlist when World War I broke out, Maugham served in France as a member of the British Red Cross's so-called "Literary Ambulance Drivers", a group of some 23 well-known writers, including the Americans John Dos Passos and E. E. Cummings. During this time, he met Frederick Gerald Haxton, a young San Franciscan, who became his companion and lover until Haxton's death in 1944. Throughout this period Maugham continued to write. He proofread Of Human Bondage at a location near Dunkirk during a lull in his ambulance duties. Maugham also worked for British Intelligence in mainland Europe during the war, having been recruited by John Wallinger; he was one of the network of British agents who operated in Switzerland against the Berlin Committee. Maugham was later recruited by William Wiseman to work in Russia
Although Maugham's first and many other sexual relationships were with men, he also had sexual relationships with a number of women. His affair with Syrie Wellcome produced a daughter named Liza. Syrie's husband Henry Wellcome sued his wife for divorce, naming Maugham as co-respondent. In May 1917, following the decree absolute, Syrie and Maugham were married. Syrie and Maugham divorced in 1927-8 after a tempestuous marriage complicated by Maugham's frequent travels abroad and strained by his relationship with Haxton.
The gap left by Haxton's death in 1944 was filled by Alan Searle. Maugham had first met Searle in 1928. Searle was a young man from the London slum area of Bermondsey and he had already been kept by older men. He proved a devoted if not a stimulating companion. Indeed one of Maugham's friends, describing the difference between Haxton and Searle, said simply: "Gerald was vintage, Alan was vin ordinaire."
Despite his wealth, his fame, and the love of his secretary-companion Gerald Haxton and later, Searle, Maugham died a bitter man but among the pantheon of the most prolific and read writers of the 20th century. And if you haven't read him, you've watched his stories. No less than 35 film shave been made from his novels and short stories including The Razor's Edge, Of Human Bondage, Being Julia, The Moon and Sixpence and Sadie Thompson (later called Rain.)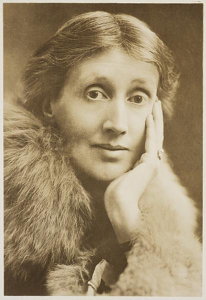 1892 – Lesbian writer Virginia Woolf was born in London (d.1941). The most celebrated of the Bloomsbury set, her writing is cerebral, and subtle.
Woolf was born Adeline Virginia Stephen on January 25, 1882, in Hyde Park Gate, London, the daughter of Leslie Stephen, a man of letters, and Julia Pattle Duckworth. Virginia's mother's first marriage ended with the death of her husband, leaving her with three children, one of whom, Gerald Duckworth, is known to have sexually molested Woolf as an adolescent.
Her adolescence was marked as well by a sequence of deaths and the first bout of a mental illness that would haunt her for the rest of her life: Her mother died in 1895; her half-sister Stella, who served as mother-substitute, in 1897; her father in 1904 and her brother Thoby in 1906. She experienced her first mental breakdown at the age of thirteen following her mother's death, while the final one ended with her suicide when she walked into the river Ouse on March 28, 1941.
Woolf developed her closest attachment to her sister Vanessa, what she called "a very close conspiracy." The two sisters functioned as co-conspirators in their alliance as women artists, on the one hand against the tyranny of the father who repeatedly sought to enlist their services as surrogate wives; on the other hand, against Victorian mores that considered marriage the only suitable profession for middle-class daughters.
Following Leslie Stephen's death, the four siblings moved to Bloomsbury, a section of London that would eventually give name to a group of artists and intellectuals, the Bloomsbury Group. This group began when her brother Thoby and his Cambridge friends moved back to London and met every Thursday evening to discuss art and literature, as well as pressing political issues such as pacifism and socialism. Initially, Virginia and Vanessa were the only two women present, as Thoby's sisters but also as intellectuals and artists. Several of the male participants were avowed homosexuals, including Lytton Strachey, who proposed to Virginia in 1909, although the engagement was almost immediately broken off.
Woolf's relationship to gay men remained an ambivalent one. On the one hand, she appreciated a lack of sexual interest that made it possible for her to have access to an intellectual environment based on an indifference to her gender; on the other hand, the absence of women meant a lacking female eroticism that for her prohibited creativity. Much later, on August 19, 1930, she wrote in a letter to Ethel Smyth: "It is true that I only want to show off to women. Women alone stir my imagination."
In 1912, she married Leonard Woolf, "a penniless Jew," also a member of the Bloomsbury Group, a political writer who had recently returned from service in India. This marriage is considered to have been a supportive although passionless one. In 1917, the Woolfs established Hogarth Press as an attempt to engage Virginia in more practical work in the hope of keeping at bay further bouts of mental illness. The Press published the works of several lesbian and gay writers, including E. M. Forster, Christopher Isherwood, and Vita Sackville-West.
Woolf had several intense friendships with women throughout her life. They often resulted in literary works, not always published, written as tribute to friendships that greatly fostered—but were ultimately confined to—writing. Often these women were older, unmarried, more masculine in appearance, and highly successful artists; often they offered Woolf some form of maternal protection as she struggled with another incident of physical or mental illness. None of these relationships is known to have had a sexual component.
Woolf's first passionate friendship was with Madge Vaughan, the daughter of the well-known writer and sexologist, John Addington Symonds, whom Woolf met at the age of sixteen and who was to serve as a model for Sally Seton in Mrs. Dalloway (1925). Violet Dickinson, almost twice Woolf's age when she nursed her during the mental breakdown following the death of her father, was an unmarried Quaker for whom she wrote "Friendship Gallery" (1907), a spoof biography that anticipates Orlando (1928). Much later Woolf looked back on this friendship as the one that enabled her to say for the first time with confidence, "I am a writer." The final of such friendships was with Ethel Smyth, a well-known composer, whom Virginia met in 1930, when Woolf was forty-eight and Smyth seventy years old.
Woolfe's greatest love was probably Vita Sackville-West, with whom she had the only intense friendship to include a physical relationship. Although married to Leonard Woolf, the ethos of Bloomsbury discouraged sexual exclusivity, and in 1922, when Woolf met poet and novelist Vita Sackville-West, after a tentative start they began a relationship that lasted through most of the 1920s. The sexual affair began in 1925, the point at which Woolf wrote in her Diary, "These Sapphists love women; friendship is never untinged with amorosity" (December 21), and is thought to have lasted until 1928. During that time, Vita took two trips to Persia to visit her husband who was working in the British embassy in Tehran. The second time she traveled in the company of another woman, which began to create a rift as Woolf became less and less tolerant of Vita's other affairs.
In 1928, Woolf and E. M. Forster wrote a letter defending Radclyffe Hall's Well of Loneliness, not as a good novel or because of its lesbian content, but in the name of free speech. Various members of Bloomsbury appeared at the obscenity trial prepared to testify as expert witnesses, including Woolf, who described her presence as a way of also defending Vita's Sapphism.
In 1928, Woolf presented Sackville-West with "Orlando," a fantastical biography in which the eponymous hero's life spans three centuries and both genders. It has been called by Nigel Nicolson, Vita Sackville-West's son, "the longest and most charming love letter in literature."
After their affair ended, the two women remained friends until Woolf's death in 1941.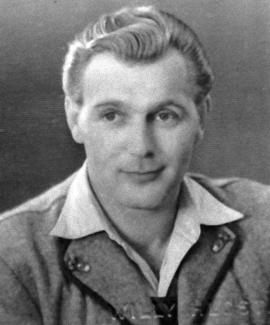 1915 – Josef Kohout (d.1994), German concentration camp survivor and author, was born in Vienna. By age sixteen, he was already aware of his homosexuality. His love for the son of an Nazi party functionary led to his arrest in late 1938. Kohout served a seven-month prison sentence.
After a second arrest, Josef Kohout was sent to the Sachsenhausen concentration camp in mid-January 1940. Four months later, he was transferred to Flossenbürg. He worked as a Kapo in forced labor in the loading commando at the train station. His position as a Kapo was unusual for a homosexual inmate. He survived, as he himself explained, because of his good relations with other "green" Kapos. During the death march in April 1945, Kohout succeeded in escaping near Cham.
Male homosexuality remained a crime after 1945. For decades, Josef Kohout fought for recognition as a victim of National Socialism. The years of his concentration camp incarceration were not counted toward his pension until 1992. Using the pseudonym Heinz Heger, his experiences were published under the title "The Men with the Pink Triangle" in the 1970s. The unique testimony was accorded great respect within the gay movement.
Josef Kohout lived with his male partner in Vienna until his death on March 15, 1994. He never received reparations for his persecution.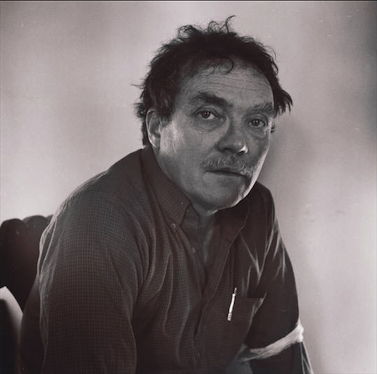 1934 – Ron Schreiber (d.2004) was a poet, advocate of gay literature, and founder of the literary periodicals Things and Hanging Loose.
After receiving his B.A. from Wesleyan University in 1955, he served in the U.S. Army for two years, returning to his studies at Columbia, where he earned an M.A. in 1959 and a Ph.D. in 1967.
His work with small press publications started with Things, a journal he cofounded and published from 1963 to 1966. Next, after Things went out of business, he began the magazine Hanging Loose, which eventually morphed into a full-fledge publishing house of the same name. While editing Hanging Loose, Schreiber joined the University of Massachusetts—Boston faculty as an assistant professor, eventually rising to the post of full professor, chairing the English department, and retiring as professor emeritus.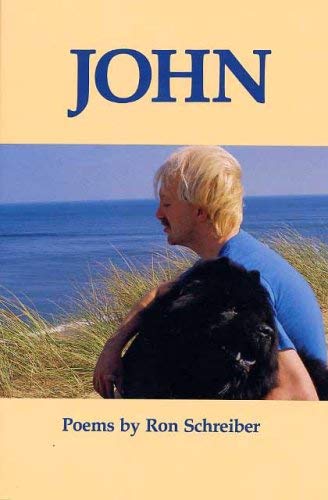 During the 1970s, he also worked as an editor for the cooperative publishing firm Alice James Books. A tireless advocate for the poems of gay and lesbian authors, Schreiber, who was himself a homosexual, became known for developing innovative classes for the study of gay and lesbian literature. He was the editor of Thirty-one New American Poets (1968) and published several poetry collections, including Living Space (1972), False Clues (1978), and John (1989).
He died of pancreatic cancer in 2004.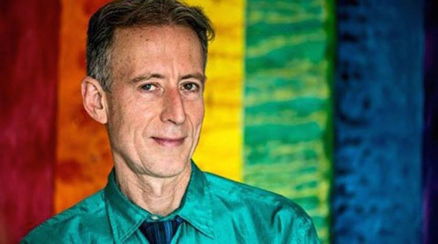 1952 – Australian-born, British gay rights campaigner, social worker, journalist and author Peter Tatchell was born in Footscray, Melbourne, Australia. Although Tatchell eventually rejected religion, he retains some of the principles that he learned as a child: "My parents taught me to stand up for what was right, even if it was unpopular or personally difficult." His confrontational tactics and some of his political stances have made him a controversial figure even within the glbtq community, but there can be doubt that he has the courage of his convictions.
He immigrated to England in 1971 after refusing to serve in the Australian army because of his opposition to the war in Vietnam. Inspired by the events of Stonewall, Tatchell had come out as a gay man in 1969. Upon arriving in London he joined the Gay Liberation Front (GLF) and threw himself into the struggle for glbtq rights. In addition to participating in sit-ins and distributing leaflets.
Tatchell adopted more audacious forms of protest. Typical of Tatchell's tactics was his 1972 disruption of a lecture by a prominent psychiatrist who claimed to be able to "cure" homosexuals at the very time that the GLF and other groups were working to have homosexuality removed from the list of recognized mental disorders. Tatchell wound up in a melee with the doctors and psychiatrists in attendance.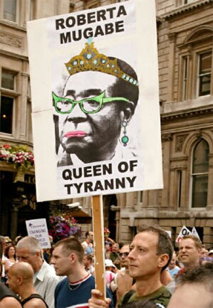 Peter Tatchell leads Mugabe protest
Despite his reputation as a contentious figure, Tatchell was chosen as the Labour Party's candidate for parliament in the 1983 by-election in Bermondsey. After an acrimonious campaign during which he was attacked by his opponents and the press for both his left-wing views and his homosexuality, he was soundly defeated. He subsequently wrote his first book, The Battle for Bermondsey (1983), which he called "the inside story of the dirtiest election in Britain in this century."
Although Great Britain has been the primary focus of Tatchell's activism, he has never confined his sights to it, In March 2001 Tatchell tried to make a citizen's arrest of the Zimbabwaen President Robert Mugabe in the Hilton Hotel in Brussels, Belgium on charge of torturing Ray Chote and Mark Chavundula. Tatchell was beaten up and knocked unconscious by Mugabe's bodyguards.
He led protests in Moscow against anti-gay policies of the Russian government and suffered beatings at the hands of security police.
He has taken controversial stands, however, suggesting, for example, that the age of consent should be lowered to fourteen—as it is in Canada and Germany—because that is the age at which most people now have their first sexual experience.
In April 2007 he became the Green Party prospective parliamentary candidate in the constituency of Oxford East. In February of 2010, the UK's Guardian newspaper reported that Tatchell had to withdraw as a Green Party candidate for Parliament, due to the cumulative effects of the repeated beatings he has suffered. He told the Guardian: "I have problems with my memory, concentration, balance and co-ordination...I'm slower, I make mistakes more easily and I don't quite have the drive that I once had. I'm now prone to a bit of depression, but it's manageable. "Tatchell's website is at www.petertatchell.net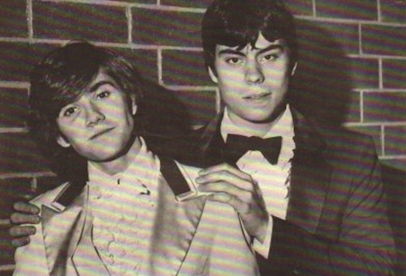 Aaron Fricke (R) with Paul Guilbert
1962 – Aaron Fricke is an American gay rights activist. He was born in Providence, Rhode Island. He is best known for the pivotal case in which he successfully sued his high school for not allowing him to bring his boyfriend, Paul Guilbert, to the senior prom at Cumberland High School in Cumberland, Rhode Island.
At the age of 17, shortly after he came out in 1980, Frick decided to take a male date to the high school prom. "The simple thing would have been to go to the senior prom with a girl. But that would have been a lie — a lie to myself, to the girl, and to all the other students." When the high school informed Fricke he could not bring him to the prom, he filed suit in U.S. District court. The presiding judge, Raymond J. Pettine, ruled in Fricke's favor, ordering the school to not only allow him and his partner to attend as a couple but also to provide enough security to ensure their safety. He recounts the battle over that date in in "Reflections of a Rock Lobster: A Story About Growing Up Gay."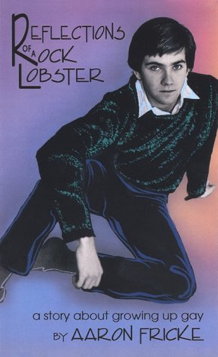 He later collaborated with his father, Walter, on a book about their relationship and of the elder Fricke's coming to terms with his son's homosexuality. That book, "Sudden Strangers: The Story of a Gay Son and His Father", was published in 1989.
The suit brought by Aaron Fricke against his school is considered a major milestone in the history of gay rights. Each year cases of young same-sex couples being discriminated against by their schools happen around the world, and when these cases are brought to court, the suit first brought by Aaron Fricke and Paul Guilbert is invariably cited by the plaintiff's counsel.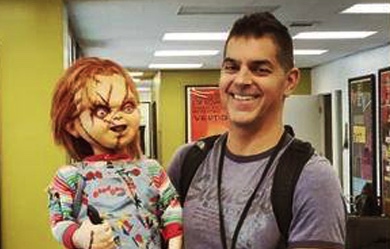 1963 – Don Mancini is an American screenwriter, producer, and film director. Mancini is best known for creating the character of Chucky, and writing all of the films in the Child's Play series. Mancini was also the executive producer of Bride of Chucky, and he directed, Seed of Chucky, as well as the latest installment in Child's Play franchise, Curse of Chucky.
Along with Michael McDowell and Clive Barker, Mancini is one of the few openly gay writers in the slasher film genre.
In 2007, he won the EyeGore award for career contributions to the horror genre. He sometimes goes by the pseudonym Kit Du Bois (also spelled Kit Dubois).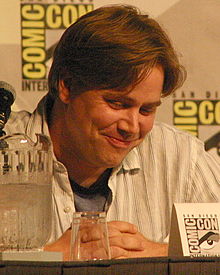 1970 – Stephen Chbosky is an American novelist, screenwriter, and film director best known for writing the New York Times bestselling coming-of-age novel The Perks of Being a Wallflower (1999), as well as for screenwriting and directing the film version of the same book, starring Logan Lerman, Emma Watson, and Ezra Miller. He also wrote the screenplay for the 2005 film Rent, and was co-creator, executive producer, and writer of the CBS television series Jericho, which began airing in 2006.
Chbosky was born in Pittsburgh, Pennsylvania. He was raised Catholic. As a teenager, Chbosky "enjoyed a good blend of the classics, horror, and fantasy." He was heavily influenced by J. D. Salinger's novel The Catcher in the Rye and the writing of F. Scott Fitzgerald and Tennessee Williams. Chbosky graduated from Upper St. Clair High School in 1988, around which time he met Stewart Stern, screenwriter of the 1955 James Dean film Rebel Without a Cause. Stern became Chbosky's "good friend and mentor", and proved a major influence on Chbosky's career.
He wrote, directed, and acted in the 1995 independent film
The Four Corners of Nowhere
, which got Chbosky his first agent, was accepted by the Sundance Film Festival, and became one of the first films shown on the Sundance Channel. In the late 1990s, Chbosky wrote several unproduced screenplays, including ones titled
Audrey Hepburn's Neck
and
Schoolhouse Rock
. In 1994, Chbosky was working on a
"very different type of book"
than
The Perks of Being a Wallflower
when he wrote the line,
"I guess that's just one of the perks of being a wallflower."
Chbosky recalled that he
"wrote that line. And stopped. And realized that somewhere in that [sentence] was the kid I was really trying to find."
After several years of gestation, Chbosky began researching and writing
The Perks of Being a Wallflower
, an epistolary novel that follows the intellectual and emotional maturation of a teenager who uses the alias Charlie over the course of his first year of high school. The book is semi-autobiographical; Chbosky has said that he
"relate[s] to Charlie[...] But my life in high school was in many ways different."
The book, Chbosky's first novel, was published by MTV Books in 1999, and was an immediate popular success with teenage readers; by 2000, the novel was MTV Books' best-selling title, and The New York Times noted in 2007 that it had sold more than 700,000 copies and "is passed from adolescent to adolescent like a hot potato". As of May 2013, the number of copies in print reached over two million. Wallflower also stirred up controversy due to Chbosky's portrayal of teen sexuality and drug use. The book has been removed from circulation in several schools and appeared on the American Library Association's 2004, 2006, 2007, 2008, and 2009 lists of the 10 most frequently challenged books. As of July 2013, The Perks of Being a Wallflower had spent over a year on the New York Times Bestseller list, and is published in 31 languages.
Chbosky lives and works in Los Angeles, California. He is an active gay rights supporter, and he continues to work on films.

1993 – South Africa adopted its post-Apartheid constitution. The breathtaking freedoms declared in this document made South Africa the first nation to bar discrimination based on sexual orientation.

JANUARY 26 →
[{(o)}]|[{(o)}]|[{(o)}]|[{(o)}]| [{(o)}]|[{(o)}]