October 27
[{(o)}]|[{(o)}]|[{(o)}]|[{(o)}]| [{(o)}]|[{(o)}]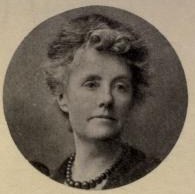 1846 – Katherine Bradley (d.1914) and her niece Edith Cooper collaborated under the pseudonym "Michael Field" on a number of poetic dramas with historical and mythical subjects, one prose play, and eight volumes of verse. Their intention was to keep the pen-name secret, but it became public knowledge, not long after they had confided in their friend Robert Browning.
In 1878, at University College at Bristol, where they advocated such causes as antivivisection and women's rights, they decided to live and write together. Mary Sturgeon regards an untitled sonnet that they cowrote at this time, later published in Underneath the Bough (1893), a collection of their love lyrics to each other, as an exchange of marriage vows. Katherine would later record in the journals that, compared with the most famous literary couple of their day, Robert Browning and Elizabeth Barrett Browning, she as "Michael" and Edith as her beloved "Henry" were more closely wedded.
Their early dramatic collaborations, especially Callirrhoe (1884) and Brutus Ultor (1886), which portrays Brutus as a champion of women's rights, received critical acclaim, attracting the attention of Arthur Symons, Robert Browning, and the young W. B. Yeats, who avidly read them when he was seeking models for his own poetic drama.
Katherine admitted in an 1884 letter to Browning that the public was not ready to accept a passion for women's rights from women writers, thus the necessity for the pseudonym. What made the pseudonym even more necessary was their interest in portraying women's love for each other. For example, Canute the Great (1887) contains an explicit love scene between two women, while the poetry in Long Ago (1889), ostensibly in imitation of Sappho, celebrates lesbian love.
They wrote a number of passionate love poems to each other, and their name Michael Field was their way of declaring their inseparable oneness. Friends referred to them as the Fields, the Michaels or the Michael Fields. They had a range of pet names for each other. They also were passionately devoted to their pets, in particular a dog named Whym Chow, for whom they wrote a book of poems named after him. This continued a tradition of lesbian couples forming families that included beloved animals - the Ladies of Llangollen had established a similar household.
Edith died of cancer in 1913, as did Katherine less than a year later. A much-edited selection from the journals, which were two dozen annual volumes in ledgers with aspects of scrapbooks combined with a self-conscious literary style of composition, was prepared by T. Sturge Moore, a friend through his mother Marie.

1903 – On this date in an article in the German publication Die Zeit, Sigmund Freud was quoted as saying homosexuals are not sick and should not be treated as sick.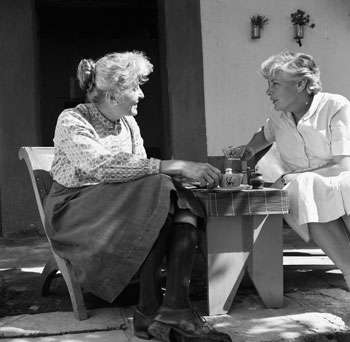 Marcey Jacobson (R) & Janet Marren
1911 – On this date the photographer Marcey Jacobson was born (d.2009). She spent decades in the southern Mexican highlands documenting the lives of the indigenous Indian peoples. Ms. Jacobson was eking out a living in New York City doing mechanical drafting when she first visited San Cristóbal in 1956, intending only a short stay. Instead she found a place she called "the solution to everything," and, with her companion, Janet Marren, a painter, settled there for the rest of her life.
She took up photography with a borrowed Rolleiflex camera. Patiently exploring the colorful city, the central marketplace for the Mayan-speaking Indian villages of the region, she won the trust of the often camera-shy locals and taught herself the craft of making black-and-white pictures from what she saw in its cobblestone streets and muddy byways, in its dramatic landscapes and weather events, and perhaps most of all, in the faces of the inhabitants. Her portraits were haunting. The results, about 14,000 negatives produced mostly from the 1960s to the 1980s, describe the local daily life, its mercantile, religious and familial rites, in sensitive detail. The images are housed in the Na Bolom Museum in San Cristóbal.
In 2009 she died in San Cristóbal de las Casas, Mexico, in the state of Chiapas. She was 97. Janet Marren, her partner, had died in 1998.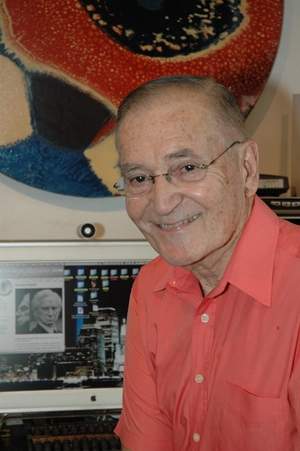 1921
–
Warren Allen Smith
is an American gay rights activist, writer, blogger, and humanities humanist. He is an Iowa-born Renaissance man, a longtime icon in New York City's Greenwich Village.
Smith recalls that when he was a student athlete, he played basketball and baseball against now-legendary Bob Feller. Jim Duncan, known later for his ties to the Drake Relays, was Smith's teacher and educational mentor.
Graduating from Minburn High School in 1939, Smith says he did not have money to attend college immediately, so he did "postgraduate work" at Rippey High School in 1940. He then enrolled at the University of Northern Iowa, peeling potatoes in exchange for his meals.
He majored in piano, also played trombone, and developed his writing skills by submitting columns for the college newspaper. His studies were halted in 1942 when he was drafted into the Army. He served as a clerk at Fort Knox, Ky., before being shipped to England.
In June 1944, he landed on Omaha Beach as part of the largest amphibious assault in history. He then served as chief clerk for the Army's adjutant general, headquartered at Reims, France.
Smith graduated in 1948 and began his career as a substitute teacher at West Chester, but left Iowa in August 1948, hitchhiking to New York City with $40 in his pocket. He attended Columbia University and, with Lionel Trilling as his adviser, earned his master of arts degree in American literature in 1949.
In his first week of arriving in New York City, Smith met Fernando Rodolfo de Jesus Vargas Zamora of Costa Rica, who was his life partner until Vargas died of Kaposi's sarcoma in 1989.
In 1961, Smith started the Variety Recording Studio, a major independent company off Broadway, New York City, with his business partner and longtime companion Fernando Rodolfo de Jesus Vargas Zamora. Liza Minnelli, accompanied by conductor Marvin Hamlisch, cut her first demo record at the studio. Smith ran the company for almost thirty years (1961-90).
These days, Smith is in demand for interviews by journalists around the globe for his first-person memories of the Stonewall riots of June 1969, when gay patrons rebelled during a police raid of the Stonewall Inn in Greenwich Village.
The incident 40 years ago at the tavern at 53 Christopher St. escalated over several nights. It is now considered a milestone event in the fight by gays, lesbians and transgenders to obtain civil rights. Smith was chased by police until he found refuge in a nearby restaurant. The rioting sparked the Gay Liberation Movement and inspired Gay Pride Week.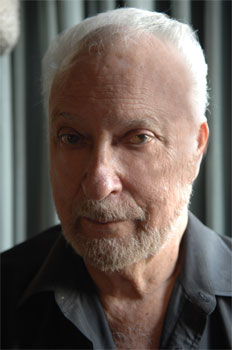 1930 – Larry Townsend (d.2008) was the pseudonymous author (né 'Bud' Bernhardt) of dozens of books including Run Little Leather Boy (1970) and The Leatherman's Handbook (1972) at pioneer erotic presses such as Greenleaf Classics and the Other Traveler imprint of Olympia Press.
Growing up as a teenager of Swiss-German extraction in Los Angeles a few houses from Noël Coward and Irene Dunne, he ate cookies with his neighbor Laura Hope Crews who was Aunt Pittypat in Gone with the Wind.
He attended the prestigious Peddie School, and was stationed as Staff Sergeant in charge of NCOIC Operations of Air Intelligence Squadrons for nearly five years with the US Air Force in Germany (1950-1954).
Completing his tour of duty, he entered into the 1950s underground of the then small LA leather scene where he and Montgomery Clift shared a lover.
With his degree in industrial psychology from UCLA (1957), he worked in the private sector and as a probation officer with the Forestry Service.
He began his pioneering activism in the politics of homophile liberation in the early 1960s. In 1972, as president of the 'Homophile Effort for Legal Protection' which had been founded in 1969 to defend gays during and after arrests, he led a group in founding the H.E.L.P. Newsletter, the forebear of Drummer Magazine (1975). He lived in the Silver Lake neighborhood of Los Angeles, the center of the Los Angeles leather scene (the equivalent of the SoMa neighborhood in San Francisco).
As a writer and photographer, he was an essential eyewitness to the drama and following around Drummer in which his novels were often excerpted. His signature "Leather Notebook" column appeared in Drummer for twelve years beginning in 1980, and continued in Honcho to Spring 2008. His last novel, TimeMasters, was published April 2008. His last writing was Who Lit up the Lit of the Golden Age of Drummer, an introduction to Gay San Francisco: Eyewitness Drummer (June 2008).
His partner of 44 years, Fred Yerkes, died in 2006 and Townsend followed in 2008.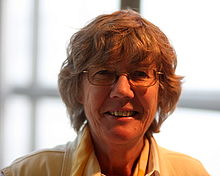 1941 – Gerd Brantenberg is a Norwegian author, teacher, and feminist writer.
Her most famous novel is Egalias døtre ("The Daughters of Egalia"), which was published in 1977 in Norway. In the novel the female is defined as the normal and the male as the abnormal, subjugated sex. All words that are normally in masculine form are given in a feminine form, and vice versa.
Brantenberg was born in Oslo, but grew up in Fredrikstad. She studied English, History, and Sociology in London, Edinburgh, and Oslo. She has an English hovedfag (main subject, comparable to a Masters), from the University of Oslo, where she also studied history and political science. She worked as a lector in Norwegian and Danish high schools, and she also held positions at the trade union for lectors (Norsk Lektorlag) and the Norwegian Authors' Union. Since 1982 she has been a writer full-time.
She worked from 1972-1983 in the Women's House in Oslo. She was a board member of the Norway's first association for homosexual people Forbundet av 1948, the precursor to the Norwegian National Association for Lesbian and Gay Liberation. She has established women's shelters and has worked in Lesbisk bevegelse (Lesbian movement) in both Oslo and Copenhagen. In 1978 she founded a literary Women's Forum with the purpose of encouraging women to write and publish. She has published 10 novels, 2 plays, 2 translations, and many political songs, and has contributed to numerous anthologies.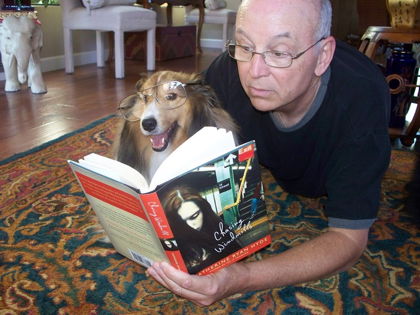 1944 – Paul Alan Fahey is the author of the Lovers and Liars series and the editor of the 2013 Rainbow Award-winning anthology, The Other Man: 21 Writers Speak Candidly About Sex, Love, Infidelity, and Moving On.
His first LGBT novella, The View From 16 Podwale Street, won a 2012 Rainbow Award.
Over the years, his writing has appeared in numerous literary journals such as Byline, Palo Alto Review, Long Story Short, African American Review, The MacGuffin, Thema, Gertrude, Kaleidoscope, and in a variety of fiction and nonfiction anthologies from Carry the Light, Cup of Comfort, My Mom's My Hero to Writing on Walls, and Somewhere in Crime.
He lives on the California Central Coast with his husband, Robert Franks, and a gaggle of shelties.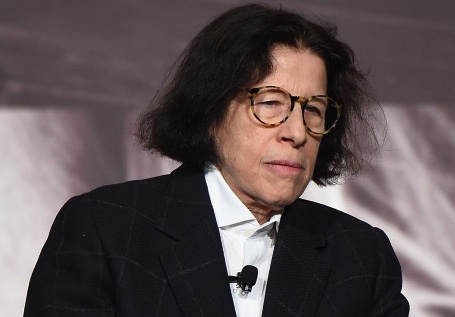 1950 – Fran Lebowitz is an American author. Lebowitz is known for her sardonic social commentary on American life as filtered through her New York sensibilities. Some reviewers have called her a modern-day Dorothy Parker.
Lebowitz was born and raised in Morristown, New Jersey, in an "observant" Jewish family. After being expelled from high school and receiving a GED, Lebowitz worked many odd jobs before being hired by Andy Warhol as a columnist for Interview. This was followed by a stint at Mademoiselle. Her first book was a collection of essays titled Metropolitan Life, released in 1978, followed by Social Studies in 1981, both of which are collected (with a new introductory essay) in The Fran Lebowitz Reader.
In her writings she talks about gender, race and gay rights as well as her favorite pet peeves: celebrity culture, smoking bans, tourists and strollers. Lebowitz, herself a heavy smoker, is known for her advocacy of smokers' rights. But despite her openness about being a lesbian, she doesn't address her private life.
She has been famous, in part, for Exterior Signs of Wealth, a long-overdue, unfinished novel, purportedly about rich people who want to be artists, and artists who want to be rich. She also made several appearances on Late Night with David Letterman. She has made recurring appearances as Judge Janice Goldberg on the television drama Law & Order.
Fran Lebowitz on being gay:
Do you think gay marriage is progress? Are you kidding me? This was one of the good things about being gay. I am stunned that the two greatest desires apparently of people involved in the gay rights movement are gay marriage and gays on the military. Really? To me these are the the two most confining institutions on the planet: people used to pretend to be gay to get out of going into the army.

*****

When I arrived in New York in 1969, gay bars were illegal, in back rooms, but you could smoke in them. Now gay bars have plate-glass windows, they have valet parking, people sit in the windows, but you have to go outside to smoke.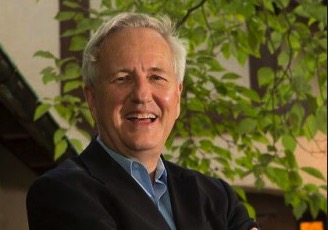 1951 – (William) Bill N. Eskridge Jr., born in Princeton, West Virginia, is the John A. Garver Professor of Jurisprudence at Yale Law School. He is one of the most cited law professors in America, ranking sixth overall for the period 2010-2014. He writes primarily on constitutional law, legislation and statutory interpretation, religion, marriage equality, and LGBT rights.
Between 1990 and 1995, Eskridge represented a gay couple seeking a marriage license in Washington, D.C. Like all the other early same-sex marriage cases, this one did not prevail, but for the first time in American history, one judge, John Ferren of the D.C. Court of Appeals, wrote an opinion finding discrimination against same-sex couples to be unconstitutional. Writing in dissent, Judge Ferren was the only judge to agree with Eskridge. The next year, in 1996, a Hawaii trial judge would agree with Eskridge in the case Baeher v. Miike.
In 1996, Eskridge wrote his pathfinding book "The Case for Same-Sex Marriage", which argued that marriage discrimination against LGBT couples violated both their fundamental right to marry and their equal protection right to be free of invidious state discrimination. The book was reviled at the time, with West Virginia U.S. Senator Robert Byrd quoting extensively from it in his speech supporting the Defense of Marriage Act in 1996, an overwhelming, bipartisan rebuke to the marriage movement.
Ultimately, many state courts and the U.S. Supreme Court adopted these arguments in favor of gay marriage.
At the same time he was working on marriage rights for LGBT persons, Eskridge was working with Georgetown law professor Nan Hunter on teaching materials for a field they dubbed "Sexuality, Gender, and the Law."
Emerging from his work with Hunter, Eskridge published a series of articles on sodomy laws and other discriminatory laws harming gender and sexual minorities. An amicus brief he wrote for the Cato Institute and a law review article titled
"Hardwick and Historiography"
were cited by the majority opinion in Lawrence v. Texas (2003), where the Supreme Court invalidated consensual sodomy laws. Eskridge wrote an authoritative history of the decline and fall of sodomy laws in
"Dishonorable Passions: Sodomy Laws in America, 1861-2003"
.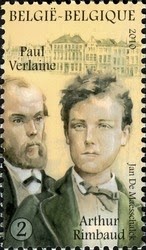 1951 – On this date the French postal service issued postage stamps with Gay lovers Paul Verlaine and Arthur Rimbaud. Rimbaud and Verlaine began a short and torrid affair when Rimbaud was 16 years old. They led a wild, vagabond-like life spiced by absinthe and hashish. Ten years older than Rimbaud, Verlaine abandoned his wife and child and fled to London with Rimbaud. Their love affair was made into a movie "Total Eclipse" featuring Leobardo diCaprio as the young Arthur Rimbaud.

1955 – A California appellate court upholds the oral copulation conviction of a man who tried to bribe the arresting police officer not to arrest him.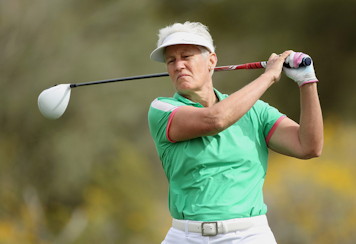 1956 – Patty Sheehan, professional golfer, became a member of the LPGA Tour in 1980 and won six major championships and 35 LPGA Tour events in all. She is a member of the World Golf Hall of Fame.
Sheehan become one of the first LPGA players to publicly announce that she was a lesbian. Sheehan and her partner Rebecca Gaston have two adopted children.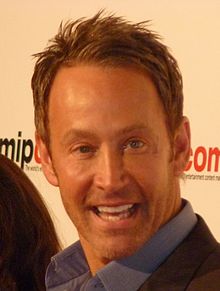 1957 – Peter Marc Jacobson is an American television writer, director and producer, and actor. He is best known as the co-creator of the popular sitcom The Nanny, which he created and wrote with his then wife actress Fran Drescher, who was the star of the series.
Jacobson and Fran Drescher married in 1978, when both were 21 years old. They moved to Los Angeles to launch their careers. In January 1985, two armed robbers broke into Drescher and Jacobson's Los Angeles apartment, where Jacobson was assaulted and forced to watch his wife's rape.
Jacobson and Drescher divorced in 1999, after being separated for a number of years. The couple had no children. He came out as gay to her after their marriage ended. The couple developed the 2011 television series Happily Divorced for TV Land based on their lives.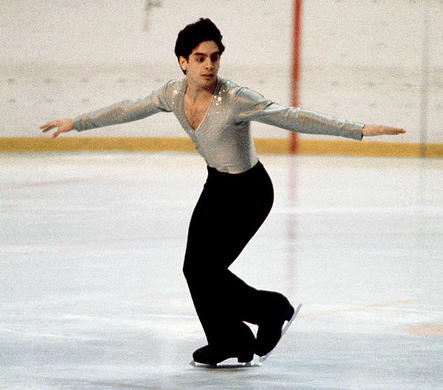 1959 – Brian Pockar (d.1992), born in Calgary, was a two-time Canadian national champion (1978, 1980) and 1982 World bronze medalist, who later served as a sports commentator for CTV and artistic director of the 1988 Calgary Winter Olympics closing ceremonies.
His pro accomplishments included skating the lead opposite Dorothy Hamill in "Romeo and Juliet on Ice" and touring with Stars on Ice. According to Brian Orser's affidavit in connection with a palimony lawsuit, Pockar came out during his employment as a commentator, which Orser says led to Pockar being fired.
Other than that, the only other public mention of Pockar's sexual orientation has probably been in Scott Hamilton's 1999 autobiography Landing It, in which Pockar is credited as one of the gay people who helped Hamilton reverse some of his homophobia.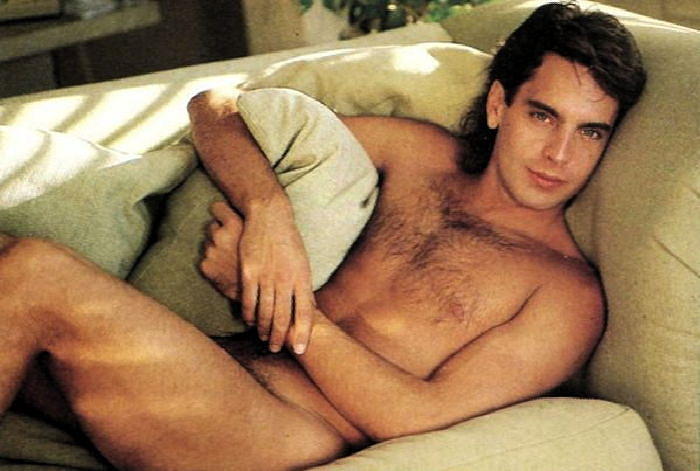 (Click for larger)
However, Pockar was featured in an aticle in the March 1986 Playgirl, in which he appears nude.
Pockar died of AIDS-related complications, after being a pallbearer in Rob McCall's funeral only months earlier. A skating fundraiser in Pockar's memory marked one of the first times that top Olympic skaters lent their names publicly to AIDS activism, forever breaking a taboo within the sport.

1959 - A New York appellate court overturns the disorderly conduct conviction of a man who thrust his erect penis at police, because there was no breach of the peace.

1970 – On this date forty members of the Gay Activist Alliance invaded the New York offices of Harper's magazine to protest an article which presented homosexuality as a mental illness. GAA president Arthur Evans verbally attacked editor Midge Decter for publishing an article which would add to the suffering of homosexuals. The protest led to a three part television news series on Gay liberation.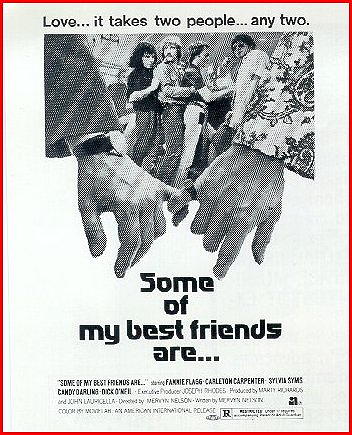 1971 – Today the film "Some of My Best Friends Are..." was released with the description:
"It's Christmas Eve 1971 in Manhattan's Greenwich Village and the regulars of the local gay bar "The Blue Jay" are celebrating. Not much has changed since Stonewall and its not all "Peace on Earth. Good Will to Men" but the times are a changin."
An American International production, the film was written and directed by Mervyn Nelson and starred Fannie Flagg, future Golden Girl Rue McClanahan, and Candy Darling in a rare dramatic role. Gary Sandy (of later "WKRP in Cincinnati" fame) portrays a drugged out, self-loathing closet case who attacks Darling's character and is kicked out of the club by the angered patrons. The film is now regularly shown at Gay film festivals as "The film you love to hate" but at the time it was thought of as a rare portrayal of life in gay bars of the era.


1977 – A meeting between the Quebec Human Rights Commission and representatives of Gay group ADGQ resulted in public recommendation that government amend Human Rights Charter to include sexual orientation.

1990 – The U.S. Congress repealed a law barring homosexuals from being admitted to the United States on grounds of mental illness.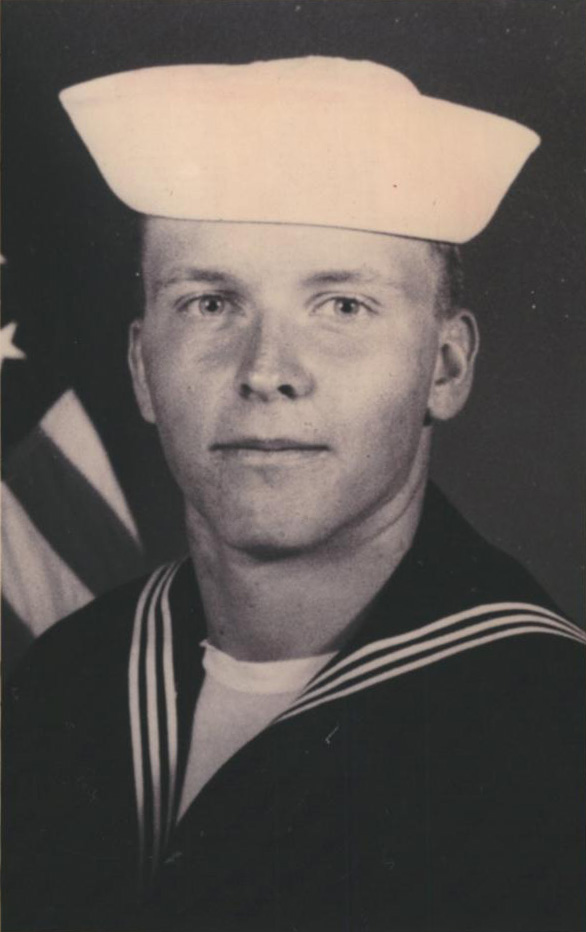 1992 – US Navy radioman Allen R. Schindler, Jr. is brutally murdered by shipmates for being Gay, precipitating first military, then national debate about Gays in the military that resulted in the United States "Don't ask, don't tell" military policy.
Schindler was from a Navy family in Chicago Heights, Illinois and was serving as a radioman on the amphibious assault ship USS Belleau Wood in Sasebo, Japan. According to friends of his, Schindler had complained repeatedly of anti-Gay harassment to his chain of command in March and April 1992, citing incidents such as the gluing-shut of his locker and frequent comments from shipmates like "There's a faggot on this ship and he should die."
While on transport from San Diego to Sasebo, Japan, The Belleu Wood made a brief stop in Pearl Harbor, Hawaii. Afterwards en route to Japan, Schindler made a personal prank announcement "2-Q-T-2-B-S-T-R-8" on secured lines reaching much of the Pacific Fleet. When he was brought before the disciplinary "captain's mast" for the unauthorized radio message. Schindler requested the hearing be closed. It was open, with two to three hundred people in attendance. Schindler was put on restrictive leave, unable to leave the ship until a few months after arriving to Sasebo and four days before his death.
The captain had been visited by Schindler, who had many times requested to be transferred to another location because he was being threatened by other shipmates for being Gay. The captain denied Schindler's request and kept the man's sexual orientation and his death a secret for months. It was not reported until a special team composed of a psychologist, two lawyers, a counselor, and a corpsman from Yokosuka incidentally met at a bar in Sasebo.
Airman Apprentice Terry M. Helvey who was a member of the Ship's weather department stomped Schindler to death in a toilet in a park in Sasebo, Nagasaki. Schindler had "at least four fatal injuries to the head, chest, and abdomen," his head was crushed, ribs broken, and his penis cut, and he had "sneaker-tread marks stamped on his forehead and chest" destroying "every organ in his body" leaving behind a "nearly-unrecognizable corpse." Schindler was left lying on the bathroom floor until the Shore Patrol and the key witness to the incident (Jonathan W.) carried out Schindler's body to the nearby Albuquerque Bridge. Jonathan W. witnessed the murder while using the restroom. He noticed Helvey jumping on Schindler's body while singing, and blood gushing from Schindler's mouth while he attempted to breathe. The key witness was requested to explain in detail to the military court what the crime scene looked like, but would not because Schindler's mother and sister were present in the courtroom.
After the trial, Helvey was convicted of murder and the captain who kept the incident quiet was demoted and transferred to Florida. Helvey is now serving a life sentence in the military prison at the United States Disciplinary Barracks, although by statute, he is granted a clemency hearing every year. Helvey's accomplice, Charles Vins, was allowed to plea bargain as guilty to three lesser offenses, including failure to report a serious crime, and to testify truthfully against Terry Helvey and served a 78-day sentence before receiving a general discharge from the Navy.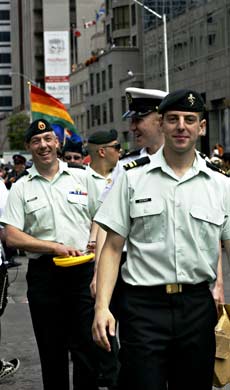 Canadian Military in 2008 Toronto Pride Parade

1992 – A Canadian High Court rules that a policy barring homosexuals from the Canadian military violates the country's Charter of Rights and Freedoms. Military officials said they would fully comply with the federal court decision. "Canadians, regardless of the sexual orientation, will now be able to serve their country in the Canadian Forces without restriction, free from harassment and discrimination," Gen. John de Chastelain said in a statement.
The court issued its ruling on Oct. 27. The case involved Michelle Douglas, a lesbian who was forced to leave the Air Force in 1989. Her challenge was one of five raised by homosexuals over military policies that barred recruiting and also promotion of those already in the services.
Prior to that, due to the the CF Reorganization Act (C-90) of IMay 1967, the Canadian Forces issued Canadian Forces Administrative Order (CFAO) 19-20, Sexual Deviation - Investigation, Medical Investigation and Disposal, which required members of the military suspected of being homosexual to be investigated and then subsequently released.
Consequently, LGBT policy in the Canadian military has changed in the course of the 20th century from being socially repressive to being socially accepted.
In 2004, Jason Stewart was the first member of Canada's military to marry a same-sex partner. In May 2005, Canada's first military gay wedding took place at Nova Scotia's Canadian Forces Base Greenwood. Officials described the ceremony as low-key but touching. Today, the Canadian Forces recognizes same-sex marital and common-law unions, and affords them the same benefits offered to all married or common-law serving members.
During the Divers-Cite Pride parades 1999-2002 in Montreal, a military member and an ex-military member held the banner of the informal grouping MGL, dissolved in 2004 due to the lack of participation of the military community LGBT. During the 2006 Halifax Pride parade, one member of the Canadian Forces marched in the parade, helping to carry the large pride flag. In the 2008 Toronto Pride parade, ten members of the Canadian Forces marched for the first time as a group. One month later, twelve gay and straight members of the Canadian Forces marched in Vancouver's Pride Parade. Lt(N) Steven Churm said, "The message to the public is that the Canadian Forces is an employer of choice."

1997 – On this date the cable television network BET-TV succumbed to homophobic pressure and withdrew an invitation to Gay African-American activist (and former Clinton administration staffer) Keith Boykin to appear on a show with homophobic fundamentalist gospel singers Angie and Debbie Winans. The Winans objected to his presence on the show, which featured their anti-Gay song "It's Not Natural," thus proving their cowardice in refusing to be challenged on their hateful rhetoric.


1999 – The provincial government in the Canadian province of Ontario changed 67 statutes to give same-sex couples equal treatment to heterosexual couples.

1999 – During the primaries, the two Democratic presidential candidates Al Gore and Bill Bradley promised that if elected they would do everything in their power to ensure equal rights for Gay and Lesbian Americans. The promise was an unprecedented declaration by a candidate for a party's nomination. George W. Bush would win the presidential election promising the absolute opposite position on equal rights for Gay and Lesbian Americans and became the first president to publicly call for a constitutional amendment to explicitly take away rights from a class of people - Gay people.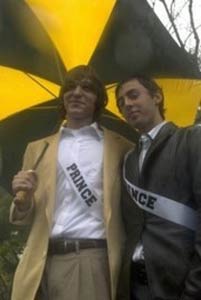 2007 – Two 16 year-old boyfriends in Davis, California were elected Homecoming "Princes" after a successful write-in campaign at Davis Senior High School. With each boasting a white sash declaring his title as "Prince," the two 16-year-olds, Brandon Raphael and Kiernon Gatewood, rode through the city of Davis in the school's annual homecoming parade.
Said Gatewood, "We were a little surprised, but Davis ..."
Raphael, Gatewood's boyfriend, finished the sentence, "Is a liberal town."
Added Raphael, "Go 10 miles in any other direction and you'll get some other feeling."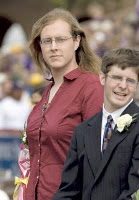 2009 – The students of the College of William and Mary in Virginia, elected their first ever Transgender homecoming queen. Jessee Vasold, who identified as "genderqueer" took the field at halftime of the school's football game against James Madison.

OCTOBER 28 →
[{(o)}]|[{(o)}]|[{(o)}]|[{(o)}]| [{(o)}]|[{(o)}]