SAMPLES AND LINKS TO FAVORITE GAY ARTISTS' AND CARTOONISTS' WEBSITES AND GALLERIES. CLICK ON THE ARTIST'S NAME TO VISIT HIS WEBSITE or GALLERIES FEATURING HIS WORKS.
Please note that most of the sites have links to buy originals or prints of their works. I encourage you to support these great gay artists!
DAVID W. HASKINS
Born in New England, David W. Haskins moved south to Miami to escape the cold and now paints and draws hot men. There are scrolling views of most of his works on his site at the name link, along with a personal commentary, but you can see a nice seletion here on a
CanadianGay Slideshow
MARC DE BAUCH
Marc De Bauch is a pseudonym for Mark Bautch from Minnesota, and it sums up his paintings, which portray wild scenes of debauchery in every age, from Greece and Rome to the present day. There are excellent slideshows of his work on his site at the name link, but we have a short
CanadianGay Slideshow
right here.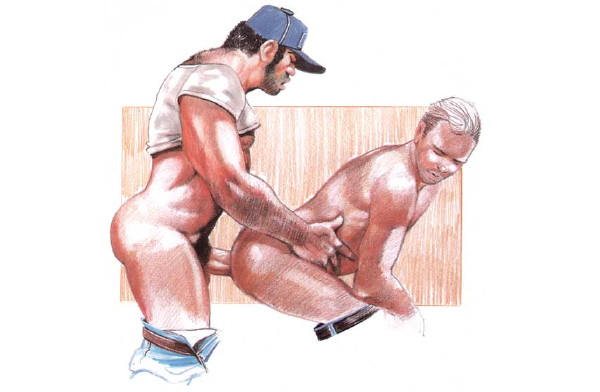 BILL WARD
British artist, the late Bill Ward specialized in bears, brutes, and leather. Two of his popular comic series were "Drum" and "King." He seemes to have had an obsession with American baseball and cowboys. You can see examples of his work in this
CanadianGay Slideshow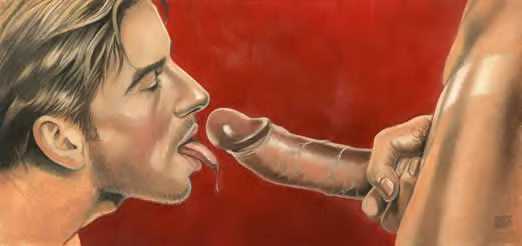 KENT
Kent's work is immediately recognisable by its large, straight stylized cocks. The work of this prolific artist's illustrations have appeared in countless magazines.
This slideshow
presents just a few of them



STEVEN


Steven Stines is a prolific designer and ilustrator. His site shows his versatility. Some of his more erotic work is in our

CanadianGay SlideShow

.

Page 6