SAMPLES AND LINKS TO FAVORITE GAY ARTISTS' AND CARTOONISTS' WEBSITES AND GALLERIES. CLICK ON THE ARTIST'S NAME TO VISIT HIS WEBSITE or GALLERIES FEATURING HIS WORKS.
Please note that most of the sites have links to buy originals or prints of their works. I encourage you to support these great gay artists!

JACK COWAN
Jack Cowan lives in and works out of Orlando, Florida. His large symbolic paintings feature men with large, powerful, cut cocks. View then in this
CanadianGay Jack Cowan SlideShow.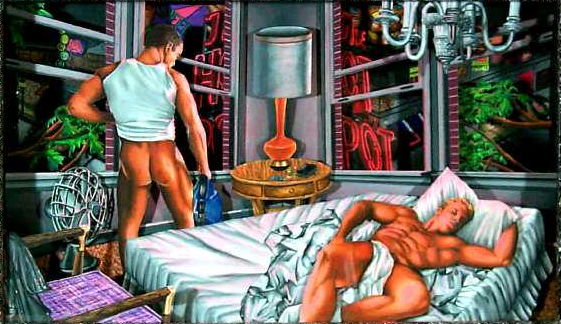 ROSS JOHNSON
Ross Johnson's works have a comic-book quality. He says himself that he has always been fascinated by "Old Hollywood" and pop culture. Here's a brief
CanadianGay Slideshow
of his work.
OLAF
Olaf Odergaard had a fascination with satyrs and cowboys, sometimes together. There are several more links to his works at the bottom of the blog at the name link, but for starters, here's the
CanadianGay Olaf SlideShow
.
ULI of BERLIN
Boots, leather, bondage, domination, and submission are features in Uli's drawings, His style is similar to Tom of Finland's, but his character reek of the Nazi Gestapo. You can see for yourelf in this CanadianGay
Uli SlideShow.



SEPP of VIENNA

Sepp is an associate of Uli with similar interests. His works are also filled with leather-clad men and S&M. View some of them in this

CanadianGay Sepp Slideshow.

Page 9