February 4
[{(o)}]|[{(o)}]|[{(o)}]|[{(o)}]| [{(o)}]|[{(o)}]
1893 – A Gay sex scandal begins in Denmark and later Friedrich Hammerich, son of a prominent judge, is arrested. The press claims that Hans Christian Andersen started a seduction chain leading to the present scandal.

1869 – South Carolina abolishes the death penalty for sodomy, but fails to include a new penalty.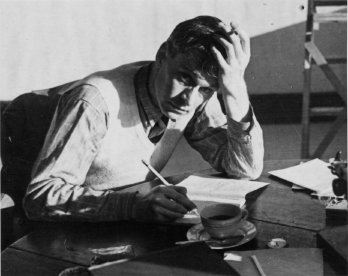 1903 – Born: Edwin Denby (d.1983), one of the most important and influential American dance critics of the 20th century, as well as a poet and novelist. His dance reviews and essays were collected in Looking at the Dance (1949, reprinted 1968), Dancers, Buildings, and People in the Streets (1965) and Dance Writings (1986). His works of poetry include In Public, In Private (1948), Mediterranean Cities (1956), Snoring in New York (1974), Collected Poems (1975) and The Complete Poems (1986). Denby's only novel, Mrs W's Last Sandwich (also released as Scream in a Cave) was published in 1972.
The son of diplomat Charles Denby, Jr., Edwin was born in Tientsin, China in 1903, where Charles had been appointed as Chief foreign advisor to Yuan Shikai a year earlier. Edwin spent his childhood first in Shanghai, then in Vienna, where his father served as consul general from 1909-1915, before coming to the United States in 1916. He attended Harvard but failed to graduate. He also attended classes at the University of Vienna, before obtaining a diploma in gymnastics (with specialty in modern dance) at the Hellerau-Laxenburg school in Vienna in 1928.
Looking for someone to take his passport photo, he encountered photographer and filmmaker Rudy Burckhardt in Switzerland in 1934, and the two remained inseparable for the rest of Denby's life. The following year, they returned to New York and rented a loft for eighteen dollars a month in a five-story walk-up building on West 21st Street in Chelsea. Edwin's friendship with painter Willem de Kooning, who lived one floor below in the adjacent building, began shortly thereafter when de Kooning's kitten turned up on the fire-escape outside of Edwin's window one evening.
In 1935, soon after Denby's return to New York, Orson Welles and John Houseman asked him to adapt Eugène Labiche's Un Chapeau de Paille d'Italie for the stage. The play, titled Horse Eats Hat was scored by Paul Bowles and was performed as a Works Progress Administration Federal Theatre Production in 1936. During his lifetime, being ambivalent about the publication of his poetry, he was known primarily as a dance critic. At the behest of Aaron Copland and Virgil Thomson, he began writing a dance column for the magazine Modern Music in 1936. In 1943, Thomson drafted Denby as the dance critic for the Herald Tribune.
On Tuesday, July 12, 1983, at the summer house he maintained with Burckhardt in Searsmont Maine, he committed suicide; he had been ill and increasingly concerned about the loss of his mental powers.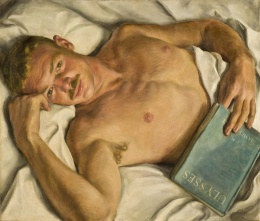 Jared French, as painted by his lover Paul Cadmus
1905 – Born: American painter Jared French (d.1988) who devised a pictorial language to explore human unconsciousness and its relation to sexuality. Most of his works consist of strange, statue-like, somnambulant figures with eerily blank facial expressions positioned in austere landscapes and plazas. Rendered in a technique so precise that they seem more real than real, French's paintings capture and maintain the viewer's interest and imagination.
At Amherst College in 1926, French met artist Paul Cadmus, who was briefly his lover and who became a life-long friend. After leaving Amherst, French took a job on Wall Street and then toured Europe with Cadmus between 1931 and 1933. During the 1930s and 1940s, French was a member of the Cadmus circle that included such gay literary and artistic figures as George Platt Lynes, Lincoln Kirstein, George Tooker, Glenway Westcott, and Monroe Wheeler. In 1937, French married artist Margaret Hoening, his and Cadmus's mutual friend. Cadmus did not seem upset with the marriage and the three were soon collaborating as members of the PAJAMA photographic group (the name of which was comprised of the first two letters of each of their given names).
The photographs taken by French, Hoening, and Cadmus are particularly important for documenting the gay and artistic community coalescing at Fire Island in the period from 1937 to 1945.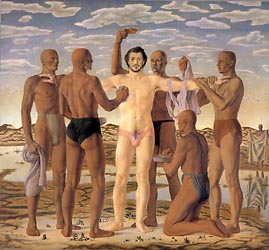 (Click for larger)
French's paintings reveal the central role sexuality plays in the artist's conception of humanity. In the tempera painting entitled Washing the White Blood from Daniel Boone (1939), American Indians symbolically wash away Boone's European ancestry to make him part of the collective unconscious. Boone's metamorphosis includes a sexual awakening. Surrounded by incredibly muscular, nearly nude male Indians, he stands in the middle of the canvas, arms outstretched, wearing obtrusively feminine underwear: tight, light pink hip-huggers laced up the center with a dark blue ribbon. This scenario suggests that the painting is an exploration of Jung's concept of man's repressed feminine aspect.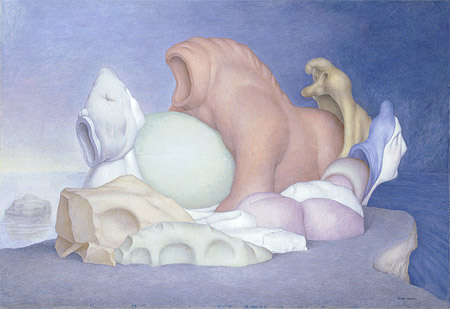 Nest
During the 1960s, French radically altered his imagery. He began drawing fantastic biomorphic creatures that, on closer inspection, are fragments of human torsos, heads, pelvises, and genitalia emerge. French made paintings out of only a few of these arresting drawings. In one such work, entitled Nest (1968-1969), a mass of fleshy, cartilaginous forms appears to mutate atop a seaside cliff. Somewhat horrifically, this hermaphroditic creature, made up of orifices, buttocks, faces, and spines, seems to have impregnated itself and is hatching its egg on a nest of flesh and bone.
In the latter part of his career, French fell out of favor with art critics and art collectors. At the end of his life, he was living in Rome, virtually in seclusion.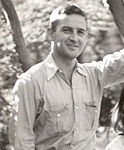 1906 – George Davis (d.1957) was an influential American fiction editor and novelist.
His only novel, The Opening of a Door, was published in 1931. He intended for it to unmask the hypocrisy and tragedy of midwestern middle-class life. The critic, Clifton Fadiman, wrote that "the smoothness of the prose, the unity of the tone. . . are all the marks of a practiced craftsman. It is one of the most unfirstish first novels I have ever read. It is difficult to believe it is the work of one so young." Davis was twenty-four when the novel was published by Harper Brothers, and it became one of the most critically acclaimed novels of 1931.
He served as fiction editor of the periodical Harper's Bazaar from the years 1936 to 1941. After being fired from Harper's, he served as an editor for Mademoiselle for eight years. A flamboyant genius, and homosexual, he is noted for bringing serious literature to the generally light world of woman's magazines. He was an early sponsor of such diverse literary figures as Truman Capote, Ray Bradbury and Jane Bowles.
Davis and several friends, including Gypsy Rose Lee, founded an art commune at 7 Middagh Street in Brooklyn Heights in October 1940. Dubbed February House by Anaïs Nin because so many of its residents had February birthdays, the house became a hub of cultural activities in New York. Figures like Benjamin Britten, W. H. Auden and Carson McCullers were live-in guests. A study of 7 Middagh Street, entitled February House, was published in 2005.
He died of a heart attack in Berlin, where he had been helping his wife, singer Lotte Lenya, make recordings.


Added 2023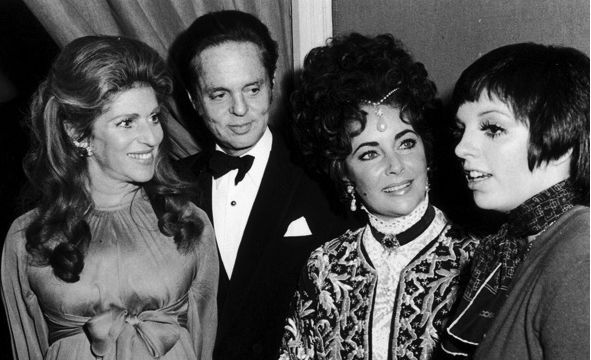 de Rede with Marie-Helene Rothschild, Liz Taylor and Liza Minnelli
1922 – Oskar Dieter Alex von Rosenberg-Redé, 3rd Baron von Rosenberg-Redé (d.2004), also known as Alexis, Baron de Redé, was a prominent French banker, aristocrat, aesthete, collector, and socialite. In 2003, he was appointed a commandeur of the Ordre des Arts et des Lettres for his restoration of the Hôtel Lambert where he was known for hosting opulent costume balls. Involved in horse racing, in 1972 he won the Prix de Diane and came in second at the Prix de l'Arc de Triomphe.
Oskar Dieter Alex von Rosenberg-Redé was born in Zurich, Switzerland, the third and youngest child of Oskar Adolf Rosenberg, Baron von Rosenberg-Redé, a banker from Austria-Hungary.He had two siblings. Born in 1919, his brother Hubert von Rosenberg-Redé was the heir to the barony, while his sister Marion von Rosenberg-Redé (born 1916) was handicapped.
The children were brought up Protestant and raised in a 16-room hotel suite at the Dolder Grand Hotel in Zurich, attended by a great many maids, nannies, porters, and valets. Their father visited occasionally. As their finances decreased with the onset of World War II, they moved into a two-bedroom suite. Diagnosed with leukemia, their mother died in 1931, when Redé was nine years old. Redé and his brother were then sent to be educated together at Institut Le Rosey in Switzerland.
On account of bankruptcy, his father committed suicide in 1939 at the family's estate (Villa Rosin) in the Austrian town of Kaumberg. Living on an insurance policy income of $200 a month, Redé moved to New York City, where he briefly attempted to acquire American citizenship. He traveled to California to work for an antique dealer, where he earned money to support his sister and befriended Elsie de Wolfe (known as Lady Mendl), as well as Salvador Dalí. He returned in New York in 1941.[8] His brother committed suicide in 1942 in Hollywood, California, whereupon Redé became the third and last Baron von Rosenberg-Redé, which was typically abbreviated as Baron de Redé in France.
In a New York restaurant, the 19-year-old Redé caught the eye of businessman Arturo López Willshaw and they became lovers in 1941. A married Chilean millionaire, Lopez-Willshaw lived with his wife Patricia Lopez Huici in a lavishly decorated house in Neuilly, France and was "famous for his extravagant costume entertainments." Shortly after they became a couple, Lopez-Wilshaw allegedly offered Redé $1 million to return with him to France.
By his own account, Redé was largely uninterested in affection or sex, and had only ever loved a Polish classmate at Le Rosey, an interest he never acted on. Redé was romantically involved with Arturo Lopez-Willshaw until Lopez-Wilshaw's death in 1962. Upon meeting Lopez-Wilshaw, Redé recollected losing his virginity to the man at the "sleazy" hotel Winslow on East 55th Street.
As Redé recalled of the beginning of the relationship, "I was not in love. But I needed protection, and I was aware that he could provide this." In addition, he observed, "The money gave me the security I craved, and it would also enable me to look after my handicapped sister."
After their move to Paris, Lopez-Wilshaw unofficially lived with Redé at the Hôtel Lambert while maintaining a formal residence with his wife in Neuilly.
With his wealth deriving from his lover, Redé's social notoriety rested on being a kept man. In 1953, author Christian Mégret published Danaé, a popular roman à clef based on Redé's and Lopez-Willshaw's life together. The racy details were provided by one of their close friends and Mégret's companion, Princess Ghislaine de Polignac. Lopez-Willshaw promptly banned Polignac from his home, although Redé later relented and became friends again.
Redé maintained his apartment at the Hotel Lambert throughout his later years, remaining an active host. He died suddenly at the home of a friend, Carmen Saint, at the age of 82, of heart issues. Redé's estate, notably the contents of his apartment at the Hôtel Lambert, was auctioned after his death by Sotheby's and realized £5.2 million. His memoirs, Alexis: The Memoirs of the Baron de Redé, were published posthumously in 2005.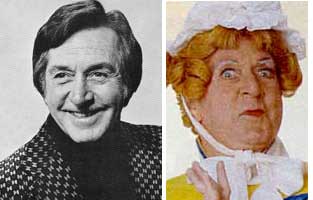 1922 – Born: Jack Tripp was a British comic actor best known for his many performances as a pantomime dame.(d.2005)
In his youth he began tap dancing in talent competitions. He was billed in local pubs as Plymouth's Fred Astaire. He also appeared in several small shows.
During World War II he served in the Royal Electrical and Mechanical Engineers. During this time he joined the Central Pool of Artists, known as the Stars in Battledress. He organized shows with other performers such as Charlie Chester and Bryan Forbes. Jack Tripp also toured the Middle East and appeared in Cairo and Khartoum. After the war Jack Tripp went into revue and variety and also performed as an eccentric dancer. For several seasons he appeared in the Fol de Rols summer seaside shows.
In the 1950s he performed in Howard & Wyndham pantomime productions and learned many of the classic dame routines. By the 1960s Jack Tripp was topping the bills as pantomime dame.
For many years he lived with his partner, the singer and dancer, Allen Christie. They often appeared together in Jack Tripp's own summer show, Take a Tripp, which he took to resorts throughout the UK during the 1960s and 1970s. In 1982 he appeared in the ITV documentary The Pantomime Dame and talked about his art along with Arthur Askey, Douglas Byng, and Terry Scott. During the 1990s Jack Tripp often performed in pantomimes with Roy Hudd and they broke box office records in Plymouth and Croydon.
Jack Tripp retired in 2000 but was often a guest at show-business functions. On 10th July, 2005 he was taken ill at his home in Hove. He was taken by ambulance to Brighton General Hospital where he died.

1923 – Austria: Nazi thugs fire guns into a Vienna homophile gathering attended by Magnus Hirschfeld and wound a number of people in the crowd. Hirschfeld was a German Jewish physician and sexologist educated primarily in Germany; he based his practice in Berlin-Charlottenburg. An outspoken advocate for sexual minorities, Hirschfeld founded the Scientific Humanitarian Committee. Historian Dustin Goltz characterized this group as having carried out "the first advocacy for homosexual and transgender rights".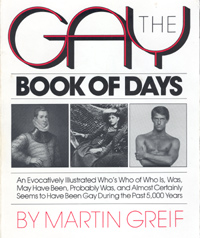 1938 – Martin Greif was born in the Bronx, New York and was an editor, publisher, writer and lecturer. (d.1996)
In 1982 he published a book called The Gay Book of Days – 'An evocatively illustrated who's who of who is, was, may have been, probably was, and almost certainly seems to have been gay during the past 5,000 years'. The book was published in the UK in 1985. This history and many other blogs and sites have used it as a starting point.
Martin Greif also published and edited a large number of other books, mostly through the two publishing houses he and his partner founded, Main Street Press in the US and Orchard Hill Press in Ireland.
He spent his latter years with his longtime work and life partner, Lawrence Grow, in County Cork, Ireland. Larry Grow died from an AIDS-related stroke in 1991 and Martin Greif died from AIDS in 1996.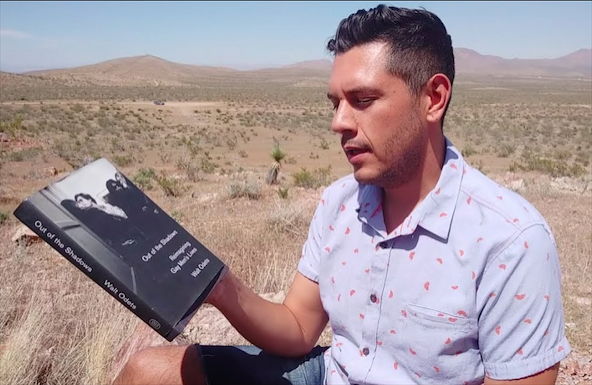 1947 – Walt Odets is a clinical psychologist and author who has written about the early development, psychological and social experiences of gay men and their communities. His earlier writing focused on the lives of men living in and surviving the early AIDS epidemic. The spring 1996 issue of Positive Impact Journal called Odets "an important voice in the AIDS education and prevention arena."
Odets's 1995 study,
In the Shadow of the Epidemic: Being HIV-Negative in the Age of AIDS
, was listed by The New York Times as among the "Notable Books of the Year 1995." Additionally,
In the Shadow of the Epidemic
was the No. 1 bestselling book purchased by gay men in the late fall of 1995, according to The Advocate, and was confirmed as a "Gay Bestseller of 1995." Odets's later work has focused on the psychological aftermath of the epidemic, the early-life experience of stigmatization and adolescent trauma among young gay men, and the conventional idea of "the homosexual" and its influences on gay identities, self-compromise and relationships between men. Published in 2019,
Out of the Shadows: Reimagining Gay Men's Lives
has been described as
"A moving exploration of how gay men construct their identities, fight to be themselves, and live authentically … a necessary, impassioned argument for how and why we must all take hold of our futures."
Walt Whitman Odets was born to playwright, screenwriter and director Clifford Odets and his second wife, actress Bette Grayson, in Los Angeles. The family, which included Walt's sister Nora, two years his senior, moved to New York City in the summer of 1948. Odets and Grayson separated in October 1949 and were divorced in November 1951. In February 1954 Grayson died suddenly of pneumonia, leaving seven-year-old Walt and his disabled sister in the care of their father. Early in 1955 the truncated family moved back to the West Coast so that Clifford could return to screenwriting in order to make a living. He also considered California a healthier environment in which to raise children.
Walt attended Beverly Hills High School, during which time he developed a continuing interest in photography. He was eventually awarded The San Francisco Foundation's James D. Phelan Award for Photography in 2007.
Clifford Odets died in Los Angeles in 1963 when Walt was sixteen. After his father's death, Walt frequently stayed in New York with his legal guardians, Lee Strasberg and Paula Strasberg. The Strasbergs were long-time friends of Clifford, dating from the early years of the Group Theatre, of which Clifford was a founding member. Lee Strasberg acted as interim literary executor of Clifford Odets' Estate until Walt Odets was eligible to assume the executorship at the age of 21.
Odets continues speaking out in support of issues relating to gay and bisexual men throughout the mid-1990s and was featured on numerous radio programs, mostly in the Bay Area. He was named by OUT magazine as "one of the 100 most impressive, influential and controversial gay men and lesbians of 1996." Odets continues to live in the Bay Area, where he writes and maintains a private practice in psychotherapy and couples counseling.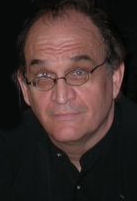 1948 – Roedy Green (born Munroe Frederic Compton Green) is a Canadian programmer, independent computer consultant, and activist. He is well-known on the Internet for his Java & Internet Glossary, and his popular essay How to Write Unmaintainable Code.
Roedy began his programming career in 1963 (at the then unheard-of age of 15), writing Fortran timetable scheduling software for the West Vancouver Secondary School.
In August 1969, he came out as gay. In 1971, based on his experiences, he self-published the booklet "A Guide For The Naive Homosexual" (also known as "the blurb"), and became involved in the founding of the Gay Alliance Toward Equality (GATE), later serving as its second chairman (August 1971 to July 1972).
In 1979, he worked with John C. Lilly on Project JANUS, writing hardware interface software and a dolphin-controlled Etch-A-Sketch. Later, as part of volunteer work for The Hunger Project, he created the programming language Abundance.
Roedy contracted HIV in 1985, and maintains a wide variety of resources on his website for people seeking more information about this disease.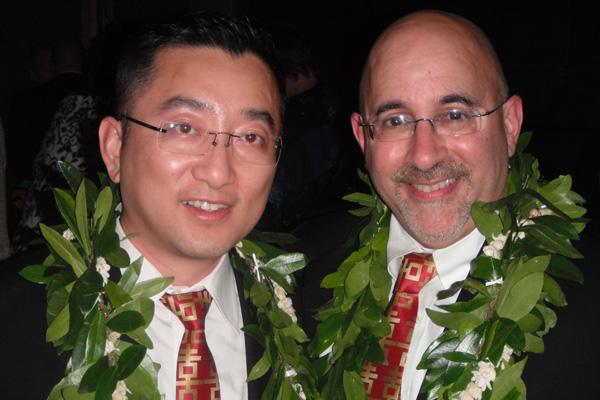 Evan Wolfson (R) and Cheng He wedding
1957 – Born: Evan Wolfson is an American attorney and gay rights advocate. He is the founder and executive director of Freedom to Marry, a group favoring same-sex marriage in the United States. Wolfson, who many consider to be the father and leader of the same-sex marriage movement, authored the book Why Marriage Matters; America, Equality, and Gay People's Right to Marry, which Time Out New York magazine called, "Perhaps the most important gay-marriage primer ever written..."
Returning to the United States after his service in the Peace Corps in Togo, Wolfson entered Harvard Law School. His interest in glbtq rights led him to discover John Boswell's book Christianity, Social Tolerance, and Homosexuality (1980), which had a profound impact on him.
Wolfson took an important step in his personal life: he came out to his family. Describing the moment to reporter Mark S. Warnick, he stated,
"I think they were all surprised. I think that their main reaction was sadness, that I was not going to have the kind of life they expected and were familiar with. But they were always loving and supportive. They're very proud of what I do and they've always been there for me.
From 1989 until 2001 Wolfson worked full-time at Lambda Legal Defense and Education Fund, a gay rights advocacy non-profit. He directed their Marriage Project and coordinated the National Freedom to Marry Coalition, the forerunner to Freedom to Marry. Wolfson co-wrote a brief in Baehr v. Miike, in which the Supreme Court of Hawaii said prohibiting same-sex marriage in the state constituted discrimination, and worked on Baker v. Vermont, the Vermont Supreme Court case that led to the creation of civil unions in Vermont by the state legislature as a compromise between Wolfson's group and those objecting to same-sex marriage. Wolfson called the unions a "wonderful step forward," but not enough.
Wolfson appeared before the United States Supreme Court in 2000, to argue on behalf of Scoutmaster James Dale in the landmark case Boy Scouts of America v. Dale, in which the Court ruled that the Boy Scouts organization had the right to expel Dale for revealing that he was gay. The Court ruled 5-4 against Dale, but Wolfson, said, "We are succeeding in getting people to rethink how they feel about gay people."
On April 30, 2001, Wolfson left Lambda to form Freedom to Marry. Wolfson described his vision for the new organization: "I'm not in this just to change the law. It's about changing society. I want gay kids to grow up believing that they can get married, that they can join the Scouts, that they can choose the life they want to live."
He is adamant that victory means the right to marry, not to have different and less beneficial systems such as civil unions or domestic partnerships for gay and lesbian citizens. "You don't ask for half a loaf," he declared. "We don't need two lines at the clerk's office when there's already an institution that works in this country, and it's called marriage. One of the main protections that come with marriage is inherent in the word: certainly in times of crisis any other word than marriage would not bring the same clarity or impart the same dignity."
Wolfson takes inspiration from the words of Gandhi on the process of change: "First they ignore you. Then they laugh at you. Then they fight you. Then you win."
Wolfson and his partner (now husband), Cheng He, a Canadian-born microbiologist, reside in New York.
Fittingly, Wolfson and Freedom to Marry were deeply involved in the successful struggle to achieve marriage equality in the Empire State. Freedom to Marry became a founding member of the New Yorkers United for Marriage coalition, which was put together by Governor Andrew Cuomo to forge a coherent strategy to build support for marriage equality in the state. Freedom to Marry invested over $1,000,000 in the campaign, including more than $500,000 for television, newspaper ads, and direct mail, and over $100,000 in polling, all aimed at making sure legislators heard from the couples affected, their loved ones, and the 58% of New Yorkers who supported the freedom to marry.The New York legislature finally passed the marriage equality bill in a historic vote on June 24, 2011.
Wolfson and Dr. Cheng He were married in New York City on October 15, 2011. They have been a couple since 2002. In an interview with Nate Schweber of the New York Times for a feature story on their marriage, Wolfson said, "For me, getting married is not about making a political statement; it's about wanting to build a life together, wanting to have protections for one another, wanting to make a commitment in front of your family and friends, just like everyone else."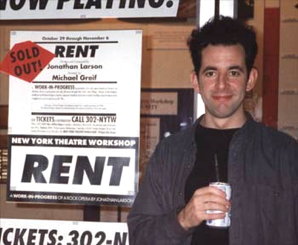 1960 – Jonathan Larson (d.1996) was an American composer and playwright noted for exploring the serious social issues of multiculturalism, addiction, and homophobia in his work. Typical examples of his use of these themes are found in his works, Rent and tick, tick... BOOM!. He received three posthumous Tony Awards and a posthumous Pulitzer Prize for Drama for the rock musical Rent.
Larson was born to Jewish parents in White Plains, New York. Larson attended Adelphi University in Garden City, New York with a four-year scholarship as an acting Academic major, in addition to performing in numerous plays and musical theatre. During his college years, he began music composition, composing music first for small student productions, called cabarets.
Larson moved to a loft with no heat on the fifth floor of a building in Lower Manhattan where he lived with various roommates, among them Greg Beals, a journalist for Newsweek magazine and the brother of actress Jennifer Beals, and James Clunie, now a creative director at advertising agency BBDO, on whom the character Roger is loosely based. The apartment had a carpeted kitchen with the apartment's only bathtub in the corner. From here, he held auditions for his cast. For about ten years Larson worked as a waiter at the Moondance Diner during weekends, and worked on composing and writing musicals during the weekdays. At the diner Larson later met Jesse L. Martin, who was his waiting trainee and later would perform the role of Tom Collins in the original cast of Larson's Rent. Larson and his roommates lived in harsh conditions with little money or property.
While in college, Larson came into contact with his strongest musical theatre influence, Stephen Sondheim, to whom he occasionally submitted his work for review. One tick, tick... BOOM! song called "Sunday" is a homage to Sondheim, who supported Larson, staying close to the melody and lyrics of Sondheim's own song of the same title but turning it from a manifesto about art into a waiter's lament. Sondheim would often write letters of recommendation for Larson to various producers. Larson later won the Stephen Sondheim Award.
Rent started as a staged reading in 1993 at the New York Theatre Workshop, followed by a studio production that played a three-week run a year later. However, the version that is now known worldwide, the result of a three year-long collaborative and editing process between Larson and the producers and director, was not publicly performed before Larson's death. Larson died unexpectedly of a heart condition the morning of Rent's opening night off-broadway.
The show premiered off-Broadway on schedule. Larson's parents (who were flying in for the show anyway) gave their blessing to open the show. Due to Larson's death the day before opening night, the cast agreed that they would premiere the show by simply singing it through, all the while sitting at three prop tables lined up on stage. But by the time the show got to its high energy "La Vie Boheme", the cast could no longer contain themselves and did the rest of the show as it was meant to be, minus costumes, to the crowd and the Larson family's approval. Once the show was over, there was a long applause followed by silence which was eventually broken when an audience member shouted out "Thank you, Jonathan Larson."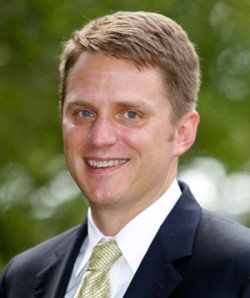 1969 – Joel Burns is an American politician. A city councilman for District 9 in Fort Worth, Texas, he received extensive press attention in October 2010 after speaking at a council meeting about the issue of suicide among lesbian, gay, bisexual and transgender youth, as part of Dan Savage's It Gets Better campaign.
In his speech, which was subsequently released on the Internet as a video, Burns spoke about his own experience as a 13-year-old boy facing bullying at school in Crowley, Texas, because of his sexual orientation. At one point in the video, he broke down and struggled to push forward with his prepared speech, eventually opting to skip a few lines. In subsequent media coverage, he confirmed that the section he skipped included an acknowledgement that he too had considered committing suicide because of the harassment he was facing.
Joel Burns' full speech (13 mins)
The speech resonated throughout the Internet in a matter of minutes after Gawker.com first reported the clip on its Gawker.TV website. Shortly thereafter, Burns held his first television interview on the subject with CNN's Ali Velshi, after the show aired the thirteen-minute YouTube clip in its entirety, an unprecedented occurrence for a major daytime news program. One day later, Burns and his speech was featured on scores of national and international news media, as well as NPR's All Things Considered. In under one week, the clip had garnered over one and a half million views, ultimately leading to Burns' in-studio interview with Matt Lauer on NBC's Today Show as well as an appearance on the popular Ellen DeGeneres talk show. As of late March 2011, the clip had sustained over 2.5 million hits, making it one of the most-watched videos in the 'It Gets Better' campaign.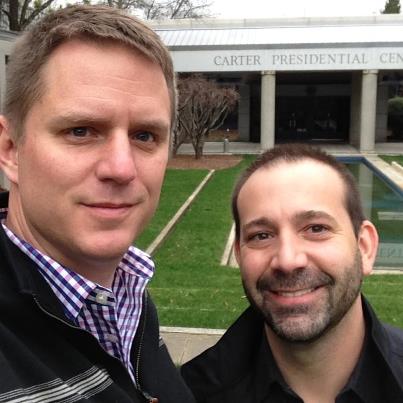 Joel with his long-term partner, J.D. Angle
Burns was first elected to Fort Worth City Council in 2007 in a special election, during which a sitting city council-member, Chuck Silcox (who is now deceased), campaigned for Burns' opponent Chris Turner because Turner was straight. Both straight and gay voters of Fort Worth's District 9 overwhelmingly voted for Burns despite the political homophobic remarks. He was elected to a full term in the 2009 municipal election. He was the first openly gay person ever elected to political office in Tarrant County.
In 2009, on the 40th anniversary of the Stonewall Riots, the Texas Alcoholic Beverage Commission conducted a raid on a Fort Worth gay club, prompting a large public outpouring of anger towards the Commission and the Fort Worth Police Department. During a very heated City Council meeting shortly after the raid, Joel Burns reassured many of the gay Dallas-area protesters in attendance that the City of Fort Worth will not allow such intolerance to continue and vowed to create a GLBT Liaison within the Fort Worth Police Department.
Burns announced on February 11, 2014 that he was resigning his seat on Fort Worth City Council to pursue a Master in Public Administration from the Harvard Kennedy School in Cambridge, Massachusetts.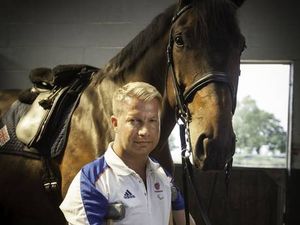 1974 – Lee Pearson CBE is a 10-times paralympic games gold medallist having represented British para-equestrianism in Sydney, Athens, Beijing and London. He also has six world-championship and three European titles.
Pearson was born with arthrogryposis multiplex congenita and first came to public attention in 1980 when then-British Prime Minister Margaret Thatcher carried him up stairs in 10 Downing Street having awarded him a 'Children of Courage' medal. He currently lives in Bagnall, Staffordshire.
He turned professional after he was inspired by the Atlanta Olympics. He won three gold medals in the championship dressage, freestyle dressage, and team dressage events at the 2000, 2004 and 2008 Summer Paralympics. He won gold in the team dressage event at the 2012 Summer Paralympics, silver in the championship dressage and bronze in the freestyle.
He noted after his failure to win gold in the freestyle competition in London that he had been voted down by the British judge but said that he would compete at the 2016 Summer Paralympics in Rio, on a different horse.
Lee Pearson CBE currently is the title holder of no less than 34 Gold medals at European, World and Paralympic level. Probably making him the most successful Equestrian Athlete ever.
Pearson runs his own dressage yard in Staffordshire and teaches many around the country
In August 2012 the
Independent
reported that Lee had a new, 18 year-old boyfriend Ben after
"He broke up with [Lincolnshire fireman Mark] Latham in February [2012] and is now in the process of a messy divorce" from their civil partnership which began in August 2010.
Mark Latham responded to explain,
"Mr. Pearson is not 'ending' the Civil Partnership as I am the one petitioning against him on the grounds of unreasonable behaviour."
In 2014, ahead of a planned trip to decry anti-gay propaganda at the Sochi Winter Olympics, Pearson almost dared Russian President Vladimir Putin to throw him in jail, becoming one of the UK's highest-profile gay athletes.


1975 – Police raid Sauna Aquarius in Montreal and arrest thirty-six people as found-ins in a common bawdyhouse. It was the beginning of a police "clean-up" for the 1976 Montreal Olympic Games.

1975 – The first Gay-oriented television commercial in the U.S. aired on two network affiliate stations in Washington D.C.. Lambda Rising Bookstore sponsored the ads on episodes of Phil Donahue and Marcus Welby, M.D. Stations balked at airing the ads, but relented after getting approval from the Association of Broadcasters Standards Office.

1981 – U.S. Congressman Jon Hinson is arrested for performing an act of "oral sodomy" with a twenty-eight-year-old man in the restroom of a House of Representatives office building. He pleads no contest and is given a thirty-day suspended sentence. Following his 1981 resignation, he became an LGBT activist in metropolitan Washington D.C.Hinson died of respiratory failure resulting from AIDS in Silver Spring, Maryland, in 1995 at the age of fifty-three.

2004 – The Massachusetts high court rules that only full, equal marriage rights for gay couples, not civil unions, would be constitutional. "The history of our nation has demonstrated that separate is seldom, if ever, equal," an advisory opinion from the four justices who ruled in favor of gay marriage stated. A bill creating only civil unions, not full marriage rights, would be "unconstitutional, inferior, and discriminatory status for same-sex couples."

2010 – The national parliament of Albania passed a comprehensive LGBT rights law. The bill does not include marriage equality as had been promised by the president, but the Albanian Alliance against the Discrimination of the Lesbian, Gay, Bisexual and Transgender (LGBT) welcomed the law as a powerful legal tool to protect against any kind of discrimination.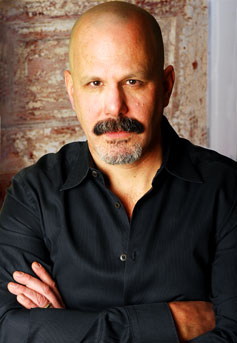 2017 – The Movie, Kept Boy, written by Robert Rodi, is released.
Robert Rodi (b.1956) is an American writer and author of satiric novels and comic books.
Robert Rodi was born 'in a cosy middle-class suburb of Chicago, right around the time cosy middle-class suburbs were feeling the firsts blasts of scorn from the burgeoning counterculture. Twenty-two years later, he earned a bachelor's degree in Philosophy just as the curtain went up on the hyper-materialist Reagan era. Not long afterwards, he came out of the closet just as gay men were dealt the first crushing blow of the AIDS crisis … It was thus perhaps inevitable he turned to writing comedy.'
His first novel, Fag Hag, was published in 1991 and was swiftly translated into Italian, French, German, and Japanese. It was followed in quick succession by Closet Case (1992), What They Did to Princess Paragon (1994), Drag Queen (1995), Kept Boy (1997) and Bitch Goddess (2002) and When You Were Me (2007).
Rodi's shorter fiction can be found in a number of anthologies, including Men On Men 5, His, and Sandman: Book of Dreams. His novella Glad, Gladder, Gladys was serialised online at USAToday.com. His literary criticism has appeared in the pages of The Chicago Tribune, The Los Angeles Times, NewCity, and The Harvard Gay and Lesbian Review.
Rodi is the creator of several comic-book series, including 4 Horsemen, Codename: Knockout, and The Crossovers. He was a founding member of the Chicago-based gay performance art troupe, The Pansy Kings, who were active throughout the 1990s, and he wrote sketches for the Live Bait Theater's revues Junk Food and Dear Jackie: The Queen of Camelot Remembered.
Rodi still lives in Chicago, in a century-old Queen Anne house with his partner Jeffrey Smith and a constantly shifting number of dogs.
Warner Brothers took an option on his novel Kept Boy, and Rodi adapted it it for the screen with David Ozanich. It was released in 2017 to mixed reviews.

FEBRUARY 5 →
[{(o)}]|[{(o)}]|[{(o)}]|[{(o)}]| [{(o)}]|[{(o)}]