November 1
[{(o)}]|[{(o)}]|[{(o)}]|[{(o)}]| [{(o)}]|[{(o)}]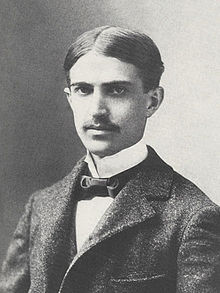 1871 – Stephen Crane (d.1900) was an American author. Prolific throughout his short life, he wrote notable works in the Realist tradition as well as early examples of American Naturalism and Impressionism. He is recognized by modern critics as one of the most innovative writers of his generation.
The eighth surviving child of Methodist Protestant parents, Crane began writing at the age of four and had published several articles by the age of 16. Having little interest in university studies, he left school in 1891 to work as a reporter and writer. Crane's first novel was the 1893 Bowery tale Maggie: A Girl of the Streets, generally considered by critics to be the first work of American literary Naturalism. He won international acclaim in 1895 for his Civil War novel The Red Badge of Courage, which he wrote without any battle experience.
In 1896, Crane endured a highly publicized scandal after appearing as a witness in the trial of a suspected prostitute, an acquaintance named Dora Clark. Late that year he accepted an offer to travel to Cuba as a war correspondent. As he waited in Jacksonville, Florida, for passage, he met Cora Taylor, the madam of a brothel, with whom he began a lasting relationship. En route to Cuba, Crane's ship sank off the coast of Florida, leaving him and others adrift for several days in a dinghy. Crane described the ordeal in "The Open Boat". During the final years of his life, he covered conflicts in Greece and lived in England with Cora, where he befriended writers such as Joseph Conrad and H. G. Wells. Plagued by financial difficulties and ill health, Crane died of tuberculosis in a Black Forest sanatorium at the age of 28.
Obsessed with urban street life, Crane left behind an unpublished novel, Flowers of Asphalt, a realistic portrayal of a Gay male prostitute at the turn of the century. No one knows what became of the manuscript or who destroyed it. The reason why it disappeared is much more certain. The trial of Oscar Wilde, only five years before Crane's untimely death, drove the subject underground for more than a generation.
A 1951 film by the same name is seen as an allegory for a young Gay man's coming out, with the handsome (and usually shirtless) son getting ready to leave the house, despite the disapproving gaze of his mother and father. The film's title is taken from the name of a legendary lost manuscript by Crane, which dealt with the then-taboo subject of boy prostitution.
In 2007 Edmund White published the novel Hotel de Dream, based on the 40-page novella fragment about a boy prostitute as recalled in the memoirs of a Crane friend, James Gibbons Huneker.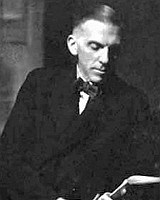 1877 – Roger Quilter (d.1953), was an English composer. Born in Hove, Sussex, Quilter was a younger son of Sir William Quilter, 1st Baronet, who was a noted art collector. Quilter was educated at Eton College, later becoming a fellow-student of Percy Grainger, Cyril Scott and Henry Balfour Gardiner at the Hoch Conservatory in Frankfurt. He belonged to the Frankfurt Group, a circle of composers who studied at the Hoch Conservatory in the late 1890s.
His reputation in England rests largely on his songs and on his light music for orchestra, such as his Children's Overture, with its interwoven nursery rhyme tunes, and a suite of music for the play "Where the Rainbow Ends". He is noted as an influence on several English composers, including Peter Warlock. Roger Quilter's output of songs, more than one hundred in total, added to the canon of English art song that is still sung today.
Among the most popular are "Love's Philosophy", "Come Away Death," "Weep You No More," "By the Sea," and his setting of "O Mistress Mine." Quilter's setting of verses from the Tennyson poem "Now Sleeps the Crimson Petal" is one of his earliest songs but is nonetheless characteristic of the later, mature style.
In 1936, Quilter's opera Julia was presented at Covent Garden by the British Music Drama Opera Company under the direction of Vladimir Rosing.
Quilter enjoyed a fruitful collaboration with the tenor Gervase Elwes until the latter's death in 1921. As a homosexual, he found it difficult to cope with some of the pressures which he felt were imposed upon him, and eventually deteriorated into mental illness after the loss of his nephew during the Second World War.
He died at his home in St John's Wood, London, a few months after celebrations to mark his 75th birthday.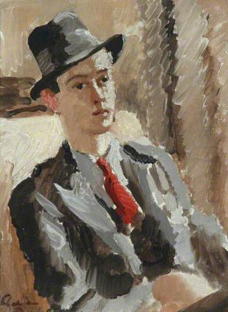 1896 – Captain Napier Sturt, 3rd Baron Alington was a British peer, the son of Humphrey Sturt, 2nd Baron Alington.
He was born in November 1896 in St. Marylebone district of London. He succeeded to the Barony on 30 July 1919 on the death of his father. He owned the Crichel House estate in Dorset.
He married Lady Mary Sibell Ashley-Cooper, daughter of Anthony Ashley-Cooper, 9th Earl of Shaftesbury, on 27 November 1928. They had one child: Hon. Mary Anna Sibell Elizabeth Sturt who later fought the Government and won, leading to the resignation of a Minister, in the Crichel Down Affair.
Alington may well be most notable for having dated Tallulah Bankhead in the 1920s. Alington was described as "well cultivated, bisexual, with sensuous, meaty lips, a distant, antic charm, a history of mysterious disappearances, and a streak of cruelty." His bisexuality was well known. He was a friend of the Polish composer Karol Szymanowski who dedicated his highly sensuous Songs of an infatuated Muezzin Op.42 to the handsome young Englishman, on their publication in 1922.
He had no male heir upon his death, so the title became extinct. The Crichel estate passed to his 11-year-old daughter Mary, who later married Commander (George) Toby Marten.
In the First World War, he was a Captain in the Royal Air Force. In the Second World War, he was commissioned on 2 July 1940 as an officer of the Royal Air Force Volunteer Reserve in the Administrative and Special Duties Branch and was posted to Cairo, possibly serving as a staff officer at HQ Middle East. He died on 16 September 1940 aged 43 in Cairo on active service of a short illness after pneumonia, and is buried in the New British Protestant Cemetery, Cairo, Egypt.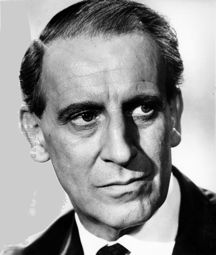 1903 – Max Adrian (d.1973) was an Irish stage, film and television actor and singer. He was a founding member of both the Royal Shakespeare Company and the National Theatre.
In addition to his success as a character actor in classical drama, he was known for his work as a singer and comic actor in revue and musicals, and in one-man shows about George Bernard Shaw and Gilbert and Sullivan, and in cinema and television films, notably Ken Russell's Song of Summer as the ailing composer Delius. His voice and acting style were distinctive: The Times referred to his "Osric-like elaborations of manner", and his voice "like no other heard on the English stage of his day, vestigially Irish and harshly attractive."
Born in Ireland, Adrian began his career as a chorus boy at a silent moving-picture house, coming on as part of the chorus line while the reels were being changed. He made his stage debut in the chorus of Katja the Dancer in 1925. He then toured with Lady Be Good and The Blue Train. He made his West End debut in The Squall at the Globe Theatre in December 1927.
After working with Tod Slaughter's company at Peterborough, he joined the weekly rep in Northampton, where he took some forty roles a year.
Adrian first achieved wide public notice in a nine-month season at the Westminster Theatre from September 1938, as Pandarus in a modern dress Troilus and Cressida and Sir Ralph Bloomfield Bonnington in The Doctor's Dilemma., winning enthusiastic notices from the critics
Away from the classics, he played the Strawman in The Wizard of Oz at the Phoenix Theatre in 1943. In 1947, at the Lyric Theatre, Hammersmith, Adrian began performing in a series of revues (Tuppence Coloured, Oranges and Lemons, Penny Plain, Airs on a Shoestring, From Here to There, and Fresh Airs) in which he played more than 2,000 performances. The producer was Laurier Lister (1907-1986), who became Adrian's lifelong partner.
Adrian was one of the original members of Laurence Olivier's National Theatre Company at the Old Vic from 1963, and appeared as Polonius in the opening production of Hamlet, in which Peter O'Toole played the Prince.
Adrian died at age 69 from a heart attack, at his and Lister's home in Surrey, after returning from the television studios where he had been recording for the BBC.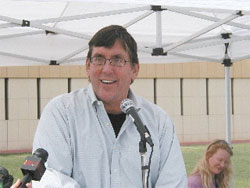 1930 – Bob Hattoy was a passionate activist for glbtq rights and the environment (d.2007). After joining the 1992 Presidential campaign of Bill Clinton as an environmental adviser, he was diagnosed with AIDS. At the Democratic National Convention that year he gave a moving and memorable speech, identifying himself as a gay man with AIDS and calling for an active response to the crisis.
Hattoy took a position with the Sierra Club in 1981. Because of his energy and witand his commitment to the cause of safeguarding the environment, Hattoy "humanized the Sierra Club." When Arkansas governor Bill Clinton needed an environmental consultant for his staff as he launched a bid for the Presidency in 1991, he offered the job to Hattoy, who brought his characteristic verve to the work.
While on a campaign swing to Oregon in May 1992, however, Hattoy, who had been diagnosed as HIV-positive two years earlier, found a lump under his right arm and returned home to Los Angeles for medical attention. The test results were dire, showing lymphoma and AIDS.
Clinton asked Hattoy to address the Democratic National Convention in New York City on the subject of AIDS. Hattoy readily agreed. He was one of two people to speak at the convention on the topic, the other being Elizabeth Glaser, the wife of actor Paul Michael Glaser. She had contracted AIDS through a blood transfusion eleven years earlier and unwittingly passed it to the couple's daughter, who died in 1988, and their son, then seven years old.
Hattoy told the convention: "The first case was detected in 1981, but it took 40,000 deaths and seven years for Ronald Reagan to say the word 'AIDS,'" he noted. "It's five years later, 70,000 more dead, and George Bush doesn't talk about AIDS, much less do anything about it."
Hattoy warned of the dangers of inaction, saying, "Martin Luther King once said that our lives begin to end the day we become silent about things that matter." He acknowledged the "fifty thousand people [who] took to the streets in New York [that day] because they will no longer be silent about AIDS" and stated, "Their actions give me hope."
When Clinton won the White House, Hattoy joined him there as an associate director of personnel and made it his mission to see that glbtq people had a place in the administration. His assistant Patrick Nolen, also openly gay, stated that Hattoy was tireless, working "sixteen-hour days, seven days a week" to promote worthy glbtq applicants, of whom there was no shortage.
Hattoy stated in 1994 that " nothing's going to change until we change the attitudes in every other house in America." The scope of the problem was made evident regularly in the mail that he received from people across the country who were either struggling to provide AIDS education and services or had been victims of discrimination.
"We can't . . . forget that people are being bombed, beaten to death, losing their jobs, their houses, their families, their children because they have this virus. And I don't know those people, but I know they're out there, and I have to fight for them."
In 1999, he returned to California to work as a political consultant. In 2002 Governor Gray Davis appointed Hattoy to the state Fish & Game Commission. He took on the job with his usual energy and enthusiasm, and in February 2007 he was elected Commission chairman.
A scant month later, on March 4, 2007, Hattoy died from complications of AIDS. Tributes poured in for his work as an activist for both glbtq rights and the environment.

1932 – The New York Times reviewed the play "Incubator," which dealt with the consequences of homosexuality in an all-male school.


Added 2021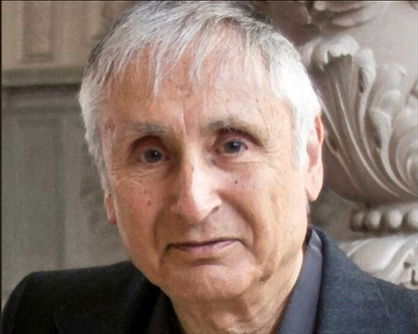 1936 – Nikos Diaman, who was born in San Francisco on this date (d.2020), was  novelist and activist. He was an early member of the Gay Liberation Front, the Radical Faeries, the Billy Club, and other gay organizations.
He received a BA in 1958 from the University of Southern California with a major in humanities. He returned to San Francisco after graduation and was introduced to the local poetry scene by George Stanley. Diaman became part of the Jack Spicer circle in North Beach and joined Robert Duncan's poetry workshop at the San Francisco Public Library.
During the early 1970s, he was active in the Gay Liberation Front and the Gay Revolution Party. He wrote for Zygote magazine and Come Out! before co-founding Queer Blue Light, an independent video production group.
After moving back to San Francisco in the fall of 1972, he was the executive director of the Antares Foundation, which sponsored the San Francisco Gay Video Festival and published Paragraph: A Quarterly of Gay Fiction. Ed Dean Is Queer, his first novel, was published in 1978. Following My Heart: A Memoir, and The City, his seventh novel, were published in 2007.
In 2000, he launched a new career as a photo-based artist. His work is in private and corporate collections in Paris, Santa Fe, San Francisco and San Miguel de Allende. He lived in San Francisco but traveled regularly to San Miguel de Allende, Mexico and Athens, Greece as well as the Aegean islands of Ikaria and Samos, where his parents and grandparents were born.
Diaman died in 2020 in Athens, Greece, where he had gone to help his father. Mr. Diaman died of multiple organ failure after emergency surgery to repair a ruptured and likely cancerous tumor in his intestines.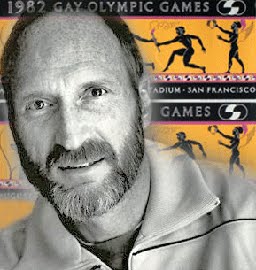 1937 – Dr. Tom Waddell (d.1987) was the gay American sportsman who founded the international sporting event called the Gay Games, which was named such after the United States Olympic Committee (USOC) sued Dr. Waddell for using the word "Olympic" in the original name "Gay Olympics". The Gay Games are held every four years. The first was in San Francisco in 1982.
Waddell was born Thomas Flubacher on November 1, 1937 in Paterson, New Jersey to a Catholic family. Aware of his homosexual feelings in high school, he excelled in athletics as a means to compensate for them. His parents separated while he was in his teens, and at the age of fifteen he went to live with Gene and Hazel Waddell, for whom he did chores; they adopted him six years later. The Waddells were former vaudeville acrobats and encouraged Tom to take up gymnastics.
In the summer of 1959, he worked at a children's camp in western Massachusetts, where he met his first lover, socialist Enge Menaker, then a 63-year-old man. The men remained close for the rest of Menaker's life, which ended in 1985 when he was ninety years old.
Tom was a football player and gymnast when he was in college at Springfield College, Massachusetts. He served as a military doctor afterward. He represented USA in decathlon at the 1968 Summer Olympics, in which he placed sixth.
In his medical career, he received his MD from Stanford University Medical School. During his life, Waddell had done research on viruses, as well as served the Saudi Royal family. This was followed by moving back to San Francisco where he established his private practice on 18th Street in the Castro neighborhood. He later was employed at a city clinic in the Civic Center area of San Francisco which to this day carries his name.
Waddell happened to attend a Bay Area gay bowling competition, which inspired him to consider organizing a gay sports event modeled on the Olympics. He took up the cause of the "Gay Olympics" by traveling across the country to drum up support. The first Gay Olympics was to take place in San Francisco in 1982 in the form of a sports competition and arts festival, but the U.S. Olympic Committee (U.S.O.C.) sued Waddell's organization over its use of the word "Olympic." Despite the fact that the U.S.O.C. had not previously protested when other groups had used the name, they alleged that allowing a "Gay Olympics" would injure them. They succeeded in securing an injunction just nineteen days before the first games were to begin. Nevertheless, the games, now re-christened the Gay Games, went forward and were a great success, perhaps because they emphasized sportsmanship, personal achievement, and inclusiveness to a far greater degree than the Olympics.
Waddell had a daughter in 1983, Jessica Waddell Lewinstein, with lesbian activist Sara Lewinstein, whom he had met while founding The Games. He died from AIDS in 1987. His battle against HIV/AIDS is one of the subjects of the award-winning documentary Common Threads: Stories from the Quilt.
Waddell wrote an autobiography titled Gay Olympian with sports writer Dick Schaap.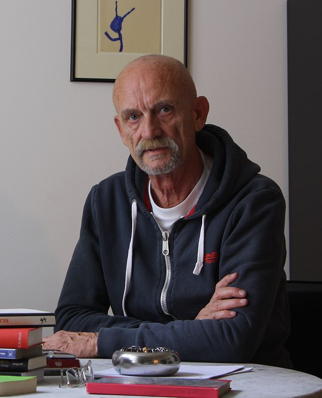 1942 – Martin Dannecker is a German sexologist and author.
Dannecker was born in Oberndorf am Neckar. After his schooling, he initially entered industrial retailing and later trained as an actor at a theater school in Stuttgart. During this time, Dannecker came out as gay and started to read literature on homosexuality. In 1966, Dannecker moved to Frankfurt am Main, and he enrolled at the university with a focus on philosophy, sociology, and psychology. In 1974, he and psychoanalyst Reimut Reiche published Der gewöhnliche Homosexuelle, a wide-ranging empirical study of German homosexuals.
Dannecker collaborated with director Rosa von Praunheim on the film Nicht der Homosexuelle ist pervers, sondern die Situation, in der er lebt. This film was premiered on WDR Television in 1972 and is widely credited with launching the modern German gay rights movement.
From 1977 to 2005, Dannecker was employed at the Institut für Sexualwissenschaft, located at the University of Frankfurt clinic, where he offered courses on sexual counseling as well as homosexuality and film studies. He authored numerous articles and books on homosexuality, HIV/AIDS and sexual orientation. He also participated in workshops and conferences on film and LGBT topics.
In 2005, Dannecker retired and moved from Frankfurt to Berlin. Dannecker is a member of the board of directors at the organisation Queer Nations e.V.. Along with Gunter Schmidt and Volkmar Sigusch, he is editor of Beiträge zur Sexualforschung, which is published in Psychosozial-Verlag. He continues to offer workshops on sexual counseling, particularly in Austria.

1948 – WMCA, a radio station in New York, broadcast a show in response to a letter from a man who was arrested after a police officer made advances. A judge who was a guest stated that the author of the letter had no right to complain about the entrapment and that police should use such tactics to weed out homosexuals.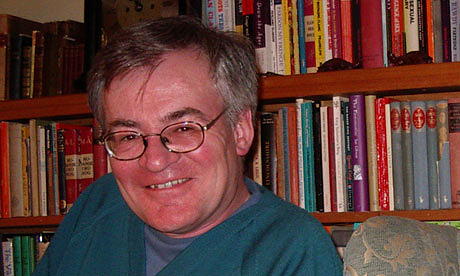 1949 – Graeme Woolaston (d.2011) was one of a generation of Scottish writers and novelists who emerged from the vibrant gay movement of the 1970s.
Born in Leicester in 1949, he moved with his family to Scotland when he was very young. When he went to London in 1971 to do doctoral research, Scotland was then a hard place for anyone interested in developing a homosexual identity.
In London he found himself in a situation where gay people were coming out in unprecedented numbers and re-defining perceptions of homosexuality. He quickly became involved in the Campaign for Homosexual Equality and the Gay Liberation Front and was a founding member of the London University Gay Society.
In the spirit of the gay politics of the time they organised some direct action, whereby gay couples danced together at a student dance which, typically for the period, was trying to enforce a heterosexual norm.
It was when he moved to Brighton in 1980 that his long-standing aspiration to write began to take shape. He wrote regularly for Gay Times, often on anti-stereotypical themes such as football, and he collaborated closely with Peter Burton, the Brighton-based editor of several anthologies of gay fiction.
His first novel, Stranger Than Love, was published in 1985. His second novel, The Learning of Paul O'Neill, was set in Scotland and published in 1993. A later novel, The Biker Below The Downs (1996), was set in Sussex and was subsequently translated into Spanish and published under the title of Un Encuentro Imprevisto. During this period, he also indulged his love of powerful motorbikes, biking around the villages of Sussex.
When he returned to Scotland in 1987 he decided to live in Glasgow and became an occasional contributor to the Glasgow Herald.
He became a Celtic fan and wore a top with the traditional hoops. His gay activism expressed itself through the production of a newsletter for the UK-wide Gay Football Supporters Network; this network not only brought gay fans out of the closet but also led to the establishment of a number of gay amateur football clubs.
One month after civil partnerships for same-sex couples were legalised he and his long-term partner, David, held their own wedding in Edinburgh on January 27, 2006. That was on the 250th anniversary of the birth of Mozart and music such as the overture to The Marriage of Figaro was chosen, along with Strauss and Vivaldi, to mark the event.
When he had become involved in gay politics 35 years previously he had never imagined that he would live to see the time when his own relationship would be recognised in the eyes of the law.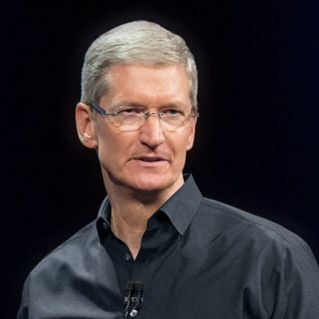 1960 – Tim Cook is an entrepreneur and the CEO of Apple, one of the world's most valuable companies. In 2011, Steve Jobs handpicked Cook as his successor.
Cook was born in Robertsdale, Alabama.
Before joining Apple, Cook managed manufacturing and distribution as director of North American fulfillment for IBM. He also served as chief operating officer at Intelligent Electronics and as as vice president of corporate materials at the Compaq Computer Corporation.
In 1997, Apple reported a loss of a billion dollars and was expected to declare bankruptcy. In 1998, Steve Jobs convinced Cook to accept the position of chief operating officer, despite Cook's reservations. Within a year, Apple reported a profit.
In 2011, Cook became Apple's CEO and a member of the board of directors. He is one of the highest-paid CEOs. He ranked No. 1 on Out magazine's "Power 50" list of the most influential LGBT people in the United States. Forbes magazine named him one of the "World's Most Powerful People."
Cook has kept his personal life private, but has appeared at the top of Out Magazines Power 50 List for 3 years in a row. The closest he had come to publicly acknowledging his homosexuality was in a 2014 speech:
"Since these early days, I have seen and have experienced many types of discrimination and all of them were rooted in the fear of people that were different than the majority."
But on October 30th 2014, two days before his 54th birthday, Cook announced in a interview with Bloomberg Businessweek:
"While I have never denied my sexuality, I haven't publicly acknowledged it either, until now. So let me be clear: I'm proud to be gay, and I consider being gay among the greatest gifts God has given me."
He also challenged his home state of Alabama to ensure the rights of gay and transgender people.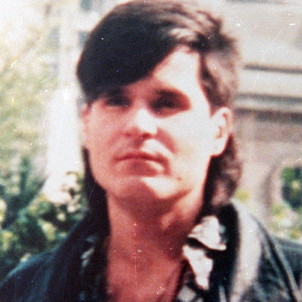 1962 – Adolfo Constanzo (d.1989) was an American serial killer, drug dealer and cult leader. His nickname was El Padrino de Matamoros (The Godfather of Matamoros).
Constanzo was born in Miami, Florida, USA. His mother was a Cuban immigrant. She gave birth to Adolfo at the age of 15. She moved to San Juan, Puerto Rico, after her first husband died, and she remarried there. Constanzo was baptized Catholic and served as an altar boy, but was also influenced by his mother in the religion called Palo Mayombe. The family returned to Miami in 1972, and his stepfather died soon after leaving the family with some money. His mother soon remarried and his new stepfather was involved in the religion and drug dealing.
Constanzo and his mother were arrested numerous times for minor crimes like theft, vandalism, and "farderismo" (shoplifting, concealing goods between their clothing). He graduated from high school but was expelled from prep school. His mother believed he had psychic abilities for supposedly having foretold the attempted assassination of former U.S. President Ronald Reagan in 1981.
As a teenager, he befriended a priest of Palo Mayombe ritual, who taught him the skills to be a drug dealer. Constanzo, now in his teens, took to cruising gay bars, committing petty crimes, and robbing graves to stock his priest's cauldron.
Constanzo visited Mexico City in 1983, supporting himself as a tarot card reader. There, he recruited two younger men; Martín Quintana Rodríguez and Omar Chewe Orea Ochoa to be his servants, lovers and disciples. Constanzo returned to Miami shortly thereafter, but he moved to Mexico City in mid-1984. Over the next few years he became the leader of a full-fledged religion with drug dealers, musicians and even police officers under his command. The religion, based in Matamoros, Tamaulipas, on the U.S.-Mexico border, sold drugs, held high-priced religious ceremonies, and by 1987 at the latest, murdered people for use in human sacrifices. These victims fell along with the religion's rivals in dealing drugs.
When a US citizen tourist, 21-year-old Mark J. Kilroy, disappeared in Matamoros during Spring Break 1989, local police, facing pressures from Texas authorities, began to search in earnest for him. They discovered Constanzo's religion quite by accident (in an unrelated drug investigation) and, after arresting some of the members, quickly discovered that they were responsible for the murder of Kilroy. Officials said Kilroy was killed by Constanzo with a machete chop to the back of the neck when he tried to escape about 12 hours after being taken to the ranch. The suspects said a number of the victims were dismembered and burned.
More and more of the cult's members were arrested until, on May 6, they had cornered Constanzo and four of his followers, two of whom were his male lovers, in a dilapidated Mexico City apartment. Determined not to go to prison, Constanzo ordered one of the disciples to shoot him and his lover Quintana Rodríguez. They were both dead when the police finally broke in.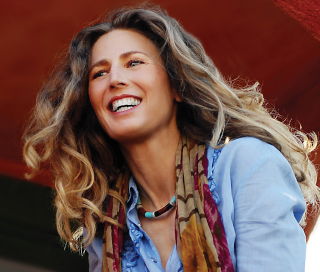 1967 – Sophie B. Hawkins is an American singer, songwriter, musician and painter. Her highest-charting singles are "Damn I Wish I Was Your Lover", "Right Beside You", and "As I Lay Me Down".
Hawkins's debut album, Tongues and Tails, was released in 1992. It achieved both worldwide commercial success and critical acclaim, earning her a Grammy nomination for Best New Artist in 1993. The single "Damn I Wish I Was Your Lover" went to #5 on the Billboard Hot 100 singles chart in the USA, and was also a Top 20 hit in the UK. As a result of this success, Hawkins was asked to perform "I Want You" during "Bobfest" a concert held on October 16, 1992 in Madison Square Garden honoring Bob Dylan's 30th Anniversary as a musician
Whaler, her second album, was released in 1994.
A 1998 documentary by Gigi Gaston, titled The Cream Will Rise, followed Hawkins during one of her tours and captured her struggle to deal with past troubles with her family, including her mother and brother. Music and riffs by Hawkins were included throughout the film.
Also in 1998, Hawkins's record company at the time, Sony Music, delayed the release of her third album. Its executives were unhappy with the finished product, and wanted Hawkins to rework some of the material. In particular, they insisted that Hawkins remove a banjo track from one of the songs. Hawkins refused to accommodate them, citing artistic integrity as her main reason. After a lengthy battle between Hawkins and the company, the album, Timbre, was eventually released in 1999, though Sony declined to promote it. Hawkins subsequently left the label and founded her own label, Trumpet Swan Productions. In 2001, Timbre was re-released on Hawkins's label, now as a 2-disc set that contained new songs, demos, remixes, and videos. Her first independently recorded and released album, Wilderness, was released in 2004.
In 2012, Hawkins starred as Janis Joplin in the play, Room 105 which was written and directed by her longtime girlfriend and manager, Gigi Gaston. After another long hiatus she released her fifth album of all new material in 2012, titled The Crossing.
Amid rumors that Hawkins had dated Martina Navratilova and Jodie Foster, she said, "I've never met any of the women I'm supposed to have had affairs with." She identifies as omnisexual.
On November 18, 2008, she gave birth to a son, Dashiell Gaston Hawkins. He was named in part for Hawkins's longtime partner and manager, Gigi Gaston, who had directed The Cream Will Rise, the documentary about Hawkins mentioned above.
In February 2008, Hawkins re-recorded her hit "Damn I Wish I Was Your Lover" as "Damn, We Wish You Were President" in support of presidential candidate Hillary Clinton. Hawkins also wrote in her blog, "Hillary Clinton's achievements come from her heart. She has initiated so much positive change for families, children, victims of crime and the environment in her struggle for the forward movement of America and the working people of this nation."

1969 – Connecticut decriminalizes private consensual adult homosexual acts.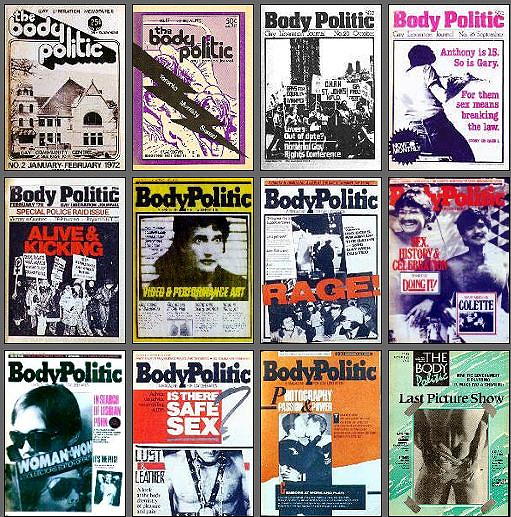 (Click for larger view)

1971 – The Body Politic begins publishing. The Body Politic was a Canadian monthly magazine, which was published from 1971 to 1987. It was one of Canada's first significant gay publications, and played a prominent role in the development of the LGBT community in Canada.
The magazine was first published on November 1, 1971 by an informal collective, operating out of the home of Glad Day Bookshop owner Jearld Moldenhauer. The collective was incorporated as Pink Triangle Press in 1975.
Writers associated with the magazine included Gerald Hannon, Stan Persky, John Greyson, David Rayside, Sue Golding, Richard Summerbell and Gary Kinsman.
The Body Politic was twice charged with publishing obscene material, in 1977 for Hannon's article "Men Loving Boys Loving Men", and in 1982 for "Lust with a Very Proper Stranger", an article on fisting. The magazine was acquitted in both trials. Materials seized by police in the Hannon trial were not returned to the magazine until 1985.
The magazine ceased publication in 1987, following PTP's launch of the tabloid Xtra! in 1984. In 2008, it was ranked as the 17th most influential magazine in Canadian publishing history by Masthead, the trade magazine of the Canadian magazine publishing industry.
The magazine also created the Canadian Lesbian and Gay Archives in 1973.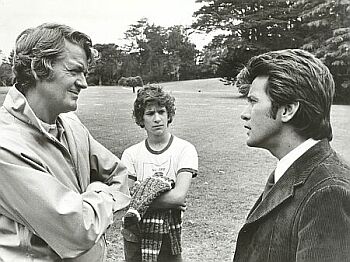 1972 – On this date "That Certain Summer," an ABC made-for-TV movie starring Hal Holbrook and Martin Sheen as lovers was broadcast nationwide. In the film a teenager must deal with his divorced father's homosexuality.
The made-for-tv movie was written by the Emmy-winning writing team of Richard Levinson and William Link (Columbo, Mannix). Hal Holbrook stars as a middle-aged divorced man, whose son played by Scott Jacoby cannot fathom the reason for his parents' split. During a summer visit to San Francisco, Jacoby meets his father's much-younger "best friend," played by Martin Sheen. Holbrook hedges, but finds he can no longer hold back the truth from his son: Sheen is Holbrook's male lover.
Originally telecast on November 1, 1972, That Certain Summer was the first TV film to take a mature and non-remonstrative approach to the subject of homosexuality.

1973 – New Hampshire decriminalizes private consensual adult homosexual acts.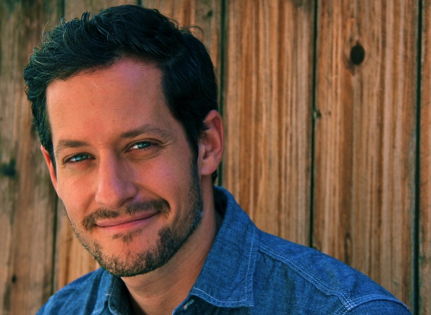 1978 – Jeremy Glazer is an American actor. He is best known for his roles in the films Letters From Iwo Jima, Save Me, In The Clouds and Rust Creek. Glazer has balanced his performances in big-budget blockbusters and independent films, theatre and television shows such as Modern Family, Grey's Anatomy, Castle and Desperate Housewives.
Glazer was born and raised in Huntington Station, New York on Long Island. During his childhood summers he competed in many athletics at a sports camp in West Virginia. He attended Walt Whitman High School, South Huntington and was elected President of his class from sophomore to senior year, began performing in school theatre productions, competed in All County Chorus and played varsity tennis.
Glazer attended the University of Delaware, majoring in Mass Communications and minoring in Theatre. After learning the industry from interning at reputable talent agencies and production companies, he graduated from college with a bachelor's degree and moved to Los Angeles. He first worked as a production assistant at Paramount Pictures on such television shows as The Trouble With Normal, Spring Break Lawyer and Men, Women & Dogs. Glazer then jumped into acting.
Glazer was actor Chad Allen's on- and off-screen partner, both appearing in the film Save Me. In May 2009, when Allen accepted a GLAAD Media Award, he announced that he had met Glazer, his partner, exactly four years earlier. Jeremy Glazer and Chad Allen are no longer partners. They were together from 2005-2011.


1981 – Pierre Fitch, né Viverais, born in Cornwall, Ontario, is a Canadian gay pornography actor, formerly exclusive to Falcon Studios. Although Christian name is Pierre, he admitted that he loved the fashion line Abercrombie & Fitch and so took the surname. He is also an entrepreneur, who now works for himself as an actor and producer of video productions. He is currently performing as a DJ, presenting his own mixes through a number of night clubs in Canada, The United States and Latin America.
His online presence includes his private membership site that includes his almost daily updated blog. He has numerous fan-sites such as the 2008 launched Pierre Fitch Galleries.
Fitch was nominated for the 2006 Best Actor GayVN Award and, with Tom Judson (credited as Gus Mattox), for Best Sex Scene (Duo). He did not win either award, being beaten twice by Johnny Hazzard. Fitch has tattoos all over his body including his neck, chest, stomach, arms and legs.
Fitch is considered "versatile," though more often than not he is seen as the "bottom" (receiver) in scenes featuring anal intercourse. Fitch started off in the industry as a "twink" (younger looking boy), but has now fully grown into a more jock look.
He was previously in a relationship with Ralph Woods. They were reputedly married. In the fall of 2008, Fitch revealed that her marriage to Ralph Woods was never official or legal, but it was a marketing strategy.

1995 – Kings Cross Steelers, the world's first gay rugby club, founded in Central Station bar Kings Cross, London .

1999 – Nancy Katz became Illinois's first openly lesbian judge when she was sworn in as a Cook County associate judge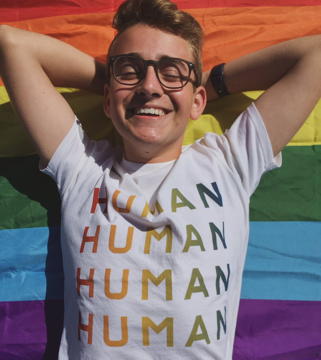 1999 –Buddy Handleson is an American actor, best known for playing Henry Dillon in Disney Teen sitcom Shake It Up, Wendell Bassett in Nickelodeon comedy series Wendell & Vinnie, and Newt on Bella and the Bulldogs, also on Nickelodeon.
On June 25, 2017, Handleson came out as gay through a caption on an Instagram photo depicting him in front of a pride flag. He wrote, "Over the past couple of years I've become more and more comfortable with my sexuality and I think I'm ready to share it with the world. I'm finally at a place in life where I can say 'I'm proud of who I am. I'm proud to be gay.'"


Added 2021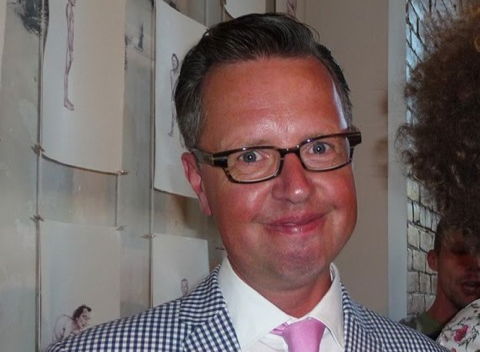 2008 – Pin-Ups, by Maurice Vellekoop, a coffee table book of gay erotic cartoon art, is first published.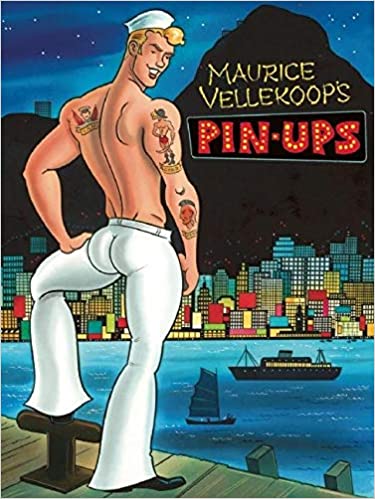 Maurice Vellekoop (born 1964) is a Canadian artist and illustrator. His work has appeared in publications such as Drawn & Quarterly, Time, GQ, Vogue, Cosmopolitan and Wallpaper, as well as in the books ABC Book: A Homoerotic Primer, Sex Tips from a Dominatrix, Mensroom Reader and Vellevision.
Vellekoop attended the Ontario College of Art and Design from 1982 to 1986. He is openly gay.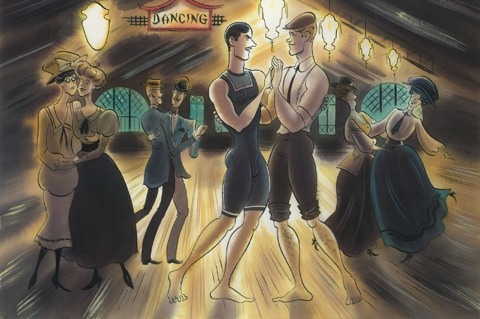 His autobiographical I'm So Glad We Had This Time Together is a comic and compassionate late-bloomer's coming-of-age story that deals with his fraught relationship with his staunchly Calvinist Dutch immigrant parents.


2013 – Audrey Gauthier was elected president of CUPE 4041, representing Air Transat flight attendants based in Montreal. She becomes the first openly transgender person elected president of a union local in Canada.

NOVEMBER 2 →
[{(o)}]|[{(o)}]|[{(o)}]|[{(o)}]| [{(o)}]|[{(o)}]