August 11
[{(o)}]|[{(o)}]|[{(o)}]|[{(o)}]| [{(o)}]|[{(o)}]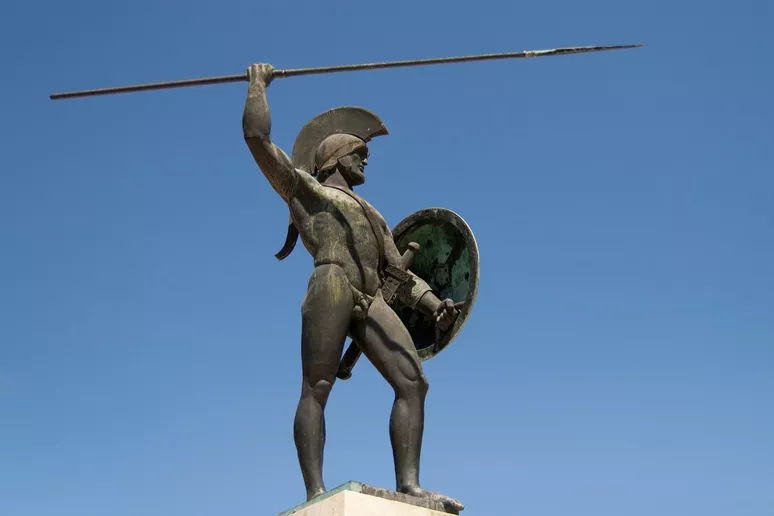 Click for larger
480 BC – Leonidas, (b. circa 540 BC); King of Sparta, the 17th of the Agiad line, one of the sons of King Anaxandridas II of Sparta, who was believed to be a descendant of Heracles, possessing much of the strength and bravery that made his ancestor famous, died on this day.
While it has been established (to say nothing of being turned into the film "300") that King Leonidas of Sparta died at the Battle of Thermoplylae in August, 480 B.C., defending Greece from an invasion by Xerxes and his Persian forces, very little is known about the year of his birth, or for that matter, his formative years, but it is legend that he was accompanied by his "army of lovers." These were the Spartan army, who each went into battle with his male lover by his side, in the belief that they would fight better for each other. It is assumed that Leonidas had his own lover by his side.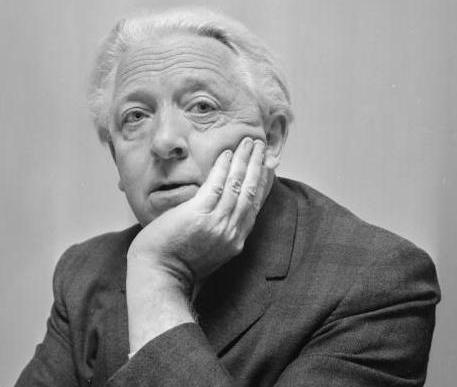 1913 – The English novelist and writer Sir Angus Wilson, CBE, was born on this date. (d.1991). Wilson was born in Bexhill, Sussex, England, to an English father and South African mother. He spent part of his childhood in South Africa.
Back in England, Wilson found a stability at school and university, that was not offered at home. Within these institutions he fashioned himself into a 'character'. His homosexuality soon became obvious and, as his pretty looks metamorphosed into oddity and campness, he created defences to protect himself.
Taking pride in his differences and learning to clown, impersonate and tell stories enhanced his natural kindness and generosity, and attracted others to him.
He was educated at Westminster School and Merton College, Oxford, and in 1937 became a librarian in the British Museum's Department of Printed Books, working on the new General Catalogue.

His first publication was a collection of short stories, The Wrong Set (1949). His writing has a strongly satirical vein. Several of his books have been adapted for television.

During World War II, he worked in the Naval section Hut 8 at the code-breaking establishment, Bletchley Park, translating Italian Naval codes. A wearer of large, brightly-coloured bow-ties, he was one of the "famous homosexuals" at Bletchley (Alan Turing being the most famous). The work situation was stressful and led to a nervous breakdown.

He returned to the Museum after the end of the War, and it was there that he met Tony Garrett, fifteen years his junior (born 1929), who was to be his companion for the rest of his life. From 1946 onwards, their relationship, based on friendship as well as mutual attraction, slowly developed until it became a strong, loving and respectful, though not always unproblematic, partnership that neither wanted to relinquish.
He was awarded the 1958 James Tait Black Memorial Prize for his book The Middle Age of Mrs Eliot and later received a knighthood for his services to literature. His writing, which has a strongly satirical vein, expresses his concern with preserving a liberal humanistic outlook in the face of fashionable doctrinaire temptations. Several of his works were adapted for television. He jointly helped to establish the now renowned creative writing course at the University of East Anglia.
In the mid 1980s Wilson began to suffer from dementia and was cared for by Garrett until his death in 1991.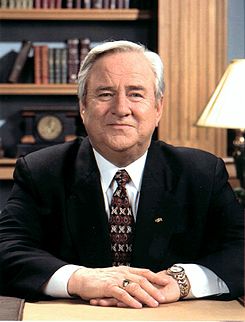 1933 – Jerry Falwell, Sr. (d.2007) was an American evangelical fundamentalist Southern Baptist pastor, televangelist, and a conservative political commentator. He was the founding pastor of the Thomas Road Baptist Church, a megachurch in Lynchburg, Virginia. He founded Lynchburg Christian Academy (now Liberty Christian Academy) in 1967, Liberty University in 1971, and cofounded the Moral Majority in 1979.
Falwell condemned homosexuality as forbidden by the Bible. Pro-gay rights groups called Falwell an "agent of intolerance" and "the founder of the anti-gay industry" for statements he has made and for campaigning against LGBT social movements. Falwell supported Anita Bryant 's 1977 "Save Our Children" campaign to overturn a Florida ordinance prohibiting discrimination on the basis of sexual orientation and a similar movement in California. In urging the repeal of the ordinance, Falwell told one crowd, "Gay folks would just as soon kill you as look at you."
Amongst many remarks over the years he is probably most known for statements attributed to him about a Teletubby being a homosexual role model for homosexual recruitment and stating that LGBT organizations angered God, thereby in part causing God to let the September 11 attacks and Hurricane Katrina happen.
In February 1999, an unsigned article that media outlets attributed to Falwell was published in the National Liberty Journal – a promotional publication of the university he founded – claimed that the Teletubby named Tinky Winky was intended as a gay role model. An article published in 1998 by the liberal Salon.com had noted Tinky Winky's status as a gay icon. In response, Steve Rice, spokesperson for Itsy Bitsy Entertainment, which licenses the Teletubbies in the US, said, "I really find it absurd and kind of offensive." The immensely popular UK show was aimed at pre-school children, but the article stated "he is purple – the gay pride color; and his antenna is shaped like a triangle – the gay-pride symbol." Apart from those characteristics Tinky Winky also carries a magic bag which the NLJ and Salon articles said was a purse. Falwell added "role modelling the gay lifestyle is damaging to the moral lives of children."
When the LGBT-friendly Metropolitan Community Church was almost accepted into the World Council of Churches, Falwell called them "brute beasts" and stated, "this vile and satanic system will one day be utterly annihilated and there'll be a celebration in heaven." He later denied this.
Falwell also regularly linked the AIDS pandemic to LGBT issues and stated, "AIDS is not just God's punishment for homosexuals, it is God's punishment for the society that tolerates homosexuals."
After comedienne and actress Ellen DeGeneres came out as a lesbian, Falwell referred to her in a sermon as "Ellen DeGenerate." DeGeneres responded by saying "Really, he called me that? Ellen DeGenerate? I've been getting that since the fourth grade. I guess I'm happy I could give him work."
At the same time, Falwell's legacy regarding homosexuality is complicated by his support for LGBT civil rights, as well as his efforts at reconciliation with the LGBT community in later years. In October 1999 Falwell hosted a meeting of 200 evangelicals with 200 homosexuals at Thomas Road Baptist Church for an "Anti-Violence Forum", during which he acknowledged that some American evangelicals' comments about homosexuality entered the realm of hate speech that could incite violence. At the forum, Falwell told homosexuals in attendance "I don't agree with your lifestyle, I will never agree with your lifestyle, but I love you" and added "anything that leaves the impression that we hate the sinner, we want to change that" He later commented to New York Times columnist Frank Rich that "admittedly, evangelicals have not exhibited an ability to build a bond of friendship to the gay and lesbian community. We've said 'go somewhere else, we don't need you here [at] our churches.' "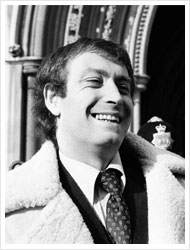 1945 – Denis Lemon (d.1994) was a British magazine proprietor, editor and journalist. Born in Exmouth, Devon, he grew up in Herne Bay and Whitstable. He moved to London for a job in accountancy, and later worked in a record shop in south London. He founded Gay News - Britain's pioneering gay newspaper- in June 1972 with Andrew Lumsden. Within months he was the sole editor.
James Kirkup's poem The Love that Dares to Speak its Name was published in the 3 June 1976 issue of Gay News. The poem, written from the viewpoint of a Roman centurion, graphically describes him having sex with Jesus after his crucifixion, and also claims that Jesus had had sex with numerous disciples, guards, and even Pontius Pilate.
In early November 1976, Mary Whitehouse obtained a copy of the poem and announced her intention to bring a private prosecution against the magazine. Leave to bring this prosecution was granted on 9 December 1976. The charges named Gay News Ltd and Denis Lemon as the publishers. A charge against Moore Harness Ltd for distributing was subsequently dropped. The indictment described the offending publication as "a blasphemous libel concerning the Christian religion, namely an obscene poem and illustration vilifying Christ in his life and in his crucifixion".
The Gay News Fighting Fund was set up in December 1976. Judge Alan King-Hamilton QC heard the trial at the Old Bailey on 4 July 1977. Gay News Ltd was fined £1,000. Denis Lemon was fined £500 and sentenced to nine months imprisonment suspended. It had been "touch and go", said the judge, whether he would actually send Denis Lemon to jail.
Mary Whitehouse's costs of £7,763 were ordered to be paid four-fifths by Gay News Ltd and one-fifth by Lemon. Gay News Ltd and Denis Lemon appealed against conviction and sentence. On 17 March 1978, the Court of Appeal quashed Denis Lemon's suspended prison sentence but upheld the convictions. Gay News readers voted by a majority of 20 to 1 in favour of appealing to the House of Lords. The Law Lords heard the appeal against conviction and delivered their judgment on 21 February 1979. At issue was whether or not the offence of blasphemous libel required specific intent of committing such a blasphemy. The Lords concluded that intention was not required. The appeal was lost.
The European Commission of Human Rights declared the case inadmissible to be heard by the European Court of Human Rights on 7 May 1982. The £26,435 raised by the Gay News Fighting Fund through benefits and donations from the gay community and others, including a £500 donation from Monty Python, was sufficient to cover the costs of the trial and appeals.
Although he poem is freely available via the Internet it has never been published in the UK since and until someone challenges the decision, the blasphemy ban still stands.
As a result of the world-wide publicity surrounding the trial Denis Lemon found himself as a public speaker.
Denis Lemon fell ill and sold Gay News in February, 1982. (It folded shortly afterwards.)
He briefly worked with Paul Oremland on Channel 4's One in Five, the first national lesbian and gay television series. He became a restaurateur in London. He then moved to Exeter with his lover, Nick Purshouse, and opened a restaurant at the Arts Centre.
Denis Lemon died on 21 July 1994 after several years of AIDS-related illness.
In his obituary of Denis Lemon in The Pink Paper, 29th. July, 1994, Richard Smith said, 'The last year has seen the British gay press finally coming of age with a number of new titles. But none of these would have been possible if it were not for the groundwork done by people like Denis Lemon a quarter of a century ago.'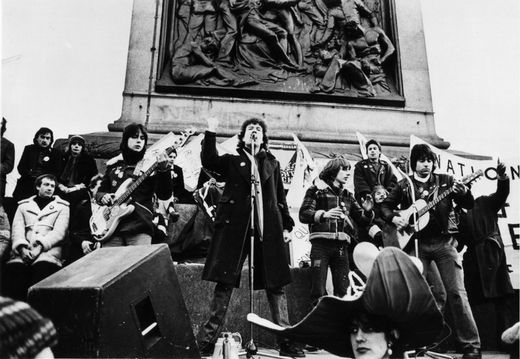 Picture above: Denis Lemon watches [on the left] as the Tom Robinson Band – who had that year released the anthem Sing If You're Glad To Be Be Gay - play at a Trafalgar Square protest of the prosecution of Gay News in 1978.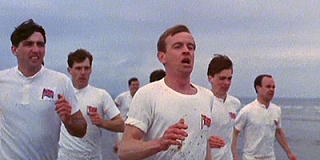 1949 – Born and raised in Edinburgh, Ian Charleson (d.1990) attended the Royal High School and then went on to attend the University of Edinburgh. He initially studied architecture but switched to acting. After graduating from Edinburgh he won a place at the London Academy of Music and Dramatic Art.
His best-known role was as the athlete Eric Liddell in the film Chariots of Fire (1981). A very fine stage actor, his other notable film appearances included his film debut Jubilee (1977), Gandhi (1982), and Dario Argento's horror classic Opera.
Shortly before his death, from 9 October to 13 November 1989, Charleson performed a run of Hamlet at the National Theatre — giving a definitive performance which garnered major accolades. The day following Charleson's final Hamlet performance, when Ian McKellen was given the Evening Standard Award for Best Actor for his Iago in Othello, McKellen offered thanks, but said having seen 'the perfect Hamlet' at the National Theatre the previous night, he thought that not he but Ian Charleson was truly the Best Actor of 1989.
Charleson was diagnosed with HIV in 1986, and died of AIDS-related causes in January 1990 at the age of 40. Charleson is buried in Portobello Cemetery, Edinburgh.
The Ian Charleson Awards have been presented annually since 1991 to reward the best classical stage performances in Britain by actors aged under 30.
The HIV day care centre at the Royal Free Hospital in London NW3 is named in his memory.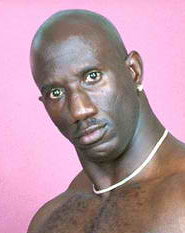 (Click for Full Monty)
1957 – Bobby Blake, born in Memphis, Tennessee, is an African-American retired gay pornographic film actor best known as a dominant top in gay pornographic films.
Growing up in Tennessee, he moved to Los Angeles in the 1980s and worked as an erotic dancer. On the advice of a friend, he visited a gay sex club owned by porn actor Paul Hanson. Impressed with Blake's performance, Hanson recommended him to adult film producers who cast him in his first film, Ebony Knights. Known for working alongside veterans and adult film performers such as Gene LaMar and J.C. Carter, Blake appeared in over 100 films playing aggressive and dominant top roles.
Bobby Blake was a long time partner with Flex-Deon Blake. Bobby actually referred Flex-Deon to the producer Edward James, and secured the introduction of Flex-Deon to the adult industry. Bobby Blake has told the story of their relationship in his book, My Life in Porn.
Bobby Blake has written the book My Life in Porn: The Bobby Blake Story co-written by Blake and John R. Gordon and published in 2008. In his autobiography, he talks extensively about his youth and experiences in the adult film industry. In one of the closing chapters entitled "Prodigal Returns", Blake depicts himself in biblical terms as the "prodigal son" who "had to leave [his] church and the place of [his] birth and go out there in the far country." However, he continues, "in all the years I was working in the adult entertainment business, I never turned my back on God or the Bible teachings I had grown up with." Blake emphasizes that he has no regrets about his lifestyle, interpreting it as part of God's plan for him: "Now that it's over, I can accept that that journey was all part of God's plan for me."
He has retired from adult films around 2000 becoming an ordained Christian minister. In 2007 studied for a master's degree in criminal justice. He also worked for a while as a security manager for a big Memphis night venue called Club Census. Bobby Blake married Ronald Fraser March 29,2015 in Brooklyn NY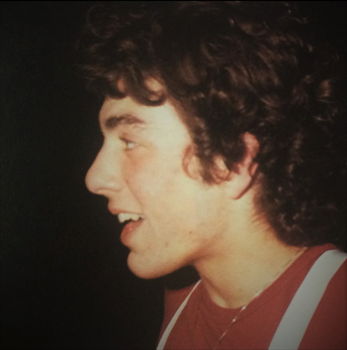 1961 – Dennis Coi (d.1987) was a Canadian figure skater. He was the 1978 World Junior Champion and the 1982 Canadian bronze medallist. Coi also competed in pair skating; with partner Julie Mutchen, he was the 1974 Canadian novice bronze medallist.
Coi was gay, although he did not come out even to his own family until being diagnosed with HIV. He died of AIDS in 1987, amid a spate of AIDS-related deaths of Canadian figure skaters, including Brian Pockar, Robert McCall and Shaun McGill, which was portrayed in the media as a major crisis for the sport.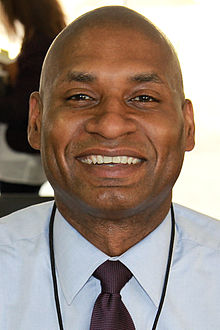 1970 – Charles M. Blow is an American liberal journalist, commentator, and current visual op-ed columnist for The New York Times.
Blow was born and raised in Gibsland, Louisiana. He graduated magna cum laude from Grambling State University, with a bachelor's degree in mass communication. He has worked as a graphics director and art director for The New York Times and National Geographic.
In April 2008, he began writing a column in The New York Times. His column had originally appeared biweekly on Saturdays. In May 2009, it became a weekly feature and appeared twice, weekly, in December 2012. As of May 2014, it appears every Monday and Thursday.
Blow often appears on CNN and MSNBC.
On February 22, 2012, Blow referred to presidential candidate Mitt Romney's "magic underwear", an apparent reference to the Temple Garment, in response to a comment by Romney about two-parent households. The comment was criticized as insensitive to Mormons. In response, Romney joked that "I guess we're finding out for the first time that the media is somewhat biased." Blow later apologized.
In 2014, Blow published the book-length memoir entitled Fire Shut Up In My Bones.
In August 2016, while appearing on CNN with Donald Trump presidential campaign delegate Bruce Levell, Blow called Donald Trump a "bigot" and said that anyone who supported Trump is "a part of the bigotry itself."
In 2014, Blow came out publicly as bisexual.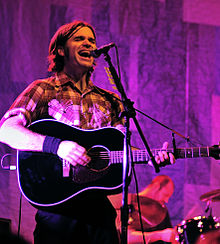 1976 – Ben Gibbard is an American singer, songwriter and guitarist. He is best known as the lead vocalist and guitarist of the indie rock band Death Cab for Cutie, with whom he has recorded eight studio albums, and as one half of the electronica duo the Postal Service. Gibbard released his debut solo album, Former Lives, in 2012, and a collaborative studio album, One Fast Move or I'm Gone (2009), with Uncle Tupelo and Son Volt's Jay Farrar.
Gibbard is an activist for gay rights and wrote an article in The Daily Beast voicing why this issue is important to him. He stated that when his lesbian sister got married, that it was "the most beautiful thing" he had ever seen. In the article, he voiced his strong support for Referendum 74 and discussed raising money for the issue. He stated, "I would just feel so much pride for my state if we could pass it by a popular vote and show the rest of the country that this is the direction we are going in." The passage of Referendum 74 eventually led to the legalization of gay marriage in Washington State.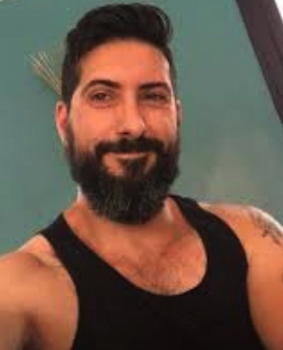 1978 – Mark Alexandre "M.A." Fortin is a Canadian screenwriter and producer. He co-writes with his life partner Joshua John Miller; together they wrote the screenplay for the 2015 horror comedy The Final Girls, and the pilot of the USA Network drama series Queen of the South.
Fortin was born in Montreal, Quebec and raised in Oakville, Ontario. He is an alumnus of Emerson College, from which he received his Bachelor of Fine Arts in 2000. He graduated with a Master of Fine Arts from the American Repertory Theater/Moscow Art Theatre Institute for Advanced Theater Training at Harvard University. He is gay, and as of 2013 is in a relationship with fellow screenwriter Joshua John Miller.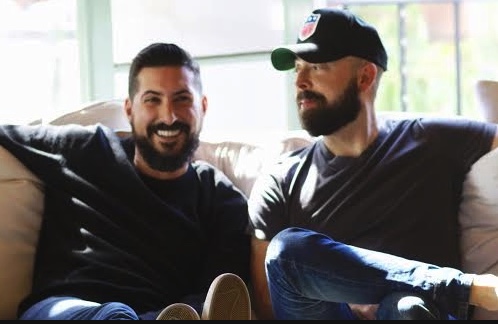 M.A. Fortin with J.J. Miller
Fortin frequently co-writes with Joshua John Miller. Their first collaboration was on the short film Dawn, which was directed by actress Rose McGowan. The short premiered at the 2014 Sundance Film Festival. The two then wrote and executive produced the horror comedy film The Final Girls, which was directed by Todd Strauss-Schulson and stars Taissa Farmiga and Malin Åkerman. The film had its world premiere at South by Southwest on March 13, 2015, and was given a limited release in the United States on October 9, 2015. Fortin and Miller wrote the pilot of the USA Network drama series Queen of the South, which premiered on June 23, 2016, and for which they also serve as executive producers.


1979 – In Vancouver, B.C. there was a public rally in Robson Square protesting police inaction in dealing with street violence against Gays.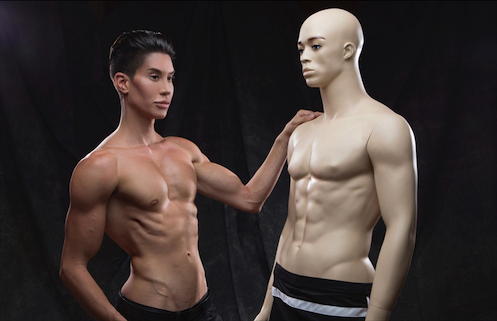 1980 – Justin Jedlica, formerly known as the Human Ken Doll, is an American trans female who has garnered international attention for undergoing over 700 cosmetic procedures. Around January 2020 she began her transition to become Barbie.
At the age of seventeen, Jedlica began to research his first cosmetic procedure, rhinoplasty. Inspired by watching Lifestyles of the Rich and Famous as a teen, Jedlica saw body contouring and cosmetic surgery as emblematic of the wealthy, glamorous lifestyles he sought to emulate. His parents did not approve of cosmetic enhancements and Jedlica was forced to wait until he could legally make the choice for himself. Four days after his eighteenth birthday, Jedlica underwent his first cosmetic procedure, to reconstruct his nose.
As of 2012, Jedlica had undergone approximately 190 cosmetic procedures. These have included rhinoplasty, chest implants, shoulder implants, bicep implants, triceps implants, brow shaving and lifts, cheek augmentations, subpectoral implants, gluteoplasty, and lip augmentations.
Jedlica identifies as gay and wed his partner, a successful businessman, in a civil ceremony in July 2014 after five years of dating; the couple relocated for business purposes to Chicago and resided in Trump Tower. In 2016 they divorced after two years of marriage.

1992 – During a television interview, President George Bush said that if one of his grandchildren were gay he would love the child but tell him homosexuality is not normal and discourage him from working for gay rights.

1994 – The government of Colombia issues a protest against the display of a painting by Chilean artist Juan Davila in London. The painting presents nineteenth-century South American independence hero Simon Bolivar as a transgender.

1995 – South Korea marks its first Pride Celebration with a march and other events in Seoul.

AUGUST 12 →
[{(o)}]|[{(o)}]|[{(o)}]|[{(o)}]| [{(o)}]|[{(o)}]