December 26
[{(o)}]|[{(o)}]|[{(o)}]|[{(o)}]| [{(o)}]|[{(o)}]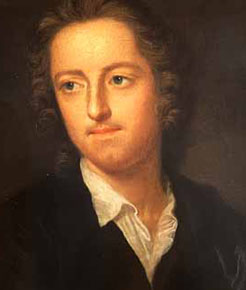 1716 – Thomas Gray, the English writer, was born on this date (d.1771).
"My life is now but a perpetual conversation with your shadow - The known sound of your voice still rings in my ears. I cannot bear this place, where I have spend many tedious years within less than a month, after you left me ..."
So wrote Thomas Gray to a young man when he was 54. Professor of Modern History at Cambridge University and one of the best known poets of his time. He was also more than likely still a virgin, although he may have had a homosexual affair with Horace Walpole when he was younger.
The author of "An Elegy Written in a Country Churchyard," Gray had lived most of his life with his mother, but was known to have cultivated the Platonic friendship of handsome young men. One of Professor Gray's young men introduced him to the Swiss charmer, Charles de Bonstetten – and Gray was hooked. He was profoundly, deeply in love. When Bonstetten left Cambridge a year later, the poet was devastated. But the friends exchanged letters, and the young man suggested they take a walking tour together in Bonstetten's native Switzerland. Gray was overjoyed. The trip was scheduled for the summer of 1771 and Gray wrote tireless letters of devotion while counting the ticking minutes. Finally, the time was near. He would be leaving to see his handsome young man again. The poor poet dropped dead before he had taken one step out the door.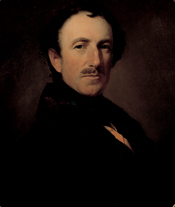 1795 – William Drummond Stewart (d.1871) was a Scottish adventurer and British military officer and homosexual. He traveled extensively in the American West for nearly seven years in the 1830s. In 1837 he took along the American artist, Alfred Jacob Miller, hiring him to do sketches of the trip. Many of his completed oil paintings of American Indian life and the Rocky Mountains originally hung in Murthly Castle, though they have now been dispersed to a number of private and public collections.
Born at Murthly Castle, Perthshire, Scotland, Stewart was the second son and one of seven children of Sir George Stewart, 17th Laird of Grandtully, 5th Baronet of Murthly and of Blair. The family decided that William would go into the Army (as his older brother would inherit his father's estate and title). After his seventeenth birthday in 1812, William asked his father to buy him a cornetcy in the 6th Dragoon Guards. After his appointment was confirmed on April 15, 1813, he immediately joined his regiment and began a programme of rigorous training.
Stewart was anxious to participate in military action; so in 1813, his father purchased for him an appointment to a Lieutenancy in the 15th King's Hussars, which was already in action during the Peninsular Campaign. In 1814, Stewart joined his regiment, subsequently seeing combat during the Waterloo campaign in 1815. In 1820, Stewart was promoted to a Captain and soon thereafter retired on half pay.
Seeking adventure, Stewart traveled to St. Louis, Missouri in 1832, where he brought letters of introduction to William Clark, Pierre Chouteau, Jr.,William Ashley and other prominent residents. He arranged to accompany Robert Campbell, who was taking a pack train to the 1833 rendezvous of mountain men, an annual all-male gathering of fur traders, a drunken debauch held each summer when trappers gathered to trade their pelts for food, liquor and manufactured goods brought to the Rockies from St. Louis by companies of fur traders.
The party left St. Louis on May 7 and attended the Horse Creek Rendezvous in the Green River Valley of Wyoming. Here Stewart met the mountain men Jim Bridger and Thomas Fitzpatrick, as well as Benjamin Bonneville, who was leading a governmental expedition in the area.
At the rendezvous Stewart met the Metis (French Canadian and Cree) hunter Antoine Clement, with whom he began a homosexual relationship. With some of the men, Stewart visited the Big Horn Mountains, wintered at Taos, and attended the next rendezvous at Ham's Fork of the Green River. Later that year, he journeyed to Fort Vancouver, Washington, at the coast of the Pacific Ocean.
Stewart attended the 1835 rendezvous at the mouth of New Fork River on the Green and reached St. Louis in November. Finding that his finances were curtailed because he brother had failed to forward his share of the estate left by their father, Stewart went to New Orleans, speculated in cotton to recoup, and wintered in Cuba.
In May, he joined Fitzpatrick's train to the Rockies for another rendezvous on Horse Creek. For the rendezvous of 1837, Stewart took along an American artist, Alfred Jacob Miller, whom he hired in New Orleans. Miller painted a notable series of works on the mountain men, the rendezvous, American Indians, and Rocky Mountain scenes. He wintered in 1836-1837 and 1837-38 at New Orleans, where he speculated again in cotton. In 1838 he learned that his childless older brother John had died of an undisclosed disease (probably cancer). William Stewart would become the seventh baronet of Murthly.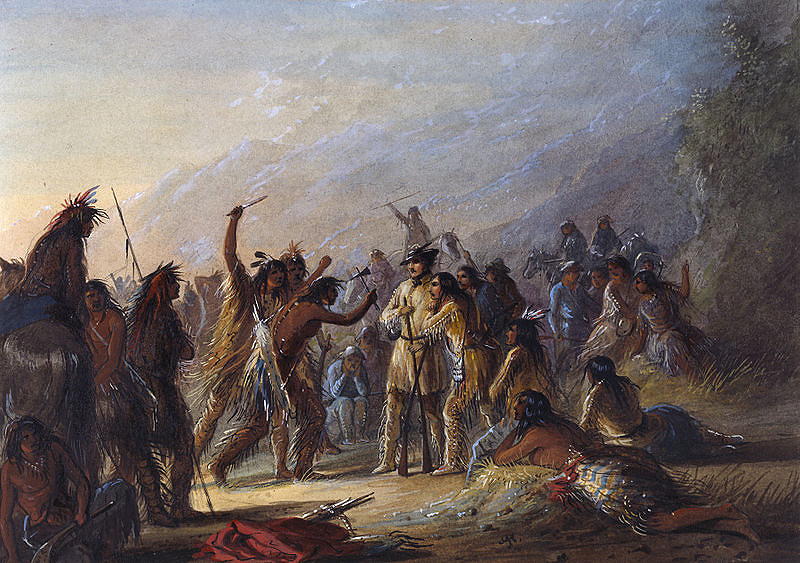 "Attack by Crow Indians"
Alfred Jacob Miller
(Click for larger)
After his older brother John Stewart died childless in 1838, William inherited the baronetcy and returned to Scotland, taking with him his partner Antoine Clement, and the couple lived in Dalpowie Lodge, while entertaining in Murthly Castle. Stewart explained Clement's presence by at first referring to him as his valet, then as his footman. Because Clement was restless and unhappy in Scotland, the couple spent many months traveling abroad, including an extended visit to the Middle East.
In 1842 he returned to America, and in the summer of 1843 hosted a private rendezvous-style party at a remote lake in the Rockies (now called Fremont Lake). On that trip Jean Baptiste Charbonneau, the son of Sacagawea of the Lewis and Clark Expedition was hired to care for the mules.
Stewart returned to North America in late 1842, and in the September of 1843 he and a large entourage traveled to what is now Fremont Lake. Stewart brought with him a large array of velvet and silk Renaissance costumes for his all-male guests to wear during the festivities. He hauled wagon loads of canned delicacies, cigars, liqueurs and champagne. Fur trader William Sublette co-hosted the party with Stewart. Though there had been no rendezvous since 1840, the party had many elements of the old Rocky Mountain gatherings. Stewart had planned to spend the winter of 1843-44 in New Orleans, and visit Taos and Santa Fe the following spring, but the Renaissance "pleasure trip" ended in a dispute that split the party and caused Stewart to return to Scotland earlier than he had planned, never to return to the United States.
In 1856 Stewart's American friend Ebenezer Nichols, his wife, and three sons, visited from Texas. When it came time to leave Scotland, the Nichols's middle son, Franc, declined to return home. He instead stayed on with William Drummond Stewart at Murthly Castle, possibly in a sexual relationship, eventually being adopted by Stewart and becoming his primary heir.
Stewart died of pneumonia on April 28, 1871.
Stewart wrote two autobiographical novels based on his experiences in America, Altowan (1846) and Edward Warren (1854). Both novels include surprisingly frank homoerotic scenes.

1912 – In Philadelphia, Rev. Alfred Mortimer of the Episcopal Church, is forced to resign and leaves the country because of sex with male parishioners.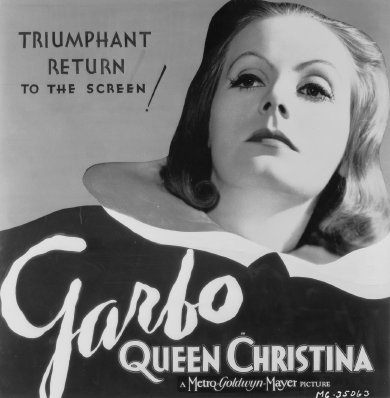 1933 – On this date the Gay classic film Queen Christina was released and starred Greta Garbo in the lead role. The American pre-code historical drama film was directed by Rouben Mamoulian and written by H. M. Harwood and Salka Viertel and based on a story by Salka Viertel and Margaret P. Levino.
The movie is very loosely based on the life of the 17th century Queen Christina of Sweden, who, in the film, falls in love during her reign but has to deal with the political realities of her society. It was billed as Garbo's return to cinema after an eighteen-month hiatus.

1944 – The play The Glass Menagerie by Tennessee Williams is first publicly performed.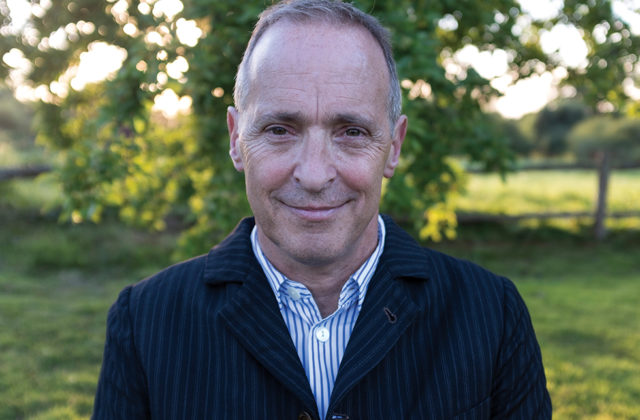 1956
– Today's the birthday of the American essayist and short story writer
David Sedaris.
A Grammy-Award nominated American humorist and radio contributor. Sedaris came to prominence in 1992 when National Public Radio broadcast his essay
"SantaLand Diaries"
He published his first collection of essays and short stories,
Barrel Fever
, in 1994. Each of his four subsequent essay collections,
Naked
(1997),
Holidays on Ice
(1997),
Me Talk Pretty One Day
(2000), and
Dress Your Family in Corduroy and Denim
(2004), have become
New York Times
Best Sellers. As of 2004, his books had collectively sold 2.5 million copies and he is a regular contributor to The New Yorker.
While studying writing at the School of the Art Institute of Chicago, Sedaris was heavily involved with drugs and alcohol. He scraped by with a series of odd jobs, including picking apples and painting houses. He also experimented with visual and performance art, but, as several of his essays attest, he was pitifully unsuccessful in those areas.
Sedaris's life turned around in 1990 when he met Hugh Hamrick, who soon became his lover. Sedaris explains the attraction simply: he needed a ladder and Hamrick had one.
When asked about coming out to his family, Sedaris says he never really had a coming out moment; he just referred casually to "the guy I'm seeing." His parents did a double-take, then dropped it. "We're not very direct people," Sedaris explains. "My dad, he's a product of his generation. For him to have become as accepting as he has is really something. For me to expect more would be greedy."
In 1992, Sedaris met Chicago radio host Ira Glass who asked Sedaris to appear on his weekly local program, The Wild One. Sedaris's success on The Wild One led to his National Public Radio debut on December 23, 1992, on Morning Edition, on which he read his now-classic story "SantaLand Diaries," about his stint working as an elf at Macy's department store during the holiday season.
Sedaris says, "I owe everything to Ira . . . my life changed completely like someone waved a magic wand." Sedaris became an instant radio star. Soon, he was recording a monthly segment for NPR's This American Life, edited and produced by Glass and distributed nationally by WBEZ in Chicago. He also began publishing essays in Esquire and The New Yorker.
His essay "I Like Guys," in which Sedaris recalls the discovery of his homosexuality, is both hilarious and genuinely moving, as it reveals his acute awareness of the shame of homosexuality and the pervasiveness of homophobia. "What are you," screams a summer camp counselor in the essay, "a bunch of goddamned faggots who can't make your beds?" Sedaris writes, "I giggled out loud at his stupidity. If anyone knew how to make a bed, it was a faggot."
Much of Sedaris' humor is autobiographical and self-deprecating, and it often concerns his family life, his middle class upbringing in the suburbs of Raleigh, NC, Greek heritage, various jobs, education, drug use, sexuality, and his life with his partner, Hugh Hamrick. The matter-of-factness of Sedaris's descriptions of his domestic life with Hamrick is characteristic of his straightforward presentation of his homosexuality throughout his work.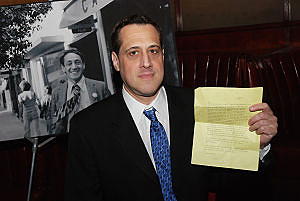 1960 – Stuart Milk is a global LGBT human rights activist and political speaker. Stuart, nephew of the late civil rights pioneer Harvey Milk, is the co-founder of the Harvey Milk Foundation.
As reported in the San Francisco Chronicle, the 1978 assassination of his uncle destroyed the "closet door" for Stuart Milk. Milk, who has participated and represented Harvey Milk's small immediate family in memorial and remembrance events for over three decades, stated at the 20th year memorial for Harvey, that he decided to be vocally out, right after his uncle's murder, as a living and active memorial. "Earlier that year, Harvey and I had a three-hour talk at a family gathering, he talked to me about being your authentic self. I was just a teenager, but it stayed with me," said Stuart Milk.
In 1985, Stuart Milk gave his first large public address as an "out" LGBT activist alongside The Times of Harvey Milk producer Richard Smiechen at Oberlin College in Ohio. At the time Milk was working as a campaign director for National Citizen Action, a progressive political advocacy organization and was based in Western Pennsylvania.
"When I think about Harvey, I think about, even as a small child, the kind of the richness and color of life that he brought to me. Harvey was the person who introduced me to Broadway, and Broadway musicals", Stuart said in 2009 referring to his closeness with his uncle.
Stuart Milk has been involved in public service since the late 80's including directing employment assistance centers and youth enrichment programs. He told the New York Times that he sees his work in public service,
"with youths, the elderly, dislocated workers and former prison inmates, as part of his family's legacy."
In 1999, Stuart Milk made available to the public several never before seen photos of his uncle's early campaign for elected office and as well as personal family pictures.
Milk's activism and work has been both domestic and international, such as his support of LGBT movements in Latin America, Europe, Asia and the Middle East. Stuart Milk has taken his uncle's message into global diplomacy being one of the first Human Rights advocates to address, on multiple continents, LGBT rights in formal major addresses, including before the United Kingdom House of Lords in 2012, the Italian Chamber of Deputies in 2011, the Panamanian National Assembly in 2010, and Turkish Great Assembly in 2009.
Milk is frequently quoted in international news and seen on broadcast television from the New York Times to BBC World Report discussing issues of LGBT inclusion and diversity. He is also a featured contributing writer and columnist for the Huffington Post.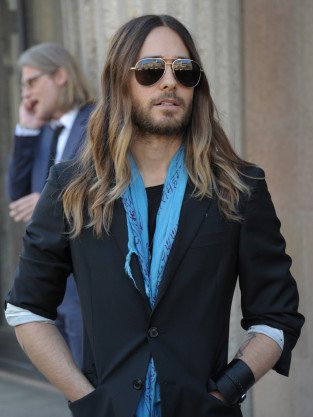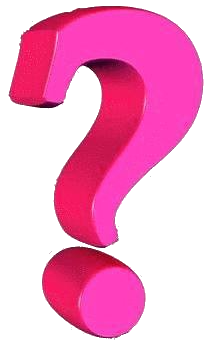 1971 – Jared Leto is an American actor, singer, songwriter, and director. After starting his career with television appearances in the early 1990s, Leto achieved recognition for his role as Jordan Catalano on the television series My So-Called Life (1994).
He made his film debut in How to Make an American Quilt (1995) and received first notable critical praise for his performance in Prefontaine (1997). Leto played supporting roles in The Thin Red Line (1998), Fight Club (1998) and American Psycho (2000), as well as the lead role in Urban Legend (1998), and earned critical acclaim after portraying heroin addict Harry Goldfarb in Requiem for a Dream (2000).
He later began focusing increasingly on his music career. Leto is the lead vocalist, multi-instrumentalist and main songwriter for Thirty Seconds to Mars, a band he formed in 1998 in Los Angeles, California, with his older brother Shannon Leto. Their debut album, 30 Seconds to Mars (2002), was released to positive reviews but only to limited success. The band achieved worldwide fame with the release of their second album A Beautiful Lie (2005). The band has sold over 15 million albums worldwide. Leto has also directed music videos, including the MTV Video Music Award–winning "The Kill" (2006), "Kings and Queens" (2009), and "Up in the Air" (2013).
Leto's performance as a transgender woman in Dallas Buyers Club (2013) earned him the Academy Award for Best Supporting Actor, among numerous other accolades. Leto is considered to be a method actor, known for his constant devotion to and research of his roles. He often remains completely in character for the duration of the shooting schedules of his films, even to the point of adversely affecting his health.
Leto is a gay rights activist. In October 2009, he raised money to the campaign against California Proposition 8, created by opponents of same-sex marriage to overturn the California Supreme Court decision that had legalized same-sex marriage. He spoke out in support of LGBT rights group Freedom Action Inclusion Rights (FAIR). In May 2012, he expressed support after hearing that Barack Obama had endorsed same-sex marriage.
Although Leto presents himself as straight in real life, Alexis Arquette - the transgender sister of David Arquette - claimed "I had sex with Jared Leto back when I was presenting as a male," Alexis stated. "And yes, it's not only massive, it's like a Praetorian Guard's helmet."
You can watch him grab and flaunt this "massive" chunk of meat at a 30 Seconds to Mars concert performance in Toronto in 2014 in the gif clip below.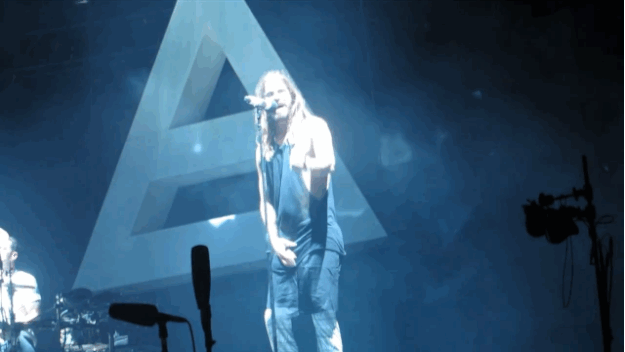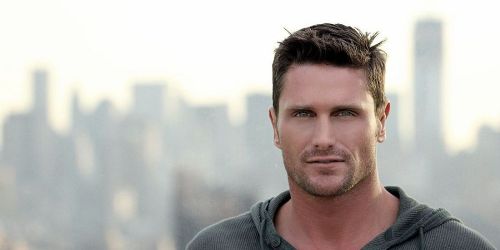 1973 – Reichen Lehmkuhl, (born Richard Allen Lehmkuhl) is an American former reality show winner, model, and occasional actor. A former United States Air Force officer, he is best known for winning season four of the reality game show The Amazing Race with his then-partner Chip Arndt, and for his much publicized 2006 relationship with pop singer Lance Bass.
After Lehmkuhl's parents, a policeman and a nurse, divorced when he was five, his family moved to Norton, Massachusetts, and his mother remarried. Sometime after 2002, he changed his first name legally from Richard to Reichen. Lehmkuhl graduated from the United States Air Force Academy. He has since advocated for gay rights in the military as a spokesperson for Servicemembers Legal Defense Network.
Lehmkuhl was working simultaneously as a physics teacher at Crossroads School for the Arts and Sciences, flight instructor and model in Los Angeles when he was approached by a casting director for The Amazing Race. Lehmkuhl and Chip Arndt were a couple during the competition but have since split. Lehmkuhl moved to Dallas, Texas briefly after his win on The Amazing Race but before all episodes had been broadcast. Reichen's spending habits at that time caused speculation that he had won The Amazing Race — and that he and Arndt had broken up. During the show, the couple was typically described as "Married" in the subtitles that are used to illustrate the relationship between team members (other teams being, for example, "Best Friends" or "Father-Daughter").
Lehmkuhl hosted The Reichen Show on Q Television Network until Q Television ceased operations in May 2006. His autobiography Here's What We'll Say, about his time in the Air Force under the military's commonly called "Don't ask, don't tell" policy, was released by Carroll and Graf on October 28, 2006. The New York Post reported in November 2010 that the book had been adapted into a screenplay. He published a beefcake calendar for several years and has appeared on sitcoms, soap operas, and other reality television shows.
On July 2006, former 'N Sync band member Lance Bass told People Magazine that he is gay and in a "very stable relationship" with Lehmkuhl. The couple broke up in January 2007. Bass said they remained "good friends".
On May 1, 2007, the LGBT-interest television network here! announced that Lehmkuhl had joined the cast for the third season of its original gothic soap opera, Dante's Cove. He plays the role of Trevor, originally described as "a business school graduate who comes to Dante's Cove looking to find himself."
Lehmkuhl also has a jewelry line called Flying Naked composed of flight-themed jewelry made of titanium steel. Items from the collection are being sold from loveandpride.com. A percentage of each sale goes to the Servicemembers Legal Defense Network.
Lehmkuhl starred in My Big Gay Italian Wedding, an off-Broadway production from its opening May 5, 2010 in New York City to July 24, 2010. A percentage of ticket sales promoted legalization of same-sex marriages in the US through Broadway Impact.
LGBT-interest network Logo announced on June 3, 2010, that Lehmkuhl and boyfriend, model Rodiney Santiago had joined the cast of Logo's reality series, The A-List: New York. The low-rated series, frequently described as a "Real Housewives"-style show, was cancelled after two seasons. Since the airing, Lehmkuhl and Santiago are no longer a couple.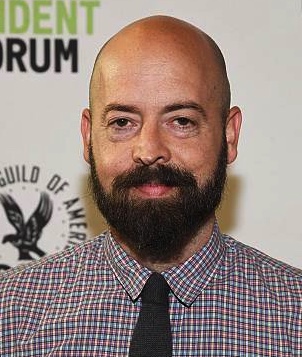 1974 –Joshua John Miller is an American actor, screenwriter, author, and director. Miller co-writes with his life partner M.A. Fortin; the two wrote the screenplay for the 2015 horror comedy The Final Girls, and the USA Network drama series Queen of the South.
Miller was born in Los Angeles to actor and Pulitzer Prize-winning playwright Jason Miller and actress and Playboy pin-up Susan Bernard. Miller's half-brother is actor Jason Patric, and his maternal grandfather was photographer Bruno Bernard, also known as "Bernard of Hollywood". His father was of Irish and German descent, and his mother is Jewish. Miller is openly gay and, as of 2013, is in a relationship with fellow screenwriter M.A. Fortin.
Miller began appearing in films and television when he was eight years old. His first film role was in Halloween III: Season of the Witch. He would go on to star in such films as River's Edge, Near Dark, Class of 1999, and Teen Witch. Miller also made guest appearances on several popular television shows, including 21 Jump Street, The Wonder Years, The Greatest American Hero, Highway to Heaven (for which he received a Young Artist Award in 1985), and Growing Pains (hence a popular misconception that he is a relative of Jeremy Miller, who portrayed Ben Seaver on that series; they are not related). Miller appeared in several plays, and was involved in dance from a very early age. He starred in the Los Angeles Ballet Company's production of The Nutcracker for three consecutive seasons beginning at age seven, and later appeared as a dancer in Janet Jackson's Grammy Award-winning Rhythm Nation 1814 video.
In 1997, he published a pseudo-autobiographical novel called The Mao Game about a fifteen-year-old child star attempting to cope with heroin addiction, memories of past sexual abuse, and the impending death of his grandmother, who has been diagnosed with cancer. In 1999, The Mao Game was adapted into a film, written and directed by Miller, and co-produced by Whoopi Goldberg. The film starred Miller, Kirstie Alley, and Piper Laurie, and featured Miller's mother, Susan Bernard, in a brief, uncredited cameo. It toured the festival circuit, and garnered mixed reviews from critics.
In 2007, Miller appeared as Jinky in The Wizard of Gore. He has written a second novel, titled Ash.
Miller collaborated with M.A. Fortin to write the DreamWorks TV and Fox production
Howl
. Miller and Fortin then co-wrote the short film
Dawn
(2014), which was directed by actress
Rose McGowan
and premiered at the Sundance Film Festival. The two also co-wrote the screenplay and executive produced the 2015 horror comedy film
The Final Girls
, directed by
Todd Strauss-Schulson
and starring
Taissa Farmiga
and
Malin Åkerman
. Miller and Fortin wrote the pilot for the USA Network drama series
Queen of the South
. Miller also serves as an executive producer for the series, which began airing on June 23, 2016.

1975 – Mary Jo Risher announced that she planned to appeal a Dallas jury's decision to remove her son from her custody because she is a lesbian. (Her appeal would fail.)

1977 – Anti-gay crusader Anita Bryant was named One of the Twenty-Five Most Intriguing People of 1977 in People magazine.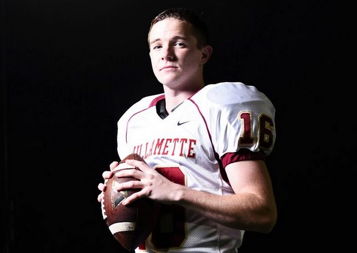 1995 – Conner Mertens is an American football placekicker for the Willamette Bearcats. He was the first active college football player to publicly come out about his sexuality; he came out as bisexual.
Mertens grew up in Kennewick in Tri-Cities, Washington, where he was the youngest of four boys in his family. Growing up, he always excelled at sports. He concentrated on athletics after an incident in fifth grade in which classmates teased him for remaining in costume and makeup after a drama competition.
According to Mertens, the environment at Southridge High School was "hostile", as he was surround by a culture of homophobia. He said the Tri-Cities was not the most friendly area toward the LGBT community. In 2012, 63 percent of the area voted against a measure for same-sex marriage that was ultimately approved by the state. Starting with his sophomore year in high school, Mertens was active in Young Life, a national organization that preaches Christianity to youth. After being in trouble in his freshman year, he credited Young Life with turning his life around.
Mertens redshirted and did not play football in his freshman year due to an anterior cruciate ligament (ACL) injury to his left knee from playing soccer. In January 2014, Mertens came out as bisexual, the first active college football player at any level to publicly come out. With his announcement, he was banned from working with Young Life, which he had been certain would be a part of the rest of his life; the organization's "Faith and Conduct Policies" did not allow any LGBT person to be a staff member or volunteer, though they could participate as "recipients of ministry of God's grace and mercy as expressed in Jesus Christ."
He became Willamette's kicker in 2014, when he also received limited opportunities as a punter. In his senior year, Mertens was named the placekicker on the Tri-City Herald All-Area second team. He was also a four-year starter on Southridge's soccer team. Conner is also a member of the Sigma Chi Fraternity.
Mertens is featured in Out to Win, a documentary about LGBT participation in American sports.

1997 – Lesbian Regan Wolf of Lancaster, South Carolina was knocked unconscious by three men who brutally beat her, strung her up from her front porch, and painted "Jesus weren't born for you, faggot." Despite giving police the identity of the three men, the sheriff's office took no action. She was attacked more severely six months later.

DECEMBER 27 →
[{(o)}]|[{(o)}]|[{(o)}]|[{(o)}]| [{(o)}]|[{(o)}]