June 6
[{(o)}]|[{(o)}]|[{(o)}]|[{(o)}]| [{(o)}]|[{(o)}]
1671 – Plymouth Colony exempts males under 14 and forced parties from the death penalty for sodomy.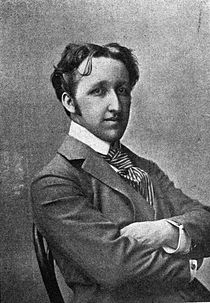 1869 – Siegfried Wagner (d.1930) was a German composer and conductor, the son of Richard Wagner. He was an opera composer and the artistic director of the Bayreuth Festival from 1908 to 1930.
Helferich Siegfried Richard Wagner, nicknamed "Fidi," was born in 1869 to Richard Wagner and his future wife Cosima, at Tribschen on Lake Lucerne in Switzerland. Through his mother, he was a grandson of Franz Liszt, from whom he received some instruction in harmony.
Some youthful compositions date from about 1882. After he completed his secondary education in 1889, he studied with Wagner's pupil Engelbert Humperdinck, but was more strongly drawn to a career as an architect and studied architecture in Berlin and Karlsruhe.
In 1892 he undertook a trip to Asia with a friend, the English composer Clement Harris. During the voyage he decided to abandon architecture and commit himself to music. Reputedly, it was also Harris who first aroused his homoerotic impulses.
While on board ship he sketched his first official work, the symphonic poem Sehnsucht, inspired by the poem of the same name by Friedrich Schiller. This piece was not completed until just before the concert in which Wagner conducted it in London on 6 June 1895. He eventually composed more operas than his father. Though his works are numerous, none entered the standard repertory.
He made his conducting debut as an assistant conductor at Bayreuth in 1894; in 1896 he became associate conductor, sharing responsibility for conducting the Ring Cycle with Felix Mottl and Hans Richter, who had conducted its premiere 20 years earlier. In 1908 he took over as Artistic Director of the Bayreuth Festival in succession to his mother, Cosima.
Wagner was bisexual. For years, his mother urged him to marry and provide the Wagner dynasty with heirs, but he fought off her increasingly desperate urgings.
Around 1913, pressure on him increased due to the Harden-Eulenburg Affair (1907-1909), in which the journalist Maximilian Harden accused several public figures, most notably Philip, Prince of Eulenburg-Hertefeld, a friend of Kaiser Wilhelm II, of homosexuality. In this climate, Siegfried could no longer avoid marriage. The family found a suitable woman in a 17-year-old Englishwoman, Winifred Klindworth, and at the Bayreuth festival of 1914 she was introduced to the then-45-year-old Wagner. The two married on 22 September 1915. The couple had two sons and two daughters.
Though the marriage provided for the dynastic succession, the hope that it would also bring an end to his homosexual encounters and the associated costly scandals was disappointed, as Wagner remained sexually active with other men.
Wagner died in Bayreuth in 1930, having outlived his mother by only four months. Since his two sons were still only adolescents, he was succeeded at the helm of the festival by his wife Winifred.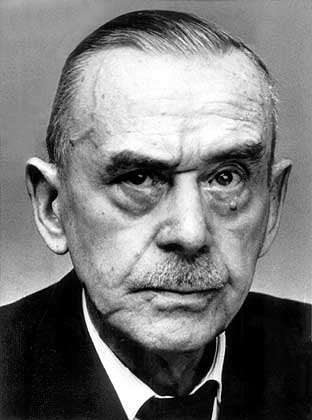 1875 – The German writer and Nobel Prize laureate Thomas Mann was born on this date (d.1955). A novelist, short story writer, social critic, philanthropist, essayist, and the 1929 Nobel Prize laureate, Mann was known for his series of highly symbolic and ironic epic novels and mid-length stories, noted for their insight into the psychology of the artist and the intellectual. His analysis and critique of the European and German soul used modernized German and Biblical stories, as well as the ideas of Goethe, Nietzsche, and Schopenhauer.
Mann's diaries, unsealed in 1975, tell of his struggles with his sexuality, which found reflection in his works, most prominently through the obsession of the elderly Aschenbach for the 14-year-old Polish boy Tadzio in the novella Death in Venice (Der Tod in Venedig, 1912). Although he married when he was thirty and fathered six children, Mann considered his love for Paul Ehrenberg, a painter and violinist twenty-one years his junior, to be the "central experience of my heart."
Anthony Heilbut's biography Thomas Mann: Eros and Literature (1997) was widely acclaimed for uncovering the centrality of Mann's sexuality to his oeuvre. Gilbert Adair's work The Real Tadzio describes how, in the summer of 1911, Mann had been staying at the Grand Hôtel des Bains in Venice with his wife and brother when he became enraptured by the angelic figure of Wladysaw Moes, a Polish boy.
Considered a classic of homoerotic passion (if unconsummated) Death in Venice has been made into a film and an opera. Blamed sarcastically by Mann's old enemy, Alfred Kerr, to have "made pederasty acceptable to the cultivated middle classes," it has been pivotal to introducing the discourse of same-sex desire to the common culture. Mann himself described his feelings for young violinist and painter Paul Ehrenberg as the "central experience of my heart."
Despite the homoerotic overtones in his writing, Mann chose to marry and have children (as did many people of that era who loved people of their same gender).
Tolerance becomes a crime when applied to evil. - The Magic Mountain (1924)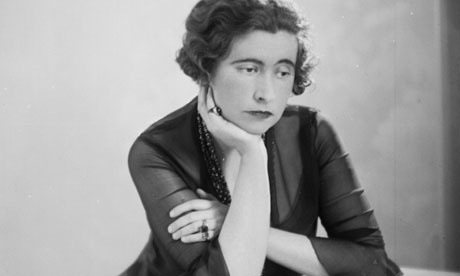 1894 – The English writer and socialite Violet Trefusis was born on this date (d.1972). Violet was "the other woman" in the life of Harold Nicolson and his wife Vita Sackville-West, the relationship which was featured under disguise in Virginia Woolf's Orlando: A Biography. As the daughter of Alice Keppel, the mistress of Edward VII, Violet enjoyed a childhood of mystery and romance in a house where "Kingy" was a regular, if undiscussed, visitor.
She and Vita met when they were girls. During WWI their friendship developed into a passion. Though they both made conventional marriages, Violet could finally bear her love no longer and instigated the "elopement" that has since become a special chapter in the history of love. When Vita returned to her family and her writing at Sissinghurst, Violet imposed exile upon herself, turning to art and writing and the fantasy world of international society. But the feelings that she and Vita shared never abated. "You are the unexploded bomb to me," Vita wrote Violet in 1940. "I don't want you to disrupt my life." Even after twenty years of separation, she could still write of the love that "always burns in my heart whenever I think of you."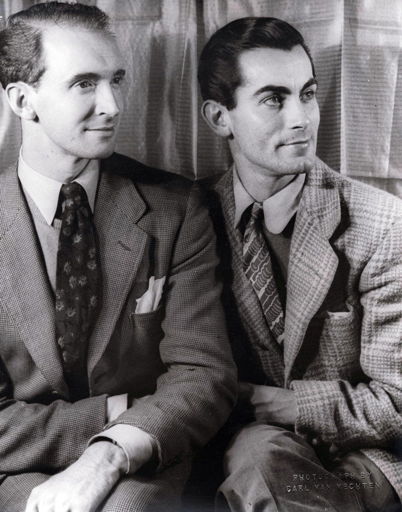 Hugh Laing (R) with Antony Tudor
1911 – Hugh Laing (d.1988) was a British ballet dancer and actor, and lifelong partner of choreographer Antony Tudor. Hugh Laing, whose original name was Hugh Skinner, was born in Barbados in the then British West Indies. He moved to London in 1931 to study art, but soon became interested in ballet. After taking ballet classes with Marie Rambert, Margaret Craske and Olga Preobrajenska, he joined Miss Rambert's experimental Ballet Club in 1933, and it was there that he met Antony Tudor.
He remained Tudor's artistic collaborator and 'friend' until the choreographer's death in 1987. For the Ballet Club, Tudor created roles for Laing in The Planets, The Descent of Hebe, Jardin aux Lilas and Dark Elegies.
In 1938, Laing became a member of Tudor's London Ballet, a short-lived troupe for which he danced in Tudor's Gala Performance and Judgment of Paris. Hugh Laing accompanied Tudor to New York in 1939 to participate in the first season of Ballet Theater, as American Ballet Theater was originally known. Just as Tudor soon was recognised as a great choreographer, so Laing was hailed as one of the company's finest artists.
He danced with the New York City Ballet from 1950 to 1952, appearing in a revival of Jardin aux Lilas and in such new works by Tudor as The Lady of the Camellias (1951) and La Gloire (1952).
Laing's relationship with Tudor was briefly interrupted when he married the American ballerina Diana Adams in 1947; they were divorced in 1953. Known for his good looks and the intensity of his stage presence, he was never considered a great technician, yet his powers of characterisation and his sense of theatrical timing were considered remarkable. His profile as a significant dancer of his era was almost certainly enhanced by Tudor's choreographing to his undoubted strengths and Laing is generally regarded as one of the finest dramatic dancers of 20th-century ballet.
He died of cancer, aged 77, in New York City in 1988.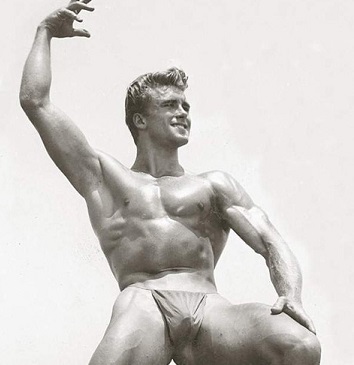 1928 – Ed Fury, born Rupert Edmund Holovchik, is an American bodybuilder, actor, and model. He is best known for starring in a number of "sword-and-sandal" films in the 1950s and 1960s.
Born in Long Island, New York, Fury moved to Los Angeles, California in the late 1940s and competed in numerous bodybuilding competitions, such as "Mr. Muscle Beach" in 1951 and 1953, coming in third and second respectively. In addition, he worked as a physique model for photographers Bob Mizer and Bruce Bellas, and also made a couple of loops for Mizer's male erotica studio Athletic Model Guild (AMG). He was even filmed in a posing strap for home distribution in the days before gay porn.  No full-frontal nudity for Mizer, but some rear shots. Below is a rare full-frontal by Bruce of LA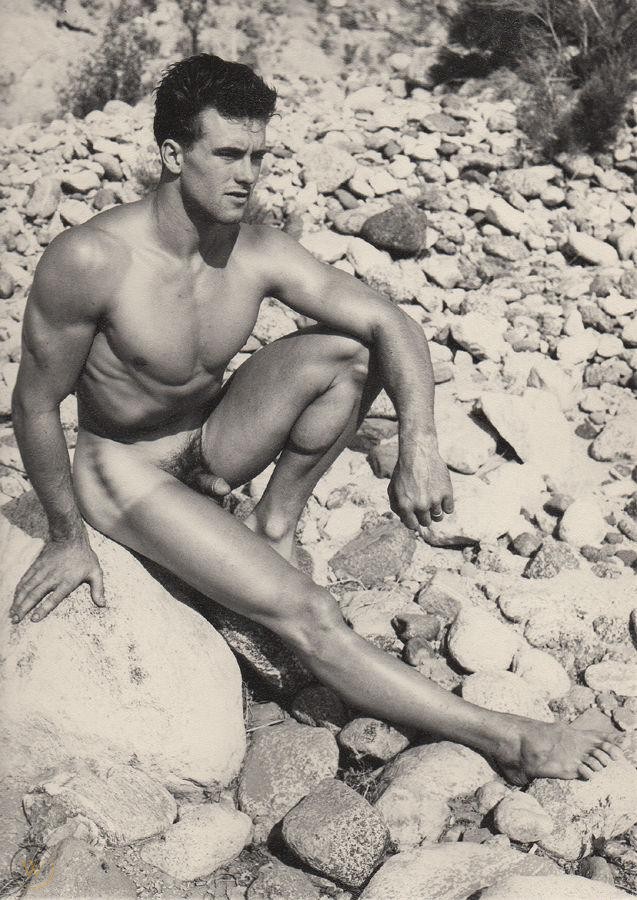 Click for larger
Fury began his acting career as a stage actor. After appearing in a handful of uncredited parts in films, he received his first bigger role in The Wild Women of Wongo (1958).
After several small roles in movies, including one of the shirtless Seabees singing "There's Nothing Like a Dame" in South Pacific (1958),he went to Italy to participate in the sword-and-sandal craze, often paired with fellow bodybuilders. Led by Steve Reeves, who starred in Hercules (1958), the popularity of those films allowed Fury to star in films such as Colossus and the Amazon Queen (1960), The Seven Revenges (1961), and Maciste Against the Sheik (1962). He also starred as Ursus in the film trilogy Ursus (1961), Ursus in the Valley of the Lions (1961), and Ursus in the Land of Fire (1963), before the popularity of "sword-and-sandal" films waned.
Fury returned to acting in the early 1970s and appeared mostly in small parts in television series.
Ed has  never made a public statement about his sexual identity — few men of his generation would even consider such a thing.  But he inspired a generation of gay men, so it doesn't really matter.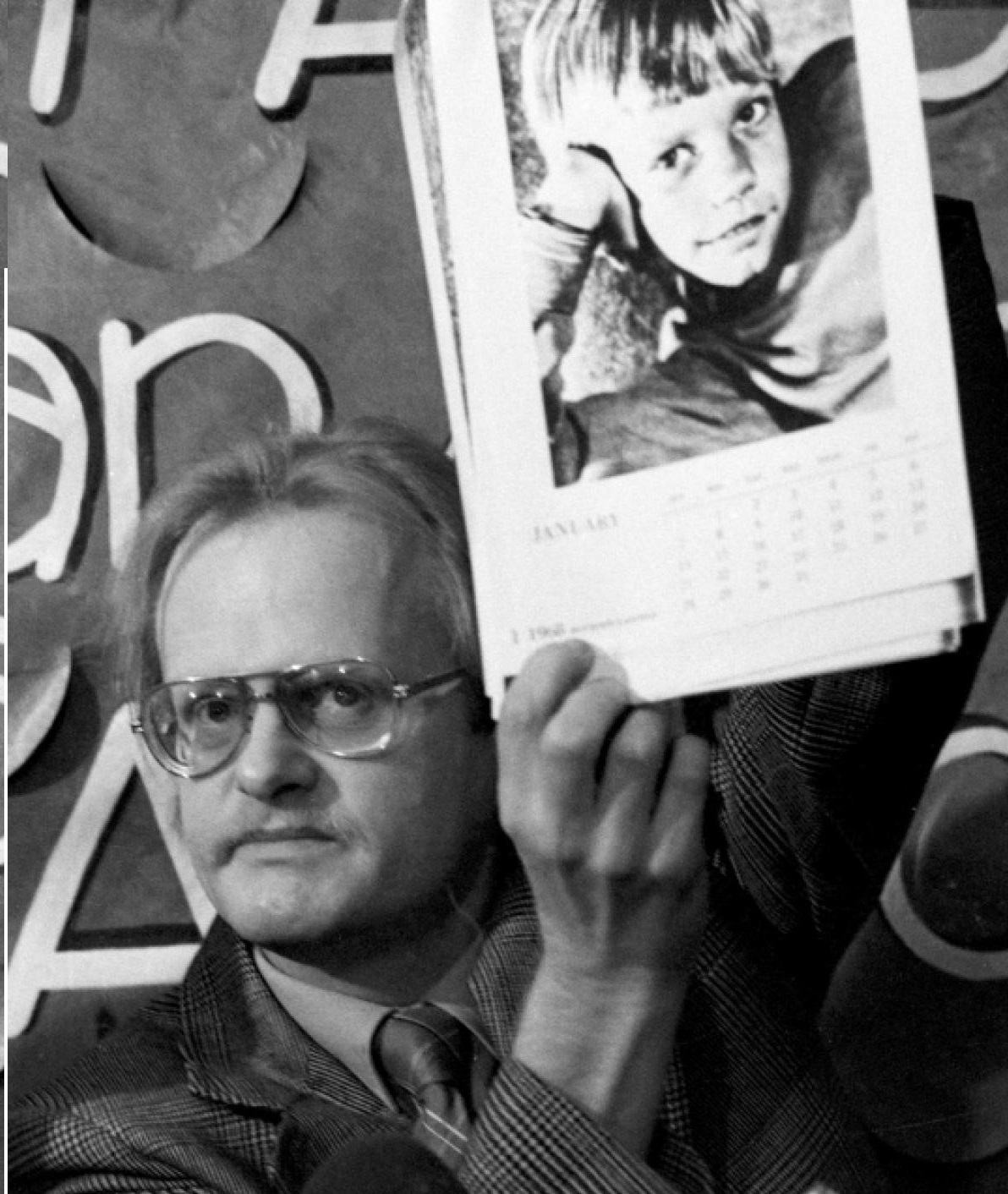 1941 – David Thorstad, an American political activist and historian of the gay rights movement since the 1970s, was a founding member of the North American Man/Boy Love Association (NAMBLA) and former president of New York's Gay Activists Alliance. He was also active in Trotskyist politics for some years.
Thorstad describes himself as a bisexual pederast and atheist (former Pentecostal) who has "never been charged with violating any sex laws".
For more than six years, Thorstad was a member of the Upper West Side branch of the Socialist Workers Party (SWP), and a staff writer for its newspaper, The Militant. He left the SWP in December 1973, citing the organization's lack of enthusiasm for the gay liberation movement and failure to develop a "Marxist materialist analysis" of it. In 1976 he self-published a collection of internal party documents relating to its discussion of the gay liberation movement, under the title Gay Liberation and Socialism : Documents from the Discussions on Gay Liberation Inside the Socialist Workers Party (1970-1973). In the early 1970s Thorstad was president of the Gay Activists Alliance, a leading gay liberation group in New York.
In June 1973 Thorstad and
John Lauritsen
published
The Early Homosexual Rights Movement
(1864-1935), a fourteen-page historical survey in the SWP internal Discussion Bulletin which attempted to prove that the gay liberation movement had a long and substantial history, particularly in Germany.This was expanded the next year into a 92-page book of the same name.
In 1978 Thorstad was a founding member of NAMBLA, and was one of a group of NAMBLA members who were sued in 2000 for the wrongful death of a ten-year-old boy in a long-running court case Curley v. NAMBLA in Boston. The suit claimed that NAMBLA literature inspired the murderers of the boy. The lawsuit was eventually dropped.
Thorstad describes the modern gay rights movement as "politically correct zombies," and the "radicalism of such groups as Queer Nation" as "bizarre and offensive."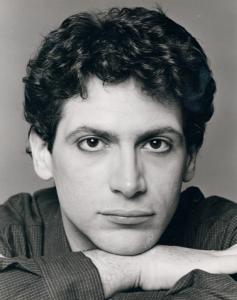 1952 – Today's the birthday of the award-winning American actor of stage and screen Harvey Fierstein. An American Tony Award-winning and Emmy Award-winning actor, playwright, and screenwriter, with multiple credits in a wide ranging career, Fierstein is perhaps known best for the play and film Torch Song Trilogy, which he wrote and starred in. The 1982 Broadway production won him two Tony Awards, for Best Play and Best Actor in a Play, two Drama Desk Awards, for Outstanding New Play and Outstanding Actor in a Play, and the Theatre World Award, and the film earned him an Independent Spirit Award nomination as Best Male Lead.
Fierstein also wrote the book for La Cage aux Folles (1983), winning another Tony Award, this time for Best Book of a Musical, and a Drama Desk nomination for Outstanding Book. Legs Diamond, his 1988 collaboration with Peter Allen, was a critical and commercial failure, closing after 72 previews and 64 performances. His other playwriting credits include Safe Sex, Spookhouse, Forget Him and A Catered Affair in which he starred with Faith Prince, Leslie Kritzer and Tom Wopat.
Fierstein wrote the book for a stage musical version of the film Kinky Boots with music and lyrics by Cyndi Lauper. After a fall 2012 run at the Bank of America Theatre in Chicago. it opened at the Al Hirschfeld Theatre on Broadway in April 2013. The musical was nominated for thirteen 2013 Tony Awards and won six, including best musical.
Fierstein is an occasional columnist writing about Gay issues and appears regularly on the PBS series In The Life. He was out at a time when very few celebrities were.

1954 – Arcadie, the first homosexual group in France, is formed. Arcadie strove for what its founder, André Baudry, labeled "dignity," which in his words meant that it was necessary "to distinguish homosexuality from excess, scandal, and vice" ; it sought to distinguish homosexuality from prostitution or the corruption of children, and also to combat the association of homosexuality with effeminacy. This was one of Arcadie's most insistent themes: homosexuals did not, wrote Baudry, wish to be confused with 'these caricatures, the ... exhibitionists, these 'boys' who no longer have anything of boys about them'.

From the late 1950s until the early 70s, Arcadie was the sole gay political organization in France and it was not until after the events of May '68 that its position of dominance was challenged. The early 70s was a time when French homosexuals began to alter their strategies in fundamental ways, from a policy of Arcadie-style respectability to a new kind of in-your-face radicalism. As opposed to trying to present homosexuals as socially acceptable to bourgeois society, the new political voices focused on asserting difference and working toward changing society rather changing oneself.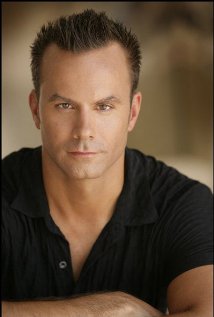 1965 – Mark Lund is a writer, publisher, and television analyst who covers figure skating. He is also a film actor and producer.
He is the author of Frozen Assets, and was formerly the publisher of International Figure Skating Magazine from its inception in 1993 until 2004, when his company, Ashton International Media, Inc., lost control of the magazine in a hostile takeover.
In 2001, Out Magazine named Lund to the OUT 100 list of greatest success stories for that year.
Lund has also made numerous media appearances as an analyst on figure skating, particularly during the 2002 Olympic Winter Games figure skating scandal, where he was an analyst for CNN. He served as a judge on the television show Skating with Celebrities in early 2006. After losing control of International Figure Skating, Lund, who is openly gay,founded another magazine, SCENE, aimed at the gay community.
Lund appeared on Nancy Kerrigan's World of Skating in an episode that aired January 14, 2007 titled "Countdown to Nationals & Road to Glory". His commentary in this episode concerning US men's figure skater Johnny Weir was criticized by several bloggers in the gay community. On March 18, 2008 writer Alan Schwarz used some of Lund's quotes from the broadcast in a New York Times article titled Figure Skating Rivalry Pits Athleticism Against Artistry.
In 2007, Lund appeared as Commander Steven Conner in Star Trek: Odyssey in their pilot episode "Iliad". and produced the science fiction short film First World.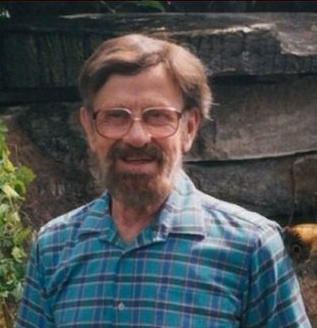 1979 – Toronto Teacher Don Franco is charged with being a keeper of a common bawdyhouse in his own home after a police raid found him in an orgy with a number of other men. A year earlier Franco was arrested in a police raid at the Barracks baths and the police released his name to the media. Franco was close to retirement and worried that a conviction might lead to losing his pension. He didn't back down, and dozens of hearings later he was acquitted of the charge. He retired with full pension.

1979 – The Ohio Supreme Court upholds the state's law prohibiting the "offensive" solicitation of a person of the same sex. The Court says that homosexuality was accepted in the Dark Ages and Victorian times, but not in the modern, sexually liberated world.

1986 – Hawaii revises the conflict in its age of consent law by lowering the age for all activity to 14.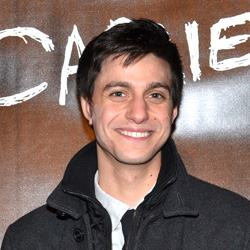 1988 – Gideon Glick is an American stage performer and movie actor. His Broadway work includes the role of Ernst in the musical Spring Awakening.
Glick is Jewish, and openly gay. Glick has stated in interviews that he came out when he was in the seventh grade.
Glick played Ernst, an adolescent boy seduced by bisexual Hanschen, originated by Jonathan B. Wright, in the original cast of the hit musical Spring Awakening. He played "Slap" in the 2005 film One Last Thing.... He then played the role of "Howie" in Speech and Debate (Roundabout Underground), a play by emerging playwright Stephen Karam, which began in October 2007 and ran until early 2008. He also appeared in a west-coast production of the same play.

2001 – Estonia equalizes the age of consent for homosexual and heterosexual sex.

JUNE 7 →
[{(o)}]|[{(o)}]|[{(o)}]|[{(o)}]| [{(o)}]|[{(o)}]