February 12
[{(o)}]|[{(o)}]|[{(o)}]|[{(o)}]| [{(o)}]|[{(o)}]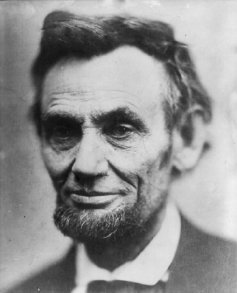 1809 – Abraham Lincoln, the 16th President of the United States was born (d.1865). Only in a world that thinks that being Gay is an abnormal condition does the suggestion that a revered president might have been primarily Gay become an issue. The historian C.A. Tripp went farther than any earlier study to present the greatest amount of evidence and the strongest argument currently available that Lincoln's primary erotic response was that of a homosexual man in his posthumously published book, The Intimate World of Abraham Lincoln.
Over the years, a number of other writers and scholars had argued that Lincoln was homosexual, but Tripp set out to collect as much information as he could on Lincoln and explore the 16th president's sexuality in all its dimensions and complexity. What he created was a full-fledged character study and a significant effort to understand a complicated man, that placed Lincoln's sexuality into a larger, more significant framework.
For example, he claims that Abraham Lincoln had a four-year love affair with Joshua Fry Speed. Speed kept a general store in Springfield. In the spring of 1837 Lincoln came into the store, a lawyer without a client, no money, and a few clothes is his saddle-bags on his mare. Speed took him in and for the next four years, the two men shared the same bed.
Larry Kramer claimed to have letters by Speed which included details such as the following: "He often kisses me when I tease him, often to shut me up. He would grab me up by his long arms and hug and hug," Speed reportedly wrote. Addressing his dear friend as "Linc," Speed allegedly described the young politician as a man who couldn't get enough hugging and kissing:"Yes, our Abe is like a school girl." Kramer also attested that Speed recounted conversations in which the two men wondered whether other men, too, had relationships like theirs.
There are, as usual, the dismissals of the evidence as "misreadings" of the customs of another time, that it was not uncommon for two men to share a bed though convenience or economy with no suggestion of homosexuality. And while there is the relationship Lincoln had with his wife Mary, as any modern Gay man will attest, Lincoln may have functioned as a heterosexual, but his marriage does not preclude an intense homosexual drive.
In his 1926 biography of Lincoln, Carl Sandburg made an allusion to the early relationship of Lincoln and his friend Joshua Fry Speed as having "a streak of lavender, and spots soft as May violets". "Streak of lavender" was slang in the 1930s for an effeminate man, and later connoted homosexuality. Sandburg did not elaborate on this comment.
Alas, Tripp died in May 2003, and we will never know how he would have defended his study of the sexual orientation of Abraham Lincoln. But any Gay man reading of Lincoln's relationship with a 44 year old captain of the Pennsylvania Bucktails in the fall of 1862, will draw his own conclusions. Captain David Derickson was Lincoln's bodyguard and companion between September 1862 and April 1863. They shared a bed during the absences of Lincoln's wife, until Derickson was promoted in 1863. Derickson was twice married and fathered ten children, but whatever the exact level of intimacy of the relationship, it was the subject of gossip. Elizabeth Woodbury Fox, the wife of Lincoln's naval aide, wrote in her diary for November 16, 1862, "Tish says, 'Oh, there is a Bucktail soldier here devoted to the president, drives with him, and when Mrs. L is not home, sleeps with him. What stuff!'" It does give a whole new meaning to the term "rail-splitter."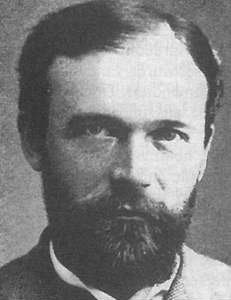 1847 – Philip, the Prince zu Eulenburg-Hertefeld, politician and diplomat of imperial Germany was born today (d.1921). Those who think that Oscar Wilde was the only popular figure crucified for 'the love that dare not speak its name,' don't know their German history. The Eulenberg trial, if anything, was even smarmier than the Wilde case, since the reasons for "exposing" the well-liked and gentle Eulenberg were strictly political.
Upon the accession of his friend Wilhelm to the thrones of Prussia and Germany, Count Eulenburg assumed an unofficial position of immense influence, and among other things, was instrumental in the appointment of Bernhard von Bülow as head of the foreign office in 1897. Wilhelm II had long desired the appointment of "his own Bismarck" - a powerful chancellor who would enact the Kaiser's will - and Eulenburg was the first to suggest Bülow for this role.
In 1900, Count Philip was created Prince of Eulenburg and Hertefeld, and to continue his wife's otherwise soon-to-be-extinguishing comital name, also Count of Sandels. Count Philip of Eulenburg had married at Stockholm in 1875 Augusta Sandels, daughter of the last Count Sandels. Sources say that he continued his "individual" lifestyle also after the marriage. They had eight children.
The favorite of Kaiser Wilhelm II, Eulenberg had attempted to dissuade the emperor from a militaristic course and naturally had to be disposed of in the quickest way by the militarist factions. Although he was married, Eulenburg was connected in homosexual liaisons with members of the Kaiser's inner circle, including count Kuno von Moltke, the military commander of Berlin. Smeared as a "degenerate" by his enemies, the oldest political trick in the book, Eulenberg was swiftly ruined.
The public exposure of these liaisons in 1907 led to the Harden-Eulenburg Affair. In 1908, Eulenburg was placed on trial for perjury due to his denial of his homosexuality; the trial was repeatedly postponed due to Eulenburg's claim of poor health. Eulenburg died in 1921. An indierct result of the militarist victory in this ugly incident was World War I.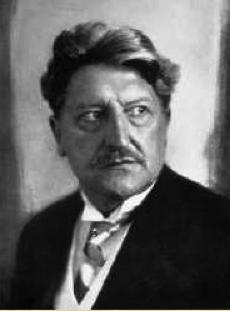 1869 – Franz Stassen, born in Hanau, (d.1949 in Berlin ) was a German painter, draftsman and illustrator.
From 1886 to 1892, Stassen attended the Berlin Academy of Fine Arts. After leaving the academy, he initially settled in Hanau, but returned to Berlin some time later. Initially oriented towards nature, Stassen now turned to Art Nouveau.
Until 1908, Stassen worked primarily as a book illustrator. He also designed book covers. In addition to the more than 100 books he illustrated, he created about 50 bookplates and 25 postcard motifs. In 1908, on behalf of the Cologne chocolate producer Ludwig Stollwerck, he supplied designs for Stollwerck collectors' pictures , including: cover for the Stollwerck scrapbook No. 10.
Also in 1908, Stassen sought contacts with the Bayreuth Wagner circle and soon became a close member of the circle around Siegfried Wagner. He created portfolios for Wagner's works, among others for 'Parsifal" and "The Ring of the Nibelung". In the spirit of Art Nouveau, his illustration method was also imbued with the realistic design of the 19th century and was already influenced by new popular media such as photography. Contemporary critics also rated Stassen's work as a consequence of the life reform movement of the turn of the century and at the same time regarded it as a homage to the Germanic religious myths. However, Stassen combined these ideas with an esoteric and spiritualistic Christianity.
Stassen joined the Nazi party in 1930. He created four tapestries for Hitler's Reich Chancellery, which represented motifs from the legendary circle of the Edda. However, he remained an avid illustrator of Wagner's works as well as mainly of legends and fairy tales. Important solo exhibitions took place in Bayreuth in 1937 and in Dresden in 1940. In 1939, Hitler awarded him the title of professor.
In 1913 Stassen's wife Minna had died. After 1941, he lived with a male partner and quietly confessed to his homosexuality. In the final phase of the Second World War in August 1944 Adolf Hitler added him to the list of the most important of the Nazis German artists.
After the Second World War, Stassen strove with great energy to replace part of his work destroyed in the war. Until his death, he worked on his illustration suite for Goethe's
Faust
.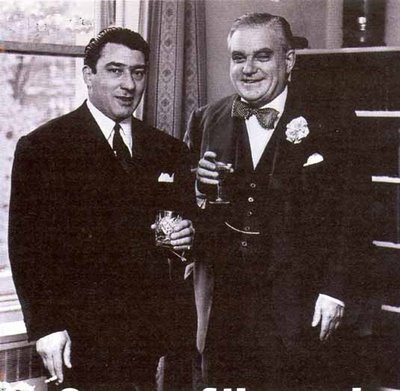 Lord Boothby (R) with Ronnie Kray
1900 – Robert Boothby, Baron Boothby, KBE, also known as Bob Boothby (d.1986) was a controversial British Conservative politician.
Boothby had a colourful, if reasonably discreet, private life, mainly because the press refused to print what they knew of him, or were prevented from doing so. Woodrow Wyatt – whose reliability has been questioned - claimed after the death of Queen Elizabeth, the Queen Mother that she had confided to him in a 1991 interview that "The press knew all about it", referring to Boothby's affairs, and that she described him as "a bounder but not a cad".
He was married twice: in 1935 to Diana Cavendish (marriage dissolved in 1937) and in 1967 to Wanda Sanna, a Sardinian woman, 33 years his junior. The writer and broadcaster Sir Ludovic Kennedy has asserted that Boothby fathered at least three children by the wives of other men ("two by one woman, one by another").
Boothby was a promiscuous bisexual, in a time when male homosexual activity was a criminal offence. While an undergraduate at Magdalen College, Oxford, Boothby earned the nickname "the Palladium", because "he was twice nightly". He later spoke about the role of a speculated homosexual relationship in the drowning of his friend Michael Llewelyn Davies (one of the models for Peter Pan) and fellow Oxonian Rupert Buxton. He did not start to have physical relationships with women until the age of 25.From 1954 he campaigned publicly for homosexual law reform
In 1963 Boothby began an illicit affair with East End cat burglar Leslie Holt (d. 1979), a younger man he met at a gambling club. Holt introduced him to the gangster Ronald Kray, the younger Kray twin, who supplied Boothby with young men and arranged orgies in Cedra Court, receiving personal favours from Boothby in return. When Boothby's underworld associations came to the attention of the Sunday Express, the Conservative-supporting paper opted not to publish the damaging story. The matter was eventually reported in 1964 in the Labour-supporting Sunday Mirror tabloid, and the parties subsequently named by the German magazine Stern.
Boothby denied the story and threatened to sue the Mirror, and because his close homosexual friend, Tom Driberg, a senior Labour MP, was also involved in the criminal ring, neither of the major political parties had an interest in publicity, and the paper's owner, Cecil King, came under pressure from the Labour leadership to drop the matter, to protect Driberg. The Mirror backed down, sacked its editor, apologised, and paid Boothby £40,000 in an out-of-court settlement. Consequently other newspapers became less willing to cover the Krays' criminal activities, which continued unchecked for three more years. The police investigation received no support from Scotland Yard, while Boothby embarrassed his fellow peers by campaigning on behalf of the Krays in the Lords, until their increasing violence made association impossible. It has been claimed that journalists who investigated Boothby were subjected to legal threats and break-ins, and that much of this suppression was directed by Arnold Goodman.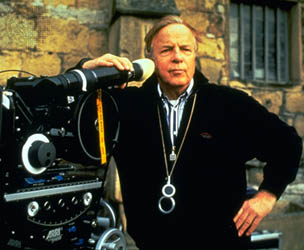 1923 – On this date the Italian director and designer Franco Zeffirelli was born (d.2019) in Florence, the son of Ottorino Corsi, a wealthy businessman, and his mistress Adelaide Garosi, a fashion designer. He was originally Gianfranco Corsi, but his mother subsequently followed the Florentine tradition of naming a child born out of wedlock with a created name beginning with the letter "Z."
While at the University of Florence, he became active in directing student theatrical productions, including stagings of operas under the tutelage of his aunt Ines Alfani Tellini, a retired soprano. In 1943, he left college to join the Partisans and fight against the Nazi occupation of Italy. Subsequently he became an interpreter for the British Army after the Allied invasion. As a result of meeting British troops who shared his dramatic interests, Zeffirelli abandoned his plans for a career in architecture and, after the war, became a theatrical set and costume designer.
In the post war years, he studied art and architecture at the University of Florence, and worked with directors such as Vittorio De Sica, and Roberto Rossellini
During the late 1940s, he worked as an assistant to director Luchino Visconti, whose attention to realistic detail and action profoundly influenced the young apprentice's own work.
Through the 1950s and 1960s, Zeffirelli firmly established his reputation as a drama and opera director. In the former capacity, he presented highly naturalistic stagings of Shakespeare at London's Old Vic. Simultaneously, he was responsible for noted productions at Milan's La Scala, London's Covent Garden, and New York's Metropolitan Opera starring the leading divas of the period, particularly Maria Callas, Joan Sutherland, and Leontyne Price.
He soon transferred his ideas to cinema. His first feature film, The Taming of the Shrew (1967), featured the most discussed theatrical couple of the day, Elizabeth Taylor and Richard Burton. As a cinematic rendering of a traditional work of English literature, it set the tone for many of his subsequent screen productions.
His best-known film, Romeo and Juliet (1968), soon followed. It was controversial for his casting of unknown and inexperienced (if highly attractive) teenaged actors in the title roles. He would again present such adolescent sensuality and sexual awakening in Endless Love (1981), which tells the story of an obsessive teen romance set against the backdrop of parental prohibition.
Director Bruce Robinson claimed to have been the unwanted target of sexual advances by Zeffirelli during the filming of Romeo and Juliet in which Robinson had a minor acting role. Robinson says that he based the lecherous character of Uncle Monty in the film Withnail and I on Zeffirelli.
In 1996, Zeffirelli came out as gay, but has since preferred to be discreet about his personal life. Zeffirelli considers himself "homosexual" rather than gay, he feels the term "gay" is less elegant. Zeffirelli has adopted two adult sons, men he has worked with for years and who now live with him and manage his affairs.
Although Zeffirelli is openly gay and has frankly discussed his sexuality in his autobiography, he is nonetheless somewhat paradoxical in this regard. Some critics have noted a "homosexual gaze" in his films, particularly in their lingering and erotically tinged close-up shots of the semi-nude male body. In Tea with Mussolini, moreover, he cast Lily Tomlin as an unambiguously lesbian character.
At the same time, however, his advocacy of Catholic dogma in opposition to gay activism has not gone unnoticed, particularly his backing of Vatican efforts to thwart the inception of a Gay Pride parade in Rome.
In 2007, disappointed with the manner in which Pope Benedict XVI had been presenting himself to the media, Zeffirelli openly offered his services to the Pontiff as an image consultant. In connection with this matter, he was quoted as saying "I am a Christian down to the depths of my spirit." Zeffirelli has also been a member of the Italian senate since 1996, representing the Forza Italia party.
In 2018, actor
Johnathon Schaech
alleged that Zeffirelli sexually assaulted him during the filming of
Storia di una capinera
.
Zeffirelli's son Giuseppe "Pippo" issued a statement at the time denying the allegation.
Zeffirelli died at his home in Rome on 15 June 2019, at the age of 96.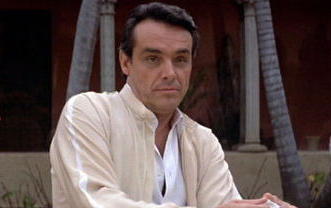 1936 – On this date Paul Shenar, the American actor, was born (d. 1989). Born in Milwaukee, Wisconsin, Shenar became involved in theater at an early age, partaking in the local Milwaukee playhouse productions. After graduating from high school, he enlisted in the United States Air Force. Following his military career he began acting again.
Shenar gained attention playing larger-than-life entertainment legends on 1970s television. He portrayed Orson Welles in the TV movie The Night That Panicked America (1975) (TV) and Florenz Ziegfeld Jr. in Ziegfeld: The Man and His Women (1978) (TV). He is probably best known for playing the murderous drug lord Alejandro Sosa in Brian DePalma's 1983 feature film version of Scarface opposite Al Pacino.
A founding member, actor, director and teacher of the American Conservatory Theatre (ACT) in San Francisco, he played more than forty roles there, including "Hamlet," "Oedipus Rex" and "Tiny Alice." Known for his unsympathetic portrayals, he voiced the evil rat Jenner in the animated feature The Secret of NIMH (1982). He had a very successful side career as a commercial voice actor, and was the sexy basso-baritone voice of Mercedes Benz, and Oil of Olay.
Shenar and British actor Jeremy Brett were in a romantic relationship in the 1970s; it reportedly lasted five years. Paul Shenar died on October 11, 1989 of AIDS-related complications in West Hollywood, California.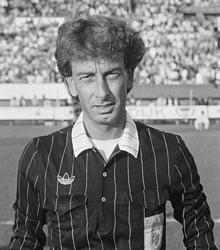 1949 – John Blankenstein, born in De Bilt, The Netherlands, (d.2006) was a Dutch football referee and gay rights activist. He was notable for being one of the first homosexual athletes to come out in the Netherlands.
As a child Blankenstein moved with his family to the city of The Hague, where he later played football at local club VCS. Since he failed at developing a successful career as a professional football player, at age 22 he started a career as referee working for the Royal Dutch Football Association. From 1980 on he was referee in 502 matches of professional football, which he continued doing until the end of his career.
From 1985 until 1995 Blankenstein worked as a referee in 88 international matches, and as such he was on the list of referees of the International Federation of Association Football, the FIFA.
Highlights of his career were the UEFA Cup final in 1993 and being chosen for the 1992 European Championship.
In 1994 Blankenstein was selected to referee the 1994 UEFA Champions League Final between AC Milan and FC Barcelona, to be replaced by Englishman Philip Don only a few days before the match. The contents of the official decision were never made public, but it was said that it was because Johan Cruijff and Ronald Koeman (both FC Barcelona) were both from the Netherlands. Blankenstein himself later stated it had been because of him being openly homosexual.
After his career as a referee Blankenstein became head of 'Referee-Affairs Professional Football' for the Royal Dutch Football Association in the city of Zeist.
During the 1980s and 1990s John Blankenstein became well known internationally for being one of the first openly homosexual football referees. Blankenstein was active in various anti-discrimination charities and remained a celebrity in the Netherlands. For breaking with the taboo on the subject of homosexuality in football, the Dutch LGBT advocacy organization COC Nederland awarded him with the Bob Angelo medal in 2003. Until June 2004 Blankenstein was chairman of COC Haaglanden, the branch of COC Nederland in the city of The Hague. During the summer of 2004 he became one of the founders of Homo LesBische Federatie Nederland. In 2005, he was awarded the Harry Stapels Award by the sports-organization NCS for ten years of supporting the emancipation of homosexual sportsmen and sportswomen.
On Friday, 25 August 2006, Blankenstein died in the Leyenburg Hospital in The Hague, Netherlands due to a rare kidney-related disease.
To continue his work for acceptance of and equal rights for homosexual people in sports, the John Blankenstein Foundation was founded on 18 December 2008. On 13 January 2009, the city of The Hague established an annual award for gay-emancipation and named it the John Blankenstein Award in his honor.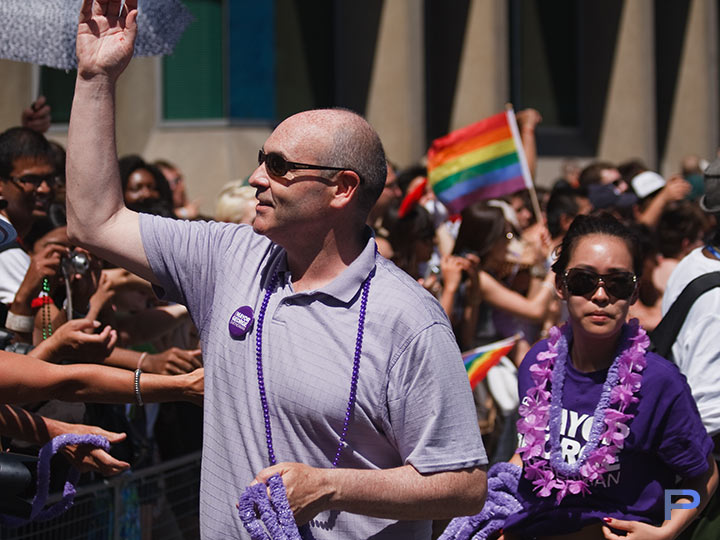 1964 – George Smitherman is a Canadian politician and broadcaster. He represented the provincial riding of Toronto Centre in the Legislative Assembly of Ontario from 1999 to 2010, when he resigned to contest the mayoralty of Toronto in the 2010 municipal election in which he finished second with 35% of the vote. Smitherman is the first openly gay Member of Provincial Parliament (MPP) elected in Ontario, and the province's first openly gay cabinet minister. In January 2011, he joined talk radio station CFRB as a contributor and fill-in host on the Live Drive with John Tory show.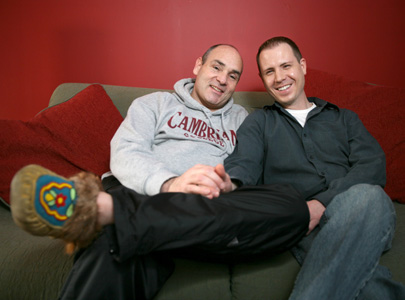 Smitherman & Peloso
On August 5, 2007, Smitherman married his partner, Christopher Peloso, a manager with Lindt & Sprüngli, near Elliot Lake, Ontario. On September 26, 2009, the Toronto Star reported that Smitherman and his spouse had been approved as adoptive parents by the Toronto Children's Aid Society. They adopted two children named Michael and Kayla. Peloso also had a daughter from a previous relationship.
Peloso, who was reportedly suffering from clinical depression, was found dead after going missing in December 2013.
Smitherman admitted a five-year addiction to an illegal drug before running for political office. Smitherman has not indicated the specific drugs he was addicted to during this time, except to say that they were part of the "Toronto party scene", and that "the drugs were not injected".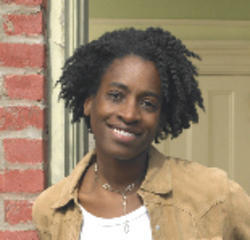 1964 – Today's the birthday of the American writer Jacqueline Woodson, who is an American author who writes books targeted at children and adolescents. Her work is filled with strong African American themes, generally aimed at a young adult audience. She is an openly lesbian woman with a lifelong partner and two children, a daughter and a son. Woodson and her partner have known each other since they were young girls.
Born in Columbus, Ohio, but raised in Greenville, South Carolina and Brooklyn, New York, her books include: Maison at Blue Hill (1992), I Hadn't Meant To Tell You This (1994), Autobiography of a family photo: a novel (1995), From the notebooks of Melanin Sun (1995), We Had a Picnic on Sunday past (1997), If You Come Softly (1998), Lena (1999), Sweet, Sweet Memory (2000), Miracle Boys (2000), The Other Side (2001), and Hush (2002)
Some of the topics covered in Woodson's books raise flags for many censors. Homosexuality, child abuse, harsh language and other content have led to issues with censorship. In an interview on NPR, Woodson said that she uses very few curse words in her books and that the issues adults have with her subject matter say more about who they are than it does with what their students should be thinking about. She suggests that people look at the various outside influences teens have access today, then compare that to the subject matter in her books.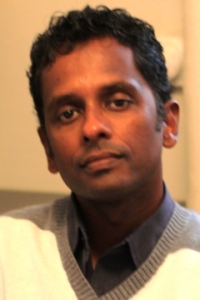 1965 – Shyam Selvadurai is a Sri Lankan Canadian novelist who wrote Funny Boy (1994), which won the Books in Canada First Novel Award, and Cinnamon Gardens (1998). He currently lives in Toronto with his partner Andrew Champion.
Selvadurai was born in Colombo, Sri Lanka to a Sinhalese mother and a Tamil father—members of conflicting ethnic groups whose troubles form a major theme in his work. Ethnic riots in 1983 drove the family to emigrate to Canada when Selvadurai was nineteen. He studied creative and professional writing as part of a Bachelor of Fine Arts program at York University.
Selvadurai recounted an account of the discomfort he and his partner experienced during a period spent in Sri Lanka in 1997 in his essay "Coming Out" in Time Asia's special issue on the Asian diaspora in 2003.
In 2004, Selvadurai edited a collection of short stories: Story-Wallah: Short Fiction from South Asian Writers, which includes works by Salman Rushdie, Monica Ali, and Hanif Kureishi, among others. He published a young adult novel, Swimming in the Monsoon Sea, in 2005. Swimming won the Lambda Literary Award in the Children's and Youth Literature category in 2006.
In 2013, he released a fourth novel, The Hungry Ghosts.
In 2014, Shyam was presented the Bonham Centre Award from The Mark S. Bonham Centre for Sexual Diversity Studies, University of Toronto, for his contributions to the advancement and education of issues around sexual identification


1973 – The Globe and Mail and Toronto Star newspapers refuse to publish a classified ad soliciting subscriptions for the gay paper The Body Politic.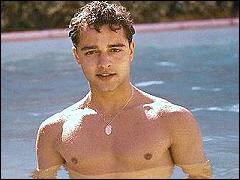 1976 – On this date Sal Mineo, the American actor, died (b.1939). A Golden Globe-winning American singer , film and theatre actor, Mineo is best known for his Academy Award-nominated performance opposite James Dean in the film Rebel Without a Cause but after a period of playing to ethnic stereotype, his career flagged. By 1976 Mineo's career seemed to be turning around again. Playing the role of a Gay burglar in a San Francisco run of the stage comedy P.S. Your Cat Is Dead, he received substantial publicity from many positive reviews and moved on to Los Angeles with the play.
Arriving home after a rehearsal on February 12, 1976, Mineo was stabbed to death in the alley behind a West Hollywood apartment building. He was 37 years old. He was stabbed just once, not repeatedly as first reported, but the blade struck his heart, leading to immediate and massive internal bleeding. A career criminal named Lionel Ray Williams was later sentenced to life in prison for killing Mineo. Although there was considerable confusion relating to what witnesses had seen in the darkness the night Mineo was murdered, Williams was reported to have boasted of the crime, which turned out to be a botched mugging. At the time of the murder, Williams had no idea who Mineo was.

1999 – First National Freedom to Marry Day in the USA (then held annually on this date).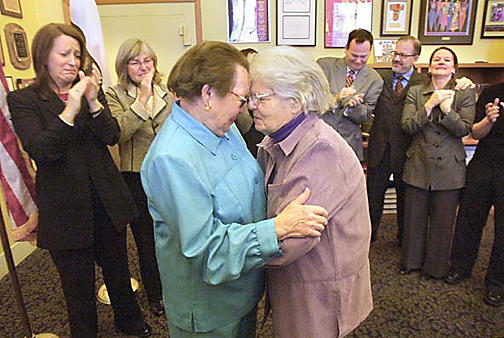 2004 – After 50 years together LGBT pioneers Phyllis Lyon & Del Martin were 1st to wed in San Francisco weddings.

2009 – Hungarian government approves a new registered partnership bill giving the same rights as marriage except in adoption and taking the same surname.

2009 – Civil Union Bill passed in Hawaii, USA.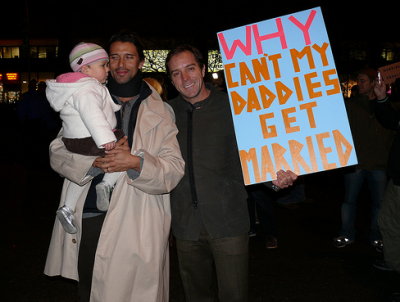 2009 – As part of Freedom To Marry Day, hundreds of Gay couples were turned away from New York City Hall this morning when they arrived to demand marriage certificates. The same-sex couples seeking to wed were part of a nationwide protest aimed at recent decisions restricting the right to marry to a man and a woman. Wearing signs that said "Just Not Married," the activists were part of a wave of demonstrations expected throughout the day at marriage bureaus or county clerks' offices from New York City to California, in communities large and small.
Matt Flanders, 37, of Brooklyn, participated with his 29-year-old partner, Will Jennings. Both wore gold engagement rings. When he was denied a marriage license, Flanders said he told officials: "'I should be able to marry the person I love.' And they said, `We can only offer you a domestic partnership.'"
Micah Stanek, 23, stood outside in a floor-length wedding veil after he and his partner were rejected. He said he moved to New York from San Francisco after Gay marriage was outlawed in California on the November ballot. "New York is especially important because the rest of the country follows what happens here," he said.
Outside the bureau, protesters sang "Love and Marriage" and chanted, "What do we want? Marriage! When do we want it? Now!" One man held a sign that read: "Love your husband? Let me love mine!"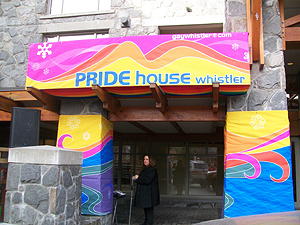 2010 – The 2010 Winter Olympics begin in Vancouver and Whistler, British Columbia. The facilities in Whistler include the event's first-ever Pride House for LGBT athletes. It proved to be one of the most popular sites in the village for gay and straight athletes and visitors alike.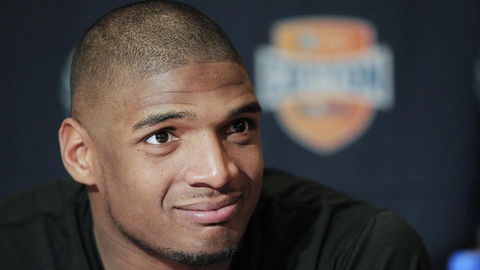 2014 – Michael Sam, an All-American defensive lineman from Missouri and the Associated Press' SEC Defensive Player of the Year, announced that he is gay in an interview with ESPN's "Outside the Lines".
Sam stated publicly what his teammates and coaches at Mizzou have known since August: "I am an openly, proud gay man."

FEBRUARY 13 →
[{(o)}]|[{(o)}]|[{(o)}]|[{(o)}]| [{(o)}]|[{(o)}]