March 22
[{(o)}]|[{(o)}]|[{(o)}]|[{(o)}]| [{(o)}]|[{(o)}]
Mengs - self-portrait
1728
- The German proto-Neoclassical painter
Anton Raphael Mengs
, lover of
Johann Joachim Winkelmann
, was  born on this date (d.1779). Mengs was born at Ústí nad Labem in Bohemia. His father, Ismael Mengs, a Danish painter, established himself at Dresden, and from there he took his son to Rome in 1741.  
In Rome, Anton Mengs' fresco painting of Parnassus at Villa Albani gained him a reputation as a master painter. The appointment of Mengs in 1749 as first painter to Frederick Augustus, elector of Saxony, did not prevent his spending much time in Rome, where he had married Margarita Guazzi who had sat for him as a model in 1748, and abjured the Protestant faith, and where he became in 1754 director of the Vatican school of painting. Nor did this hinder him on two occasions from obeying the call of Charles III of Spain to Madrid. There Mengs produced some of his best work, and specially the ceiling of the banqueting-hall of the Royal Palace of Madrid, the subject of which was the Triumph of Trajan and the Temple of Glory.
After the completion of this work in 1777, Mengs returned to Rome, and there he died, two years later, in poor circumstances, leaving twenty children, seven of whom were pensioned by the king of Spain. His portraits and self-portraits recall an attention to detail and insight, often lost from the grand manner paintings.
Besides numerous paintings in the Madrid gallery, the Ascension and St Joseph at Dresden, Perseus and Andromeda at Saint Petersburg, and the ceiling of the Villa Albani must be mentioned among his chief works. In 1911, Henry George Percy, 7th Duke of Northumberland, possessed a Holy Family, and the colleges of All Souls and Magdalen, at Oxford, possessed altar-pieces by Mengs's hand.
His intimacy with Winckelmann, who constantly wrote at his dictation, has enhanced his historical importance.
Mengs was famous for his rivalry with the contemporary Italian painter Pompeo Batoni. He was also a friend of Giacomo Casanova. Casanova provides accounts of his personality and contemporary reputation through anecdotes in Histoire de Ma Vie. Mengs died in Rome in June 1779 and was buried in the Roman Church of Santi Michele e Magno.

1909 – Washington passes a new criminal code and broadens its sodomy law to cover oral sex, prohibits newspaper description of crimes of sodomy, and repeals its slander law covering accusations of sodomy.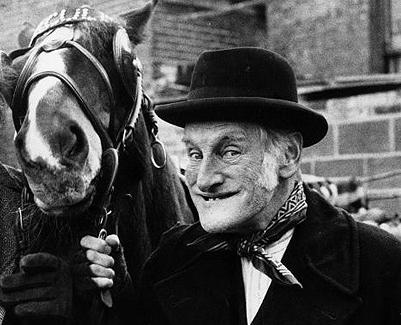 Wilfred Brambell as Albert Steptoe
1912 – Wilfrid Brambell was an Irish film and television actor, born in Dublin (d.1985), best known for his role in the British television series Steptoe and Son. He also starred alongside The Beatles in their film A Hard Day's Night.
His television career began during the 1950s, when he was cast in small roles in productions for BBC Television: as a drunk in The Quatermass Experiment (1953), as both an old man in a pub and later a prisoner in Nineteen Eighty-Four (1954) and as a tramp in Quatermass II (1955). All of these roles earned him a reputation for playing old men, though he was only in his forties at the time.
It was this ability to play old men that led to his casting in his most famous role, as Albert Steptoe, the irascible father in Steptoe and Son. Initially this was a one-off play on the BBC's Comedy Playhouse strand: but its success led to a full series being commissioned, which lasted throughout the 1960s and into the 1970s. There were also two feature film spin-offs, a stage show and an American re-make entitled Sanford and Son, based on the original British scripts.
In 2002, Channel 4 broadcast a documentary film on the off-screen life of Brambell and his relationship with Harry H Corbett, who played Harold Steptoe in Steptoe and Son. The film revealed that the two men detested each other and were barely on speaking terms outside of takes by the end of the programme's run. In a series almost entirely based around the pair of them with no other regular characters, this made production of the series difficult and stressful.
This tension partly related to Brambell's difficult private life. As he battled with alcoholism, he frequently forgot his lines and blocking and caused other problems both on and off the set. Brambell was also a homosexual at a time when it was almost impossible for public figures to be openly gay. He was arrested and charged for 'cottaging' in the early 1960s and subsequently holidayed annually in Asia.
After the final series of Steptoe and Son was made in 1974, Brambell had some guest roles in films and on television, but both he and Corbett found themselves heavily typecast as their famous characters. They undertook a tour of Australia in 1977 with a Steptoe and Son stage show: however, the tour was a disaster and a working relationship proved impossible. Brambell did, however, appear on the BBC's television news to pay a half-hearted tribute to Corbett after the latter's death from a heart attack in 1982. The following year Brambell appeared in Terence Davies' film Death and Transfiguration, playing a dying elderly man who finally comes to terms with his homosexuality.
Brambell himself died in London less than three years later, of cancer. He was seventy-two. News of his death received far less attention than that of his co-star, and his funeral only attended by a handful of people. He left £170,000 to his male partner.

1929 – Nebraska outlaws assault to commit sodomy, with a penalty of 2-15 years.


Revised 2022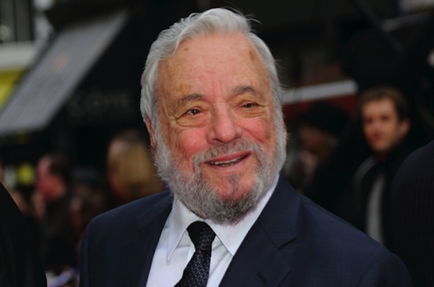 1930 – Today was the birthday of the American composer and lyricist for stage and film Stephen Sondheim (d.2021).
Having been rescued from a lonely childhood and encouraged as a boy by his neighbourhood friend's father, Oscar Hammerstein II, his career took off when, aged 26, he was asked to write the lyrics for Leonard Bernstein's West Side Story. The following year he was writing lyrics for Jule Styne's songs for Gypsy. His first attempt as a composer & lyricist was A Funny Thing Happened On The Way To The Forum (1962) and a hit.
His work is hard to categorise. He was gay but rarely created a gay character; his range of subjects was diverse; he mastered many different musical styles, each new project was a new challenge; he was rarely formulaic. Lyrically he was as intelligent, witty and ironic as his music is audacious, in the style of his gay predecessors Noël Coward, Lorenz Hart or Cole Porter. His shows however, generally rejected traditional notions of love and romance and neither do they reflect the gay culture which has emerged and become mainstream during his career, although ironically, his work has contributed much to that culture and become part of the gay musical tapestry - songs such as: Somewhere, Losing My Mind, Being Alive, Send In The Clowns...
He is the winner of an Academy Award, multiple Tony Awards (eight, more than any other composer) including the Special Tony Award for Lifetime Achievement in the Theater, multiple Grammy Awards, and a Pulitzer Prize. He has been described as "the greatest and perhaps best-known artist in the American musical theater."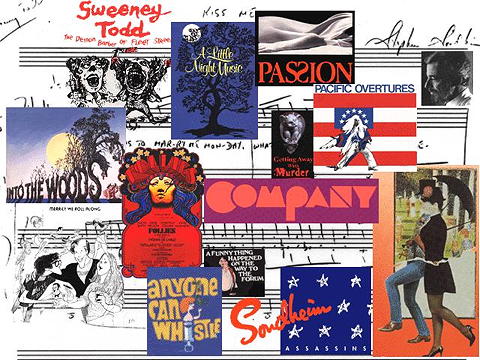 His most famous scores include (as composer/lyricist) A Funny Thing Happened on the Way to the Forum, Company, Follies, A Little Night Music, Sweeney Todd, Sunday in the Park with George, Into the Woods, and Assassins, as well as the lyrics for West Side Story and Gypsy. He was president of the Dramatists Guild from 1973 to 1981.
Sondheim opened up regarding his sexuality when he was about 40. He rarely discussed his personal life, though he said in 2013 that he had not been in love before he turned 60, when he entered into a roughly eight-year relationship with dramatist Peter Jones. Sondheim married Jeffrey Scott Romley, a digital technologist, in 2017.
To celebrate his 80th birthday in 2010, the former Henry Miller's Theatre was renamed the Stephen Sondheim Theatre on September 15, 2010, and the BBC Proms held a concert in his honor.
Sondheim died of cardiovascular disease at his home in Roxbury in November 2021, at the age of 91, ten days after the premiere of the Stephen Spielberg/Tony Kushner remake of
West Side Story
.  Collaborator and friend 
Jeremy Sams
 said Sondheim
"died in the arms of his husband Jeff"
. On December 8, 2021, Broadway theaters dimmed their marquee lights for one minute as a tribute.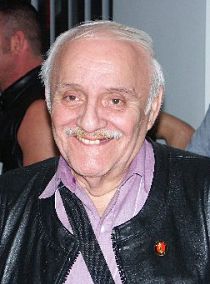 1932 – Marcus Hernandez, who served as the Bay Area Reporter's longtime leather columnist was known to his legions of readers by his pen name "Mister Marcus" and dubbed the "dean of leather columnists." His weekly columns of contest goings-on and gossip were a must-read for leather community leaders, titleholders, and newcomers alike for 38 years.
Mr. Hernandez, whose first name was Gilbert, was born in Los Angeles. He served in the U.S. Air Force from August 1954 until he was honorably discharged in August 1960. He attended the University of California, Los Angeles but did not receive a degree.
Following the breakup of his marriage, Mr. Hernandez moved to San Francisco in 1968. Vice cops in Los Angeles, where he had been living, were arresting gay men and raiding gay bars, and a friend suggested he move north. That was also the year he came out, his son Curt Hernandez said.
"So in 1968 … I moved here. And the only bar I knew about was the Tool Box because in the 1960s, Life magazine ran this huge article on homosexuality in America and they had a picture in there of the Tool Box with a pair of white sneakers hanging down saying, 'Not allowed,'"
Mr. Hernandez recalled.
"It was a subject of disdain to be wearing white sneakers in a leather bar."
Mr. Hernandez worked in various leather bars for 12 years as a manager. He also served as the appointment secretary for then-Mayor Joseph Alioto.
It was around that time, in the early 1970s, that Mr. Hernandez wrote a column for the Advocate, which at the time was a gay newspaper. In October 1971, just six months after the B.A.R. started publishing, Mr. Hernandez was asked to write the paper's leather column. Mr. Hernandez's column focused primarily on the calendar of contests in the leather community. He also served as a judge at an estimated 250 contests over the years.
Mr. Hernandez also used his column to help many nonprofits, including the AIDS Emergency Fund, which provides cash grants to people living with disabling HIV/AIDS so that they can pay rent, utilities, and other expenses. AEF was started in the leather community, as the epidemic hit leathermen hard in San Francisco.
He died in 2009 because of complications from diabetes and arteriosclerosis.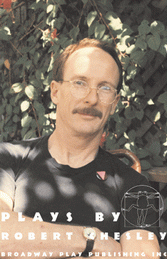 1943 – Robert Chesley (d.1990) was a playwright, theater critic and musical composer.
Between 1965-75 Chesley composed the music to over five dozen songs and choral works, chiefly to texts by poets such as Emily Dickinson, Willa Cather, James Agee, Walter de la Mare, Gertrude Stein and Walt Whitman. His instrumental works include the score to a 1972 film by Erich Kollmar.
In 1976, he came out as a gay teacher and moved to New York City. During the next few years his essays and theater criticism appeared in Gay Community News, The Advocate, Gaysweek, The San Francisco Review of Books, The Bay Guardian and The New York Native.
Chesley moved to San Francisco in the early 1980s. He became theater critic at the San Francisco Bay Guardian, during its golden period when composer-actor Robert DiMatteo was also on the staff as film critic. In 1980 Theatre Rhinoceros produced Chesley's first one-act, Hell, I Love You; in 1984 his Night Sweat became one of the first produced full-length plays to deal with AIDS.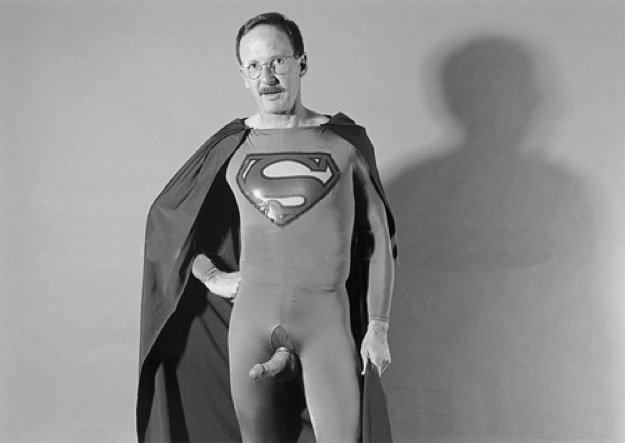 A Rather Revealing Pic of Chesley
(Click for larger)
On August 31, 1986, his two-character play, Jerker; or The Helping Hand, aired on the Pacifica Radio station KPFK's IMRU Program. Its frank sexual language immediately stirred controversy; later that year the FCC rewrote its rules governing the broadcast of "questionable" works, citing Jerker as the test case.
He was also co-founder of the Three-Dollar Bill Theater in New York City.
In total, Chesley wrote 10 full-length and 21 one-act plays. Several works were premiered posthumously and several of his major plays have been published.
Chesley died of AIDS in San Francisco at the age of 47. The Robert Chesley Award for Lesbian and Gay Playwriting, given annually by Publishing Triangle, is named in his honor.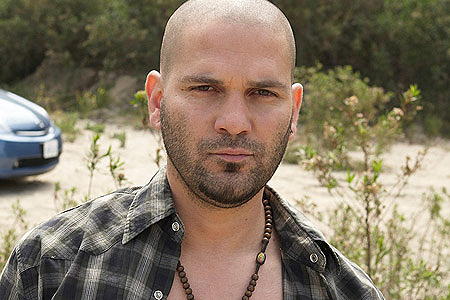 1971 – Today is the birthday of Cuban-American actor Guillermo Díaz. He was born and grew up in Washington Heights, Manhattan. Díaz, the son of Cuban-born parents, has starred in movies such as Stonewall (1995), Half Baked (1998), 200 Cigarettes (1999). He currently stars as Huck in the ABC drama TV series Scandal.
Díaz is openly gay and has been throughout his career, but prior to that he was deeply closetted. He told Out magazine that the fact that he grew up in a rough neighborhood made it necessary to hide his orientation. "I went to school in the Bronx. I learned to constantly try to cover up the fact that I was gay. That facade of being somebody I'm really not just to protect myself definitely helped with acting."
In 2010, Díaz did a nude photoshoot for Pinups Magazine. The photoshoot featured full frontal nudity from Díaz (Below).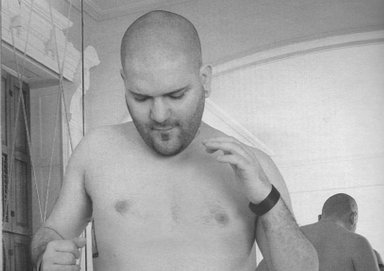 "Hello, down there!"
Click for Full Monty
He has been praised for his ability to play a versatile range of characters including gangsters and drug dealers. Díaz played Guillermo García Gómez, a drug dealer/trafficker, in seasons 2-6 of Showtime's series Weeds. In 2009, he starred on the NBC series Mercy, where his portrayal of the gay nurse Angel received negative criticism in online forums for being too flamboyant.

1972 – The Equal Rights Amendment, banning discrimination on the basis of sex, passes the U.S. Senate. Opponents of the amendment claim it will destroy the nuclear family, give broad civil rights to homosexuals, and even mandate unisex rest rooms in public.  Though by the end of 1972 twenty-two of the required thirty-eight states had ratified it, the ERA failed to receive the requisite number of ratifications before the final deadline mandated by Congress of June 30, 1982 expired, and so it was never adopted.

1976 – New Jersey Superior Court rules that transsexual people may marry based on their reassigned sex.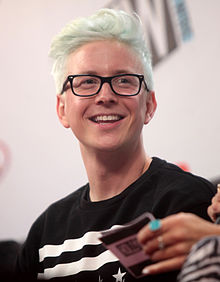 1989 – Tyler Oakley is an American YouTube personality and advocate for LGBT youth, and social issues including healthcare, education, prevention of suicide among LGBT youth, and gay rights. Oakley presents on various topics including queer politics, pop culture, and humor on a regular basis.
Oakley began making videos in 2007; his first video has received over 70,000 views on YouTube. Since uploading his first video while a freshman at Michigan State University, his work of over 350 videos has over 290,000,000 views and close to 5.8 million subscribers as of November 2014.
Oakley, who is openly gay, is a former member of the successful collaboration channel "5AwesomeGays," where he produced the Friday video for over three years. Currently, he is described as having "one of the loudest voices on YouTube," and Bloomberg defines him as a "YouTube sensation."
He was featured in the 2014 Frontline investigative report, "Generation Like," a follow-up on how teenagers are "directly interacting with pop culture" to the 2001 report, "The Merchants of Cool." As of June 2014 Oakley also has more than 2.7 million followers on Twitter and 2.1 million on Instagram.
As of March 2013, he co-hostessed a weekly pop-culture news update – "Top That!" – with Becca Frucht for PopSugar until October thirty first when he announced his departure. He posts regularly on several social networking sites including Facebook, and Tumblr, where he has hundreds of thousands of followers on each platform. He is also known for his appearance in that he regularly has brightly-colored hair.
He is a rather busy guy:
It was announced that Oakley, alongside best friend Korey Kuhl, would be competing in the 28th season of The Amazing Race.

1993 – Lawrence Poirier comes out to his best friend Michael in cartoonist Lynn Johnston's popular comic strip For Better or for Worse. Some 40 newspapers in the US and Canada refuse to run the four-week story; thousands cancer subscriptions to papers that do; in the end, however, 70 percent of the more than 2,500 letters Johnston receives about the series are positive.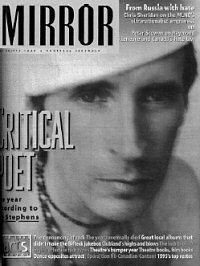 1994 Montreal Mirror cover

1996 – Died: Ian Stephens, Canadian poet, journalist and musician from Montreal, best known as one of the major Canadian voices in the spoken word movement of the 1990s. Most of his work focused on his experiences living with AIDS.
In the late 1980s, Stephens released an album with the short-lived band Disappointed a Few People.
In 1992, Stephens released a spoken word CD, Wining Dining and Drilling, which featured his poetry with a punk rock-influenced musical backing. The album included tracks such as "Coroner Wants a Kiss," "Loser w/ a Hard-On," "Sex is Dog," "Queer in Amerika", "I Started to Get Sick in New York" and "The AIDS Guy". He published a book of poetry, Diary of a Trademark, in 1994; the following year, he released an album of the same title, featuring his recitations of many of the pieces in the book. The title track was later included on Word Up, a compilation of spoken word poetry.
Stephens was also a regular writer for the Montreal Mirror, contributing book reviews and a 1994 cover story, "A Weary State of Grace", on living with AIDS.
He died in 1996 of AIDS-related lymphoma.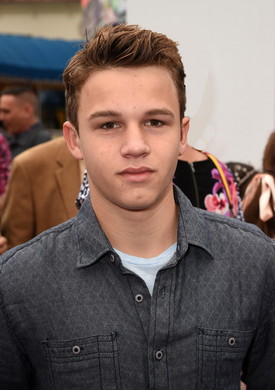 1999 – Gavin MacIntosh is an American actor. Beginning his professional career as a child actor and model at the age of ten, MacIntosh is best known for his recurring role as Connor Stevens on the ABC Family drama series The Fosters.
In 2010, MacIntosh began his acting career with a starring role in the dramatic short film Turns. Additional short film roles include appearances as Young Martin Thomas in The Science of Death, and as Young Jonathan in Breathe. In 2011, he made his feature film debut alongside his brother Gage, appearing as brothers Mark and Nick Paterson respectively in the martial arts themed drama Blood Games: Sanctioned to Die.
In 2011, MacIntosh made his television debut with a guest-starring role as a member of Ron's scout troop on the NBC comedy series Parks and Recreation. Additional television roles include guest-starring appearances as Burt's 13-year-old brother Bruce in a 1981 flashback on the Fox comedy series Raising Hope, and as Young Brad in the pilot episode of the proposed science-fiction drama series H.O.P.E.
In 2013, MacIntosh began a recurring role on the ABC Family drama series The Fosters. On the series, MacIntosh portrays Connor, a handsome and kind-hearted boy who develops a special friendship with the shy and isolated foster child Jude Jacob-Foster (portrayed by Hayden Byerly), prompting the 13-year-old Jude to begin questioning his sexuality.
On March 2, 2015, ABC Family aired an episode of the The Fosters, "Now Hear This", that featured MacIntosh's character and Byerly's character sharing a kiss, believed to be the youngest LGBT kiss ever in U.S. television history. In two tweets on March 29, 2015, MacIntosh took issue with YouTube's decision to add an age restriction for access to video of his character's kiss scene with Byerly's character, prompting a vocal social media campaign, and YouTube removed the age restriction less than a day later.
The Fosters TV's Youngest Same-Sex Kiss scene was featured as #9 in The 19 Biggest LGBT Moments On TV In 2015. MacIntosh and Byerly's kiss was also listed in the 7 Best Moments From ABC Family The Wrap Rewind 2015. On December 23, 2015 MacIntosh was featured in the publication OUT Magazine discussing his famous gay kiss.
MacIntosh's personal interests include skateboarding, biking, and competitive soccer, as well as sketching, painting, and songwriting. MacIntosh is an outspoken straight ally for LGBT rights and equality. In addition, alongside his Fosters co-star Hayden Byerly, he is an advocate against bullying, encouraging youngsters to embrace their differences and lending his support to the "Be Good to Each Other" campaign.

2004 – In Oregon, the commissioners of Benton County decided not to start issuing marriage licenses to same-sex couples. This reversal of an earlier vote was due to receiving a letter from state attorney general Hardy Myers on the matter. In place of same-sex marriage licenses, the commissioners decided to stop issuing any marriage licenses to anyone at all until the Oregon Supreme Court rules on the constitutionality of the discriminatory provisions of Oregon's marriage laws.

MARCH 23 →
[{(o)}]|[{(o)}]|[{(o)}]|[{(o)}]| [{(o)}]|[{(o)}]