August 25
[{(o)}]|[{(o)}]|[{(o)}]|[{(o)}]| [{(o)}]|[{(o)}]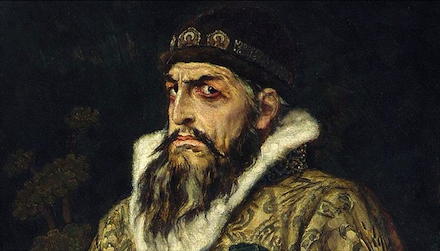 1530 – Ivan IV – The Terrible – was Grand Prince of Moscow from 1533 until his death (d.1584). His long reign saw the conquest of the Khanates of Kazan, Astrakhan, and Siberia, transforming Russia into geographically vast multiethnic and multiconfessional state.Ivan managed countless changes in the progression from a medieval nation state to an empire and emerging regional power, and became the first ruler to be crowned as Tsar of All Russia.
Ivan was a patron of the arts and himself a poet and composer of considerable talent. His Orthodox liturgical hymn, "Stichiron No. 1 in Honor of St. Peter", and fragments of his letters were put into music by Soviet composer Rodion Shchedrin.
Although he is better known in English as Ivan the Terrible, this is probably a mistranslation from the Russian: a more accurate term may be "formidable".
His last years alternated between debauchery and religious austerity. He was married no less than seven times. But he was also attracted to young men in female attire. One of the most ruthless chieftains of Ivan's political police, Feodor Basmanov, rose to his high position through performing seductive dances in women's clothes at the tsar's court.
The nineteenth-century poet A. K. Tolstoy (1817-1875) wrote a historical novel, Prince Serebriany (1862), set during the reign of Ivan the Terrible, where he described with great frankness the paradoxical character of Feodor: a capable military commander; the scheming initiator of murderous political purges; the tsar's bed partner; and an effeminate homosexual who discussed in public the cosmetics he used to improve his complexion and hair.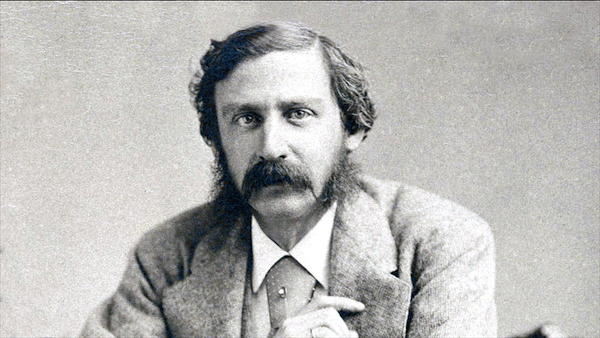 1839 – On this date the famed cowboy writer and editor Bret Harte was born (d.1902). He's best known for his book Outcasts of Poker Flats but he had a penchant for writing about homoerotic couplings, as in his book Tennesee's Partner. The men in that last novel, Tennessee and Partner, acted so strangely attached that it led to Mark Twain's consternation: "Why would men act this way? Why would they pair with each other rather than to other women?" Why indeed?
Harte's other "men only" homoerotic loving partnerships can be found in his "Notes by Flood and Field," "Captain Jim's Friend," "Uncle Jim and Uncle Billy," and "In the Tules" a story that one scholar called "the most blatantly homoerotic story Harte ever wrote." Harte wrote it while living in England while that country was being rocked by the Oscar Wilde trials. So he may have been so inspired.
Harte also published Charles Warren Stoddard's now classic, overtly homoerotic novel South Sea Idylls — a book that delighted Walt Whitman with its descriptions of same sex attachment and fidelity.

1845 – Ludwig II (d.1886) is better known for his enthusiastic patronage of Richard Wagner and for his fabulous castles than for his conduct of affairs of state. His withdrawal from public life, perhaps in part due to the impossibility of living openly as a gay man, led to allegations that he was mad, and ultimately to his deposition and death.
Ludwig II of Bavaria was named for his grandfather, King Ludwig I, with whom he shared a birthday, August 25. The two also shared an avid interest in the arts. From his earliest years the younger Ludwig enjoyed drawing, making model buildings, and dressing in costume to act. Upon hearing Richard Wagner's opera Lohengrin for the first time when he was fifteen, Ludwig developed a lifelong passion for the composer's works.
When Ludwig ascended to the throne of Bavaria at the age of eighteen (upon the death of his father, Maximillian II, in 1864), one of his first acts as king was to send for Wagner, for whom he immediately provided a rent-free house and a generous annual stipend. Ludwig not only commissioned Wagner's operas, but also envisioned a glorious theater for the staging of them. This dream would be realized when the Festspielhaus at Bayreuth was built (1872-1876).
Ludwig took great joy in the presence of the composer, upon whom he lavished attention and costly gifts. Whether the two men had a physical relationship is unclear, but of Ludwig's devotion there can be no doubt. Wagner's presence in the Bavarian capital was controversial. Members of the court feared that he might gain undue political influence over the young king, and they were alarmed at the amount of money that Ludwig was spending on him. Wagner left Munich after about a year, but throughout his life he enjoyed the patronage of the king, with whom he exchanged hundreds of affectionate letters over the years.
Ludwig faced serious political and military challenges early in his reign. In 1866 he proposed compromise measures to try to forestall a German civil war. When hostilities broke out, he allied Bavaria with Austria in the Seven Weeks' War. Their forces were defeated, and the following year Ludwig entered into an alliance with the victorious Prussia. With war looming between France and Prussia in 1870, Napoleon III attempted to bring Bavaria over to his side. A patriotic German, Ludwig remained loyal to his ally. Faced with the threat from France, the German states moved toward confederation into a single empire. Ludwig was concerned about the loss of Bavarian independence, but in negotiations with Prussian Chancellor Bismarck he was able to secure a privileged status for Bavaria. He then sent a letter, drafted by Bismarck, to his fellow German princes, urging the political union, which was formally declared in 1871.
The most important romantic friendship of Ludwig's early years was with Prince Paul von Thurn und Taxis. The two young men took pleasure in riding and hiking together in the Bavarian mountains and in reciting poetry to each other. Importantly, Paul shared Ludwig's enthusiasm for Wagner's operas and on one occasion played Lohengrin in an elaborate outdoor nighttime staging of the scene of the knight's arrival in the swan-boat. Ludwig had an obsessive devotion to the handsome Paul but eventually broke with him after hearing rumors that the prince was involved in relationships with women.
Ludwig was in no hurry to marry, but after considerable indecision, he became engaged to his cousin Sophie in January 1867. As their wedding date, August 25, Ludwig's birthday, approached, however, he postponed the ceremony until October 12, the anniversary of both his parents' and grandparents' marriages. After another delay Ludwig broke the engagement and never considered marriage again.
It is not clear at what point Ludwig recognized his homosexuality. His diary, which he kept beginning in 1869, reveals that it was a source of inner turmoil for him. As a Catholic monarch, he felt an obligation to conform to the teachings of the Church, yet he could not deny his nature.
Ludwig developed a deep affection for Richard Hornig, a former officer in the Bavarian army who had become the chief equerry of the royal household. Ludwig gave a lake property to Hornig, whom he described in his diary as the "Beloved of My Soul." The two had frequent quarrels, though, and Hornig eventually married. He nevertheless remained in Ludwig's service almost until the end of the king's life.
Ludwig became infatuated with a young Hungarian actor, Josef Kainz, whom he first saw on stage in 1881. During a brief relationship the king gave him many expensive presents and took him on a trip to Switzerland. Ludwig rather quickly became disenchanted, however, apparently having found Kainz's performances in character in the theater more interesting than the actor himself.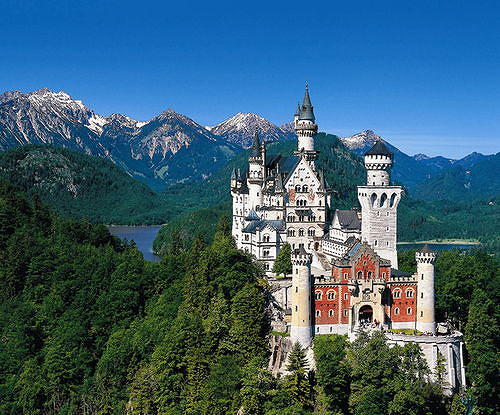 Neuschwanstein Castle
Ludwig's greatest artistic passion beside opera and theater was architecture. Beginning in 1869 he undertook the construction of three extravagant royal residences, one of which, Neuschwanstein castle, begun in 1869 and never completed, is a fairy-tale confection perched high in the Bavarian mountains. The elaborate building projects plunged Ludwig deeply into debt. They also consumed a great deal of his time.
Never extremely interested in affairs of state, he withdrew increasingly to his refuges. There the king organized late-night picnics to which he invited good-looking stable boys and soldiers from the castles. He also gave parties at which the same guests were attired in Turkish-style costumes, at least until some of the handsomest were required to strip and dance. Ludwig had less and less contact with his government ministers, who became concerned by reports of the king's erratic behavior, including experiencing hallucinations and issuing nonsensical orders, as well as his determination to continue building despite his dire financial situation.
In 1886 a group of government leaders arranged for a psychiatrist, Bernhard von Gudden, to declare Ludwig insane even though he had not examined the king. Since incapacitation was grounds for the removal of the monarch under Bavarian law, they had Ludwig arrested and taken to Castle Berg on Lake Starnberg.
Only a few days later Ludwig was dead. He and Gudden went out for a walk on the rainy night of June 13, 1886 and never returned. The following morning their bodies were recovered from the lake. The circumstances of the men's deaths remain a mystery. It has been theorized that Ludwig committed suicide and Gudden tried to save him or that Ludwig planned to escape and Gudden died attempting to stop him.
The people of Bavaria mourned the death of Ludwig, who had remained extremely popular. Thousands, many of them weeping, lined the route as an enormous procession bore the king's body to church for the funeral mass. On learning of Ludwig's death, his devoted cousin the Empress Elizabeth of Austria declared, "The King was not mad; he was just an eccentric living in a world of dreams. They might have treated him more gently, and thus perhaps spared him so terrible an end."

1876 – The Sacramento Daily Union reports that Ah Lee and Ah Joe both plead not guilty in California for "crimes against nature." Ah Joe is sentence to three years in prison. Ah Lee's fate is unknown.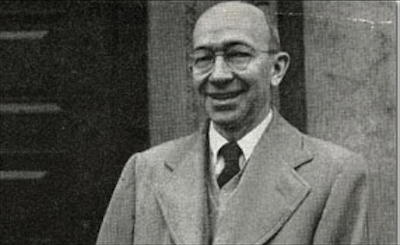 1900 – (Frederick) Newton Arvin (d.1963) was a literary critic, historian, and academic. Newton Arvin studied English Literature at Harvard and was inspired by American literary critic Van Wyck Brooks. Leaving Harvard in 1922, Arvin taught at several high schools before finding tenure at Smith College in Northampton, Massachusetts.
Arvin often wrote about political issues, until he came to national attention with the publication in 1950 of Herman Melville, a critical biography of Herman Melville, the writer today most famous as the author of Moby Dick. Herman Melville won the second annual National Book Award for non-fiction.
Other works by Arvin included a similar analysis of Nathaniel Hawthorne, the author of The Scarlet Letter. Another book on the same pattern, about poet and writer Henry Wadsworth Longfellow and entitled Longfellow, His Life and Work, was finished shortly before Arvin's death.
A homosexual, Newton Arvin endured a brief and unhappy marriage. Today, however, he is most remembered as a lover and mentor of the young Truman Capote and as the central figure in a 1960 scandal at Smith College that involved pornography, homosexuality, and betrayal.
By the time he arrived at Smith, Arvin was well aware of his homosexuality. But he regarded his sexuality as something shameful, a "loathsome affliction" as he would describe it in his diary. At various times in his life, he was more or less comfortable with his homosexuality, but the shame with which he regarded it never completely dissipated.
From 1939 until his disgrace in 1960, Arvin was a frequent guest at Yaddo, the writers' colony in Saratoga, New York. In 1946, Arvin and Truman Capote fell in love when both were guests at Yaddo. The precocious twenty-one-year-old Capote, at Yaddo to work on his first novel, Other Voices, Other Rooms (1948), which would be dedicated to Arvin, and the forty-six-year-old professor may have been an improbable couple, but they were immediately smitten with each other. Capote found Arvin "a charming person, cultivated in every way, with the most wonderfully subtle mind," while Arvin found "Little T." utterly irresistible, describing him as "a little wizard or magician or alchemist of some wonderful Gothic kind ... only when you kiss me do I come to life." The two embarked on an intense love affair, which yielded significant consequences for each. Capote helped Arvin become more open and less ashamed of his homosexuality. He introduced his older lover to gay New York and helped give him a broader frame of reference.
Although they two men were in love with each other, their styles were probably too different for them to sustain a love affair for long. Arvin was sometimes embarrassed by Capote's flamboyance, especially after the publication of Other Voices, Other Rooms made its author a celebrity. Their affair ended in 1948, but the two remained friends for the rest of Arvin's life.
In 1960, officers of the Massachusetts State Police arrested Arvin on pornography-related charges after investigations by the office of the United States Postmaster General into soft-core homosexually-themed pictures sent to Arvin by mail. The resulting scandal destroyed his career and resulted in the firing of two colleagues, Edward Spofford and Joel Dorius, whom he gave up in exchange for leniency in sentencing.
Before and after his sentencing, Arvin sought refuge in the Northampton state mental hospital. He was eventually released and attempted to put his life together. He received a great deal of support from friends across the country, and from some colleagues at Smith, but continued to regard himself as something of a pariah.
In 2001, Barry Werth's book The Scarlet Professor: Newton Arvin: a literary life shattered by scandal, was published, detailing the affair.
He died of pancreatic cancer on March 21, 1963. It is not clear that Arvin ever acknowledged even to himself any culpability for ensnaring his friends and sexual partners in the Smith College scandal.
In 2002, Smith acknowledged the wrongful termination of the three professors by creating a lecture series and a small scholarship, the $100,000 Dorius/Spofford Fund for the Study of Civil Liberties and Freedom of Expression, and the Newton Arvin Prize in American Studies, a $500 annual stipend.
After Truman Capote's death in 1984, it was revealed that Capote had left money in his will to establish the Truman Capote Award for Literary Criticism in Memory of Newton Arvin. The Capote-Arvin award (now given both for lifetime achievement and for a particular work of criticism) is by far the most lucrative acknowledgment of excellence in the field of literary criticism.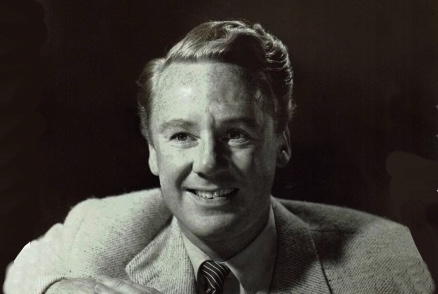 1916 – American screen idol Van Johnson was born on this date (d.2008). Born Charles Van Dell Johnson in Newport, Rhode Island, he was an American film and television actor and dancer who was a major star at Metro-Goldwyn-Mayer studios during and after World War II. He got his start on Broadway right after high school and soon made his way to Hollywood. It didn't go well for him and Johnson was about to move back to New York when Lucille Ball took him to Chasen's Restaurant, where she introduced him to an MGM casting director Billy Grady, who was sitting at the next table.
His big break was in A Guy Named Joe, with Spencer Tracy and Irene Dunne, in which he played a young pilot who acquires a deceased pilot as his guardian angel. Midway through the movie's production in 1943, he was involved in a car crash that left him with a metal plate in his forehead. Dunne and Tracy insisted that Johnson not be removed from the cast despite his long absence. The injury exempted Johnson from service in World War II. MGM built up his image as the all-American boy in war dramas and musicals.
In 1945, Johnson tied with Bing Crosby as the top of a list of box office stars chosen yearly by the National Association of Theater Owners. But he fell off the list as other top Hollywood stars returned from wartime service.
Johnson was dropped by MGM in 1954, after appearing in The Last Time I Saw Paris with Elizabeth Taylor, and co-starring with Gene Kelly in Brigadoon. He enjoyed critical acclaim for his performance as Lt. Steve Maryk in The Caine Mutiny in 1954.
During the 1950s and 670s, Johnson continued to appear in films and also appeared frequently in television guest appearances including two campy episodes of Batman playing the criminal mastermind "The Minstrel."
In the 1970s, after twice fighting bouts of cancer, Johnson began a second career in summer stock and dinner theater. In 1985 he returned to Broadway for the first time since Pal Joey, was cast in the starring role of the musical La Cage aux Folles.
Johnson was the embodiment of the "boy next door," playing "the red-haired, freckle-faced soldier, sailor or bomber pilot who used to live down the street" in MGM movies during the war years. At the time of his death in December 2008, he was one of the last surviving matinee idols of Hollywood's "golden age."
In contrast to his "cheery Van" screen image, Johnson was reputed to be morose and moody because of his difficult early life. His stepson wrote in a memoir that
"If there was the slightest hint of trouble with one of the children, or with the house, the car, the servants, the delivery of the newspaper, the lack of ice in the silver ice bucket, the color of the candles on the dining room table, Van immediately left the couch, the dinner table, the pool, the tennis court, the party, the restaurant, the vacation, and strode off to his bedroom."
In 1947 Johnson married former stage actress Eve Abbott in a scandalous marriage — she had divorced her husband Keenan Wynn just the day before. They separated in a especially bitter divorce in 1961. According to Eve, her marriage to Johnson had been engineered by MGM: "They needed their 'big star' to be married to quell rumours about his sexual preferences and unfortunately, I was 'It' — the only woman he would marry."
"Johnson's orientation was probably more homosexual than heterosexual," observed Ronald L. Davis in Van Johnson: MGM's Golden Boy, adding that the star became particularly attracted to younger men as he grew older.
Van Johnson lived in an apartment on Manhattan's East Side until 2002, when he moved to Tappan Zee Manor, an assisted living facility in Nyack, New York. He died there of natural causes in 2008. He had been ill for the previous year and receiving hospice care. He was cremated. Spencer Tracy had given him two pieces of advice, he said: to take up painting as a hobby and never read reviews. He traveled everywhere with a paint box and with his embroidery, a hobby he chose for himself.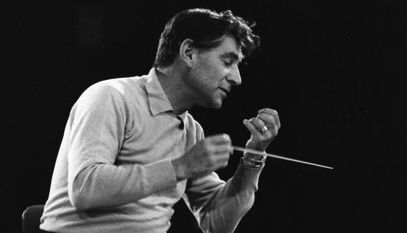 1918 – Throughout the 1960s, Leonard Bernstein (d.1990) was undoubtedly the most visible proponent of classical music in American culture. Through his outgoing personality and resourceful uses of the media, particularly television, Bernstein introduced "highbrow" culture into the homes of middle America, while also defending rock and roll as "real" music and espousing radical causes. Given his overwhelming celebrity and acclaim as a composer, conductor, pianist, and lecturer, the meteoric career of this son of Russian Jewish immigrants would seem to exemplify the all-American success story; yet, for most of his life, the specter of the closet lurked threateningly behind the glamorous and often brash public image of Leonard Bernstein.
Born in Lawrence, Massachusetts, on August 25, 1918, Bernstein studied at Harvard University, the Curtis Institute, and the Berkshire Music Center at Tanglewood, where he came to the attention of maestro Serge Koussevitzky, who mentored the early stages of his career.
In 1944, the twenty-six-year-old Bernstein was called on at the last minute to replace maestro Bruno Walter in conducting the New York Philharmonic Orchestra. The public notice and acclaim that resulted from this performance thrust the young musician into the limelight, and he was soon in demand as a conductor and teacher throughout the United States and Europe.
In 1958, Bernstein was appointed musical director and chief conductor of the New York Philharmonic, a post he retained until 1969, and he remained conductor laureate until his death. In 1959, at the height of the Cold War, he traveled with the Philharmonic to the Soviet Union, where the orchestra performed his Second Symphony, entitled The Age of Anxiety after the W. H. Auden poem that inspired it, an apt work for the given historical moment.
Bernstein simultaneously pursued a very diverse career as a composer, creating "serious" pieces, including three symphonies, three ballets, the choral work Chichester Psalms (1965), and Mass (1971), a theater piece commissioned for the opening of the Kennedy Center for the Performing Arts in Washington, D. C. His best known works, however, are those he wrote for the Broadway musical stage, including On the Town (1944), Wonderful Town (1953), Candide (1956; revised as an opera, 1982), and the highly popular West Side Story (1957).
By the early 1960s, Bernstein was one of the most prominent cultural figures in American society. Through his association with the Kennedy family and his media appearances, he exerted a tremendous influence in presenting the fine arts to the American public in a manner free from the social snobbery with which they are so often associated. He was one of the first orchestral conductors to utilize the relatively new medium of television, and his frequent appearances familiarized the general public with his flamboyant style and extravagant gestures at the podium, mannerisms that infuriated many "purists" but established him as a familiar figure in many American living rooms. Through his televised educational series of Young People's Concerts (1958-1972), he demonstrated that classical music was not just accessible to the masses but that it could even be fun.
Unlike most classical musicians, Bernstein was outspoken in his political views, particularly on the Vietnam War and civil rights issues. His Mass disturbed many critics and listeners with its unambiguous anti-war sentiments. So did some of his well-intentioned but nonetheless eccentric gestures, such as inviting members of the Black Panther party, a radical group of African-American militants, to his cocktail parties to mingle with socialites and other representatives of the cultural elite.
In spite of Bernstein's public avowal of unpopular causes, he was, for much of his career, unwilling to risk exposure of his homosexuality. Indeed, the social mores of the 1950s and 1960s were such that a revelation of homosexuality would undoubtedly have destroyed the celebrity and influence he had attained. In 1951, Bernstein married the Chilean actress Felicia Montealegre, with whom he had three children. Bernstein nonetheless engaged in a number of homosexual relationships over the years. In the mid-1970s, the couple separated, and Bernstein attempted to live an openly gay life with Tom Cochran, who had been his lover since 1971. A year later, he returned to his wife, who was by this time terminally ill. After Montealegre's death in 1978, Bernstein became increasingly open about his gayness; even so, as his daughter observed after his death, his need for a "middle-class sensibility" kept him from living a completely gay life.
Bernstein's final major composition, the opera A Quiet Place (1983), positions a bisexual male character, who functions as the mediator between the other, more conflicted characters, at the center of the action. The opera's message is one of reconciliation and acceptance among all people.
Although increasingly in ill health in his final years, Bernstein continued to perform and record until his death from a heart attack on October 14, 1990. As a conductor, he had a vast repertoire and recorded frequently, often in collaboration with the greatest singers and solo musicians of the postwar era. As a result, he has left an extensive and remarkable legacy of recordings and video performances that will ensure his reputation as an intelligent and enthusiastic conductor, composer, and musician for generations to come.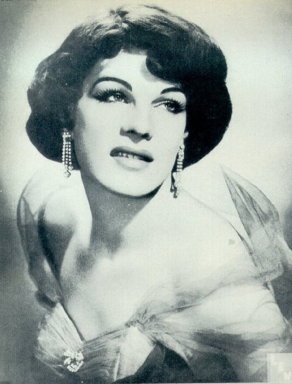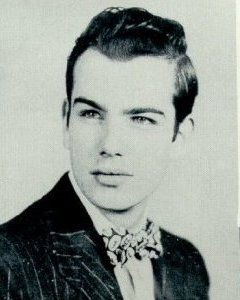 1928 – Legendary drag performer, Minette (nee Jacques Minette) was born (d.2002); A musicologist, collector, gay historian and activist, as well as a drag performer, singer, pianist, lyricist and member of the equally legendary Ridiculous Theatre Company, Minette lived alone in Brooklyn with her cat, Velvet. Minette's career spanned more than six decades of all forms of show business and she is credited with influencing a generation of gay playwrights and performers including Charles Ludlam, Jackie Curtis, and Ethyl Eichelberger as well as the drag troupes Hot Peaches and Bloolips.
"Minette was a great spirit," says Obio-award winning actor, Lola Pashalinski, an original member of the Ridiculous Theatre Company. "He was omnipresent in the early days of the company, always coming to rehearsals and performances. I remember him sitting at the piano at Mario Montez's loft in the 60's smoking dozens of cigarettes and playing songs.' Minette's friends would often refer to her in the masculine pronoun but she always used the feminine.
Raised in Boston, Minette was kicked out of school in the eighth grade "for nervousness" and began performing on the vaudeville stage with her mother. She started doing drag at age 14 and professionally when she was 16 at drag clubs in Boston. Her life then began a rhythm of appearing in drag clubs in "tank towns" outside big cities and "being ridden out of town on a rail" as she once described. "Lily Law found out we were entertaining men on the side." She claimed to have escaped drag queen hangings at the hands of the KKK in the 1940s when she was performing in Kentucky and Tennessee. She moved to New York permanently in the 1950s.
"His drag persona was as a chanteuse, a very glamorous woman of the 40s rather than a movie star, " says Pashalinski. "He was gorgeous and sang beautifully." Minette was important because she reinforced Charles' [ Lundlam's] aesthetic, He was a creative, energetic force who connected Charles and Ethyl with a great drag tradition from the days of vaudeville and burlesque to the present.
Minette contributed songs and lyrics to Ludlam's 1970 Turds in Hell and appeared in the shows Caprice and Taboo Tableaux, the latter a compilation of scenes the company would perform for fundraising. Minette could also be heard but not seen, singing the humorous"I Hate to See My Little Son Go Down" in the 1960s drag documentary The Queen. In 1979, Minette self-published her memoirs, "Recollections of a Part-Time Lady," a slim, but copiously illustrated volume reproduced on a photocopy machine.
She died, apparently of natural causes, in December 2001, her body having been discovered by a friend in her Brooklyn apartment on December 11th.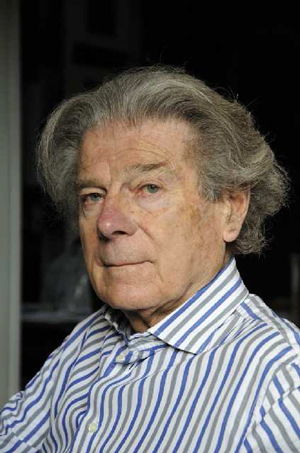 1929 – A respected member of the French literary establishment, Dominique Fernandez has not only won many prestigious literary awards, but in March 2007 he was elected to membership in the venerable Académie française, a significant honor. Inseparable from Fernandez's identities as an academic, historian, novelist, essayist, and travel writer is his identity as a gay man who came of age during the 1950s.
Fernandez did not come out publicly until the 1970s. In his remarkable autobiographical work L'Étoile Rose (The Pink Star, 1978) he has written of the belatedness of his coming out with some regret: "Je songeais . . . à tout ce qui aurait été différent dans ma vie, si, à dix-huit ans, j'avais pris conscience que j'étais gay, au lieu d'un paria." ("I dreamed . . . of everything that would have been different in my life if, when I was eighteen, I had understood that I was gay instead of a pariah.")
The author of dozens of novels, travel memoirs, essays, and works of criticism, Fernandez pioneered the "psychobiography," a literary form that he used to imagine the lives and inner struggles of gay artists in past centuries. He has also explored the experiential gulf between homosexuals who grew up under almost total societal disapproval and those who developed their gay identities after the gay liberation movement made public homosexuality a possibility.
Fernandez was born in the Parisian suburb of Neuilly-sur-Seine on August 25, 1929, the son of a French mother and Franco-Mexican father. His father, Ramon Fernandez, was a prominent biographer and literary critic who ended his career in disgrace when he served on the executive committee of the fascist Parti Populaire Français, collaborating with France's Nazi occupiers. Dominique was fifteen years old when his father died and was deeply affected by the scandal and shame of his father's last years. However, he followed his father into the world of literary academia, passing his baccalauréat in 1946 and entering the École Normale Supérieure in 1950. In 1955 he earned his degree in Italian. In 1968 he was awarded his Ph. D, having written his thesis on gay Italian writer Cesare Parese.
Fernandez married Diane Jacquin de Margerie in 1961; the couple had two children before the marriage ended in 1971. In 1974, Fernandez publicly revealed his homosexuality and published a novel, Porporino, ou les mystères de Naples (translated into English in 1976 as Porporino, or the Secrets of Naples). The novel, about the life of a castrato in eighteenth-century Naples, depicts homosexuality openly.
Dozens of books followed, including L'Étoile Rose, which explored the cross-generational relationship between a middle-aged provincial professor and a younger, post-liberation gay man, and Dans la main de l'ange (In the Angel's Hand, 1982), the bleak story of gay Italian writer and filmmaker Pier Paolo Pasolini, who was murdered by a male prostitute.
Throughout his life, Fernandez has been an avid world traveler. He has recorded his experiences in numerous travel memoirs, documenting his journeys to such diverse destinations as Italy, Portugal, Russia, Syria, Brazil, and Romania. Many of his travel journals are illustrated with photographs made by his longtime companion, architect Ferrante Ferranti.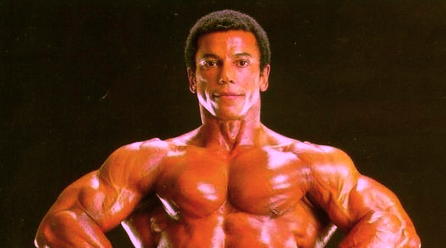 (Click for Full Monty)
1939 – Chris Dickerson (born Henri Christophe Dickerson) is a former American professional bodybuilder.
Dickerson was born the youngest of triplets. He studied music and is an accomplished opera singer in addition to his career in athletics.
One of the world's most titled bodybuilders, Dickerson's competitive career spanned thirty years; he was known for both his heavily muscled, symmetrical physique and for his skills on the posing dais. Dickerson first entered bodybuilding competition in 1965 by taking third place at that year's Mr. Long Beach competition. He trained for many of his most important competitions in the 1980s with former Mr. Universe Bill Pearl.
He was the first African-American AAU Mr. America, the oldest and first openly gay winner of the IFBB Mr. Olympia contest at age 43, and one of only two bodybuilders (along with Dexter Jackson) to win titles in both the Mr. Olympia and Masters Olympia competitions.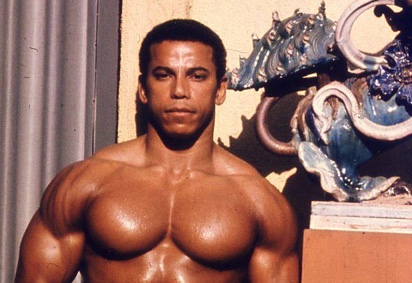 A not-so-greasy view
(Click for Full Monty)
During the 1960s, Dickerson did much physique modeling. His 1970's nude work for photographer Jim French is today considered some of the best in an admittedly limited field. Chris appeared in French's hardcover photo essay, Man (1972) and also posed for the photographer ten years later.
He also appeared in porn movies for Colt
Dickerson retired in 1994 and was inducted into the IFBB Hall of Fame in 2000. Today, Dickerson lives in Florida where he continues to train, conduct seminars, and correspond with current athletes.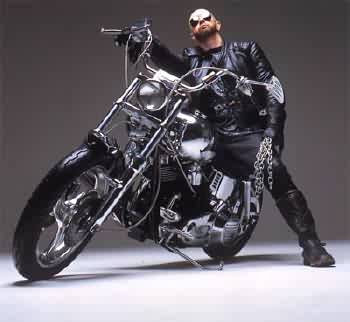 1951 – Rob Halford is an English singer and songwriter, best known as the lead vocalist for the heavy metal band Judas Priest. Halford is known for his multi-octave range, high-pitched screams, leather-clad image and showing up on stage on a motorcycle (usually a Harley-Davidson). His stud-leather style has been widely adopted by heavy metal performers and fans around the world, most of whom little knew the look's origins in gay leather culture.
Halford was born in Sutton Coldfield in Warwickshire, England. He sang for numerous bands including Athens Wood, Lord Lucifer, Abraxas, Thark and Hiroshima. In May 1973, he joined Judas Priest after being suggested to them by his sister Sue, who was dating bass player Ian Hill.
Between 1974 and 1990, Rob Halford recorded 14 albums with Judas Priest, along the way becoming the archetypal heavy metal singer. Around 1977 he began to cultivate his now famous leather-clad and sunglasses-wearing persona and began riding a Harley-Davidson motorcycle on stage during live performances. The stunt caused a memorable accident during the '91 Toronto date of the Painkiller tour when he hit a half-engaged drum-riser obscured by clouds of dry ice. He broke his nose and fell off the motorcycle, tumbling off-stage. After regaining consciousness, Halford returned and performed the whole concert. In the band's Behind the Music episode, Rob named the accident as one of the events that caused the rift between him and the rest of the band that would eventually force them apart.
After a 20-year career with Judas Priest that saw the band achieve international fame, Halford left the band in 1991. He first formed the band Fight with Judas Priest drummer Scott Travis, recording two albums between 1993 and 1995. After Fight, he collaborated with guitarist John Lowery in an industrial-influenced project called 2wo which was produced by Trent Reznor and released on his Nothing Records label.
In 1998, Halford revealed he was homosexual in an interview on MTV. His sexual orientation had always been known to the rest of Judas Priest and came as little surprise to fans as his sexual orientation was somewhat of an open secret among fans and among the Heavy Metal press. The response from the heavy metal community has been widely accepting.
Halford returned to his metal roots in 2000 with his band Halford and the widely acclaimed album Resurrection (2000), produced by Roy Z. A live album in 2001 was followed up by 2002's Crucible. That same year, Halford had a small role in the film Spun in which he played a gay sex store clerk.
In July 2003, Halford returned to his former band, and they released Angel of Retribution in 2005. The world tour that accompanied the release marked the band's 30th anniversary.
In 2008, Halford recorded Nostradamus with Judas Priest, and appeared with the band on the Metal Masters Tour. Long in the works, Nostradamus fuses heavy metal and operatic elements while relating events in the life of the 16th century French prophet of the same name.
In 2011, Judas Priest embarked upon what was billed as their final world tour as a group, titled the "Epitaph" tour.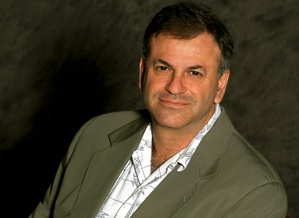 c.1965 – Neil S. Plakcy is a U.S. writer whose works range from mystery to romance to anthologies and collections of gay erotica. He has twice been a finalist for the Lambda Literary Award for Best Gay Men's Mystery Novel. He lives in South Florida with his partner and their golden retriever.
Plakcy studied creative writing at the University of Pennsylvania with Philip Roth and Carlos Fuentes. He went on to graduate from Columbia University's graduate school of business with an MBA in real estate and operations management.
While working as a producer for a computer game company in South Florida, Plakcy studied for his MFA degree in creative writing at Florida International University. He graduated in 1992, as a member of the university's first class to receive that degree. His thesis was a comic novel about Jewish family relationships and shopping mall construction, Invasion of the Blatnicks.
Plakcy began his professional publishing career with the first of his Hawaiian mysteries, Mahu (a derogatory word for homosexual). The second book in the series was Mahu Surfer, and he continued the series with Mahu Fire and Mahu Vice.
Plakcy and long-time friend Sharon Sakson co-edited a collection of stories by gay men about their experiences with their dogs, entitled Paws and Reflect: A Special Bond Between Man and Dog. A frequent contributor to gay anthologies, Plakcy also edited three collections of gay erotica for Cleis Press, Hard Hats, Surfer Boys and Skater Boys.
With the publication of GayLife.com in 2009, Plakcy entered the M/M romance genre, basing the book on his own experiences in software and web development and his familiarity with Miami Beach. His other romance novels are the bodyguard adventure series Three Wrong Turns in the Desert and Dancing with the Tide.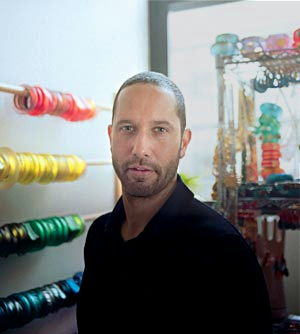 1968 – Alexis Bittar is an American costume jewelry designer, best known for chunky Lucite bangles and collaborations with numerous leading fashion designers. In 2010 he won the CFDA Accessory Designer of the Year award.
Bittar was born on August 25, 1968, in Brooklyn, NY to Bob and Helen Bittar, both university professors and antique collectors. He is of Lebanese descent. At age ten, Bittar began selling flowers from a hand-painted cart near his home in the Bay Ridge neighborhood of Brooklyn. As a teenager, he sold antique jewelry and vintage clothing on St. Mark's Street in New York City. Once, as a birthday present, Bittar's parents purchased him $300.00 worth of vintage jewelry which Bittar used as the seedlings of his nascent commercial operation. While attending the Bronx High School of Science, he discovered the New York club scene, which fueled his interest in fashion and design. During high school, Bittar was also a heavy partier.
Bittar briefly attended State University of New York at Albany, but left after a year. The New York Times reported that after his return to New York, Bittar "plunged" deeper into drugs and the nightclub scene. During this period Bittar was estranged from his parents. The tension between him and his parents was multifaceted; in part it stemmed from his general rebelliousness and in part from his revelation to his parents that he is gay (a revelation which was received poorly at the time). Recognizing the destructive influence they had on his life, Bittar closed the door on drugs and alcohol by the time he was 22. He continued to pursue his interest in jewelry and design; with time and hard work, the rift between him and his parents healed.
Using Lucite and semi-precious stones and metals, Bittar began selling handmade pieces on the streets of Soho. In 1992, Dawn Mello, the fashion director of Bergdorf Goodman agreed to carry his designs, followed by Barneys New York, the Guggenheim Museum, and Saks Fifth Avenue.
In 1999 Bittar launched the first of what would become many collaborations with fashion designers, working with Burberry to make Lucite jewelry featuring the trademark plaid. Subsequent collaborations have included the Cooper-Hewitt Museum, Estee Lauder, Michael Kors, Jason Wu, Jeremy Scott, Michael Angel, and Patricia Field.
Bittar opened his first boutique in New York City in 2004 and expanded to the west coast in 2010. Today there are seven Alexis Bittar boutiques in the US.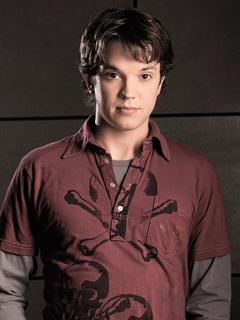 1974 – Eric Millegan is an American actor, primarily known for his work on the Fox series Bones in which he played Dr. Zack Addy. Millegan is openly gay, and was out before being cast in the role.
Eric Millegan was born in Hackettstown, New Jersey, but raised in Springfield, Oregon. He studied acting at the Interlochen Arts Camp at Interlochen Center for the Arts before studying musical theatre at the University of Michigan. He currently lives in LA.
In 2003, Out named him the "Hottest Up-and-Coming Openly Gay Actor" of the year.
He began his musical theatre career at age 7, in the 1981 Eugene Opera production of Menotti's Amahl and the Night Visitors. He continued with the company in several other productions, including Madame Butterfly, La Bohème, Carmen, and Hansel and Gretel. Millegan appeared on Broadway in the 2000 production of Jesus Christ Superstar.
In January 2005, he starred as Harold opposite Estelle Parsons' Maude in the world premiere of Tom Jones and Joseph Thalken's Harold & Maude: The Musical at the Paper Mill Playhouse in Millburn, New Jersey. In 2006, he returned to Eugene, Oregon to play Frederic in Eugene Opera's production of The Pirates of Penzance.
In August 2009, Millegan released a video on YouTube in which he comes out about his experiences living with rapid-cycling bipolar disorder.
Millegan married his long-time partner, Charles Michel, in New York City on June 28, 2012. He announced his union on Twitter.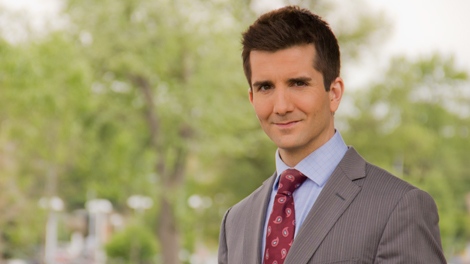 1975 – Ross Hull is a Canadian actor and television personality. He is known for his role as Gary, the leader of the Midnight Society, on the television series Are You Afraid of the Dark?.
Born in Montreal, Quebec, Hull began his acting career in 1987 with the film Nowhere to Hide. Hull also appeared in other shows, including Ready or Not and Are You Afraid of the Dark?. and then landed the role of Chris Sheppard in Student Bodies. He made an appearance on Stargate Atlantis in the episode Suspicion.
In January 2005, Hull became a weather personality on Canada's The Weather Network, after completing the Meteorology Program from Mississippi State University and graduating with a Bachelor's degree in Radio and Television Arts from Ryerson University in Toronto. In early 2013, he appeared as the weather anchor for CBC Ottawa and CBC News Network. He subsequently became weather anchor for CBC Toronto until the end of June, 2014. He is now a meteorologist with Global Toronto. Currently, Ross Hull is a multi-market meteorologist for Global News. He works in Toronto but produces forecasts for Toronto, Montreal, Halifax, and New Brunswick on weekdays with the addition of Winnipeg, Regina, and Saskatoon on the weekends.
Ross is an "out" gay man. He explains, "As for being "out," I think that's all a part of being comfortable with who you are and that ultimately helps you in all aspects of life. It's not always easy to get to that point though, which is why a supportive community always helps as well as knowing that others have taken that path (with success) before you." He has travelled across Russia, China, New Zealand, and India. He enjoys personal training, hiking, skiing, rock climbing, and fitness.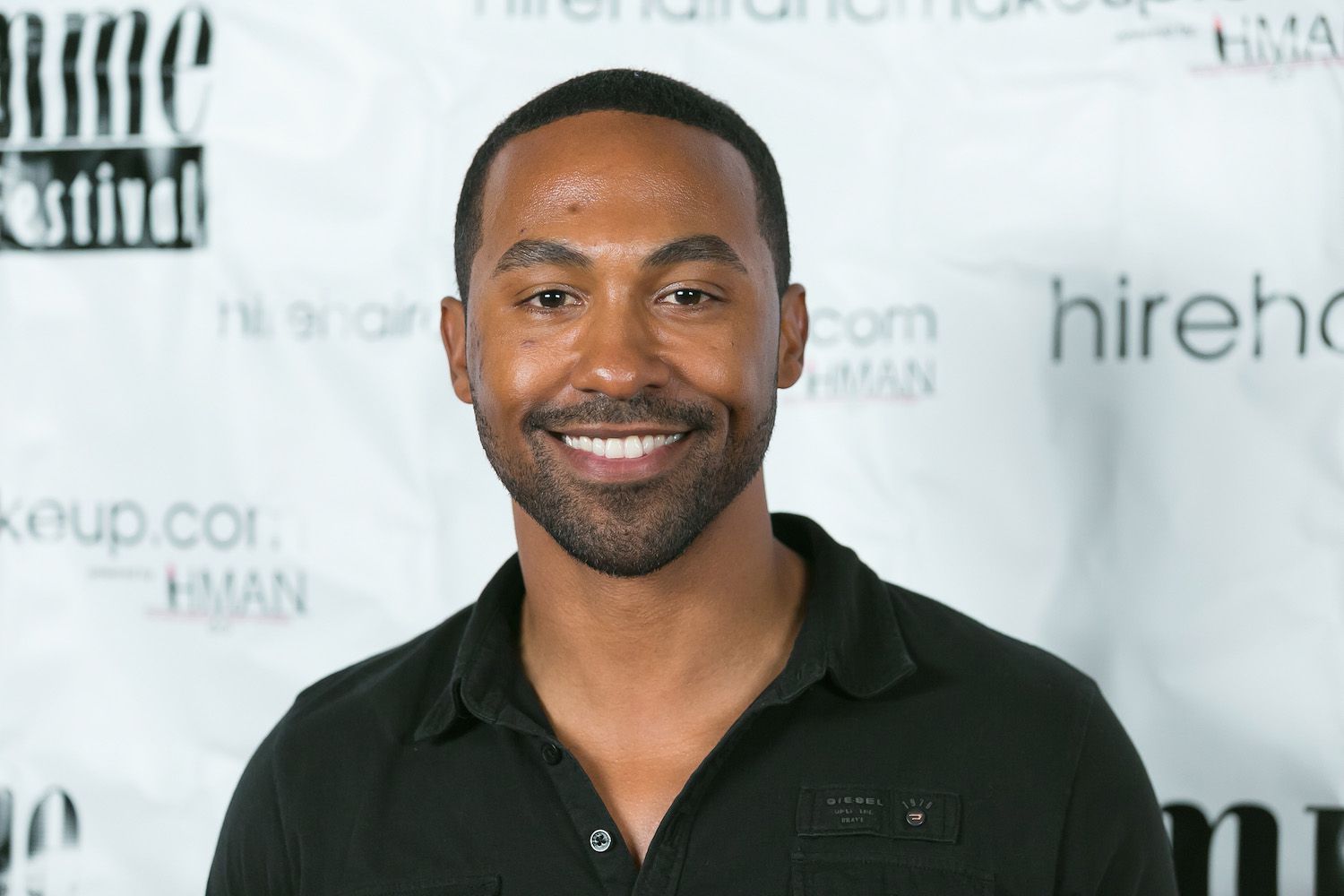 1976 – Jensen Atwood is an American actor from South Central, Los Angeles. Atwood is known for portraying Johnny Taylor, the love interest to Halle Berry in "Oprah Winfrey Presents: Their Eyes Were Watching God", while working alongside Ruby Dee. He is most known for his role in Noah's Arc as Wade Robinson. Noah's Arc is the first TV series featuring black gay men as main characters. In interviews, Atwood says that playing Wade was his most challenging role.
Atwood was born and raised in South Central, Los Angeles where he currently resides. He has two younger sisters and two older brothers. He studied acting at California State University, Long Beach, Playhouse West in Los Angeles, and currently studies with Eric Morris.
Atwood appeared in many music videos and stage productions. He also sang backup for Tyrese. As a model, Atwood was featured on the cover of Krave Magazine, Bleu Magazine, and Ballroom Rockstar Magazine. Added to his credits is a layout in Flaunt Magazine. He has also modeled for national brands, including Coors Light, KFC, K-Swiss, and AT&T.
Jensen Atwood has spoken out against homophobia within the African-American community, explaining the importance of versatility as well as equality.

1982 – Iran re-institutes Islamic sharia law, proscribing all same-sex acts. Punishments include 100 lashes of the whip, beheading, and stoning to death.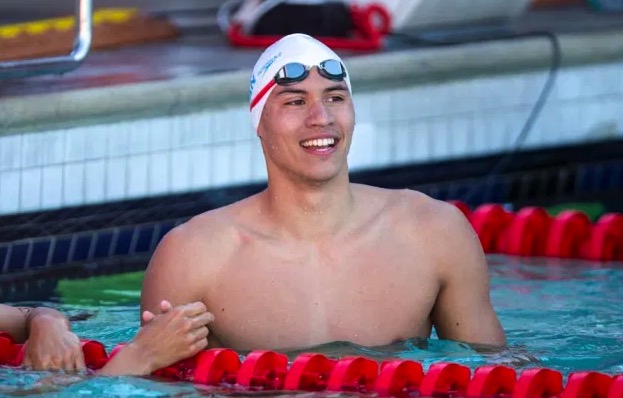 1997 – Markus Thormeyer is a Canadian competitive swimmer who specializes in freestyle and backstroke. Originally from Delta, BC, Thormeyer moved in 2015 to Vancouver, British Columbia after graduating high school to train with the High Performance Centre-Vancouver. While he swims he is also pursuing an undergraduate degree in environmental science at the University of British Columbia.
Thormeyer began swimming at the age of 10 for the Markham Aquatic Club in Markham, Ontario but moved across the country to Delta, British Columbia shortly after he started. He continued to swim competitively under the Winskill Dolphins Swim Club through to his high school graduation.
As an age-group swimmer, Thormeyer made a name for himself on the Canadian swimming scene. At 15 he competed at the 2013 Canada Summer Games for Team British Columbia, where he earned a bronze in the men's 100m backstroke. He also represented Canada multiple times on the junior international stage, being the youngest male on the Canada's 2013 FINA World Junior Swimming Championships team and winning five bronze medals at the 2014 Junior Pan Pacific Championships. These accomplishments earned him the Delta Sport's Hall of Fame 2014 Youth Athlete of the Year and the Sport BC Junior Male Athlete of the Year in 2016.
It wasn't until 2015 when Thormeyer made his first senior international appearance at the 2015 Pan American Games where he won a silver as a part of the 4x100 m freestyle relay. Later that summer at the 2015 FINA World Junior Swimming Championships, Thormeyer went along to win gold while also setting a new world junior record with Penny Oleksiak, Taylor Ruck, and Javier Acevedo on Canada's mixed 4 × 100 m freestyle relay.
After winning a gold and two bronzes at the Canadian Olympic Trials in 2016, he was named to Canada's Olympic team for the 2016 Summer Olympics. Thormeyer swam the third leg of the men's 4 × 100 m freestyle relay which qualified for the final in fifth place, but ultimately placed seventh overall in the final. Later that year in December, Thormeyer won a bronze medal as part of Canada's 4x50m mixed freestyle event alongside Sandrine Mainville, Michelle Toro, and Yuri Kisil at the World Short Course Championships in Windsor, Ontario.
Thormeyer is also a part of the University of British Columbia varsity swim team. Winning multiple individual events and contributing as a key swimmer for the relays earned him the title of both U Sports Rookie of the Year and UBC Thunderbirds Rookie of the Year in his first year on the collegiate stage. He has proved himself to be a vital component to the UBC Thunderbird varsity swim team, contributing to multiple Canada West Championship titles and U Sport Championship national titles.
In April 2017, Thormeyer was named to Canada's 2017 World Aquatics Championships team in Budapest, Hungary, where he contributed to a bronze medal for Canada in the 4 × 100 m mixed freestyle relay. He also was named to the Canada's 2017 Summer Universiade team and competed at the games that summer in TaiPei City, Taiwan.
In September 2017, Thormeyer was named to Canada's 2018 Commonwealth Games team. Thormeyer won a bronze medal in the 100 metre backstroke event. Competing backstroke for the first time on the international senior stage, he qualified for the final in second place with a significant best time. In the final however, he was edged out of silver by a couple tenths, taking the bronze
Thormeyer came out publicly as gay in February 2020, although he had come out to his teammates prior to the Rio Olympics. Of this period, he wrote:
"Hiding my sexuality became a huge distraction to my training and was starting to affect the relationships with my teammates too. Some days I dreaded going to the pool in fear that my sexuality would be exposed. I'd show up late and leave early to social gatherings and workouts. Some days it would even spiral and I would question why I was swimming and be scared of my own goals.
"Having to deal with that was awful. Every day felt like a threat and not an opportunity. This mentality was not healthy and paired with the combined pressure of wanting to qualify for the Olympics became too much. I knew coming out would possibly solve these issues, but I was still scared because I didn't know what would happen. I feared the unknown.
"I'm not a dramatic person, so I didn't want to make a big scene when I was coming out, I just wanted it to happen organically in normal conversation. One day, we were all hanging out and the topic of relationships came up in conversation. This was my moment. I casually said that I had never been on a date with a guy and I was kind of scared of it. That I'd probably be a nervous wreck and ruin it.
"Then, without a sliver of judgment or skipping a beat, my friends told me that I'd probably be fine on a date as long as I just had a good time and just was comfortable being myself.
"Knowing that I had such amazing teammates supporting me so strongly regardless of my sexual orientation was one of the best feelings in the world."

AUGUST 26 →
[{(o)}]|[{(o)}]|[{(o)}]|[{(o)}]| [{(o)}]|[{(o)}]