October 10
[{(o)}]|[{(o)}]|[{(o)}]|[{(o)}]| [{(o)}]|[{(o)}]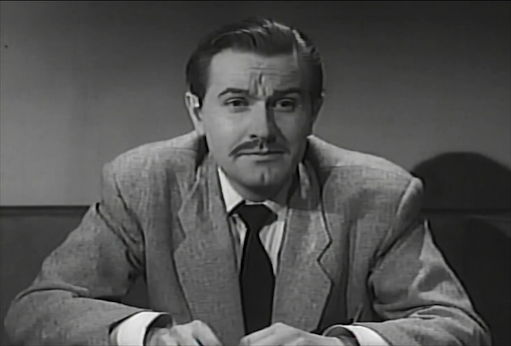 1924 – During his lifetime, 1950s transvestite director Edward D. Wood, Jr., also known as Ed Wood (d.1978), worked diligently—if sometimes despairingly—at the margins of Hollywood, making bizarre low-budget films that went almost entirely unnoticed.
He died in 1978 a penniless alcoholic, but posthumously became the center of one of cinema's most enduring cults. Opposing camps celebrated and reviled him using the same epithet: "the world's worst director."
He was born in Poughkeepsie, New York, on October 10, 1924 (some sources give 1922). It is believed that Wood's mother, Lillian Phillips, always wanted a girl and would sometimes dress her son in skirts and dresses. For the rest of his life, Wood was a heterosexual crossdresser. His wife Kathy recalls that Wood's transvestism was not a sexual inclination, but rather a neomaternal comfort derived mainly from angora fabric (Angora is featured in many of Wood's films, and Ann Gora also happened to be one of Wood's pen names). Even in his later years, Wood was not shy about going out in public dressed in drag as Shirley, his alter ego-female character.
Wood served in the United States Marine Corps from 1942 to 1946. According to legend, he stormed the beaches of Tarawa wearing women's underwear beneath his uniform.
In 1946, Wood was discharged and joined a carnival. His several missing teeth and disfigured leg (wounds suffered while in combat) combined with personal fetishes and acting skills made him a perfect candidate for the freak show. Wood played, among others, the geek and the bearded lady. As the bearded lady, he donned women's clothing and created his own prosthetic breasts.
After the carnival days, he moved to Hollywood, where he made his first film, the no-budget western, Crossroads of Laredo (1948). Five years later, collaborating with producer George Weiss, he directed his breakthrough film, Glen or Glenda, also known as I Changed My Sex, which would start his fitful career and his reputation as a hack of prodigious proportions.
This "torn-from-the-pages-of-life" story, based on the then-scandalous sex change of Christine Jorgensen became a fractured but compelling exercise in autobiography, as Wood himself played the lead roles of Glen and his cross-dressing alter ego Glenda.
In addition to being a transvestite, Wood was also an alcoholic, a writer of pornographic novels, and a habitué of Hollywood's seedier bars and demimondes. Glen or Glenda, masquerading as a plea for tolerance, is in fact a tour of the director's fevered psychic landscape, complete with cut-rate cheesecake and bondage imagery and a view of deviance at once empathetic and lurid.
Notwithstanding his cross-dressing, Wood was in some ways the quintessential "American"—ex-soldier, buoyant, creative, charismatic, and resourceful—but he attracted an entourage that included some of Hollywood's most unusual personalities.
Wood's willingness to accept, embrace, and display these eccentrics alongside himself made them both his friends and, for works such as Bride of the Monster (1956) and Plan 9 from Outer Space (1958), a seedier version of the kind of stock company that major directors such as John Ford and Orson Welles cultivated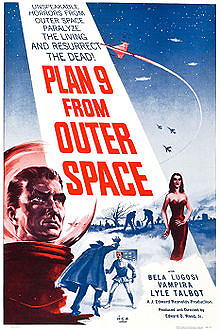 Plan 9 is formally less extreme than Glen or Glenda, but is perhaps the classic Wood film, the ultimate in of 1950s exploitation camp. Its amusing crudities include startling continuity gaps, hubcaps doubling for spaceships, tombstones made of paper, and actors clearly reading their lines from cue cards in front of them.
Wood, and Plan 9 specifically, was memorialized in Tim Burton's feature Ed Wood (1994). Burton takes the Wood cult's view that Plan 9, like all of the director's oeuvre, is unmistakably naïve art, purveyed to an unsuspecting culture by an endearing misfit whose sheer tenacity would inspire many future independent filmmakers.
Wood's unapologetic transvestism—it fueled novels with titles such as Death of a Transvestite (1967) and caused considerable grief in his personal life—was radical for its time; and his films wittily portend, consciously or not, the trash-camp of later masters such as John Waters and the Kuchar brothers.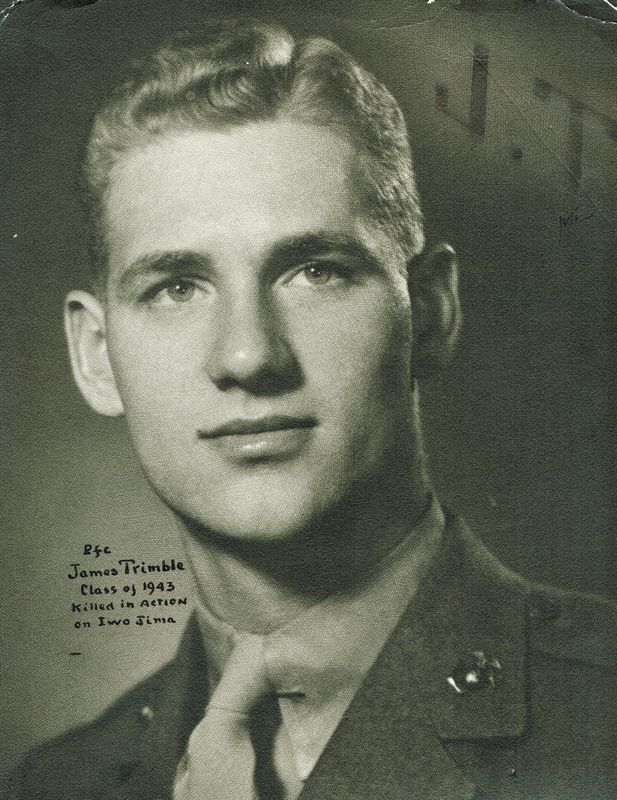 1925
–
Jimmy Trimble
III grew up in Chevy Chase, Maryland, where he filled his time playing baseball and watching the Senators at nearby Griffith Stadium (d.1945). He attended St. Albans, a prep school located in the shadow of the National Cathedral in Washington, D.C., and was a star athlete for four years. Trimble was all-district end in football, captained the basketball team and stunned baseball onlookers with his blistering fastball and hard breaking curve.
During his senior year, Trimble's mound heroics caught the attention of Senators owner Clark Griffith, who invited him to a tryout on May 29, 1943. Manager Ossie Bluege was impressed with the youngster, and on June 4 Griffith gave him a $5,000 signing bonus and agreed to pay for a four-year scholarship to Duke University.
Trimble enrolled at Duke in September 1943, and played fall baseball for Coombs. With World War II in full stride, he hoped to enter officer training at the university but was rejected due to defective sight in one eye. Instead, he enlisted with the Marines on January 13,1944, and took basic training at Parris Island, South Carolina, where he pitched for the base team.
in June 1944, Private Trimble headed to the Pacific Theater as a scout and observer with the 4th Platoon of the 3rd Reconnaissance Company, 3rd Marine Division. His first taste of combat was on Guam where he was involved in mopping up the remaining Japanese resistance during July.
In February 1945, the 3rd Marine Division left Guam bound for Iwo Jima.
Trimble and Private Don Mates were in a foxhole fat the top of a ridge and Mates slept while Trimble took the first four-hour watch. Just after midnight on March 1, a flare unexpectedly lit up the area. They had been overrun by the Japanese and Mates awoke to see Trimble take a bayonet in the right shoulder. Amid the yelling, screaming and chaos, Mates hurled grenades while the wounded Trimble fired his rifle in the direction of any movement. Seconds later, two grenades dropped into the foxhole. One exploded between Mates' legs, the other exploded alongside Trimble. The young pitcher caught the full blast of both grenades. His back, upper arms and the back of his head were a mass of wounds. Mates pulled himself out of the hole, and as he turned to Trimble to help him out, a Japanese soldier, with a mine strapped to his body, jumped in the hole, wrapped his arms around the severely wounded Marine and detonated the mine, killing them both.
Two months after Trimble's death, Baza Garden Baseball Field, the 3rd Marine Division's home ground on Guam, was renamed Trimble Field.
American novelist, Gore Vidal, was a student at St. Albans the same time as Trimble. In fact, he was just seven days older than Trimble, and his 1948 novel The City and the Pillar, which sparked a public scandal for portraying overt homosexuality as a natural behavior, was dedicated to "the memory of J.T." After a magazine published rumors about J.T.'s identity, Vidal claimed he had a sexual relationship with Trimble and that the athlete was the only person he had ever loved.
"I would never have written about it if a clever journalist at 'Vanity Fair' hadn't done some sleuthing," Vidal told Britain's Independent newspaper on October 8, 2000. "They started to ask around St. Albans and found out who it was. I would never have let anybody know."
Trimble is mentioned throughout Palimpsest: A Memoir, written by Vidal in 1995; the protagonist in his 1995 novel The Smithsonian Institute bears a striking resemblance to the pitcher.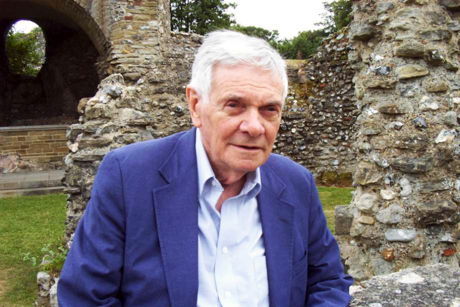 1929 – Bernard Mayes was a retired teacher, broadcaster, university dean, lecturer and author (d.2014). Born in Britain, Mayes became a citizen of the United States of America. He lived in San Francisco.
After studying classical civilizations at Cambridge University, Mayes worked first as a high school teacher of Latin, Greek and history. He was then ordained as an Anglican priest. Mayes emigrated to the United States in 1958 and became an Episcopal worker-priest and director of a student house in Greenwich Village and New York University (NYU).
He then moved to California where he held a parish near San Francisco. While in San Francisco, Mayes founded San Francisco Suicide Prevention, later used as a model throughout the United States. Openly gay himself, Mayes organized a sexuality study center for the Episcopal Diocese of California. This ministry, originally known as the Parsonage, was awarded the Episcopal Jubilee citation and later evolved into the present-day Oasis organization.
In 1992 he abandoned religion and became an atheist. In 2012, despite his atheism he was later honored by the San Francisco Night Ministry and both the California Assembly and Senate for his public service.
Beginning in 1958 he worked as a journalist for the BBC and other networks, and in 1968 he helped organize the public broadcasting system in the United States, becoming first the founder of KQED-FM and Executive Vice President of KQED TV in San Francisco, then a co-founder and first working chairman of NPR National Public Radio.
In 1991 he co-founded the Lesbian, Gay, Bisexual, Transsexual Faculty, Staff and Graduate Student Association at the University of Virginia, known as UVa Pride, and the Serpentine Society
In 2001, the University of Virginia Press published Bernard Mayes's autobiography, Escaping God's Closet: The Revelations of a Queer Priest, which won the national Lambda Literary Award in the spirituality category. The book tells the story of Mayes's life, culminating in his renunciation of both the priesthood and of religion.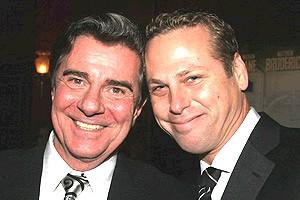 Gary Beach (L) with Jeffrey Barnett
1947 – Gary Beach (d.2018) was an American actor, primarily in Broadway musical theatre.
His television credits include both the 2009 and 2003 Kennedy Center Honors, Queer as Folk, Murder, She Wrote, Cheers, Sisters, Arli$$, and Saved by the Bell, as well as "Recording the Producers", a documentary for PBS. Beach also recently lent his voice to FOX's Family Guy where he played Dale, in the now infamous 'banned from television' episode, "Partial Terms of Endearment" which dealt with the topic of abortion (available on DVD).
In 1994, Beach originated the comical role of Lumiere in Beauty and the Beast, a performance that earned him a Tony Award nomination for Best Featured Actor in a Musical. In 2001, he originated the stage role of Roger DeBris in The Producers for which he won the Tony Award for Featured Actor in a Musical. In 2004, he starred as Albin in the Broadway revival of La Cage aux Folles, earning him his third Tony nomination, this time for Leading Actor.
After starring in the 2005 film version of The Producers, Beach returned to his stage role as Roger De Bris while the movie was in release, becoming the first artist to play the same part on Broadway and in movie theaters at the same time. In 2006, Beach played the role of Thénardier in the Broadway revival of Les Misérables, a role he had originated in the Los Angeles production. Previously, he performed in the chorus for the 1989 Les Misérables: Complete Symphonic Recording. In March 2008, Beach joined the US national tour cast of Monty Python's Spamalot in the lead role of King Arthur.
Beach and his husband, Jeffrey Barnett, lived in Marrakesh Country Club in Palm Desert, CA.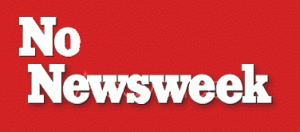 1949 – The periodical Newsweek published a story titled "Queer People" calling gays "perverts" and comparing them to exhibitionists and sexual sadists. It challenged the idea that homosexuals hurt no one but themselves. The magazine has continued to publish homophobic articles to the present day, causing Glee creator Ryan Murphy to called for a boycott of Newsweek by the gay community in 2010.


Added 2021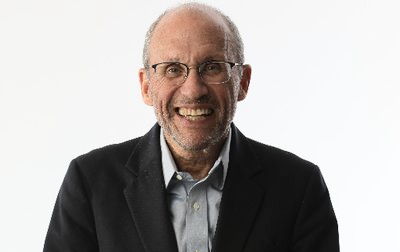 1954 – Adam Nagourney is an American journalist who covered the 2020 presidential race for The New York Times.
Nagourney was born in New York City and graduated from the State University of New York at Purchase in 1977 with a B.A. in economics.
He began his career at the Gannett Westchester Newspaper (now The Journal News), where he worked from 1977 to 1983 as a reporter in Putnam County, White Plains, and northern Westchester County. He then worked for the New York Daily News (1983–90) and USA Today (1990–1993), where he covered Bill Clinton's 1992 presidential campaign and the first year of the Clinton White House.
After joining The New York Times in 1996, Nagourney was assigned to cover the presidential campaign of Bob Dole. After the 1996 election, he became the paper's metropolitan political correspondent in New York. He was appointed chief political correspondent in 2002 and covered the 2004 re-election of President George W. Bush and the 2008 election of Barack Obama. He became the paper's Los Angeles bureau chief in the summer of 2010.
In April 2020, he joined the politics desk, helping to cover the 2020 presidential campaign for the
Times
.
Nagourney is openly gay, as was his predecessor as chief political correspondent at the Times, Rick Berke. His brother, Eric Nagourney, is an editor at the Times.

1960 – The Virginia Supreme Court reverses the sodomy conviction of two men that was based on the confession of only one.

1960 – The U.S. Supreme Court refuses to review the case of a Gay alien being deported after conviction of a minor misdemeanor solicitation.


1973 – Toronto City council passes resolution banning discrimination in municipal hiring on basis of sexual orientation, the first such legislation in Canada.

1987 – Two thousand gay and lesbian couples exchange vows in a mass wedding held on the steps of the I.R.S. building in Washington, DC.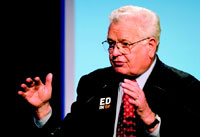 1995 – United States Supreme Court hears opening arguments in Romer v. Evans, the case that would eventually overturn Colorado's Amendment 2, which banned gay rights laws in the state. Romer v. Evans also lay the groundwork for the larger Lawrence v. Kansas case which outlawed sodomy laws around the country. As is legal custom, the case was named for the Colorado governor at the time, Roy Romer, and the litigant in the case, Evans. Ironic as Roy Romer was against Amendment 2 and was one of the first sitting governors to ever address a state-wide Gay Pride rally.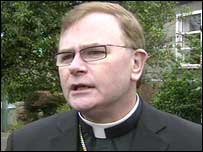 1999 – In Northern Ireland, Patrick Buckley, a Catholic bishop in Belfast comes out as a Gay man. Buckley was not a Roman Catholic bishop, but a bishop in an independent Catholic church. He was however a priest in the Roman Catholic church... until he was made a bishop in an independent church. He was excommunicated as a result of his ordination as a bishop in an independent church.
He has claimed that over 40% of the Catholic clergy is Gay and has encouraged them to come out.. Buckley is actively involved in the GLBT community in both Ireland and Britain. His ministry involves giving same-sex blessings as well as holding spiritual seminars for LGB communities.
Buckley entered into a civl partnership with his Filipino boyfriend Eduardo Yango on 2 March 2010.


2007 – The Ontario provincial election is held. In addition to gay MPs George Smitherman, Paul Ferreira and Kathleen Wynne, gay candidates include Andrea Németh, a former editor with fab, in Etobicoke—Lakeshore and Paul Pighin, the first openly HIV-positive person to run as a major party candidate for provincial office in Ontario, in London West.

2008
– On this date the Supreme Court of the U.S. state of
Connecticut
ruled that same-sex marriage must be recognized in the state, thus legalizing Gay marriage in Connecticut.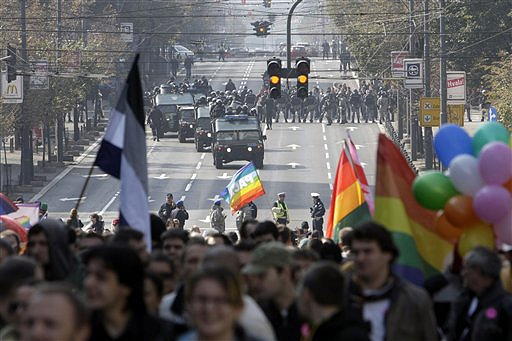 2010 – On this day Serbian riot police battled hundreds of neo-Nazi anti-Gay rioters at Belgrade Pride, fighting back against hurled Molotov cocktails with stun grenades. Over 100 injuries were reported and almost 200 rioters were arrested.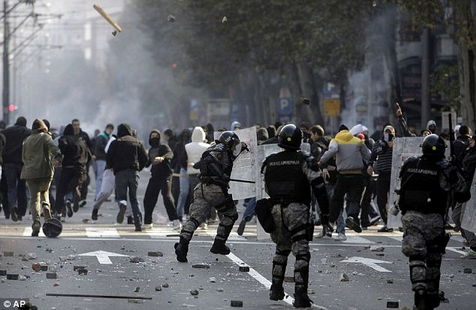 The president of Serbia denounced the attacks, saying, "Serbia will guarantee human rights for all its citizens, regardless of the differences among them, and no attempts to revoke these freedoms with violence will be allowed." Serbia's Minister of Justice said that those arrested face up to eight years in prison. Early reports don't indicate whether any of Belgrade Pride's attendees were injured. The previous year's pride parade had been canceled due threats of violence.

OCTOBER 11 →
[{(o)}]|[{(o)}]|[{(o)}]|[{(o)}]| [{(o)}]|[{(o)}]